The Best Free Credit Report Sites
The 30-Second Review
If you've never checked your credit reports before, the first thing to know is that you're legally allowed to access them for free. Federal law mandates that each of the "Big Three" consumer credit bureaus — Experian, Equifax, and TransUnion — gives you one free credit report per year. The second thing to know is that there's only one website where you can request all three for free: AnnualCreditReport.com.
Best Overall
The only site to get your three federally authorized free credit reports a year — and the only place to get free reports from all three bureaus. It looks spammy, but it's not. You won't get credit scores, here though.
For free scores, you'll need to create an account with one of the free score providers.
Free Reports with Scores
TransUnion and Equifax Reports with VantageScores

Experian Report and FICO Score

TransUnion Report and VantageScore
May 4, 2017 — We've updated our review to include ways to access your credit score for free as well. It's a little more hodgepodge than signing up for a subscription service, but it's a lot more free.
February 6, 2017 — In January of 2017, the Consumer Financial Protection Bureau fined Equifax and TransUnion $23M for misleading customers. While our top picks are unaffected, the settlement does impact customers of both bureaus. We've updated our reporting and included a overview of the Comprehensive Consumer Credit Reporting Reform Act, which calls for even further reform in the credit reporting industry.
AnnualCreditReport.com was set up by the Big Three Bureaus in order to comply with the Fair and Accurate Credit Transactions Act of 2003 (FACTA), which required there to be a single, official website for exactly this purpose. As it says on the homepage, it's "authorized by federal law," so there's really no reason to look further if you're after your credit reports without any bells, whistles, or explanations. Each of the three bureaus gives you one free report a year; if you're interested in getting the most frequent updates for free, space the three out throughout the year.
There are also a number of ways to build your own makeshift credit reporting suite for free.
Credit Karma, FreeCreditScore.com, and Quizzle each offer one or two bureau reports you can access throughout the year that are updated at least monthly (weekly with CreditKarma) and a VantageScore or FICO score, the same credit score agencies that provide the scores used to make decisions about your creditworthiness.
For just scores, there are even more options: Capital One CreditWise, Chase, Credit Sesame, and LendingTree all offer VantageScores and Discover provides a free FICO score even to non-members. What's the catch? Most of these sites will offer you credit products at some point, such as a credit card offer or a loan product. If you sign up, they typically get a kickback. Bank of America, Citi, and Wells Fargo cardholders also have free access to their FICO score as a card benefit.
If you need some help understanding the information in your reports or want tips for improving your creditworthiness, a subscription site is the answer. Identity Guard provides free credit reports from all three bureaus, plus scores, analysis, and monitoring for 30 days through this link (although its full, current ID theft protection product doesn't offer these features). Once the 30 days are up, keeping close tabs on your credit reports means plunking down some cash: $15 a month for quarterly credit reports from each of the three bureaus among a bunch of other identity-monitoring features. If you plan on upgrading (and paying a monthly fee) we recommend MyFICO Ultimate 3B ($30/month). It's continuously updated and truly comprehensive in its presentation and explanation of your credit reports and scores.
How We Found the Best Free Credit Report Sites
Your credit (or "creditworthiness") is simply your track record of paying back loans on time. Your credit reports are just as simple: They're reports of every line of credit you've had (including balances, limits, and payment histories), along with whether you've ever been sued or have filed for bankruptcy. They can be difficult to read without some context — they're basically raw data, after all — but they're vital to your financial reputation. Lenders use them to evaluate just about everything: your applications for credit cards, insurance, employment, or renting a home, as well as how much to charge you in interest.
For any credit report service to give you the full picture, it has to include each of the Big Three Bureaus: Experian, Equifax, and TransUnion.
One of the Big Three offers unlimited access to its free reports. Experian updates its reports every 30 days and doesn't charge for access. Create an account on its website (no credit card required) and log in anytime to view your complete (but utterly basic) Experian report. Still, it's worth reiterating: To fully assess your credit, you need to have info from all three bureaus.
Each of these bureaus reports on your credit and each has its own method of data collection, so what shows up on one might not show up on the others. Most lenders check only one when making a decision, but you don't know which one they'll choose. "Monitoring only one of your three credit reports is like locking one of the three doors to your house," says John Ulzheimer, a credit expert who has worked for both Equifax Credit Information Services and FICO.
Credit scores are a bonus.
Your credit score is essentially your whole credit report rolled into a single number between roughly 300 and 850. Each bureau has its own score to go along with its own report, but the most popular credit-scoring models are actually maintained by two other companies: FICO (originally called Fair, Isaac and Company) and VantageScore (a joint venture of the Big Three Bureaus). Credit scores by themselves don't offer enough information for you to know how to improve them, but they're still important to know, since many lenders use them as a shorthand for the longer reports.
Our Picks for the Best Free Credit Report Sites
Best Overall
AnnualCreditReport.com is the only place on the internet where you can get all three of your full credit reports for free. That said, it's super bare-bones: little more than a portal that walks you through the steps to request your reports directly from the bureaus. Choose which bureau's report you want, type in your credentials (including SSN), answer a few security questions, and voila: you'll get a downloadable copy of your full credit report from that specific agency.
You can choose to request all three at the same time (allowing you to note any discrepancies between current reports), or you can space out your requests over the course of a year (allowing you to check at least one current report every four months). But, you only get one report per year from each bureau, and it shows your credit only for the day it's compiled. If you use this method and check your TransUnion report, for example, and it changes a month later, you'll be unaware of the change until you request next year's TransUnion report.
And, you don't get your credit score.
AnnualCreditReport.com takes a compliance-only approach: no credit scores and zero assistance in making sense of your reports. When you pull one, you'll see it looks a lot like a bank statement. It's basically a long list of your credit lines, debt, and payment histories going back years, along with any recent inquiries made by potential lenders, but there's nothing to tell you how this data will be perceived by lenders.
The most help AnnualCreditReport.com offers is an FAQ page with links to articles on the Federal Trade Commission's and Consumer Financial Protection Bureau's websites. These definitely have useful info, but you might have to wade through a few thousand words to find what you're looking for. Still, there's no arguing that AnnualCreditReport.com does what it says on the label: It gives you your full credit report from each bureau, once annually.
Here's a sample credit report from TransUnion. It's not pretty to read and all those green "OK" ratings make it seem as though all is good here. The report doesn't show that carrying a high balance from month to month had a negative effect of the cardholder's credit.
Best Free Trial
Identity Guard® Your reports and scores free for 30 days. After that, it's $15/month.
Identity Guard recently overhauled its product line to focus on a new service called Privacy Now, but it's still allowing our readers to access the free 30-day trial of its "Total Protection" package (no longer available for purchase). It's called "Total Protection" because it's actually an identity theft protection service first (credit monitoring is one of the main methods of keeping your identity secure). In contrast to AnnualCreditReport.com's no-frills approach, Identity Guard's free trial bundles your three bureau reports with some other nifty features, including credit scores, a description of how your profile compares to the general population, and suggestions for improving your credit based on which factors are weighed most heavily by lenders. If AnnualCreditReport.com's reports are raw data, Identity Guard is a professor explaining what that data means and what you should do about it.
When you log into your free trial account, you'll be able to click and scroll through each of your three credit reports without being redirected to another site or having to download anything. The full service, which is $15 a month, includes updated reports once every three months, but given that the free trial is only for 30 days, that's kind of a moot point. However, it's worth noting that the credit reports you get from Identity Guard are in addition to the ones you get from AnnualCreditReport.com, so it's particularly handy if you've already maxed out your free pulls.
A demo area on Identity Guard's site lets you explore various features.
Identity Guard's best complement to your credit reports (other than the actual credit scores from each bureau) is its Credit Analyzer tool, which lets you explore how various actions might impact your credit. You can simulate making payments, transferring balances, opening or closing accounts, and even receiving inquiries like you'd get from a landlord or credit card issuer to see how they affect your credit scores.
The site also goes into detail about how to request error corrections on your reports, something you never want to deal with, but might have to at some point. Errors can crop up because the bureau has made a clerical error, or worse, your SSN was stolen and used to open a fraudulent credit line in your name. The bureaus have 30 days to respond to your dispute, and they're required to remove anything they can't prove is accurate.
Another (Not-Free) Credit Report Service to Consider
MyFICO Ultimate 3B Our top pick for best paid credit report service. So good, it's worth mentioning again here. ($30/month)
If you're willing to shell out for a paid credit monitoring subscription service, it doesn't really get any better than MyFICO Ultimate 3B. You can check your current reports from all three bureaus at any time, and you're also notified of any changes within 24 hours of when a bureau posts them. MyFICO also makes it easy to navigate through the sections of your reports, highlighting the most important information with notes on how it's affecting your credit.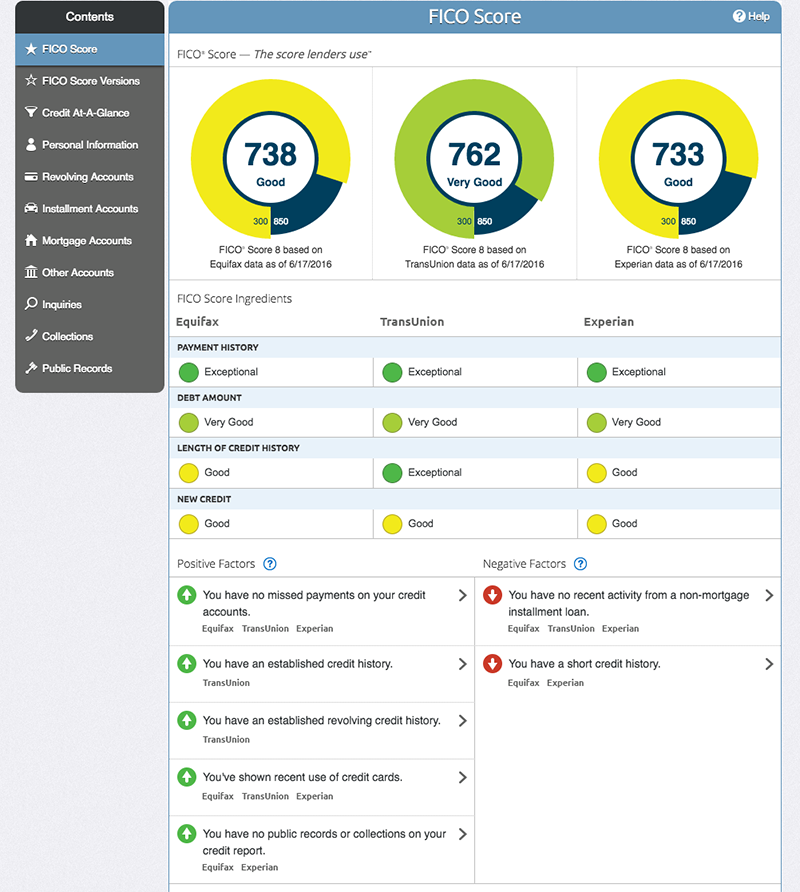 To top it off, the Score Simulator feature lets you see how simple actions — like paying $50 more per month on your credit cards or opening a mortgage — affect your FICO Score 8, the current industry standard used by roughly 90 percent of lenders.
The Best Free Credit Report Sites: Summed Up