The Best Flashlight
Trustworthy performance that won't leave you in the dark
The 30-Second Review
The best flashlight provides a trustworthy performance: long life, plenty of warning before batteries need to be changed, and modes that are easy to cycle between. After talking to beat cops and Eagle scouts about the features they preferred, we put 10 best-selling tactical flashlights through their paces, testing everything from battery life to impact resistance to find our favorites.
Best Overall
Over 18 hours of battery life, with a lightweight, ergonomic design that accommodates prolonged use. Bright enough to be serviceable without blinding bystanders.
Best for an Emergency Kit
Not as bright as the Nitecore, but with an equally long battery life. Runs on readily available AAAs.

Most Heavy Duty
The Fenix TK35UE
Expensive, but the brightest light we tested, with an output up to 2000 lumens.
The Best Flashlight
Whether in an emergency, on a camping trip, or as part of a home toolbox, a lightweight flashlight that can take a beating without faltering is a lifesaver.
The best flashlight for general use is the Nitecore P12. For about $50, it offers one of the most impressive battery lives we could find — over 18.5 hours at the highest setting. The Nitecore isn't the brightest light we tested, but with a maximum output of 1000 lumens, it packs more than enough power for everyday situations. For hikers and backpackers, it's also a great way to supplement a headlamp: Even with batteries, it weighs just 4.3 ounces, and testers reported it was comfortable enough to hold for prolonged periods of time.
Brighter isn't necessarily better Nick Selby, a Dallas-area police detective, told us some flashlights are designed to be so bright that they stun or disorient: Useful when trying to apprehend a suspect, but dangerous in everyday situations. The Fenix, our most powerful pick, tops out at 2000 lumens — equivalent to very bright task lighting.
For an emergency kit, we recommend the Maglite XL200. It was the most compact flashlight we tested, about an inch shorter and a half-ounce lighter than the Nitecore. It's not a powerhouse, topping out at only 172 lumens, but it was able to match the Nitecore's 18.5 hour battery life and — unlike the Fenix and Nitecore — runs on AAA batteries that won't require a trip to a specialty store. Retails for about $60.
If you want a flashlight that's as powerful as possible and don't mind paying extra, the Fenix TK35UE caps out at 2,000 lumens on the highest setting (equivalent to a 125 watt lightbulb). It's over twice the weight of the Nitecore P12, at 10.05 ounces including batteries, but it's unquestionably the brightest option we tested. It also has a decent battery life considering its power: We got roughly 10 hours of continuous use out of it. Retails at $140.
How We Found the Best Flashlight
What About Headlamps? For this review, we looked only at handheld flashlights. Headlamps are great for avid outdoorsmen but tend to have more specialized uses and should be judged on different criteria.
We started by compiling a list of 84 popular handheld, tactical flashlights from retailers like REI, Cabela's, Dick's Sporting Goods, and Gander Mountain. Then we talked to experts in tactical flashlight development, veteran police officers, and even an Eagle Scout to figure out what features set the best flashlights apart.
Simplicity was a virtue.
A flashlight's main goal is to produce light when it's dark. It sounds obvious, but our experts pointed out that plenty of flashlights have extras that detract from this goal. Complex, battery-draining features like a USB port are a case in point, creating additional opportunities for the light to break or malfunction.We removed these designs from the running.
We also required tail-mounted on/off switches
David A. Grant, an Eagle Scout who has spent a lot of time hiking and camping the Appalachians, explained that unlike the traditional side switch, a tail switch that you click on with your thumb is "less likely to switch on accidentally in a pocket or a backpack." Nick Selby, a Dallas area police detective who also worked as a beat cop seconded this with an emphatic "Yes!" Making sure your flashlight doesn't accidentally switch on is important if you want to conserve battery life.
The quality of the flashlight's components was important.
All our experts stressed that a major factor separating the best flashlights from the runners-up is the quality of their workmanship.
One gauge of quality that Selby uses for his EDC (Every Day Carry) light is a lifetime warranty: It's a signal that the manufacturer is confident the product will stand up to rigorous real-world conditions. For regular consumers, we relaxed this criteria slightly, opting for flashlights with at least a 25 year warranty — a practical lifetime for most electronic devices.
For LEDs, low-battery warning is critical.
Today's LED flashlights are designed to provide consistent light levels for as long as possible. The downside is that, unlike traditional incandescent bulbs which gradually dim as battery power diminishes, LED flashlights can go out very quickly when their batteries dip below a certain output voltage: Not a good feeling if you're changing a flat tire in the dark.
So we cut any flashlight that didn't provide some kind of battery life indicator. Of our top picks, the P12 Nitecore and Fenix TK35UE both have a low power indicator, while the Maglite XL200 simply uses an unregulated circuit to power down more slowly.
What's the difference between a regulated and an unregulated circuit?
On a semi-regulated or unregulated circuit, the light will flicker and dim as battery power diminishes, giving you lots of time to replace dying batteries. A regulated circuit offers relatively little warning before it goes out. Some manufacturers will produce performance graphs for their lights, or list the type of power regulation in the flashlight spec.

We eliminated similar models.
Finally, we made one-off cuts within a manufacturer's line of products to choose between flashlight models with similar specifications. The Fenix PD32 is very similar to the Fenix PD35TAC light, for instance, so we opted for the more affordable model. We also cut a few flashlights from companies that provided poor customer service during our data gathering process — particularly Blackhawk, who was impossible to get on the phone.
The 10 Tactical Flashlights We Tested
Fenix PD32 Flashlight
Fenix TK35UE Flashlight
Gerber Cortex Flashlight
Maglite XL200 LED Flashlight
Nitecore P12 Flashlight
Pelican 2380 Tactical Flashlight
SOG Dark Energy DE-06 Flashlight
Streamlight ProTac 2AA Flashlight
Streamlight ProTac 2L Flashlight*
Surefire E2D LED Defender Ultra Flashlight
* We were excited to try the Streamlight ProTact 2L, but before we could conduct our full tests, the flashlight failed for no discernable reason, so we had to eliminate it.
We tested the light output of each flashlight.
Using a phone-based light meter, we tested each contender in a completely dark 25-foot hallway, recording the number of lumens at the brightest point in the center of each beam. This was a stand-in for a more formal measurement known as Peak Beam Intensity.
All of the lights were able to adequately illuminate the interior hallway, but the Fenix TK35UE, Surefire E2D LED Defender Ultra, and Nitecore P12 were the brightest, all clocking over 200 lumens at the brightest point of the beam, with the Fenix TK35UE blasting the end of the hallway with more light than the overhead house lights.
A lot of lumens doesn't necessarily mean a lot of light.
Then we verified battery life.
Most manufacturers publish battery statistics based on uninterrupted use of their light at a single intensity. We verified each flashlight's battery life by leaving them switched on at their highest setting and measuring how long they continued to emit enough light to navigate a darkened apartment. The Nitecore P12 and the Maglite XL200 were still going strong after 18 and a half hours of use, while the Fenix TK35UE lasted almost 11 hours.
We also examined the usability of each flashlight.
Next, we gathered a panel of 10 testers (five with large hands, and five with small hands) and asked them to hold and operate each light for several minutes.
The SOG Dark Energy stood out for the wrong reasons, with one tester finding its tail switch nearly impossible to operate even with two hands, and other testers describing its edges as "jagged" and "way too sharp." The Pelican 2380 and Gerber Cortex also got low marks due to the excessive force we had to use in order to depress their switches.
Most of the models we tested offered several modes of light intensity, so we checked how easy it was to cycle between them, a process that sometimes required a complicated combination of side buttons and half-clicks to select and then lock the desired mode (we're looking at you, Streamlight). We gave preference to designs that were as simple as possible.
When it came to changing batteries, testers like the simplicity of the Nitecore P12 and Pelican 2380, which only require you to unscrew the tailcap, slide out the old batteries, and drop in the new ones. Batteries were the Maglite XL200's main weakness — it has an internal cartridge that must be taken out before swapping in new ones.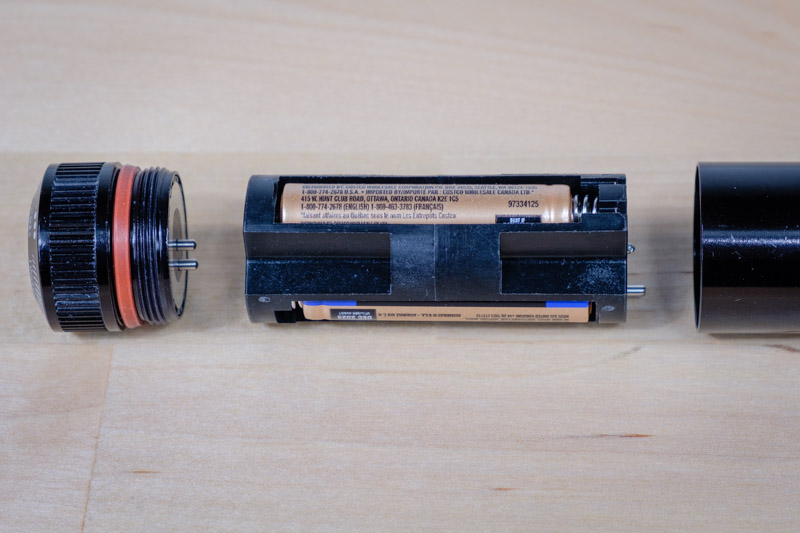 Our Picks for the Best Tactical Flashlights
Best Overall
At $50, the Nitecore P12 is the cheapest of all our top picks — and offers a powerful, reliable light source.
You get four power modes in total: two high-power options that offer 1000 and 240 lumens, and low-power modes of 70 and 1 lumen to avoid blinding yourself in tight spaces. When we tested the Nitecore in our darkened hallway, we recorded 207 lumens at the brightest point of its beam, near the top range of the lights we tested. Only the massive Fenix TK35UE and the battery-draining Surefire E2D offered more.
The Nitecore is also very easy to use, with a separate, dedicated side button to cycle through modes — you won't have to learn and remember a complicated pattern of clicks every time you want to switch. It was also one of the most comfortable flashlights we tested, with smooth action on the tail switch and a textured grip that manages not to be abrasive.
You could hold it all day, in fact. It weighs only 4.3 ounces even with batteries, and in its highest power mode we got more than 18.5 hours of usable light out of it. (We stopped counting at 18.5, and the light was still going strong). A blinking indicator under the side button will let you know when you're about 30 minutes from running out of light at maximum output, though you'll still have hours of low power left. Once you do need to swap batteries, it's easy to replace them by unscrewing the tailcap.
The biggest downside to the Nitecore P12 is that it takes CR123 or 18650 sized lithium ion batteries. While these are easily available online or at hardware stores, they might not be available at, say, your local Walgreens. But it's easy enough to stock up on CR123s when you first purchase the light, especially since these batteries have a 10-15 year shelf life.
Most Heavy Duty Flashlight
If you simply must have the most powerful flashlight, consider springing for the Fenix TK35UE. It was the brightest model we tested, offering a maximum output of 2000 lumens (plus four other power settings ranging from 1050 to 20), and it outpaced the Nitecore by 90 lumens in the center of its beam during our hallway test.
It's also a little sturdier, with an impact resistance of 1.5 meters versus the Nitecore's 1 meter. After dropping it repeatedly from a six-foot-high balcony, the Fenix continued to work, with only a chip and a couple of scratches — the Nitecore stopped working entirely. (Note that six feet is well above the Nitecore's impact resistance, so we were surprised it held on as long as it did.)
But be aware that you'll sacrifice ergonomics for the sake of performance. The Fenix TK35UE was the heaviest light that we tested, at roughly 10 ounces with batteries, which some testers found too heavy to hold comfortably. It uses a battery cartridge to hold its 4 CR123 batteries, which makes swapping them out more of a hassle. With a battery life of roughly 11 hours, it's also a process you'll need to go through more frequently than with the Nitecore. Still, if you have big hands, a big wallet (it retails at around $140), and need a hardcore option, this is the light for you.
Best for Your Car Emergency Kit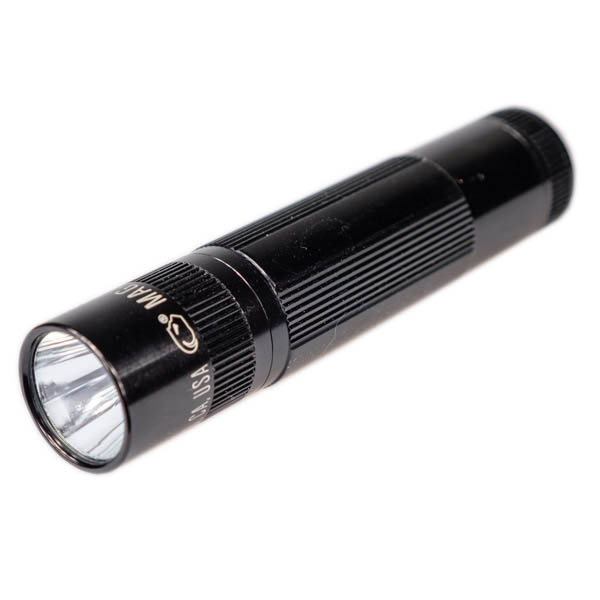 For an emergency kit, we wanted a compact, dependable light that would be easy to use even in unfamiliar conditions. The Maglite XL200 is the smallest of our top picks, at 3.68 ounces, and the dimmest, maxing out at a respectable 172 lumens. But it still outperformed some larger flashlights during our hallway test: We measured 82 lumens at the brightest point of its beam, more than either the Pelican and or the Streamlight.
The Maglite was also the clear winner during hands-on testing, with an easy-to-click tail button and a lightweight body comfortable for everyone and especially popular with testers who had smaller hands.
It passed the battery test with flying colors, still pumping out usable amounts of light in high power mode after 18.5 hours — hopefully you'll have your tire changed by then. The XL200 uses AAA batteries, another selling point, allowing you to buy replacements at any grocery store or gas station.
The main drawbacks of the Maglite XL200 are its use of a battery cartridge and the fact that you have to use button combinations to switch between modes — a process more involved than the simple side switches employed by both of our other top picks. But the Maglite XL200's comfort, compact size, and use of easy-to-find AAA batteries make it an easy choice for a car kit. It retails for about $60.
Did You Know?
Lithium ion and alkaline batteries both have drawbacks.
Modern flashlights increasingly use specialty batteries, specifically the CR123A and 18650 sizes typically associated with lithium ion batteries — the same technology used in your cell phone and laptop batteries.
These speciality batteries have two obvious advantages over the more common alkaline battery sizes (AAA, AA, C and D): they output more power (3 volts versus the 1.5 volts of an alkaline battery), and their shorter, squatter form factor means that flashlights designed to carry two CR123As or a single 18650 are typically much more compact than flashlights using alkaline batteries.
But Selby pointed out that many beat cops he knows choose tactical flashlights that use the more common alkaline battery types, typically one or two AAs, since lithium ion batteries are "more expensive and can be harder to find." Lithium ion batteries aren't typically stocked at grocery and drug stores, and while they're usually available at big box hardware and electronics stores, the mark-ups can be quite high. Expect to pay about twice as much for a CR123 as you would a AA batteries online, and as much as 3-4 times as much at some national chain electronics stores.
All batteries have a shelf life.
If you're putting a tactical flashlight in an emergency kit, make sure to include spare batteries in the kit, and to periodically check that they haven't expired. If you want to take your preparedness to the next level (or if your flashlight requires particularly expensive batteries), Nick Selby recommends investing in a storage case that offers a watertight, chemically neutral environment. Contamination can cause leaks, rust, or corrosion of the batteries, shortening their life. And batteries that touch each other or short-out in your bag can start a fire.
Flashlights are evolving beyond LEDs.
Currently, LEDs are state-of-the-art. They last about 50 times longer than traditional incandescent bulbs, are more energy efficient, and are significantly smaller. But Scott Jones, Director of Product Management at Pelican, told us to be on the lookout for affordable laser-based illumination in the near future.
BMW has already taken steps in this direction: In 2014, the company introduced laser-based headlights as an option in their i8 model. These lights are 1000 times brighter than an equivalent LED, while using about two-thirds the amount of power. However, they're also much more expensive, with the i8 headlight option clocking in at over $10,000. In other words, it's likely to be quite some time before the technology is cost-efficient enough to apply to flashlights.
The Best Flashlight: Summed-Up
The Bottom Line
It doesn't do any good to own a powerhouse like the Fenix TK35UE if it's too heavy to comfortably hold. Likewise, while the Nitecore is a great all-purpose light, having to maintain a stock of CR123 batteries might mean it's not the best choice for an emergency kit. So take some time to decide what matters. All our top picks are sturdy enough to last for years, so whatever you choose, it should serve you well for a long time to come.