The Best Online Fax Services
Faxing at your fingertips
Latest Update
July 29, 2016
The 30-Second Review
Whether sending one page or 5,000, online faxing allows you to quickly and securely transfer documents from anywhere that has an internet connection. To find the best online fax services, we researched nearly 40 companies and sent dozens of faxes with the top contenders to test their accessibility, convenience, customer service, and all-around ease of use.
Best Overall (and Best Free)
The most intuitive service we tested. Even better: It's free and easy to send up to five fax pages per month, and paid plans start at $10/month for 300 pages.
Other Top Picks
Best for small businesses and faxing on the go
Fax machines are antiquated. Paper jams, phone line fees, mysteriously failed transmissions — why not just use email? Turns out, we still haven't figured out a more secure way to send documents quickly across large distances. Emails can be intercepted by any half-talented hacker with a MacBook. Encryption helps, but it's no guarantee your messages won't be read by someone you don't want looking at them.
Need a Free Fax Service?

HelloFax We set up a free account and sent off a fax — also for free — in under five minutes.
Intercepting a fax is noticeably harder; mainly because you need to have physical access to the phone line being used at the exact moment the fax is being sent. That's why doctors, lawyers, and anyone else handling private information typically still require you to communicate with them through fax. In the healthcare industry, it's actually required by federal law. This often comes as a surprise to anyone who assumed fax was dead, leaving them scrambling to the nearest Office Depot, paperwork in hand.
If you're looking to send a fax fast — and want to do it for free — we recommend HelloFax. It's the easiest, most user-friendly online service we tested, and there's no charge to send up to five fax pages a month. Anyone who faxes with more regularity will also love its clean interface, ability to annotate and link faxes, and seamless third-party storage integration. Paid plans start as low as $10 per month for five logins and up to 300 faxes, but know this: There is no telephone or live chat customer service available, just an email ticketing system. If your business depends on online faxing, and you need someone on the other side who can immediately help you out when things go wrong, we suggest eFax.
For small business owners, eFax is our top pick. It was the most versatile online fax service we tested, including highly rated apps for both Android and iOS, allowing you to send and receive faxes on the go. The company also provided the most helpful customer support, and is available 24/7. Larger than a small business? eFax Corporate is its partner service, geared toward companies with 10 or more employees.
If you need to fax any medical information, Scrypt Corporation's SFax is the easiest and, with plans starting at $9 per month, the most cost-effective online fax service that ensures HIPAA compliance — the Health Insurance Portability and Accountability Act (HIPAA) Privacy Rule is a set of national standards set to protect individuals' medical records and other personal health information. (We suggest Sfax even if you're only sending one or two pages of sensitive information.) Most other services, like eFax, require you to have a "corporate" level plan to get HIPAA-compliant faxing.
How We Found the Best Online Fax Services
Any online fax service is going to be able to send and receive faxes. (Even an old-fashioned fax machine can do that.) All you need to do is enter the fax number you'd like to send to, upload a file you want to fax — either by scanning it and saving it as a digital file, or simply taking a picture of it with your phone — and then hit "send," the same way you would when sending an email. Some services allow you to electronically sign your faxes before or after sending them, while others even let you annotate (in fax parlance, that means "leave notes"), all without ever having to physically print anything.
But if they all work, what makes one the best? To find out, we compiled a list of 37 nationally available online fax services, then honed in on three key criteria:
Convenience: How accessible and useful was the service?
Customer service: If we had questions, could they be answered quickly?
User experience: Did the service provide an easy, seamless experience?
First, we looked at convenience.
The best online fax services are going to allow you to access, update, organize, send, and receive your documents from just about anywhere. Using a standard web browser, email, mobile app, or file-sharing program like Dropbox or Google Drive, there's no reason you shouldn't be able to fax, even if you're miles from the nearest fax machine.
Our favorite fax services seamlessly integrated with our pre-existing file-sharing software, allowing us to quickly and easily fax files that would normally be too large for email — and that would take hours to send with a traditional fax machine. This also allowed us to archive faxes in the cloud, so we could easily access them later.
We also looked for four convenient features, tallying up which services offered the most of what we wanted.
Online account access: Surprisingly, not all online fax services have online account access that allow you to send and receive faxes from a standard web browser. Some, like AirComFAX, Fax2Me, and FaxPipe, are strictly email-based (you can only send faxes through your pre-existing email account). We gave more points to services that allowed us to seamlessly log in to a landing page and quickly send and receive faxes; they were the most versatile and the easiest to use.
Email compatibility: If you don't have a fax machine handy, it's incredibly convenient being able to send a fax to an email, or an email to a fax. Some service providers, like Sfax, didn't offer this feature, citing security concerns. This is reasonable, and important if security is your top priority when faxing, but we thought the best option for most people would be to provide the most flexibility for sending and receiving faxes, so they scored more points.
Mobile app: If you need to send and receive faxes while you're on the go, having an online fax service with a mobile app is indispensable. If a contender offered either an Android or an iOS app, it received some bonus points. If its app was compatible with both, the company received more.
Upload and storage integration: You shouldn't have to email yourself a file, or download it from the cloud before you can send it as a fax. If our contenders included integrations with file-sharing programs to make the upload process quick and easy, they also scored points.
Though we didn't consider a lack of any one of these features a deal breaker in itself, our evaluation was designed to weed out services that didn't offer multiple strong access points for sending, receiving, uploading, and storing faxes. Any services with below-average scores got cut.
We evaluated basic customer service availability.
Any quality technical service needs reasonably available sales and customer service options. Eventually, things will go wrong — like when we accidentally faxed something to the wrong number. It's not enough for a company to have a phone number or an email available: Top contenders needed to respond within 24 to 48 hours, and be helpful. If you're sending an urgent legal fax and it doesn't work, you're going to want somebody to help you fast.
With this in mind, we rated the remaining contenders and scored them on what we consider bottom-line quality customer service: quick response times to email and social media engagement; live chat; and a user-friendly website with clear terms of service, and an FAQ section.
Here's how they ranked:
The Great: eFax, MaxEmail, MyFax, HelloFax, Mainpine, Sfax
The Good: Ring Central, PamFax
The Rest: Biscom, FaxNgo, MetroFax, Concord, InterFax
If a service didn't score at least "Good," we cut it.
Then we started faxing.
After registering accounts with each of our top eight contenders (RingCentral Fax, eFax, HelloFax, Mainpine, MaxEmail, MyFax, Pam Fax, and Sfax), we sent and received dozens of online faxes — using very professional Business Cat memes. We assessed the user interface of each service, looking at intuitiveness and general usability.
HelloFax, for example, popped up a short message every time we sent a fax, or asked a support question through its customer service email, letting us know what would come next and when it would happen. That won HelloFax some bonus points. PamFax, on the other hand, made us pay for "credits" up front, and then pay per fax. It was the only service that required this, and it seemed unnecessarily complicated, so it lost points.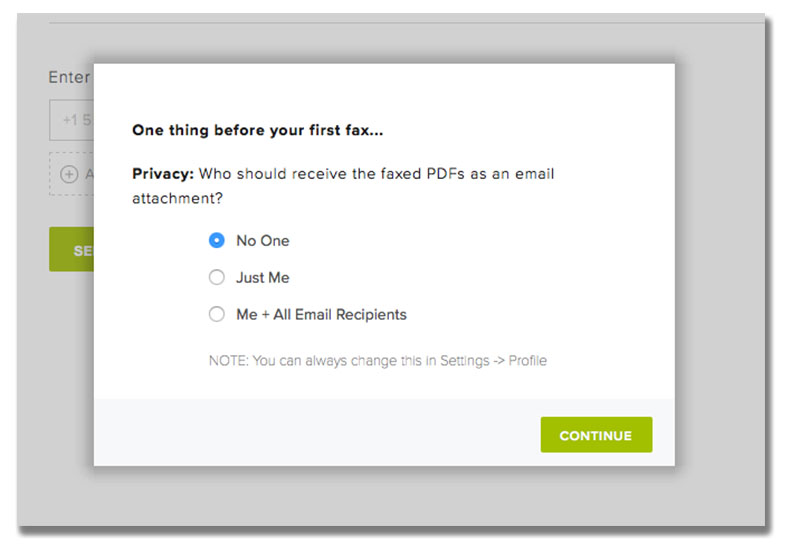 HelloFax's guided us througout the faxing process.
And we asked questions.
By the time we had sent our 50th Business Cat meme, we had plenty of questions: "How do I know if the fax I sent was successful?" and "Can I receive faxes at different email addresses?" We asked for help from each contender's customer service department; by phone, live chat, support ticket, and email. Responses were evaluated based on how long it took to get to a real person, how that person treated us as a customer, and how helpful the overall customer service experience proved to be.
For example: We called MyFax because we repeatedly received an error message when attempting to change our contact settings. The support rep we eventually connected with — after listening to a series of commercials while on hold — was entirely pleasant. When he attempted to change our settings, however, he received the same error we'd seen. He was confused, and spent some time stumbling around for an answer he clearly didn't have. At our suggestion, he agreed to put in a ticket and get back to us within the next few days. As of this writing, we haven't received an update.
On the other end of the customer service spectrum, we put in a call to eFax because it stumped us a bit when we combed through the company's pricing. We'd been unable to confirm whether rates change based on the country to which you send. Its FAQ section says that the rates do change, but the pricing page doesn't mention it. The customer service rep we spoke with on the phone answered our question immediately and completely. They had the rates and policies memorized. (Turns out, sending overseas does incur charges outside your monthly fees.)
RingCentral dropped in the rankings after leading us through a dozen hoops on the phone before the automated voice informed us that our support was now being handled through a special website. RingCentral showed strongly in many other areas — including helpful and fast live chat support — and still makes our list of online fax services to consider. Just make sure you know that customer support website beforehand (you can find it here).
Our Picks for the Best Online Fax Services
Best Overall (and Best Free)
HelloFax HelloFax was the only free service that featured fax annotation, but no mobile app unfortunately.

For most people, whether just faxing one page or thousands, using HelloFax will be easier and more enjoyable than any other online fax service. We immediately liked the uncluttered, friendly design of the site. It was easy to navigate, and sending and receiving faxes was a breeze; the process was intuitive, partly because HelloFax kept giving us encouraging reminder popups about what to do and expect next. We were able to create a free account and send off a fax without reading any instructions in under five minutes. The site uses simple, fluent language, and provides genuinely useful information, with little to no fluff.
If you need to send medical-related documents that need to be HIPAA compliant, however, we recommend using Sfax, which we'll discuss a little later. HelloFax does offer HIPAA-compliant fax service, but you have to request it specifically, and we found it a little confusing to figure out. Sfax proved to be simpler to use when faxing medical documents, mainly because there's zero chance of it not being HIPAA compliant, because that's the only sort of faxes Sfax does.

HelloFax's site had the cleanest, most user-friendly interface for uploading documents of all the online fax services we tested. All of the icons for its supported third-party cloud storage options (including Google Drive, Dropbox, Box, Evernote, and OneDrive) are located in one obvious toolbar at the top of the page, and allowed us to easily fax documents that would otherwise be too large for email. Other contenders, like FaxNgo, didn't have a way to easily and quickly navigate to a cloud storage service, even though they were technically integrated.
HelloFax's annotation tools make it easy to mark up your document before sending.
In addition, HelloFax offers the ability to easily annotate faxes before sending them. The option is built into the sending process, and it's a feature included in both the free and paid versions of the service; something not available from any other free plan offered by other online fax companies. We felt that this set HelloFax ahead of other online fax service providers, like MyFax, that also offer limited free plans, but provided only super-basic (e.g., you can only add your signature to a fax) faxing tools at no cost.
Another neat trick HelloFax has built in: the ability to add a link to your fax, which your recipient can visit for a full-color and high-resolution version of your document. The link only lasts 72 hours, but no other online fax service offered this option.
The downside: HelloFax doesn't have a mobile app, so it's more difficult to send and receive faxes from your phone, but if that's not important to you, it's not going to be a major hangup. There's also no customer support available over live chat, like eFax, or even by phone, which was really surprising. Most of the other top contenders on our list have phone support. HelloFax relies on a ticketing system, which is less than ideal, especially if your query is urgent. We did receive helpful responses to all of our questions well within 24 hours, however, which pleasantly surprised us.
If the lack of customer service doesn't freak you out, HelloFax's paid plans are less expensive than our other top pick, eFax. With the "Home Office" plan (conveniently part of the same suite as HelloSign, which allows you to make legally binding signatures electronically), you can have five team members and send or receive 300 total pages per month for $10, instead of paying about $17 for the equivalent plan with eFax.
Best for Small Businesses
eFax With 24/7 customer support and highly-rated mobile apps, this is a no-brainer for businesses.
By the numbers, eFax was the top-scoring online fax service in our test. While not as user-friendly as HelloFax, it still aced our evaluations on its level of accessibility and its quality of customer service, with high-rated mobile apps and repeatedly prompt replies to requests for help via email and phone calls. If you're using an online fax service as a part of your small business and need quick solutions to any faxing problems that might arise, or if you need to fax regularly and travel often, these considerations are important.
We liked that eFax had live customer support that's available 24/7. Most of the other top contenders' customer service departments were only open during regular business hours, including HelloFax. We also appreciated being allowed to choose the type of support we wanted based on the immediacy of our needs and preference, including live chat, phone support, or online ticketing. Only RingCentral and MyFax matched this level of flexibility in customer support, but neither scored as high in the level of quality.
We liked the added convenience of being able to fax on the go via eFax's mobile app.
Like HelloFax, eFax offers the ability to share files too large for email (and not all services do), fax documents directly from third-party cloud storage services, and sign documents electronically. There are also highly rated apps available for eFax on both Android and iOS (3.5 stars and 4 stars, respectively), which allowed us to do everything that the web browser-based interface did, including signing and annotating documents, as well as archiving them in the cloud.
The eFax monthly paid subscription is $17 per month, has a limit of 150 pages sent/150 pages received, and allows you to connect up to five email addresses to the account, the same as HelloFax. If you need to include more team members or require a higher volume of faxes, you'll have to move over to eFax Corporate, which touts higher levels of encryption, and HIPAA compliance. Quotes vary for eFax Corporate subscriptions based on the size of the company and the volume of faxes required.
eFax offers a free 30-day trial period, which can be a great option if you just need to send a few faxes quickly and can remember to cancel your subscription before the trial period ends. The monthly subscription automatically renews and charges you after that. The company also offers a free, bare-bones plan with a limit of 10 sent fax pages per month, and no option to include an electronic signature. It's hardly advertised on the eFax site, but it's also a solid choice if you rarely fax, and don't need to sign or receive faxes yourself.
The FAQ section on eFax's site impressed us more than most, too. It covered just about everything we could possibly want to know about online faxing through its service, and provided clear organization (including tutorial-style infographics). Using these self-help reference tools, you may never need to call support, but if you do, you'll talk to a slightly annoying robot for a few minutes before you get to talk to a person. That person is likely to be courteous and helpful, but also in a hurry. (We called twice and spoke with different reps, with similar results.)
Best for Medical Information and HIPAA Compliance
Sfax If security is your number one concern, Sfax offers the highest level of security — even for one-time medical faxes.
Sfax stakes its reputation on security, and is the best online fax service option for anyone needing to send HIPAA-compliant documents. It was the only one of our top contenders that doesn't offer a fax-to-email or email-to-fax option; when asked why, a rep cited transmission security.
Other services we tested, including Mainpine and eFax, offer HIPAA-compliant faxing services, but at corporate plan levels only. Sfax has no free faxing option, but the basic plan starts at $9 per month, can be canceled at any time without penalty, and allows you to fax 100 pages each month. Even if you just need to fax a few medical-related documents, we recommend Sfax.
While it lacks a free faxing option, Sfax offers a high level of peace of mind when it comes to keeping sensitive data safe.
Other Online Fax Services to Consider
RingCentral Fax — Best Cheap Online Fax Service
RingCentral Fax is one of the heavy hitters in secure cloud-based communication. The company primarily focuses on providing cloud-based phone services, which means its fax service integrates right in with its phone service products. If you're a business looking to bundle faxing services into all of your office communications, RingCentral can be a great cost-savings option. Its fax services alone (without adding other products) are less spendy than our top picks, too: $8/month at the low end, for up to 500 pages.
Mainpine — Best for Large Organizations
Mainpine actually aced all of our initial rounds of testing, but didn't make it into the top picks for this review because it only offers faxing services to large organizations, like schools and hospitals. If you happen to be looking for faxing solutions for a school, hospital, or legal organization that needs to be HIPAA compliant, we definitely recommend checking out Mainpine.
Did You Know?
All fax security is not created equal.
Every one of the online services we recommend will encrypt your transmission online. These days, that's almost standard. But if you or your business requires HIPAA compliance, don't pick just any online fax service. Any entity in possession of an individual's Personal Health Information, or PHI, is responsible under US law for safeguarding its integrity and confidentiality in specific ways. HIPAA places extra security regulations on the electronic transmission of data.
Enter the traditional fax machine, peeking hopefully from the wings. According to Tim Paulino, a sales coordinator with online fax and telecommunications service Freedom800, many businesses dealing in PHI opt for traditional faxing because it's less difficult to secure than online versions. It's trading one hassle for another, though: Do you really want to rely on (and pay anywhere from $60 to over $1,000 for) those slow, cranky machines?
If you work with PHI, shop for your service with HIPAA at the front of your mind. The transfer of PHI by online fax is safest when the fax service used is defined as a Business Associate, meaning that it takes the same security measures as the providing entity (you). Some services advertise their compliance openly; some may require a phone call or two to confirm their BA status. Among our top contenders, Sfax, along with eFax Corporate and Mainpine, put their HIPAA security measures front and center.
Email is not about to replace fax.
Asked to create Biscom's online faxing division in 2003, Mike Gayowski was initially surprised that email hadn't cleared faxing from the field. He soon realized, however, that inertia in both law and infrastructure keeps many industries heavily invested in faxing — and that's not likely to change soon. A signed, faxed document is considered legal under most circumstances, while the legality of an email is much less clear. Technology always changes faster than the law. From this challenge, online faxing solutions began to seriously emerge in the mid-1990s. As Gayowski puts it, their effect has been to "take the transmission of legal documents from The Flintstones to The Jetsons."
Paulino notes that government and legal agencies in particular continue to rely on faxing, often in Flintstones form. This means that even ultra-tech-savvy small businesses with few faxing requirements of their own still need to find a faxing solution. Online services are a great option in these instances, because they send faxes to traditional machines just fine, and vice versa. They're also much less expensive up front.
The Bottom Line
If you just need to send one fax, go with HelloFax. It's the simplest online fax service to use, and if you're sending fewer than five pages, it's free. If you're faxing at a higher volume, choose a service that's easy to access and use, transparent about its pricing and policies, and that supplies reliable customer support — for when you do still get an error message.
Take Action
Best Overall (and Best Free)
HelloFax Easy to use and free for up to five fax pages per month.

Keep secure documents safe, even after they've been faxed. If you have a printout with someone's Social Security number on it, or any other sort of sensitive personal information, immediately shred it after you're done with it, or store it in a secure, locked area. Then, don't forget about it.
Remember to cancel that free trial period, too. Most online fax services offer a free 30-day trial period, which is great; especially if you only need to do a quick burst of faxes over the span of a few weeks. You'll start getting charged if you don't actually cancel your subscription, though. Set a calendar reminder!
Online Fax Services for Small Businesses
We've been looking into online fax services for a while now — especially companies catering to small businesses. You can check out our review of the best online fax services for small businesses below. It isn't quite consistent with our latest round of research (yet!) so be on the lookout for updates in the upcoming weeks: