The Best Vitamin D Supplement
Get a much-needed boost without the additives
Latest Update
March 10, 2017
The 30-Second Review
The best vitamin D supplements provide at least 2,000 IU of vitamin D3 per serving, contain minimal additives, and are certified by multiple third-party labs to ensure both purity and potency. To find our top picks, we consulted with doctors and nutritionists from across the country, read through hundreds of ingredients labels, and utilized the results from three different independent lab tests.
Best Overall
With high marks from two independent labs for product purity and dosage accuracy, Kirkland Signature offers a high-quality vitamin D3 supplement at the lowest price we found — $0.02 per serving.
Best Vegan Option
If you prefer vitamin supplements with no animal products, VegLife Supreme offers the recommended dosage of 2,000 IU of Vitamin D2 in a vegan-certified, plant-based tablet for less than $0.06 per serving — about half the cost of its nearest competitor.
If you're younger than 85, you won't remember a time when vitamin D wasn't added to the milk you pour on your cereal. Why? In the 1930s, doctors discovered that most people didn't make enough vitamin D on their own. Today, about one-third of Americans don't get enough vitamin D. And as researchers continue to uncover the many roles vitamin D plays in our health, it has become increasingly obvious that it's important we get enough — and that a quality vitamin D supplement is the easiest way to do that.
Our Top Pick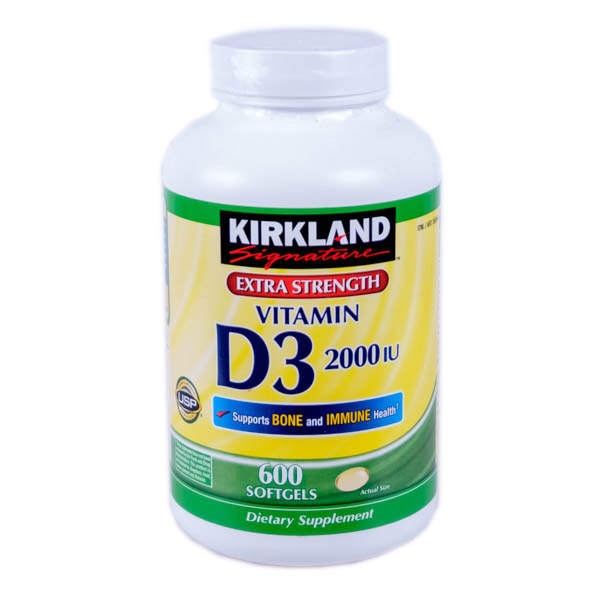 Our top pick is Kirkland Signature Extra Strength Vitamin D3 2000 IU. One pill contains 2,000 IU of vitamin D3, and its purity and label accuracy are certified by both the United States Pharmacopeial Convention and Labdoor, two reputable third-party supplement watchdog groups. It's only $0.02 per serving, too.
Best Vegan Vitamin D Supplement
VegLife Supreme Vegan D 2000 IU This vegan-certified supplement still includes 2,000 IU of vitamin D2, is certified for purity and label accuracy, and costs half as much as the nearest competitor.
The best vegan vitamin D supplement we found is VegLife Supreme Vegan D 2000 IU. It uses the slightly less effective vitamin D2 instead of D3, and comes in tablet form rather than a softgel to avoid the use of animal-derived ingredients. Still, it contains a full 2,000 IU of vitamin D in each pill, is truly vegan-certified, and at just $0.06 per serving, costs half as much as the other vegan vitamin D supplements we looked at.
How We Found the Best Vitamin D Supplement
We started by looking for popular brands that are readily available through online retailers (like Amazon and Vitacost) or at chain grocery stores and pharmacies. We found a bunch: 239 vitamin D supplements in a variety of forms, including softgels, tablets, gummies, liquids, and sprays. Then we talked to doctors, nutrition experts, and a vitamin manufacturer before looking at each product's ingredients label, product purity, and dosage accuracy to find the best vitamin D supplement on the market.
First, we researched the differences between vitamin D3 and D2.
In our search for the best vitamin D supplement, we learned that there are actually two types of vitamin D: D2 (ergocalciferol), which comes from plants, and D3 (cholicalciferol), which is manufactured using fish oil or — more commonly — lanolin taken from sheep wool and subjected to ultraviolet (UV) radiation. This may sound scary, but UV radiation is what our bodies use to make natural vitamin D when our skin is exposed to sunlight.
Vitamin D2 isn't as effective as D3, but that doesn't mean it's bad or completely ineffective.
Dr. Joe Feuerstein, associate professor of clinical medicine at Columbia University and director of integrative medicine at Stamford Hospital in Stamford, Connecticut, told us, "Vitamin D3 mimics the way our bodies make D from sunlight and it's more easily absorbed, making it the best option for most people." But he doesn't rule out vitamin D2. "When patients are very deficient in vitamin D, the standard protocol is high-dose injections of D for a short time, and these higher pharmaceutical doses are always vitamin D2."
Because vitamin D3 is more widely recommended and more available in stores, it's a good choice for most people. But if you follow a vegetarian or vegan diet, plant-based vitamin D2 certainly isn't a bad option either.
No third-party testing? No way.
The Food and Drug Administration (FDA) regulates food products, but not dietary supplements. So it's anybody's guess if what's in a pill actually matches what's on its bottle label. Some supplements contain lead or other contaminants, and product ingredients can vary widely. In fact, Labdoor, a reputable third-party testing company, found that the actual dosage of vitamin D supplements sometimes exceeded what was listed on the label by as much as 900 percent. That's why we required all of our top picks to be vetted by at least one of three reputable, independent labs.
We required certification by at least one of these groups:
We also looked for minimal additives — including other added supplements.
Ever wonder why vitamin D, like many supplements, contains glycerin, water, cellulose, or other fillers? We did too, so we asked Jamie Shuck, brand manager for Vitabiotics, one of the UK's largest vitamin manufacturers. "Vitamin D is needed by the body only in tiny microgram amounts, which is barely a speck in its pure form — far smaller than a grain of rice and too small to even pick up," Shuck explained. "Therefore, all vitamin D supplements must be formulated with other ingredients to increase the volume of the product, so customers are able to measure a safe and accurate dose."
While it's impossible to find a vitamin D supplement that contains just vitamin D, we did look for products that avoided questionable additives like sugar, flavoring, artificial color, and preservatives. And while we were at it, we went gluten-free, too — because you don't need gluten in a vitamin supplement.
We also chose products containing only vitamin D with no other dietary supplements. According to the experts we talked to, almost everyone needs a vitamin D supplement, while only some of us need or want additional ingredients like calcium or CoQ10.
Dr. Feuerstein also made a strong case for eliminating proprietary blends: "The challenge with proprietary blends is it's hard to know the specific dose of vitamin D in each pill," he said, "and that makes it difficult to treat someone who has a vitamin D deficiency."
Why aren't most vitamin D supplements vegetarian?

It's important to note that most of the vitamin D supplements you find in stores cannot be labeled vegetarian or vegan, even when no animal products are listed on the label. Vitamin D3 is commonly derived from lanolin, a product of sheep wool. Vegetarians might not take issue with this, but there's another hang-up: Most vitamin D supplement manufacturers use softgels as a delivery method, too. Softgels allow vitamin D3 to be mixed with olive, soybean, safflower, or sunflower oil for better absorption. The vast majority of softgels, however, are made with gelatin — and all gelatin comes from animal products, like pigskin, pig and beef bones, cowhide, or fish bones. While supplement manufacturers list "gelatin" on the label, many fail to mention that gelatin comes from animal sources.

For vitamin D that is purely plant-based, look for vitamin D2 in tablet form, with packaging that indicates the product is vegan.

Each pill needed to include 2,000 IU of vitamin D and some form of fatty oil to help with absorption.
For years, the gold standard for dietary supplement dosage has been the Recommended Daily Allowance (RDA). The RDA is determined by the Institutes of Medicine (IOM), which bases RDAs on dosages that will meet the needs of roughly 50 percent of the population. If this sounds general, it is — and it helps explain why the experts we consulted believe the current Recommended Daily Allowance for vitamin D (600 IU per day, last updated in 2010), is not high enough to prevent a deficiency.
The current recommended daily allowance of vitamin D probably isn't enough.
In fact, a 2014 study suggested that the IOM had made a "serious miscalculation" and that the actual RDA for vitamin D should be "10 times higher." One thing that all of our experts did agree on was the fact that vitamin D is best absorbed by the body when taken with fatty foods. That's why we also required all of our top picks to include some form of fatty oil from olives, soybeans, or some other healthy source.
Popular nutrition expert Dr. Andrew Weil recommends 2,000 IU of vitamin D3 per day for most people, and Dr. Feuerstein agrees: "If you follow the current RDA of vitamin D, which is 600 IU per day, I can pretty much guarantee that unless you're a child, it won't be anywhere near enough." He recommends 2,000 IU per day for his adult patients, with higher doses for patients who have been diagnosed with a vitamin D deficiency.
In a 2007 New England Journal of Medicine article, Dr. Michael Holick, a physician and researcher from Boston University Medical Center, wrote: "I recommend to all of my patients that they should take 2,000-3,000 IU of vitamin D a day from dietary sources, sensible sun exposure, and supplements." Most of the other experts we talked to agreed: 2,000 IU of vitamin D each day is going to be the best amount for most people to take.
Our Pick for the Best Vitamin D Supplement
Best Overall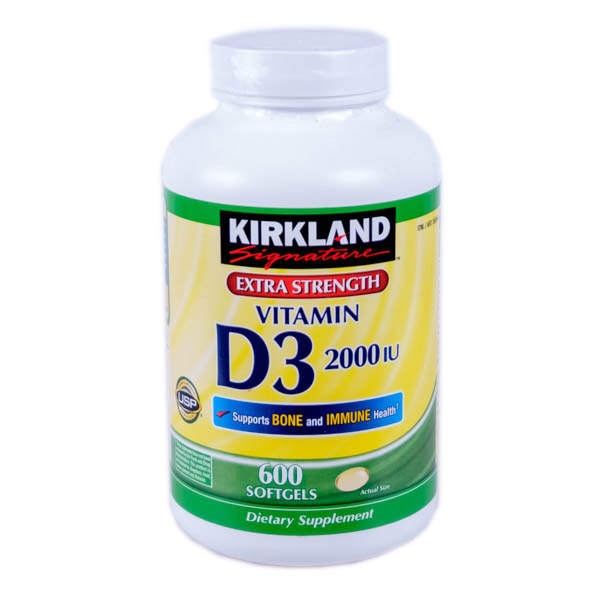 While all of our top picks offered the same basic attributes — 2,000 IU of vitamin D per dose and independent lab testing — Kirkland Signature Extra Strength Vitamin D3 stood out because it met all of our criteria. To start, we liked the short list of ingredients: 2,000 IU of vitamin D3 (as cholecalciferol, which mimics the way the body naturally processes vitamin D), soybean oil (rich in heart-healthy polyunsaturated fats), plus gelatin, glycerin, and water for the softgel capsule.
Kirkland Signature also earned kudos from not one, but two independent labs. Its label bears the USP symbol, arguably the gold standard for product testing. USP certification is recognized around the world. And Labdoor gave Kirkland Signature Extra Strength Vitamin D3 a respectable score of 81.5 out of 100 (by way of comparison, Labdoor gave its own top pick an 87.9).
We especially appreciated that Kirkland Signature Extra Strength Vitamin D3 lists porcine (commonly pigskin) as the source of gelatin for its softgels. The vast majority of vitamin D manufacturers mention "gelatin" on the label with no mention that gelatin comes from animal products.
If product quality, minimal additives, and accurate labeling aren't enough, Kirkland Signature Extra Strength Vitamin D3 is a good value, too. At about $0.02 per serving, it was less than half the cost of our other top contenders.
We loved the Costco-sized bottle, which contained 600 softgels that were as small as any we tested. After all, if you're going to make vitamin D supplements a part of your daily routine, you might as well make it easy on yourself: one tiny pill that's easy to swallow, in a bottle that will last for a good 20 months. At $7.30 per year, Kirkland Signature Extra Strength Vitamin D3 is an inexpensive way to stay up on your vitamin D intake.
Best Vegan Vitamin D Supplement
There aren't many vegan or vegetarian vitamin D supplements on the market, but VegLife Supreme Vegan D 2000 IU is undoubtedly the best. It offers 2,000 IU of vitamin D2 (from plant-based ergocalciferol) and contains more vitamin D per dose than the other vegan options we could find.
Avoiding softgels and the animal-based gelatin issue, each bottle of VegLife Supreme Vitamin D contains 100 tablets in what the company calls a "synergistic herbal base," which includes alfalfa, parsley, vegetable cellulose (to bind the ingredients), shavegrass, stearic acid, nettle leaf, dandelion leaf, sweet potato, silica, carrot, broccoli, and tomato. Sounds good enough to eat — and it's all plant-based.
What about lichen-based vitamin D3? Some companies are now sourcing vitamin D3 from lichen, but its efficacy has not been validated by independent lab testing. Whether you prefer D3 or D2 in a plant-based supplement, we recommend making sure your supplement is certified vegan as a first step toward verifying product quality and accurate dosage, as well as ensuring it has no animal products.
Unlike our Best Overall choice, VegLife Supreme isn't tested by an independent lab, but parent company Nutraceutical does follow current Good Manufacturing Practices (cGMP). The cGMPs are guidelines from the FDA to help ensure product safety, uniformity, quality control, and cleanliness. VegLife Supreme is also certified vegan by Vegan Action.
Compared to other vegan vitamin D2 supplements, VegLife Supreme comes with a very reasonable price tag, too. A bottle of 100 tablets retails for about $5.63 at Vitacost, and you only need one tablet per day. This puts the cost of VegLife Supreme at a respectable less than $0.06 per serving. Granted, that's more than twice the cost of our top pick, Kirkland Signature Vitamin D3, but it's equal to or better than most of the other popular D3 supplements we looked at, including Now, Nature Made, Solgar, and Nature's Way, which all averaged $0.05 to $0.07 per serving. For people who want the benefits of a daily vitamin D supplement with no animal products, VegLife Supreme Vegan D 2000 IU is going to be the best option.
Did You Know?
Vitamin D does more than maintain healthy bones.
Scientists have known for years that vitamin D plays a key role in creating and maintaining healthy bones. But as Dr. Feuerstein explains, we're learning more every day. "Everybody knows that without vitamin D you won't absorb calcium in your gut, which leads to an increase in bone loss" he says. "But vitamin D goes so far beyond that. We have vitamin D receptors in nearly all the tissues of the body, and we're learning about its effect on cancer, heart disease, multiple sclerosis, and in autoimmune disease." Shuck adds that "vitamin D also has other key functions in the body, such as helping to maintain normal immune system functioning."
Research suggests there are plenty of good reasons beyond maintaining healthy bones to make a vitamin D supplement part of your daily regimen.
The Mayo Clinic makes a strong case for the far-reaching benefits of vitamin D with a list of 59 medical conditions that are either improved by vitamin D or affected in ways that warrant further study. This list includes thyroid conditions, fibromyalgia, psoriasis, dental cavities, and even Alzheimer's disease.
It's difficult to get adequate vitamin D through diet alone.
There are food sources of vitamin D, notes nutritionist Shereen Lehman: "Oily fish like salmon and tuna have some vitamin D, and eggs do as well. Mushrooms like maitake and chanterelle can be a good source, as can portabella mushrooms grown in UV light. Otherwise, look for foods fortified with vitamin D like milk, breakfast cereals, and many brands of nut milk."
But can you get enough D just from food sources? That depends on how hungry you are. The National Institutes of Health (NIH) found that 3 ounces of swordfish contain 566 IU of vitamin D, and 3 ounces of tuna have 447 IU. This sounds good, but to get our experts' recommended 2,000 IU daily, you'd have to eat 3.5 servings of swordfish or 4.5 servings of tuna — every day. And the challenge is even greater if you're relying on other foods. A cup of milk contains only about 120 IU. A serving of a vitamin-D-fortified cereal? Roughly 40 IU — which would mean eating about 50 servings of Cheerios to get 2,000 IU.
You could spend a little more time in the sun.
Some medical researchers, like Dr. Holick, recommend getting 15 minutes of unprotected sunlight per day — in the middle of the day when the sun is brightest. And Dr. Weil recommends 10 minutes of sun per day. But the American Academy of Dermatology disagrees, and suggests we use skin protection (clothing and sunscreen with an SPF of 30 or higher) every time we're out in the sun, to prevent skin cancer.
So what's the right answer? We suggest checking with your doctor to find out what's right for you.
A little fat is a good thing.
Like vitamins A, E, and K, vitamin D is fat-soluble, which means it dissolves in fat rather than water. To get the most from your vitamin D supplement, choose a product that includes a bit of oil along with the vitamin D — as our top picks do. If you choose a supplement that doesn't include oil, Lehman recommends taking it with a little added fat. "You don't need a lot," she explains. "A salad with dressing, or a little cheese, avocado, or meat are good. Even seafood would have enough natural fat to help with vitamin D absorption."
A simple test will tell if your vitamin D level is low.
Many doctors routinely check vitamin D levels during a patient's annual physical exam. A simple blood test, called the 25(OH)D, will determine the amount of vitamin D stored in your body from all sources, including sun, diet, and supplements. In fact, the test measures stored vitamin D as far back as 15 days, which makes it the ideal way to get an accurate measurement of your vitamin D level.
If your doctor doesn't already check your vitamin D levels during your annual exam, don't be afraid to ask for the test.
Another option: a home testing kit for under $70 from the Vitamin D Council. You prick your finger and place a drop of blood on blotting paper, and then send it to the lab, which will mail you your results.
If your test determines that you're deficient in vitamin D, Dr. Feuerstein suggests working with your medical provider to determine the best dosage — and getting tested every six months until you reach your goal. He routinely tests his patients twice a year to determine if their vitamin D level changes from summer to winter.
The Bottom Line
Best Overall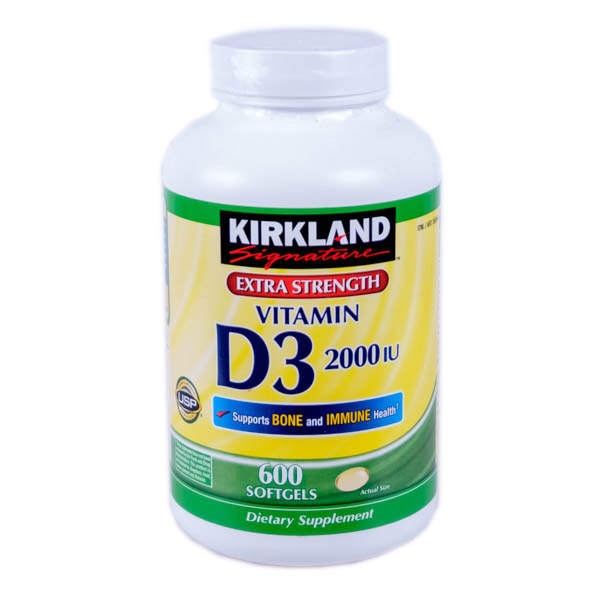 Unless you're a professional surfer, chances are you don't get enough year-round sun to keep your vitamin D levels where they should be. Check with your doctor to see if vitamin D supplements are right for you, especially if you are pregnant, breastfeeding, or have a medical condition. Since it's tough to get enough vitamin D from food, adding a vitamin D supplement to your daily routine could be a good — and inexpensive — way to protect yourself from bone loss and a host of other potential health problems.