Showing results for
Did you mean:
Sorry, something went wrong. Please refresh your browser and try again.
Last updated on
September 6, 2017
The Best Air Mattress
The best sleep air can provide
The 30-Second Review
Most air mattresses are pretty similar, but the very best offers easy inflation, minimal air loss, and — we dare to dream — a luxurious night's sleep. We picked 11 popular models, consulted chiropractors and a physicist, and measured air loss overnight, before putting our REM cycles on the line to personally test the best. Our favorites offered intuitive pumps, a neat feature or two, and performed well in our overnight test, all while giving truly comfortable support that left us pleasantly surprised.
Best Overall
This deluxe double-height air mattress has automatic and manual pump options, making it ideal for both indoor and outdoor use, and with a rapid setup and minimal overnight air loss, it's a clear winner.

Runner-Up for Best Overall
SoundAsleep Dream Series
A widely popular indoor-only pick that offers all the same comfort as the Coleman, but has a slower setup and might need more frequent air top ups.
Best for Camping
A low-profile outdoor mattress with a unique hands-free pump, the Alps is a compact, lightweight option that doesn't compromise on comfort.
Runner-Up for Camping
SoundAsleep Camping Series
Our only pick with beam construction, this single-height is surprisingly comfortable and offers speedy inflation and precise airflow control.
The Best Air Mattress
Naturally, the first concern when thinking about air mattresses is comfort. While an air mattress is unlikely to offer the same level of comfort as a traditional mattress, with all those inner springs and layers upon layers of memory foam, you can still expect a good night's sleep from the best.
Thankfully, the industry has come a long way from the low-profile overnighters that squeaked all night and deflated by sunrise. We're talking coil construction (think "comfort dimples"), soft fabric tops, automatic pumps, and heights to rival even a standard mattress. With almost all high-end air mattresses designed to these same plush standards, the differences among them really come down to the smaller features, like versatile pump options and raised pillow rests.
We love the Coleman SupportRest Elite PillowStop Double High Airbed for not only meeting our newly inflated expectations for design, but also offering flexibility with its dual pumps that accommodate both indoor and outdoor use. Luxury at home and on the road for just $97? We're sold. Its internal motor pump provided lightning-fast inflation indoors, while the external pump valve gives the option to take the same level of comfort on the go (take note, glampers). It also lost no perceivable height in our overnight air-loss test. If you want a lush air mattress you can easily use both indoors and out, the Coleman is for you.
The SoundAsleep Dream Series Mattress is a solid runner-up for an indoor mattress. The main reason it comes in second to the Coleman is that its built-in AC pump limits it to indoor use only, unless your camping site has an appropriate power source. At $120, it also costs more for less. Otherwise, it offers the same great coil construction and deluxe double height as our top pick. We weren't too impressed with how it maintained air overnight, but it's wildly popular and we're confident recommending it if you're looking for a guest bed.
If you need a smaller, more lightweight outdoor option we recommend the Alps Mountaineering Rechargeable Air Bed. The Alps really impressed us with its ultra-convenient locking pump system — you can inflate it hands-free in any position with total control and without any escaping air blasts when you disconnect. It was also one of the few single-height mattresses we found with coil construction, which makes even more of a difference when there's less air to go around, and it was surprisingly comfortable given its low profile. That coil comfort isn't cheap though, setting you back at least twice as much as most other single height mattresses (and even a tad more than our top double height pick) at $105. But the Alps was the lightest, most compact model we looked at, making it ideal for comfort-minded outbound adventurers.
The SoundAsleep Camping Series Air Mattress is our pick if you're looking for beam construction. Although coil construction was preferred among our testers and experts, the SoundAsleep Camping performed well in our comfort testing and did offer a unique experience for side sleepers, who liked the graduated support of the horizontal ridges. It was the fastest to inflate, lost no height overnight, and has an easy pump valve that allows you to adjust the air fill with the touch of a finger. That said, we weren't too impressed with the $90 price tag, which is only just shy of the Coleman's.
How We Found the Best Air Mattress
To find the best air mattress, we sought out the most popular and well-reviewed products from major retailers like Amazon, Target, and Walmart. We also looked at those repeatedly featured on "best of" lists from sites like The Sleep Judge and Business Insider, as well as reviews on sleep blogs like Sleep Like the Dead and Choose Mattress. Since air mattresses typically follow fairly similar designs, we focused on the ones people were talking about the most and that were getting the best consumer reviews. From a starting point of 85 potential candidates, we wound up with 11 highly-regarded contenders of varying heights, construction types, and pump methods.
Alps Mountaineering Rechargeable Air Bed
Coleman Airbed Cot
Coleman SupportRest Elite PillowStop Double High Airbed
Insta-Bed Raised Queen w/ neverFLAT Pump
Intex Classic Downy Airbed
Intex Pillow Rest Raised Airbed with Built-in Pillow and Electric Pump
Intex Raised Downy Airbed with Built-in Electric Pump
Lightspeed Deluxe 2-Person Tufted Airbed
Serta Raised Air Mattress w/ neverFLAT Pump
SoundAsleep Camping Series
SoundAsleep Dream Series
We learned the difference between beam and coil construction.
First, almost all air mattresses are made of PVC (polyvinyl chloride), a heavy duty vinyl that's thicker than a raincoat but thinner than a rain boot. All the PVC mattress we tested felt pretty durable and had a velvety-soft "flocked top" for a silkier feel. (Unless you're playing with the cat or rolling around with scissors in your pocket, we're confident your air mattress will last.) Only one of the mattresses we tested was made with a PVC alternative: the Lightspeed Deluxe 2-Person Tufted Airbed is made of TPU (thermoplastic polyurethane), a material that feels like it belongs floating in a pool not under our sheets.
So the real difference in air mattress construction comes down to how the air is divided within the outer layers of the PVC: beams or coils.
You may be familiar with the beam air mattresses that tend to give you that "hotdog in a bun" feel. You know, the ones that rival beanbags for the title of "Hardest Furniture to Escape"? These beams are essentially vertical or horizontal "seams" where long strips of PVC join the top and bottom layers, creating large ridges on the surface. This construction only caters to pressure distribution in the direction of the beams, meaning your body has to fit in around the raised ridges, à la hotdog.
Coil construction, on the other hand, uses many internal PVC cylinders to join the layers, which makes for a more durable and comfortable mattress because it allows your weight to be more evenly distributed. "As you get better contact over more surface area, it takes the pressure off your body and any one point in the mattress," explains physicist Michael Pilling. "The air is going to move around the coils to find some comfortable equilibrium with your body and the mattress in a more delicate way." Translation? The mattress conforms to your body and not the other way around.

Our testers found beam construction (left) less comfortable than coil construction (right).
Our testers universally agreed that the coils were more comfortable, with one saying they made it feel more like a regular mattress. Since the science behind coil construction also backs up our testers' experience, we gave preference to air mattresses with coils.
We focused on the features that mattered.
Let's start by saying, we were testing the best air mattresses on the market. All of them did what they were designed to do: provide a decent night's sleep that doesn't start (or end) on the floor. None of our contenders are bad picks and they'd all do in a pinch — there's no "UltraSpike Insomnia Plus" in the running here. So we focused on those extra features and impressive performance stats that would really elevate the best air mattress.
Height: Air mattress dimensions are like scoops of ice cream: Would you like a single or double? Double-height mattresses can be almost as tall as a traditional mattress-and-box-spring combo (the models we tested ranged from 16 to 22 inches) and are therefore easier to get onto and off. For our top pick, we focused on doubles, because there's something about a high mattress that gives us Princess and the Pea luxury vibes. We also wanted to find the best single-height air mattress (typically 7 to 9 inches) for those looking to hit the road with a more compact and lightweight option.
Pump: The pump determines inflation speed and whether you're tied to a wall outlet or free to roam. Double-height air mattresses typically come with a built-in pump that you plug in, while singles tend to come with external pumps. Our top pick, the Coleman PillowStop, has an internal pump and a valve suitable for any external pump. We looked for pumps that were easy to use and didn't lose a lot of air (read: blast us in the face) when we stopped inflating.
Inflation: Speedy inflation shouldn't be a dealbreaker — we're talking about a minute or two after all — but a quick time is a nice perk. We had a race and noted inflation and deflation speeds, and while the single-height models were naturally faster, we were impressed that the Coleman PillowStop gave them a run for their money.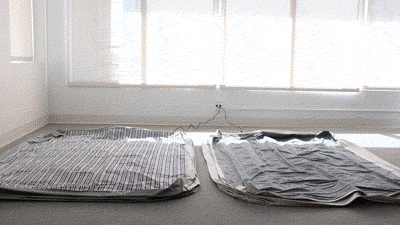 The Coleman's 1-minute inflation time (left) beat out the SoundAsleep Dream (right), which took almost 4 minutes.
Air Loss: By nature, air mattresses deflate as you use them, especially during the first few nights when the new PVC stretches out. But that doesn't mean you should wake up in the morning with your backside grazing the ground. Or worse, wake up in the middle of the night enveloped in swathes of deflated PVC. Chiropractor Dr. Christopher Good, Professor of Clinical Sciences, University of Bridgeport College of Chiropractic, warns, "If not filled properly, air mattresses can leave the back unsupported and create increased stresses and strains to the tissues of the spine." So we tested for air loss. We inflated all our mattresses, measured their starting heights, and then left three 80-pound bags of cement on them overnight to simulate a human or two. Some mattresses, like our top pick, didn't lose any height and felt just as firm when we measured them the next morning. Others didn't fare so well, though none failed as dramatically as the Serta Raised Air Mattress w/ neverFLAT Pump with its convincing quicksand impression. We gave preference to air mattresses that lost minimal height, and therefore air, overnight.
We flashed an air mattress' life before our eyes.
We made a list of all the scenarios we might encounter during our air mattress' lifetime and tried to squeeze them into a few days. We put sheets on and tried to yank them off (those soft "flocked" tops and grooves in the sides really do help a fitted sheet stay on). We changed our minds about where we wanted to sleep and dragged uninflated PVC mattresses around. And we also hoisted fully inflated mattresses to different spots in the room to see how heavy they were. We lay down, tossed, turned, and attempted to adjust the amount of air without getting out of bed. Then we took our top performers home for the weekend and welcomed ourselves into our own guest rooms for what turned out to be a few good nights' sleep.
Our Picks for the Best Air Mattress
Best Overall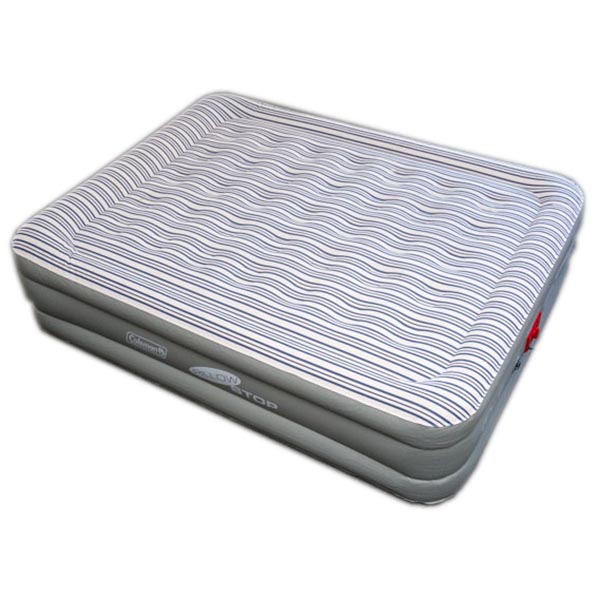 The Coleman SupportRest Elite PillowStop Double High Airbed is our top pick because its pump game is seriously on point. The Coleman's 120V built-in pump is fast — really fast. It was fully inflated in only 1 minute, 35 seconds. To put that in context, the overall fastest was a single height mattress (the SoundAsleep Camping Series) at just 1 minute, 3 seconds, but then again, that's half the size of the Coleman. On the other hand, the runner-up SoundAsleep Dream Series took more than twice as long with a top-tapping 3 minutes, 41 seconds.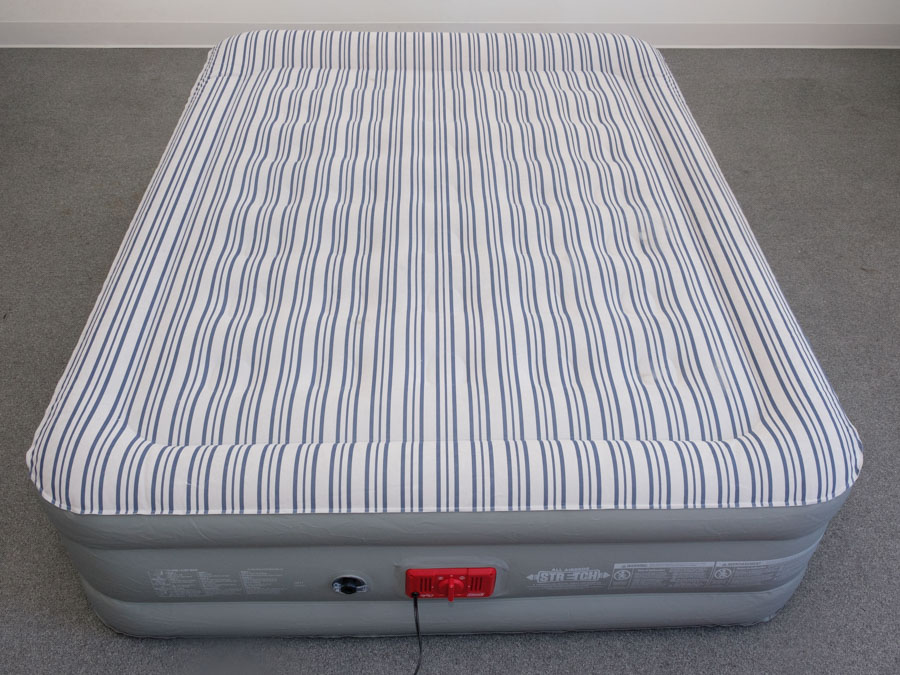 The real game-changer with the Coleman is the second manual pump valve. It was one of only two double-height contenders with both an automatic internal pump and a manual pump valve, which means you can use it wherever you need it. The Intex PillowRest boasted the other dual-pump design, but we weren't fans of its beams and it lost the most air overnight, a whopping 1.25 inches. While the Coleman doesn't come with its own external pump, you can use any manual pump (we found those with internal rechargeable batteries are generally faster than those with replaceable batteries) to inflate our top pick anywhere outside your house. And we wanted to take it outside — because it's also the lightest of all our double-height air mattresses, at just 16.5 lbs. That's about the same as 2 gallons of water, another camping essential. The Coleman's square carrying bag simply zips up around the mattress, so you're safe from the Sisyphean task of folding it to stuff into a pouch or lift into a bag.
The Coleman was one of the notable few that lost no perceivable height during our overnight test. The other two were the Coleman Airbed Cot that had an elevated metal frame (which we felt protruding through the mattress), and our camping runner-up, the SoundAsleep Camping Series Air Mattress.
The Coleman's raised "PillowStop" edge sounds gimmicky, but is surprisingly comfortable.
We were initially skeptical about the "PillowStop" feature, a slightly raised edge meant to keep pillows from falling off. It sounds like a gimmick, but one tester did report that it "gave the pillows a slight lift that helped hold them in place." Is it a must-have? No. But we brought in an otherwise identical Coleman SupportRest Elite Double High Airbed that didn't have the PillowStop feature, and after sleeping on both, we'd rather have it than not. And while we found the blue and white stripes less stylish than the softer earth and water hues of most other air mattresses, if you intend to put sheets on your Coleman anyway, you can happily forget about this curious design choice.
Runner-Up
SoundAsleep Dream Series A popular indoor option, the SoundAsleep Dream provides a comfortable night's sleep, but comes with fewer features and slower setup.
If you're looking for an indoor setup and have put any thoughts of outdoor use firmly to bed, then you'll be happy with the SoundAsleep Dream Series. Though its fairly standard features didn't wow us, it was a solid performer and we're confident you'll get a good night's sleep.
The SoundAsleep Dream's double-height, coil construction comes with a built-in AC pump, and while it had a significantly shorter cord than a lot of the others we tested, we didn't find this to be a huge issue. It also has a nifty little cubby hole to keep the cord tucked out of the way when the pump's not in use. Simple storage was a breeze with the generously sized carry bag easily accommodated all 19 lbs of loosely folded mattress. Although its slow inflation time (almost 4 minutes) couldn't compete with the Coleman, the SoundAsleep does come in gentle ocean blue or deep burgundy color schemes, making it admittedly much more attractive.
Best for Outdoor
If you want to slip some luxury under your sleeping bag, or into the back of your truck, a single-height air mattress offers a perfect balance of comfort and convenience. Although not a replacement for a mattress pad for serious hike-in campers, these smaller, more lightweight air mattresses are perfect for car campers and backyard camping enthusiasts.
The Alps Mountaineering Rechargeable Air Bed made us feel like we should definitely go camping more often. This was one of the few single-height air mattresses with coil construction, and with less air and a lower profile, we really appreciated those comfort dimples. It held air pretty well overnight too and the 0.25 inch it lost didn't seem to make much of a difference, which is surprising given it's only 9.5 inches tall to begin with.
Getting this baby to your drive-up destination should also be a breeze. When tightly rolled, the Alps was about half the size of a sleeping bag, and though still hefty for a hike, would take up little space for car campers. It was also one of the lightest products we tested at 9.75 lbs. The Lightspeed was the only one lighter, at just 4 lbs, but it lost way too much air when detaching the pump.
The Alps' rechargeable pump in action (note: You don't have to keep it plugged in)
All of the single-height air mattress we tested had an external pump, and of all the rechargeables, the Alps was our favorite. We love that it comes with both a wall and car charger, but the pump itself is unusual: a sturdy cylinder about the size of a large coffee mug that locks into the Alps unique valve and twists to inflate/deflate. The lock keeps the pump in place so you don't have to hover, and after fully inflating in 1 minute, 24 seconds, literally no air escaped when we disconnected it. The only downside to this distinct design is that you have to use the pump it comes with, so if you lose or break it, you'll need to contact the company directly to order a replacement (we couldn't find it anywhere else online).
Runner-Up
SoundAsleep Camping Series The SoundAsleep Camping Series has beam construction and offers the fastest inflation and an innovative air valve.
The SoundAsleep Camping Series is our only pick with beam construction, and while testers noted that the beams felt a bit more intrusive than coils, it was still pretty comfortable. Side sleepers in particular liked the way the ridges pushed up to offer support along their whole side, although if you sleep on your back or front, you may find this bumpy height applies unwanted pressure. At 14 lbs, the SoundAsleep Camping feels surprisingly light, but even with our tightest fold, was more like a full-size sleeping bag.
The SoundAsleep Camping's powerful rechargeable pump finished inflating in an outstanding 1 minute, 3 seconds, a blessing for a late-night camp setup. The pump was less convenient than the Alps' as we had to hold it in place, but this is pretty standard for external pumps. We did like the cleverly engineered flap that automatically covered the opening as we removed the pump to limit escaping air. This also made adjusting air a snap, as you simply unscrew the cap and push the same flap to release air.
The SoundAsleep Camping's easy air valve that you can adjust with a single finger.
Others to Consider
A reliable indoor choice is the double-height Insta-Bed Raised Queen w/ neverFLAT Pump. We liked the Insta-Bed's automatic shut-off feature that eliminates the risk of over inflating and makes an already convenient automatic inflation feel even easier. We weren't all that impressed with the neverFLAT technology, though, which claims to inflate and maintain preset plush, medium, and firm airfill. Try as we might, we couldn't feel any difference and with only a handful of inflation seconds between them, we remain skeptical. But the Insta-Bed was just as comfortable as our top pick and runner-up and lost a minimal 0.25 inch overnight (much better than the Serta that boasts the same neverFLAT pump, but lost over an inch). At 22.3 lbs, the Insta-Bed is noticeably heavier than all our other picks and we had a harder time folding it to fit in its carry bag.
Did You Know?
You should top up every day or so.
Slow leaks over time can happen in a number of ways: from the seams, from the pump intake/output, and even through the pores of the PVC itself. If you're sleeping on an air mattress for more than one night, manufacturers recommend topping it up with about 10 seconds of air. According to chiropractor Dr James Devine, "For optimal comfort, inflate the mattress to a level firm enough that your pressure points (shoulders, hip bones, etc.) sink into the mattress just enough that your spine does not form an arch. Your entire body should feel supported and you shouldn't feel pressure on your vertebrae."
A mattress topper provides more than just another layer.
Both chiropractors we spoke to recommended investing in a mattress topper for extra padding and temperature control. "The materials air mattresses are made with don't breathe the way cloth mattresses do, so you can find yourself being uncomfortably hot in the summer and cold in the winter," explains Dr. Devine. "A cotton mattress pad will insulate you from the heat or cold (depending on the season) of sleeping on an air mattress."
Sleeping on an air mattress long-term will void the warranty.
Most air mattresses come with a one- or two-year warranty, but manufacturers warn that everyday use for more than a month or two will degrade the mattress and almost certainly void the warranty.
You can patch an air mattress.
Punctures in an air mattress are quite common, and often the reason for replacement. But whether there was a rock under the tent or the cat got spooked by your houseguest, you don't have to purchase a brand-new air mattress — most mattresses even come with their own patch. The simplest way to repair: Clean the area around the hole, and then use PVC glue and a patch to seal it. If the glue isn't sticking to a flocked top, you can lightly sand it down before gluing. Some patches even come with an adhesive back so you can skip the glue. Either way, it's best to wait a day before inflating the mattress again, to really let the patch seal. You can purchase all these items separately, or buy an air mattress repair kit.
The Best Air Mattress, Summed Up