Showing results for
Did you mean:
Sorry, something went wrong. Please refresh your browser and try again.
Last updated on
August 22, 2019
The Best Air Mattress
The best sleep air can provide
We recommend products and services based on unbiased research from our editorial team. We may receive compensation if you click on a link. Read More.
Best for Indoor

Indoor Runner-up

Best for Outdoor

Outdoor Runner-up

Other to Consider

Coleman SupportRest Elite PillowStop Double High Airbed
SoundAsleep Dream Series
Alps Mountaineering Rechargeable Air Bed
SoundAsleep Camping Series
Insta-Bed Raised Queen w/ neverFLAT Pump
How We Found the Best Air Mattress

3 experts interviewed
11 mattresses tested
2 top picks
The Best Air Mattresses
Most air mattresses are pretty similar, but the very best offers easy inflation, minimal air loss, and — we dare to dream — a luxurious night's sleep. We picked 11 popular models, consulted chiropractors and a physicist, and measured air loss overnight, before putting our REM cycles on the line to personally test the best. Our favorites offered intuitive pumps, a neat feature or two, and performed well in our overnight test, all while giving truly comfortable support that left us pleasantly surprised.
The 2 Best Air Mattresses
The Best Air Mattress: Summed Up
| | | | | | |
| --- | --- | --- | --- | --- | --- |
| | Coleman SupportRest Elite PillowStop Double High Airbed | SoundAsleep Dream Series | Alps Mountaineering Rechargeable Air Bed | SoundAsleep Camping Series | Insta-Bed Raised Queen w/ neverFLAT Pump |
| | Best Indoor | Indoor Runner-up | Best Outdoor | Outdoor Runner-up | Other to consider |
| Size options | Queen | Twin, Queen | Twin, Queen | Twin, Queen | Twin, Full, Queen |
| Product weight | 16 lbs. | 19 lbs. | 9 lbs. | 14 lbs. | 22 lbs. |
| Inflation time | 1 min 35 sec | 3 min 41 sec | 1 min 24 sec | 1 min 3 sec | 2 min 45 sec |
| Overnight height loss | 0 in | .75 in | .25 in | 0 in | .25 in |
Our Picks for Best Air Mattress
Coleman SupportRest Elite PillowStop Double High Airbed
The Coleman SupportRest Elite PillowStop Double High Airbed is an excellent all-rounder that impressed us with its thoughtful pump and design features.
Pros
Superfast inflation
Surprising portability
No overnight air loss
Cons
Controversial pillowstop
Bold design
Why we chose it
Superfast inflation
The Coleman SupportRest Elite PillowStop Double High Airbed is our top pick because its 120V built-in pump is fast — really fast. It was fully inflated in only 1:35. To put that in context, the overall fastest was a single height mattress (the SoundAsleep Camping Series) at just 1:03 but then again, that's half the size of the Coleman. On the other hand, the runner-up double-height SoundAsleep Dream Series took more than twice as long with a top-tapping 3:41.
Surprising portability
The real game-changer with the Coleman is the second manual pump valve. It was one of only two double-height contenders with both an automatic internal pump and a manual pump valve, which means you can use it wherever you need it. While the Coleman doesn't come with its own external pump, you can use any manual pump (we found those with internal rechargeable batteries are generally faster than those with replaceable batteries) to inflate our top pick anywhere outside your house. And we wanted to take it outside — because it's the lightest of all our double-height air mattresses, at just 16.5 lbs, and its square carrying bag simply zips up around the mattress.
No overnight air loss
The Coleman was one of the notable few that lost no perceivable height during our overnight test. The other two were the Coleman Airbed Cot that had an elevated metal frame (which we felt protruding through the mattress), and our camping runner-up, the SoundAsleep Camping Series Air Mattress.
Points to consider
Controversial pillowstop
We were initially skeptical about the "PillowStop" feature, a slightly raised edge meant to keep pillows from falling off. It's not high enough to be a pillow itself, so you'll either rest your pillow on top of it, which might give you too much lift, or find yourself scooting further down the bed, which may be a dealbreaker for taller folks.
Bold design
We found the Coleman's bold blue and white stripes less stylish than the softer earth and water hues of most other air mattresses. If you intend to put sheets on your Coleman anyway, you can probably forget about this curious design choice, although it may still show through with lighter or thinner sheets.
Alps Mountaineering Rechargeable Air Bed
The chamber-like rechargeable pump and coil construction of the Alps is the perfect combination for fast comfort.
Pros
Long-lasting comfort
Ultra-portable
Rechargeable pump
Why we chose it
Long-lasting comfort
The Alps Mountaineering Rechargeable Air Bed made us feel like we should definitely go camping more often. This was one of the few single-height air mattresses with coil construction, and with less air and a lower profile, we really appreciated those comfort dimples. It held air pretty well overnight, too, and the quarter inch it lost didn't seem to make much of a difference, which is surprising given it's only 9.5 inches tall to begin with.
Ultra-portable
Getting this baby to your drive-up destination should also be a breeze. When tightly rolled, the Alps was about half the size of a sleeping bag, and though still hefty for a hike, will take up little space for car campers. At 9.75 lbs, it was also one of the lightest products we tested. The Lightspeed was the only one lighter, at just 4 lbs, but it lost way too much air when detaching the pump.
Rechargeable pump
All of the single-height air mattress we tested had an external pump, and of all the rechargeables, the Alps' was our favorite. We love that it comes with both a wall and car charger, but the pump itself is unusual: a sturdy cylinder about the size of a large coffee mug that locks into the Alps' unique valve and twists to inflate/deflate. The lock keeps the pump in place so you don't have to hover, and after fully inflating in 1:24, literally no air escaped when we disconnected it.
Points to consider
Specific parts
The only downside to the Alps' distinct pump design is that you have to use the pump it comes with. So if you lose or break the air pump, you'll need to contact the company directly to order a replacement (we couldn't find it anywhere else online). And if you happen to forget it when packing for a trip, you won't be able to borrow a fellow camper's pump.
Others to Consider
A popular indoor option, the SoundAsleep Dream provides a comfortable night's sleep, but comes with fewer features and slower setup.
Pros
Reliable comfort
Easy storage
Cons
Short cord
Slow inflation
If you're looking for an indoor setup and have put any thoughts of outdoor use firmly to bed, then you'll be happy with the SoundAsleep Dream Series. Though its fairly standard features didn't wow us, it was a solid performer and we're confident you'll get a good night's sleep.
The SoundAsleep Dream's double-height, coil construction comes with a built-in AC pump, and while it had a significantly shorter cord than a lot of the others we tested, we didn't find this to be a huge issue. It also has a nifty little cubby hole to keep the cord tucked out of the way when the pump's not in use. Simple storage was a breeze with the generously sized carry bag easily accommodated all 19 lbs of loosely folded mattress. Although its slow inflation time (3:41) couldn't compete with the Coleman's, the SoundAsleep does come in gentle ocean blue or deep burgundy color schemes, making it admittedly much more attractive.
The SoundAsleep Camping Series has beam construction and offers the fastest inflation and an innovative air valve.
Pros
Inflation speed
Air pump flap
Cons
Beam construction
Tougher to store
The SoundAsleep Camping Series is our only pick with beam construction, and while testers noted that the horizontal beams felt a bit more intrusive than coils, it was still pretty comfortable. Side sleepers in particular liked the way the ridges pushed up to offer support along their whole side, although if you sleep on your back or front, you may find this bumpy height applies unwanted pressure. At 14 lbs, the SoundAsleep Camping feels surprisingly light, but even with our tightest fold was close to the size of an adult sleeping bag.
The SoundAsleep Camping's powerful rechargeable pump finished inflating in an outstanding 1:03, a blessing for a late-night camp setup. The pump was less convenient than the Alps' as we had to hold it in place, but this is pretty standard for external pumps. We did like the cleverly engineered flap that automatically covered the opening to limit escaping air as we removed the pump. This also made adjusting the mattress a snap, as you simply unscrew the cap and push the same flap to release air.
A comfortable air mattress with a convenient auto-off switch, although we couldn't verify the Insta-Bed's neverFLAT technology.
Pros
Automatic shut-off
Minimal air loss
Cons
Misleading neverFLAT technology
Large and heavy
A reliable indoor choice is the double-height Insta-Bed Raised Queen w/ neverFLAT Pump. We liked the Insta-Bed's automatic shut-off feature that eliminates the risk of over inflating and makes an already convenient automatic inflation feel even easier.
We weren't all that impressed with the neverFLAT technology, though, which claims to inflate and maintain preset plush, medium, and firm airfill. Try as we might, we couldn't feel any difference and with only a handful of inflation seconds between them, we remain skeptical. But the Insta-Bed was just as comfortable as our top pick and runner-up and lost a minimal quarter inch overnight (much better than the Serta that boasts the same neverFLAT pump but lost over an inch). At 22.3 lbs, the Insta-Bed is noticeably heavier than all our other picks and we had a harder time folding it to fit in its carry bag.
How We Chose the Best Air Mattress
To find the best air mattress, we sought out the most popular and well-reviewed products from major retailers like Amazon, Target, and Walmart. We also looked at those repeatedly featured on "best of" lists from sites like The Sleep Judge and Business Insider, as well as reviews on sleep blogs like Sleep Like the Dead and Choose Mattress. From a starting point of 85 potential candidates, we wound up with 11 highly-regarded contenders of varying heights, construction types, and pump methods.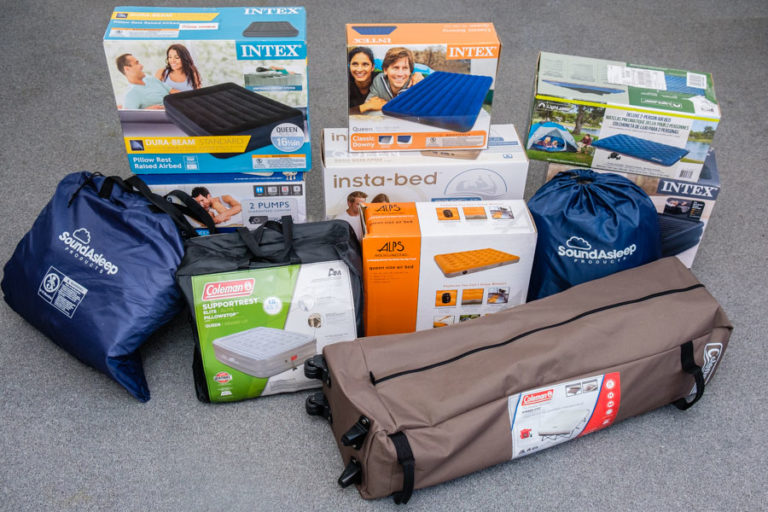 Alps Mountaineering Rechargeable Air Bed
Coleman Airbed Cot
Coleman SupportRest Elite PillowStop Double High Airbed
Insta-Bed Raised Queen w/ neverFLAT Pump
Intex Classic Downy Airbed
Intex Pillow Rest Raised Airbed with Built-in Pillow and Electric Pump
Intex Raised Downy Airbed with Built-in Electric Pump
Lightspeed Deluxe 2-Person Tufted Airbed
Serta Raised Air Mattress w/ neverFLAT Pump
SoundAsleep Camping Series
SoundAsleep Dream Series
Coil vs. beam construction
Almost all air mattresses are made of PVC, so the real difference in air mattress construction comes down to how the air is divided within the outer layers: beams or coils.
Traditional beam air mattresses tend to give you that "hotdog in a bun" feel. Large ridges on the surface are created by vertical or horizontal "seams" where long PVC strips join the top and bottom layers. This beam construction only caters to pressure distribution in the direction of the beams, meaning your body has to fit in around the raised ridges, à la hotdog.
Coil construction uses internal PVC cylinders to join the layers, which makes for a more durable and comfortable mattress because it allows your weight to be more evenly distributed. "As you get better contact over more surface area, it takes the pressure off your body and any one point in the mattress," explains physicist Michael Pilling. Essentially, the mattress conforms to your body and not the other way around. Our testers universally agreed that the coils were more comfortable, with one saying they made it feel more like a regular mattress.
Ease of use
Height: Double-height mattresses can be almost as tall as a traditional mattress-and-box-spring combo and are therefore easier to get onto and off. We focused on doubles (usually 16 to 22 inches), because there's something about a high mattress that gives us Princess and the Pea luxury vibes, but we also wanted to find the best single-height air mattress (typically 7 to 9 inches) for those who need a more compact and lightweight option.
Pump: The pump determines inflation speed and whether you're tied to a wall outlet or free to roam. Double-height air mattresses typically come with a built-in pump that you plug in, while singles tend to come with external pumps. We looked for pumps that were easy to use and didn't lose a lot of air (read: blast us in the face) when we stopped inflating.
Inflation: Speedy inflation shouldn't be a dealbreaker — we're talking about a minute or two after all — but a quick time is a nice perk. We had a race and noted inflation and deflation speeds, and while the single-height models were naturally faster, we were impressed that our double-height top pick gave them a run for their money.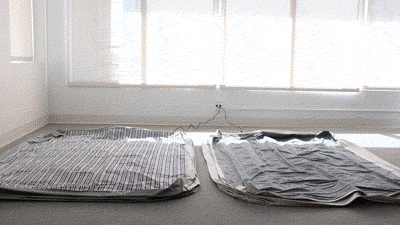 Overnight air loss
By nature, air mattresses deflate as you use them — especially during the first few nights when the new PVC stretches out — but that doesn't mean you should wake up in the morning with your backside grazing the ground. Or worse, wake up in the middle of the night enveloped in swathes of deflated PVC.
"If not filled properly, air mattresses can leave the back unsupported and create increased stresses and strains to the tissues of the spine."
So we inflated all our mattresses, measured their starting heights, and then left three 80-pound bags of cement on them overnight to simulate a human or two. Some mattresses, like our top pick, didn't lose any height and felt just as firm when we measured them the next morning. Others didn't fare so well, though none failed as dramatically as the Serta Raised Air Mattress w/ neverFLAT Pump with its convincing quicksand impression. We gave preference to air mattresses that lost minimal height, and therefore air, overnight.
Comfort
We laid down, tossed, turned, and attempted to adjust the amount of air without getting out of bed on all our contenders. Then we took our top performers home for the weekend and welcomed ourselves into our own guest rooms for what turned out to be a few good nights' sleep.
Guide to Air Mattresses
Consider your usage before buying.
Before you purchase an air mattress, it's important to think about how you'll be using it. An air mattress for camping or backpacking is different to one for long-term indoor use or houseguests. Pump type, height, and portability will all depend on your plans for your mattress. The frequency of your use could determine how much you'll want to invest in a mattress, too.
Top your mattress up every day.
Slow leaks over time can happen in a number of ways: from the seams, from the pump intake/output, and even through the pores of the PVC itself. If you're sleeping on an air mattress for more than one night, manufacturers recommend topping it up with about 10 seconds of air.
"For optimal comfort, inflate the mattress to a level firm enough that your pressure points (shoulders, hip bones, etc.) sink into the mattress just enough that your spine does not form an arch. Your entire body should feel supported and you shouldn't feel pressure on your vertebrae."
Dr. James Devine
chiropractor
Add a mattress topper for ultimate comfort.
Both chiropractors we spoke to recommend investing in a mattress topper for extra padding and temperature control. "The materials air mattresses are made with don't breathe the way cloth mattresses do, so you can find yourself being uncomfortably hot in the summer and cold in the winter," explains Dr. Devine. "A cotton mattress pad will insulate you from the heat or cold (depending on the season) of sleeping on an air mattress."
Air Mattress FAQ
Can you patch an air mattress?
Yes! Punctures in an air mattress are quite common, and often the reason for replacement. But whether there was a rock under the tent or the cat got spooked by your houseguest, you don't have to purchase a brand-new air mattress — most mattresses even come with their own patch. The simplest way to repair: Clean the area around the hole, and then use PVC glue and a patch to seal it. If the glue isn't sticking to a flocked top, you can lightly sand it down before gluing. Some patches even come with an adhesive back so you can skip the glue. Either way, it's best to wait a day before inflating the mattress again, to really let the patch seal. You can purchase all these items separately, or buy an air mattress repair kit.
Is it bad to sleep on an air mattress every night?
It's not uncommon to choose an air mattress for your nightly snooze — especially when transitioning homes or living in a small space like a dorm room. But know that manufacturers discourage this kind of use. Most air mattresses come with a one- or two-year warranty, but manufacturers warn that everyday use for more than a month or two will degrade the mattress and almost certainly void the warranty.
If you intend to use your air mattress frequently, keep the mattress inflated and only inflate as needed each night. If the air mattress is continually inflated and deflated, it will put unnecessary stress on the bed's seams which will compromise the integrity of the mattress' structure over time.
How much weight can an air mattress hold?
Depending on the size and quality of your air mattress, most can hold up to 600 lbs. Smaller single-height twin mattresses may max out at 300 lbs. Most of our top picks range from 500-600 lbs weight limits. If you need a product that can hold more weight, consider a sleeping cot.
What are the best methods for taking care of an air mattress?
If you want to get the most out of your air mattress, you'll want to take care of it and keep it clean. The best way to achieve this has to do with storage mainly: Store your air mattress in an area that is protected from extreme heat and cold, which can cause damage to the motors or pumps and the PVC structure of the bed. And keep mattresses completely away from water and sharp objects, which could puncture your air mattress.
Aside from smart storage, be sure to keep your air mattress clean. Some experts recommend cleaning your air mattress after every use. That may be overkill for those who use their air mattress more frequently than the occasional camper. However, wiping the mattress with clean water and mild soap will help combat dirt, residue, and bacteria build-up, thus extending the life of your mattress. Also, don't allow pets on the air mattress as they could puncture the PVC casing and ruin your bed.
Finally, use bedding to preserve the life of your mattress, not only will it help keep you more comfortable, but it will also keep your bed cleaner, so that dust and dead skin cells and nighttime sweat aren't built up on the PVC vinyl.
Will an air mattress pop if over-inflated?
Yes, a blowout could occur if an air mattress is filled over maximum capacity. Even if it doesn't "pop", the over-inflation will still put tension on the seams of the bed, which will compromise the effectiveness of the support it could offer.
You might also like