The Best Background Check Service
Know who you're hiring
Latest Update
July 5, 2016
The 30-Second Review
First things first: Because of the Fair Credit Report Act (FCRA), you can only do a background check on someone with their consent and a legitimate business reason. Sound like you? Then you'll want an FCRA-compliant company with up-front pricing, a quick turnaround time, and the ability to automate the consent-collection process for you. And, according to the private investigators and business consultants we talked to, the best background check service will be one of the larger players, with the manpower and database access to get you the best reports the fastest.
Best for Small Businesses
The fastest turnaround of any company we tested (only 15 minutes!), the most seamless consent-collection process, and easiest onboarding — all for $30.
Other Top Picks
Best for Large Businesses

Best for Nannies and Caregivers
GoodHire is our top pick for its excellent customer experience; fair, transparent pricing; and its variety of service offerings. It's one of only a handful of larger companies capable of attending to the varying needs of small businesses — for lots of services, one-off background checks are too small-potatoes. And while most sites make you call and chat with a salesperson, GoodHire lets you sign up online and immediately sends a sample report so you know what to expect.
Sterling Talent Solutions, our runner up, has a quarter of Fortune 100 companies on its client roster and is pretty open about not being worth the price for anyone running fewer than 15 background checks a year. But it's a behemoth in the industry and matched GoodHire's 15-minute turnaround: the fastest of all the services we tested. You'll pay more for Sterling than GoodHire — and have to provide your own consent paperwork — but if you're regularly running through big batches of background checks, those inconveniences will be negligible.
To screen potential nannies and caregivers, eNannySource impressed us with its quick turnaround and affordable packages. Its basic check is only $19, and doesn't require a business license.
How We Found the Best Background Check Services
We started with as many major background check services as we could find, including employee-screening services, tenant-screening companies, and nanny/caregiver-screening services.
Turns out, there are numerous companies that can do background checks for you, accessing records from hundreds of official databases. They range from a handful of large companies, who mostly screen backgrounds using automated systems, to dozens of smaller mom-and-pop operations, who check files by hand and make phone calls themselves, says Kelsey Corcoran-Galarza, a small-business consultant and former director and senior manager at HireRight, a major background check provider.
While many of the mom-and-pop shops are legitimate, they simply don't have the resources and database access that the bigger fish in the industry have, and they have a greater margin for error. Corcoran-Galarza says that's the key: "Use a real, big check company. Follow their instructions and you'll be in good shape."
To start, we only included FCRA-approved background check companies.
People-search sites can also backfire. Against Cohen's advice, a friend "used a people-search site to look up this guy she was interested in," she says. When Cohen's friend completed the search on the man, it sent an email to him, saying, "'Hey, Susan just did a background check on you! Would you like to do a background check on her?' Now he thinks she's the weird one."
That's the only type of background check service a business or organization can legally use. "People-search" sites, on the other hand, may satisfy curiosity, but they aren't beholden to regulations set by the Federal Credit Report Act, since the person being checked doesn't give their consent. A people-search site "doesn't meet the letter of the law or spirit of the law," Corcoran-Galarza says.
People-search sites have ads plastered all over Google: "Find anyone!" These sites entice you to snoop on people in secret, usually giving a bit of information for free — Megan is 33 and once lived in Nevada — then go for the upsell, a paid search on a person's possible criminal past, bankruptcy history, marriage and divorce records, and more. People-search sites are more akin to Yellow Pages entries, says private investigator Efrat Cohen. The searches are done strictly by computers, with little to no human oversight; they might hit on a few correct items, like your family members, but mostly they'll lead you astray.
We didn't include private investigation firms or companies that only do one type of check.
"Most small businesses think a background check is just a thing. Couldn't be further from the truth," says Corcoran-Galarza. "There are literally hundreds of searches a small business can order."
The first responsibility of a small-business owner is to determine what background check best fits the position they are hiring for, or the reason they are screening a tenant. In fact, it's the law. The FCRA is enforced by the Federal Trade Commission and compliance is super important. "There are lawyers out there whose whole purpose in life is to try to bust employers for not following the law," Corcoran-Galarza says. "It's rather lucrative."
Many PI firms offer background checks. The difference between these firms and the larger screening companies is price and speed, Corcoran-Galarza says. They may be thorough, but PIs are often in smaller, mom-and-pop organizations with fewer resources and staff. They often charge by the hour, too (sometimes around $40 to $100 per hour, according to Angie's List). Hiring a PI for every potential hire just doesn't make much sense.
Some sites solely focus on fetching credit reports, for example, or driver's records; we cut any of these one-hitters, since every business has different needs.
We cut companies serving only big corporations and larger organizations.
For many screening companies, the average guy who runs a coffee shop isn't worth their time and resources. Some say it right in their name: Corporate Screening Services, for example. When we called the company, it politely but firmly said it doesn't serve individuals or run one-off checks.
There are some companies that advertise for both: Pro Forma passed all of our tests and offers many different types of checks. The rub: an exorbitant setup fee ($150) just to get started. The rep admitted that Pro Forma targets larger organizations that perform multiple checks rather than small businesses; though, anyone with a business license can use its service. Similarly, Intellicorp performs checks for small businesses, but its main focus is on companies with many employees.
Two Standouts Background Checks for Nannies had been hacked. When we went to its pricing page, we found it peppered with links for cheap Viagra — not exactly a company we want handling sensitive data. Another site that we saw at the top of many other best-of lists, CIC, presented us with a GeoCities-era HTML website with old ClipArt buttons and little-to-no info about its services offered. No thanks.
Then, we tested the user experience.
For many background check sites, the experience goes something like this: The person in charge of hiring orders a background check from a screening company, then inputs all the information they have on the person they're screening. The screening company, in turn, sends an email to the person being screened to confirm that all the information is correct.
In this common scenario, both the person requesting the check and the person being checked are interacting with the software. The exchange involves sensitive data and the discomfort of a stranger rummaging through official records of one's pass. To that end, we looked for a user experience that was as frictionless as possible.
We rated websites on how transparent and clear their services were. We looked for up-front pricing and turnaround times, clear product demonstrations, helpful FAQ sections, and live customer support. We called to see if they could accurately explain their services without trying to scare us into a sale. In the end, sixteen sites impressed us the most.
To test those top sixteen, we sent emails and made dozens of phone calls under the guise of a business owner, landlord, and someone looking to help their sister find a nanny. We had each company's reps guide us through the process, and ordered the most basic background check on our own Managing Editor. Then we poked around each site and compared the end results for accuracy and readability.
(How'd our Managing Editor fare? She came up clean across the board.)
Our Picks for Best Background Check Services
Best for Small Businesses
GoodHire Fast turnaround, transparent pricing, and seamless consent-collection — all in a modern, beautiful design.
There's a cloud of uncertainty around many background check services. Thirty-three of the 48 FCRA-compliant companies we looked at didn't list their prices online, and 26 didn't give clear information on when we'd get our report back. GoodHire, though, hides nothing. It was our runaway favorite.
Let's start with its site. There's a pricing page that goes into great detail about each of its screening packages and how much they cost. (Most sites make you call and chat with a salesperson first. GoodHire is one of a few background check sites that lets you sign up on your own, online.) We also appreciated that before we bought anything, GoodHire provided us with a sample background report so we knew what to expect.
Want a custom quote for high-volume or customized needs? We loved the clear expectation it set: "Let's Get Started. We'll get back to you within one business day." A prompt, no nonsense promise it kept. The simple, clean interface isn't just nice to use; it underscores GoodHire's service.
Now, let's say you're a small business. Most screening services, including GoodHire, run a check to verify that you have a valid business license. Once it confirms that, the next step is to get signed written consent from the person you're checking.
When it comes to consent forms, GoodHire does all the legwork for you. It sent our test applicant an online consent form with clear directions. She added the information herself and signed electronically. Sounds like an obvious perk of living in the Internet Age, but it's not an industry standard. One large background check company (and our top pick for larger businesses), Sterling Talent Solutions, annoyingly required us to scan or fax (!) consent forms in.
GoodHire also had the fastest turnaround time of any of the companies we tested: about 15 minutes, or right about the time we finished making our own consent form for Sterling Talent Solutions. When we ordered with GoodHire, our business documents took some time to get through, but even that didn't slow things down. Since we already had confirmed consent from our employee, GoodHire didn't make us wait to go ahead with the background check.
A real clincher for GoodHire's superior status: Its background check report. It was much easier on the eyes than the competition's. Granted, these reports don't need to be fancy, but GoodHire had just the facts — all accurate — organized under clear headers. We liked how the two-page report ended with an FAQ and glossary page, which helped explain the results and any next steps we'd need to take.
Inside the client portal, each employee's status is listed (our Managing Editor was "Clear") — no need to click in to review the report unless a discrepancy is flagged. (A competitor's site, Accurate Background, forces you to click into each report to see its results.)
GoodHire's clean, uncomplicated layout (top) made it easier to navigate than competitors like Accurate Background (bottom).
GoodHire's basic check costs $30; add on a motor vehicle report check or a professional license certification check for $15 each, or upgrade to the $55 standard check to access a domestic terror watchlist and county court records.
Best for Large Businesses
Sterling Talent Solutions The turnaround is as fast as GoodHire's, but a basic check is $30 more — unless you're doing big batches of checks at a time.
Sure, Sterling — and its make-your-own-consent-form business model — left us wanting more for the small business, but for larger corporations, it's worth checking out. It's big (3,500 employees), has been around a while (since 1975), and has a great list of clients (25 percent of the Fortune 100 list). Sterling Talent Solutions is slick and easy to use out of the package, and once we submitted our employee's consent form, we got our report back within 15 minutes.
Compared to GoodHire, which has an employee count in the lower hundreds and has a lean website, Sterling looks like a B2B behemoth. And that's no accident: Sterling, known as SterlingBackcheck before a recent re-brand, has undergone multiple mergers, acquiring EmployeeScreenIQ last November and joining with TalentWise in January. (It took some confused calls to customer service reps to find that Sterling Talent Solutions is technically the same company as both EmployeeScreenIQ and TalentWise, though they are all still marketed separately.) If you go to SterlingBackcheck.com, you'll be automatically redirected to Sterling Talent Solutions.
When we were told we would be using Kennect, Sterling Talent Solutions' service for individual background checks, to process our single check, we were surprised. If you're doing more than 15 checks a year, you should opt into Sterling's corporate-focused services that can better perform checks in batches for an annual fee (prices vary depending on your company size, but the rep was reluctant to tell us more). In the rep's "honest opinion," it's best to use Kennect for fewer than 15 checks per year; the annual fee isn't worth it. In our honest opinion, if you're doing that few, use GoodHire.
Of the five sites we hand-tested, Sterling Talent Solutions — er, Kennect — had the most expensive basic package at $60, but it includes three county criminal checks (which might be worth the premium as many county courts charge a flat fee around $20 to $60 for access to their records). But there's the rub. GoodHire and HireRight, another service we looked at, let you choose if you want county criminal records in your basic package. If you don't want them, GoodHire and HireRight don't make you pay for them.
To its credit, Kennect's online software is very easy to navigate. It has a left-hand menu to access any reports you have written. There is a clear timeline of when you submitted your forms, the name of the representative who submitted them, and when the report was received. It's a cinch to call up any old reports in case you need them (just like GoodHire).
Overall, we were happy with our report once we got it: It was clean and simple on a one-page form, with little bloat. Each category of checks performed had a clear explanation. In the Social Security-verification portion, it even gave us a list of suggested hypothetical names that our applicant might have used, in case we wanted to search those too.
Best for Nannies & Caregivers
eNannySource You can get a basic background check for only $19 — and you don't need a business license.
We've mentioned having our business license verified in order to order a background check — nearly every background screening company requires you to have one. These screeners theoretically could do checks for anyone, but things can get pretty hairy liability-wise. That's partially because of "Know Your Customer" (KYC) laws, says Corcoran-Galarza. The law protects against any person just running an invasive background check to use as blackmail. A business license acts as a buffer between the screening company and the person requesting the screen; it verifies that you're performing a background check for the right reasons.
So what happens if you're looking to screen a prospective nanny?
Thankfully, there are a few check services for just that and eNannySource impressed us the most. (It should be noted that eNannySource isn't just a background-check service. First and foremost, it serves as a liaison between households and potential caregivers. You can sign up to search for babysitting or nannying jobs, or to look for a caregiver. Background checks are just a bonus service for eNannySource, and it does that well.)
Its Basic check was very affordable — only $19 — and the ins and outs of its packages were very clearly explained on its website; no need to call a sales rep. The Basic check included an SSN validation, nationwide sex offender list search, and a nationwide criminal search. Adding services a la carte — such as a driving record report ($30) or degree verification ($25) — was as easy as checking a box on the order.
We entered the email of our potential caregiver, and eNannySource immediately sent a consent form over email. We got a message letting us know that if our caregiver didn't send the consent forms back within 24 hours, we'd get a notification email. We liked that they kept things moving. We ordered our check in the afternoon, and we were told results could take up to five days; but, eight hours later the checks were done.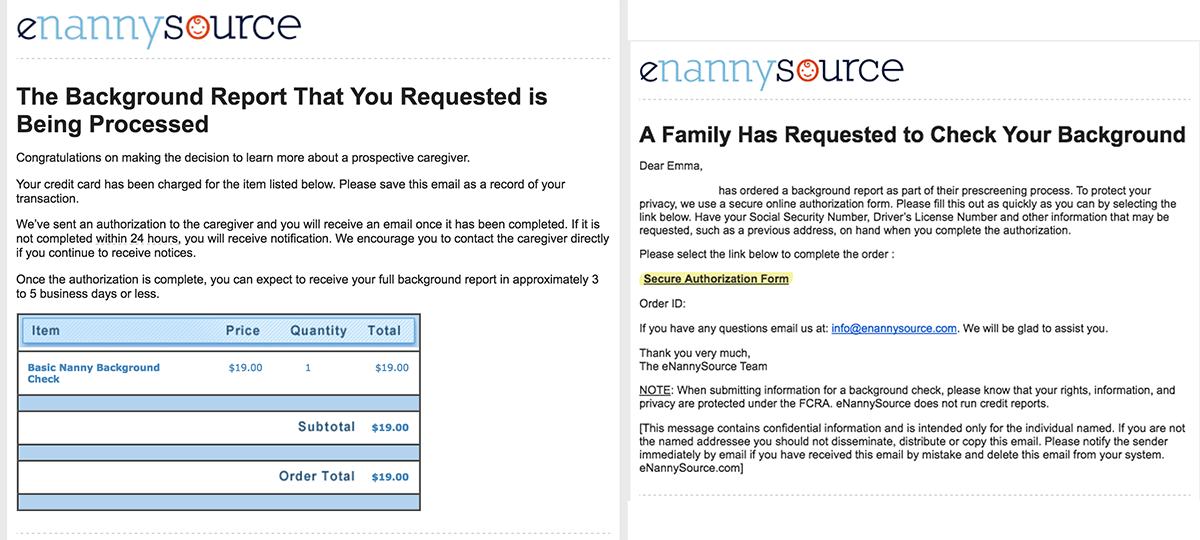 Some knocks on eNannySource: We wish its customer service reps were more responsive. Multiple calls went straight to voicemail, and emails with questions were never returned. Since it's so easy to order online, we could forgive this, but more attentive customer care would've put us at ease. We didn't have to create an account for eNannySource, which saved us time, but also means we couldn't log back in and retrieve a copy of the background report.
We hand-tested one other FCRA-approved nanny-screening service: NannyVerify. Its customer service rep was very knowledgeable and made us feel at ease — much like a good nanny would. But, its website barely passed our customer experience test. It's uninviting and feels slapped together, with stretched-out stock photos and large blocks of text. After we clicked on "Order Now," we were re-directed to a login page for National Crime Search, a larger background check site. It turns out NannyVerify is just an affiliate for the National Crime Search service; the actual account is with NCS. For all this confusion, NannyVerify cost nearly twice as much as eNannySource ($35) to perform fewer tasks (SSN validation, address history, criminal background check of one county).
Other Background Check Services We Tested
BackgroundReport doesn't require you to have a verifiable business license — only that you have written consent from the person you are screening. That means anyone can use it, from small businesses to landlords to organizations hiring volunteers.
GTM is one of the only services we found that performs international checks on foreign employees. However, GTM doesn't do some of the other typical services, such as employment verification.
AccurateBackground had the most affordable basic package ($25 for AccurateNow), but we had to practically chase down a sales rep to give them our money. It took 36 hours to get the company to finally agree to perform the check.
CrimCheck is one of few screeners that will dig into health records, if needed, but it just barely sneaked past our user experience evaluation — we didn't like that its pricing and turnaround time was unclear, and it never responded to one of our emails asking for more information.
Employers Choice Online has the ability to perform professional license certification checks: If you're hiring an accountant, for example, it can confirm if the applicant is a licensed CPA. (GoodHire and Sterling also offer this; Kennect, Sterling's one-off check provider, does not.)
HireRight is solid option but not the best: it offers the same package as GoodHire, but for $10 more — and its reports aren't nearly as nice to look at.
ScreenedRenters markets itself as a background screening site, but it functions more like a property management interface. In an ideal world, renters are encouraged to sign up and get their background and credit checked. After that, a renter is forever "pre-screened" for any future rental applications. (It's a good idea in theory, but ScreenedRenters needs wider adoption.)
DataFacts has been around since 1989, and when we chatted with the company on the phone, we felt its rep was thorough and never eager to push us into a sale. However, its website and consent process were riddled with errors.
OpenOnline is good for criminal background checks, employment verification, and address history, but beyond that its offerings are slim compared to competitors. It only works with small businesses with a valid license, not with landlords or nannies.
The Best Background Check Services: Summed Up
Did You Know?
You can get into some serious hot water if you don't know the rules.
The Fair Credit Reporting Act is a consumer protection law that makes sure no one's snooping around another person's private background for the wrong reasons. It requires that a business only perform background checks that are relevant to the applicant and the position they are applying for. For example, it's within legal bounds to check if a teacher is on a sex offender list, as they are in constant contact with children, but unless a teacher is handling money, there's no legitimate reason to run a credit check.
Other things the FCRA stipulates: The check also be done with the applicant's consent, and it must be a clearly separate document so it is distinguishable from, say, a job application. If anything is off, enforcement lawyers aren't afraid to bring the hammer. For bigger companies, that hammer can be huge: Dollar General agreed to pay $4 million; Publix settled claims for $6.8 million; and while Whole Foods saw a $10 million case dismissed, it recently settled another FCRA case for $800,000. Chipotle is currently dealing with a similar suit.
You can do a criminal background check on your own — but we don't recommend it.
Criminal records are public, so it's possible to go to a county courthouse and check the criminal background of anyone (and you won't be subject to some of the FCRA regulations). However, it's not easy to parse through all those paper records by hand — plus, you'd need to check the county and state records your potential hire has lived: if a person moves across state lines, their record will look clean in the new state.
Corcoran-Galarza also advises against companies turning into armchair gumshoes and scanning a potential hire's social media accounts. You might get an idea of someone's background, she says, but "in terms of the law, it's quicksand." Reviewing someone's Facebook page opens you up to the possibility of being sued for discrimination: you're not legally allowed to base hiring decisions on that information. Background checks and the FCRA control their records for non-discriminatory information so hiring practices are fair and balanced.
"A good background check is not expensive," Corcoran-Galarza says. "For small businesses who are trying to protect themselves from fraud, workplace violence, or liability, this is just not a big expense. A very good background check can cost $30 to $50. It's not a lot of money — just do it."
You can, and should, run a background check on yourself.
As with credit checks, experts recommend checking your background periodically to make sure there's nothing fishy going on. FCRA-approved background check companies will provide you a copy of the information they have on file for free or for a small fee (no more than $12).
The Bottom Line
The best — and only legally viable — background check services are all FCRA-compliant. Expect an easy user experience, up-front pricing, communicative customer service, and a quick turnaround time.
Take Action
Best for Small Businesses
GoodHire A fast turnaround, and GoodHire even handles employee consent for you.
Decide what you need in a background check. "This is often the most misunderstood aspect of the background check business," Corcoran-Galarza says. If the role you're hiring for doesn't require any driving, you shouldn't check your applicant's driving record.
Treat every applicant the same. You should have a written policy in place to ensure every applicant is treated the same way for the same job. "You can't say 'Sally has pink hair and a nose ring, so I'm going to run her through a background check,'" says Corcoran-Galarza. "Meanwhile, 'Natalie is clean-cut and looks like somebody's angel. So I'm not gonna run a check on her.' You can't do that." Consistency is important. For example, you could have a policy that states that anyone who has been convicted of a felony in the past seven years is not eligible for hire. That is fair.
Let the applicant know if you're not going to hire them because of the background check. If there is a "discrepancy" — that is, something potentially damning — in someone's background check, a company must send an "adverse action notification." The person checked has the right to dispute the information, and the job must be held for the applicant during any dispute process. It's a key part of compliance for legal hiring. Read more about adverse action on the FTC website.