Reviews.com is reader-supported. If you click on or buy something via a link on this page, we may earn a commission.
Showing results for
Did you mean:
Sorry, something went wrong. Please refresh your browser and try again.
Last updated on
April 4, 2017
The Best Beard Oil
All beard oils will soothe and soften — finding your scent is the real challenge
The 30-Second Review
Pretty much any beard oil is going to have the right carrier oils to soothe and moisturize dry skin and help eliminate "beardruff." The real trick to finding the best beard oil is landing on a scent (and scent intensity) that appeals to you — as well as anyone planning on getting close to your face. We rounded up the 19 most buzzed-about beard oils, tried them out, and pinpointed their scents to help you find which one's right.
Best Scent
Both men and women loved its mix of sandalwood, citrus, and rosemary. Its scent is milder than most but lasts all day.
Best Unscented
Leven Rose Beard Oil
Prefer to avoid scent altogether? Leven Rose is just the good stuff — organic jojoba and argan oil.
Most Giftable
A tobacco-vanilla scent that's bold in every sense. Our most intense pick comes in an unusual clear and square bottle.

Best Value
Honest Amish Classic Beard Oil
Our most subtle pick has notes of tobacco, clove, and black licorice, but the scent fades quickly.
The Best Beard Oil
Let's cut right to the chase: The best beard oil is subjective. Choosing the perfect elixir for your whiskers ultimately comes down to personal preference, and there's no way to know for sure how any beard oil will work on your beard and skin until you try it for yourself.
That said, our overall favorite is Rhett's Beard Oil, an apricot- and hempseed-based formula with a pleasing sandalwood note and an easy price of $16 for a one-ounce bottle. It left our beards pleasantly soft and itch-free with no greasy residue.
Our favorite unscented oil is Leven Rose Beard Oil, a refreshingly simple combination of organic jojoba and argan oils, both of which are renowned for their moisturizing, antibacterial and antioxidant qualities. That nothing-but-the-best formula left our skin and whiskers feeling smooth and well-nourished, at the attractive price of $14 an ounce.
Detroit Grooming Co. Corktown Beard Oil's clear and square bottle was unlike any of the oils we tested. Its scent is also one of the strongest: bold tobacco with sweet vanilla, with a hint of cedarwood. At $22, Corktown is more expensive than our other picks, but if you're looking for a beard oil that really stands out, this is it.
The best value proposition is Honest Amish Classic Beard Oil, which gives you the vitamin-rich goodness of avocado, pumpkin and almond oils at less than $7 an ounce. It's a light, neutral formula perfect for everyday use, but its subtle scent fades within an hour.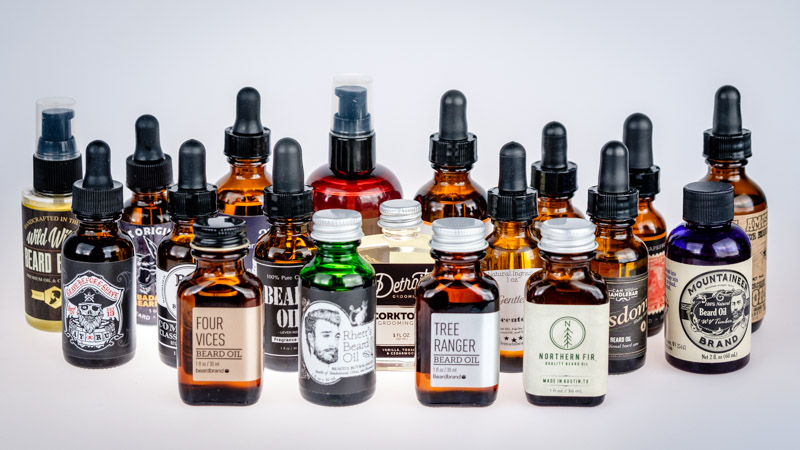 How We Found the Best Beard Oil
We wanted to dig into the most popular and widely available beard oils around. To get there, we made a list of every oil that scored at least 4.5 out of 5 stars on Amazon with a minimum sample size of at least 100 reviews, then asked our barber friends which beard oils they and their customers swear by. That gave us 11 contenders. Then we did a second sweep, scouring the web for consumer reviews and even lurked on beard forums (yes, they exist) looking for hidden gems. That process gave us eight more prospects, bringing our total to 19.
The 19 Beard Oils We Tested
Art Naturals Organic Beard Oil & Leave-In Conditioner
Badass Beard Care The Original Badass Beard Oil
Beardbrand Four Vices Beard Oil
Beardbrand Tree Ranger Beard Oil
Botanical Skin Works Natural Man Beard Oil
Brooklyn Grooming Commando Beard Oil
Brothers Artisan Oil – Orange & Grapefruit Oil
CanYouHandlebar Wisdom Beard Oil
Detroit Grooming Co. Corktown Beard Oil
Grave Before Shave Bay Rum Beard Oil
Honest Amish Classic Beard Oil
Leven Rose Fragrance-Free Beard Oil
Mountaineer Brand WV Timber Beard Oil
Northern Fir Beard Co. Beard Oil
Rhett's Beard Oil
Smooth Viking Beard Oil
The American Beard Company Beard Oil
The Gentleman's Beard Oil Unscented
Wild Willie's Beard Elixir
We initially set out to find which beard oils would soften the texture of beard hair and relieve beard itch the best, all without leaving a greasy residue. We had a trio of bearded men, different beard oil rotations, a system for scoring … but turns out, they're all pretty much the same. All of the beard oils we tested helped tame beard itch and moisturize our beards and skin. None felt particularly greasy, even when we really slathered it on.
It's not so surprising. The basic ingredients in beard oils are — you guessed it — oil, and finding the best is really just finding your favorite. The biggest difference from beard oil to beard oil is scent: what it smells like and how intensely.
Let's talk scent.
It's subjective, we know. But to help navigate a sea of oil, we mapped our 19 across five broad scent categories: Woodsy, Tobacco, Herbal, Citrus, and Unscented.
Unscented is just what it sounds like. The "carrier" oils that make up the majority of any beard oil — some combination of jojoba, Argan, sweet almond, and/or grapeseed oils is popular — don't feature any fragrance. A couple of unscented beard oils, like Gentleman's, have a very slight nutty whiff, likely from the sweet almond oil, but for the most part, nada.
Where does scent come from? Scent can come from essential or fragrance oils. Essential oils are derived from plant extracts, while fragrance oils are created synthetically in a lab. Used alone, they can be drying or just too fragrant, so they're mixed with carrier oils.
Woodsy and Citrus were the two easiest scents to profile. Both are immediately familiar. Our one citrus oil from Brother's is a brisk blend of orange and grapefruit. On the woodsy side of things, our beard oils fall into two camps: tingly juniper and pine like Northern Fir, or sweet and cedar, like Wisdom, Mountaineer, and the Original Badass Beard Oil.
The Tobacco scented oils are all warm and rich — the smell equivalent of sipping whiskey. A lot of that warmth comes from vanilla undertones, particularly with Corktown.
The rest of our beard oils we called Herbal, which is a little bit of a cheat since within that broad category we found a few distinct veins. Rhett's and Smooth Viking lead with sandalwood, and are the most reminiscent of aftershave. One of our tester's described Brooklyn Grooming's Commando oil as "tahini-ish" because of its sesame scent (sesame is like an herb… right?). Grave Before Shave is a friendly blend of tea tree and anise. And the most intense, Wild Willie's and Tree Ranger, have a menthol, almost astringent bite.
Intensity of the scent is just as important.
Just like choosing a cologne, intensity is a matter of personal preference. That bite? In practice, it's more a gentle tingle — of both the nose and skin — that Mr. Dandie, the bearded operations director of Toronto-based all-natural skincare company Skindew, says is a common effect of essential oils like peppermint and black pepper. It's present in a few of our boldest beard oils, including Wild Willie's, Grave Before Shave, and citrus-y Brother's.
Even those without much a "bite" varied in scent intensity. The subtlest, like Four Vices, is more an idea of fragrance — it clung to our beards with a waft of chocolaty tobacco that faded as the day went on. Ratchet up the intensity, and you've entered Wisdom territory, whose potent blend of cedar and spruce verges on air freshener.
So we chose the four most crowd-pleasing oils.
Picking beard oil winners and losers is a tough gig, so we didn't seek out losers. Rather we focused on the ones that we thought would appeal everyone — not just men but their partners, children, coworkers — anyone that might catch a whiff throughout the day. (And just for fun: We created a bot to help you find the best beard oil for you. Check it out on Facebook!)
Our Picks for the Best Beard Oil
Our Favorite Scent
Rhett's Beard Oil This lightweight oil absorbs in minutes, but its sweet sandalwood-rosemary scent lasts all day.
Though not as common as some other carrier oils, Rhett's top ingredients are both non-comedogenic—lightweight enough to use everyday, without clogging your pores. Hempseed oil is rich in Vitamins A, C, and E, and the fatty acids in apricot oil make it particularly good at soothing dry skin.
Nearly all of our testers loved its "beastly but balanced" mix of sandalwood, citrus, and rosemary, though it's definitely a bold enough scent that you'll catch whiffs of it all day — something one of our testers found to be too much.
We didn't focus on price when choosing our favorite oils. Rhett's Beard Oil is simply our favorite smelling, bar none. The fact that it costs just $16 an ounce is just one more thing to like about Rhett's. It left our beards pleasantly soft and itch-free with no greasy residue. We're not alone in our praise, either. Amazon customers gave Rhett's Beard Oil an average rating of 4.7 stars, with more than 280 verified Amazon reviews.
Best Unscented Beard Oil
Leven Rose Beard Oil What it lacks in scent, it makes up for in quality. Leven Rose is made purely from organic jojoba and argan oil.
Leven Rose has just two ingredients, organic jojoba oil and organic argan oil. Simplistic, maybe, but those two ingredients happen to be the most popular carrier oils in the beard game. And rightly so. Both are packed with antioxidants, naturally occurring Vitamin E, and a combined comedogenicity score of less than one. That translates to a light, easily absorbed elixir that left our skin and beard feeling smooth and well-nourished. With Leven Rose you get just the good stuff. Nothing more, nothing less.
Even the packaging is down to earth, a 1-ounce brown apothecary bottle with a glass dropper and a simple label reading "Beard Oil." You have to squint to make out the brand. The price is right up our alley as well at just under $14 an ounce.
If you like a beard oil that doubles as a cologne you're going to have to look elsewhere, but if simple and pure is your bag, Leven Rose is a great choice.
Best Value
We love this beard oil, and you really can't beat the price of less than $7 an ounce. Let's start with the avocado oil. Tipping the comedogenicity scale at a lightweight 2-out-of-5, it's an easily absorbed moisturizing oil that's unlikely to trigger breakouts. And you don't have to be a taco lover to appreciate the fact that it's rich in fatty acids and vitamin E. Honest Amish classic rounds out the oil blend with virgin pumpkin seed oil, sweet almond oil and apricot oil, with the touch of jojoba, argan, and kukui. Not all of them are ingredients commonly found in an Amish pantry, but the result is a quality beard oil that's hard to beat price-wise: at $14 for a 2-ounce bottle, you get about twice as much for the same price as our other top picks.
The blend is refreshingly lightweight and all of our testers reported it moisturized their skin and beards without leaving greasy residue. The fragrance is middle of the pack, intensity-wise — it's there, but is quietly deferential to other products you might use, such as cologne or body spray.
Another thing we really like about the Honest Amish Classic is the packaging. Other value oils come in plastic bottles that look and feel cheap; Honest Amish is packed in a brown glass apothecary bottle with a glass dropper, like a supersized version of the more expensive oils we tested.
Most Giftable
Is it a little arbitrary to recommend a beard oil based on looks alone? Sure. But in a medicine cabinet lined with brown apothecary bottles, Corktown stands out in a square-shouldered clear glass container without an eye dropper or even so much as a limiter cap. It's sturdy. It's elegant. If you're looking for a beard oil to give as a gift, this one is certainly eye-catching.
The essential oils that join the sweet almond vitamin E carrier oils are unnamed but distinctive enough to identify: vanilla without a doubt, with a heavy splash tobacco and cedar. While it didn't match Rhett's across-the-board acclaim (its scent is one of the strongest), it received positive reviews from all of our testers. A 1-ounce bottle costs $22.
Did You Know?
We polled 100 beard oil users to learn more about their habits and their preferences.
From a 2017 survey of 100 beard oil users.
Beard oils moisturize skin — without clogging pores.
Beards collect and camouflage all manner of nasty stuff, from food to dirt, while shading your face from solar rays that kill bacteria. That can result in a variety of undesirable side effects, notably dry skin and comedones — enlarged beard follicles filled with dead skin debris and your body's natural sebum oil. You probably know them as blackheads.
The vast majority of any beard oil, typically more than 90 percent, consists of carrier oils. These base oils soften your whiskers and help to tame, if not completely eliminate, beard itch. Carrier oils also moisturize and nourish your skin.
Many men experience seborrheic dermatitis, or "beardruff". Beard oils can help decrease the redness, scaliness, and dryness while keeping the hairs in place.
But in the world of oil, some are better for skin than others.
According to Dr. Joel Schlessinger, a board-certified dermatologist, cosmetic surgeon, and CEO of LovelySkin.com, it's important to make sure the product you choose is designed for your skin type. If the oil you choose doesn't absorb easily, it can make it harder for skin cells to turn over and this leads to clogged pores. The oil you choose should be lightweight and easily absorb into your skin rather than sitting on the surface.
There's no way to be 100 percent certain which oils will absorb most effectively without triggering a breakout — everyone is different — but the comedogenic scale is a good place to start. Cosmetic chemists use it to estimate a substance's propensity to clog pores on a scale of zero to five.
The lower the number, the less likely to trigger a breakout.
| Comedogenic Rating | Carrier Oils |
| --- | --- |
| 0-1 | Argan, Avocado, Hemp Seed, Olive, Calendula, Castor, Pomegranate, Rosehip, Sesame, Sweet Almond |
| 2-3 | Apricot Kernel, Baobab, Borage, Grapeseed, Hazelnut, Jojoba, Peach Kernel, Peanut, Pumpkin Seed, Sunflower |
| 4-5 | Cocoa Butter, Coconut, Flaxseed |
Source: Journal of Cosmetic Science
A low comedogenic number often corresponds to an oil that is chemically similar to the natural sebum oil your skin creates. That's a key quality for beard oil, says Craig Chapman, a PhD chemist and lifelong beardsman. "Ideally a carrier oil should be as close in molecular composition and pH to the oils produced by your own body." All the products we tested used carrier oils rated 3 or lower.
Always test a new oil on the inside of your wrist.
The barbers we spoke with reported a number of their clients have had adverse reactions to beard oils. (This happened often enough that they stopped using beard oil as a pre-shave lotion.) Vitamin E oil might be to blame, and it's in every single one of the beard oils we tested, either as pure synthetic vitamin E oil, or occurring naturally in other carrier oils, like Argan oil. Some studies have linked it to allergic contact dermatitis — an itchy allergic reaction we talk about in our review of the best lip balm as well.
None of the oils we tried irritated our skin, caused redness, or triggered acne breakouts in our testers. But to be safe, always test a couple of drops on the inside of your wrist before committing to a full-face rubdown. "If you're allergic or even just sensitive, you'll know within a half-hour," Dandie says.
A special warning to those with nut allergies.
Most allergens are removed during the extraction process, but if you're severely allergic to tree nuts, steer clear of any products with sweet almond oil, including:
Beardbrand Four Vices Beard Oil
Beardbrand Tree Ranger Beard Oil
Detroit Grooming Co. Corktown Beard Oil
Grave Before Shave Bay Rum Beard Oil
Honest Amish Classic Beard Oil
Mountaineer Brand WV Timber Beard Oil
Smooth Viking Beard Oil
The American Beard Company Beard Oil
The Gentleman's Beard Oil Unscented

For best results, apply after a hot shower.
Dr. Schlessinger recommends applying the oil right after you shower or wash your face. That's when your beard and the skin below needs moisture the most. "Those with dry or very dry skin can often use an oil in the morning and evening, but oily skin types should limit their application to once a day at most."
Applying the oil is simple, just make sure your face is completely dry so the oil can absorb. Apply a couple drops in the palm of your hand, then rub your hands together so the oil is evenly distributed. Then, gently rub your hands back and forth along the sides, down the front, and through the bottom of your beard. Finish with a beard brush or comb to smooth the hair.
Bottom Line
Most beard oils are pretty similar; it's our beards and personal preferences that are different. Finding the perfect beard oil for you may take a bit of trial, but we're confident you won't go wrong with any of the quality beard oils we tested.