Since the dawn of streaming services, minimalists, TV fanatics, and budgeters have been asking if they should sever their cable contracts (also known as "cutting the cord"). That trend isn't going anywhere: Leichtman Research Group reported that the cable and satellite TV industry lost 1.7 million video subscribers in the third quarter of 2019, compared to less than a million in Q3 2018.
But is canceling cable contracts and signing up for streaming actually worth it? It depends. There are a lot of personal factors that will influence the savings and value of cord-cutting. The cost of your current cable TV package, your viewing preferences, internet package options, and platform preferences all need to be considered.
To gauge more individual experiences, we surveyed a small portion of the internet about their cord-cutting thoughts. In our survey, we found that a slight majority (60% of 1,307 total respondents) haven't cut the cord entirely. We learned that 34% of survey respondents still pay for cable or satellite TV service only, while 26% pay for both cable or satellite TV service and streaming services.
Our survey focused on the 21% of respondents that have completely cut the cord — leaving cable and satellite behind in favor of streaming. We wanted to understand why people make that choice, how many services they subscribe to, and whether they see the results they wanted.
Here's what we learned about why people switch to streaming: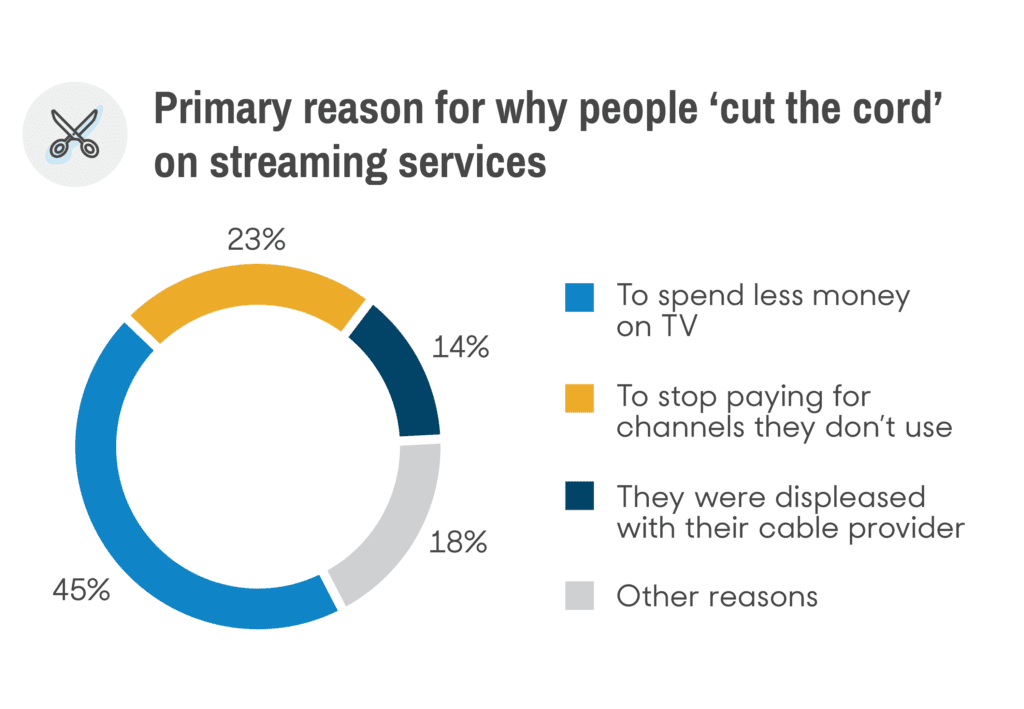 Finances appear to be the main driver behind the choice to cancel cable TV subscriptions: Nearly 70% of respondents who cut the cord cited money-related reasons. Consumers want to spend less money overall and want that money to be spent on content they value. Basically, they want more "The Marvelous Mrs. Maisel" content and don't want to pay for niche channels like the "Gem Shopping Network."
And the overwhelming majority of respondents achieved those goals. Of the people who cut the cord, 81% said they are spending less money now. And 86% said it's unlikely they'll return to a traditional cable TV contract.
One key to keeping those costs down is limiting the number of streaming services you subscribe to. According to our survey, most people don't subscribe to more than three services:
The takeaway — not everyone is cord-cutting, but those who do are saving money. So if you're looking to save some cash, you might want to consider cutting the cord. But we'd recommend you consider "worth" as more than just a price point. There are other kinds of value that come with canceling cable.
We'll walk you through the considerations that should factor into your cord-cutting decision.
What are you watching and where can you get it?
A Nielsen report from 2016 found that, on average, Americans watch less than 10 percent of the channels they receive (with the average viewer watching around 20 of the 200+ channels accessible to them). An audit of your viewing habits may show you also don't watch a majority of the channels you pay for. You might find you watch most of your TV on streaming apps like Netflix or Hulu. You might also discover that you frequent local sports broadcasts and cable news networks. Specific viewing habits and content preferences will dictate the best path for you.
If your household favors the big cable networks like ABC, CBS, NBC, and live sports from the NBA or NFL, you aren't completely beholden to traditional cable TV. There are streaming services that connect you to live TV channels — like Sling, Youtube TV, and AT&T TV Now. A live TV streaming service is typically cheaper than an old-school cable package. You can also select smaller channel packages that contain only the content you actually watch (including sports channels) and avoid getting stuck in any contracts.
When it comes to on-demand streaming services, there's a good chance you're already subscribed regardless of whether you pay for a cable TV package. Services like Netflix, HBO, and Amazon Prime Video have such buzzworthy and award-winning content that most people can't go without them. Many providers, like Xfinity and DISH, have even integrated the Netflix catalog into their on-demand libraries — encouraging the marriage of cable and streaming. If you find yourself mostly navigating to those streaming apps, they can certainly provide enough entertainment without a cable TV contract.
After you've surveyed your viewing habits, you may find there are cheaper ways to watch your favorite shows or that you're subscribed to platforms you don't need. But don't snip that cable just yet. If you discover your household frequents channels you can't get in one streaming package, there's a chance a traditional cable subscription might still be the best fit for you. Let's dig into the major costs for each kind of setup.
The cost of cable
A monthly cable TV rate is typically more complicated than a monthly streaming service fee. A lot goes into the cost of cable — fees, contract restrictions, post-promotion price hikes, and installation charges. A seemingly enticing $30 per month deal for a cable package will likely cost $70 per month or more once the promotion expires after the first year. Those fees and rates are rising annually as cable companies struggle to keep up with the rising cost of carrying broadcast networks and the declining number of subscribers.
But the cost also depends on the exact package you pay for from a cable provider. John Griffiths, VP of Marketing and Business Development for Spicy Mango, told us, "Quite often there are discounts for taking multiple services, i.e. broadband, telephone, TV, mobile and out of home wi-fi access. To call your total cable package just TV would be misleading as there are all these additional services bundled in."
We recommend thinking about the sum of your home service needs. If you've bundled services, you might only be paying $10-$20 for the TV portion of your contract, which could be cheaper than a streaming package if you value those live channels.
The cost of streaming
In our survey, we found most respondents subscribe to two or three services. As more and more streaming services continue to pop up, keeping an eye on the number of subscriptions is important.
"One service here for $7.99 per month, another there for $4.99 per month, and before you know it, you're signed up to half a dozen services and easily paying $40-50 dollars per month for them. People are starting to become more conscious or at least aware of that, and streaming service fatigue is starting to get real."

Sam Cook cord-cutting expert at Flixed.io.
On-demand services range from $5 to $15 per month, while live TV services range from $15 to $45 per month. Depending on your TV preferences, your price could be as low as $5 per month, but if you subscribe to multiple services, especially live TV services, those costs can quickly meet or even exceed cable costs.
Cord-cutters should also consider the cost of equipment. Different streaming services are compatible with different devices. You may need to invest in an Amazon Fire TV Stick ($35+) or Roku device ($35), unless you already own a compatible smart TV or game console.
From our survey, we learned that 81% of cord-cutters are spending less money than they were on traditional cable or satellite. There's a good chance you will too, but be sure to look at all of these factors to prevent costs from creeping up on you.
There's still one contract you need
Not every cord can be cut — to use streaming service alternatives, you'll still need an internet connection. And internet packages still come with contracts, price hikes, and fees. Sometimes, adding a cable channel package for $10-$30 more won't seem so unreasonable. When reviewing internet providers, we found some providers offer bundles that actually make it cheaper to add TV channels than to purchase an internet-only package.
Another thing to keep in mind: If you switch entirely to streaming your TV content, you'll need a more reliable internet connection. If you don't have a strong connection (and sometimes even when you do), you might experience buffering when streaming — and no one wants their stream to stop in the middle of a dramatic confrontation or climactic action scene. Higher resolutions and multiple users will require more bandwidth, which comes at a higher cost. So, before you get too excited about cutting all the cords, take a close look at the particular prices and offerings from your local service provider. If your goal is to cut costs, do the math to make sure replacing cable TV with streaming doesn't end up adding to your monthly bill.
So, is it worth it?
Price alone doesn't necessarily dictate whether cord-cutting is worth it. Your bottom line might be similar, but the freedom and flexibility that switching to streaming offers is enticing. You can choose what to sign up for, what to cancel, and how much you ultimately pay. With a traditional cable subscription, the provider is in charge of what you pay and can hike that up annually.
Streaming services also allow for more flexibility in how you watch. You can view content on TVs, laptops, tablets, phones, game consoles, streaming devices, etc. You can download content to watch offline and can log in when away from home at hotels and Airbnbs.
Cord-cutting expert Sam Cook also told us that you should remain vigilant about your streaming set up by "limiting how many you're signed up for, and taking full advantage of no long-term contracts by binge-watching series on-demand on various services, and then canceling or suspending your account until you need it again." With free trials and no cancellation fees, it's becoming increasingly popular to sign up for services for short-term stints.
There are more nuanced perks to cutting the cord, too. The interface on streaming services is typically more user-friendly, there's no clunky cable boxes or faulty equipment, and it's super easy to unplug and move your service.
Our recommendation: Before joining the cord-cutters, consider what you want to watch, calculate your current internet provider packages, and research potential streaming services. Make sure the end result aligns with your goals, whether that's saving money, freeing yourself from cable contracts, or something else. Some people will find better value bundling traditional services, but many will find more freedom and lower bills after cutting the cord.
Study Methodology
Reviews.com commissioned YouGov Plc to conduct the survey. All figures, unless otherwise stated, are from YouGov Plc. Total sample size was 1,307 adults. Fieldwork was undertaken Sep. 11-12. The survey was carried out online and meets rigorous quality standards. It employed a non probability-based sample using both quotas upfront during collection and then a weighting scheme on the back end designed and proven to provide nationally representative results.
What's next?