The relationship between finance and technology is getting pretty serious. Big tech companies are increasingly offering financial services, and banks are increasingly drawing on new technologies. Traditional banks have added AI technology to their existing interfaces while disruptors have built their businesses around it. At Empower Bank, AI is more than just a means to an end.
Empower Bank is an online bank that recently unveiled a high-yield checking account and rewards debit card. While those two things are already unique in the banking world, what really sets Empower apart is the smart assistant, powered by artificial intelligence, that will offer actionable financial advice.
Instead of a chatbot relying on customers posing questions, Empower's assistant analyzes your information for you and sends you notifications if it sees a way for you to improve your financial situation. Every time anyone on the app makes a decision, the algorithms learn and the assistant should be able to make better recommendations in the future.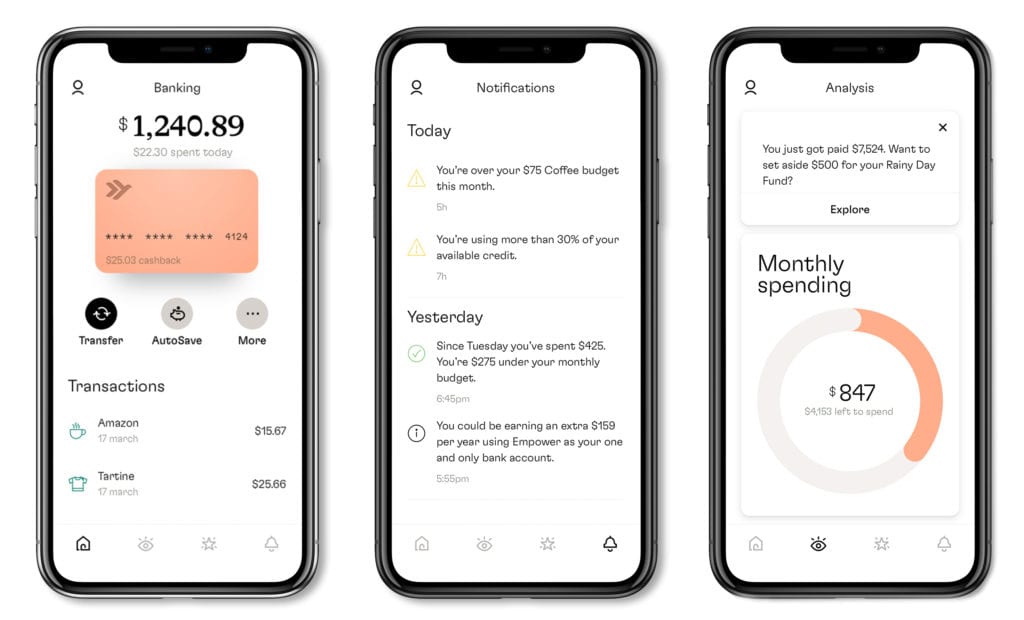 Empower is an example of how online banks, which have lower overhead costs because they're not operating physical branches, are often able to bring better options to consumers. But Warren Hogarth, CEO of Empower, said he felt other disruptor banks were leaving behind people who weren't financially literate. So he ended his 8-year tenure at Sequoia Capital and founded Empower in 2016 with the mission to democratize access to sophisticated financial advice.
Three years later, Hogarth says AI is critical in helping Empower live up to that purpose. The smart assistant is designed to simplify financial decisions and make it easier to take concrete steps toward improving your finances. "One thing we've learned is that it's not just the advice, it's the ability to take action on it," he said.
Hogarth feels the account "brings the best of two things together. It's the best of mobile banking where you can have an amazing checking account … and we're bringing it together with a financial assistant that is helping you with your money 24/7 to make better financial decisions." The assistant, for example, could look at your payslip, predict your spending over the next few weeks, and suggest areas where you may be able to allocate more or less funds.
Continuing with the "best of both worlds" approach, Empower also has a live financial coach available for on-demand chatting. "A lot of people come in and don't know what questions to ask, so the automated assistant is very good at meeting them there and analyzing someone's situation. If people come in with a specific question and they know what to ask, that's typically when they'll reach out directly," Hogarth said.
This approach could pay off in more ways than just an enhanced sense of social responsibility. A recent Business Insider report found AI could be a $450 billion opportunity for banks and that many have already begun implementation.
The report found the most mature AI use cases in banking were with chatbots and fraud protection. Many banks are using front-end AI to interact with customers in a personal, yet automated way. For traditional brick-and-mortar banks struggling to compete with online disruptors in the industry, AI can be a way to keep up.
Bank of America's Erica is a virtual financial assistant that can carry out commands, track account metrics, and even make payments. Erica can respond to voice commands or typed messages in the Bank of America App. HSBC employs a humanoid robot called Pepper in some of its branches to communicate with customers. Citi Bank's AI-based fraud detection tracks behavior patterns and will flag expenses that seem unusual.
For consumers, AI may make it feel like the future has arrived. But industry leaders are already looking to the next future. For Empower, "there's a lot more nuanced advice we want to be able to help people with … we're just scratching the surface of what we can do for people," Hogarth said.