Instagram launched in-app checkout a couple weeks ago. The new, streamlined feature lets you buy stuff from business accounts in a few quick steps, rather than navigating through the typical unwieldy popup window.
In-app checkout has been hailed as a new frontier of sorts for online shopping, dubbed the "digital mall" by publications like the New York Times and Wired.
And as for the staff at Reviews.com? To be honest, we saw some big red flags. It started when we tested out Instagram's new checkout flow:
What did you notice about that video?
It's a cute necklace, sure. H&M's Instagram account is pretty snazzy. Oh, and it was nice that the app saved our credit card information and address. Anything that cuts down on excess typing is good in our books.
But here's what stood out to us: The entire shopping process, from initial scroll-by to out-for-shipping, took exactly 37 seconds. (OK, 19 in the video because we sped it up.)
Think about that. Thirty-seven seconds. 00:37.
In the time it takes to change your toilet paper, you could drop some serious dough on a whim—especially considering Instagram's current in-app shopping lineup, which is almost exclusively A-list influencer brands like Kylie Cosmetics, Revolve, and Outdoor Voices.
Although that list is limited to clothing and cosmetic brands at the moment, it's not a huge leap to imagine in-app checkout extending to other popular Instagram advertisers in the near future. That could include pricier, more important products like home goods, appliances, and furniture. Most of us have even seen ads for things like insurance and mortgage lenders on social media.
Therein lies the reason we worry about a move toward easier in-app checkout. It screams "impulse shopping" loud and proud—not just for clothes, but for the big stuff, too.
"We believe that Instagram is likely to expand and exploit unintentional shopping behavior that's already happening on the core app."

Source: Business Insider
If you've ever visited Reviews.com, you know impulse shopping is the exact opposite of what we do. We're impulse shopping's conservative uncle. We're obsessive about product research, skeptical toward sexy branding, and generally very prudent about our purchases.
In other words, we don't commit to anything unless it's been thoroughly poked, prodded, examined, and endorsed by real-life experts. Yet Instagram states that 60% of its users are discovering new products daily through in-app ads. So we had to wonder …
Do people really care about all that research and testing? Or are sleek ads and simple checkout becoming king in online shopping?
Like any good internet company, we turned to Google to do some soul searching. Here's what we learned:
Over the past 2 years, Google searches have skyrocketed for:
+80% "best_____"
+95% "best/top_____brands"
+60% "_____for me"
Source: Google Consumer Insights
For many people, finding the "best" product isn't as simple as going with the brand they see plastered all over their phone screen.
"With so many options and so much information online, consumers increasingly can and have to make decisions based on differences beyond quality, price, and basic features," says Sara Kleinberg, Google's head of ads research and insights. "The deciding factor is often personal criteria for that product and how it solves their individual needs."
You can probably relate. Think about the last time you bought something big, something you truly cared about. Maybe it was a blender, or a treadmill, or a mattress for your new apartment.
Maybe you even saw a brand like the Loom & Leaf mattress on Instagram and thought "Sure, that looks neat, but how long will it really last? Will it be supportive enough? How weird is it going to smell when I unbox it?"
You didn't just want to know whether the mattress was cool-looking or stain-resistant or popular. You wanted to know whether it was right for you.
"People are embracing a "try before you buy" mentality and a "know before you go" attitude. They are looking to learn as much as possible about products, destinations, and experiences — before they commit."

Source: Google Consumer Insights
But how do you "try before you buy" in this era of digital immediacy? You find ways to live the product experience vicariously. It means finding someone (or some website) who will:
Wake up to eight different sunrise alarm clocks so you can sleep in a little longer.
Reviews.com: The Best Sunrise Alarm Clocks
Repeatedly dirty then hand wash 14 different cookware sets, and scratch up the nonstick pans to the point-of-no-return to see how they hold up.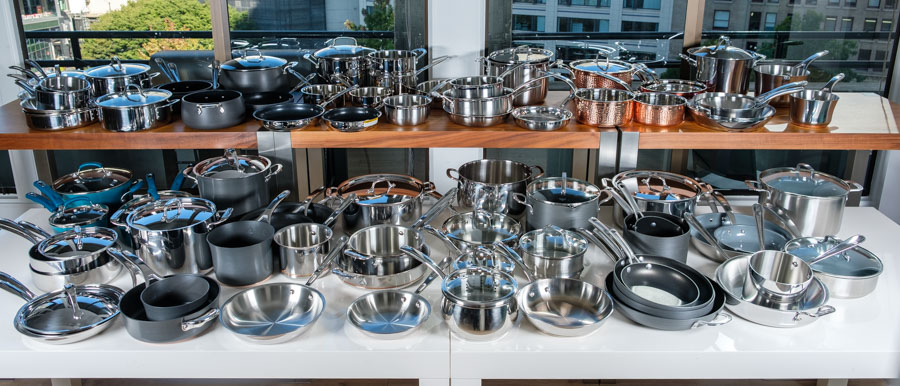 Reviews.com: The Best Cookware Sets
Test 80+ makeup brushes on their own dollar (we all know how cost-prohibitive that aisle at Sephora can be).
Reviews.com: The Best Makeup Brushes
And, yes, sleep on 10 different beds-in-a-box to find out how they stack up against "normal" mattresses.
Reviews.com: The Best Mattress
This might seem like a bit of shameless self-promotion. But the point is that people—including you, most likely—really do care about the stuff we're buying.
It can just be hard to make the right choice in a world of targeted marketing, where the line between "high-quality" and "highly-advertised" seems blurrier every time you unlock your phone.
To give one example: We had lofty hopes for the Purple mattress (one of Instagram's most famed disruptors), but upon testing it found the feel to be overly squishy, jello-like, and in one tester's words "like sleeping in quicksand." We were glad we didn't drop $650–$1,200 on Purple beds for our own homes before learning that.
So splurge on the leggings. Buy the necklace. Try out Allbirds and see if they really are the world's most comfortable tennis shoes. At the end of the day, a pair of sneakers that aren't truly "the best" won't be your biggest regret.
But when it's time for your next big-ticket spend, remember that Instagram ads aren't the be-all end-all. It's still worth doing your research and seeking out a true try-before-you-buy experience. Who knows—you might even end up on Reviews.com.