There's a new social networking app that hopes to change the way we try new things. Self-dubbed the "social network for recommendations," The Spoke aggregates your friend's opinions on what to eat, drink, and watch so you only see recommendations from people you trust.
The Spoke launched in 2017 and its founder, Tom Stern, said it has since amassed 17,000 signups. He said he plans to take it out of the beta stage completely by the end of the summer, but already it is free and available online and in the Apple app store. Downloading the app and creating an account is simple – we tried it out and the entire process took under five minutes. Just pick the services you already subscribe to, pick some people to follow, and you're on your way.
Reviews.com caught up with Stern to learn about the how, why, and so what behind his idea.
Reviews: What was the inspiration for The Spoke?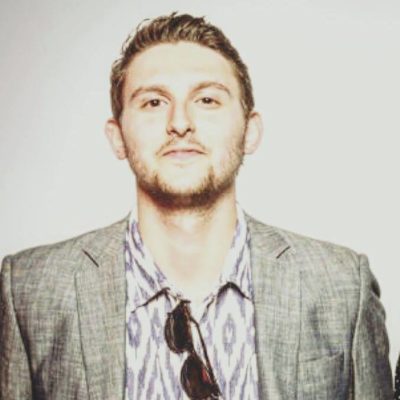 Stern: I was having this issue with my girlfriend at the time, where we would go to look for a movie and it would take us 45 minutes to find something. By the time we did, I would be asleep. Obviously she wouldn't be super thrilled about that, you know.
So then what I did was I just created a very simple Excel document where I said, OK, here are all of the different movies that have been recommended to us by friends. And then on the other axis of the spreadsheet, I said, here are all the different streaming services that we use. And it made the decision-making process much easier the next time we'd go to select a movie. We had both parts of the equation where the first was, how can we trust what we should watch? And we sourced that list through friends. And then it was, OK how do we get from wanting to watch this, to making a decision on what to actually watch? And a streaming service was a large part of that. So we were able to say, OK, we want to watch a comedy – here are the five different movies we can stream on Netflix that we know we already want to watch.
Did the number of all the services in the spreadsheet make you want to create The Spoke?
So we ended up building a prototype that was focused on automating that spreadsheet process. But as we were building things out, we discovered that the much larger problem is that 33% of all searches or queries are for recommendation-based content. That's everything from the best movies on Netflix, to the best restaurants in Los Angeles and New Orleans. But the problem is that it's so hard to cut through all the noise because all of our results are based on paid advertising and consensus algorithms. And so we've decided to create a social network for recommendations by bringing the process that happens in every single day offline and bringing it online.
So right now, you're partnering with a ton of services. In the future, do you see The Spoke deepening those partnerships, or offering the services yourself?
No, you know we're in the game of driving people to the best places where they can enjoy that experience. So yes, Netflix, HBO, Postmates, Open Table, Resy, they all do amazing things. They all have businesses that they've spent a lot of time working on. Our goal is to make sure that we can get users to those places and in turn allow users to be able to make a pick and then take that recommendation to the source that they would typically do it through.
What does the name The Spoke mean?
Imagine you're in the center of a circle and on the perimeter are all of these different opinions you care about, services you use, and categories that you care about, like what to watch or what to listen to. And right now you have to go to each of those points and essentially bring whatever data you need back inside of the circle. Instead what we're doing is saying 'hey, let's just bring everything to you inside the circle.' Lets just take all these services, and instead of you having to go to the perimeter of the circle, let's just bring all those to you in one place.
You're still in the beta phase, correct?
Yeah, we are. We're now really starting to grow and kind of come out of that, but we've had a really, really good beta.
What have you learned and tested during your beta?
So there have been a lot of things. At first it was you could type in the name of a movie and you could see where you could stream it. That was V1. V2 was you could create a list and then add movies to the list. The movies would then tie to the streaming services.
So I would say that the biggest learning we've had is, you know, traditional startup logic says to focus on a specific vertical first. So let's say just movies, but the time between use cases there is way too long. Like, let's not kid ourselves, we've been trying to find movies and trying to find content in a very specific way for such a long period of time. If we had an app that just focused on movies and you're using it five times a week to find a movie, which most people aren't, especially with the binge-watching culture that we see nowadays, it just wouldn't be sticky. It's not going to replace the current habits you have. When we spoke with users, the insight that we got was that they didn't want to have restaurants in one app, and books in another app, and movies in another. The key is aggregation. So that's really our focus right now in providing an amazing user experience.
What has the reception been like so far?
It's been strong. I would say that people just want more categories, and it's all about aggregating this stuff into one place. So we started with "what to watch" and "what to eat" and drink, but it's going to be really essential in the next few months as we grow this company to quickly expand those other services so that this can replace that Excel or that Microsoft Word document or the 17 different apps that people are using to track this stuff.
And what services do you plan to expand into?
That's a good question. We haven't made any concrete decisions yet as to what we're going to expand into, but users have suggested "what to read" and "what to listen to," "what to download." Just any sort of recommendation, frankly. It's going to be really, really important that we don't just expand without having a very clear purpose for why we're doing so.
Do you imagine influencer marketing coming to The Spoke?
It's interesting that you say that because the influencer model, at times, does tend to be very broken. And what we're looking to do is really marry authenticity and trust. And what we're seeing is that there are tons of people that are influencers, per se, but not in the traditional sense of what an influencer is. We mean influencer in the literal sense that you actually influence what people do in real time. We're looking to bring authenticity to influencer world. There are a variety of "influencers" that may have the large Instagram audience, but they also have proven that they influence what people do. And we're working on partnerships with those types of people.
So how does The Spoke make money?
We have a new ad model that's releasing in the next few months that will give people the ability to monetize off of their authentic influence.
What is your favorite feature of the app?
I would say it's the Spoke Score, which is how our search works. All it is, is the average (out of five stars) rating of the people you follow. Per Yelp's own fact sheet, 65% of reviews there are binary – they're one or five. And when we spoke with users, a lot of times the reason why was that they either had an amazing experience or a pretty bad experience. By contrast, we're only seeing that 32% of our reviews are binary, because when you make a review, you're doing it to help a friend.