The Best Business Card Service
Make an impression, and make it good
Latest Update
July 14, 2016
The 30-Second Review
The best business card service is the one that anyone — from design novice to true artist — can use to create a card they are proud to hand out. We evaluated template options, design tools, and ease of use of over 60 services before creating the most rigorous print test (and therefore the ugliest business card) we'd ever seen.
Best Overall
MOO tied for the best print quality of the services we tested, with beautiful templates and design tools even a beginner can master.
Other Top Picks
More options than MOO, but geared to experienced designers

Best if you're on a budget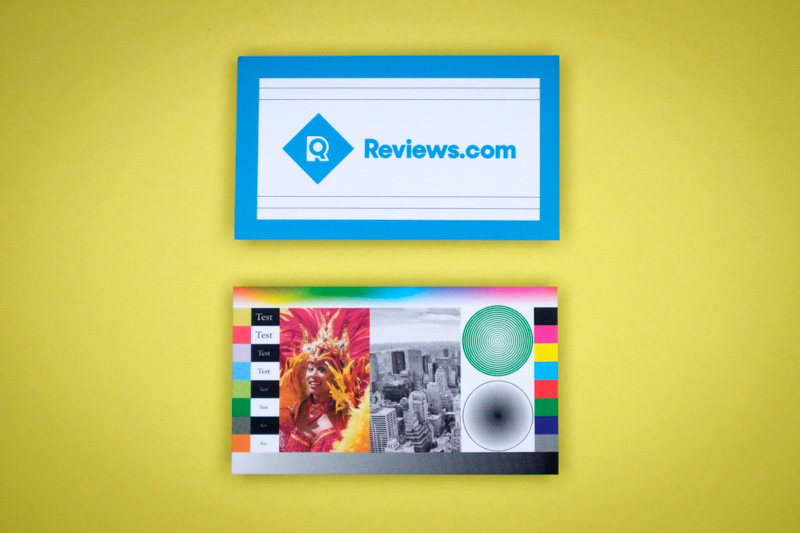 Have you ever been impressed by a business card? It probably had a tasteful thickness, perfect font, and a clean layout; maybe even rounded corners or a metallic foil logo. Regardless, it made an immediate, lasting impression. That's the whole point of handing someone a business card, and having a good one matters.
Our top pick for best business card service is MOO: It provides the best all-around and intuitive user experience, produces superb print quality, and sports a range of beautifully designed templates created by actual designers (they even have bios on MOO's website). Anyone will be able to create a great business card on MOO's site, whether they're coming with a vision and art files prepped, or starting from scratch with a blank rectangle.
For the slightly more design-savvy, we liked Jukebox, which offers a huge range of finishes, materials, and printing methods (including letterpress), but isn't as user-friendly. Designers who know exactly what look they want to achieve will love Jukebox's range of options, but the rest of us might get overwhelmed. That said, its most basic cards are about 10 cents cheaper than MOO's, and the print quality and customer service are just as good.
For the budget-conscious, our top pick was Vistaprint, which has surprisingly good templates for the price (just 13 cents per card for its cheapest option), and features excellent print quality that outdid cards twice as expensive.
How We Found the Best Business Card Service
A decade ago, you would've had to link up with a designer and a custom print shop to create a genuinely unique business card. Not anymore.
There are plenty of companies that can print basic business cards. That's easy. Finding an online service that caters to the beginner card designer, while still offering high-quality templates and printing options that can satisfy even the most particular business card aficionado? That's a little more complicated.
We started by compiling a list of business card printers from online reviews, print and design blog recommendations, and even some real-life professional designers. We avoided any services that didn't deliver to the US, and any sites that only provided design tools, or design services, without actual printing capabilities. Also, we focused on relatively traditional, printed business cards, typically on paper, as opposed to the more outside-the-box options that occasionally make the design blog rounds (see our discussion on business card trends). Altogether, we found 62 viable contenders; from local print shops with a web presence, to global printing chains with sophisticated online platforms, to couture, business-card focused specialty sites.
First, we cut any printers that didn't provide online design tools and premade templates.
There are plenty of online printers that can take fully designed graphics and print them on business card stock, but if you don't have the skills, knowledge, and fancy software to design a gorgeous card from scratch — or you can't afford to pay someone who does — these services won't do you much good.
Online printing companies know this, and many of them offer professionally designed templates with pre-selected backgrounds, layouts, and fonts to get you started. Often, these are coupled with web-based design tools that can be used to tweak existing designs, or to build your own. These amenities were a must for any of our potential top picks — even though the mere presence of templates won't do you much good if they are all awful. But we'll get to that later.
Left: A typical, awful template from one of our lower-ranking contenders. Right: The clean, eye-catching template from our top pick, MOO, which was created by a real designer — one with a name and a bio on the MOO website.
We cut companies that didn't provide a proof before printing.
When you print something on your desktop printer, you usually get the option to see a preview before you hit "print." Why wouldn't you want to be able to do the same thing before printing 500 business cards?
Old-school, brick-and-mortar print shops used to (and still do) offer hard proofs; physical, one-off prints that you sign off on before the full run goes to the press. Proofs give you one last chance to check your spelling and placement, and they also show you exactly what your colors and graphics are going to look like coming off the machine. These days, most printers offer at least a soft-proof; a downloadable PDF, sometimes even a 3D rendering or animation of the card, so you can confirm that what you wanted is what they'll print. This is a practical consideration, but it also speaks to the company's overall customer service and user experience. Often, if the print comes out differently than the proof, you can get a refund or reprint.
"It's critical to get your hands on samples. Yes, there are standards in the print world, and, for the most part, 100 lb. stock here is 100 lb. stock there. Sometimes, a shop isn't great at cutting edges, however, or decides to ignore the printer marks, or forgot to re-check mid-run. These are details that will make or break your design."
And we rated each printer on the things that mattered most.
To be honest, most parts of evaluating a business card printer are qualitative, not quantitative: How is the paper selection? Are the design tools intuitive? Do the templates look professional, or will they make your business look like it's run out of a windowless basement?
To keep our opinions as objective as possible, we selected the four factors that are most important to the average user. Some of these aspects are more essential than others, so we assigned weights to each one, ranging from "nice to have" to "deal breaker." Then we went through the entire process with each remaining contender, from design to ordering, and scored each attribute accordingly. Here's what we were looking for:
Templates: We looked at the quality of the templates, as well as the quantity and diversity. Since the average user is likely going to be relying on a premade template of some kind, we considered poor performance in this area a deal breaker.
Design Tools: We scored contenders on the intuitiveness of their interfaces, and on the seamlessness of the uploading and management of existing designs, photos, and logos. Poor performance in this area was a deal breaker, too.
Printing Options: We wanted to see which companies offered the most options for customization; from paper weights and finishes, to special features like spot varnish or edge color. These features can make your business card pop, so the additional options are nice to have, but they're not essential.
Site Quality/Navigation: We looked for printers with user-friendly sites — something that's definitely nice to have. If we could easily find and select the features we wanted, navigate shipping and payment, identify and address errors, save our progress, and feel confident in our final purchase, the companies would receive a higher score.
We tallied up the weighted averages and cut any companies that didn't get above an average score.
We tested print quality on the six remaining companies.
The biggest unknown with any online printing service is the actual quality of the final, printed cards. A company can look great on paper, but if they don't look great… on paper… then your business cards are going to suffer.
With this in mind, we put on our designer hats, fired up Adobe Illustrator, and created the most rigorous business card test print imaginable — we're talking colors, gradients, hi-res pictures, different font sizes. These cards looked ridiculous, but were going to show which of our six remaining printers stood out. This also gave us the opportunity to go through the ordering process, and to get a feel for the quality of their customer service.
Trim Accuracy
Printers often have a hard time trimming cards precisely, especially on double-sided cards, which can result in an off-centered look. By measuring from the inside edge of the border to the edge of the card on all sides, we could see just how close they were.
Best: Jukebox (top)
Worst: Staples (bottom)
Granger Rainbow
A tool for testing color output, Granger Rainbows contain all the combinations of hue, saturation, and brightness, in all the mixtures of red, green, and blue. In our tiny version, we looked for smooth transitions throughout the color spectra.
Best (tie): MOO/Jukebox (top)
Worst: Staples (bottom)
Test Text
Unless you're printing your whole resume on the back of your card, you probably won't need anything in 2 pt. font, but seeing how a printer handles very small elements, especially white-on-black, without loss of quality, is a good indicator of printer precision.
Best: PS Print (top)
Worst: Nextday Flyers (bottom)
Vibrancy, Saturation and Resolution
Hi-res photos test the printer's resolution, as well as color vibrancy and contrast. On a lower-quality printer, both will appear muddy and dull, with visible dots or pixelation, as opposed to crisp and vibrant (for the color photo).
Best (tie): MOO/Jukebox (top)
Worst: PS Print (bottom)
Fine Radial Lines
These are hard to do smoothly for most printers. The fact that they're green, which requires mixing inks, creates an extra challenge. Lines that look jagged or pixelated would indicate lower printing precision.
Best (tie): Jukebox/MOO (top)
Worst (tie): Staples/Nextday Flyers (bottom)
Color-Matching Swatches
We used Pantone swatches (and CMYK Process Colors) and checked against the Pantone Coated CMYK Guide Book (Rows 2 and 5). Commercial printers mix cyan, magenta, yellow, and black (CMYK) to produce the entire spectrum of printed colors. Printers are never perfect, but poor quality can make images look weird or washed out.
Best (tie): MOO (Rows 1 & 4)/Jukebox
Worst: Staples (Rows 3 & 6)
Linear and Radial Gradients
Gradients are also tricky to do smoothly, but they can seem choppy due to textures in the paper itself. This isn't exactly an indicator of quality (since some papers have an intentional tooth), but it's a good predictor of how well detailed images will appear.
Best: Jukebox (top)
Worst: Staples (bottom)
Our Picks for the Best Business Card Printing
This should come as no big shock to anyone who has looked into online business card printing; MOO hit the scene in 2006 with an intent to "disrupt the $640 billion global print industry and make great design available to all by combining professional design with the accessibility and reach of the web." It has been steadily dominating the market ever since, and for good reason. The company's entire web-based platform is accessible, even to someone with no previous design experience, and infused with the kind of quirky, disarming sense of humor that makes the process of ordering cards a little less intimidating, and a little more fun. MOO's templates are top-notch, and each one includes the bio of the designer who made it, which adds a nice personal touch.
MOO tied for first place in our printing test, with excellent color matching, print resolution, and trim accuracy. It offers four stock options, from 16 pt. original to 32 pt. luxe, matte, or gloss, with options for spot gloss and metallic foil. While this closely curated assortment may contain fewer materials than some of its competitors (PsPrint, for instance, offers nine different stocks, most with multiple finish options), MOO hit or exceeded all of the standard requirements. Everything it offers is of high quality, from the feel of the paper to the way the colors pop. This makes MOO especially good for printing hi-res images.
The minimum order of 50 cards is the lowest of our top contenders, too, making MOO better for short print runs. It has a special platform available for companies with 10 or more employees that makes ordering and designing in bulk more convenient, and its "Printfinity" feature lets you customize the back of every single card in a single order at no extra cost, opening up a lot of opportunities for creating that elusive "unique experience."
Illustrator Matt Empson used MOO's Printfinity feature to create a variety of designs within a single order.
Its customer service is excellent, and with expedited printing and shipping, we were able to receive our cards within two days of ordering. Even the packaging the cards arrived in was gorgeously designed and detailed in the company's signature clever, understated aesthetic; while simultaneously protecting the cards from the bumps and jostles of a trip with the US Postal Service.
At $0.51 per card for the minimum order of 50 Original, 16 pt., coated cards with standard shipping, MOO came in a bit north of the industry average of $0.39, but if you consider the differential in quality that you're getting for an extra 12 cents a pop (thoughtfully crafted templates, intuitive platform, nearly unparalleled printing and material quality) you're squeezing a ton of value out of that extra dime.
While our other top choices offer a great range of quality options for paper, coatings, and finishes, none of them even comes close to the diversity of Jukebox's offerings. We're talking bamboo, cork, cotton, silk, custom die-cut shapes, spot varnish, pearlescent coating, metallic foil, embossing, and even letterpress for the print aficionado. If you want it, the company's got it. Its print quality is no joke either, tying MOO for first place in our print test with some of the crispest photos, clearest lines, and smoothest gradients we've seen. At $0.41 per card, including shipping for the minimum order of 100, 16 pt., coated cards, it comes in a little cheaper than MOO, but if you want that primo silver foiled, embossed, 30 pt., onyx black card with rounded corners, you're going to be looking at $891 for 100, before shipping (or around $1,164 CAD, since it's based in Vancouver, Canada). It does offer offset printing in addition to digital, so for large orders of 500-plus, it can often be a better option than its digital printing-only competitors.
Both Jukebox (left) and MOO (right) instilled some personality and style into their respective packaging, while others, like Staples (middle) took a less flashy approach.
Compared to MOO's offering of six paper/finish combinations, Jukebox has between 51 and 80 possible combinations; an exact number is hard to come up with because, at a certain point, it depends on what you decide to count as a "finish" versus a "paper," or "material," and also because Jukebox's website is a little hard to navigate. Its materials and finishes are sometimes listed separately, and each product is further subdivided by how quickly you can have it shipped to you, which isn't overtly helpful, or intuitive.
In addition to confusion over the available options, we found its ordering process a little disconcerting, too: First, you select the print options you want and the turnaround time (next day, three to four days, etc.), enter your info, and complete your purchase. Then you upload your design. Most other sites have you design your cards, pick printing options, and then complete the transaction. Jukebox does have a real person look over everything, though, and it sends you a PDF proof of your card for confirmation before printing. We even made a mistake on our card design and got a personal call to sort it out, which won the company serious points for good customer service. Still, to the inexperienced user, it might be uncomfortable to send a company hundreds of dollars before you even design a card in its editor, or see the templates for that matter. That's why Jukebox is our second top pick, and not the first.
We thought Jukebox's "extra" batch of cards added a nice, personal touch.
Jukebox's templates are better than most, excluding MOO, but its design tools aren't the cleanest looking and have limited functionality compared to some of the more advanced in-browser platforms. Again, this probably isn't a huge deal for the seasoned pros who know what they want and have a design all ready to go with trims and bleeds. For the design-savvy user, or someone working with a hired graphic designer, Jukebox is an outstanding choice for both simple business cards and mantelpiece-worthy masterpieces.
Best Budget
Vistaprint Its designs may not be flashy, but the print quality is impressive for the price.
Not everybody is looking to blow people away with fancy business cards; sometimes you just need 500 little pieces of cardstock with your contact info printed on them. If that sounds like you, Vistaprint is a great option. While you may have seen its advertisements for outrageously cheap (or even free!) business cards (like the 100 black cards for $1.99 pictured below), it may surprise you to hear that it came in second in our print quality test, just behind MOO and Jukebox. Although it wasn't outstanding in color matching, print resolution, or even trim accuracy, the company wasn't half-bad for only $0.13 per card in our test, and still beat out contenders that were more than twice as expensive.
Vistaprint doesn't boast the most impressive templates in terms of quality, but with over 7,000 to choose from and easy-to-use design tools, you're sure to find something that will work. They offer a simple menu of three paper weights with gloss and matte finishes, raised lettering, spot gloss, and metallic foil (although, it only offers a standard 2 in. x 3.5 in. business card; no minis, maxis, or special shapes like MOO or Jukebox).
While its site navigation and ordering process were simple and straightforward, the company did lose some points for upselling at the point of purchase. Once you've got your design locked in, you have to click through several pages of offers — from mugs and stickers to tote bags printed with your logo — before you can finally pull the trigger.
The Best Business Card Services: Summed Up
Did You Know?
A quick-and-dirty breakdown between printing, paper, and finishes.
There are more combinations of these variables than there are atoms in the universe, so knowing what you want before you start designing might save you a headache.
Printing Methods
Digital printers are the most common, and offer fast, on-demand, high-quality printing on a wide variety of materials. They resemble desktop laserjet printers, but generally produce higher resolution and better color quality (all of our top contenders offer digital printing, but Jukebox also does offset and letterpress). For large print runs, digital printing is more expensive than offset printing, but is less expensive for shorter runs, like printing personal business cards.
Offset printing uses a rubber plate or roller to transfer ink to the print medium. It produces much higher-quality images than digital printing, and can accommodate a wider range of materials, inks, and finishes. It's the ideal choice for larger production runs (e.g., books, catalogs, brochures, etc.) This method is more time consuming, since the plate has to be made, and the ink takes time to dry, but cost savings increase along with the size of the print run.
Letterpress is the least common print method, and something of a rare, expensive specialty offered by only a few online printers. This method uses physical pieces of type — letters carved out of little pieces of steel — which are then lined up by hand onto a plate, rolled with ink, and then pressed onto the paper. The result is unique and distinguishable from other methods by the crisp letterforms, debossed slightly into the paper. Font and graphics selection is extremely limited since letterpress relies on whatever the printing company has physically on hand, but if you like working within those constraints and love the distinct look of letterpress, it might be worth it to you.
Paper Weights and Finishes
Most business card printing companies offer cards printed on cover stock ranging from flimsy 13 pt. to thicker-than-a-credit-card 24 pt. For the most part, a paper's weight only impacts how the cards feel in the hand, and how durable and crease-resistant they are. With thicker cards, you're paying more for the robust, luxury feel, while thin cards tend to be more economical at high volumes.
Business card services generally offer, at minimum: gloss, matte, and uncoated papers in a variety of weights. Again, what's best for you will have a lot to do with the feel you want, though there are some practical considerations as well. Gloss or satin finishes are better for printing images than matte, and uncoated paper is the least image-friendly. Coated stock is more durable than uncoated stock, but uncoated is much easier to write on, for, say, an appointment card.
In the age of social media, are business cards still relevant?
"In answering the question of, 'Should you have a business card,' the question is, really, 'Who are you and what are you doing?'" says Jesa Damora of FunnelCake Marketing. "There is no set answer, because it's a tool."
If your business requires you to interact face-to-face with potential clients or contacts, maybe at a big convention with cards flying back and forth by the hundreds, then a business card is indispensable — maybe even one with a headshot to help people further distinguish the interaction. Sure, you can enter someone's information into your cellphone, but a business card is, as Damora puts it, "a thing in itself." It has weight, and if it's designed well, it should be a microcosm of you. Your brand. If you're a photographer, designer, or artist, it's an opportunity to put your work in someone's pocket. Even if you're an accountant, it's a chance to create a lasting impression and create a physical reminder of the interaction that you had with that person — which, hopefully, is something you'll want them to remember you by.
There are some alternatives out there, aside from writing on a cocktail napkin, or manually entering a contact into your phone. QR codes, for example: those little black-and-white pixel matrixes that can be scanned like a barcode with your cellphone and bring someone directly to a landing page or a portfolio. But ask yourself: When was the last time you scanned a QR code for anything? Cellphones generally don't come with QR code scanners by default, so unless the person you give your card to already has one installed, they're probably just going to enter your contact information manually. Depending on the look you're going for, a QR code might also detract from the clean, minimal appearance of your card. If that's not the case, it probably won't hurt to tuck a QR code on the back of your card, either.
NFC cards are the future. Maybe.
MOO is the first player to emerge with Near Field Communication chips built in to its business cards. Hypothetically, an NFC business card would be able to wirelessly communicate with a nearby cellphone and automatically transfer contact info. This is a pretty new mobile technology, and not all cellphones are capable of reading NFC data (only a few phones currently offer it), but MOO is definitely banking on the idea that this technology will become more and more ubiquitous as the Internet of Things works its way further into our daily lives.

Business cards can be more than just cards.
There has been something of an escalating business cards arms race in recent years, possibly alongside the rise of online business card printing. From compostable, plantable cards with embedded seeds to cards with built-in heart monitors and tiny LCD screen readouts, the internet is awash with over-the-top designs, all with the same basic intent: to create a memorable interaction.
The business card has become more than just a way to transfer information: It's a representation of the person who handed it to you. As designer David Bates advises, the secret to having a winning business card is to find a way to make it personal. "The best cards I've seen have actually had some of the owner's personality instilled into the design," he says.
The Bottom Line
Your business cards should be memorable microcosms of you, the person handing them out — so quality matters. The best business card services will be able to help you create a card that stands out (no matter your design skill level) quickly and with relatively minimal investment.
Take Action
Consider the interaction, not just the design. A card is a card, but the act of giving someone your card is just as important as the thing itself. "I saw a designer's card once that was a two-part process," recalls Bates. "He'd hand it to you, then he'd take out this keychain stamp, and then stamp his name and contact info onto it. It made the interaction part of the card, and that made it memorable." You don't have to go quite that far with it, but there are some small ways you can facilitate a memorable interaction through your card's design. For instance, Damora recommends leaving the backside of a card uncoated (in other words, straight paper with no matte or gloss finish) so that prospective contacts can take notes on your interaction, or so you can add details on the fly.
Start small. Digital printing enables small orders with extremely fast turnaround time (we loved MOO's small, 50 card minimum order), and most companies have a reorder option, so if you buy a conservative quantity and run out, it's easy to get more, quickly. If you decide you want to try out a different design or special finish, or you want to update your contact info and job title, you don't have to burn down a stack of 500.
Stuck? Consider hiring a graphic designer. All our top picks have great templates and robust documentation to make sure your business cards will turn out the way you want. But if you're still not confident, a good print designer will work with you to create a custom design, make recommendations about paper and finishing options, and ensure your designs are configured optimally for printing.