Proud to be reader supported since 2013. If you buy something we link to, we may earn a commission.
Showing results for
Did you mean:
Sorry, something went wrong. Please refresh your browser and try again.
Last updated on
July 14, 2017
The Best Calcium Supplement
Convenient to take and easy to absorb
The 30-Second Review
The best calcium supplement should be independently certified for accuracy and purity. It should include vitamin D to aid in absorption, and it should rely on a form of calcium that's easy for your body to process — like calcium citrate. To find the best, we talked to doctors and consulted clinical research, and then checked out 11 finalists for ourselves to see which were the most palatable.
Best Overall
We loved these calcium citrate caplets for being small and easy to swallow, versus the large, chalky pills offered by many of our finalists. Citracal retails for an affordable $0.21 per serving and comes highly recommended by third-party testing group ConsumerLab.
Others to Consider
In addition to calcium citrate and vitamin D, this premium supplement includes herbal additives like boron and horsetail to promote bone health. But it's pricy, at $0.47 per serving.

A fruit-flavored gummy that's a tasty alternative to swallowing pills, but must be taken with a meal for full effect. ($0.14 per serving)
The Best Calcium Supplement
Calcium is the most abundant mineral in the body and is essential for building and maintaining strong bones and teeth. It also plays a vital role in keeping your muscles, nerves, and heart functioning normally. As with other nutrients, it's always best to get your calcium from food first, but this can sometimes be challenging — especially for women as they age.
Do men need calcium supplements? According to the Mayo Clinic, men generally do not need calcium supplements. Men have a much lower risk of osteoporosis than women, whose bodies tend to absorb less dietary calcium as they age.
Our top pick, Citracal Petites Calcium Citrate Formula + D3, has an affordable $0.05-per-pill price point and high ratings from third-party testing group ConsumerLab, which reports that the formula is both pure and accurately labeled. Unlike most of the supplements we tested, Citracal relies on calcium citrate, a form of calcium that doesn't need to be taken with food. It also includes vitamin D, which aids in the absorption of calcium. A bottle of 200 pills retails for about $11.
Rainbow Light Calcium Citrate Mini-Tablets are a bit pricier ($0.08 per pill). Like Citracal, they include calcium citrate plus a moderate amount of vitamin D. Rainbow Light also goes a step further, including natural additives like spirulina, horsetail, and boron. These ingredients aren't must-have, but some studies suggest they can help improve bone health. Rainbow Light comes highly rated from third-party testing group LabDoor, although its levels of calcium and vitamin D slightly exceed the claims on its label — $10 for 120 tablets.
If you have trouble swallowing pills, we'd suggest Vitafusion Calcium Gummies as an alternative. These fruit-flavored gummies were the tastiest of all the chews we tested. They rely on tricalcium phosphate, which is a little harder for your body to absorb than calcium citrate, so you should take them with a meal for full effect. Vitafusion passed LabDoor's third-party testing, although its calcium levels moderately exceed label claims. A bottle of 100 gummies is about $7 (or $0.14 per serving).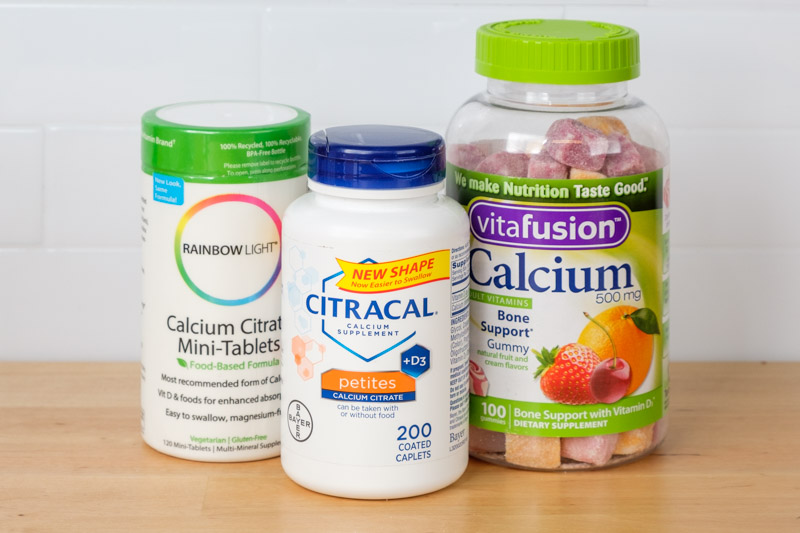 How We Found the Best Calcium Supplement
We started our search with all the calcium supplements we could find from popular retailers like Amazon, Target, Walgreens, and Costco. Because calcium will compete for absorption with many other minerals, we avoided looking at multivitamins — if you need a calcium supplement, it's best to take it on its own. Even so, we were left with a starting list of 258 contenders.
Third-party testing was a must.
If you buy a calcium supplement, you want the dosage information and the ingredients listed on the label to match with what's actually in your pills. But the Food and Drug Administration doesn't monitor any of this — instead leaving it up to manufacturers to maintain the integrity of their own products. So it's important to look for supplements that have been tested by reputable third-party labs. These groups check for things like contaminants and proper labeling. The testing group Labdoor, for example, found that some calcium supplements had up to 42.5 percent less calcium than advertised.
So we only considered supplements that had been approved by one of these groups:
21st Century 600 + D3 Plus Minerals, 21st Century Calcium 1000 + Vitamin D3, 21st Century Calcium 500 + Vitamin D3, 21st Century Calcium 600 + D3, 21st Century Coral Calcium, Adora Calcium Supplement, Advanced Research 2-AEP Calcium, Advanced Research Calcium Aspartate, Advanced Research Calcium Orotate, All One Nutritech Calcium Complex, Allergy Research Group Calcium Citrate, Allergy Research Group Calcium Magnesium Citrate, American Biologics AB Cal Mag Plus, American Biologics Calcium A.E.P., American Health Chelated Calcium Magnesium Zinc, Baywood International Cal-Mag Fizz, Biotics Research Ca/Mg-Zyme, Bluebonnet Calcium Citrate Plus Magnesium, Bluebonnet Calcium Citrate Plus Vitamin D3, Bluebonnet Calcium Magnesium 1:1 Ratio, Bluebonnet Chelated Calcium Magnesium, Bluebonnet EarthSweet Chewables Calcium Magnesium & Vitamin D3, Bluebonnet Liquid Calcium Magnesium Citrate Plus Vitamin D, Bluebonnet Magnesium Plus Calcium 2:1 Ratio, Bluebonnet Milk-Free Calcium, Botanic Choice Calcium 600 with Vitamin D, Botanic Choice Coral Calcium, Botanic Choice Ultra Calcium Complex, Buried Treasure Calcium Plus, Cal-EZ Calcium and Vitamin D Powdered Supplement, Calcet Creamy Bites Calcium Supplement, Calcet Petites Dual Calcium + Vitamin D3, California Gold Nutrition Targeted Support Bone 101, Caltrate 600+D3 Calcium Supplement Tablets, Caltrate Calcium & Vitamin D3 Gummy Bites, Cardiovascular Research Calcium Citrate, Carlson Labs Chewable Calcium, Carlson Labs Liquid Cal-Mag, Citracal Calcium Citrate with Vitamin D Maximum, Citracal Calcium Pearls, Citracal Calcium Supplement Gummies, Coral LLC Cal Mag 2:1, Country Life Calcium-Magnesium Complex, Country Life Calcium-Magnesium-Potassium, Country Life Chewable Cal-Snack, Country Life Liquid Calcium Magnesium, Country Life Target-Mins Calcium Magnesium Zinc with Vitamin D, D'Adamo Personalized Nutrition Genoma Nutritionals ClearCal, D'Adamo Personalized Nutrition Genoma Nutritionals DetoxiCal-D, DaVinci Laboratories Cal-Mag Citrate Powder, Deva Vegan Cal-Mag Plus, Doctor's Best Calcium Bone Maker Complex, Douglas Laboratories CAL-6 Plus Mg, Dr. Christopher's Original Formulas Herbal Calcium Formula, Dr. Mercola Calcium with Vitamins D & K2, Eidon Ionic Minerals Calcium Liquid, Enzymatic Therapy Acid-A-Cal Formula, Enzymatic Therapy Calcium Bone Formula, Enzymatic Therapy Liquid Calcium & Vitamin D3, Flora Floradix Calcium Liquid, Flora Floradix Calcium-Magnesium Liquid, FoodScience of Vermont Cal-Mag + D2, Garden of Life Living Calcium Advanced Bone Density, Garden of Life mykind Organics Plant Calcium, Garden of Life Vitamin Code RAW Calcium, Global Healthcare The Real Coral Calcium Plus, Harmonic Innerprizes Calcium from the Sea, HealthSmart Foods ChocoRite Calcium Bites, Jarrow Formulas CalMag, KAL Bone Meal Powder, KAL Cal Mag Glycinate 1:1, KAL Cal-Citrate+, KAL Calcium Citrate 1000, KAL Calcium Citrate Chewable, KAL Calcium Magnesium Boron, KAL Calcium Plus, KAL Calcium Plus Magnesium Extra Strength, KAL Coral Calcium Powder, KAL Crystal Cal-Mag +, KAL High Potency Soft Calcium, KAL Liquid Cal-Mag Plus, KAL Oyster Shell Calcium, Kirkman Calcium, Kirkman Calcium Magnesium Liquid, Kirkman Calcium with Vitamin D3 Powder, Lane Labs AdvaCAL 1000, Lane Labs AdvaCAL Intensive, Lane Labs AdvaCAL Ultra 1000, Life Extension Bone Restore, Life Extension Calcium Citrate with Vitamin D, Life Extension Calcium D-Glucarate, Life Extension Dr. Strum's Intensive Bone Formula, Lifetime Cal-Mag-Zinc with Vitamin D, Lifetime Calcium Citrate 1000 with Magnesium and Boron, Lifetime Fossilized Coral Calcium, Lifetime Liquid Calcium Magnesium Citrate Plus Vitamin D, Liquid Health Calcium and Magnesium, Mason Natural Calcium 600 + D3 400, Mason Natural Liquid Calcium 1200 with Vitamin D, Mason Natural Natural Oyster Shell Calcium 500 with D3, Maxi Health Cal-Max with D3 and Magnesium, Maxi Health Calcium Complex Chewables, Maxi Health One-to-One Cal-Max with Magnesium and D3, MegaFood Calcium Magnesium & Potassium, Metabolic Maintenance Cal/Mag/Zinc, Metabolic Maintenance CalCitrate, Metagenics CalApatite Bone Builder Forte, Mezotrace Calcium and Magnesium, Mezotrace Calcium Magnesium Powdered Minerals, MRM Bone Maximizer III, MRM Cal-Mag Zinc Liquid, Natural Balance Calcium Pyruvate, Natural Dynamix Calcium DX for Adults, Natural Factors Calcium & Magnesium Citrate with Vitamin D, Natural Factors Calcium Citrate, Natural Vitality Osteo Calm, Nature's Answer Coral Calcium, Nature's Answer Liquid Cal/Mag Supreme, Nature's Answer Plant-Based Cal-Mag, Nature's Answer Plant-Based Cal-Mag Liquid, Nature's Dynamics Body Boost Bone & Calcium Whole Food Gummies, Nature's Life Cal Mag D and K, Nature's Life Cal Mag Zinc Complex, Nature's Life Calcium Magnesium and Phosphorus Liquid, Nature's Life Calcium Softgel Complex, Nature's Life Super Cal-Mag, Nature's Life Super Green Calcium Magnesium, Nature's Plus Activated Coral Calcium, Nature's Plus Cal Mag Citrate, Nature's Plus Chewable Cal Mag Vitamin D3 with Vitamin K2, Nature's Plus Chewable Calcium Malted Milk Balls with Vitamin D, Nature's Plus Dyno-Mins Calcium Magnesium, Nature's Plus Nutri-Cal Hearts Chewable, Nature's Plus Source of Life Garden Calcium, Nature's Truth Absorbable Calcium Plus D3, Nature's Truth Calcium Magnesium Zinc Plus Vitamin D3, Nature's Way Calcium Citrate Complex, Nature's Way Calcium Mag & D, Nature's Way Calcium Magnesium & Zinc, New Chapter Bone Strength Take Care, NOW Bone Strength, NOW Cal-Mag Caps, NOW Cal-Mag DK, NOW Calcium & Magnesium with Vitamin D, NOW Coral Calcium 1,000 mg, NOW Coral Calcium Plus, NOW Coral Calcium Powder, NOW Liquid Cal-Mag, NutriCology Calcium Citrate, Nutricology Calcium Magnesium Citrate, Nutrition Now Calcium + D3 Gummy Vitamins, Olympian Labs Calcium 2 Go, Olympian Labs Coral Calcium, Oregon Health CAL MAG, Os Cal Calcium 500 mg with Vitamin D3, Pharmax Cal: Mag Berry Liquid, Phyto Therapy Liquid Calcium with Magnesium, Phyto Therapy Vegetarian Calcium 1000 mg with Magnesium 400 mg, Pioneer Calcium Magnesium Chewable, Pioneer Ipriflavone Calcium Magnesium Gluten-Free, Pioneer Osteo Calcium Magnesium +, Pioneer Vegetarian Calcium Magnesium Gluten-Free, Priority One Calcium Orotate, Pure Encapsulations Calcium K-D, Pure Encapsulations Calcium Magnesium Citrate, Pure Encapsulations Calcium-d-Glucarate, Pure Essence Ionic Fizz Calcium Plus, Pure Vegan Cal-Mag, Rainbow Light Calcium Citrate Wellness Gummies, Rainbow Light Chewable Calcium Citrate Multi-Mins, Rainbow Light Everyday Calcium, Rainbow Light Magnesium Calcium Plus, Roex The Ultimate Calcium Mineral Formula, Schiff Calcium-Magnesium with Vitamin D, Solaray BioCitrate Calcium with Vitamin D, Solaray Cal-Mag Citrate with Vitamin D 2:1 Ratio, Solaray Calcium and Magnesium, Solaray Calcium Bisglycinate with Vitamin D3, Solaray Calcium Citrate, Solaray Calcium Citrate Supreme, Solaray Calcium EAP, Solaray Calcium Hydroxyapatite, Solgar Advanced Calcium Complex, Solgar Calcium 600, Solgar Calcium Magnesium Citrate Liquid with Vitamin D3, Solgar Calcium Magnesium Plus Zinc, Solgar Chelated Magnesium Calcium 2:1, Solgar Chewable Calcium, Sonne's Calphonite No. 2 Liquid Calcium Phosphorus, Source Naturals Calcium Citrate 1000 mg, Source Naturals Calcium D Glucarate Cellular Detoxifier, Source Naturals Calcium Night, Source Naturals CCM Calcium Citrate and Malate, Source Naturals Coral Calcium, Source Naturals Coral Calcium Magnesium, Source Naturals Mag/Cal 2:1, Source Naturals Ultra-Cal Night Calcium Complex, Source Naturals Ultra-Cal Night with Vitamin K, Sundown Naturals Calcium Gummies, Sundown Naturals Calcium Plus Vitamin D3, Sundown Naturals Calcium, Magnesium and Zinc, Sunny Green Ocean Greens Calcium Plus, Super Nutrition Calcium Blend, T-RQ Calcium 500 + Vitamin D, Thompson Cal Coral, Thompson Cal Mag with Zinc, Thorne Research Calcium Citramate, Thorne Research Calcium-D Glucarate, Thorne Research Dicalcium Malate, Trace Minerals Complete Calcium & Magnesium 1:1, Trace Minerals Liquid Coral Calcium Extra, Tropical Oasis Coral Calcium, Tropical Oasis Premium Calcium Magnesium Liquid, Twinlab Cal-Quick, Twinlab Calcium Citrate Chewable Wafers, Twinlab Calcium Lactate Caps, Veggimins Calcium Care, VegLife Red Marine Calcium, VegLife Vegan Cal Mag Zinc, Vibrant Health Super Natural Calcium
A perfect match: Calcium and vitamin D.
In order for your body to properly absorb calcium, it's important that you're also getting enough vitamin D. And most people aren't. A 2009 study found that three-quarters of US adults were vitamin D deficient, and the National Institutes of Health (NIH) reports that older adults are at particular risk.
So why is vitamin D so important? The NIH explains that without vitamin D, the human body is unable to form a hormone called calcitriol, which makes it hard to absorb calcium from dietary sources. Instead, your body will start to use up calcium stored in the skeleton — which weakens your existing bone structure. So we cut any products that didn't include both calcium and vitamin D.
How much vitamin D do I need?
Our top picks offer between 400 and 1,000 IUs of vitamin D per serving, a range that matches commonly recommended supplementation levels. You can check out our vitamin D review to learn more, but know that the risk of vitamin D overdose is slim: You'd have to consume about 4,000 IUs a day before toxicity becomes a concern.
Carlson Labs Liquid Cal-600, Douglas Laboratories Calcium Citrate, MegaFood Calcium, NOW Calcium Carbonate, Solaray Calcium Magnesium Zinc, Thorne Research Cal-Mag Citrate Effervescent Powder
But we nixed supplements with magnesium and vitamin K
Vitamin D isn't the only nutrient that helps your body use calcium effectively. Dr. Carolyn Dean, medical advisory board member of the Nutritional Magnesium Association, points out that it's also important to maintain proper levels of vitamin K2 and magnesium; these work synergistically with calcium.
But it's not necessarily a good idea to bundle these nutrients together with your calcium supplement. Calcium and magnesium can compete with each other for absorption if taken at the same time, and vitamin K poses a similar problem, competing with vitamin D. If you're worried about getting enough of these nutrients, we've got some tips below for how to add them to your diet. But for a calcium supplement, we'd suggest avoiding these add-ons.
Amway Nutrilite Cal Mag D Advanced, Bluebonnet Calcium Citrate Magnesium and Vitamin D3, Caltrate 600+D3 Plus Minerals, Citracal Calcium + D3 Slow Release, Citracal Calcium Plus Magnesium, Herbalife Xtra-Cal Advanced, Jarrow Formulas Bone Up Superior Calcium Formula, Kirkland Signature Calcium Citrate Magnesium and Zinc, Nature Made Calcium 750 mg + D + K, Nature's Way Alive! Calcium, Posture-D Calcium, Rainbow Light Food-Based Calcium, Solgar Calcium Magnesium with Vitamin D3, Viactiv Calcium Plus D Soft Chews, Wellesse Calcium & Vitamin D3
Next, we did a little hands-on testing.
This left us with 13 products. So we took an up-close look at each of our finalists:
Size: How large were the supplements? While calcium is a bulky mineral, we looked for pills that were still small enough to swallow comfortably.
Smell: Most of our finalists didn't have a strong smell. But Nature's Bounty Calcium Plus Vitamin D3 and Schiff Super Calcium were the exception, with off-putting, fishy odors that we couldn't get past.
Packaging: Since calcium deficiency can lead to decreased hand strength, we double-checked that all bottle tops were easy to open.
Supplements that were particularly large (Nature's Bounty, left) or hard-edged (Nature Made, right) didn't do well during testing.
Finalists for the Best Calcium Supplement: 11
Caltrate 600+D3 Soft Chews
Citracal Petites Calcium Citrate Formula + D3
Kirkland Signature Calcium + D3
Nature Made Calcium 600 mg
Nature Made Calcium Adult Gummies
Nature Made Calcium 500 mg
Nature Made Calcium Petites
Nature's Bounty Calcium Plus Vitamin D3
Nature's Way Alive! Calcium Plus Vitamin D3 Gummies
Rainbow Light Calcium Citrate Mini-Tablets
Schiff Super Calcium
Solaray Calcium Citrate with Vitamin D3
Vitafusion Calcium Gummies
Our Picks for the Best Calcium Supplement
Best Overall
Citracal first caught our eye because it provides calcium in the form of calcium citrate. This form of calcium is pricier for manufacturers to source, so you won't see it as often on ingredient labels. In fact, of our 13 finalists, only 2 — Citracal, and runner-up Rainbow Light — got their calcium solely from calcium citrate.
But research suggests it's also the form that's easiest for your body to absorb. In fact, a study from the US National Library of Medicine concluded that calcium citrate's absorption rate was 22 to 27 percent higher than the much more common calcium carbonate. Calcium citrate can also be taken without a meal: Because it's acidic, your stomach can easily break it down and process it. Non-acidic forms of calcium need the help of stomach acid (which your body only produces when you eat) to be fully absorbed.
Citracal also stood out for being easy to swallow. Calcium in any form is a bulky mineral, so most of the pills we tested were quite large. Nature Made, for example, offered thick tablets with pronounced edges that felt likely to stick doing down, while Nature's Bounty's pills were so large we weren't sure we could swallow them. But Citracal comes in smooth, slender caplets roughly the size of a Tylenol. Each pill delivers a respectable 200 mg of calcium and 250 IUs of vitamin D.
This product also passed ConsumerLab's third-party testing with flying colors (in fact, it's one of their top calcium supplement recommendations) — and despite its use of a premium form of calcium we were fans of its affordable $0.05-per-pill price point.
Best Food-Based
Rainbow Light Mini-Tablets are very similar to Citracal. They, too, rely on calcium citrate, with each pill providing 200 mg of calcium and 200 IUs of vitamin D. They have a mild herbal odor, though we didn't find it unpleasant.
But unlike our top pick, Rainbow Light's tablets are food-based, meaning that their nutrients are sourced from whole foods rather than being synthetically produced. There's no clinical evidence to suggest that food-based supplements are superior, but some people prefer this option based on the theory that nutrients work together synergistically in their natural state and are less potent when created synthetically.
This natural pick also includes the herbal additives horsetail and spirulina, which studies have suggested may help reduce the risk of osteoporosis thanks to their bone-strengthening qualities. Also present is boron, a mineral similarly thought to improve bone strength.
Rainbow Light received a respectable 75 out of 100 from third-party testing group Labdoor. This supplement does come with a slightly higher price tag than Citracal, at $0.08 per pill. But if you're looking for an all-natural option, it's our favorite.
Best Gummy
If you just can't handle pills, no worries — we also tested a number of chews. Our pick is Vitafusion Calcium Gummies. At $0.07 per gummy, this option is priced comparably to our other top picks. Each gummy offers 250 mg of calcium and 500 IUs of vitamin D. Vitafusion's "natural fruit and cream" flavor reminded us pleasantly of Creme Lifesavers, and we preferred Vitafusion to options like Nature Made Adult Calcium Gummies, which we found overpoweringly sweet — or Nature's Way Alive, which had a strong medicinal scent. Vitafusion gummies do leave a faintly chalky aftertaste behind, but this was true of all the options we tried.
It's important to note that none of the chewable supplements we tested contained calcium citrate. This means that all of them, including Vitafusion, should be taken with a meal (although many manufacturers claim that this isn't necessary). Vitafusion uses tricalcium phosphate — an option that didn't receive as much ire from our experts as calcium carbonate (which Dr. Dean told us she never recommends). But it's still less absorbable than calcium citrate.
Vitafusion also contain 3 grams of sugar per gummy — chewable options will never be quite as healthy as just swallowing a pill. But it received the highest third-party rating of all our gummy finalists, a 66 out of 100 from Labdoor (who dinged it for having calcium levels that moderately exceeded label claims).
Did You Know?
How much calcium do you need?
Most health organizations, including the Mayo Clinic, suggest that women ages 19-50 should shoot for 1,000 mg of calcium a day, while women aged 51 and older should aim for 1,200 mg of calcium a day.
But despite this high daily allowance, calcium supplements should always be taken in doses of 500 mg or less. Dr. Keith Kantor, CEO of the nutrition initiative NAMED, explained that there's only so much of the nutrient that our bodies can absorb at one time. He suggests taking half your needed calcium in the morning, and the other half at night.
Should I be worried about additives and fillers?
While researching calcium supplement additives, we ran into some controversy surrounding artificial colors and fillers, especially titanium dioxide and magnesium stearate, which have been linked to health concerns in high doses. We reached out to Morgan Statt, a health and consumer safety advocate at Consumersafety.org, for some help getting to the bottom of the issue. Her take? Don't be alarmed by these ingredients. She stressed that the health concerns linked to titanium dioxide and magnesium stearate tend to arise from overdoses. In fact, a European research panel found no adverse risks from ingesting titanium dioxide at all, while the US National Institutes of Health report that magnesium stearate toxicity is "very rare."
Magnesium and vitamin K are also important.
As we learned from Dr. Dean, if you're concerned about bone health, don't overlook the importance of magnesium and vitamin K. Magnesium works synergistically with vitamin D and calcium by stimulating the specific hormone calcitonin—which helps to preserve bone structure and draws calcium out of the blood and soft tissues back into the bones, preventing osteoporosis, some forms of arthritis and kidney stones. Magnesium aids in the transport of calcium and potassium ions across cell membranes. This process is critical for nerve impulse conduction, muscle contraction, and normal heart rhythm. Vitamin K, meanwhile, is needed in order for calcium to build bone.
If you'd like to add more vitamin K and magnesium-rich foods to your diet, here are a few suggestions to start you off:
| | | | |
| --- | --- | --- | --- |
| Food | Amount | Vitamin K | Magnesium |
| Kale, raw | 1 cup | 141% DV | 2% DV |
| Broccoli, boiled | 1 cup | 138% DV | 4% DV |
| Carrot Juice | 1 cup | 34% DV | 8% DV |
| Spinach, raw | 1 cup | 180% DV | 6% DV |
| Swiss chard, raw | 1 cup | 374% DV | 7% DV |
Calcium from whole foods is still best.
Calcium supplements aren't without controversy. There is some evidence to suggest that excessive levels of calcium can increase the risk of heart disease, and most health professionals recommended calcium from dietary sources first. And remember that milk isn't your only option. The University of California San Francisco's Medical Center offers these suggestions:
| Food | Amount | Calcium |
| --- | --- | --- |
| Broccoli, cooked | 1 cup | 18% DV |
| Figs, dried | 1 cup | 30% DV |
| Hard Cheese (cheddar, jack) | 1 oz | 20% DV |
| Mozzarella | 1 oz | 20% DV |
| Salmon, canned, with bones | 3 oz. | 17% to 21% DV |
| Spinach, cooked | 1 cup | 24% DV |
| Tofu, soft regular | 4 oz | 12% to 39% DV |
The Best Calcium Supplement, Summed Up