The Best Cat Food
Safe and Healthy Formulas for Your Feline Friend
Latest Update
December 7, 2017
We Put In The Work To Find The Best
We analyzed 1,759 cat food formulas and found 8 favorites that were produced by a trustworthy brand with high-quality, risk-free ingredients.
Cat food conversations are littered with passionate opinions concerning whether or not cats should eat like they do in the wild or if they should avoid carbs, if they should consume dry food for better dental health or if they should eat wet food for better hydration, and the like. For the average cat owner, the ongoing debates make it challenging to figure out what a healthy diet looks like for a domestic cat. To find the best food for your cat, it's essential to figure out which opinions are rooted in science, which are long-standing myth, and which are somewhere in between.
Our Top Picks
We spent 300 hours researching the cat food industry and digging deep into the science of what cats need for their optimal diet. We surveyed 97 veterinary professionals and 437 cat owners; we read dozens of articles and studies; and we analyzed the ingredients of more than 1,700 cat food formulas — all to discover what matters most in picking out the best cat food.
We concluded that quality ingredients — that is, whole proteins that are free of harmful or controversial substances — are the one most important characteristic of the best cat food formulas. Based on our extensive research, we designed a method for reviewing cat food and finding products made with quality ingredients and produced by reliable brands.
We examined more than 100 brands. Only 37 of them produced at least one approved formula.
To illustrate the ingredient disparity between brands, we put together a graphic that compares the first 10 ingredients of popular grocery brands and those in the approved formulas from one of our favorite recommended brands. The results speak for themselves.
How We Found the Best Cat Food
In order to find the best cat food, we knew we needed to analyze the ingredients of every single formula. We created a comprehensive list of cat food from reputable online directories, then spent several days researching each product and each brand. With pages of notes from our research, input from industry experts, and a massive spreadsheet with hundreds of cat food formulas, we were prepared to start identifying and removing subpar products.
Our Breakdown
1

We removed formulas where the first ingredient is not a meat of any kind.
Cats are obligate carnivores and require a diet high in protein. Cat food ingredients are listed in decreasing order according to weight, so formulas that are mostly meat will have meat listed as the first ingredient. Feeding your cat a formula with a meat or identified meat meal (like salmon meal or chicken meal) ensures that your cat is getting its protein from a quality meat source and not an unidentifiable mystery meat source. If a formula did not have a meat, identified meal, or broth as its first ingredient, it was cut from our list.
2

We cut formulas that contain controversial artificial ingredients, preservatives, and dyes.
There are lots of formulas without controversial artificial ingredients, preservatives, and dyes like the ingredients listed below. But many formulas still include these ingredients that have unhealthy or potentially dangerous side effects. For example, Vitamin K3, the synthetic version of the naturally occurring vitamin K1 is toxic to the liver, kidneys, lungs, and mucous membranes in humans and was found in more than 400 formulas. Exposing your cat to these ingredients — even in small doses — is not worth the risk, especially when there are so many healthy cat food alternatives without them.
3

We removed formulas that contain rendered fat, meat by-products, sugar, garlic, and other controversial or questionable ingredients.
In a recent study of pet foods in the UK, 14 out of 17 sampled brands had DNA from animals that were not explicitly listed in the ingredients on the label. Those labels, and lots of cat food labels, use generic terms like "meat meal." It's hard to determine if a formula is safe and healthy when some of the ingredients aren't even disclosed. For this reason, we excluded any formulas with unidentifiable mystery meats like "meat by-product," "meat meal," "rendered fat," and "ocean fish." We also removed formulas that contained any of these unhealthy or potentially harmful ingredients:
A total of 79 brands had at least one formula removed due to ingredients. The following 14 brands had all of their formulas removed due to ingredients:
Against the Grain
AvoDerm
BFF
Fancy Feast
Friskies
Fruitables
Go! Natural
Hi-Tek Naturals
HI-TOR
Petite Cuisine
Pinnacle
Rachael Ray Nutrish
Royal Canin
Tiki Cat
4

We removed formulas based on history of recall, manufacturer, or customer satisfaction.
After we made two rounds of cuts based on ingredients, we conducted an extensive brand evaluation to identify the most reliable and trustworthy cat food manufacturers. We gathered each brand and formula's country of origin, details of past recalls, recent controversies, and customer complaints.
We removed brands for the following reasons:
Manufacturer location. We excluded any brands that manufacture in locations with more lax food-quality laws and only kept brands that were manufactured in the United States, Canada, and New Zealand.
Manufacturer unknown. We excluded brands where we could not find information about the manufacturer. Why buy your cat food from mystery manufacturers who don't openly share their production location?
Customer satisfaction. We excluded brands that had noticeably more customer complaints, particularly complaints that their food made cats sick.
Recent controversy. We excluded brands that were involved in a recent controversy (for example, lawsuits about mislabeling products).
History of recalls. We excluded brands that had two or more recalls in the past five years.
A Note on Recalls
Recalls do happen, even to brands with high standards. But think of it this way: The average domestic cat lives to be 12-15 years old (in human years). If your favorite brand of cat food averages two recalls every five years, your cat would have to successfully dodge four to six recalls over the course of its life.
Your cat may have nine lives, but you shouldn't gamble six of them on food from an unreliable brand.
That's why we took a hard stance when it came to brands with multiple recalls. In some cases, a history of recalls was very clear. In other cases, deciding whether or not to remove a brand was really difficult. For example, one of the decisions we struggled with was how to handle brands that were owned or manufactured by larger pet food corporations — particularly when that larger corporation had a history of recalls.
After many hours of research and much debate, we decided to exclude all brands owned by pet food corporations with a history of recalls, since we could not guarantee that their acquisition or change in ownership had not had a negative impact on their manufacturing processes. This may mean that some brands with quality ingredients and sound manufacturing were cut at this stage, but we feel much more comfortable erring on the side of caution.
Based on the above criteria, we cut the following brands:
Artemis: A Diamond company
Blue Buffalo: Failure to correctly label products
Castor & Pollux: A Merrick company
Chicken Soup: A Diamond company
Dave's Pet Food: Manufacturer unknown
Diamond: History of recalls
Dr. Harvey's: Manufacturer unknown
Eukanuba: Owned by Mars, which was in a lawsuit regarding slave labor
Evanger's: Lack of transparency, many consumer complaints, and a history of false labeling.
EVO: Sold to P&G and also lost a class-action suit over false labeling
Farmina: Manufactured in Italy, Brazil, Serbia
Fussie Cat: Manufactured in Thailand
Halo: Manufacturer unknown
Hill's: Major recalls, generally regarded as low-quality ingredients
I and Love and You: Manufacturer unknown
Iams: History of recalls
Innova: Manufacturer unknown
Meow Mix: A Big Heart Pet Brands company (formerly Del Monte, history of recalls)
Merrick: History of recalls
Natural Balance: A Big Heart Pet Brands company (formerly Del Monte, history of recalls)
Nature's Recipe: A Big Heart Pet Brands company (formerly Del Monte, history of recalls)
Nature's Variety: A history of recalls
Newman's Own Organics: Manufacturer unknown
Nulo: Manufacturer unknown
Nummy Tum-Tum: Manufacturer unknown
Nutrisca: Manufacturer unknown
Nutro Max: History of recalls
Nutro Natural Choice: History of recalls
Party Animal: An Evanger's brand
I and Love and You: Manufacturer unknown
PetGuard: Manufacturer unknown
Petite Cuisine: Manufacturer unknown
Premium Edge: History of recalls
Purina: Recent lawsuit over pets that reportedly died from eating Purina's Beneful
Sheba: Owned by Mars, which was in a lawsuit regarding slave labor
Solid Gold: A Diamond company
Taste of the Wild: A history of recalls
The Goodlife Recipe: Owned by Mars, which was in a lawsuit regarding slave labor
Tiki Cat: Manufactured in Thailand
Weruva: Manufactured in Thailand
Whiskas: Owned by Mars, which was in a lawsuit regarding slave labor
Whole Earth Farms: A Merrick company
Wild Calling: An Evanger's brand
Still Under Review
Back in 2012, there was a major recall associated with Diamond Pet Foods that impacted many of its smaller labels. At the time, Wellness and Canidae were both Diamond-owned, but they have since branched off and now manufacture their own foods. Several formulas from these brands are high quality and passed our ingredients-based cuts.
None of these three brands have had major recalls since 2012 and are all probably safe. But we still think there is enough uncertainty associated them because of their background that it's worth giving them a little more time. We will reevaluate them in the future.
Wellness
Canidae
Under the Sun (a Canidae brand)
What We Learned While Researching the Cat Food Industry
Early Assumptions
Earlier this year we reviewed dog food and soon after the article went live we started receiving requests to research and review cat food as well. Based on the considerable research we invested in the pet food industry, we initially approached the cat food review with two main assumptions:
It's all about quality ingredients.
Cats and dogs have similar dietary needs.
While quality ingredients remain a vital component of the best pet food, we soon realized that we'd have to scrap many of the assumptions we made based on our dog food research, and start with a clean slate for cat food. With this fresh perspective, we were able to identify the information essential to keeping your cat healthy and happy.
Cats Have Complicated Dietary Needs
Although there were similarities between dog and cat foods, we found that cats have more complicated dietary needs. While high-quality ingredients are extremely important for a healthy feline diet, there are additional considerations that should be made for cats.
Many cat owners use just one qualifier when selecting their pet's food, like life stage. They'll grab the mature cat food for their mature cat. And while it is important to feed cats a diet that's age-appropriate, there are a lot of other important metrics to use when selecting the best cat food. For example, cats are prone to kidney stones and other renal health issues, as well as unpleasant side effects like hairballs, and the right cat food can help cut down on some of these issues.
For cats, diets need to have a number of ingredients that only animal-based ingredients can supply, and not just meat; organs are often better in this respect (yes, by-product!). Also, cats need a certain supply of minerals to help them avoid urinary tract crystals and stones. Overall, you need to first think about what your dog/cat needs and then look for diets that help you meet that.
Cat food also needs to provide the right amount of moisture. Unlike dogs, cats often don't drink enough water on their own and their diet frequently needs to be supplemented with formulas that produce extra hydration. Whereas a dog can easily live on just kibble, many veterinary professionals recommend that cats consume both wet and dry food regularly.
Basing your cat food decision solely on the age of your cat or on any one specific health claim may overlook other important variables (such as allergies or food sensitivities). The best thing to do is read up on the nutritional needs of cats and then speak with your vet about your cat's specific dietary needs.
The Importance of Digestibility
Quality ingredients are a key component of the best cat food, but if those high-quality nutrients aren't actually being absorbed by your cat, the benefits of the superior ingredients are lost.
Enter digestibility.
Digestibility is the percentage of foodstuff taken into the digestive tract that is actually absorbed into the body and it's an important characteristic to consider when selecting a cat food. Dr. Jennifer Coates provides a basic example to illustrate why: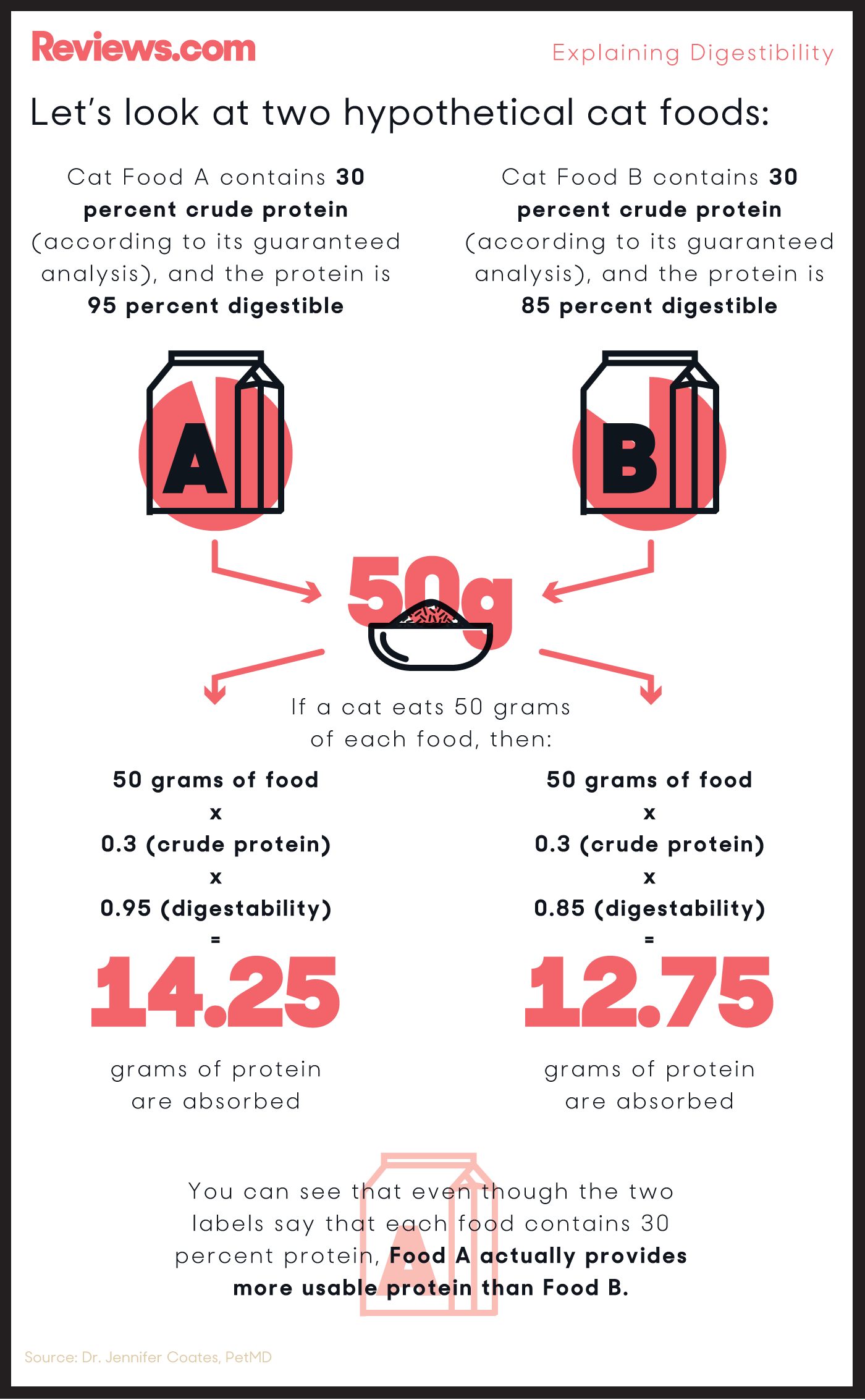 Generally speaking, high-quality ingredients are more digestible than low-quality ingredients. But before you go and buy a cat food based on digestibility alone, there are a couple important caveats to be aware of:
The digestibility percentage is generated by testing conducted by the cat food manufacturer. There are no third-party companies that independently verify these digestibility claims, so it is difficult to just accept the reported percentages at face value.
Manufacturers are not required to report digestibility percentage. Consequently, not all companies are willing to pay for the necessary testing, and unfortunately for consumers, this information can be difficult to track down.
Despite the absence of third-party accountability and the fact that the digestibility percentage is yet to become a universal standard, we think that it is still an important factor that should be considered when selecting a cat food. We recommend checking the label for high-quality ingredients and then referencing the digestibility percentage to ensure your cat gets and absorbs the nutrients it needs.
The Great Carb Debate: What Does Your Cat Really Need?
Cats need a diet high in protein. In domestic cats, a diet that contains high-quality protein sources is also considered important; amino acids like taurine and arginine that naturally occur in animal products are essential for healthy skin, coats, and organ function. However, there's an ongoing debate about exactly how much protein cats need, and not a lot of conclusive science to back up either side. Carbohydrates are even more hotly contested.
Though carbs aren't required for their diet, most cats do consume some carbs, often in the form of wheat, rice, or beet pulp. In small amounts, these ingredients aren't harmful for cats, and may even provide an acceptable source of energy. Some argue that carbohydrates can also help cats digest their food better and retain more nutrients (and digestibility is very important).
Some experts prescribed a diet that was high in carbohydrates, while others considered carbohydrates almost always superfluous, and advised pet owners to always opt for a high-protein, low-carb diet. Which means for pet owners, it's really about what you (and your veterinary professional) feel most comfortable feeding your pet.
Fortunately, our pets (dogs and cats alike) have evolved to be able to digest grains as well as many other sources of carbohydrates (including potatoes).
Cats are STRICT carnivores and carbohydrates (grains) are completely inappropriate for cats. They CANNOT digest them.
There is no evidence that grains or other carbohydrate-containing ingredients are good or bad for cats. What is most important is that the cat's protein requirement is met first. Cats can utilize carbohydrates for energy like we can, but certainly they need a smaller proportion of their diet coming from carbohydrates than dogs or humans.
What we do know is that high-quality protein sources, like whole meats and fish, as opposed to lower-quality sources, can be easier on a cat's kidneys. Many domestic cats suffer from chronic kidney disease, and a diet high in low-quality proteins can exacerbate the problem.
We also know that as a cat ages, the amount of protein in its diet should be reduced to aid in kidney health; for this reason, a special formula for older cats is often recommended in your pet's later years.
It's unlikely that this debate will be settled once and for all, which as a pet owner can be frustrating. Your best course of action, then, is to read the research for yourself and ask your veterinarian.
Low-Quality Ingredients Lead to Health Problems
Regardless of where you fall in the debate over carbohydrates, it's a known fact that high-quality ingredients matter for a healthy cat. Processed ingredients and additives not only don't offer the same nutrients as whole meats and fish, but also may be contaminated with bacteria and other harmful agents.
Rendered fat is a common additive in pet foods because it easily increases the necessary fat content. However, it is ripe for bacteria and mold growth, so it can be unsafe for your pet to eat. Not only that, but also it doesn't offer the same health benefits as the whole fats that come from real fish and meat.
Other additives, like artificial colors and flavors, may be considered known carcinogens; caramel color, BHA, BHT, and ethoxyquin are all considered to be dangerous for both people and pets.
Some of the common health problems caused by low-quality ingredients include:
Kidney disease. Kidney disease (renal failure) is the leading cause of mortality in domestic cats. Your cat's kidneys work to extract toxins from the blood system including nitrates, which are produced by proteins. Talk with your vet about steps you can take to help prevent kidney disease in your cat and learn the signs of kidney failure, which can include: weight loss/appetite reduction, dry coat, ulcers in the tongue or gums, bad breath, and vomiting or diarrhea.
Obesity. In the US, 58 percent of cats are overweight or obese. To keep your cat's weight in check, look for a diet that's highly digestible and includes rich sources of protein, like real meats. Increasing the proportion of canned and raw foods has also been shown to help cats lose weight.
Dental health. A common belief is that dry cat food helps prevent dental decay and disease, but that's most likely not the case, as cats don't chew their food in a way that would allow dry kibble to clean them. Instead, the ASPCA recommends that cats should have their teeth brushed regularly. There are also cat chew toys and treats that are specifically designed to clean their teeth.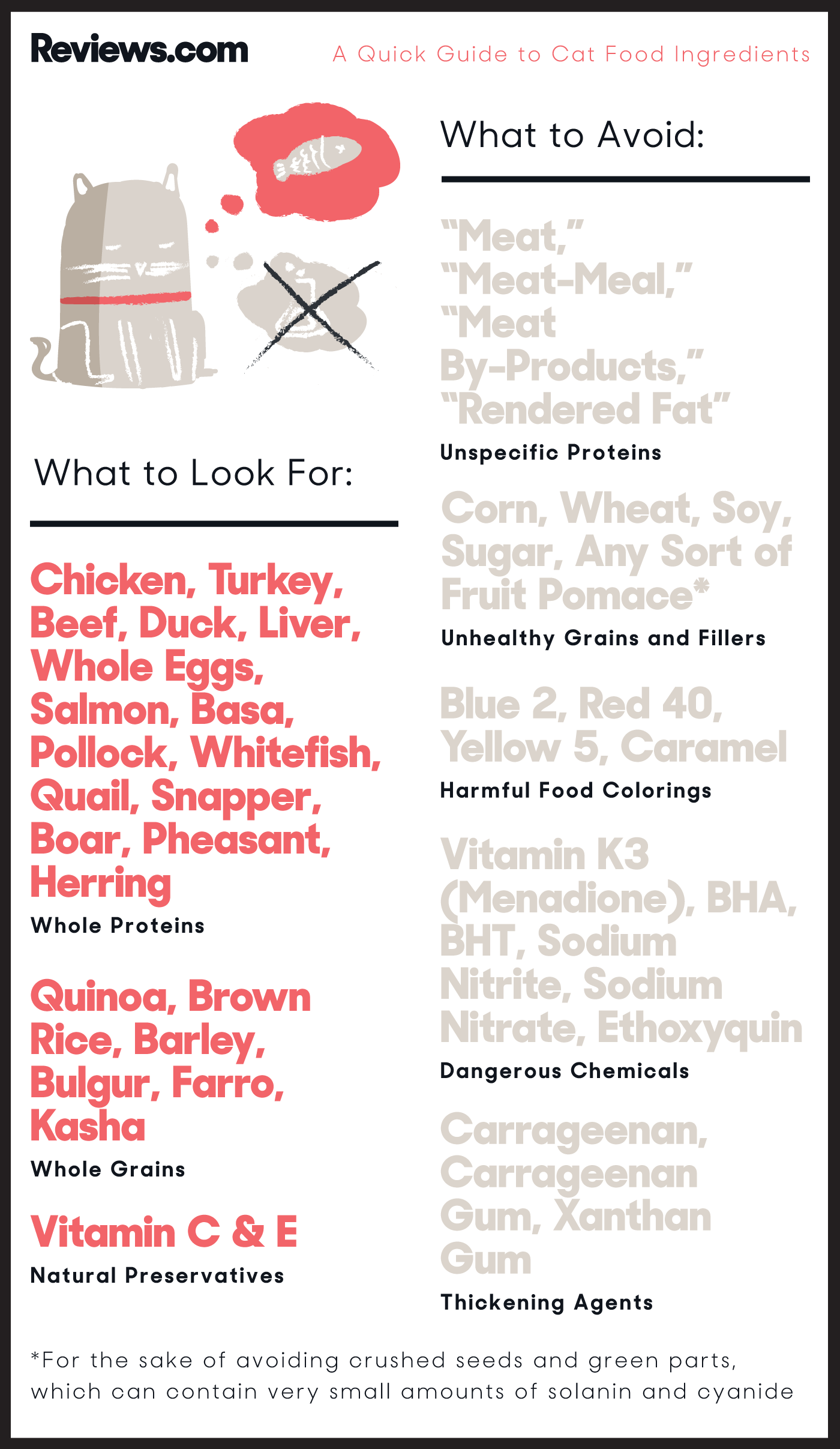 Know the Origins of Your Cat's Food
During our research, we conducted an extensive brand evaluation and gathered details of past recalls, recent controversies, manufacturer information (like country of origin), unusually high numbers of customer complaints, and other relevant information about each cat food.
Recalls are often traced back to manufacturers, not specific ingredients, which means that as a pet owner, it's important to pay close attention to who has a history of recalls and how they responded.
Additionally, it's a good idea to avoid cat food that uses ingredients from a rendering facility. Rendering facilities take extra animal products from other sources, like slaughterhouses and even animal shelters, and turn them into products labeled "meat meal" or "bone meal." This "meal" can contain extremely unhealthy extras, like antibiotics, bacteria, or steroids. To avoid feeding this kind of low-quality rendered material to your pet, opt for food products where the source and origin are clear.
When It Comes to the Best Type of Cat Food, There's No Clear Winner
When we made our picks for best cat foods, we examined all varieties: dry, wet, dehydrated, freeze-dried, and homemade.
The perfect feeding regimen for domesticated cats is probably not known yet, and with any condition where there is not a cut-and-dry treatment or cure, there are a lot of opinions by the researching scientists, veterinarians, and pet owners.
Type of food cat owners most often feed their cat, according to a recent Reviews.com survey
Dry
Dry cat food is often touted as being better for dental health than wet food, but as mentioned, there's very little conclusive evidence to support this. Cats don't chew their food particularly thoroughly, which means that it's actually unlikely that a dry food has the opportunity to scrape plaque from their teeth. Dry food is generally less expensive and it's more convenient because you can buy it in a big bag and leave it out without it spoiling.
Some veterinarians recommend a diet that's primarily dry food, but others caution that its ingredients can be relatively suspect. Dry cat food tends to be more processed, and its low water content may lead to dehydration.
Wet (canned)
Conversely, wet food may offer some additional health benefits. Cats typically get crucial hydration from the food they eat, and wet cat food's high water content plays a key role in that. It's also often less processed and contains a more optimal balance of protein, fat, and carbohydrates. The expense and inconvenience of canned food, though, are considerations for some cat owners.
Raw
For many cat owners, the appeal of raw is that it closely approximates a cat's native diet. Cats in the wild eat their prey whole and have teeth that are naturally able to tear through meat. Fresh, unprocessed foods are at the heart of a raw diet, enabling cats to get the vitamins and nutrients they need, while avoiding potentially harmful preservatives like BHA and BHT.
Meat from your local grocery store is not meant to be consumed raw and may contain harmful or dangerous bacteria, and owners must be careful when handling raw ingredients. Raw food can also be harder for cats to break down and digest relative to food that's been cooked. In addition, it can be expensive and harder to obtain.
Dehydrated
Dehydrated food is made by removing moisture from the ingredients. Because it's not cooked, it remains nutrient-rich and maintains its natural color and flavor. Dehydrated food has many of the benefits of raw, but without some of the risks that come with handling and preparing raw foods.
However, if you do choose to put your cat on a diet based primarily on dehydrated food, hydration can become a concern. Make sure cats who eat mostly dehydrated food are drinking enough water to stave off kidney problems.
Homemade
Some cat owners choose to prepare fully homemade meals for their cat from human-grade foods. This can be incredibly time-consuming, but it does give owners complete confidence in knowing the exact ingredients of their cat's food.
Homemade foods may not be ideal, though, if the owner does not take special precautions about food safety. The American Animal Hospital Association warns against homemade raw diets, because the meats may be contaminated with pathogens. Cat owners who choose a fully homemade diet should be sure to consult their veterinarian about necessary nutrients and how to achieve the right balance of fats and proteins to ensure their cat's diet is truly complete.
Regardless of the type of food your cat prefers, quality ingredients and digestibility are essential.
What to Do Next?
Now that you know the truth about cat food, here are a few steps you can take:
Read the label. If you haven't done so already, read the label of your preferred cat food brand. If there are any ingredients you don't recognize, do some research and find out what they are and how they may be impacting your cat's health. If you don't like what you see, it could be time to try a new brand.
Chat with your vet. If your cat has special dietary needs or you're unsure about whether or not certain ingredients are safe, chat with your vet and get their input. There are a lot of factors to consider, and getting some guidance from a trusted vet can help you find the best food for your cat.
Inquire about digestibility. As we mentioned earlier, digestibility (the percentage of food your cat actually absorbs), is an important consideration when selecting a food. Unfortunately, brands are not required to publish the digestibility percentage and tracking it down can be difficult. Reach out to your preferred brand; ask about digestibility; and let the brand know it's a metric you'd like to see on the ingredient label.