Showing results for
Did you mean:
Sorry, something went wrong. Please refresh your browser and try again.
Last updated on
August 23, 2019
The Best Curling Irons
Don't let your curls spiral out of control
We recommend products and services based on unbiased research from our editorial team. We may receive compensation if you click on a link. Read More.
Most Versatile

Best for Fine Hair

Best for Achieving Natural Waves

Best Automatic Curler

Anjou
Hot Tools
Remington
Beachwaver Co.

1 Inch Curling Iron

24k Gold Curling Iron

CI9538 T Studio Pearl Ceramic Curling Wand

S1
How We Found the Best Curling Irons
5 stylists interviewed
15 irons tested
4 top picks
The Best Curling Irons
The best hair curler should protect your hair from unnecessary damage while making it simple and safe for you to get the style you want. We dug into research and talked to experts to learn what heat settings and materials are best for hair, then tried out 15 of the most talked-about tools to find the ones that are intuitive to use and deliver on their frizz-less styling promises.
Since 2013, Reviews.com has helped millions of people find the best of the best when it comes to all sorts of products and services, including curling irons. We've tested 15 of the best irons we could find, interviewed 5 stylists, and updated this review regularly in order to bring you the most current information. The author of this review does not own stock in any of the products, companies, or manufacturers mentioned.
The Best Curling Irons: Summed Up
| | | | | |
| --- | --- | --- | --- | --- |
| | Anjou 1 Inch Curling Iron | Hot Tools 24k Gold Curling Iron | Remington CI9538 T|Studio Pearl Ceramic Curling Wand | Beachwaver Co. S1 |
| Best for | Versatility | Fine hair | Achieving natural waves | Automatic curling |
| Price | $23.99 | $49.99 | $21.70 | $103.20 |
| Size options | 1 inch, 1.25 inch, 1.5 inch | .25 inch, 1 inch, 1.25 inch, 1.5 inch | 1-1.5 inch, 1.5-1 inch | .75 inch, 1 inch, 1.25 inch |
| Colors | Gold, gradient | Gold | Pink | Gray |
| Barrel material | Ceramic, tourmaline | Ceramic, tourmaline, 24K gold plated | Ceramic | Ceramic |
| Warranty | 1-year | 1-year | 4-year | 1-year |
Anjou 1 Inch Curling Iron
Anjou
A sleek clamp iron made with just the right materials, plus usability and safety features that'll keep you and your hair happy.
Pros
A simple and thoughtful design
Digital display
Safety features
Why we chose it
Simple and thoughtful design
Thoughtful extras greet you when you open the Anjou box, like a heat-resistant glove — which inexperienced users especially appreciated — and clips for separating hair into manageable portions. The iron itself radiates femininity through a pearly rose and black finish but stops itself from going overboard with minimalistic buttons that blend neatly into the handle's design. Even the cord adopts an "I've got you covered" vibe, with a thick black-matte coating that prevents it from twisting into awkward knots and an attached velcro strap for storage.
Digital display
The biggest standout was the Anjou's digital display — a frustratingly rare feature — that keeps no secrets when it comes to heat and lets you track temperature from the second you turn it on. This elevated the Anjou amidst a sea of vague dials and confusing systems that had us reaching for instruction manuals to determine exact temperatures.
Safety features
The Anjou left even the most paranoid testers feeling comfortable. It has the standard cool tip and kickstand to protect you and your counter from its heat, plus that heat-resistant glove and a 30-minute auto shut-off — a feature that'll soothe any "did I leave my iron on?" anxiety after you leave the house.
Points to consider
Power delay
Early on, we uncovered one flaw: the power button that takes an abnormally long press to turn on. You may even think the device is broken if you're expecting an instant-on. Most testers figured this out after a bit of experimenting, though, and the extra-long press became second nature in no time. It's easily forgivable at just $24.
Hot Tools 24k Gold Curling Iron
Hot Tools
Although it's not made of the ideal metal, this iron is a fan favorite producing shiny results.
Pros
Reputation
Great results
Cons
A few features missing
Creases in coarse hair
Why we chose it
Reputation
Nearly every tester who got their hands on the Hot Tools said something like, "I think my hair stylist has this" or "Oh, my mom had this when I was growing up." It's no secret that Hot Tools' gold-plated barrels are a hair styling mainstay; when you use one, there's an inherent feeling of familiarity that other brands can't quite match. The company's years of experience shine in details like its easy-to-hold cool tip, soft matte handle, and durable cord (nearly identical to the Anjou cord we fell in love with). It's a solid option to consider, especially if you are most comfortable buying from a time-tested, recognizable brand.
Great results
Most testers were pleased with the consistently shiny and smooth tendrils the iron left in its wake, and they felt like the grippiness of the gold gave them complete control over their curls. This held especially true for fine-haired testers, whose hair was at risk of slipping out of the clamp of ceramic picks like the Anjou. A few testers also said they preferred the curls from the Hot Tools iron over those from our top pick, Anjou, though, truthfully, the difference was too subtle for us to pinpoint.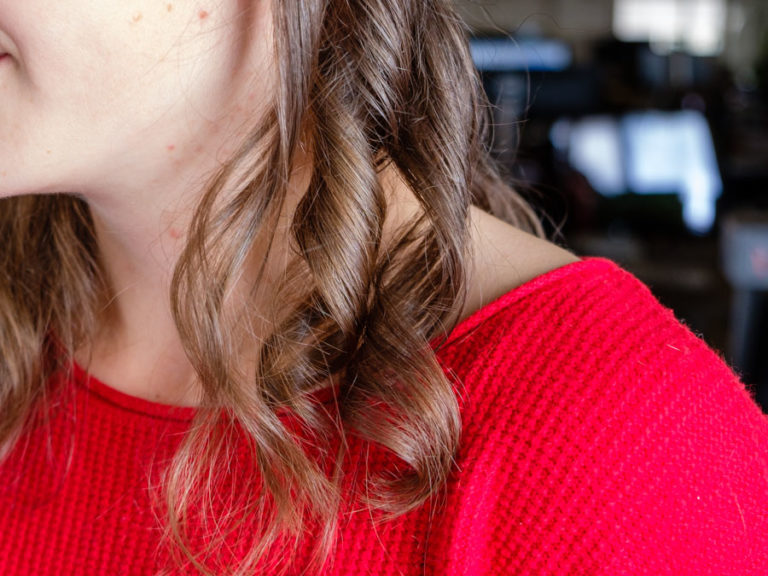 Points to consider
A few features missing
Setting an exact temperature is tricky with the Hot Tools; instead of the Anjou's precise digital display, the Hot Tools uses a temperature dial with only a few set increments. The minor annoyance gets leveled up by a lack of indication that the iron has reached the desired temperature. It's also the only one of our top picks that's missing the nice-to-have auto shut-off safety feature. That wasn't a deal breaker, but it did give the Anjou an edge.
Creases in coarse hair
Some testers — particularly those with fine hair — found that the Hot Tools' clamp and grippy gold surface held hair at the perfect strength. However, others with coarser hair found it entirely too tight, leaving them with a few creases. Another pass could typically solve this issue, but one of our criteria for a top-of-the-line iron was that it should produce shiny curls in one go.
Remington CI9538 T Studio Pearl Ceramic Curling Wand
Remington
For natural-looking waves, this pretty pink wand does the job without any fuss — keeping your curling simple, safe, and easy.
Pros
Great beachy waves
Intuitive
Why we chose it
Great beachy waves
Either of our top clamp iron picks can function as a wand by leaving the barrel closed, but some people prefer the streamlined simplicity of a tapered wand that will consistently produce natural-looking waves. Enter the Remington Pearl.
One tester reiterated a few times just how much she loved the perfect, cascading waves this hair curler put in her mane. When it came to delivering shiny, natural looking waves, the Pearl was consistent and unbeatable.
Intuitive
The bubblegum-pink and eggplant-purple scheme makes the Pearl an exceptionally girly wand, which testers found charming. Pretty colors aside, the wand itself isn't anything fancy, but that's what hair wands are all about: no frills and no unnecessary parts (read: clamps) if all you want is waves.
Much of the Pearl's intuitive simplicity lives in its heat settings and buttons. The ever-transparent digital display was easy to adjust and didn't make things more complicated than they had to be. When compared to the Conair Infiniti Pro wand's five-setting system, this was an easy win.
Points to consider
A slippery shape
The one complaint that came up for testers was that the shape of the Pearl (and every tapered ceramic wand) immediately directs hair to the thinnest part of the barrel. The tool is a bit slippery and it may take a few tries to twirl your hair around it. Compared to the similarly designed Conair Infiniti Pro, though, testers reported this one as less slippery and easier to handle, and testers found the results ultimately worth the effort.
Beachwaver Co S1
Beachwaver Co.
At five times the price of our top pick, this automatic rotating barrel iron is a splurge-worthy timesaver that produces consistent results.
Pros
Easy to use
Automated everything
Curls of every kind
Why we chose it
Easy to use
This much-buzzed-about, as-seen-on-TV Beachwaver tipped the scales from gimmicky to genius the moment we unclamped the first curl. We expected a knot-ridden ordeal but got a device that was hard to pry out of the hands of even the most low-maintenance testers. After comparing it to the more expensive Beachwaver Pro and CHI ARC Automatic Rotating Curler, both of which were strikingly similar in philosophy and design, this one came out on top as a true MVC (Most Valuable Curler). If you're a newbie to curling who wants to bypass the learning curve or an everyday curler looking to save time, this over-$100 splurge is worth considering.
Automated everything
The S1's home button (missing from the Beachwaver Pro) automatically brings the clamp back to a usable position after each curl and was crucial in helping our testers feel like they were in control. And while the Pro has a covert way of letting you change the barrel's rotation speed (you have to read the instructions to find out how), the S1's simple "fast/slow" slider makes it even easier to adjust. The large, easy-to-find control buttons on the S1 were also much-preferred over those of the CHI and the Beachwaver Pro, both of which had testers accidentally hitting buttons and turning the barrel the wrong way. That may not sound like a huge deal, but one tester cited it as the culprit for a panic-induced scalp burn.
Curls of every kind
An unexpected perk we found in automatic rotating barrel irons in general is their sheer versatility. We guessed that they were a one-trick pony with their fancy tech and robo-stylist vibe, but we were pleasantly surprised to learn that they can produce their consistent results in the form of "defined curls," "loose beachy waves," and "glam waves," depending on how you hold the iron (check out Beachwaver's YouTube tutorial for proof).
Points to consider
A spendy splurge
Our top pick, the Anjou, offers the same versatility at a quarter of the Beachwaver's $103 price tag. This is the time-saving tool worth shelling out for if you're looking to fully automate your curling experience, but if you're keeping your styling simple, it's overkill.
How We Chose the Best Curling Irons
Safety
In order to keep your curled hair shiny and strong, two things about your iron matter: heat and the metal that's conducting it. To strike a balance of style and safety, a curling iron should put you in control of its temperature and give you the ability to gradually find the heat setting that's right for you and your locks.
The ideal type of a metal for a curling iron isn't quite so clear-cut. Some stylists we spoke with prefer titanium, while others mentioned gold-plating as a passable option. But there was one thing they could all agree on: Ceramic rules. Why? Some stylists told us that ceramic heats more evenly than any other metal, while others reasoned that its slippery surface means less tugging and tearing on hair strands that are already vulnerable due to heat.
But while ceramic is clearly the cream of the crop, no expert drew a hard line saying it's the only option. We focused our search on irons made of any material our experts told us is safe for hair (ceramic, titanium, and gold-plated) but kept in mind the extra benefits of using ceramic.
Reputation
For such a straightforward styling tool, there are a lot of curling irons out there. Finding the best meant cutting through the noise and narrowing the field to only the truly buzz-worthy. We pored over "best of" lists on beauty websites like ELLE and Allure, plus Amazon's bestseller list, to find the irons that have the most people talking and are made of expert-approved materials. Then, to be sure we weren't missing any super-popular brands, we called on expert stylists for their recommendations, which added BaByliss and CHI to the ranks.
The 15 curling irons we tested:
Anjou 1 Inch Curling Iron
BaBylissPRO Nano Titanium Spring Curling Iron
Beachwaver Co. Pro
Beachwaver Co. S1
CHI ARC 1-Inch Curling Iron
Conair Infiniti Pro Nano Tourmaline Ceramic Curling Iron
Drybar The 3-Day Bender Digital Curling Iron
Hot Tools 24k Gold Curling Iron
Hot Tools CurlBar
Hot Tools HT1108 Professional Marcel Iron
Infiniti Pro by Conair Tourmaline Ceramic Curling Wand
Remington CI52FO Wrap to Waves Ceramic Hair Styler
Remington CI9538 T|Studio Pearl Ceramic Curling Wand
T3 Whirl Trio Interchangeable Styling Wand (7 piece)
xtava Satin Wave 5 in 1 Professional Curling Iron and Wand Set
Accuracy
We set all 15 irons to 350 degrees F and used an infrared thermometer to test their temperature truthfulness.
Fourteen of the irons passed (we allowed them to bounce within 25 degrees above or below their stated temperatures), but one failed: the elegant, luxe, and much-acclaimed T3 Whirl Trio Interchangeable Styling Wand. No matter how many times we tested it or how many settings we tried, the iron's temperature consistently rose to a full 75 degrees hotter than it claimed. At its highest setting (stated as 410 degrees F), the T3 heated up beyond the decomposition point of hair (465 degrees F). Yikes. While we can't say that every T3 is so far off, we were forced to leave our model behind.
Usability
To find the best curlers, we looked for:
Buttons and setting features that are intuitive to use when you need them and out of the way when you don't
Convenient safety features
The ability to produce shiny, frizz-less waves or curls in one pass
A clamp that's not too tight (hello, creases) and not too loose (ugh, slippage)
We had testers with different hair types, hair lengths, and curling experience levels produce a few curls to see if our finalists could check every box. By the end of it all, a few winners separated themselves from the rest.
Guide to Curling Irons
How to use your iron and curl your hair
Keep temperatures on the safe side
In terms of temperature, lower is better. According to Dr. Trefor Evans, Director of Research at TRI Princeton, curling enthusiasts run into trouble because cranking up the heat often means better curls, but it also means more damage (AKA frizz, breakage, and puffiness galore). You'll find tons of resources online that'll guide you to your ideal temperature range based on hair type, but we found those to be pretty inconsistent. Rather than adding another confusing chart to the mix, this advice from Dr. Evans is refreshingly obvious and works for any hair type:
"Start at a low temperature, then work up to the minimum possible heat setting it takes to achieve a curl."
Extra hold comes from product
If your curls aren't holding very long, try adding hairspray or curling product. Expert stylist Kylie Harris gave us this hack: Spray your hair with sea salt spray and let it dry before beginning your routine. The grit helps your hair retain its new shape.
Stay frizz-free by protecting your hair
No matter how much we force them together, heat and hair will never be friends. But we have a few tips from the pros for minimizing heat's frizzifying effects (or at least masking them).
Never curl wet hair. That's crazy damaging, and experts are quick to confirm that fact. But here's a real head-scratcher: Some irons are advertised as "wet/dry." Don't fall for it! Despite those advertisements, you'll usually find fine print that says something like "don't use on wet hair."
Always use a thermal protectant. And let it dry before you apply any heat. Brands that were recommended by our pros include Joico, Mizani, Oribe, and Leonor Greyl.
Use a good conditioner. Dr. Evans gave us this analogy: "The surface of hair is like tiles on the roof of a house. The structure gradually gets beaten up over time. Tugging makes those scales stand up." While that damage can't be undone, Dr. Evans advised that conditioner can at least smooth over those tiles and hide the evidence.
Curling Iron FAQ
Are titanium or ceramic curling irons better?
When it comes to even heat distribution, you might have better luck with ceramic curling irons. However, ceramic curling irons are not as durable as the light-weight titanium models, and can crack. If you're on a budget, titanium curling irons also tend to be on the cheaper end of the spectrum. Determining which is best will depend on your lifestyle: If you want good heat distribution, stick with a ceramic model. If you're doing a lot of traveling and want a more durable curling iron, look into titanium.
What size curling iron should I buy?
Thicker irons produce bigger curls. That might seem obvious, but here's a handy key in case you want a different size than the versatile one-inch models we tested, courtesy of advice we got from Assistant Campus Director and instructor at Evergreen Beauty College, Kylie Harris:
<1-inch: Good for ringlets, touching up naturally curly hair
1-inch: Good for versatile styling, from beach waves to polished curls
>1-inch: Good for big waves in longer hair, faking a blowout
How do I maintain my curler?
Katya Gudaeva, a hair stylist with seven years of experience curling hair for commercials, photo shoots, red carpet events, and weddings, knows a thing or two about getting the most out of a styling tool. Her advice for keeping your curling iron in tip-top shape is simple: "When you see there is hair product buildup, just clean it with a towel and mild soapy water."

But wait, your cord also needs some TLC if you want to make it last. Experts say to wrap your cord the way it comes in the package — not around the handle — to avoid fraying it and prematurely rendering your iron useless.
In our initial stages of research, we encountered a bunch of scary "curl chambers" that claimed to suck your hair into a robotic curler, then spit it out in a perfect ringlet. We were skeptical, but reviewers and beauty sites alike are loving on them, so we decided to give them a chance. We ordered in the Infiniti Pro by Conair Curl Secret and put one brave tester's locks on the line. To her delight, the curl chamber did what it claimed and didn't leave her with bald spots. The lack of concrete temperature settings kept it out of our top picks, but if you're a beginner or want to experiment with your curling experience, feel free to give it a try.
How hot is too hot for your hair?
Helen Owens, hair-replacement specialist and an expert in difficult-to-manage hair, recommends that even the coarsest, most resilient manes should never be exposed to irons at a temperature over 400 degrees F, "even if the gauge allows a higher setting." Once you've peaked that temperature, the iron will start melting your hair.
Our Other Beauty Reviews
We've swabbed, swiped, sprayed, and tested all things beauty. Check out one of our other reviews to find more favorites:
You might also like