The Best Debt Consolidation Loans
Yes, a loan can help you get out of debt
Latest Update
September 1, 2017
The 30-Second Review
To find the best debt consolidation loans, we looked at which online lenders offer fixed interest rates, flexible loan amounts and lending periods, reasonable APRs, and no hidden fees. Why online lenders? For one, they tend to have the flexibility to lend more on better terms, and the pre-approval process is much simpler: No pages-long paper applications or in-person meetings. Better yet, all three of our top picks use "soft-pulls" to ensure the pre-approval process won't affect your credit score.
Best for Average Credit
When it comes to getting pre-approved, marketplace lender Prosper makes it the easiest (and least intimidating) of all our top picks.
Minimum credit score: 640
Loan amounts: $2,000–$35,000
APR: 5.99%–36%
If you're balancing so many different payments that you have trouble keeping your due dates straight, you might be ready to consolidate your debt — in other words, take out a new loan; use it to pay off all your existing debts; and then make just one single, comprehensive payment per month. So fewer due dates. So much simpler.
But borrowing money is always a risky proposition, and even the best debt consolidation loan is no exception. "You should start with the idea that the last thing you should do is borrow money to fix your problem," says Bill Dallas, co-founder and CEO of Cloudvirga. But he concedes that it sometimes makes a lot of sense, especially if you're swamped with high-interest payments and can swing a better rate with a loan.
Borrowing money is also really personal, and the rates and terms available to you will depend a lot on your financial history. That's why we have more than one top pick for the best debt consolidation lenders. All three have reasonable APRs, fixed interest rates, and multiple options for loan amounts and payoff periods — exactly what you want in a lender. But each caters to a different credit score range: Prosper, an online marketplace lender, is right in the middle with a credit score cutoff at 640; Avant is willing to go as low as 580; and the average SoFi borrower has a credit score of 700.
If you have the credit score to qualify for all three, we suggest finding out what rate you can get from each — because that's the other thing that's great about our top picks: Each will quote you a rate with a "soft pull" on your credit, so shopping around for the right lender for you won't even ding your credit score.
How We Found the Best Debt Consolidation Loans
Now might be a good time to tell you that debt consolidation loans don't really exist. By that we mean, there's no difference between a specific debt consolidation loan and a generic personal loan. Banks and loan companies use this phrase as a marketing term, so you can visualize how you will use the loan. They may also use terms like installment loan or signature loan, but these all refer to the same thing: an unsecured personal loan. And while banks and credit unions offer this kind of loan, we chose to focus this review on online lenders, for a few reasons.
First, because of their structure, online lenders are better suited to offering personal loans than banks are. "To lenders, personal loans are the riskiest loans we do," says Dallas. Meanwhile, banks are risk-averse (or should be, anyway), and unsecured personal loans don't provide them the same kind of recourse that secured loans do — you don't have to put up collateral for an unsecured loan, for example. "A bank has directors and board members, and they have very strict guidelines that they cannot change," says Snowe Saxman, a success, wealth, and women's expert. By comparison, online lenders are often self-regulated, she adds, which could mean a simpler approval process. That means getting approved for a loan — and getting that money in your bank account — can happen a lot faster with an online lender (we're talking hours and days, as opposed to weeks).
Online lenders are also widely available. Even though credit unions have more flexibility than banks, they are often region- or industry-specific, and we only wanted to recommend lenders available in at least 40 states.
We also found that online lenders are flat-out easier to navigate than banks — especially if you're looking to get a loan online. We were surprised to find that some of the big, established banks like Wells Fargo and U.S. Bank did so poorly in this area. The sections of their websites devoted to personal loans look like afterthoughts, and are tough to use and get information from. In fact, if you aren't already a Wells Fargo member, you can't even shop around for a loan online; you have to call the bank to apply. And just look at the difference between U.S. Bank's home loan interface and its page on debt consolidation.
Left: U.S. Bank's modern, tool-centric home loan landing page. Right: The stack of links and outdated interface of its debt consolidation loan page.
While it might seem like a small detail, a more user-friendly website can be one less hurdle in the way of you keeping up with your payments. Debt attorney Chad Van Horn recommends SoFi to his clients, but his reason for doing so could apply to any of the online lenders we considered: "A good interface encourages people to follow through, and that's the most important thing. Most people taking these loans are from the tech age and would never fill out a long paper application or even online application. I think, overall, online lenders are very similar to a traditional lender with more tech appeal."
When to consider banks and credit unions
If you already have a great relationship with a bank or credit union — or have heard good things about one by word of mouth — we absolutely recommend checking to see what kinds of loan it can offer you. Credit unions in particular have some great rates for those who qualify.

One of the best we found during our research was USAA, a military credit union that covers not just military members, but also their families — even down to grandchildren and beyond (provided that their parents have USAA insurance). Its APRs for debt consolidation loans max out at 10.99%, which only one other of our contenders (Western Credit Union) could match. Saxman, who has USAA car insurance, highly recommends it, along with the similar Navy Federal Credit Union.
That put our list at 10 online lenders. From there we analyzed their offerings and tested out their loan approval processes to see which had the best terms and fewest hoops to jump through.
The 10 lenders we looked at
First things first: The best debt consolidation loan will have the best terms, period.
No lender has one set of terms it gives everyone — it's up to you to find which lender is best for your financial situation. The major charges (APR and origination fees) fall within a range for each lender, which means the percentage offered to you will depend on your credit score and other factors like your employment status and the cost of living in your area.
In other words, even if Lender A advertises 5%–30% APR and Lender B offers 6%–36% APR, Lender A won't necessarily end up offering you a better package than Lender B. Shopping around is crucial, and you'll have to do your due diligence to figure out how much you'll end up paying with each in the long term.
That said, all our top picks do have some key criteria in common.
Their APR range is somewhere between 5% and 36%.
Lenders run as a pretty tight pack when it comes to APR. Most fall between 5% and 40%, with the two most established contenders on our list, Prosper and Lending Club, leaning toward the high end with maximums of 36% and 34.4%, respectively.
The best rates will only be offered to borrowers with the strongest credit history, but having the option for a low APR is key — especially when you consider a lender like NetCredit's APR starts at 34% and goes all the way up to 155%!
What's the difference between APR and interest rates?
As you shop around for a loan, you will see both APR and interest rates advertised. These two attributes are related, but not the same. Your APR (short for annual percentage rate) includes both your interest rate and origination fee. Because different loans will likely have different interest rates and origination fees, APRs make comparing two options easier (think apples to apples, rather than two fruit salads with different grape-to-melon ratios).

Say you're comparing two $5,000 loan options, both with monthly compounding interest and a payoff period of three years. One comes with 10% interest and a 3% origination fee, whereas the other comes with 13% interest, but no origination fee. At a glance, it's tough to know which will turn out to be the better deal. But if you know the APRs, you can make a one-to-one comparison.

Lenders will provide you with an APR, but you can also calculate it yourself with a calculator like this one. When we enter the data for the options above, we can see that the first loan has an APR of right around 12%. The second, because it has no origination fee, maintains its 13% APR. Provided all its other terms look good, the first one is the better deal.
And their origination fees are between 0% and 6%.
Apart from interest, origination fees are the biggest charge you'll encounter with debt consolidation loans. These are administrative fees a lender charges — basically, the payment it takes for setting you up with a loan. Like APR, origination fees among personal loans fall into a pretty tight clump; most are in the 0%–6% range.
We thought about eliminating any lenders that included origination fees altogether, but only a few (including SoFi, one of our top picks) don't charge this fee. And, as you saw from the example above, a loan that includes an origination fee might still end up giving you a better APR.
They offer fixed interest rates.
Loans come in both fixed and variable interest rates and, as their name suggests, the fixed ones are the more stable of the two. Fixed interest rates stay the same throughout the lifetime of the loan, while variable interest rates may start low, but can go up at an unpredictable rate (though they tend to be capped, so they won't jump from, say, 6% to 155%). For many, predictability is the safer way to go when you're taking out a loan — there are no surprises you'll have to suddenly fit into your budget.
For many, predictability is the safer way to go when taking out a loan.
While some lenders, like Prosper and Upstart, only offer fixed rates, others offer both. Whether you are assigned one of these rate types or can choose depends on the lender: Avant will assign you to one or the other, for example, but SoFi allows you to specify one or the other when in your loan application. Just make sure that when you compare interest rates, you're comparing apples to apples, not a low but unstable variable rate to a higher but reliable fixed rate.
And they have a broad range of loan amounts and a variety of repayment plans to choose from.
There's no such thing as the right debt consolidation loan amount or payback plan for everybody. We asked our experts whether it might be a red flag for a lender to offer a very low loan (Avant will let you borrow as little as $1,000) or a very high one (SoFi offers up to $100,000). They all said no.
"It's all going to be relative to the person's income and ability to repay, so there's really no limit to it," says Van Horn. "If you're making $500 or $600 a month, a $1,000 loan may seem like you'll never be able to pay it off. But if you're making $10,000 per month, it's the $100,000 loan that may seem like you'll never be able to pay it off."
All our top picks offer two or three repayment period plans; three- and five-year repayment plans are the most common. But what really matters is whether you can afford to make your monthly payments and whether you're comfortable with the final amount you'll end up paying after factoring in your APR and hidden fees. Speaking of which…
Their "hidden fees" are reasonable — and they aren't hidden.
In addition to the costs included in your APR, your loan will likely come with other small fees. These fees vary from lender to lender, but should be both fair and absolutely transparent. The most common are:
Late and unsuccessful payment fees. These make sense — if you're borrowing someone else's money, you need to pay it back as agreed. They tend to be a mix of flat fees and a percentage of your loan amount, so pay close attention to that language. SoFi's late fee is "the lesser of 4% of the payment due or $5," while Lending Club and Upstart both ask for "the greater of 5% of the unpaid installment amount or $15." Avant has a cool late-payment refund feature, which we'll talk more about it a bit.
Prepayment fees. Yes, you read that right. Prepayment fees are charges you incur with some lenders when you try to make a payment early — they are trying to make up for the interest they lose by you paying off your loan ahead of schedule. (U.S. Bank, for example, charges a 1% prepayment fee.) We made sure none of our top picks have this fee; it's just too cruel.
Check processing fees. These kick in if you prefer to pay by check rather than electronically. Lending Club, one of the leaders in the industry, charges $5 to process checks, and the highest fee we came across was from Peerform, which charges $15. None of our top three picks include this fee.
And they let you know what rate you qualify for without affecting your credit score.
If a lender isn't FDIC-insured, that's okay. Of our top picks, Prosper and Avant are partnered with WebBank, which is member FDIC, but when we asked our experts whether this mattered, the answer was a unanimous no. While insurance from the FDIC is crucial for savings accounts, when you take out a loan, you're not counting on a bank or company to safeguard your money for you. If your lending company goes out of business, another company will buy out its loans, and you'll pay that new lender instead.
"The best way to find the best loan is to try a few different companies and actually go through the process of applying to see the official rate you would be getting," says Erik Kroll, a certified financial planner with Hilltop Financial Advisors. "Then you can calculate the total cost of the loans — including any fees — and weigh your options by comparing the monthly payment, how long the loan will last, and how much total interest you'll pay."
It's great advice. The only problem? Because rates vary depending on your individual profile, you can't simply check a price list. Shopping around for a loan requires you to hand over personal information and (this is the big one) have your credit checked.
There are two different ways that lenders can check your credit, and one is less intrusive than the other. A hard inquiry, or hard pull, can lower your credit score, whereas a soft inquiry, or soft pull, won't. "A hard pull is the most definitive way to assess a borrower's risk profile, while soft pull data is less complete and typically older info used for pre-qualification purposes," explains Ben Woolsey, president and general manager of CreditCardForum.
Hard pulls are necessary for certain financial transactions, including officially closing the deal on a personal loan — you'll suffer a hard pull eventually. But some (like Discover Personal Loans) require one at the very beginning of the process before you're even able to see what rate you qualify for.
The issue is that hard pulls can signal that you're desperate for credit and may be trying to spend beyond your means — and your credit score will drop by a few points. Granted, there's an exception called "rate shopping," which lumps all hard pulls within 45 days for the same kind of loan into one. But there's always the chance that, after comparing rates, you'll decide against taking out a personal loan. (Or, it may turn out that you don't qualify for one at all.) In those cases, it's better to walk away without having dinged your credit score for no reason.
"My advice to consumers would be to utilize soft pull options whenever possible, and understand their credit score and credit costs/options to the fullest extent possible before initiating any full applications that involve a hard pull."
We tried out the six lenders that fit this criteria.
We wanted to make sure that the lenders that sounded great on paper were actually great in practice: Avant, Best Egg, Lending Club, Prosper, SoFi, and Upstart. We checked out their websites, requested rate quotes, and called customer service.
All six contenders did fairly well. Their websites were intuitive, and we could find what we needed without confusion or digging around. Their quote and loan-application processes were simple and straightforward. And all their customer service numbers led to actual human representatives within a reasonable amount of time. With the exception of Upstart, which took just a few minutes longer, everyone left us on hold for less than one minute.
When it came to our conversations with those customer service reps, though, a couple of lenders stood out for both good and bad reasons. Online marketplace lender Prosper was especially great. Think of your favorite Trader Joe's cashier — our rep asked us about our weekend plans and tells us just enough about themselves that we felt like we were having a friendly moment while also getting business done.
On the other end of the spectrum was Best Egg: When one of our testers asked for more information about why she didn't qualify for a loan, they were quick to rush her off the phone, telling her that a decline letter would arrive by mail. To add insult to injury, that letter never came — and as of this writing, still hasn't arrived.
Prosper handled this same situation much better. It explained its decision to decline our tester's loan application in straightforward and friendly terms over the phone, and then sent a more detailed decline letter by email. (SoFi and Avant also sent declines via email, but to find out the specific reasons why you didn't get approved, you'd have to request a letter to be sent by mail.)
Since money can be deeply tied with guilt and shame, we wanted to make sure the lenders we recommended would be respectful, no matter what news they're delivering.
Our Picks for the Best Debt Consolidation Loans
Because loans are so personal and shopping around for the best rate is so important, we chose three top picks, and honestly, we really like them all. Prosper, SoFi, and Avant each target a different demographic and together cover a wide variety of financial situations and needs with a bit of overlap in between.
The Best Debt Consolidation Loans at a Glance
| | | | | | |
| --- | --- | --- | --- | --- | --- |
| | Best for Average Credit | Best for Poor Credit | Best for Excellent Credit | Honorable Mention | Honorable Mention |
| Minimum credit score | 640 | 580 | N/A (700 is typical) | 660 | 620 |
| Loan amounts | $2,000 to $35,000 | $1,000 to $35,000 | $5,000 to $100,000 | $40,000 max | $1,000 to $50,000 |
| Loan periods | 3 or 5 years | 2 – 5 years | 3 – 7 years | 3 or 5 years | 3 or 5 years |
| APR | 5.99%–36% | 9.95%–35.99% | 5.95%–12.99% | 5.99%–34.34% | 4.66%–29.99% |
| Origination fee | 1%–5% | 0.95%–4.75% | N/A | 1%–6% | 1%–6% |
| Unsuccessful payment fee | $15 | $15 (most states) | $10 | $15 | $15 |
| Late payment fee | The greater of 5% of the unpaid installment amount or $15 | $25 (most states) | The lesser of 4% of the payment due or $5 | The greater of 5% of the unpaid installment amount or $15 | The greater of 5% of the unpaid installment amount or $15 |
On paper, Prosper and Avant look pretty neck and neck. The two biggest differences are their credit score minimums and the type of lender they are. Let's start with credit score.
Prosper has a higher threshold for poor credit than Avant, requiring a minimum of 640 compared to Avant's 580. (But if you qualify for Prosper, you also qualify for Avant, so you can apply to get quotes for both and see how they compare.)
One thing to keep in mind though — even if you have the right credit score to qualify, you still may not get approved for a loan. We discovered this firsthand: One of our testers who has an Excellent credit score was denied a loan from both Prosper and Avant. In its denial email, Prosper explained that her credit history indicates she had "too few open trades," and shuttled her to a loan broker partner called AmOne to shop around for other options. AmOne said she was a good match for SoFi, but SoFi denied her loan request as well, and recommended she try Avant. Avant denied her and sent her back to AmOne, which again recommended SoFi. A whirlwind — and no loan.
If you're not approved for a loan, Prosper's email states in its first line the reason why.
Another tester was approved for Prosper, but denied by Avant. A third tester was denied by Prosper, but approved for Avant. Like we said, you're going to need to shop around.
The other difference between Prosper and Avant is that Prosper is a marketplace (or peer-to-peer) lender, meaning investors are matched with the loans they will fund, whereas Avant loans are through WebBank. From a borrower's perspective, there isn't much of a difference: You get your loan; you pay it back; bingo bango.
All the online lenders — peer-to-peer or not — have been in the news a lot since early 2016, as they scramble to find more investors to fund their loans. In fact, in the summer of 2016, Prosper severed ties with two massive loan brokers, LendingTree and Credit Karma, and has pulled way back on the amount of loans it is funding. Similarly, Prosper also scaled back its marketing channels, including LendingTree and Credit Karma, though the company told us it hasn't cut ties to either company completely. We still think they're great options to get a personal loan, but if you're having trouble securing one, it might be time to turn to your bank or credit union.
Onto the nuts and bolts: what it's actually like to apply and get a personal loan through Prosper. When it comes to getting pre-approved, Prosper makes it the easiest (and least intimidating) of all our top picks.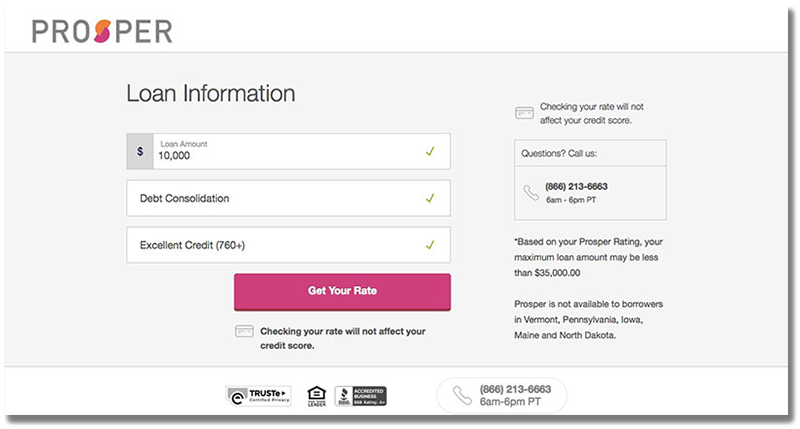 The first of two screens to get a quoted rate with Prosper. The next asks for your legal name, home address, email address, and income — that's it!
Once you're approved, Prosper makes it simple to evaluate other available loan options by payoff period, monthly payment, and loan amount to make sure you are happy with what you're getting.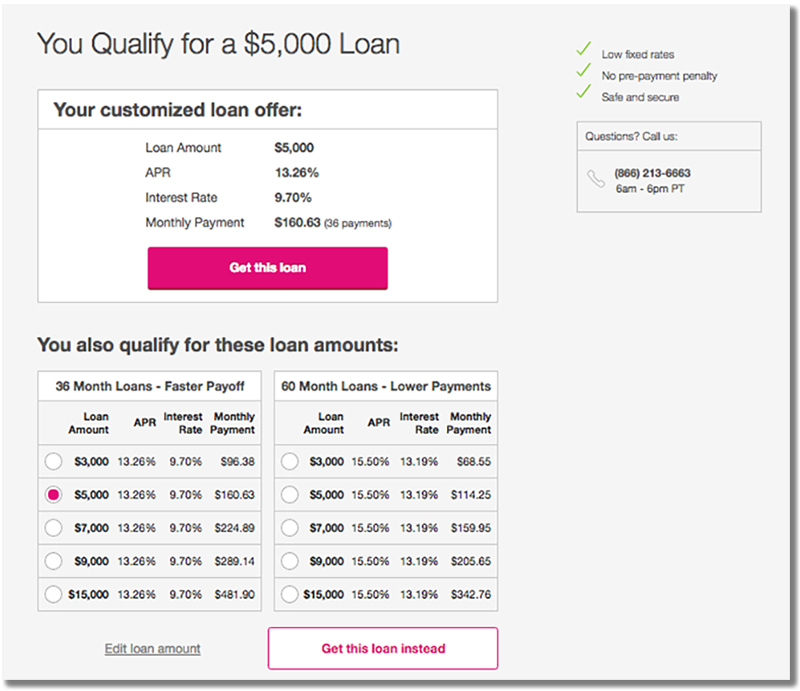 Once you do the math and pick the one you like the best, you are shuttled into the full application. From there, your anonymous loan request will go out to Prosper's investors. If at least 70 percent of the amount you request is funded, you will receive a loan; only during this final handshake will Prosper do a hard check on your credit. You should receive your loan three to five days after that. If your loan isn't funded 100 percent, or at all, you can reapply for another loan. There is no waiting period between applications and no maximum number of times you can apply — however Prosper states it does decline users that have submitted a previous application and were declined by the company in the last 120 days.
One of Prosper's other perks is that it comes with a free tracking app, called Prosper Daily. Among our top picks, Avant is the only other one with an official app, but it's strictly an account manager. Prosper Daily, on the other hand, is a more comprehensive financial tracker that can monitor all your accounts (including those outside Prosper) in one place. It also lets you monitor your credit score for free, so — if all goes well — you can watch it climb throughout the lifetime of your three- or five-year loan.
Prosper Daily lets you import outside accounts and track your spending habits.
Avant's credit score limit is a full 40 points lower than Prosper's, making it (theoretically) accessible to the 85 percent of Americans who can meet or exceed that score (but like we discovered when our various testers applied for pre-approval and rates, more than pure credit score is taken into account). It's an incredibly popular lending platform, and in 2016 was named best in customer experience by the gigantic loan marketplace LendingTree.
One of those great customer experiences that sets Avant apart: its late fee forgiveness. If a borrower makes one late payment, but their next three payments are on time, Avant will refund the $25 late fee for most states, which is a great morale boost when you're working hard to get out of debt.
Avant's application is way more robust than Prosper's: It requires your Social Security number, inquires whether or not you own your home, and wants your specific monthly net income before it decides whether or not you'll be approved.
Once you're approved for and sign off on a loan, you'll get that hard credit check and could receive your loan as soon as the next business day, or up to a week at most.
Example: A $6,500 loan with an administration fee of 3.75% and an amount financed of $6,256.25, repayable in 36 monthly installments, would have an APR of 29.95% and monthly payments of $265.40.
SoFi, short for Social Finance, was originally designed for student loan financing — and even though it has expanded its products to include personal loans and mortgages, its target demographic remains the same: individuals with high incomes, or recent grads that have high earning potential. The pre-approval application process includes questions about your alma mater, major, advanced degrees, and income.
SoFi cherry-picks who it approves for loans and while that may alienate a huge segment of the population (even though SoFi doesn't list a minimum credit score, we chatted with Laurel Toney from SoFi's public relations team who confirmed, "SoFi borrowers generally have scores above 700"), it takes care of its customers: Its $5,000–$100,000 loan range and max 12.99% APR blow both of our other top picks out of the water.
The name Social Finance comes from the fact that SoFi actually has a networking component, complete with career coaching and in-person events. It clearly caters to the educated and financially ambitious, with features like an entrepreneur program and a specific MBA loan. It also has a feature called Social Comparison, which shows where you fit into the bigger picture of borrowers and lenders.
Other Debt Consolidation Loans to Consider
Lending Club received a lot of media attention in 2016, and not for any flattering reasons: There's controversy over the ousted CEO padding reported loan volume and splitting loans to make them appear less risky to investors. From a borrower's point of view, though, this doesn't affect much — if you're approved for a loan via Lending Club and like its terms, there's no reason to suspect any hiccups. We suggest that if you meet the minimum 660 credit score, you should at least see what sort of rate you'd get. The pre-approval application process is as easy as Prosper's, requiring just the basic address, birthday, and annual income.
Upstart caters to young professionals who may have a short credit history, but make up for it in earning potential. It gauges this potential by taking into account, in addition to traditional factors like credit score and income-to-debt ratio, the college you went to, your major, your current job, and your income. The lender feels very similar to SoFi, but a little more welcoming: Its credit score minimum is 620. Remember our tester who was denied by Prosper and Avant for having too few open trades? Upstart was the only lender out of five that approved her for a personal loan.
The Best Debt Consolidation Loans: Summed Up
Did You Know?
Unsecured loans are risky — and come with some limitations.
Secured loans come with lower interest rates, but unsecured loans are generally easier to get, especially with the advent of online lending. Why the rate difference? With a secured loan, the bank can repossess your collateral (your house for a home loan, or your car for an auto loan) if you default. An unsecured loan involves no collateral — there's nothing for the bank to repossess. A default will still diminish your credit score, which carries heavy repercussions (including not getting approved for future loans, say for a house or car).
It's also important to note that unsecured loans are only meant for bundling other unsecured loans, like credit card debt, or those car repairs you're still paying off. You might be able to consolidate some secured loans as well, but chances are, the higher interest rate will mean it just won't make sense.
Most people who take out a debt consolidation loan will fall back into debt.
According to Ray Easter, a former debt counselor, a whopping 70 percent of borrowers begin running up balances on their credit cards before they've paid off their loan. And, says Woolsey, "Once they have paid off all the balances and get everything settled, there's nothing to keep them from picking up that lifestyle again."
You can take this as a downer or as a reality check. If you can learn why people fall back into debt — and the ways in which you're most likely to do the same — you can look at your finances realistically and decide whether a loan really is the best choice for you right now. If it is, you can make a concrete plan to stay on track.
"Most people do go back into debt, and it's because their mindset around money hasn't changed, which means their habits haven't either," says Saxman. "In a lot of ways, money is an addiction, and like with any addiction, you need to have preventative measures," adds Dallas. "The creditor comes at you with a full-stacked deck. They understand the laws; they understand the documents; they understand the rates and the quotes and the fees; they understand your behavior. And you don't understand any of that as a consumer. So the more informed you can be, the better."
There are many ways to improve your financial education. Debt counseling is available, and there are free online courses, like Bank of America and Khan Academy's Better Money Habits. Feeling empowered? Check out our review on best personal finance software so you can keep track of your own spending.
Consider DIY debt consolidation.
Debt consolidation isn't the only way to take control of your debt: If you prefer a secured loan, you might look into a home equity loan, for example. But there are a couple of DIY options you might not have considered that could save you a lot of hassle.
For one, if you really just want to convert all of your different loans into one lower-interest loan, you might be able to do that with a balance transfer credit card. Many of these have a 0% intro APR for some promotional period, typically one to two years.
Getting a new credit card to transfer balances to is a lot easier than getting a debt consolidation loan, so I do think that's worth investigating before you go the loan route.
Most balance transfer cards have an initial transfer fee of about 3%, according to Woolsey, but if you can pay off your balances within the 0% intro APR promotional period, you'll spend less than you would have with a debt consolidation loan.
For example, let's say you owe $2,000 total, which is the minimum amount you can borrow through Prosper. If you were to take out a Prosper loan with an APR of 21% (the middle of its range) and pay it off over three years (its shortest payoff plan), you would pay $75.35 per month and accrue $712.60 in interest over time, making your total payment $2,712.60.
Let's say you transfer that same amount of debt to a balance transfer card, like the Chase Slate card, which charges no balance transfer fee for the first 60 days. If you can pay off your balance within the 15-month 0% introductory APR period, you'll need to make monthly payments of $133.33 for a total payment of exactly $2,000 — no added interest.
Either of these options could be the right fit, but if you can afford to make that larger monthly payment, you'll not only save in interest, but also be free of debt that much faster.
Don't be afraid to ask for help.
An even easier way to get some relief from your debt is to call your creditors yourself and let them know the position you're in. Amazingly, these calls often do lead to a lower rate or even a postponed deadline. "It certainly never hurts to ask, as issuers have been known to lower interest rates or offer extended repayment terms to accommodate loyal customers who are unable to stay current with their accounts," says Woolsey.
Saxman gives the same advice. "Let them know, 'Hey, I'm falling behind.' A lot of creditors will work something out for you," she says. "Now, they may close your credit card in the process if you can't make minimum payments, but that might be better in the long run."
Student loans are a whole different story.
If you have student loans, be careful before you consolidate them with the rest of your debt. Student loans come with certain built-in features, like the option to defer or go into forbearance, not to mention forgiveness. If you consolidate them, you could lose all those benefits. If you're still interested in consolidating, Marketplace recommends going straight to the Department of Education to figure out the best way to handle it.
The Bottom Line
Debt is intensely personal, and so is the method you choose to tackle it. If a debt consolidation loan is right for you, start shopping around with lenders that use soft pulls to see what rates you qualify for. Not loving your options? Remember to check your local banks and credit unions too!
Take Action
Make a budget. Find out how much, exactly, you owe, and how much you can afford to pay toward reducing your debt each month. "I feel like people sometimes are not realistic with themselves and they don't write down, 'Okay every month I have X amount of money coming in and X amount of money going out,'" says Van Horn. "If you're going to do one of these loans, you need a way to pay it off. The money can't come from rent and it can't come from your car payment. And if you can't do it on your own because you're not good with numbers, find somebody that you can trust to review the numbers with you."
Get some unbiased advice — preferably for free. "You definitely want to sit down and make a plan and speak to some kind of counsel because I see people whose first response is, 'I want to file for bankruptcy,' and that's not always the right choice," explains Saxman. You may already have your heart set on a specific option, be it debt consolidation or a home-equity line of credit. But before you commit, get a second opinion, and make sure you can trust that it's an impartial one. Woolsey recommends checking out the nonprofit Consumer Credit Counseling Services, which offers both free and inexpensive credit counseling services and has local branches around the country.