The Best Deodorant for Men
Sweat stoppers and odor blockers
Latest Update
March 29, 2017
The 30-Second Review
When it comes to the best deodorant for men, there are two camps: antiperspirants that stop wetness and natural deodorants that fight BO. We did deep dives on each, scrutinizing ingredients lists, and talking to dermatologists and chemists, before testing 37 finalists to find which glided on the smoothest and left the least residue.
The Best Deodorant for Men
What's the Difference Between Deodorant and Antiperspirant?
If you're trying to figure out whether you need an antiperspirant, a deodorant, or a combination of both, it helps to understand why armpits are so smelly in the first place. The culprit is actually bacteria, not sweat. Sweat is odorless when released by your body — but the bacteria living on your skin will feast on it, producing odor as a byproduct.
Antiperspirants and deodorants each tackle this problem in a different way.
Antiperspirants prevent wetness.
Antiperspirants are regulated by the FDA. In its final monograph on over-the-counter antiperspirants, the Food and Drug Administration (FDA) states that products marketed as antiperspirants must reduce sweating by at least 20 percent, in user tests that the FDA has verified (Section IIC, Comment 9).
The main goal of an antiperspirant is to stop sweating, keeping your armpits dry and starving the bacteria. Antiperspirants rely on aluminum to achieve this. When combined with acids in your sweat and on your skin, aluminum forms a jelly-like plug that stops up your sweat glands.
Deodorants fight odor.
A deodorant doesn't attempt to stop sweat. Its aim is to neutralize the odor caused by bacteria when they digest sweat — or to just kill the bacteria. These goals can be achieved through the use of fragrances, antimicrobials, and other ingredients that curb bacterial activity.
A product that's advertised only as a deodorant doesn't usually contain aluminum. And this is actually a selling point: Some people avoid aluminum due to concerns that it could be linked to Alzheimer's disease or cancer — although the National Cancer Institute, American Cancer Society, and FDA all believe there's not enough evidence to support either claim.
Men and women sweat the same stuff.
You're reading a review of men's deodorants, which begs the question: Do men sweat differently than women? One study from 2010 found that yes, they do. Men start sweating sooner (e.g., at a lower body temperature) and release more sweat. But then we spoke with Sean Notley, postdoctoral research fellow at the University of Ottawa, and the lead author on a similar, but more recent study, published in 2017.
"In our tests, we found that sex could explain a maximum of about 5 percent of individual variations in sweating." The bigger factor in how much you sweat? According to Notley, it's body type (more on this later).
There's also no evidence that the content of sweat differs by sex, and Notley tipped us off that there's little evidence to show that men (or women) have more sweat glands, or different ones. So do men and women truly need different deodorants? Probably not.
"In terms of active ingredients, there's no difference between men's and women's products. The main difference is scent."
In fact: "In terms of active ingredients, there's no difference between men's and women's products. The main difference is scent," said Dr. David Pariser, senior physician at Pariser Dermatology. Cosmetic chemist Ron Robinson, of BeautyStat.com, agreed. "It's really about personal preference for scent and application style," he said.
With this in mind, consider our top picks for the best men's antiperspirants and deodorants as your starting point. If you don't love a particular scent or application experience, shop around until you find one that works. Keep in mind: It could be a product marketed for women.
How We Found the Best Antiperspirants and Deodorants for Men
Between antiperspirants and deodorants, we began with a list of over 200 formulas marketed for men — products that were widely available online and in drug and grocery stores. We weren't just looking for wetness-fighters. Worthy underarm protection should also be kind to your skin.
But since the goals of antiperspirants and deodorants are different, we looked for slightly different sets of ingredients to narrow in on our top picks.
Must-Have Antiperspirant Ingredients
The best form of aluminum. To be precise, aluminum zirconium. We spoke to five dermatologists and examined a 2015 study. All named ZA more effective than older formulations (like aluminum chloride and aluminum chlorohydrate) when it comes to stopping sweat. It's also "less irritating to the skin," according to Dr. Whitney High, associate professor of dermatology at the University of Colorado.
No skin irritants. The skin around your pits is surprisingly delicate. So we nixed formulas that included simple alcohols and hydrogen peroxide, which can cause dryness (and occasionally contact dermatitis). Keeping people with sensitive skin in mind, we also looked for a subset of products without fragrance/parfum: This single term can actually mask a slew of chemicals, many of which cause skin irritation.
Bacteria fighters. Specifically, we looked for formulas that included C12-15 alkyl benzoate. "It's generally considered to be safe and provides emollient and antimicrobial benefits," said Dr. Audrey Kunin, dermatologist and founder of DERMADoctor.
Based on these criteria, we whittled our starting list of 128 men's antiperspirants down to 17 finalists. We wanted to get a good sense of how each different brands — and different formulas within that brand — compared to each other, so we chose representatives for each for some hands-on testing. (Read more about our methodology in our review of the best antiperspirants.)
The Antiperspirants We Tested
Arm & Hammer UltraMax Antiperspirant Deodorant Invisible Solid Unscented
Arrid XX Antiperspirant & Deodorant Solid Unscented
AXE White Label Antiperspirant Stick Night
Ban Invisible Solid Antiperspirant & Deodorant Powder Fresh
Ban Invisible Solid Antiperspirant & Deodorant Unscented
Clinique for Men Antiperspirant Deodorant
Degree MotionSense Shower Clean Antiperspirant Deodorant
DERMAdoctor Total Nonscents Ultra-Gentle Antiperspirant
Dove Advanced Care Original Clean
Dove Antiperspirant Deodorant Sensitive Skin
Dove Men+Care Sensitive Shield Antiperspirant Deodorant
Gillette Endurance Invisible Solid Antiperspirant & Deodorant Cool Wave
Mitchum Sensitive Skin Antiperspirant & Deodorant
Old Spice Wild Collection Bearglove Invisible Solid Antiperspirant and Deodorant
Speed Stick Gear Fresh Force Antiperspirant Deodorant
Speed Stick Power Fresh Antiperspirant Deodorant
Speed Stick Power Unscented Solid Antiperspirant & Deodorant

Must-Have Natural Deodorant Ingredients
Unlike antiperspirants, the FDA doesn't regulate natural deodorants. So we developed our own standards based on expert interviews and existing research about effective plant- and mineral-based ingredients — then we doubled-down on ingredients that have the potential to irritate skin.
Zero aluminum. Many natural deodorants were launched in response to consumer concerns about the safety of aluminum. So we began our cuts by nixing all forms of it. This included potassium alum, which is often used in products marketed as natural deodorants (including offerings from Tom's and Crystal).
No skin irritants. Similar to our search for the best antiperspirant, we struck out anything that contained fragrance/parfum and simple alcohols. We also omitted propylene glycol and propanediol, two preservatives that can cause the itchy, red, and tender symptoms of contact dermatitis. Whole Foods has included both on its list of unacceptable ingredients for premium body care.
Effective odor blockers. Again and again, our experts pointed us to three key ingredients for preventing BO: coconut oil, baking soda, and zinc oxide.
Coconut oil contains lauric acid, which studies show outperforms other fatty acids when it comes to fighting bacteria.
Baking soda affects the pH of your armpit, making it inhospitable to sweat-eating bacteria.
Zinc oxide neutralizes odor by converting the smells released by bacteria into odorless zinc salts. (No wonder it's been used in deodorants since the 19th century.)
After cutting products that didn't meet these criteria, we narrowed a starting list of 140 natural deodorants down to 21 finalists, which we tried out for ourselves. (Read more about our methodology in our review of the best natural deodorants.)
The Natural Deodorants We Tested

AC Nature Natural Deodorant Cream
AC Nature Natural Deodorant Stick
Agent Nateur No. 4 Holi (Rose) Deodorant
Bubble and Bee Lemon & Clove Pit Putty Organic Deodorant Cream
Bubble and Bee Lemongrass Pit Putty Organic Deodorant
Fatco Stank Stop Deodorant
Cypress & Coriander
For Pit's Sake Lime & Clove
Green Tidings All-Natural Deodorant
Lulu Organics Deodorant Cream
Meow Meow Tweet Deodorant Cream
North Coast Organics Death by Lavender
North Coast Organics Naked
NOW Foods Long Lasting Deodorant Stick
PiperWai Natural Deodorant
PiperWai Natural Deodorant Stick
Primal Pit Paste Natural Deodorant for Men
Primal Pit Paste Stick Lavender
Sam's Natural Deodorant
SoapMe with Nature Don't Sweat It! All-Natural Deodorant Citrus Fresh
Trim Healthy Mama Hippie Stick – All-Natural Bouquet

We put our remaining 45 antiperspirants and deodorants to the test.
Once we'd narrowed in on the most promising products, we ran some tests.
Our scent test was twofold. First, we popped off lids and took a whiff of each product in its package. Subtle and fresh, or way too intense? We gave higher marks for products that veered toward the former. Then it was time to see how the products smelled on our bodies. Our testers applied each one, then carried on with their day and waited for it to set in. After two hours, we took another whiff. Was the scent still there? Had it worn off, or — worse — been replaced by body odor?
The exact fragrance you prefer is, of course, ultimately a personal preference, but input from a dozen test subjects (both men and women) allowed us to weed out the most unpopular products.
For the application test, we rolled on each deodorant or antiperspirant to assess how easily it covered our pits. Did it clump or crumble? Did it feel goopy in our armpit hair? How was it holding up at our two-hour check-in? We preferred products that our testers nearly forgot were there, rather than those that continued to feel wet or left coddled clumps on our skin.
As for residue, our aim was to single out the products that stayed on the skin, rather than rubbing right off. After we'd worn each contender for two hours, we took a swatch of black T-shirt fabric and rubbed it on our pits to see how much came off — aka, what was likely to wind up on your clothes at the end of the day.
Our Picks for the Best Antiperspirants for Men
Best Scented Antiperspirant
It was hard not to let our noses sway us as we hunted for the best men's antiperspirant. Our testers were largely repelled by scents that were heavy with musk or reminiscent of citrus-y colognes like Polo Sport. That said, since we didn't order every single fragrance from every single product line, we didn't want our sense of smell to overpower our decision-making.
We compromised by weeding out products whose scents were particularly egregious. For instance, two Old Spice scents, Fiji and Bearglove, might have been OK if we could just have dialed them down. And while the slightly fruity Speed Stick Power Fresh was ultimately our top pick, we'll note that we didn't love all of the brand's other formulations (namely, we found Irish Spring a bit too Irish Spring-y, and the musky Gear Drycore sent a few of our testers reeling).
But when it came to application and residue, all the Speed Sticks emerged as frontrunners. They have wide, domed heads that molded nicely to underarms, and one tester said Speed Stick Power felt "smooth, not wet or gritty." After two hours, the same tester noted his armpits still felt dry.
Dove Men+Care and Axe Signature Night got similar notes when it came to application. Where Speed Stick really pulled ahead was our residue test: It left no clumps or flakes on underarms, even on hairy pits where goop might easily cling. And when we wiped our armpits with t-shirt swatches, Speed Stick left only a slight chalky streak. Dove and Axe performed respectably, but received slightly lower marks from our testers. All three results were in stark contrast with options like Gillette Endurance and the Old Spice Wild Collection, which left so much product on the T-shirt fabric that we questioned how much had adhered to our skin in the first place.
Though scent was the most polarizing factor for most of our testers, all our frontrunners come in a variety of flavors. And at the ingredients level, they're tough to tell apart: They all offer between 15 and 16 percent aluminum zirconium, have a mixture of fatty alcohols and emollient oils, and all come in around $5.
Best Unscented Antiperspirant
We loved Speed Stick both as a scented and an unscented antiperspirant. If you have sensitive skin or don't want your antiperspirant competing with your cologne (or being mistaken for cologne), Speed Stick Power Unscented is our top pick.
That said, of the eight unscented sticks we tested, we liked five of them. That's probably because without scent, it's harder to differentiate among products. You might catch a whiff of one of the base ingredients if you really get close and breathe deeply, but that's about it. One tester reported Speed Stick Power, for instance, smelled "like unscented wax," while another thought that Ban Invisible Solid Antiperspirant Deodorant had a hint of musk — likely related to the sandalwood extract low on its ingredients list. But, with the exception of Clinique, none of our testers could smell anything when they sniffed their pits two hours later. (One tester reported that Clinique had a "more powdery" odor after application, but its clumpy formula had already disqualified it.)
Our choice narrowed to Speed Stick or Ban due to their inclusion of C12-15 alkyl benzoate, the same antimicrobial ingredient that was also a criterion for our regular antiperspirants. We like having this ingredient as a backup should any wetness creep past the aluminum zirconium (16 percent in the Speed Stick and 19 percent in the Ban). If the aluminum fails you, the C12-15 alkyl benzoate will curb bacterial activity and, as a result, body odor. And, unlike triclosan, another antimicrobial that was banned by the FDA in 2016, there's less of a risk of irritation with C12-15 alkyl benzoate.
Speed Stick and Ban both performed well in our application and residue tests, though Speed Stick earned an edge. Both sticks have a domed top, which hugs the underarm as you apply. But testers thought Ban felt a little too wet, like it had changed from solid to cream once applied. In contrast, they found that Speed Stick struck just the right balance between wet and dry, and after two hours, they'd forgotten it was even on. Speed Stick also left a slightly fainter trace in our residue test.
Overall, both present good options and come at drugstore prices (each costs around $3), so if you're feeling indecisive, there's little risk in trying both.
A Clinical-Strength Option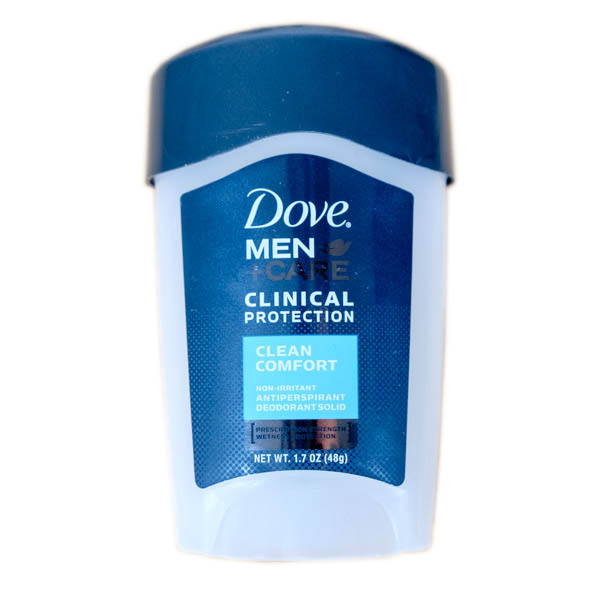 In its final monograph on over-the-counter antiperspirants, the FDA stated it does not set standards for products labeled "clinical strength," so it's hard to say whether these antiperspirants actually provide the superior results they claim.
But then there are products like Dove Men+Care Clinical Strength, which is labeled "extra effective." This language — the FDA does set standards around. A product can be labeled an "antiperspirant" if it reduces sweating by 20 percent in user tests; products that reduce sweating by 30 percent can be labeled "extra effective" (Section IIC, Comment 9).
In our review on the best antiperspirants, we didn't include Dove Men+Care Clinical Strength in the running as it lacked C12-15 alkyl benzoate, an ingredient that helps curtail odor-causing bacteria. But the product does include 5 percentage points more aluminum zirconium than its non-clinical Dove counterparts, topping out at 20 percent, the most of any men's antiperspirant we tested. (Second closest is Ban Unscented, with 19 percent, which isn't labeled extra effective.)
Dove's clinical-strength option (left) is labeled as "extra effective" and features 20 percent aluminum zirconium, compared to 15.2 percent in its regular Men+Care line.
Dove's clinical-strength formula has a lot going for it from a stats perspective, but our testers weren't super impressed once they actually applied it. While packaged in a regular-looking tube, the product itself clicks out as a lotion, and one tester noticed it took longer to dry. Dealbreaker? Not if it works. If you perspire more than you'd prefer, this may be a good option. But there is one last caveat: It's twice as expensive for about half the product ($5 for 1.7 ounces).
Our Picks for the Best Natural Deodorant for Men
Best Natural Deodorant
Our top pick for a natural deodorant is aluminum-free and contains coconut oil and baking soda, two of our three top odor fighters. It also includes shea butter as a moisturizer.
Sam's comes in 15 scents, 14 of which are marketed "for men." We tried the Cedar (derived in part from cedarwood essential oil) and found it to be pleasant and not too intense. After two hours, we could still catch a faint hint of it — but not of BO. (We also tested Sam's one "woman's" scent, which was on the lemon-citrus spectrum, and found it, frankly, pretty unisex.)
Among the natural deodorants we tested, some came in circular tubes, like Sam's and AC Nature, while others, like For Pit's Sake and North Coast Organics came in ovals, similar to what you'd expect from a traditional antiperspirant. We actually preferred the circular design, which plugged right into our pits. Natural deodorant can have a softer, creamier texture than traditional antiperspirants, often resulting in excess goop on the rims of oval sticks that don't fit quite as nicely.
A stick also isn't the only option when it comes to natural deodorant. In our review on the best natural deodorant, we tested a number of creams (which are packaged in jars and applied with your fingers). But we weren't wild about the experience: Having to wash our hands after applying felt like a chore, and some of the jars were quite small, making application difficult for people with big hands. If you are interested in trying a deodorant cream, however, our vote goes to Fatco Stank Stop, which includes all three of our preferred odor fighters (coconut oil, baking soda, and zinc oxide). Its Cypress & Coriander men's scent is light and fresh.
But as a great all-around option, we recommend Sam's. It glided smoothly onto our pits and left minimal residue in our T-shirt test. One tester was pleased to see "almost nothing, no flaking or clumps" when he checked. A 3-ounce stick will cost you around $10, which puts Sam's below the median price of our top 26 natural deodorants (which ranged from $6 to $24), an impressive feat when you consider the brand is hand-crafted in New Hampshire.
Best Organic Natural Deodorant
Compared to Sam's, Green Tidings' $8 1-ounce tube may feel like a steep price hike. But if you're on the market for a deodorant with certified organic ingredients, it's worth it. In addition to being organic, Green Tidings is vegan, cruelty-free, and made in a solar-powered facility (which could explain that higher price tag). Like Sam's, it's free of aluminum and harsh irritants and contains baking soda and coconut oil, plus shea butter as a moisturizer.
Green Tidings comes in both lavender and unscented formulas. We're recommending the unscented option since, as we learned from Robinson, floral scents tend to be marketed for women. But our testers described the lavender-scented stick as smelling more herbal than floral, with a scent that was "subtle, not overpowering," so it's still a fairly universal option. Either way, Green Tidings easily outperformed certified organic finalist AC Nature Natural Deodorant Stick, which testers said smelled "gross" and "like Play-Doh."
As a bonus, Green Tidings uses our preferred application method: a circular stick. This set it apart from products from North Coast Organics and Bubble and Bee, which, as with other ovals, left excess goop on our skin and along the tube's rim. Green Tidings felt a little gritty going on, but not in a bad way. Testers said they liked being able to feel it applying, and the gritty feeling didn't linger once the product was on. Green Tidings also killed it on our residue test. It left way less residue on T-shirt fabric than our other organic contenders, again outperforming North Coast Organics and Bubble and Bee.
The Best Deodorant for Men: Summed Up
Did You Know?
Sweating isn't the only way your body cools off.
Your body also regulates its temperature by transferring blood to the skin. This response can result in the red, flushed appearance that often accompanies physical exertion. Jeremy Ross, exercise physiologist and strength and conditioning coach at Heroes Movement, explains: "Once you start exercising, your body shifts blood to the working muscles because that's the higher priority where oxygen is needed. It also shifts it to the skin to release heat through the skin."
Body morphology is a bigger factor in sweating than sex.
Notley's research found, after accounting for differences in body type between men and women, that less than 5 percent of individual differences in sweating could be attributed to sex. Body type is actually the biggest factor, explaining up to 48 percent of individual variations in sweating.
"If a coffee is half full, it will cool much faster than a full cup. We thought that those principles might apply to sweat," said Notley. "We found that a large individual who has a low surface-area-to-volume ratio has less relative surface area to lose heat through." Thus, larger individuals are less able to release heat through the skin and must rely more on sweating.
Scent formulations are often based on historical norms.
Who decides which antiperspirant and deodorant scents are for men and which are for women? According to Robinson: "It's not necessarily research, but more of how we are raised and socialized. The big ingredient difference that tends to skew more feminine is a floral. Once there's an introduction of any kind of floral notes, it's automatically considered to be feminine. Anything more woodsy is considered to be male."
If that strikes you as a dubious distinction, Robinson notes that there's a growing trend toward "a unisex approach" in products. Natural deodorant line Schmidt's Naturals provides one clear example. "We believe that scent should not be limited to traditional constraints of male or female, so have designed our formulas to be effective and appropriate for both genders," a team member told us. "Traditionally 'feminine' scents like our Rose + Vanilla are beloved by men and women alike."
The Bottom Line
Best wAntiperspirant
On the market for a men's antiperspirant or deodorant? Look for antiperspirants with wetness-fighting aluminum zirconium and the antimicrobial C12-15 alkyl benzoate. As for natural deodorants, baking soda, coconut oil, and zinc oxide all curb the bacteria that cause body odor. In either category, you'll want to avoid skin irritants like fragrance/parfum and simple alcohols. And at the end of the day, know that preferences among scent, application style, and even formula can vary from person to person — so get ready to start sniffing.