Showing results for
Did you mean:
Sorry, something went wrong. Please refresh your browser and try again.
Last updated on
January 15, 2018
The Best Digital Camera
Portable and versatile cameras for capturing great photos
The 30-Second Review
The best digital camera will take exceptional photos while offering features that support beginners and semi-professionals who want to develop their photography skills. We consulted photographers, read through photography sites and consumer reviews, and gathered nine highly-rated cameras to see which would help you capture the perfect shot, from a school play to an impressively plated dessert.
Best Portable Camera
A compact camera that excels at taking great pictures, whether you're a parent at a soccer game or a cross-country explorer. The display provides hints to help beginners take better photos, and image quality far exceeds what you'd get from an iPhone, stopping just short of the professional quality offered by the Fujifilm X-T20.
Best Advanced Camera
The Fujifilm X-T20, a mirrorless camera, is an excellent choice for those who want a more advanced digital camera. It's larger than the Sony, but in exchange you get a more powerful camera that will be able to take better photos and professional-quality video.
The Best Digital Camera
Finding the right digital camera is almost as complicated as the endless list of specs that go into each one. But after speaking with professional photographers, it's clear that the best digital camera boils down to a few core concepts: It should be easy to carry and feel good in the hands, provide useful features like a quick autofocus, and provide support every step of the way to great pictures.
The Sony Cyber-Shot DSC-RX100 IV is our favorite compact camera because it excels in versatility and usability. A quick autofocus mode and educational hints on the display screen will satisfy those who simply want to take quick pictures and those who want to develop more advanced photography skills. It has a slim design even with a built-in viewfinder and flash, which makes for easy carrying while setting up your next shot. At $900, the Sony is a bit of an investment for a compact camera, and those who are committed to learning advanced photography will want a mirrorless or DSLR camera. But if you need a highly portable device capable of taking high quality images and video, the Sony is a great choice.
For those who need a more advanced camera, the $1,200 Fujifilm X-T20 is our pick. A larger design leaves room for more advanced parts, but it is still smaller than more widely-known DSLRs and performs just as well. The camera offers 4K video and a microphone port, which makes it a great choice for those who are interested in videography. It's no slouch in the photography department either, and can pair with 34 lenses to help you find the perfect shot. It won't be as easy to carry around as the compact Sony, but will offer more room to grow as a photographer.
How We Found the Best Digital Camera
Image quality is the first thing that many think of when it comes to choosing the best digital camera. But when we consulted professional photographers, they told us that a camera itself will only get you so far. Photographer Nicholas Purcell explained that "the tool you use doesn't matter as much as your skill as a photographer." In other words, most cameras will be able to take high quality pictures, but you'll need technique in order to grab that perfect shot.
Not everyone is a trained photographer, so we asked our experts what amateur or budding photographers should look for in a digital camera. Jimmy Chan, photographer for Pixelicious, told us to "look for portability, ease of use, and a decent zoom range." Following his advice, we searched for digital cameras that we could easily carry anywhere from a school play to our next adventure overseas. We also focused our search on cameras with intuitive designs that allow you to simply point and shoot pictures or quickly adjust settings like shutter speed and zoom to capture wildlife on the move. We wanted cameras that ensure you won't miss a shot, regardless of expertise.
We separated our cameras into two types: compact and mirrorless.
With the proper technique, any digital camera will help you capture a high quality image. That said, not all digital cameras are created equal. The three most common types are compact, mirrorless, and DSLR. For this review, we split our contenders into compact and mirrorless — if you want to take the next step in your photography, check out our review for the Best DSLR Camera.
Compact cameras are commonly known as point and shoot cameras. Like their name suggests, they have a compact design that is lighter and more portable than their mirrorless or DSLR counterparts. Chan told us "compact cameras are essentially pocketable all-in-ones" and are best for those who are looking for convenience and ease of use and "are not interested in changing lenses or fancy lighting equipment."
Full disclosure: Cheaper or low performance compact cameras shoot pictures that are comparable to or even worse than a smartphone camera. Our contenders are a bit of an investment, but with proper care they will last for more than five years and shoot better pictures than your iPhone.
Mirrorless cameras are high performance cameras with image quality that is on par with DSLRs. Unlike DSLRs, mirrorless cameras lack a mirror box and prism, so light directly hits the image sensor. Translation? Mirrorless options are simply a newer type of camera that doesn't require as many parts as the older DSLRs. According to professional photographer Alexi Shields, "Mirrorless cameras have made some serious headway in the videography world" because they are "significantly more lightweight than a pro DSLR and… don't have a mirror that moves up and down, so they're quiet."
While they're more maneuverable than a DSLR, they are still larger and less portable than compact cameras. In addition, they lack the extensive lens systems of DSLRs, so the latter still has the edge with lens versatility. However, mirrorless lenses are still being developed, so more options are inevitably in store.
So which should you choose? The answer comes down to personal preference and lifestyle. Tom Hoebbel, a professional photographer of over 25 years, explained, "If you travel a lot and want to take good photos without carrying a lot of gear, a compact is the way to go." He told us that their ease of use also makes them a perfect fit for those who "want to have a camera at the swimming pool, campground, or have kids who are growing up." As for mirrorless, they'll require a higher learning curve. But Shields informed us that they're favored with videographers, and with the proper skill will capture excellent pictures.
We scoured photography websites like DxOMark and DPReview as well as consumer reviews on Amazon to find the compact and mirrorless cameras that were widely celebrated for their image quality and usability. Specifically, we sought out cameras that had the best reputations for their portability, ease of use, and superior picture quality that even beginners would notice. We ended up with nine cameras that advertised the best photography experience for amateurs and hobbyists alike.
Our contenders for best digital camera
Compact cameras:
Canon PowerShot G7 X
Canon PowerShot G9 X Mark II
Panasonic Lumix DMC LX10
Panasonic ZS70
Ricoh GR II
Sony Cyber-shot DSC-RX100 IV
Mirrorless cameras:
Fujifilm X-T20
Olympus OM-D E-M10 Mark II
Panasonic Lumix G7
We compared our cameras to see which were the best on paper and in our hands.
With our nine cameras in hand, we paid attention to objective differences as well as the subjective experience of using each one. Did any have low-quality components? How about confusing menu screens? Did any of the cameras feel too bulky in our hands or pockets? With this frame of mind, we compared our digital cameras against three criteria.
First, we compared camera specs to look for any technical differences that would give a camera the edge.
Chan explained to us that "certain specs matter to certain photographers" but usually only those who "understand their niche and the type of photography they're into." In other words, for beginning photographers, technical specs won't really matter. Specs typically come into play when you have knowledge of the techniques behind shooting particular subjects, such as sports or food. That said, we still wanted to see if any of our top contenders would outperform others once someone mastered basic techniques. We looked across respected photography sites such as DxOMark and DPReview to see how experts were evaluating our cameras. Outside of technique, we learned that the most important differences in performance come down to a few core specs.
Sensor: In simple terms, the sensor is the part of the camera that captures light and converts what you see through the viewfinder or screen into an image. The general rule of thumb is the larger the sensor, the better the image quality. DxOMark is a website that uses an intricate process to measure image quality by evaluating sensors. In essence, a more advanced sensor can lead to better images.
We compared the sensor scores for our cameras to see which could produce better images if paired with technique and gave preference to cameras that had a score above 70 to ensure our picks were high performers.
Fujifilm doesn't have DxOMark scores
Fujifilm uses proprietary sensors that DxOMark doesn't have the tools to score. That doesn't mean the sensors are bad. Fujifilm is celebrated for their image quality, and the camera on our list is highly regarded for its design and build.
More megapixels doesn't mean better quality Manufacturers often advertise high megapixel numbers as an indication of photo quality. In reality, a higher number of megapixels won't always produce a better photo. Too many pixels can even cause graininess. What matters more is the size of the sensor and quality of the pixels.
ISO, aperture, and shutter speed: Adjustments to any of these will have an effect on your shot, but to tap their true potential you'll need expertise. The cameras with highest rankings for these specifications often start at $2,000. We found this price too steep for a beginner or compact camera, and for mirrorless our experts advised that we put more money to a lens collection rather than a camera body. Our cameras had to have the best reputations for technical performance without draining our wallets — so while we took into account the versatility and range of functions like ISO, we found that ease of use was ultimately more important for our experience with these cameras.
We carried around our cameras to assess their portability.
The main advantage of compact and mirrorless cameras is their portability. We looked for any cameras that were easier to carry around than others. The Sony Cyber-shot DSC-RX100 IV impressed us with its ability to slip into our jeans pockets. Others compacts, like the Panasonic DC-ZS70, were far too bulky for this, and therefore less convenient for quick storage during a sightseeing tour.
Some mirrorless options, like the Fujifilm X-T20, had slim bodies that were comparable to a compact camera, while others were more reminiscent of a heftier DSLR. While size wasn't a dealbreaker, we gave preference to mirrorless cameras that maintained their reputations for being more portable than their DSLR counterparts.
Then we looked for cameras that helped us learn the ropes.
For budding photographers, ease of use is paramount when handling a new camera. In the final stages of our testing, we found that unique features and programs made some cameras stand out above the competition.
The Sony Cyber-shot DSC-RX100 IV, for instance, offers real-time hint screens that explain the functions of each camera mode. Switching to the shutter priority mode brings up a screen that reminds you that a faster shutter speed will make subjects look like they stopped or were frozen, while a slower speed will capture traces of movement — think the smooth and flowing appearance of professionally-photographed waterfalls. The hint made learning new techniques (and brushing up on old ones) a breeze.
Certain design decisions also came into play. The mirrorless Fujifilm X-T20 shot great movies, but strangely didn't have a red record button for easy access to immediate filming. Others, like the Olympus OM-D E-M10 Mark II, weren't able to shoot 4K video like the Fujifilm, but did included a red record button. The best digital camera strikes a balance between quality photos, easy-to-use features, and programs that are on your side every step of the way.
Our Picks for Best Digital Camera
Best Portable
Sony Cyber-Shot DSC-RX100 IVBest for: Those who just want to point and shoot; travelers; bloggers.

Price: $900

Average ratings:
- 4.8 out of 5 from Adorama camera enthusiasts (18 reviews)
- 4.3 out of 5 from Amazon reviewers (186 reviews)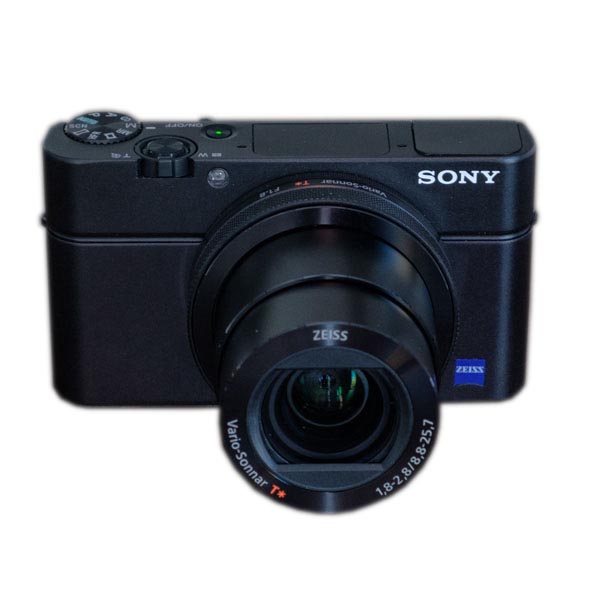 If you're looking for an easily portable compact camera that takes great pictures and offers useful features, we can't imagine a better pick than the Sony Cyber-shot DSC-RX100 IV. It's an excellent option for anyone, from those who simply want to take photos of their kids growing up to photographers and hobbyists who want to develop their skill.
While every compact camera we tested came with an auto mode for easy picture taking, the Sony RX100 IV was our favorite for teaching us how to take more advanced photos. When you scroll through the various modes, such as shutter priority, manual exposure, and filming, the screen displays a helpful reminder of what each particular mode is used for. It's a thoughtful inclusion that makes learning how to use the more complex features of the camera much easier. The closest competitor in terms of overall design, the Canon PowersShot G7 X, allows you to scroll through similar options, but doesn't explain what they do. We appreciate being able to tinker and learn with the Sony without needing to pull up online photography guides on our phone.
Not only will the Sony RX100 IV help make you a more versatile photographer, it is also one of the more versatile cameras we tested. It's the only compact cameras that had a built-in viewfinder as well as a built-in flash. Our tester appreciated the viewfinder in bright rooms or on sunny days, where the glare of light would interfere with the LCD screen. Cameras such as the Canon PowerShot G7 X had an adjustable screen that could help to remove glare, but our tester missed having the straightforward option of the viewfinder. The Panasonic Lumix DC-ZS70 did come with a viewfinder, but it didn't have a built-in flash, which made shooting photos in darker areas more difficult. Add to that the fact that the Sony RX100 IV also has an adjustable screen for finding the perfect angle for your shot, and the answer became clear. The Sony RX100 IV takes the crown.
Those who don't want to learn more advanced photography will be able to simply point and shoot but also have access to a few bells and whistles that are effortless to use. The adjustable screen flips up for easy selfies with friends and utilizes a unique three second countdown that ensures you'll be able to line up a great shot that won't accidentally clip someone out. Other cameras like the Canon PowerShot G9 X and Ricoh GR II don't have adjustable screens, which means you'll need to use a little more trial and error to line up a strangely angled shot, selfie, or video.
In terms of image quality, the Sony RX100 IV impressed us with top notch technical scores, including a DxOMark sensor score of 70. However, there were two competitors with higher scores: The Canon PowerShot G7 X came in with a 71 and the Ricoh GR II came in with a surprisingly high 80. So why is the Sony our top pick? The Sony RX100 IV still takes excellent pictures and is easier to use. The Sony's manual controls make it easier to shoot more advanced pictures than the Canon, despite the Canon's marginally higher score. And while the Ricoh GR II's score is impressive, it doesn't come with a zoom function: a noticeable loss when trying to take pictures at your child's play or a shot of wildlife during your hike. Cameras like the Ricoh GR II are better suited for experts or those with experience, but the Sony RX100 IV will be able to satisfy beginners and experts alike.
The Sony RX100 IV offers additional features such as 4K video, Wi-Fi connectivity for the easy transfer of photos, and a battery life that will last for 280 shots. Close competitors like the Canon PowerShot G7 X only offer 265 shots. The price is steep — $900 — which makes it the most expensive out of our compact picks. But a good camera is an investment, and we'd be happy to shoot simple photos as well as learn more advanced photography with the Sony.
Best Advanced
Fujifilm X-T20Best for: Budding photographers who want to learn advanced photography; professional photographers; anyone who wants to shoot high-quality video.

Price: $1200

Average ratings:
- 4.6 out of 5 from Adorama camera enthusiasts (25 reviews)
- 4.6 out of 5 from Amazon reviewers (69 reviews)


The Fujifilm X-T20 is our hands down favorite mirrorless camera; It has a slim design, it takes great pictures, and it doubles as an excellent video camera. We appreciate the versatility and the quick autofocus that will help beginners. Add to that easily accessible manual controls such as setting custom ISO levels, and professional photographers won't have to worry about limits on their creativity.
The Fujifilm has a sensor that is 1.6 times larger than the sensor of its closest competitor, the Olympus E-M10 Mark II. With a larger sensor, more light will be able to enter the camera, which gives the photographer more control on depth of field. That is, the larger sensor will make it easier to capture better pictures. The Fujifilm doesn't have a score on DxOMark, but DPReview reports little noise or graininess and a sensor that is on par with the highest performing competitors.
That said, the Fujifilm X-T20 isn't without its flaws. The Olympus offers a much larger lens library — 86 versus 34 lenses — which will allow for more customization for future photographs. In addition, the Fujifilm X-T20 lacks image stabilization, so you'll need to practice having steady hands in order to prevent imbalanced photos. We didn't consider this a dealbreaker, though, because several of its lenses boast onboard image stabilization, so you'll be able to find a perfect match for whatever subject you choose to shoot from sports to landscapes. As Chan explained to us, advanced photography "comes back to understanding your niche" and you won't need 30 different lenses in order to shoot it. And if you're worried about shaky hands, Fujifilm can also easily be mounted on a tripod.
Our experts told us that the lightweight design of mirrorless cameras not only makes them great for photos on the go, but for shooting video as well. The Fujifilm X-T20 shoots 4K video and offers a microphone port for capturing audio — an integral part of videography. Unlike standard HD video, 4K has considerably higher pixel resolution, which leads to much sharper and crisper images. The Olympus shoots HD video, but does not support 4K or offer a microphone port.
We like that the Fujifilm X-T20 provides the ability to easily shoot video but also record sound through the microphone port. One tester who has experience with video production reported the lightweight and compact design was easier to maneuver than traditional video cameras and that they'd be glad to have the Fujifilm when shooting in crowded areas such as a workshop.
The overall design of the camera also makes it simple to learn and use. The top of the camera has controls for adjusting the different camera modes, shutter speeds, and exposure compensation — important for adjusting the light and dark areas of a photo. The dials are clearly labeled, which made it easy for our tester to find the settings they needed.
Other mirrorless cameras like the Pansonic Lumix G7 had bulky designs that were more like DSLRs. While we appreciate the extra grip of the Lumix G7, we'd choose a DSLR if we wanted a larger camera. For those who want an entry level camera for advanced photography without the bulk of a DSLR, the Fujifilm X-T20 can't be beat. Quality photos and videos make the Fujifilm an excellent camera for learning the more advanced skills of both photography and videography. Fujifilm's library of 34 lenses will also give you the ability to grow with your camera and find the perfect combination to capture the subject of your choice, whether it's a ballet recital or sunset on a beach.
Others to Consider
Ricoh GR IIWhat to expect: Beautiful photos, as long as you don't need a zoom.

Price: $560

Average ratings:
- 4.9 out of 5 from Adorama camera enthusiasts (11 reviews)
- 4.5 out of 5 from Amazon reviewers (76 reviews)


The Ricoh GR II is a favorite among professional photographers for having exceptional image quality. This surprised us at first because of its compact design, but it made sense once we realized the Ricoh GR II comes with an APS-C sensor, which is usually found in mirrorless or DSLR cameras. The larger sensor allows the Ricoh GR II to capture more information that it can then convert into an image. The result is a camera that can take better photos than it should be able to at its size.
But when thinking about versatility, the Ricoh GR II can't stand up to the Sony RX100 IV. The Ricoh doesn't come with a zoom function and uses a specialized USB cord to charge. The lack of zoom on a compact is hard to ignore, especially for parents trying to capture their child's concert from the back of an auditorium. The special USB cable for the Ricoh only costs $6, but forgetting the cable while traveling means you'll have to spend time tracking down a replacement rather than shooting photos. In comparison, the Sony can be charged with a microUSB; Chances are, you already own one for your phone or tablet.
The Ricoh GR II is a better choice for those who either won't need a zoom or have the experience to tap the potential of the camera. Street photographers who don't need a zoom function to capture graffiti or people walking in a park will find the Ricoh GR II to be a great camera. But the greater versatility of the Sony RX100 IV was enough to give it the edge over the Ricoh.
Olympus OM-D E-M10 Mark IIWhat to expect: A cheaper, more confusing alternative to the Fujifilm.

Price: $650

Average ratings:
- 4.7 out of 5 from Adorama camera enthusiasts (34 reviews)
- 4.2 out of 5 from Amazon reviewers (78 reviews)

It was a close race between the Olympus E-M10 II and the Fujifilm X-T20 for our top spot, but the greater video capability gave the Fujifilm the victory. That's not to say the Olympus is a bad option; DPReview reports that even with a smaller sensor size than the Fujifilm X-T20, the image quality of the Olympus is sharp and clear.
The deciding factor for us came down to the quality of our experience. The Olympus had confusing menus that were difficult to navigate, and one tester became frustrated when trying to figure out how to customize the camera's settings. DPReview had the same problem and reported that even some of their professional photographers ran into confusion. While complex menus are inevitable, the Fujifilm's layout was far more intuitive.
Outside of that, the Olympus also requires a specialized USB cable (mini B) in order to charge, which can be difficult to find. Standard micro USBs, like that of the Fujifilm, are available at most retail stores. We like that we don't have to worry about losing our charging cable when traveling with the Fujifilm.
The greatest benefit of the Olympus over the Fujifilm comes down to price. At $650, it is almost half the price of the $1200 Fujifilm. That said, if we ask ourselves which camera we would rather pick up, our honest answer is the Fujifilm. But for those who want an excellent mirrorless camera at a budget price, the Olympus won't disappoint.
Did You Know?
Improving your photos comes down to techniques and tricks.
While there aren't necessarily rules of photography that are set in stone, learning the basics of composition can still help you improve your shot. The best part of composition is that you can practice improving your skills without having to change any of your camera's settings. In short, it's all about how you frame a shot.
While not comprehensive, these tips are a great way to start improving your technique as a photographer, no matter what type of camera you use. Award-winning photographer Jere Hietala told us, "there is no such thing as a mistake" when you're learning photography or photo editing" – a lesson he said he's learned through his own work and as an advisory board member at Loupedeck, a photo editing console built to improve the Adobe Lightroom experience. Hietala believes that the best strategy is to experiment with various techniques until you find the combination you like.
Try out cameras and lenses by renting them first.
Renting equipment for a week can help you determine if it's the right fit for you. You won't be able to rent cheap compact cameras, but for those who are still on the fence between a high-end compact or mirrorless, renting is a great way to get hands-on experience with your potential investment. Our experts still recommend that you do some research before renting, though. Rental services can charge around $25-30 per day, so it's better to create a list of the cameras and essential accessories you'll need before committing.
The Best Digital Camera, Summed Up