Showing results for
Did you mean:
Sorry, something went wrong. Please refresh your browser and try again.
Last updated on
January 17, 2018
The Best DSLR Camera
Capture the perfect shot and grow your photography skills
The 30-Second Review
For professionals, finding the best DSLR camera comes down to personal preference and skill. But for budding photographers, the best should be easy to use, provide useful features like a long battery life, and help you learn the ins and outs of photography. We consulted professional photographers, read photography sites, and then tested four highly regarded cameras for ourselves to find out which DSLR offers the best user experience.
Best for Beginners
A built-in guide will help beginners learn the basics of advanced photography, and its lightweight design and variety of lenses makes it a great camera to practice and grow with. Plus, it's relatively affordable at only $650.
Others to Consider
A microphone port and adjustable display screen makes this camera a great option for shooting video. But in terms of technical specs, it won't perform as well as the Nikon or be as easy to use. It's also an investment at $750.
Pentax K-S2
A surprisingly solid camera with technical specs that outperform our top pick. It's also slightly cheaper at $600. However, it has a much steeper learning curve and won't be the best fit for beginners with little experience.
The Best DSLR Cameras
The Nikon D3400 impressed us with a convenient design that helped us learn the basics of photography. It has features you'd expect from a modern DSLR, such as Bluetooth connectivity, built-in flash, and a viewfinder. But unlike competitors, the Nikon includes a built-in guide that helps you learn how to use it, whether it's setting higher shutter speeds or lower light sensitivities. Like all entry-level cameras, you'll eventually outgrow it. But mastering the basics can take years, and the Nikon D3400 is an excellent and versatile option for those who want to invest in developing their skills. Plus, the camera will let you purchase lenses now that will work with more advanced Nikons in the future.
The Canon EOS Rebel T6i is a great alternative for those who want an entry-level DSLR for shooting videos. Unlike the Nikon, the Canon comes with an adjustable screen and a microphone port that makes it easier to capture video and audio. In terms of technical specs, it isn't as advanced as the Nikon D3400. It also doesn't have a built-in guide, which makes it a bit less intuitive to use. But with the right technique and practice, it won't disappoint.
For those with a little camera experience, the Pentax K-S2 is another solid option. It outperforms the Nikon D3400 on paper with better specs, including a higher shutter speed. Like the Canon, it also offers an adjustable screen and microphone port. That said, it has a sharper learning curve than both the Nikon and Canon. In addition, there are more Nikon and Canon models on the market, which means that the Pentax won't give you access to as many camera and lens combinations. However, for those who are willing to look past more popular brand names and are willing to spend more time learning, the Pentax will still offer a great experience.
How We Found the Best DSLR Camera
The first question that often comes to mind when looking for the best DSLR camera is: Which one will produce the best pictures? The short answer is: It depends. Jere Hietala, award winning photographer and board member at Loupedeck, a photo editing console custom-built to improve the Adobe Lightroom experience, told us "people should buy the camera that suits their needs; it all comes down to what you want to shoot." In other words, differences in technical specifications (more on this later) don't necessarily determine which camera is better. A photographer shooting an athlete on the move and another shooting a perfectly plated dessert will be looking for different things. Great photos are more the result of technique and practice than the camera they're shot with. Add to that additional factors like specialized lenses, lighting equipment, or photo editing, and it becomes clear that tapping the potential of any camera differences will require a lot of skill — not to mention patience.
So how do you find the best DSLR camera? For us, it's about choosing the camera that offers the best learning experience for a budding photographer. If you're a professional, you'll already be equipped for finding the next camera that suits your needs. In that sense, we kept our search to entry-level DSLRs that help beginning or amateur photographers develop the skills they'll need for advanced photos. Our experts agreed it was a good call. Katie Moseman, a professional food photographer, explained, "Don't buy more camera than you know what to do with. You'll figure out over time when you outgrow a camera and are ready for something more advanced."
That said, the best entry-level DSLR should still take high quality pictures even if the photographer has less experience. But instead of limiting our focus to comparing photo quality, we looked for the cameras that would make the time we spend learning how to take better pictures worthwhile. That meant the best should also have intuitive designs that make learning skills a breeze, while offering useful features such as a strong battery life for long practice sessions.
We gave ourselves a crash course in photography
When we spoke to Tom Hoebbel, a professional photographer based in New York, he told us that "photography is technique and research; you're going to have to learn by doing and reading a lot." With his advice in mind, we realized it was important to identify the key camera modes and features that would help a first time DSLR owner or amateur photographer learn the basics. After reading online photography guides and speaking with our experts, we directed our attention to the core features and specs that would have an effect on a beginning photographer's experience with a DSLR.
First, we looked for sensors that produce high-quality images
A sensor is the device that captures light coming in through the lens. It then converts what you see in the viewfinder or on the screen into an image. In other words, a camera sensor is the electronic equivalent of film and the most important part in regards to image quality. Every digital camera, including DSLRs, has a sensor, but they can come in different sizes. As a general rule of thumb, the bigger the sensor, the better the image quality. This is because a larger sensor is able to capture more light, which means it gathers more information to convert into an image.
Higher megapixel numbers are best paired with larger sensors.Many manufacturers brag about high megapixel numbers. But in reality, a higher number of megapixels won't always produce better photos. Megapixels are essentially buckets on a sensor that collect light. Placing a lot of megapixels on a small sensor may improve resolution, but the pixels will have to be smaller. That means that individual pixels won't be able to collect as much light, and the camera will have to work harder to gather enough light for an image.
More importantly, we wanted to know more about how to measure a sensor's quality. We turned to sensor ratings on DxOMark — an independent database and trusted industry standard for image quality measurements. DxOMark uses a highly controlled testing protocol to score camera sensors. We compared scores across widely celebrated brands to find the entry-level cameras that outperformed others.
Specifically, we looked for cameras that scored a 70 or higher in DxOMark's sensor tests. This means our cameras have sensors that are able to produce above-average photo quality with consistency. Sure, there are cameras with more advanced sensors and higher scores. But these cameras are better suited to those with experience, and they're incredibly expensive. The Nikon D850, for example, is the only DSLR to score a perfect 100 on DxOMark — but with a starting cost of $3,300, we're not convinced it's the best option for learning. Our experts recommended we save our money for the accessories we would need in order to improve.
Not all high-performance cameras have DxOMark scores.
Even if a camera doesn't have a score on DxOMark, it's not necessarily a bad product. Because of unique sensors, brands like Pentax and Fujifilm often don't have scores for all of their cameras but are widely celebrated by photographers for their quality. We gave preference to cameras that had a high score, but we made sure to keep an eye out for highly regarded cameras without a DxOMark score so we didn't miss any that were worth a look.
Then, we found brands with large lens collections
So, which accessories should you save up for? We learned from our experts that the most worthwhile investment is building a strong collection of lenses. Hietala told us that "one of the most important things in photography is the lens" and that it's better to put more money into a good quality lens than a camera that promises something such as more megapixels.
Hoebbel echoed Hietala and told us that "once you figure out the camera, then it's about growing your lens collection over time." Different lenses have a large impact on your images. For example, a wide angle lens has a wide perspective that is great for landscapes. A telephoto lens can focus on subjects at a distance and is great for capturing wildlife. As your skills develop, photography becomes more about finding the appropriate lenses for your needs than collecting camera bodies.
We sought out DSLR brands that give you access to an extensive system of lenses so you can adapt to new subjects. After all, a good DSLR is an investment that should grow with you for at least five years.
Next we compared settings and specs to find the ones that matter most for beginners
The benefit of owning a DSLR is the versatility they provide. Adjustments to your camera's settings allow you to adapt to your environment and discover new ways of expressing your creativity. However, adjusting a camera's settings takes time and practice, so modern cameras include different modes to make adjustments easier for both beginners and professionals.
The most common manual modes on a DSLR camera are program, aperture priority, shutter priority, and manual mode. We noticed that each mode focused on three key settings: aperture, shutter speed, and ISO, also known as the exposure triangle. These three settings deal with light and how it interacts with your camera, which will have large impact on your photos.
Aperture is the hole within a lens that allows light to travel into the camera. The larger the hole, the more light that travels to the camera sensor. It's usually measured as an "f-number." A large f-number such as f/8 means a smaller aperture or hole, while a small f-number like f/2.8 means a larger aperture. Once you get the hang of it, you'll also gain the ability to control your depth of field — the ability to blur your background to make your subject stand out or have both the foreground and background in focus. You can change aperture settings on your camera, but the aperture range depends on the lens, not the camera body. The body simply communicates to the lens what aperture setting you want. This means that aperture range comes into play when buying lenses, not the camera body. That said, the camera body should make it easy to adjust the aperture, regardless of which lens you use.
Shutter speed is the length of time the camera shutter is open to allow light into the sensor. Speeds are measured in fractions of a second, such as 1/60th of a second or 1/125th. Faster shutter speeds will let less light in, but are great for freezing motion and capturing subjects like a bird in mid-flight. Slower speeds will add motion blur, which is great for capturing the smooth flow of a waterfall. Though with slow speeds, image stabilization or a tripod will help prevent unwanted blur.
ISO is measured in numbers and changes the light sensitivity of your camera. Lower numbers will lead to lower sensitivity and beautifully crisp photos in well-lit areas. If the lighting is poor, a higher ISO will help you capture the image even though the area feels too dark. However, high ISO can cause graininess in your pictures due to the high light sensitivity.
An adjustment to any of these three will force you to adjust at least one other. For example, a high ISO is often paired with a fast shutter speed to capture movement in low light areas. This is especially helpful when photographing indoor sporting events or a dance recital. We looked for cameras with a wide ISO and shutter speed range as well as easily controllable aperture settings. These wide ranges will result in greater versatility, which will be important as you gain an understanding of your camera.
After reading through photography websites like DxOMark and DPReview as well as consumer reviews on Amazon and photography sites like Adorama, we were left with brands that had the best reputations for image quality and usability. After comparing options within each brand, we used user comments to hand-select four entry-level cameras that would best serve as a stepping stone to advanced photography. These four cameras are highly celebrated for their beginner-friendly design that aspiring photographers won't quickly outgrow, offering useful features while also saving us a little cash for our next lens.
Canon EOS Rebel T6i
Nikon D3400
Pentax K-S2
Sony SLT-A68
We tested our cameras to see which offered the best learning experience without sacrificing performance
Overall, each of our cameras were great at taking pictures. We're not professional photographers, but were still impressed by the noticeably higher quality of our photos compared to our smartphones and cheaper compact cameras. But comparing pictures isn't the best way to evaluate a camera.
Jimmy Chan, a photographer for Pixelicious, told us that "if you waste time fumbling with the switches and buttons, you will miss the shot, [so] it is crucial that the photographer learns the camera inside and out." Following his advice, we directed our attention toward finding the entry-level DSLR that was best able to help us do so.
We prioritized intuitive and helpful design features
Does the camera have an intuitive display? Does it offer any features that make learning different functions easier? We wanted to identify the camera that allowed us to focus on learning different photography skills, such as adjusting shutter speeds. We gave bonus points to cameras like the Nikon D3400, which had a built-in guide to help our testers learn what different camera functions do. Others, like the Pentax K-S2, had a similar overall design, but didn't offer instruction when switching through different manual modes. Eventually you'll outgrow the need for hints, but they're helpful when practicing the basics.
Beyond that, we looked for cameras that would work with you, not against you, while you experiment with the craft. That meant searching for cameras that would be easy to handle and carry while providing added conveniences like long battery lives. The Sony SLT A68 was bulky, which made it a bit more difficult to maneuver. It also had a battery life that only lasted for up to 510 shots. Competitors like the Nikon D3400 had a surprisingly compact design and an impressive battery life that lasted up to 1200 shots. We could easily imagine taking the latter out for longer practice sessions.
We took a closer look at technical specs
Again, our experts told us that differences in specs wouldn't necessarily determine which camera was the best. We learned from Chan that "for beginners, specs won't really matter because even entry level cameras offer so much room for growth. Those wanting more will soon discover their own niche." Tapping the potential of technical differences comes into play after you've gained experience and found the subject that you want to shoot, whether it's fashion, sports, or even a particularly attractive bowl of ice cream.
That said, it's still important for a DSLR camera to have a versatile set of specs that help you learn the basics of changing settings. All of our cameras have a wide aperture, ISO, and shutter speed range. Even so, the Pentax K-S2 technically had better specs, including shutter speeds as fast as 1/6000 second, which makes it a touch better at capturing subjects like a bike race, where people are on the move. Others, like the Sony SLT A68, had shutter speeds of 1/4000 — still excellent, but a step below the Pentax.
We didn't completely forget about photo quality, either
Although we prioritized finding cameras that offered the best learning experience, we also recognize the best DSLR should still take great photos. To find our picks, we looked through photography websites like DPReview and Imaging-Resource.com to see what experts had to say about our cameras. The Nikon D3400 received praise for its punchy and sharp image quality as an entry-level camera. The Canon Rebel T6i also received recognition for its image quality, but hobbyists still noted the smaller sensor may lead to a lower depth of field.
We also went back through DxOMark to compare parts like sensor quality. The Nikon D3400 scored an 86, as opposed to the Sony SLT A68's score of 79. Because of this, the Nikon D3400 will be more effective at converting what you see into a high quality image. We gave preference to cameras with higher scores, because they would technically be able to produce higher quality images as you develop your skills.
Our Picks for the Best DSLR Camera
Best for Beginners
Nikon D3400Best for: A high-quality, entry-level DSLR that helps you learn.

Price: $500, including an 18-55mm lens.

Average ratings:
- 4.5 out of 5 from Adorama camera enthusiasts (60 reviews)
- 4.6 out of 5 from Amazon reviewers (328 reviews)
The Nikon D3400 is easy to use and offers helpful features for learning the basics of advanced photography. In addition, a long lasting battery life, impressive picture quality, and an extensive library of lenses ensures that you'll be able to practice and improve over time to capture your perfect shots.
It guides you through basic photography skills
The Nikon D3400 offers standard features including a viewfinder, built-in flash, and manual controls for adjusting anything from shutter speed to ISO. However, the standout feature of the Nikon D3400 is the Guide mode. This mode allows you to choose between "easy" or "advanced" operation settings, which will help you progressively learn core photography skills.
The easy mode will adjust settings for common shots, including landscapes and portraits. Unlike other cameras with "scene modes" that take complete control over the settings for these subjects, the Nikon allows you to continue adjusting ISO. This allows you to see the effect your decisions about light sensitivity has on anything from a sunset to a close up of autumn leaves. Rather than forcing you to be completely dependent on the camera, the Nikon leaves room for you to experiment within helpful boundaries. We like the camera for allowing us to participate in the process of setting up shots that require expertise.
As for advanced mode, you'll be able to practice complex skills in further detail. For instance, the "freeze motion" option allows you to adjust shutter speed to freeze a subject or capture motion blur. Translation? You'll be able to catch an athlete mid-stride rather than a fuzzy image of them passing by.
Like the easy mode, options in advanced mode provide example photos and suggestions to help you understand what effect your changes will have. The camera made our learning experience less of a guessing game and more of a tutorial. The competitors couldn't stack up. The Canon Rebel T6i provides hints about what different camera modes do — when you scroll to "shutter priority" mode (Tv), the screen reminds you that shutter speed will freeze subjects or add motion blur — but we found ourselves missing the more detailed guide of the Nikon D3400. For us it was like the difference between having a cheat sheet or our own personal photography class.
Budding photographers with little experience will have room to grow
As for long term growth with the Nikon, you can expect access to 105 Nikon-produced lenses (up to 278 lenses if you include compatible lenses not made by Nikon). As you learn to master the basic features of your camera, you'll be able to shift your attention to finding the appropriate lens for your subject.
Other cameras like the Canon Rebel T6i offer more lenses — up to 290. While the number was initially impressive, we didn't consider it a deciding factor. For both an entry-level and professional photographer, it will take time to adapt to new lenses. Also, no photographer will need to master 290 different lenses, no matter the subject.
It has its flaws, but none were dealbreakers
If we were to pick one flaw that bothers us the most, it'd be the lack of an adjustable screen. Unlike its competitors, the Nikon D3400 does not have a screen that swivels out for better angles when shooting pictures or video. Cameras like the Pentax K-S2 and Canon Rebel T6i have swivel screens that make for easy selfies and video recording. The screen of the Nikon is still easy to see, though, and the smaller design made it maneuverable enough to shoot quality video in tight spaces. While we would prefer a swivel screen, the Nikon's overall stellar usability gave it the edge.
The camera isn't perfect. DPReview reports that the limited functionality of the entry-level Nikon means it will eventually be unable to keep up with those who want more manual controls. We didn't consider this to be a huge issue, because developing photographers will naturally outgrow any entry-level camera. Nicholas Purcell also explained that "it takes a long time to really master the combination of seemingly basic functions like shutter speed and aperture." We look forward to the day when we're skilled enough to use a more advanced camera, but we're happy to learn with the Nikon D3400 for now.
Its specs are impressive for an entry-level camera
We were surprised to see that the Nikon D3400 earned an 86 in DxOMark's sensor evaluation. That's five points higher than cameras like the Sony SLT A68 and 15 points higher than the $100 more expensive Canon Rebel T6i. What this means is that the Nikon D3400's sensor is able to capture light and images more effectively than many of its competitors. Photographers can expect balanced light and dark areas in their photos as well as very low grain even with increasing ISO levels — a common problem with high light sensitivity settings.
The Nikon D3400 doesn't have the best technical specs out of our contenders; The Pentax K-S2 offered a higher shutter speed of 1/6000 second and a higher max ISO of 51,200. The Nikon only has a shutter speed of 1/4000 second and a max ISO of 21,600. So why isn't the Pentax our top pick? It simply isn't as easy to learn with. While better technical specs are well and good, they aren't helpful if you don't have the skill to tap their potential. The Pentax can be a solid choice for those with a little more experience, but the simplicity of the Nikon D3400 allows beginners to more easily focus on what matters most — the basics. For that reason, the Nikon takes the crown.
Competitors like the Pentax and Sony were also noticeably heavier or bulkier. The Pentax had a compact design but weighed in at a surprisingly heavy 1.49 pounds. The Sony came in at 1.34 pounds, with a bulky design that didn't feel as comfortable, even for testers with large hands. In contrast, the 0.87 pound Nikon D3400 had a compact design that felt lighter and more comfortable. Even the half pound difference in weight is noticeable when carrying around other accessories like tripods or additional lenses.
There was one spec where the Nikon fared far better than the rest — battery life. The Nikon's battery lasts for an impressive 1200 shots, while the closest competitor, the Sony SLT A68, only lasts for 510. The more time we can spend out practicing rather than at home charging our camera batteries, the better. Overall, the Nikon was our hands-down favorite for its usable design that made our learning experience painless. If you're looking for a usable camera that will help you take the next step in developing your photography skills, we can't imagine a better pick than the Nikon D3400.
Another to Consider
Canon EOS Rebel T6iBest for: Excellent video capabilities with little instruction.

Price: $750, including an 18-55mm lens.

Average ratings:
- 4.9 out of 5 from Adorama camera enthusiasts (21 reviews)
- 4.6 out of 5 from Amazon reviewers (254 reviews)
Nearly every expert we talked to recommended Nikon and Canon as the most reliable DSLR brands. It makes sense, considering the two companies dominate the DSLR market and have extensive and highly regarded lens systems for budding and professional photographers alike.
The greatest advantage of the Canon over the Nikon is the inclusion of a swivel screen and microphone port, which makes for a better video recording experience. The swivel screen allows you to find better angles for photos and videos when holding the camera above your head or lower to the ground. In addition, the microphone port ensures that you'll be able to capture audio while filming, which is an integral part of videography. In addition, the Canon also adds support for the UHS-1 SD card standard, which is more effective at capturing large HD videos.
However, we couldn't recommend the Canon over the Nikon for a couple of important reasons. First and foremost, the Nikon is simply easier to learn with — the presence of the Guide mode was hard to ignore. In addition, the Nikon has slightly better specs for taking photos, including a much more impressive sensor score on DxOMark. While the Canon fared better in video quality, we gave preference to cameras that shoot better images, since that is the main purpose of a DSLR.
But for those who want a DSLR with a great video experience, the Canon is a solid bet. The extensive library of lenses also ensures that if you upgrade to a more advanced Canon in the future, you won't need to start a new lens collection from scratch.
Another to Consider
Pentax K-S2Best for: A solid camera for those who have mastered photography basics.

Price: $600, including an 18-55mm lens.

Average ratings:
- 4.0 out of 5 from Amazon reviewers (31 reviews)
- Adorama rating: N/A
We were impressed by the Pentax K-S2's technical specs as well as compact design. On paper, the Pentax was even able to outperform our top pick, with higher shutter speeds and a higher max ISO. That means that with the right skill, the camera will be more effective at capturing subjects in motion and images that need a bit more light sensitivity like the night sky.
One big downside of the Pentax K-S2 is that it's harder to learn with than the Nikon. The absence of a built-in guide or hints about different camera modes will make learning the ins and outs of the camera harder. In addition, it had the shortest battery life out of all our contenders, only lasting for 410 shots. But for those who have a little more knowledge about DSLRs and photography, the learning curve won't be as sharp.
Like the Canon, the Pentax comes with a swivel screen and microphone port for a better video recording experience. Add to that the already impressive photos, and the Pentax becomes a surprisingly solid choice for even the most loyal Nikon or Canon consumers — but perhaps not for beginners with little experience.
Did You Know?
Experts recommend renting cameras and lenses first.
If you want to try out a camera or lens for yourself, you can often borrow one from a camera rental service. Our experts advised us that trying out equipment for a week can help you determine if it's the right fit. This especially becomes helpful when you have to find a new lens. Given that camera brands can have upwards of 200 lenses, finding the perfect match on the first try can be close to impossible. A lens rental takes away the risk of buying a lens you don't want or need.
We still recommend that you do some research before renting, though. Rental services can charge around $25-30 per day, so it's better to create a shortlist of the lenses you'd like to try out before renting one.
Most DSLRs offer six common modes for taking photos.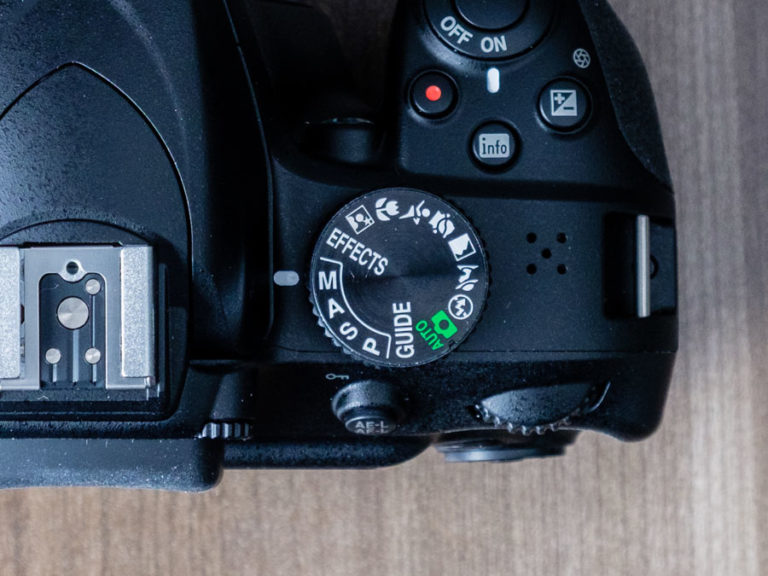 Auto mode. As its name suggests, auto mode gives control over all of a camera's settings to the camera. Shooting in this mode is helpful for beginners who want to learn the basics of framing a shot before moving on to adjusting camera settings. Katie Moseman told us that "jumping straight into manual mode on an advanced camera can be intimidating" and that starting with automatic mode will still help you learn the basics.
Program mode (P). This mode will set the optimum aperture and shutter speed. You'll be able to adjust either of these settings, and the camera will automatically adjust the other. This ensures the exposure — how light or dark an image will appear — remains balanced. In other words, if you want blur in your photo of a waterfall, you can reduce the shutter speed. The camera will shift to a smaller aperture to keep the exposure on point.
Aperture priority (A or Av on Canon). You'll be able to control the aperture in this mode while the camera takes care of shutter speed. Changing aperture will affect your depth of field. For example, a lower setting will bring objects into focus while blurring your background. Since depth of field is crucial for most shots, this is a favorite of many photographers.
Shutter Priority (S or Tv on Canon). Shutter priority does the exact opposite of aperture priority. This mode allows you to adjust shutter speed which makes moving objects appear still or blurred. Photographers who shoot moving subjects such as athletes will benefit from different shutter speeds.
Manual mode. This mode gives you full control over the camera. You'll be able to customize your shutter speed, aperture, and ISO. The benefit of manual mode is being able to adjust your settings exactly where you want them. However, it takes a lot of skill and experience to tap the full potential of fully manual controls.
Scene modes. Most cameras come with scene modes that will adjust settings to what the manufacturer thinks would be best for particular subjects. Common scene modes are portrait, landscape, and nighttime. The camera will adjust its settings to account for these differences, but you won't be able to make further adjustments. In a pinch, they're great for beginners, but they won't beat learning how to adjust settings on your own.
Ready to upgrade your lenses? There are five common types to look out for.
The sheer amount of lenses on the market can make it difficult to know what you should be looking for. Some lenses are also better for certain subjects than others.
Kit (standard) lens. These lenses often come packaged with a DSLR and are great for beginning photographers. They are versatile, but will eventually be outgrown by developing photographers. Most of our experts suggested buying a camera body and investing in a better lens, like a prime, at the beginning. However, if you do choose a standard lens, it will still allow you to practice the basics of photography.
Prime lens. A prime lens has a single focal length. A fixed focal length means you'll lose the ability to zoom. While this may seem like a disadvantage, the tradeoff is often a cheaper price and extremely clear images. They are often faster and lighter, which makes them great for shooting moving objects that are close by and while being on the move yourself. But the greatest advantage is that the lack of zoom will force you to practice framing shots, which can bring out your creativity.
Wide angle lens. In basic terms, they capture more of a scene with a wide viewing angle. The wide angle is great for capturing landscapes such as a sunset or the night sky against some trees. With more advanced skills, you can also use them with smaller subjects to add emphasis to the foreground.
Telephoto or Superzoom. As the name suggests, these lenses allow you to zoom in on a subject. A superzoom will offer greater zoom ranges that will allow you to focus in on subjects from far away, like wildlife.
Macro. These lenses are great for close-up photography. Common subjects include flowers, insects, and morning dew. These lenses give photos an incredible amount of detail.
Our top pick and others to consider have lens options from each of these categories. Once you discover the subject you want to shoot, it's simply about finding the lens that will help your particular goals.
Shoot in RAW if you want to edit in post-production.
Most DSLRs will shoot in RAW and JPEG formats. A JPEG image is processed and compressed in the camera. Since a JPEG is processed by the camera, it will look better than RAW formats and you'll be able to upload directly to your social media account. In addition, JPEG's compressed size is much smaller, which will save you space on your memory card.
According to professional photographer Alexi Shields, "shooting in RAW will give you greater control over your photo when you go to edit it on your computer; If you shoot underexposed, you'll have the ability to adjust the exposure in post processing to lighten that image up. Shooting in JPEG compresses the image more and that information is lost which makes it difficult to make those adjustments." In other words, a RAW image will be able to become a higher quality image than a JPEG after editing with software such as Photoshop. That said, the uncompressed format of a RAW file means it will take up much more space on your memory card, so we suggest carrying an extra SD card with you.
The Best DSLR Camera: Summed Up