Showing results for
Did you mean:
Sorry, something went wrong. Please refresh your browser and try again.
Last updated on
April 25, 2018
The Best Dishwasher
It's less about cleaning ability, and more about convenience
The 30-Second Review
To find the best dishwasher, we spoke with appliance experts, scoured the web for reviews and ratings, and visited appliance stores where we loaded and unloaded multiple dishwashers. What we found: It's not about cleaning ability (most dishwasher will get your dishes clean); it's about the features that make doing the dishes less of a chore like a soil sensor and a timed-start function.
Best Overall
This dishwasher has plenty of rack flexibility — adjustable placement, foldable tines, and a third rack for even more loading capacity. It's also quiet with a filter for catching food particles instead of a louder disposal. Highly rated by Consumer Reports and J.D. Power, this machine is also energy efficient and relies on condensation drying rather than heated coils found on the GEs. ($900)
We have good news: Almost any mid-priced dishwasher will do a quality job of removing the remnants of last night's takeout. "If a dishwasher's installed correctly and you're using hot enough water and decent detergent, even a $350 dishwasher will get the dishes clean," according to Jim Freedman of Metropolitan Appliance, who's been working in the appliance industry for 35 years.
Best Overall
Bosch 500 Series Lots of rack flexibility, including a third rack, which increases load capacity by 30 percent.
The model that's right for you comes down to what's most important to you. Do you dislike hearing your dishwasher from the other room? Do you struggle to fit all of your dishes on two basic racks? Does it drive you nutty when the dishes take forever to dry? Or, is energy efficiency your top priority?
Our top pick, the Bosch 500 series, is energy efficient and quiet, with a coveted third rack for serving utensils and ramekins. It's a European-style machine that uses condensation drying, rather than heated coils. If a quick dry is your thing, one of the American-style GE models is a better bet. The Bosch is also highly rated from both Consumer Reports and J.D. Power. For around $900, you get a lot of bang for your buck.
The GE Monogram Fully Integrated Dishwasher is the Mercedes-Benz of dishwashers and costs over twice as much as our top pick. It's the quietest model we tested and has the most flexible inside racking. It also includes fancy features like internal LED lighting, an LCD display, and an accompanying phone app. And, this American-style dishwasher fits flush with your counter and houses a high-output fan for maximum drying capabilities.
For around $650, the GE 24" White Built-In Dishwasher is a bit louder and doesn't have a handy third rack. But, it can accommodate just as many place settings as our top pick for $350 less.
How We Found the Best Dishwasher
Most dishwashers will get your dishes clean, but the best dishwasher should do more than just clean. Any appliance we use daily should provide some comforts and conveniences too. We focused our efforts on mid-range machines between $600 and $1200 and talked to our experts to find out what really matters most.
We wanted a quiet dishwasher.
The number one thing people are looking for in a dishwasher, says Freedman, is a quiet machine. We only looked at models rated to operate at less than 50 decibels — about the noise level you can start to hear from another room. That also led us to only look at dishwashers with stainless steel tubs as the heavier steel walls absorb noise better than plastic tubs. There are other benefits too: Stainless steel tubs are more durable, can handle higher maximum water temperatures, and have better drying efficiency.
We wanted a dishwasher that was efficient.
We only looked at models that were Energy Star Certified, which are 12 percent more efficient than non-certified models. We also learned that a soil sensor can improve efficiency even further.
Timed start was a must. This was the only feature we required — it allows you to set the dishwasher to run overnight. No more worries about errant dishes or your family's shower schedules, and you can take advantage of off-peak utility pricing if it's available in your area.
"A great feature on newer models is a dishwasher's ability to 'sense' the level of soil on the dishes, and adjust the water and power accordingly," says Katie M. Corrado of Kieffer's Appliances. "So, light loads with well-scraped dishes use less water than heavily soiled ones."
This feature not only saves you on water and electricity, but also optimizes every load for a more reliable clean. How? A soil sensor tests to see if the water (and hence, the dishes) are clean. It shines beams of light through the water in the tub to detect any remaining food particles. This way, it knows when to keep washing and when to stop, saving energy and water. It's available at all price ranges, so looking only at models with a soil sensor was a no-brainer.
We looked at brand reputation and online reviews.
We then focused our energy on the top-rated, popular models. Each dishwasher we looked at either had to have a rating of 72 or higher from Consumer Reports or at least a 4-star rating from a consumer website like Bestbuy.com or Abt.com. It was here we said goodbye to Miele, because the reviews didn't live up to the cost. Freedman agreed — this luxury brand isn't any better than a Bosch. Case in point: Miele's comparable model to the Bosch 500 series comes with 13 place settings (not 16), no third rack, and one less wash cycle option for the same price.
Pro tip: Freedman also recommends looking for models from companies that have their own trained servicepeople. Younger generations aren't flooding the repair industry, so nationwide it may become harder to find qualified appliance servicepeople for brands without their own trained techs, which could cost you time and money.
We also checked out models in an appliance store.
We rolled up to Metropolitan Appliance in Seattle armed with place settings, silverware, cups, spatulas, tall water bottles, and pans to test-drive several models. We wanted to see how it really felt to load and unload these dishwashers — would this dishwasher be helpful or hinder this daily chore? Did the racks feel cheap or stick instead of slide? Did the dishwasher hold an ample amount of dishes?
Our hands-on testing at Metropolitan Appliance in Seattle. Left: our top pick, the Bosch 500 series, is very similar to the Bosch 800 series (right) for around $300 cheaper.
We loaded and unloaded, adjusted racks, and took apart silverware baskets. We twisted out filters to make sure they were easy to change. We marveled over the new third-rack feature, and were tickled when we noticed chopstick holders.
It was here that we were surprised by the KitchenAid Flush Console Dishwasher. It had high reviews and all the features we were looking for at a reasonable price, but its construction was so-so and it felt cheap, lightweight, and flimsy compared to the Bosch and GE models.
Our Picks for the Best Dishwasher
Best Overall
Bosch 500 Series A quiet machine from a brand that Consumer Reports marked as among the most reliable.
The Bosch 500 series is a European-style dishwasher that will fit flush with your counter, and it has a lot of options in terms of aesthetics. "The great thing about Bosch is that you can buy just what you want from an appearance standpoint. Pick the way you want it to look, then the feature package, and you've got it made," says Freedman. So, you can decide what you want looks-wise, and then pick your series. All of the Bosch lines offer similar options, so if you prefer a pocket handle, you can get it regardless of series. (We'd recommend the pocket handle over the plastic bar handle, as we saw numerous reports of the latter option breaking and it increases the price by about $50.)
The Bosch 500 series is the Prius of dishwashers, coming in at 44 decibels — quieter than hearing gentle rainfall outside your home. It has a filter instead of a disposal, which makes it much quieter. This means you'll have to clean it out about once a month. But, the process is simple. Twist the top and remove the mesh screen, rinse it off, and put it back. It took us less than two minutes when we tried it ourselves. If you don't do this chore, though, your dishwasher may develop an odor.
The Bosch 500 series comes with a filter rather than a disposal, which makes it quieter, but will need to be cleaned out monthly.
In terms of functionality, this dishwasher is flexible. The silverware basket detaches into two parts, so you can remove one or both. The second level has two rows of foldable tines, and the glasses fit nicely at an angle, so water is less likely to pool on the tops. It also adjusts vertically by 2 inches to make more space for large vessels like stock pots on the bottom rack. (We found it's best to adjust the racks when they're empty. When we tried it loaded with dishes, the glasses all clanked as the rack dropped to the lowest setting.)
The Bosch 500 series features a roomy upper rack where the glasses can fit at an angle resulting in less water pooling on top.
The crown of this dishwasher is the third rack — a 3-inch, shallow shelf where you can nestle your flatware, serving spoons, and lids. The slots on top hold silverware on its side so spoons can spoon, but not so closely that it blocks the jets from cleaning them. We really liked how snugly the tines gripped the silverware, and how much stuff fits on the third rack; it adds an estimated 30 percent more loading capacity, according to Bosch. The only hiccup we had was that a large spatula didn't clear the space, and we had to find another spot for it. But anything that lays about 2 inches tall or less when flat will fit. You can also remove it if you need the extra space.
The versatile third upper rack, one of our favorite features, can hold a surprising amount as long as it's no more than two inches tall.
This bad boy also fits up to 16 place settings (industry standard is 12 to 14). But, don't worry if you're not a heavy dish user. You don't have to wait until it's full to run — this energy-efficient model uses less water running at half-load than washing by hand would.
Bosch's 500 series dishwasher also has a great reputation for quality and service. Consumer Reports marked Bosch as among the most reliable brands of dishwashers. When it surveyed more than 42,000 people about repairs for dishwashers purchased between 2012 and 2016, those who bought Bosch models had the fewest serious issues or needs for repair. This specific series earned an 80 from Consumer Reports with excellent marks for washing, drying, and energy use, and good marks for noise and ease of use.
J.D. Power also awarded Bosch the top spot in its Dishwasher Satisfaction Study, giving the brand the "among the best" distinction in overall satisfaction, ease of use, performance and reliability, style and appearance, and features. Bosch's warranty and price were marked "better than most."
Bosch offers two other numbered series of dishwashers: the budget-oriented 300 series and the luxury 800 series. You don't get as many features with the 300 series — only four wash cycles compared to five for the 500 series, and no half-load option. It's also a bit louder at 46 decibels. For only about $100 more, the 500 series is definitely the better deal.
There's not much difference between the 500 series and the 800 series, either. They both have the same cleaning system and operate at a quiet 44 decibels. The differences: The 800 series has an added row of adjustable tines on the bottom rack, an added Eco Cycle, touch controls instead of buttons, and an accessory kit, which includes a bottle/vase holder. This wasn't enough of a difference for us to justify an additional $300 or more.
Best Budget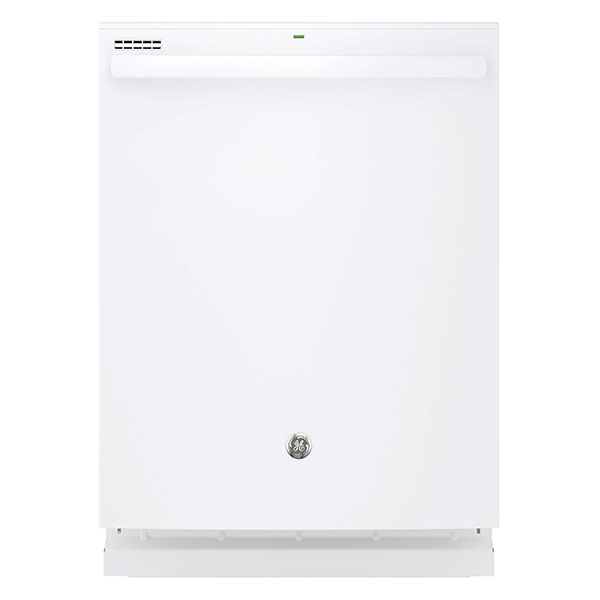 This GE is affordable (about $300 less than the Bosch), but comes with just as much space, with room for 16 place settings, and extras such as two bottle wash jets on the second rack and timed start. It's an American-style dishwasher, so you get an extra inch of length in the rack size and it definitely felt big enough for a family. It also comes with a child lock, whereas the Bosch does not.
In the budget category, we had to trade in a fully stainless steel tub for hybrid stainless (the inside of the door is metal but the rest of the tub is plastic). Drying takes longer than it would with a fully stainless steel interior, but because this is an American-style dishwasher, it includes a heated coil to help speed things up.
The GE 24" White Built-In Dishwasher is an American-style dishwasher that features a heated coil to help speed up the drying process.
The racks adjust, but you definitely feel the difference from the Bosch. The adjustments feel clumsier and more manual. The second rack can be lowered to fit up to 10.5-inch cups. But, to do so you have to remove the caps at the end of the rails, remove the rack fully, place it back on the rails between a different set of wheels, and then put the caps back on. We would probably pick one setting and stick mostly to it, and we worried we'd lose one of the caps. The top rack does have a nifty chopsticks holder and two stemware-holding racks that flip up. We appreciated a silverware basket that separates into three parts to free up space if you only need to wash a few spoons, but need to accommodate a large ice cream bowl.
The adjustable racks on the GE 24" White Built-In Dishwasher were much more manual than the Bosch and required full removal of the rack and attached caps.
The model also offers a surprising number of options for the price. To save time, energy, and water, you can use the lower or upper wash zones to run a half-load in either area. All options, including steam, bottle jets, heated dry, and delay hours can be used with either wash zone. That wash delay is one to 12 hours — more flexible than most budget models, which often don't include this feature or have a much smaller time frame, such as a four-hour delay. A three-digit display countdown will tell you how much time the cycle has left, which you won't get with the Bosch.
A surprising amount of features for a budget model, including up to 12-hour delayed start — most budget models boasted only four.
The GE has a solid-food disposal with removable filter, unlike the Bosch and most other European models. This food grinder has a stainless steel blade that spins at 3,600 RPM to break up food particles, so you don't have to clean out the filter by hand. The downside is that it creates a little bit more noise: At 48 dB, this GE is a bit louder than the Bosch.
More than 100 reviewers gave this dishwasher an average of 4.2 out of 5 stars on Abt, Consumer Reports' highest-rated appliance store. (Yes, it rates the stores too!). Freedman comments, "It's a lot of cleaning power and quality for the money."
Best Luxury
As we mentioned earlier, you can get a decent dishwasher to clean your dishes without going nuts price-wise, but there are benefits to spending more. "As you go up the line, you're going to get even quieter models, better cleaning ratings, leak detection, and more adjustability and customization — more creature comforts, overall," says Freedman. That's true of the GE Monogram Fully Integrated Dishwasher.
You'll get the standard features: soil sensor, timed-start delay, top rack or lower rack wash only, and hard-food disposal. The Monogram really starts to shine when you dig into its high-end, fancy features. "A Kia will get you from point A to point B, but you'd never confuse it with a Mercedes," says Freedman.
The racking on the GE Monogram was impeccable — a smooth, luxury feel that left us saying 'ooh' and 'ahh.' The bottom rack has a three-piece silverware basket that you can load on the middle rack if so desired. Not only can you fold down two rows of tines on the bottom, you can angle them at different settings to adjust for the sizes of your dishes. That middle rack offers two rows of fold-down tines, four bottle wash jets, and two utility shelves that double as stemware holders. Because this rack adjusts, you can fit 10 ½" plates up there to leave room for pans on the bottom. A portion of its third rack can also be removed if you need more room up top.
A total of 140 water sprayers — the most in the industry, according to GE — will hit your dishes from three wash arms, two side jets, and a special silverware jet zone. Monogram's four-arm bottle wash reverses direction too, unlike the rest of the industry's three-pronged wash arms that just revolve one way. "Any time you can get more water coming from more directions, it's really a good thing. It's going to hit stuff that may be washed off one plate and stuck onto the back of another plate. The reviews bear this out, because their cleaning scores are really, really good," says Freedman.
It's the quietest of all of our top picks at 39 decibels. Other nice features include a last-cycle memory that remembers your last selection, an LCD screen identifying which of the seven cycles you're using, and a drying system with a multi-speed fan. It has internal LED lighting (similar to the new technology in refrigerators, which lets you see how shiny your dishes are), and status lights that glow different colors for Washing, Drying, or Clean mode. There's even an accompanying app for your phone where you can check the status of your dishwasher, and get an alert when the dishwasher is finished.
GE takes a design cue from the Euros: Unlike most other American-style dishwashers, it sits flat against the cabinetry. The warranty is limited to one-year coverage on the appliance for parts and labor — that's a little disappointing for such a high-end product. Ultimately with this dishwasher, you're paying for maximum versatility and a lot of bells and whistles.
The Best Dishwashers: Summed Up
Did You Know?
There are two types of dishwashers: American and European.
Which to choose? It comes down to your priorities. European models started hitting the US market about 20 years ago, providing quieter machines that sit flush with your cabinetry and pack a higher price tag. American-style dishwashers, on the other hand, offer an extra inch of depth in the first rack. Both styles are now starting to meet in the middle, but overall, American-style dishwashers tend to be roomier, louder, and less expensive, while European models are still a bit pricier, but offer a quieter wash and a sleeker look.
Where they still differ greatly is drying. American dishwashers have heating coils, which heat the moist, hot air and then blow it through a fan to dry the dishes. It's a method that results in drier dishes, but is less energy efficient.
European models use condensation drying. The moist air is released from the dishes when it comes in contact with the cooler stainless steel surface, which draws the water away from the dishes and down the drain. It's more energy efficient, but doesn't work so well on plastics and can take longer.
"For some people, drying isn't that important because they run their dishwashers at night and the dishes are dry in the morning. So, condensation is fine," says Freedman. "To other people who either want to run a quick 30-minute load, or want to run and unload before going to bed that night, the coil drying is more important because it will get the dishes dry considerably more quickly."
American

European

Pros

Generally fits more dishes.

Most use a hard-food disposal to grind up food instead of using a filter.

Usually uses a heated coil to dry, which dries the dishes effectively.

Sits flush in a 24-inch cabinet, essential if you're adding paneling.

Generally quieter to operate.

Cons

Protrudes slightly from a 24-inch cabinet.

Makes more noise than European models, because it uses a grinder disposal.

Generally fits fewer dishes.

Uses filter that needs periodic cleaning instead of hard-food disposal.

Usually uses condensation to dry the dishes, which some customers complain isn't effective

Top Brands

KitchenAid, GE, Whirlpool, Maytag, Kenmore, Frigidaire

Asko, Bosch, Miele
Scrape, but don't pre-rinse.
"If you pre-rinse, you may be wasting time and effort. Dishwashers are designed to remove food soils from dishwasher-safe dishes," says Lucinda Ottusch, dishwasher expert at Whirlpool Corporation's Institute of Home Science. So, scrape off the leftover fries, but it's ok to leave some ketchup residue. "Instead of wasting time on pre-rinsing, use that time to double-check you are using the right amount of quality detergent and make sure you are selecting the best cycle for the load." Select the auto cycle if you're not sure, and the soil sensor will do the work for you. As for quality detergent, Consumer Reports rated Cascade Complete ActionPacs and the cheaper Member's Mark Ultimate Clean Dishwasher Pacs from Sam's Club highly.
Make sure to budget for professional installation.
"Unless you are a trained licensed professional you should not be installing your own dishwasher," says Shirley Hood, an Appliance Specialist in the Appliance Department at Abt Electronics. An amateur dealing with water lines in an enclosed space is a recipe for disaster: You may think your dishwasher is working fine, only to find months later that your basement ceiling has water damage, your wood floors are warping near your dishwasher — or perhaps even worse, your downstairs neighbor is knocking on your door because water is leaking from their ceiling. "Keep your peace of mind and hire a trained professional," Hood said. It may add $150 to $250 to your budget, but will reduce the chance for mistakes.
The Bottom Line
Best Overall
Bosch 500 Series A highly rated European-style dishwasher that hit all the right marks — quiet and energy efficient with ample rack flexibility.
Any reputable dishwasher on the market will get your dishes clean. Your choice depends on your need to balance budget with flexibility and features. As a general rule — go American for the room, price, and heated drying; pick European for less noise, aesthetics, and energy efficiency.