Showing results for
Did you mean:
Sorry, something went wrong. Please refresh your browser and try again.
Last updated on
February 2, 2018
The Best Dry Shampoo
Refresh fast without residue
The 30-Second Review
The best dry shampoo gets straight to your roots and absorbs oil cleanly, without leaving behind chalky residue. We interviewed two scientists, one product developer, a chemist, and three hair stylists to find out what makes the best. For convenience, it's hands-down an aerosol; but powders have gentler ingredients. After testing the 37 most-loved dry shampoos on multiple hair colors and types, we found the ones that'll tempt you to skip a wash, but won't dry your hair out long-term.
Best Powder
The rare gem among powders, it doesn't leave behind residue and comes in a travel-friendly brush. That packaging allows for accurate root-targeting without any mess. ($15)
Runner-Up
Bare Republic® Eco-Active Hair care UV Protecting Dry Shampoo
A powder with the same advantages of the Cake brush, just in a less-convenient package. Since it goes on less evenly, it requires a little more rubbing to make it disappear. ($13)
February 2, 2018 - We've updated this page to check out some new products and bring in a team of testers to evaluate all our finalists. Our previous top pick, Klorane Dry Shampoo with Oat Milk, got pushed out of the top spot by Living Proof Perfect Hair Day's impeccable results. But since dry shampoo comes down to application and scent preferences, we included several options for both aerosol and powder products that we're confident will give your hair a refreshing touch up between washes.
The Best Dry Shampoo
Aerosol dry shampoos provide far and away the most convenient and clean application, and there are plenty of great options to choose from. We're convinced the best dry shampoo for every head of hair — curly or straight, light or dark, oily or dry — is Living Proof's Perfect Hair Day ($20) dry shampoo. It achieves the ultimate trifecta: It yields softness and renewed volume without leaving behind any gross residue, is easily tousled out with no hairbrush needed, and has conditioning ingredients to offset the inherent over-drying of aerosol products. We found seven runners-up that check most of those boxes and made testers happy, but none of them quite beat out Living Proof's results.
Powders tend to have a bad rap for leaving your scalp and roots with white residue that can make it feel dirtier than before (one of our testers actually had to take a shower after using Verb). But two powders stood out for making hair look and feel refreshed, clean, touchable, and soft. Cake The Rush Brush Dry Shampoo Powder Brush ($15) is our top pick for its novel, convenient packaging and multiple color options. Not only does the brush make it simple to get the right amount of powder on your roots every time, the "medium" tone powder will blend perfectly into both blonde and black hair (you can also get "light" and "dark" powders). Testers loved that the compact brush is the perfect size to tote with you in a purse or carry-on. Bare Republic Eco-Active Hair care UV Protecting Dry Shampoo ($13) comes in a powder pump which holds much more powder, you'll just be sacrificing the convenience and precision of a brush — Bare Republic's pump has a tendency to leave spots of powder that need extra rubbing in. But, while you'll have to go online (to sites like Amazon and Ulta) to find Cake's brush, you can pick Bare Republic's powder up in person at Target.
How We Found the Best Dry Shampoo
We wanted the most highly regarded products on the market.
In our sweep of beauty stores (Ulta and Sephora) and popular online retailers (Amazon, Target, and Walmart), we found nearly 200 dry shampoos on the market. Since many dry shampoos have a similar line-up of ingredients, we couldn't split the difference on ingredients alone. But we knew there were plenty of differences in effectiveness: Some dry shampoos (even from well-known companies) have long rap sheets of user complaints. In user reviews, you'll find horror stories that run from chunky, dandruff-esque residue to chemical smells that linger. The most reliable way to find the best line-up of dry shampoos was to listen to those who use them.
We directed our research to websites like Allure, Elle, New York Magazine, Women's Health Magazine, and Birchbox to find the dry shampoos that beauty experts and readers gush about most often. Our one caveat: We only considered products actually labeled as "dry shampoo," leaving out "volume powders" or "texturizing sprays" — they may do some of the same things, but they're formulated and marketed for a different purpose.
I can promise you any product is going to be safe, at least ones that come from big companies. There are some small rinky-dink companies out there that might not have the same due-diligence, but with big companies, you're going be safe.
Big players offer greater peace of mind.
Talking to experts convinced us that big brands are the safest bet — at least for now — because they have more time and resources to put products through rigorous testing before they hit the shelves, and there's more at stake if they create a shoddy product or put consumer health at risk. That doesn't mean every product from a big company is made with 100 percent safe ingredients (just read this New York Times piece). But we didn't want to take our chances on a small, unknown operation.
Out of all the products featured on "best of" lists, the average showed up on four different lists. To make sure we weren't including one-off products that may be preferred by a particular editor or brand, the dry shampoos included in our final list had to show up consistently across the board. We also wanted better than average, so we only included dry shampoos listed as "the best" on at least five reputable beauty websites.
The one exception to that rule was dry shampoos featured on lists specifically for natural hair. Natural hair has specific needs — a dry shampoo shouldn't require combing to get rid of residue and shouldn't cause hair to dry out beyond the roots. But there aren't as many "best of" lists for natural hair out there. The average appearance for natural hair dry shampoos was two lists. To account for the lack of lists (and lack of products), we brought in any dry shampoos specifically formulated for natural hair that were vetted by at least three lists instead.
That left us with 17 dry shampoos: Four for natural hair specifically, and 13 that were on broad "best of" lists. But we noticed one particular type of product was almost completely absent: Powders.
And made sure to include products with gentle ingredients.
Dry shampoos come in two major forms: powders and aerosol spray cans. They each have their pros and cons, and one major boon for aerosols is convenience. Aerosol sprays hit your roots directly with the press of a button, while powders tend to be messier and clumsier to apply. That difference in convenience is likely why powders don't show up on "best of" lists very often, but there are plenty of reasons why some users may prefer them. Think of it like deciding between aerosol vs. lotion sunscreen. The spray can is cleaner to use and a breeze to apply on-the-go — but there are trade-offs. The characteristics of each break down like this:
| Aerosol | Powder |
| --- | --- |
| Easy to apply accurately and evenly | Takes more work to apply accurately and evenly |
| Little to no mess on hands, counter, or shirt after application | More product ends up on hands, counter, or shirt after application. |
| Tend to be stronger scents | Tend to be more subtle scents |
| Product runs out more quickly | Lasts much longer than aerosol |
| More product ends up in the air (more risk for inhalation) | Little product lost in the air |
| Harsher ingredients | Gentler ingredients |
What's a simple alcohol?Simple alcohols are often added to dry shampoo as a liquid solvent to suspend a powder base and carry it out of an aerosol can. It's been found to have drying effects on skin over time. A few examples you'll find in cosmetics: "alcohol denat.," "isopropyl alcohol," and "ethanol."
The most common reason a person might choose a powder over an aerosol is for gentler ingredients — which is especially important for hair that's prone to drying out. The base of every single dry shampoo — powder or aerosol — is the same: an absorbent powder to soak up the oil on your scalp. Some companies use kaolin clay, others use starchy powders, like cornstarch, talc or cocoa powder (yes, this one smelled like chocolate). But in an aerosol can, the absorbent powder base is combined with a solvent (usually a simple alcohol) and a propellant (usually propane or butane) to get it from the can to your scalp. That's where the harsh ingredients come in.
What do we mean by harsh ingredients?
Propane, butane, and alcohol are all scary-sounding, so we brought it up with our experts: two research scientists, a product development CEO, and a chemist who formulates dry shampoos. While our experts were generally unconcerned about propane and butane, saying they evaporate within just 30 seconds of leaving the can, some experts were a little more hesitant about simple alcohols because of their potential long-term side effects. Robert Fichtner, President and CEO of Focal Point Research, told us, "it can be drying to the hair and scalp if used in excessive concentrations or from overuse by the consumer."
Unfortunately, labeling rules mean it's impossible to know the concentration of any ingredient in a dry shampoo. So the keyword in Fichtner's take becomes "overuse." All the experts we talked to, including Fichtner, only talked of simple alcohols as a hypothetical risk, not a definite no-go. If you use dry shampoo as intended (that is, on occasion and not daily), you're probably in the clear.
We didn't penalize any of the dry shampoos on our original list for including simple alcohols (which would have been pretty much every aerosol), but we wanted our final list to include options that don't carry the risk of over-drying. Since powders tend to get overlooked on "best of" lists, we had to come up with a new approach for finding gentle alternatives and go-to products for powder fans. So we went back to our original list of all 200 dry shampoos with the following idea in mind: gentler ingredients = no simple alcohols = mostly powders. Our hypothesis was correct: eliminating every product with a simple alcohol gave us 21 powders and, surprisingly, two aerosols — both the light and dark Carol's Daughter Monoi Conditioning Dry Shampoos. Oribe Gold Lust Dry Shampoo nearly made it, but it's unclear what ingredients make up the "Fragrance-Retention Technology" that's listed as an ingredient. We were cautious and didn't include it as an alcohol-free alternative.
In all, we ended up with a mix of 36 highly recommended and gentle dry shampoos ranging from $5 to $35 — all widely available in stores or online.
Then, we sprayed, poofed, and sprinkled our products on real hair.
We sent each of the 36 dry shampoos home with two testers. We asked them to use the products as directed, then got their feedback on the ease of applying and distributing each product and the feel and look of their hair after using it (and if that changed throughout the day).
Above all, a dry shampoo needs to effectively make your hair feel and look refreshed. Lots of the dry shampoos came back with glowing reviews, like one tester's take on Evo Water Killer: "I sprayed this on oily, stringy bangs in the morning and by the time I got to work they looked AMAZING! Like I had just been to the salon." Plenty of products checked all the boxes for a positive experience:
Soft hair
Touchable hair
Cleaner hair than before
More volume than before
Cleaner scalp than before
No residue left behind at all
But the other shoe dropped on products that left users with lifeless locks, stubborn residue that wouldn't brush out, or itchy scalps. Still others came back with mixed reviews. For example, Sachajuan's Dry Shampoo Powder aerosol spray left a tester's hair with more volume, but untouchable and feeling dirtier than before applying it. You wouldn't use a toothpaste that tastes good but might cause an extra cavity every now and then, right? Why make an unnecessary sacrifice? We eliminated all products that had any negative impacts.
Did your fave get cut? Here are the results that sealed the deal.
Acure Organics Dry Shampoo: Left behind white residue that didn't brush out.
Aveda 'shampure' Dry Shampoo: Hair untouchable and gross.
Beautiful Life The All Nighter Styling Powder: Hair untouchable, gross, and dirtier than before. Scalp dirtier than before. Left chalky white residue that didn't brush out.
Briogeo Scalp Revival: Left behind white residue that didn't brush out.
Bumble & Bumble Pret-A-Powder: Hair gross and dirtier than before. Scalp dirtier than before.
Cake the All Powderful Dry Shampoo: Hair and scalp dirtier than before. Left behind powdery white residue that didn't brush out.
Cantu Apple Cider Vinegar Dry Co-Wash: Hair sticky and untouchable.
Captain Blankenship Mermaid Dry Shampoo: Hair and scalp dirtier than before and hair had less volume. Left dandruff-like residue that didn't brush out.
Carol's Daughter Monoi Conditioning Dry Shampoo (Lighter Tones): Hair untouchable.
Farmaesthetics Powdered: Left powdery white residue that didn't brush out.
La Tierra Sagrada Blonde: Hair less volume than before.
La Tierra Sagrada Brown: Hair sticky. Scalp dirtier than before and itchy.
LUSH NO Drought Dry Shampoo: Scalp itchy. Dusty white residue that didn't brush out.
Moroccanoil Dry Shampoo Dark Tones: Hair sticky and less voluminous after use. Itchy scalp.
Not Your Mother's: Hair untouchable and dirtier than before. Left behind chalky residue that didn't brush out.
Ouai Dry Shampoo: Hair less voluminous than before.
R + Co Badlands Dry Shampoo Paste: Hair dirtier than before, gross, untouchable, and stiff. Scalp dirtier than before. Left behind greasy residue that didn't brush out.
R + Co Skyline: Scalp itchy. Left behind dusty residue that didn't brush out.
Rahua Voluminous Dry Shampoo: Scalp dirtier than before.
Sachajuan Dry Powder Shampoo: Hair less voluminous than before and untouchable. Scalp dirtier than before.
SheaMoisture Fruit Fusion Weightless Dry Shampoo: Hair untouchable and sticky.
Verb Dry Shampoo: Hair sticky, gross, and dirtier than before. Scalp dirtier than before and itchy. Dandruff-like residue that didn't brush out.
Finally, we gave the edge to products that work for all hair types.
Any of our remaining 14 dry shampoos will leave straight, normal-to-oily hair revamped and world-ready. But in order for us to recommend it for all hair types (we're thinking about you, natural hair and luscious curls), it needed to go the extra mile and meet these additional criteria:
Easy to distribute evenly and target roots accurately
Accurate distribution was a challenge for powder dry shampoos, especially. Aerosol cans were all convenient and clean to use — that's what makes them so popular. Some companies with powders try to emulate that convenience with newfangled containers that are sort of spray-like. A few testers loved those novel squeeze-bottles and lotion-like pumps, but others rolled their eyes at the almost comical "poofs" of powder that just barely reached their scalps. After sifting through testers' surveys, it became clear that aerosols just can't be beat in the convenience category; but a few powders stood above the rest with bottle designs that came somewhat close.
Residue rubs out easily without requiring a brush
The residue issue cropped up more in powder testing, too. Most powders left testers with at least a light, chalky dusting after rubbing, while several required a good working-through with a brush. Testers, light- and dark-haired alike, ended up preferring the two powders with just enough brown or tan tint that they couldn't make out whatever camouflage powder might be left behind. There were eight aerosols, on the other hand, that left no trace after just some minimal rubbing — and one that just required a glamorous tousle (yes, it's our top pick).
Contain conditioning ingredients (for aerosols only)
The final requirement, conditioning ingredients, was only an issue with aerosol products because they almost always include a simple alcohol that can dry out hair and skin over time. A quenching ingredient — water, for example — can work to combat the drying effect on a hydration level, so it's great to see that on an ingredient list. But some products include ingredients that go beyond hydrating, kicking in some extra conditioning benefits. According to Jeffrey Lewis, a formulations chemist who develops dry shampoos and other personal care products, the presence of a water-based ingredient or an oil in a dry shampoo actually "gives a little shine and keeps your hair from drying out completely." Examples of those "water-based vitamins or materials" that showed up in our contenders included glycerin, cetrimonium chloride, and hydrolyzed wheat protein.
We were surprised to find out that every aerosol product we tested included a conditioning agent in its formula. Because of those additions, we're comfortable knowing our top pick and runners-up all have at least one ingredient to counteract simple alcohols' drying action. But if you already have dry or damaged hair and want to go with a product that doesn't have a simple alcohol to begin with, check out our top powders.
Our Picks for The Best Dry Shampoo
Living Proof
This spray made testers' hair feel truly cleaner, and we love that it doesn't come with a risk of over-drying your hair and scalp.
There are a lot of great aerosol dry shampoos out there. A whopping nine out of the 13 aerosol contenders we tested got perfect marks for hair feel from our testers, giving them locks that felt cleaner and looked freshly washed, no suds necessary. When the race is that close, we get to be picky. Enter: Living Proof's PhD Dry Shampoo. Not only does its formula include water (one of only two aerosol products we tested that did), which helps offset the drying effects of the denatured alcohol in its formula; it also includes an extra conditioning ingredient (cetrimonium chloride). What really put it over the top was that testers found it took minimal effort to get rid of any residue it left behind.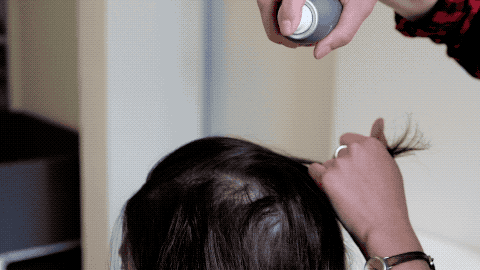 Living proof goes on like a translucent spray paint: In an even, clean, and uniformly wide strip. And it doesn't lose steam gradually when you stop putting pressure on its nozzle: It's 100 percent spray or 0 percent spray with this one, with no risk of applying too little in one area and not enough in another. Like all aerosol sprays, it does a fine job getting product to its destination — your roots — quickly and accurately.
Living Proof is one of the only aerosol products we tested that doesn't list brushing it through your hair as a requirement for even application, so curls that frizz at even the mention of the word "hairbrush" won't be subjected to disturbance. Simply massaging and shaking at roots with fingers does the job (unlike rubbing in Ouai's aerosol mousse, which was akin to working fingernails across a chalkboard.) Even before giving their hair a light tousle, testers with dark and light hair alike said there wasn't any residue visible whatsoever. Living Proof doesn't leave behind a trace of itself, apart from a high-end "fresh from the salon" scent that lasted the day but didn't overwhelm. Aerosols from other brands, like Amika, require a good brushing before they'll disappear, which, unless you have straight hair, probably means frizz.
We're not the only ones who love Living Proof. On Ulta alone, it's got an average of 4.6 out of five stars from 886 reviewers; on Amazon, it earns an average of 4.1 out of five stars from 370 reviews. With such a gleaming a reputation, it's no surprise that it crossed our finish line first.
The $20 salon price tag is about average among the dry shampoos we tested, and you can find Living Proof at salons, department stores like Nordstrom, or online retailers. The best dry shampoo for you, though, will come down to personal preference for smell, feel, and application experience. For more options, take a look at our star studded cast of runners-up.
Aerosol Runners-Up
The competition among aerosols was tough, and seven great products were just edged out by Living Proof's perfect results and unmatched invisibility. We think anyone will be happy with Living Proof, but if there's another price, availability, or smell that looks more up your alley, any of these are worth a try. For more insight into how strong each product's scent is, check out the scent intensity chart at the end of this review.
Here they are, ranked according to scores they received on hair feel, residue, and overall effectiveness (from highest to lowest):
| | Requires brushing | Smell | Availability | Price (Amazon) |
| --- | --- | --- | --- | --- |
| Drybar Detox Dry Shampoo | No | Sweet | Amazon, beauty retailers, department stores, Drybar locations | $32 for 3.5 oz. |
| Batiste Dry Shampoo* | No | Clean | Amazon, drugstores, beauty retailers | $6 for 6.7 oz. |
| Dove Refresh + Care Volume & Fullness Dry Shampoo | No | Clean | Amazon, drugstores | $4 for 5 oz. |
| Klorane Dry Shampoo With Oat Milk For All Hair Types | Yes | Floral | Amazon, beauty retailers, specialty stores, Walmart (online) | $20 for 3.2 oz. |
| Evo Water Killer Dry Shampoo* | No | Clean | Amazon, salons | $27 for 7.6 oz. |
| Moroccanoil Dry Shampoo Light Tones | Yes | Clean | Amazon, beauty retailers, salons | $23 for 5.4 oz. |
| Amika Perk Up Dry Shampoo | Yes | Floral | Amazon, salons | $24 for 5.3 oz. |
*Natural Hair Picks: We found Evo Water Killer and Batiste on at least three "best of" lists specifically for natural hair. While any of the dry shampoos on this list that don't require brushing should work just fine, we recommend either of those two picks for natural hair, specifically.
Note: We originally included Carol's Daughter Monoi Conditioning Dry Shampoo for dark tones among these ranks (it's one of the only ones that doesn't include a simple alcohol in its formula), but it's currently unavailable on both Amazon and the Carol's Daughter website. Keep an eye out for it though, especially if you have dark, curly hair.
Cake
A leave-no-trace powder that doesn't need brushing out, in the only powder packaging that makes using it easy.
If finding the best aerosol was the final episode of American Idol, finding the best powder was the first round of auditions. In a field of dusty residue and repackaged baby powder, The Rush Brush stands out for its blendability for every hair type and packaging that makes it quick and simple to achieve even application.
Powders are especially prone to leaving behind chunky, dandruff-like residue (ahem, Verb) that compelled testers to immediately jump in the shower — the exact opposite of what a dry shampoo should do. Cake stood out for offering natural-looking volume, a cleaner-feeling scalp, and hair that looked freshly washed. Most other powders yielded pretty disappointing (read: dusty and gross) results — like Beautiful Life The All Nighter Styling Powder, which left a tester's hair "untouchable, gross, dirtier than before, and covered in a chalky residue."
The Cake's brush is attached to a store of powder, which makes getting an even spread as simple as using a glue stick — if that glue stick let off little powder clouds every time it made contact. In fact, it was the only powder that competed with aerosols' sky-high ease-of-application scores during testing. Overall, testers rated brush-based products as more convenient than any other powder packaging. But the pot-and-brush products, like La Tierra Sagrada, left some testers with more powder on their countertops than in their hair. By simply merging the powder and brush into a single compact tool, The Rush Brush cut way back on the mess factor. And at just a little bit bigger than a tube of mascara, The Rush Brush's size makes it a natural fit for purses and carry-on travel, where aerosols over 3.4 ounces aren't allowed.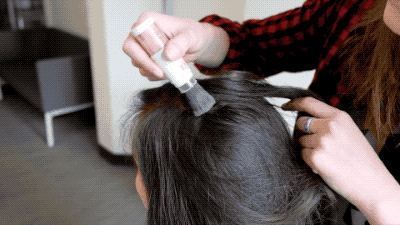 While other powders smelled strongly of essential oils or baby powder, Cake smells only of sweet candy and was faint enough that testers didn't get a whiff once it was on their scalps. They couldn't see it, either, with the light tan tint of the "medium" we tested blending seamlessly into the scalps of testers with black hair and blonde hair alike (that said, it also comes in "light" and "dark").
Even in its compact package, the powder will last you longer than some aerosols in the long run since you won't lose as much product in the air every time you apply. Plus, it's available online for five dollars less than either of our top aerosol picks, at $15. Check out our runner-up if you're willing to sacrifice the brush or want to buy your powder at Target or Walmart; it packs in more powder, but is just less convenient to use.
Bare Republic
A powder with just as many positive effects as our top pick, but in a less convenient package.
Bare Republic fell to Cake's The Rush Brush because of its pump bottle design, which requires you to aim and "shoot" the puffs of powder at your roots. But its results are equally impressive: clean hair and no residue. It also the only one of our top picks that's not salon- or online-only, meaning you'll be able to pick it up at Target.
The results you'll get from Bare Republic are identical to Cake's; the powders even have the same faintly sweet smell. Once the tan powder is worked in, hair looks like it was just washed. As one tester (with dark, thick hair) eloquently said, it "successfully simulates the not-so-shiny-it's-dirty, not-so-dull-it's-dead look of clean hair." Alongside Cake, it was the only other powder dry shampoo we tested that didn't leave a white, powdery trail in its wake.
Our one complaint about Bare Republic, and the reason it's our runner-up, is the packaging. Its shooting pump can leave you with an uneven application; some spots may be heavily powdered and others totally untouched. That means you'll have to work it through your hair a bit more with your fingers before the tan powder blends into your scalp. Users with natural hair, or curly hair that's vulnerable to frizzing, should take note of that extra work; you'll be better served by The Rush Brush. All that said, testers still rated Bare Republic's pump format as easier to use and more accurate than the more common salt-shaker designs of Beautiful Life, Acure, Captain Blankenship, and Farmaesthetics. Most importantly, once the rubbing is done, you're left with soft, clean hair and no residue.
Straight hair has a few more options.
How to Choose the Best Dry Shampoo for You
Sample until you find what's best.
As much as we wish there were piles of research on the effectiveness of dry shampoo ingredients, the experts we talked to made it clear that there's not much — if any — being done. In fact, Dr. Trefor Evans, the Director of Research at Textile Research Institute (TRI) Princeton, has been in the hair care business for almost 25 years and told us, "they're a bit of a niche product in a way, and to date haven't attracted much attention in the hair research world."
The other experts we spoke to echoed Dr. Evans, concluding that at this point in time you can only know what works best for your hair by trying it yourself. For aerosols, at least, if you're having trouble deciding, we suggest buying the mini sizes to see for yourself what works best with your hair and what scent you prefer. Travel sizes of both our top pick and runner-up are available online and in stores like Sephora and Ulta.
Make sure you like your pick's scent.
In online reviews, the smell of dry shampoos is one of the most talked-about topics. If the one you buy has a scent, you need to love it enough to walk around with it on your head all day. But we can't tell you what "the best" smell out there is — some people love rose, others like that citrusy Lemon Pledge vibe. In a blind smell test, we had five people describe the scents of all the dry shampoos we're asking you to consider. Their findings grouped the contenders into three distinct categories (floral, sweet, and clean), but the strength of the scent may be what counts. We summarized their verdicts on all 14 products that got good results below: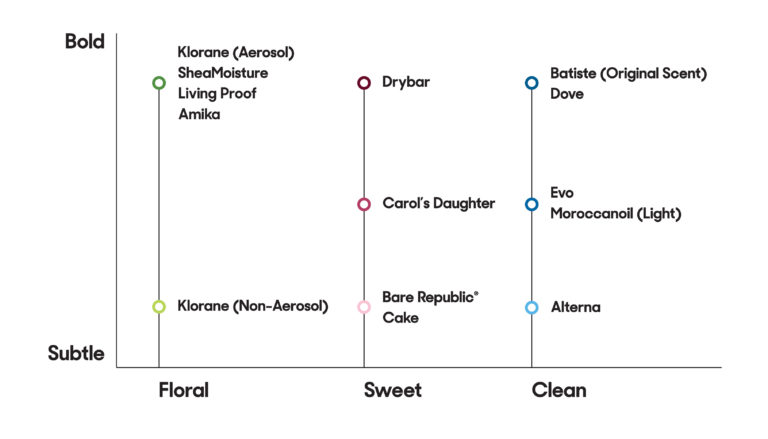 No matter what you use in between, it can't replace a good wash.
Many people we spoke with attribute the rising popularity of dry shampoo with the rise of people's skepticism when it comes to really shampooing. The "No Poo" method that's been gaining steam for the last few years is built on the idea that washing your hair with traditional shampoo and water strips your hair of its natural oils.
Experts we talked to advocated on behalf of traditional shampoo and washing your hair regularly, rather than letting dry shampoo become a direct substitute. Director of Research at TRI Princeton Dr. Trefor Evans even went so far as to say "The 'No Poo' movement is a bunch of poo, basically." He told us that while dry shampoo soaks up oil, it won't do much to break down the polymers that styling products leave behind.
And there might be other reasons to avoid using it more than is recommended. You may have read the horror story that was all over beauty websites in 2016, in which a girl shared a photo of the hair loss she attributes to using dry shampoo. We hear about those stories because they're rare, but it's a good idea to follow expert advice on how often you should be using dry shampoo as an alternative to really washing it.
Our Dry Shampoo Review: Summed Up