Showing results for
Did you mean:
Sorry, something went wrong. Please refresh your browser and try again.
Last updated on
June 8, 2018
The Best Exercise Bikes
Spin your heart out or go for a casual ride — we found the perfect bikes for every workout style.
| | | | | |
| --- | --- | --- | --- | --- |
| | | | | |
| | | | | |
| | | | | |
| | | | | |
| | | | | |
How We Found the Best Exercise Bikes

57 Bikes Considered
13 Models Tested In-House

5 Top Picks
February 2, 2018 - We've updated this page to improve the user experience and replace outdated picks. The new page focuses on the two most popular styles of exercise bike: spin and recumbent. As a result, we've completely changed our top picks.
December 21, 2017 - We're in the process of completely overhauling our review of the best exercise bikes from 2015. Our review of spin bikes is fully updated — we spoke with two additional fitness experts, incorporated up-to-date research about ergonomics and anaerobic exercise, and surfaced two new top picks. Stay tuned for our review of the best recumbent exercise bikes, which we'll be publishing in January.
The Best Exercise Bikes
There's a lot of diversity in stationary bike styles, and each design produces unique ride quality and exercise benefits. We took deep dives into the two most popular styles — recumbent and spin — and found that both have points of excellence. The one that's right for you depends on your body, preferences, and fitness goals.
Spin bikes are best for those...
who already have some spinning experience under their belt
have a generally high level of fitness
prefer to self-direct their workouts
The exercise bike used in high-intensity spin classes models its construction after speedy road bikes, and supports the physically demanding way cyclists employ them. Spin bikes pitch the rider forward at a 45-degree angle, with curved handles that are on roughly the same plane as the seat. Resistance levels are typically controlled by a knob or lever, but the real intensity comes from how quickly you pedal. As you increase speed, the flywheel begins to store your excess effort, generating a powerful forward momentum. But reaching and maintaining that point of inertia requires a ton of force.
Recumbent bikes, with their easy-entry design, are best for those…
with back injuries
mobility issues
or who want extensive programming
With a low, long profile and a bucket seat, recumbent bikes allow the rider to lean against the backrest with legs outstretched at a shallow decline from the hips. While recumbent riding foregoes the core engagement demanded by upright bikes, these bikes do provide greater back support. You don't have to carry your body weight on top of the pedals, which reduces joint load, while motorized resistance levels recreate the intensity of weight plus terrain. Control intensity and switch between programs using their replete consoles.
The user experience on each bike style is different. So was our process for finding the best of each. If you already know which kind your prefer, check out our reviews of the best spin bike and the best recumbent bike. For a comparative look, keep reading.
How We Found the Best Exercise Bikes
We looked at all the spin and recumbent bikes made by Bladez, Diamondback, Keiser, Nautilus, NordicTrack, Peloton, ProForm, Schwinn, Spinning, and Sunny Health — the most reputable companies in the exercise bike market. Our total list of 57 bikes included a vast range of engineering choices, technology uses, and price points. To discover what elements make some bikes better than others, we consulted physiotherapy and fitness experts and dug into sports medicine data. Then we compared these learnings to the machines' stats.
We looked for heavy resistance to ensure an even ride.
Resistance mechanisms recreate the intensity of outdoor cycling, caused by wind, incline, and changing terrain. There are two exercise bike resistance systems, and weighted flywheels are at the core of each. One relies on a heavy flywheel alone, the other simulates weight by pulling on the metal flywheel with magnets. According to the physical therapist and the fitness trainer we talked to, it's the low-tech, weight-only option that provides the better, tougher workout.
Weighted Flywheel / Direct Contact
The basic resistance type used in spin bikes is generated by a flywheel weighing anywhere up to 50 pounds. The resistance — and the ride feel — is only as great as the flywheel is heavy. The flywheel stores rotational energy, but the faster you go, the harder it is to keep pedaling at that speed. To increase resistance, tighten a felt pad brake against the flywheel, generating friction.
Magnetic ECB (Eddy Current Braking)
Magnetic braking requires electricity, and is the resistance type typically found in recumbent and upright bikes. (These styles also use electricity to power automatic resistance leveling and programmed workouts). Because ECB doesn't require friction to up intensity, mechanical parts remain unstressed and silent, and the ride can be smoother and more consistent. However, because the user isn't powering their own resistance, workouts are less intense.
For spin bikes, we only considered non-ECB models with heavy flywheels weighing 30 pounds or more. For recumbent bikes, we looked to ECB resistance, but we still wanted the substantial ride quality that a weighty flywheel provides. Since the magnetic power of ECB systems is the primary arbiter of tension, the flywheel can weigh far less, but we still drew the line at a respectable 20 pounds.
Not all manufacturers are candid about flywheel weight.
Many declare the "effective" flywheel weight (what the resistance feels like with the magnetic ECB system at work) or nothing at all. We rummaged through owner's manuals and clogged up customer service channels to nail down the correct numbers, but noted that when the flywheel weight was hard to find it was usually a disappointing number. Takeaway: If the stats are hard to find, the machine probably isn't great.
Clean, intuitive controls took the work out of our workouts.
Spin and recumbent bikes couldn't be more different in terms of programming, but our standards for each were surprisingly similar: Clear, helpful, usable information that improved our workout.
Spin bikes are simple machines — most of them don't even need to be plugged in. No electricity means adjustments are manual and programming is limited. But we didn't mind: Fiddling with programs and scrolling between metrics can be a distraction. According to Dr. Mitch Owens of Seattle's Union Physical Therapy, "Simple works well." He wrote off the need for extra programming or gadgets in order to get a good ride, suggesting that straightforward spin displays keep you on task. Basic performance feedback is enough — calories, time, distance, RPMs.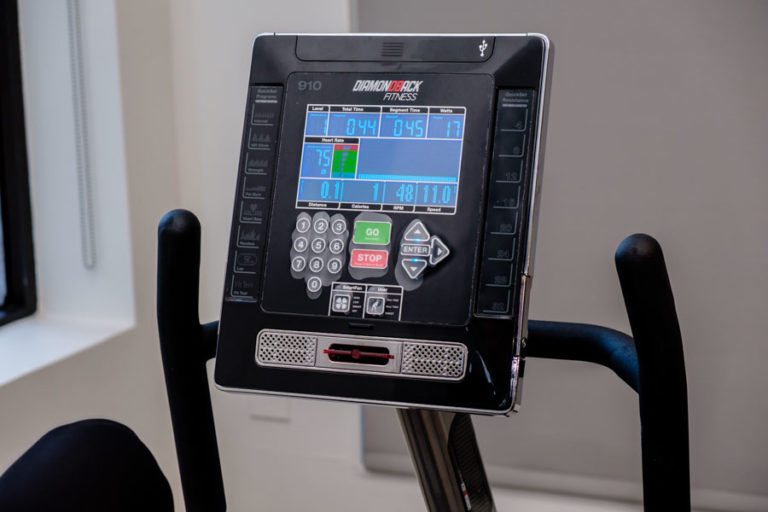 Recumbent cycling can become a little lacklustre — unlike spinning, there's no option to change your positioning or take off on impromptu sprints. So we wanted to see a satisfying range of programming, drawing the line at a minimum 15 resistance levels and 20 preloaded workouts.
Durability was essential for products this pricey.
We prioritize long warranties for all exercise equipment. You'd be hard-pressed to find a piece of residential-use cardio equipment that didn't have at least a handful of customer reviews detailing an unexpected breakdown or malfunction during the first year. The better the bike, the less likely it is you'll be sent the one with a manufacturing flaw, but it's not unprecedented to find a bad apple in a good bunch.
Spin bikes tend to have shorter warranties than other styles, topping out at three years for parts and one year for labor. Recumbents, which are typically pricier and more elaborate in their construction, have longer warranties — as many as five years for parts and two years for labor. We came up with midrange requirements for both: A minimum one-year parts warranty for spin bikes; a minimum two-year parts warranty for recumbent.
This set of criteria filtered our original list of 57 spin and recumbent bikes down to 13 exceptional models. We brought them in for hands-on testing.
The 13 Exercise Bikes We Tested
Spin bikes
Spinning Spinner Edge
Spinning Spinner Sprint
Bladez Fusion
Bladez Echelon
Schwinn IC2
Diamondback 510Ic
Diamondback 910Ic
Recumbent bikes
Diamondback 910Sr
Nautilus R616
NordicTrack VR21
NordicTrack VR25
Proform 740 ES
Schwinn 270
We tested both sets of bikes for ride feel, usability, and ergonomics.
We biked hundreds of miles on spin and recumbent models to find the ones that gave us the most comfortable, challenging, and enjoyable workouts. Testers scored bikes on their usability and performance from initial adjustments through cool down.
For spin bikes we prioritized:
Smooth, even ride feel and easy-to-adjust resistance
Wide range of adjustability
Well-designed consoles offering all the essential stats
Spin bikes leave the hard work up to you, but some aspects of a spin workout should still feel effortless. We loved bikes with silky smooth rides, free of grinding sounds and vibrating sensations. The consoles on our favorites presented straightforward, intuitively displayed metrics.
We anticipated that bikes with heavy flywheels would score highest, but through testing discovered a second arbiter of quality: Our favorite spin bikes employ belts rather than chains to connect the movement of the pedals to the rotation of the flywheel. Of the two drive system types, chain is the cheaper and more old-fashioned. And while chain can last practically forever with regular tightening and lubrication, a belt provides a much smoother, quieter ride. The only downside is that you'll eventually need to replace the belt when it's stretched out, but we think the superior ride feel is worth it.
We also found that a minimalist display works well, but a more extensive display provides an in-depth experience that some users might need to stay motivated. Our top picks are two well-functioning, belt-drive spin bikes that represent the best of both worlds — one simple and one tech-equipped.
For recumbent bikes, our priorities were similar:
Smooth, even ride feel with wide selection of resistance intensities
Extensive, user-friendly programming
Ergonomic seat, convenient adjustability, and smart amenity placement
In testing, we discovered that a heavy flywheel, while palpably important, did not create good ride feel alone. Instead, we preferred bikes with a heavy flywheel and a heavy overall weight. Any bike is only as heavy as its components are substantial, and we deduced that higher-quality, all-metal components in our favorite recumbents were contributing to the pleasant ride.
In addition to giving smooth, satisfyingly intense rides, our favorite recumbents also feature sleek touchscreens. Detailed and responsive, this console option is a far cry from the clunky, outdated buttons and pixelated LCDs of lesser models.
Exercise equipment manufacturers sometimes excel in producing one style, but miss the mark on another. One example: The well-known bike brand Diamondback makes a superb (and expensive) spin bike, but a sub par (and still expensive) recumbent bike. The recumbent model we tried, Diamondback 910 Sr, was one of the most comfortable bikes we tested, but we were disappointed with its outdated console and vexing adjustments.
Our weighted testing priorities surfaced the best models in both categories.
For spin bikes, our two highest-scoring picks were neatly divided by price and technology. Our favorite recumbent bikes had a little more range: Our overall favorite offers top-of-the-line comfort and programming at an average price, but we also liked two other bikes that represented the upper and lower ends of the recumbent bike price range.
For a complete break-down of our testing process, and to see where different bikes fell off our list of favorites, check out our reviews of the best spin bike and the best recumbent bike.
Our Top Picks
Bladez
Simple and well-crafted, this competitively-priced spin bike gave us our best ride.
For a pure spin experience — just you and the machine — we love the Bladez Echelon. Quiet, consistent rotation and sensitive knob resistance helped us get in a quality ride every time. And thanks to its straightforward display, we rode without distraction.
Like most spin bikes, the Echelon uses a battery-operated display that can't control intensity and doesn't offer workout programs. That might sound like a downside, but we found the simple consoles less distracting than higher-tech versions, making it easier to focus on your workout. The Echelon's console may be bare bones but offers everything you actually need — performance stats like calories burned, time, distance, and RPMs.
While the display is hardly more than a stopwatch, the engineering of the bike itself is impressive. The flywheel rotates with a peppy, forward-urging motion that never feels bouncy, and in fact can reach some of the heartiest levels of resistance we experienced out of all the spin models. Despite the Echelon's overall light body weight, there's no shaking or sound as you pedal. We felt secure enough to freely amp up intensity and ride out of the saddle.
If there's anything more impressive than the Bladez Echelon's solid construction, it's the attractive pricing. At $399, this exceptional bike costs less than half of other bikes that can't compare in ride feel or adjustability — the Echelon's seat and handle had a wider customization range than any other bike we tested.
DiamondBack
Effortlessly smooth and fully equipped, this spin bike is substantial both in heft and technology.
After fiddling with all manner of knobs and screws on other spin bikes, we were relieved to encounter the sophisticated, console-equipped DiamondBack 510Ic. If you appreciate the full-service programming and screen quality of gym equipment, you will feel more at home on this spin bike than any other we tested. The 510Ic centralizes resistance adjustments, programming, and performance stats in one slim display — about the size of a credit card reader. (Diamondback's level up, the 910Ic, is nearly identical in structure and tech, with slight tweaks to flywheel weight and programming depth that we didn't find impactful enough to rationalize the $200 upcharge.)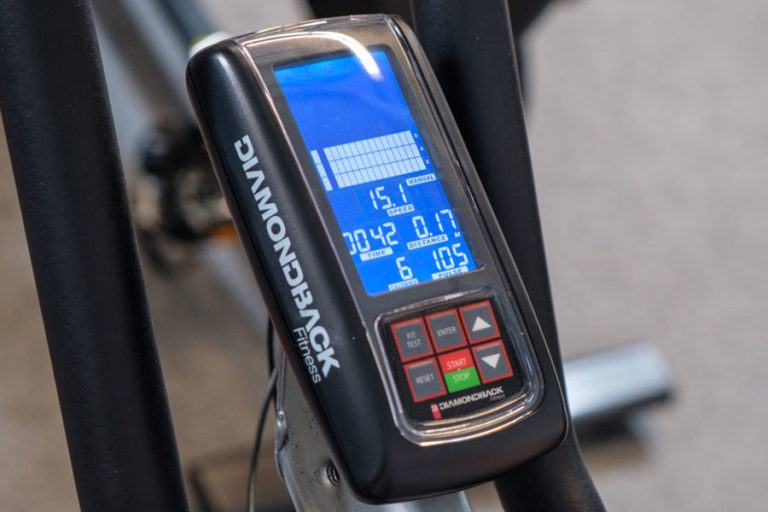 When it comes to adjustability, the DiamondBack doesn't have quite the same extension range as the Bladez, but the seat can ratchet up higher, making it a better fit for users with extra long legs. We appreciated the numbered and lettered adjustment levels on this bike — a Diamondback feature that was sorely missing on most other spin bikes. Rather than have to rediscover your perfect placement every time someone else goes for a ride, you can just remember that your seat sits at "G" and quickly slide it into place.
Though the Diamondback 510Ic has a heavier body than the Bladez Echelon, it has a lighter flywheel, and we found that the Diamondback shakes and squeaks slightly more when we hit high intensities or stood to pedal. However, that experience was pretty standard for spin bikes, and the majority of our ride experience on the 510Ic was luxuriously smooth and steady. And thanks to the variety of programming, we were confident we could find a workout for any fitness goal.
ProForm
All the stand-out qualities of the other recumbents we tested, united in one superior, reasonably-priced machine.
The ProForm 740 outperformed what we expected of a recumbent, improving on every standard feature and answering to every need. We loved the sleek, sculpted design, and appreciated how easy ProForm makes it to get comfortable. The seat cradles without confining, the technology is both extensive and immediately usable, the pedal rotation remains effortless even as our effort increased. Of all the recumbents we tested, the ProForm struck this delicate set of balances best.
The ProForm won lots of points for adjustability. Simply lift up on the seat adjustment lever and the seat will easily move when you push it. Other bikes immediately started inching (or flying) down the shaft as soon as we moved the lever, which was a sometimes startling experience. We also enjoyed the innovation in the bike's clever, tilting console. Twist the knob at the console base and it nods up and down, allowing you to tailor the positioning to your seated height. Since the majority of user interaction with the console takes place through the touchscreen, having it within easy reach and at a proper angle for clear sight is vital.
The console is a classic iFit creation (that's the fitness tech company created by ProForm and NordicTrack's parent entity, ICON Fitness). Its high-quality, 7-inch touchscreen and bold icons depicting program categories makes for an intuitive interface that anyone will feel confident navigating.
NordicTrack
A more generously sized ProForm 740, we'd recommend it for tall users or anyone who requires more room between them and the console.
NordicTrack and ProForm equipment are produced by the same manufacturer, so it's no surprise that a lot of our favorite ProForm features show up on the NordicTrack. The two bikes are essentially equivalent, but the NordicTrack VR25 is bigger and more expensive — ideal for anyone who wants a more luxurious bike or needs the extra leg room. As noted above, this bike combines sophisticated technology (replete programming, beautifully clear touchscreen, intelligently organized performance stats) with ergonomic design. We noted how the seat feels both comfortable and secure — you can pedal with high intensity and stay supported and centered, no bouncing or sliding into a slump.
Most recumbents place water bottle holder and heart rate sensors near the console: Typically, the bottle holder fixes onto the console stem, while the heart rate sensors are inlaid in the handlebars that curve on either side of the display. The ProForm 740 allows you bring these amenities into reach by manipulating the placement of the console; NordicTrack VR25 solves the issue another way. It stores both holder and heart rate handles at hip-level, allowing you to hydrate and check exertion without breaking cadence or even shifting out of your seat.
The lack of a pivoting console, however, is a point lost for NordicTrack. It isn't suitable for users of any height. In overall feel, the NordicTrack is roomier than the ProForm, but that breathing room comes from the fact the console sits 5 inches higher and 5 inches farther forward. If you need or want that extra space, you will enjoy NordicTrack's dimensions. But shorter users, may find themselves squinting to see the touchscreen and straining to hit buttons.
Nautilus
You'll sacrifice some usability and comfort, but save $400 compared to our top pick with this simple, functional bike.
The Nautilus R616 is a clean-cut machine. Smaller and more streamlined than our fully-loaded top picks, it nonetheless provides the adjustability, intensity, and programming to answer most people's wants. The ergonomics aren't great — due in large part to the stiff seat back and not-so-cushiony cushion — but we still logged enjoyable miles and encountered smooth, substantial resistance.
Rather than an of-the-minute, iFit-equipped console, Nautilus's offers rows of actual buttons and a traditional blue LCD screen, with bar charts mapping progress. We found the whole setup user-friendly (though admittedly old-school) and were impressed with its satisfying range of preloaded workouts and detailed performance stats.
Unlike ProForm and NordicTrack, the heart rate sensors don't report in raw numbers (145 BPM, for example) but instead as a percentage. A flashing bar chart shows what percentage of your max heart rate you're hitting (like 65%) and where that puts you on the spectrum from Warm-Up to Fat Burn to Aerobic to Anaerobic. This may seem more a guesstimate than a useful statistic, but the truth is that the heart rate provided by any exercise equipment is a guesstimate. Even on the nicest, most luxurious machines we've tested, we've noted that our heart rate jumps from low to high when we know we haven't yet exerted ourselves. That said, we still prefer a number if only to help track our fitness level over time. Nautilus wisely locates the heart sensors themselves on the seat-side handles — allowing you to measure heart rate from a comfortable position.
The seat adjustment has a steeper learning curve here than on the other models, but we got the hang of it after one or two clumsy attempts. The issue: When you open the lever, the seat rocks side to side and slides down the bar, making adjustments more taxing.
The Nautilus R616 has its quirks, but also its qualities. A heavy flywheel inside an easily portable body, plus an amazing five year parts warranty, prove the quality of this bargain-priced pick.
Tips for Getting More Out of Your Exercise Bike
Adjust your ride to get a symmetrical, injury-free workout.
We talked to physical therapist Dr. Mitch Owens about the ergonomics of cycling, and he had one top priority. "You just need total adjustability."
Spin bike handlebars and seats should move up and down, fore and aft. Recumbent styles don't boast the same four-way range, typically allowing for just leg length changes, but the best make that movement easy while also providing console adjustment. A good rule of thumb on any bike style: The knees should maintain some degree of bend at their fullest extension. For spinning, you want an ample 30 degree bend. On recumbents, straighten out to 10 - 15 degrees.
You can ride a bike with no handlebars.
If you're looking for a cycling workout that recruits upper body, too, there's also bike styles with moving handlebars. These include Hybrid or Cross Trainer Bikes (a mashup between an elliptical and an exercise bike) as well as Air or Fan Bikes, growing in popularity thanks to their use in CrossFit. These strenuous machines require you to generate your own resistance via air fan, a distant cousin to the weighted flywheel.
Fitness trainer and author of 25Days, Drew Logan has plenty of praise for air bikes, explaining that "moving both arms and legs results in a higher heart rate and an expanded lung capacity because you're asking your blood to pump into all the limbs." This type of user-driven workout packs a punch in a small amount of time. "If you can go hard on an air assault bike for ten minutes, you can ride for an hour on an upright bike. It's a good measurement of your fitness level."
The Origin of the Exercise Bike
It began as the 18th century "gymnasticon."
While exercise bikes may seem no more historical than spandex leotards and high ponytails, an early prototype of the modern indoor cycle (consisting of of two wheels, one spun by the feet and the other by the hands) first appeared in the late 1700s. Its inventor, Francis Lowndes, labeled the machine a gymnasticon. Boasting the same low-impact, joint-friendly features as today's cycles, the gymnasticon was a notable development in physical therapy. Exercise bikes, particularly recumbent, remain key rehabilitation tools to this day.
Our Exercise Bike Review: Summed Up