The Best Eye Makeup Remover
Take less time to take it off
Latest Update
April 13, 2017
The 30-Second Review
The best eye makeup remover should easily remove all your makeup and be free of ingredients that might irritate the sensitive skin around your eyes. We talked to makeup artists, a dermatologist, and a cosmetic chemist to get the skinny on ingredients. Then, we took our final contenders and pitted them against the toughest waterproof products we could find.
Best Overall
Took only a few swipes to remove waterproof makeup, and didn't pill or flake.

Best Oil-Free Eye Makeup Remover
Mary Kay Oil-Free Eye Makeup Remover
Didn't perform quite as well on heavy-duty makeup, but a good option for those with sensitive skin.
April 13, 2017 – We initially avoided eye makeup removers containing the preservative phenoxyethanol. However, current research on the topic remains inconclusive: it's banned in the EU, but the FDA says it's fine. In fact, US manufacturers often use phenoxyethanol as a replacement for parabens (an even more controversial preservative). This prompted us to take a second look at several popular brands that use phenoxyethanol in small quantities, including our Bobbi Brown and BareMinerals picks.
The Best Eye Makeup Remover
Sephora Collection Waterproof Eye Makeup Remover earned best overall with high marks for effectiveness in our hands-on testing. It required just a couple swipes to take off our testers' everyday makeup (think mascara and concealer) and it performed better against waterproof eyeliner and mascara than any other products we tried, removing everything without leaving flakes or clumps of makeup behind. Sephora does leave a slight layer of oil, but this dissipated quickly. And its additional skin conditioners — cornflower extract, castor oil, and provitamin B5, which also helps strengthen your lashes — left our eyes refreshed.
Our runner-up surprised us: Mary Kay Oil-Free Eye Makeup Remover. That's right, the same brand your Aunt Tillie used to force you to spend your babysitting money on. Mary Kay Oil-Free Eye Makeup Remover had a little more trouble with waterproof products than Sephora, but it performed almost identically on our testers' everyday makeup. Because it's oil-free, it might be a more attractive option if you've got skin that's sensitive or prone to breakouts. It does leave behind an oily feeling similar to Sephora's, but this goes away quickly.
If what you're after is convenience, then wipes are the way to go. Tarte Fresh Eyes Wipes are a good bet. These wipes cleaned better than the other options we tested, and are large enough that you don't have to use more than one. They felt nicely saturated with a fruity smell — but plan on washing off the oily residue left on your hands.
Two additional liquid picks are also worth a mention. Bobbi Brown Instant Long-Wear Makeup Remover took off waterproof makeup with very little rubbing, outperforming even Sephora by a swipe or two. That said, once the makeup was loosened, it had a tendency to flake and pill — we had to give our faces an extra two or three swipes to remove all makeup particles. But if you wear heavy makeup often, this added efficacy is likely to be worth a couple of extra passes with your cotton pad.
On the opposite end of the spectrum, BareMinerals Instant Waterproof Eye Makeup Remover left behind no flaking, pilling or smearing: our loosened makeup stuck only to our cotton pads. And despite being oil-based, the remover itself left very little residue on our skin (less even than oil-free Mary Kay). The drawback? We had to use more pressure when we wiped, with one tester noting that her skin was left visibly red. Still, if you sometimes have nights where you want to skip the face washing and just take your makeup off and go to bed, BareMinerals might be worth checking out.
How We Found the Best Eye Makeup Remover
We started with a list of 121 eye makeup removers — a roundup of popular and widely available products from beauty retailers like Ulta, Sephora, and Total Beauty, and lifestyle websites Harper's Bazaar and Cosmopolitan. We wanted to find the products that removed makeup effectively (who wants raccoon eyes in the morning?) without damaging the delicate skin around your eyes.
"The simpler you can get, the better!" says Jennifer Moyer, vice president of marketing and sales at Clarion Brands, LLC, the distributor of Albolene. So we analyzed ingredients and nixed anything questionable.
We cut eye makeup removers with synthetic fragrance.
The Food and Drug Administration (FDA) requires cosmetic companies to list their ingredients, but there's a catch: Fragrance doesn't need to be specified. (This is apparently to protect a manufacturer's scent secrets.) This means that companies can list the generic term "fragrance" without disclosing the combinations of chemicals that it's comprised of. Because we don't actually know what's in these fragrances, we can't check them for common allergens — or for harsh ingredients that we might not want on our eyes.
We avoided products with simple alcohols.
Alcohols derived from ethyl alcohol are called "simple alcohols" — street names include isopropyl and ethanol. "This kind of alcohol, a low molecular weight alcohol, dissolves surface oil, but dries out skin because it evaporates very quickly," says Rita Lee, licensed esthetician and founder of Just About Skin. "When skin is dried out by alcohol, its protective barrier is weakened, which opens up the skin to all sorts of issues, including the likelihood of more irritation."
Andrea Scott, a skincare expert with 16 years of experience and co-founder of skoah (a Vancouver-based chain of skincare shops specializing in "personal training for your face"), agrees, and even says your lashes can be affected. "Alcohol can dry the delicate eye area and dry out the lashes and cause them to become brittle," she explains.
So why are simple alcohols included in so many products? They're the ingredient responsible for that quick-dry feeling — which is nice for a moment, but can cause long-term damage.
"Consequences include dryness; erosion of the surface of skin (which is really bad for skin); and a strain on how skin replenishes, renews, and rejuvenates itself," writes Paula Begoun. "Alcohol just weakens everything about skin."
But she also points out that there's a difference between good alcohols and bad alcohols. Fatty acids, the good guys, can actually help moisturize. And according to Lee, a third type (aromatic alcohols) can be used as a preservative or as a component of fragrances or essential oils.
And, we cut for questionable preservatives.
Preserving cosmetics is not bad in itself. You don't want a petri dish of creepy crawlies on your cotton pad as you go to wipe your eyes. But a couple of common preservatives gave us pause.
The first is phenoxyethanol. Although the FDA does not currently prohibit or restrict it, both Japan and the European Union have classified this preservative as harmful for products around the mouth in concentrations over 1 percent. We couldn't verify the concentrations in our list of contenders, so while this concern is mostly for cosmetics used near your lips, we were wary about putting it on our faces. Especially when we sometimes take that same cotton pad we used to remove our mascara, fold it over, and scrub off our lipstick. None of our original top picks (Sephora, Mary Kay, and Tarte) contain phenoxyethanol; two runners-up, Bobbi Brown and BareMinerals, contain it only as a final ingredient. We didn't test products that contained this preservative higher on their ingredient lists since these seemed more likely to exceed the EU's 1 percent guideline.
April 13, 2017 – After reconsidering phenoxyethanol, we conducted a second round of testing with these nine popular brands, all of which contain phenoxyethanol low on their ingredient lists:

Almay Oil-Free Eye Makeup Remover, BareMinerals Instant Waterproof Eye Makeup Remover, Bobbi Brown Instant Long-Wear Makeup Remover, Clinique Take the Day Off Makeup Remover for Lids,Lashes & Lips, MAC Gently Off Eye & Lip Makeup Remover, Origins Well Off Eye Makeup Remover, Pacifica Kale Water Micellar Makeup Remover, Smashbox It's a Wrap Waterproof Makeup Remover, Too Faced Mascara Melt Off Cleansing Oil Mascara Remover
The second is parabens. The European Union has also banned certain types of parabens (others are highly restricted) after a study suggested that they might be linked to cancer. The FDA and the Cosmetic Ingredient Review (CIR) Expert Panel say there isn't enough evidence. But, consumers are wary and the industry seems to be moving away from parabens. We opted to err on the side of caution.
Then, we put our top contenders to the test against the toughest makeup we could find.
We rounded up a band of testers and purchased the hardest-to-remove eye makeup we could find on beauty websites. We applied the makeup to our forearms, added a setting spray, and made sure it was dry before diving in with our makeup removers. We wanted to suss out the products that removed the most thoroughly in the fewest wipes but still felt good on our skin.
A few of the makeup options we used to test our removers.
We tested each remover against this makeup designed to stay put.
The experts we talked to recommend soaking each eye for a couple of minutes before you start to wipe. Farmaesthetics Eyebright Eye Makeup Remover & Treatment Oil wanted us to soak our eyes for a full five minutes. We don't see most people doing this, so we started swiping in under a minute unless the directions said otherwise.
We loaded up our cotton pads with each remover (unless it was a wipe) and counted how many wipes it took to remove the makeup. With some brands, it took upward of 40 swipes before we had to start scrubbing. The best took less than 10. Avon's Moisture Effective Eye Makeup Remover Lotion didn't work on waterproof mascara at all and some, like Neutrogena Oil-Free Eye Makeup Remover, simply smeared the makeup. Others, like Garnier SkinActive Micellar Cleansing Water All-in-1 Cleanser & Makeup Remover, turned the mascara into little crumbs that made it hard for the cotton pad to catch.
We also evaluated each remover on how it felt, its smell, and the packaging. Overwhelmingly, our testers preferred the removers with little to no scent — the light, fruity scent of the Tarte Fresh Eyes Wipes being the obvious exception. The biggest offenders: Garnier SkinActive Micellar Makeup Removing Towelettes and Nyx Cosmetics Stripped Off Micellar Cleansing Water, which both had a scent that reminded us of cleaning chemicals (although we've also heard Micellar described as "moldy").
Most of the removers we evaluated were liquid, which our testers preferred over the cream or lotion options. While they appreciated the cooling feeling, the texture felt too thick for around the eye — Albolene Eye Makeup Remover, for instance, resembled the texture of Neosporin.
The packaging ranged too. Charlotte Tilbury Take It All Off Genius Eye Makeup Remover has a pump, like the kind filled with nail polish remover at the nail salon, that sprayed all over the counter every time we tried to use it. The Eye Scrub Sterile Eye Makeup Remover & Eyelid Cleansing Pads individually wrapped wipes, meanwhile, resembled what you'd get at a barbeque joint.
The pump top of the Charlotte Tilbury Take It All Off Genius Eye Makeup Remover tended to spray everywhere.
When we'd tried everything out, we took the most effective removers and tested how each felt on our eyes against our everyday makeup.
Our Picks for the Best Eye Makeup Remover
Best Overall
Sephora Collection Waterproof Eye Makeup Remover edged out the competition to earn our best overall, but we'll be honest: It was close. Sephora actually tied with Charlotte Tilbury Take It All Off Genius Eye Makeup Remover and Bobbi Brown Instant Long-Wear Makeup Remover in effectiveness against hard-to-remove makeup in our first round of testing. But we couldn't get past Charlotte Tilbury's packaging and design — its pump-top seemed to spray more of the product on the counter than on our cotton pad. And we weren't wild about the flakes and pills of makeup that Bobbi Brown left behind.
As such, the real competition was between the Sephora Collection Waterproof Eye Makeup Remover and Mary Kay Oil-Free Makeup Remover. Against light makeup — a few coats of mascara, some undereye concealer — both products performed similarly, removing pretty much all our makeup in a couple of wipes. But Sephora performed better against our heavy-duty application, setting sprays and all. In one swipe, Sephora took up primer and concealer. With swipe two, up came most of the eyeliner and waterproof mascara. Less than five swipes removed all of the makeup. Mary Kay, by comparison, fared the same against primer and concealer but had a harder time with the mascara — and the eyeliner smeared. It required a few more swipes than the Sephora to get our arm clean.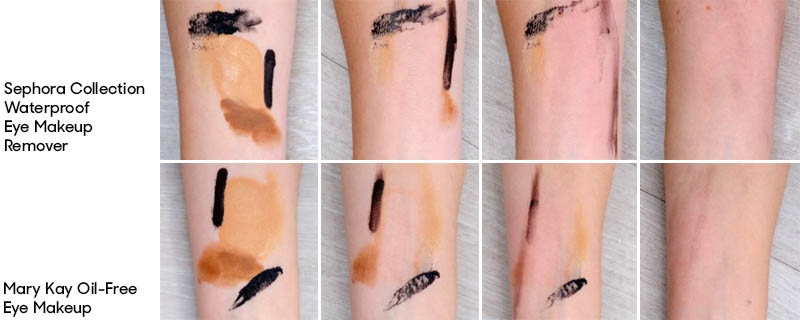 We tested our Sephora and Mary Kay finalists against the same set of makeup and recorded our results after one swipe, two swipes, and then enough passes to clean off the test areas. Even after a good scrub, Mary Kay couldn't quite remove all of the eyeliner.
Sephora did leave behind a slight oil residue, but all of our testers said it dissipates quickly and didn't feel heavy on their eyes. Two of our five testers did mention a slight sting in the corners of their eyes that lingered a bit, though both have sensitive skin.
Both the Sephora and Mary Kay eye makeup removers use the same non-oil-based cleaning agents that help dissolve makeup — poloxamer 184 and cyclohexasiloxane, which explains their similarities in our hands-on testing. But Sephora Collection Waterproof Eye Makeup Remover has a few extra standout ingredients — cornflower extract, which is known as a skin conditioner and an anti-inflammatory; castor oil, also a skin conditioner; and, provitamin B5, also known as panthenol. Scott recommends this ingredient because "the process of removing eye makeup can be hard on lashes. Panthenol strengthens lashes and helps prevent them from falling out."
For around $11, you get 4.2 ounces of Sephora Collection Waterproof Eye Makeup Remover in the form of a clear bottle with a two-toned blue liquid you're supposed to shake before using — which put us in mind of a fun '90s desk toy.
Best Oil-Free Eye Makeup Remover
So why not just go with Sephora? According to makeup artist Kimberley Bosso, an oil-free remover is a safer bet if you're prone to skin issues: "Anyone sensitive to oil or who has oily skin that's prone to breakouts should avoid oil-based," she explains. However, she notes that "oil-free, in my experience, doesn't remove as well."
That's why we were so surprised by Mary Kay. While Mary Kay Oil-Free Eye Makeup Remover struggled a little against waterproof products compared to Sephora, it outperformed oil-heavy contenders like Avon Moisture Effective Eye Makeup Remover Lotion, which didn't work well on mascara at all. And Albolene Eye Makeup Remover, turned the mascara into little pills that had us chasing them all over our arms to remove.
And, that slight sting that some of our testers noted with Sephora was absent with Mary Kay. Testers did comment on Mary Kay's slightly oily residue, which was basically identical to Sephora's, even though Mary Kay is marketed as being oil-free. But, waiting 30 seconds left our testers' skin feeling soft, with very little shininess or tackiness.
Even the packaging is similar between the two products (albeit Mary Kay is in its signature pink). We liked the portion control of the tiny opening and that when the bottle tipped over, it didn't all come spilling out. The price is negligible too; a 3.75-ounce bottle will run you around $15.
We should note that as a multi-level marketing company, Mary Kay doesn't have the greatest brand reputation. (Harper's gave Mary Kay quite a smackdown in 2012.) Ultimately, it was the liquid in the bottle that sealed its spot, but if you're not an MK fan, go with Sephora.
For the most convenient option, wipes are pretty much it. Tarte wipes proved to be about twice as effective as the other wipes we tried, but definitely not as powerful as our liquid picks. One tester reported that Tarte didn't work at all on the waterproof eyeliner, and while we were able to get all of our everyday makeup off, we had to do a lot more rubbing. The skincare experts we spoke to repeatedly stressed that rubbing should be avoided when possible, so we felt Tarte would be best as a backup option rather than part of our daily routines.
That said, Bosso still considers wipes useful: "You can cut the wipes in small sections, so it's not wasteful if you have a tiny makeup mistake to correct. They are great for travel and pro makeup kits too."
While some of the wipes we tested were small (Andrea EyeQ's Eye Makeup Remover Pads were as small as old-timey nail polish remover pads), Tarte's were big enough to tackle both eyes easily. The wipes didn't feel super wet, but they did leave an oily residue on our hands, which we had to wash off.
Tarte's wipes were large enough to handle all our eye makeup without feeling too wasteful.
The smell was admittedly fruity. With ingredients like maracuja (a fancy word for passion fruit), plus papaya extract, and pineapple extract, it's not hard to understand why. It was described by our testers as luxurious and fresh, but if no scent is what you're after, then these wipes aren't for you.
Each packet comes with 30 wipes for around $12 — so roughly 40 cents per use.
Others to Consider
Bobbi Brown Instant Long-Wear Makeup Remover is an oil-based remover that's pricier than Sephora but has a slight edge when it comes to removing heavy makeup. It cut easily through waterproof mascara and eyeliner, getting everything off in about seven or eight gentle swipes (versus Sephora and Charlotte Tilbury's nine or ten). Testers were delighted to note that even thick makeup "wiped right off." That said, you'll definitely need to wash your face. The loosened makeup tended to flake, so that we had to give two or three extra swipes with our cotton pads to catch all the stray bits of dried mascara escaping toward our cheekbones. This extra step is probably a worthwhile tradeoff if you regularly wear heavy makeup and want a remover that won't require you to scrub and tug. Like Sephora, Bobbi Brown left an oily residue, though this faded quickly. A 3.4 ounce bottle will run you about $28.
BareMinerals Instant Waterproof Eye Makeup Remover stood out for its lack of residue. It's another oil-based remover, but testers praised the product's feel on their skin, calling it "pleasantly non-oily." In fact, it outperformed even oil-free Mary Kay in this area: testers noted that BareMinerals "felt good," while Mary Kay just "wasn't too bad." And after swiping up our makeup, BareMinerals kept it up. "My makeup didn't flake or pill at all," one tester told us. That said, compared to both Sephora and Mary Kay, BareMinerals required us to press and wipe more heavily, with one tester noting that removing all traces of her makeup "took some scrubbing." But if you're not a fan of residue, BareMinerals is probably your best bet. The product comes in a tall, elegant bottle that mimics the look of frosted glass. You get 4 ounces for about $18.
The Best Eye Makeup Remover: Summed Up
Did You Know?
What's the best way to remove your eye makeup?
The goal is to remove all of your makeup without tugging your skin. According to Dr. Joel Schlessinger, dermatologist, cosmetic surgeon, and president of LovelySkin.com, you should put the remover on a cotton pad, then press it onto your eye and soak for three minutes. Realistically, we're not patient enough to wait that long. If you're with us, a good rule of thumb is to soak for long enough to loosen your makeup.
"[Soaking] will break up the makeup enough that you don't have to resort to forceful wiping or rubbing," explains Dr. Schlessinger. "Once the time is up, very gently wipe the rest of your makeup off in small, sweeping gestures. For hard-to-reach places like the tear duct and lower lash line, you can dip a cotton swab into the remover and carefully wipe it off."
Also, remember — removing your makeup is not the same as washing your face. Both steps should be part of your regimen. "Make sure you always cleanse your skin after removing makeup. Any makeup residue that's left behind could lead to irritation or even infection," says Dr. Schlessinger. "Washing your face immediately after removing makeup helps minimize the risk of sensitivity."
Oil-free vs. oil-based: It's a personal preference.
The decision between oil-free and oil-based eye makeup remover ultimately comes down to you (and your skin type).
"Over time, you will get to know your skin and what works well with it," says Jennifer Moyer of the Albolene brand. "Many women with dry skin prefer oil-based eye makeup removers — especially during the cold winter months — because makeup removers without moisturizing properties tend to dry out the skin more than usual. On the other hand, if women tend to have very oily skin, they may opt for something that is oil-free. Regardless of your eye makeup remover choice, the most important aspect to consider is how your skin reacts to different ingredients."
Makeup artists Bosso and Gloria Noto both noted that oil-based removers are generally more effective. "Ideally you want an oil-based remover when using waterproof makeup, but personally I think oil-based eye makeup remover is always a good idea," said Noto. "Use it sparingly, maybe on a Q-tip, and try not to soak it into the actual eye."
The Bottom Line
Best Overall
The best eye makeup remover should remove all of your makeup with minimal rubbing and avoid ingredients that aren't ideal around the eyes, like simple alcohols. Oil-based removers tend to be more effective, but if you have sensitive skin, then oil-free may be the better option for you.