The Best Fish Oil Supplement
Pure, potent, and sustainably harvested
Latest Update
October 2, 2017
The best fish oil supplements provide at least 1,000 mg EPA+DHA omega-3 fatty acids per serving, are sustainably sourced, and are certified by third-party labs to ensure potency, purity, and freshness. To determine our top picks, we talked to five MDs who specialize in human nutrition, consulted over a dozen scientific studies, and read hundreds of ingredients labels before finally trying out each of the top contenders for ourselves (to see if we could actually stomach them).
Total Omega-3 Fatty Acids per Serving:
Marine Stewardship Council Certified:
IFOS, ConsumerLab, Labdoor 77/100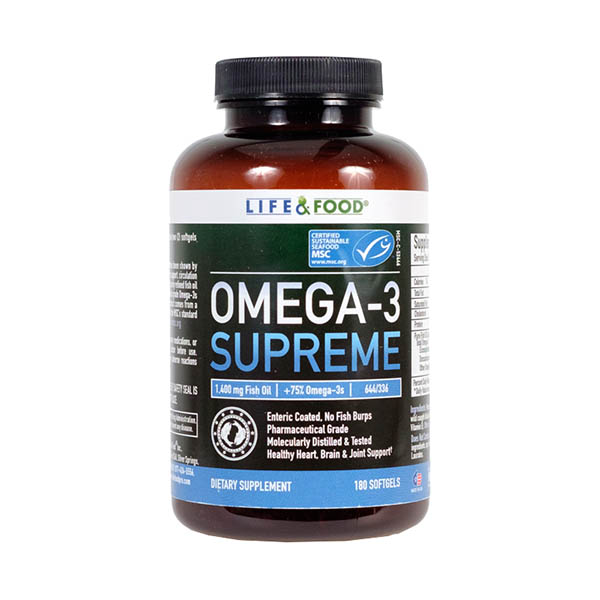 All of the nutrition experts we talked to agreed: Fish oil supplements are the best way to get your daily dose of omega-3s next to eating fresh, whole fish. Omega-3 fatty acids are considered "essential" because our bodies need them to survive, but can't produce them on their own — so it's important you get enough.
The Best Fish Oil Supplements
Our Top Pick
Our top pick is Nutrigold's Triple Strength Fish Oil Omega-3 Gold. It has more third-party certifications for label accuracy and purity than any of the other 184 supplements we looked at, including nods from the International Fish Oil Standards Program (IFOS), Consumer Lab, and an 77 out of 100 rating from Labdoor. It's also certified by the Marine Stewardship Council (MSC) for its sustainable harvesting practices and comes with the recommended daily 1000 mg combined EPA+DHA per pill. Considering it's nearly half the price of its nearest competitor, Wiley's Finest Wild Alaskan Fish Oil, at around 42 cents per pill, it's unquestionably the best option if you want to be 100% certain of what's in your fish oil supplement.
Best Budget Option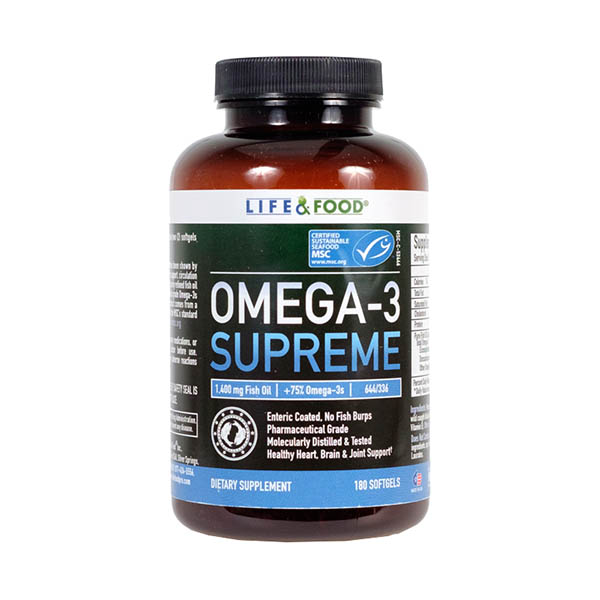 If you don't mind taking two pills instead of one in order to get your daily recommended dose of omega-3s, Life & Food Omega-3 Supreme only has about half the amount of EPA and DHA per pill as Nutrigold (490 mg), but costs less than half as much at about 18 cents per pill. That means it costs about six cents less per 1000 mg serving than Nutrigold, even though you end up taking twice as many pills. It's third-party certified by the National Sanitation Foundation, and has a 73 out of 100 score from Labdoor, as well as approval from the MSC — it just didn't score quite as highly in those tests as Nutrigold, and isn't certified by Consumer Lab or the IFOS. We also appreciated the fact that its extra-thick capsule coating completely eliminated any of the fishy smells that come along with most other fish oil supplements, including Nutrigold.
How We Found the Best Fish Oil Supplement
A Note on Supplement Serving Sizes Supplements aren't regulated by the FDA, so there's no standard "serving size." There are only recommended serving sizes, and those are set by each manufacturer independently. That's why we reference dosage amounts "per pill," rather than per serving — since a single serving could be one pill with one brand and two with another.
We started by compiling a list of 184 of the most common over-the-counter fish oil supplements, which are available from most major retailers, like Amazon, GNC, and Walgreens. Fish oil gummies were even in the running (turns out, they have a nutrient density similar to Swedish Fish). Then, we talked to multiple doctors and nutrition experts to determine what actually makes a great fish oil supplement. With that knowledge in-hand, we dove even deeper to find the most potent, pure, and sustainably produced over-the-counter fish oil supplements you can buy.
Third-party testing was a must.
Since nutritional supplements aren't regulated by the FDA, we relied on multiple independent, third-party labs to verify three main things:
Label accuracy. In its tests, Labdoor, a reputable third-party ingredients watchdog group, found that the actual omega-3 content in fish oil supplements varied (in both directions) from the amount written on the label by an average of 27.6 percent.
Purity. Fish oil, as you might guess, comes from fish — living creatures that, unfortunately, happen to excel at absorbing toxins from their environment and through their food. There are a lot of toxins out there, but the most notorious ones that can end up in fish include mercury, polychlorinated biphenyls (PCBs), and dioxins. Ingesting even a relatively small amount of any of these can wreak all kinds of havoc — from neurological disorders to cancer.
Freshness. Fish oil can go rancid when exposed for too long to heat, light, or oxygen. This not only makes it taste and smell bad, but also actually converts it into a harmful substance that will aggravate the very conditions fish oil supplements are supposed to help remedy.
We only considered supplements that got the stamp of approval from at least one of the following:
United States Pharmacopeia (USP): This organization sets standards for medicine, dietary supplements, and even certain food ingredients. Products with the label "USP Verified" have been tested and shown to meet these high standards.

National Sanitation Foundation (NSF): This lab tests not only supplements, but also bottled water and foods claiming to be GMO- or gluten-free, among many other types of products. It tests products and inspects manufacturing plants before awarding its certification.

Labdoor: Labdoor specifically tests dietary supplements, and rather than award a certification, it gives a letter grade. Among fish oils tested by Labdoor, we cut any that didn't earn at least a rating of 70 or better on a scale from 1 to 100 straight out of the gate.

The International Fish Oil Standards (IFOS) Program: Based in Canada, IFOS is the only third-party certification program dedicated specifically to fish oil. Products that pass inspection by IFOS get its "5-Star Rating."

Another third-party lab. Though the four programs above are the best known in the fish oil industry, if a manufacturer wants to show that its product is up to snuff, it can also have its product tested by another third-party lab and display the results on its website in what is called a "certificate of analysis." Here's one great example from Nordic Naturals.
Each pill needed to supply enough EPA and DHA.
Several different kinds of omega-3 fatty acids are actually present in fish oil, including two of the three main ones humans need: Eicosapentaenoic acid (EPA) and Docosahexaenoic acid (DHA). The third, Alpha-linoleic acid (ALA), is found in vegetable oils, nuts, seeds, leafy greens, and grass-fed animals. ALA needs to be converted into EPA or DHA before we can use it, but our bodies don't handle this conversion very efficiently. This explains why fish oil is more ubiquitous as a dietary supplement than, say, flaxseed oil.
We required all of our top picks to provide at least 500 mg combined EPA and DHA in two or fewer pills.
The World Health Organization and Consumer Lab both recommend 500 mg combined EPA and DHA for a minimum daily dose, so we used that as our baseline requirement. We also made sure that the amount of EPA and DHA was contained in a reasonable amount of pills — just two or fewer — since no one likes taking more pills (and paying for them) if they don't have to.
Keep in mind, though: That was just the minimum dosage we required. Dr. Rachel Carlton Abrams, author of Body Wise, recommends a daily dose of 1,000-2,000 mg of EPA and DHA combined for the average person, and a bigger dose for those actually treating a condition. Dr. Barry Sears, who specializes in inflammation and created the popular Zone diet in the mid-'90s, told us that he recommends an even higher dose: 2.5 grams, or 2,500 mg, per day.
Anything with added colors or flavoring got dropped.
Color and flavor additives can disguise rancid fish oil in supplements that might otherwise look and smell like something you shouldn't eat. Fish oil should smell and taste like fish, so if you're looking for something that tastes citrusy, have a real orange along with your supplement. It's better absorbed with food anyway.
We also required Marine Stewardship Council (MSC) certification.
You can't responsibly talk about consuming fish oil without talking about sustainability. Real, wild fish go into the fish oil supplements we consume, and they're an important part of the ocean ecosystem. If any population is over harvested, it causes a ripple effect all the way up and down the food chain. One particularly alarming example of this occurred in the early 2000s, when the supplement company Omega Protein of Houston caught 90 percent of the US' menhaden, a small, oily fish that filters phytoplankton out of the water, and also happens to be a favorite food source of larger fish, like striped bass. As menhaden declined, striped bass starved and phytoplankton bloomed, blocking the sunlight and creating uninhabitable dead zones.
In order to keep overfishing like this in check, the Marine Stewardship Council evaluates fisheries to make sure they use sustainable practices. To earn the MSC "blue label," a fishery must take only a sustainable amount of fish out of the water, make sure its operations have a low environmental impact, and comply with all relevant laws.
The MSC keeps an eye on fisheries that produce both fish oil supplements and whole fish, so we required a 5-Star rating from the council for all our top picks.
Then we actually tried each of our top picks.
With our contenders list now down to four, we decided to drop Nutrigold's Double Strength Omega-3 Gold, since it didn't provide quite as much EPA+DHA per serving as the company's Triple Strength formula. This left us with our two top picks, Nutrigold's Triple Strength Fish Oil Omega-3 Gold and Life & Food Omega-3 Supreme, as well as Wiley's Finest Wild Alaskan Fish Oil, which just didn't have as many third-party certifications as Nutrigold, but still cost nearly twice as much. Before finalizing our decision, we ordered a bottle of each and tried them for ourselves, examining each for appearance and smell.
Our Picks for the Best Fish Oil Supplement
Best Overall
Nutrigold's otherwise unassuming brown bottle is covered in so many accolades, it looks like a tiny, eager Boy Scout. It's certified by the Marine Stewardship Council and International Fish Oil Standards, approved by ConsumerLab, and was awarded a remarkable 77 out of 100 rating by Labdoor. Its PCB and mercury levels (less than 0.01 PPM) are both way below the upper limit for supplements, which is less than 0.09 PPM. It only contains five ingredients, one of which is purified water. Among all of the top contenders, Nutrigold's EPA+DHA per-serving dosage was one of the highest as well: 1,000 mg per pill.
The Triple-Strength Fish Oil, one of the four fish oil formulas Nutrigold carries, also just recently received a formula makeover. It now comes in triglyceride instead of ethyl ester form. Without delving too much into molecular biology, what you need to know is that these are two different molecular structures, and one is easier for our bodies to process. Omega-3s occur as triglycerides in nature, but when they're processed, or esterified, they become ethyl esters. It's widely believed that ethyl esters are harder for our bodies to absorb than triglycerides are. The science behind this is still not conclusive, Dr. Joseph Feuerstein, an associate professor of clinical medicine at Columbia University and director of integrative medicine at Stamford Hospital, told us.
Whether the new molecular form used in Nutrigold's formula works better or not, all of our testers thought it smelled delicious once we broke open a capsule — "like freshly cooked salmon," they said. (If you think that sounds awful, worry not — our second pick is for you).
The price is reasonable, too. At $25 for 60 softgels, it costs 42 cents per pill, which is cheaper than two-thirds of our 184 total contenders. It's an incredible value considering it also made it into the top 6 for EPA+DHA content (and is the only brand besides Wiley's at that level of potency to pass the rest of our cuts).
Best Budget Option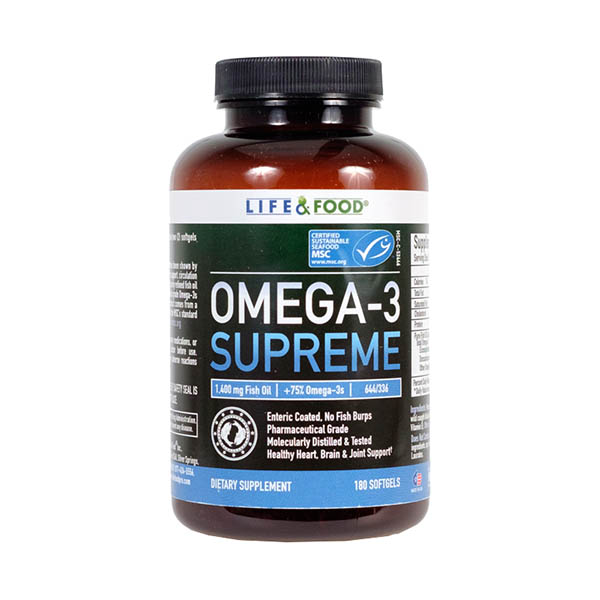 Unlike our other top picks, Life & Food's Omega-3 Supreme's pills don't smell like fish. For that, you can thank its "enteric coating": thick capsule walls meant to hold together until they reach your acid-filled intestines, where they eventually (and harmlessly) dissolve. Besides Life & Food's lack of fishy smell, it also received top marks in all of our criteria — it just requires you to take more pills in order to get similar EPA and DHA levels as Nutrigold or Wiley's (twice as many at 490 mg EPA + DHA per pill). On the upside: It's only 18 cents per pill. If you do the math (and are willing to double up on the daily recommended serving), you can actually get just about the same amount of omega-3s from Life & Food's Omega-3 Supreme as you can get from Nutrigold or Wiley's, but for less.
Another Option to Consider
Wiley's Finest Wild Alaskan Fish Oil contains just as much EPA+DHA per pill as Nutrigold, but it doesn't have quite as many third-party certifications, and is nearly twice as expensive at about 73 cents per pill. Still, we couldn't actually find anything wrong with Wiley's Finest, besides its slightly higher price tag, which can be attributed to the fact that it's produced by a much smaller, family owned business. Its purity levels are on par with Nutrigold's (less than 0.01 PPM), and it's also certified by NSF and the Marine Stewardship Council. The ingredients list is impressively minimal, too: just omega-3s, plus four inactive ingredients, including purified water. Be prepared, though: Like Nutrigold, the pills smell a lot like fresh fish.
The Best Fish Oil Supplements: Summed Up
Did You Know?
Fish oil can go rancid.
When unsaturated fats, like EPA and DHA, are exposed to heat, light, or oxygen, they can oxidize, or go "rancid." This can happen during production or even afterward, once the oil has already been packaged, if it's stored improperly or kept for too long. Because of its molecular structure, fish oil is especially vulnerable to oxidation, so most supplements will come in dark brown or opaque bottles. If they don't, stay away from them.
Oxidation doesn't just mean going stale or becoming less effective either. It actually turns a healthy, anti-inflammatory substance into a harmful, pro-inflammatory one that might contribute to the diseases you're trying to avoid in the first place.
Rancid fish oil "increases inflammation, just like rancid cooking oils," said Abrams. "That's why you want to make sure you're taking fish oil that is outside-tested for quality, for purity, for cleanliness, and that has an expiration date on it so it's pulled off the shelf prior to becoming rancid."
Not all fish oil is created equal.
While it's pretty uncontroversial to say that getting omega-3s directly from fish is good for your health, there's still an ongoing argument about whether or not omega-3 supplements have the same effect.
"We would think that something that's natural, that's essential to normal cell function and body function, would have clinical benefits. It just has to be proven," said Harvard University researcher Dr. Preston Mason in a video produced by Frontline and The New York Times. "But in the meantime, there's certainly been a lot of promotion suggesting a benefit in everything from Alzheimer's disease to cardiovascular disease. But we still need the strong clinical trials to validate those hypotheses."
The two marine omega-3s both have their own special role. While EPA is associated with lowering cholesterol and reducing inflammation, DHA is linked to helping with brain and nerve function. Abrams explained this distinction, but was quick to point out that it's not as clear-cut as scientists once thought.
"Turns out, shockingly, you need both of them (EPA and DHA) for a lot of those processes," she told us. "That's why I don't differentiate in my general recommendation. But if I have a pregnant woman in my office, I want to make sure that whatever she's taking has a big dose of DHA."
Some formulas advertise high levels of "fish oil" or "omega-3s," but when you check out their EPA+DHA content, the part that really matters, that turns out to be much lower.
Costco's Kirkland Signature-brand fish oil, for example, contains 1,000 mg of "fish oil concentrate," but only 250 mg EPA+DHA per serving. Krill oils are even worse offenders because, according to Abrams, they're more effective than fish oil dose per dose but cost more to produce. In other words, supplement manufacturers can boast about the potency of krill oil on their bottles while, to save money, including tiny amounts of it, mixed with omega-3s from other, less brag-worthy sources. Some of the krill oil supplements we looked at contained less than 100 mg EPA+DHA per serving.
An even less potent option: fish oil gummies. Of the three we looked at, two didn't even disclose their EPA+DHA levels, and the other included only 57 mg. But we couldn't be too surprised. Can you imagine chewing a fish-flavored gummy, let alone one potent enough to rival a softgel? It's for the best to just take fish oil in pill form.
You can also just eat fish to get Omega-3s.
Most experts agree that whenever possible, it's best to get nutrients from whole foods rather than vitamins. "As is almost always the case with all nutrients, they are better absorbed as food, because that's what our body was created to process," says Abrams, "and it looks like, in studies, that omega-3 from whole fish is better absorbed than from fish oil capsules. And that's not surprising because, again, eating whole food is what our body is made for."
Dr. Andrew Weil, famous for his writing on holistic health, recommends eating "oily fleshed, wild-caught, cold-water fish" two to three times per week. He lists his favorites as salmon, mackerel, sardines, herring, and black cod. Kressler agrees that this amount, combined with a lower omega-6 intake, would be enough for most people.
Whole fish can also provide nutrients fish oil supplements can't, like protein, vitamin D, and selenium, the last of which helps protect against mercury toxicity.
But there are a couple of reasons why getting all of your omega-3s from whole fish might not be the best or most practical way to go either. Sears cautioned that because fish contain contaminants like PCBs and mercury, eating enough for a therapeutic dose of EPA+DHA could be dangerous. Abrams said that while nutrients may be better absorbed from whole foods, buying all the fish you need could get expensive, too — and, of course, some people just don't like eating fish.
For those who do want to eat more fish, either instead of taking fish oil or in addition to taking it, she recommends checking FishWise for a list of the most sustainable, least-toxic species to eat. FishWise used to be known for its wallet-sized buying guides, but it now also has its own free app.
Omega-3s come from plants, too.
Even if you don't eat animal protein, you can still get omega-3s from other sources. Some of the most omega-3-rich plant foods include seeds, beans, seaweed, the cabbage family (which includes broccoli, cauliflower, and Brussels sprouts), berries, and certain spices. You can also find omega-3 supplements for vegetarians, often made with algae or omega-3-rich seeds.
Here are a few examples of some of the best omega-3 fatty acid sources, besides fish:
| Food | Serving | Omega-3 Content |
| --- | --- | --- |
| Flax seeds | 1 Tbsp | 2,300 mg |
| Chia seeds | 1 Tbsp | 2,600 mg |
| Hemp seeds | 1 Tbsp | 1,000 mg |
| Soybeans | 1 cup | 560 mg |
| Wakame (seaweed) | 1 cup | 420.8 mg |
| Kidney beans | 1 cup | 301 mg |
| Broccoli | 1 cup | 227 mg |
| Blueberries | 1 cup | 85.8 mg |
| Cloves | 1 tsp (ground) | 85.6 mg |
| Oregano | 1 tsp (dried leaves) | 41.8 mg |
Taking fish oil with a meal helps with absorption.
The experts we spoke to agreed that your body absorbs fish oil best when you take it with a meal. "When you take it with food, especially protein, they can act as emulsifiers, and they help emulsify the fish oil so it can be absorbed more readily," said Sears. "So it's always best to take fish oil with a meal. It doesn't have to be a high-fat meal, just a meal that contains some proteins and carbohydrates."
Labdoor agrees, and adds that you should avoid taking it before you exercise, or your stomach might protest. Apart from syncing with your workout routine, though, time of day doesn't matter. If your supplement suggests a serving size of two pills, you can take them either together or morning and night. Abrams recommends the once-a-day approach, just so that you'll remember to take them consistently.
You can also take too much fish oil.
As with any good thing, you can overdo fish oil, too. Even if you're taking a top-of-the-line supplement that has been third-party tested for purity, like any of our top picks, an excessive dose can mess with your body.
Like aspirin, fish oil is a blood-thinner, which makes it desirable for lowering blood pressure and reducing the risk of heart disease. "Too much fish oil increases bleeding time," confirmed Abrams, "and that means for procedures, for injuries, if you fall and hit your head, you can bleed, like you're taking aspirin." This begins to happen at a daily dosage of about six grams, she said. That's 6,000 mg, or three servings of our top pick, Nutrigold Triple Strength Fish Oil Omega-3 Gold.
If you're already on anticoagulants to prevent issues like blood clots or strokes, make sure to talk to your doctor about how much fish oil is safe for you to take.
Take Action
Best Overall
Get a blood test. Most Americans consume 10 times more omega-6 than omega-3, according to the National Institute of Health. So it seems safe to say that almost everyone in this country could benefit from a bump in their omega-3 intake. But it's possible that, especially if you're health conscious, already eat plenty of fish, and avoid eating too many omega-6-rich foods, you could already have the perfect 1:1 omega-6-to-omega-3 ratio. You might even be lacking in omega-6s. Fortunately, a blood test — either at a doctor's office or at home via a finger prick kit—can tell you where you stand.
Eat lower on the food chain. When it comes to toxins, not all fish are created equal. Picture a little fish with low levels of mercury in its system. If a medium-sized fish eats these little fish every day, its body will fill up with mercury. And if a big fish eats those medium-sized fish regularly, its body will be even more stuffed with toxins. This is called biomagnification, and it continues all the way up the food chain, straight to us.
Biomagnification is the reason why Abrams recommends eating sardines, which offer high levels of omega-3s and, because they're low on the food chain, have very low levels of toxicity. They're also a more sustainable source, adds Dr. Michael Murray, a doctor of natural medicine and director of product science and innovation at Natural Factors, a Canadian supplement company.