Reviews.com is reader-supported. If you click on or buy something via a link on this page, we may earn a commission.
Showing results for
Did you mean:
Sorry, something went wrong. Please refresh your browser and try again.
Last updated on
August 27, 2018
The Best Fitness Trackers
It doesn't matter how many sensors you have — it's how you use them
| | | |
| --- | --- | --- |
| | | |
| | | |
| | | |
| | | |
| | | |
How We Found the Best Fitness Trackers
1000 steps counted

10 products tested
3 top trackers
The Best Fitness Trackers
We set out to find the fitness trackers that were the simplest to use, the most comfortable to wear, and that offered the most useful data. (Even the most expensive device won't do you much good if you don't actually use it.) After putting nine of the top models through three trials of four different tests, we discovered that even the best fitness trackers aren't very accurate — but a few are at least consistent.
How We Chose the Best Fitness Trackers
Three kinds of trackers
The smart tracker market is full of feature-packed bands and watches, but we wanted to focus on devices that centered on health and fitness. We looked at three main kinds of fitness trackers:
Basic fitness trackers can count the approximate number of steps you take and calculate the distance you've traveled using that data. They're best for those who want to log primarily distance-based workouts like walking and running. These are typically the only devices you can find under $100.
Heart rate monitoring trackers do everything a basic fitness tracker can, but they also have sensors that can monitor changes in your heart rate. These are typically marketed to people looking to log the calories they've burned throughout the day. Since the sensors are fairly inaccurate, however, we don't actually recommend relying on them outside of monitoring approximate long-range trends.
Heart rate monitoring trackers with GPS can do all of the above, plus communicate with satellites to triangulate your position anywhere on the globe (provided you're not inside). This makes them a smart option for cyclists, trail runners, or anyone else looking to log distances outside.
We then pared our list down into a manageable-sized test group by selecting only the top-selling and most highly reviewed models from each of the four largest and most reputable fitness tracker manufacturers: Fitbit, Garmin, TomTom, and iFit.
The 10 fitness trackers we tested:
Fitbit Alta HR
Fitbit Charge 2
Fitbit Flex 2
Fitbit Surge
Garmin Vivofit 3
Garmin Vivosmart HR+
iFit Axis HR
iFit Link
TomTom Spark 3
TomTom Touch
Key features
Common sense told us that complicated, feature-loaded fitness trackers wouldn't be the best option for everyone. The more sensors and tracking capabilities you cram into a device the size of a wristwatch, the more it's going to cost you. Not everyone needs to track their position by satellite, either. We focused on five must-have features for the best fitness tracker.
Wireless syncing lets your device update its companion mobile app in real time, as you're exercising
Activity notifications alert you when it's time to move, and when you've accomplished your goals
Water resistance is mandatory for something you'll be sweating in
Minimum one-year warranties demonstrate that the manufacturer is willing to back its product
Unisex designs so the device feels comfortable on any wrist
Consistency over accuracy
While absolute accuracy might be important in scientific or clinical settings, a fitness tracker's real usefulness is in showing you your broader activity trends over time. Think of it like a home scale: It doesn't give your exact weight every time you stand on it, but if you consult it regularly, you'll get a pretty good idea of whether or not you're losing or gaining weight.
An imperfect fitness tracker can still be useful for keeping tabs on your activity levels and motivating you to stick to your goals. That's why we placed more emphasis on the devices that delivered the most consistent data over a series of identical tests, rather than how closely the devices came to hitting an exact target number.
We also took the time to look at the overall usability of each device, assessing the quality of their apps, and how enjoyable and intuitive they were to actually use day to day — because the only way a fitness tracker is going to help you is if you actually want to use it. You can read more about our testing process at the bottom of the page.
The 3 Best Fitness Trackers
Garmin Vivofit 3
The most functionality you can find in a low-cost fitness tracker
Pros
Feature-packed for its price
Battery powered
Why we chose it
Feature-packed for its price
The Garmin Vivofit 3 offers the most features of any fitness tracker we could find under $100. It's smaller than most wristwatches and about as low-profile as a device with a built-in display can get. (That said, the display is quite small.) It's comfortable and customizable, with 17 different band options, including white, red, and even camo.
Our testers appreciated Garmin's intuitive physical interface, clean and user-friendly app, and integration capabilities with MyFitnessPal for nutrition tracking. Also unique in a fitness tracker under $100, the Vivofit 3 can track a range of different movements automatically with its MoveIQ algorithm and can sync with an ANT+ chest strap heart rate monitor (not included) for zone training and more detailed information during workouts.
Battery powered
Unlike any of our other contenders, the Garmin Vivofit 3 uses a replaceable battery that's good for about one year, rather than rechargeables that have to be plugged in once a week. Our testers all agreed that this was more convenient for round-the-clock, long-term tracking. You won't have to worry about plugging in or missing out on some data while you charge the device.
Points to consider
Manual sync
Unlike many fitness trackers, the Vivofit 3 doesn't sync automatically — you have to hold down its single button until the screen blinks "sync." A few of our testers anticipated that they'd find this annoying, but were surprised to find it was simple enough they didn't mind.
One of our testers noted that after not pairing his tracker to his phone for about a month, the time on his tracker was off by about 30 minutes. It's not a deal-breaker by any means, but some testers found its three-pronged clasp frustrating and finicky.
FitBit Charge 2
Low-profile, stylish, and easy to use
Pros
User-friendly app
Relaxation mode
Why we chose it
User-friendly app
Our testers clamored over its straightforward usability and intuitive interface. Everything about it, from setup, to syncing, to tracking our first exercise was just easy. It just worked, too, unlike the comparably priced iFit Axis HR, which failed over and over to sync our exercises and only had one workout mode (distance). In contrast, Fitbit has a seemingly limitless catalog of trackable exercises.
The Fitbit app is also the most aesthetically pleasing option our testers found, as well as the most user-friendly. The level of information isn't as detailed as the Garmin Connect app, but we just liked using the Fitbit app more. Unlike the Garmin app, it comes with its own nutrition tracking, and you can set goals and movement alerts, or connect with friends to keep you motivated.
Relaxation mode
The Charge 2 is the only tracker we tested with a relaxation mode, which guides you through two or five minutes of deep breathing to slow your heart rate and help reduce stress, which we thought was a really creative and potentially beneficial use of the heart rate monitoring function. Yogi's may also be interested in this meditative feature to calm breathing before practice.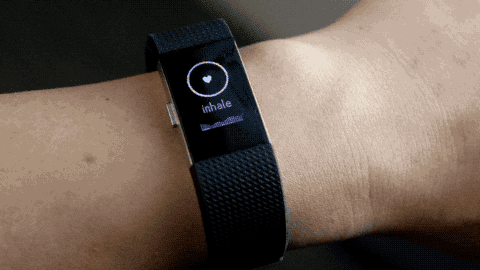 Points to consider
Average accuracy
The Charge 2 was off on just about everything it tracks except for the "distance from steps" measurement (which it aced). Its deviation during our step-counting test was 14.73, both the maximum and the average heart rates recorded by the Charge 2 during exercise were off by 16 and 14.33 beats per minute on average.
The TomTom Touch, Garmin Vivosmart HR, and Fitbit Surge all score better; although, not by much. Even the Touch, which was the top performer in our heart rate monitoring test, was off by an average of 7 bpm. This makes the Charge 2 (and actually any of the trackers that we tested) less than ideal for zone training, but still useable for tracking relative intensity during workouts and all-day heart rate trends.
Garmin Vivosmart HR+
GPS, heart rate monitoring, and everything else you could want in a fitness tracker — for less than the competition
Pros
Small device, large catalogue
Accuracy calibration
Why we chose it
Small device, large catalogue
It has just about every feature you could cram into such a small device: heart rate monitoring, onboard GPS, smart notifications from your phone, exercise tracking and movement identification through MoveIQ, the Garmin Connect app with MyFitnessPal integration, and, of course, the ubiquitous daily step/calorie/distance count. The device itself is only a little bit bigger than the Fitbit Charge 2 or iFit Axis HR, which made it more comfortable for long-term wear than the Surge.
The Vivosmart HR+ also displays the weather directly from your phone, which no other device does. You can even use it to locate a lost smartphone, as long as it's within Bluetooth range and paired at the time. It's also completely waterproof and can be used to track swimming.
Accuracy calibration
The Vivosmart HR+ was the only device we tested that you can calibrate for improved accuracy: When you first set up the device, it asks you to take a brisk walk or jog for 20 minutes to establish a baseline so that future heart rate and calorie measurements will be more accurate.
Points to consider
Longevity
Many Amazon customers report their Vivosmart HR+ grew increasingly inaccurate, glitchy, and worn down over time. With 15% of its 1,000+ reviews only earning 1 out of 5 stars, we're inclined to believe the chances of experiencing this deterioration are high. If you're willing to battle customer service for a replacement on the chance yours does fault, we just recommend buying from a retailed with a good return policy (like Best Buy).
How We Tested Our Top Picks
The step-counting test
We strapped on each device and took them out for a spin around the block, counting out exactly 300 steps each time (0.149 miles according to Google Maps, though most of these devices only log distance out to two decimal points, so we rounded up to 0.15 miles). We then recorded the number of steps logged by each device and repeated the test three times.
We were less interested in which devices nailed the 300-step mark every time and more interested in their consistency across tests.
As you can see, none of the top contenders were perfectly accurate in terms of step counting. A few of them were fairly consistent, however, which is represented by the standard deviation, or how far apart the numbers were from one another. The TomTom Spark 3 and iFit Link fared the best in terms of consistency with a standard deviation of 3.51 and 7.21 steps, respectively.
The worst offender was the Fitbit Flex 2, which trended consistently low, logging well under 300 steps every time, with a standard deviation of 16.80 steps. That adds up to only a few yards over the course of just 300 steps, but expand that discrepancy out over the course of a whole day, and your step count may very well be off by more than a mile come dinner time.
Keeping tabs on calorie burn
In our calorie-burn test, all our contenders recorded higher on average than the benchmark, which was recorded using a more accurate EKG chest strap heart rate monitor. Only the TomTom Spark 3, Fitbit Surge, and Garmin Vivofit 3 were within 10 calories.
The Fitbit Flex 2 was the worst offender by far, logging as many as 43 more calories than the benchmark reading. This could present a problem if you're actively relying on your device to help you determine your daily calorie allowance (e.g., through the Fitbit app or Garmin's integration with MyFitnessPal), no matter which of these devices you're using.
If your tracker is off by just 10 percent on your daily calorie expenditure (and even the best of our contenders were), it could regularly make it seem like you can afford to eat a few hundred calories extra.
Ruling out false positives (aka counting only real steps)
Since humans do all kinds of physical activities throughout a given day that might look like steps to a fitness tracker, your device's algorithms should be able to parse out movements like washing dishes, typing a strongly worded email, or vigorously slamming down a cheeseburger, without misidentifying them as actual, calorie-burning steps.
With few exceptions, they all logged steps when they weren't supposed to, though some were much further from the mark than others. This means that all of the above activities might actually get you credit toward your fitness goals (including enthusiastic gluttony), which seems to be a pretty big flaw in the whole fitness tracker concept.
For our first attempt at psyching out each device, we stood in place and swung our arms back and forth 100 times. The idea: Simulate walking without any actual forward movement. Ideally, the trackers would log zero steps, since we didn't actually move from a static position. This, it turns out, was giving them a little too much credit, as they all uniformly failed.
Each device counted over 100 steps, even when we hadn't moved an inch. Then we did the exact inverse, walking 100 steps without swinging our arms. This simulated doing an activity like pushing a grocery cart or a stroller, where a walker wouldn't necessarily swing their arms. Every device was off by at least 20 to 30 steps.
Heart rate monitoring
By using an onboard heart rate sensor, devices like the iFit Axis, TomTom Touch, and Fitbit Charge 2 can hypothetically give you much more accurate fitness data, especially calorie burn, by recording intensity and duration. This circumvents the issue of tracking actual movement to determine output and effort, opening up the full range of exercises for tracking, from spinning to sumo wrestling.
We used a half-mile run on an indoor track as our default exercise. We put each device through three sessions each, recording distance, calories, and heart rate, and then used a chest-worn heart-rate monitor as a benchmark for our heart rate and calorie-burn calculations.
On the whole, the fitness tracker readings performed quite poorly compared to the chest strap monitor. As a collective group, they were all off by an average of 19.5 beats per minute over the course of three separate tests.
Fitness Tracker FAQ
Do you need a fitness tracker with heart rate monitoring?
It depends. The optical heart rate sensors used in even the best fitness trackers aren't very accurate. Even our top heart rate monitoring pick was off by an average of about 15 beats per minute. If you're just interested in watching your all-day heart rate trends, or getting slightly better data on your caloric output during training, then yes.
However, if you're looking for more precision for zone training, you're better off with an EKG heart monitor, or a device that can pair to one, like the Garmin Vivofit 3.
Who has the best fitness sensor?
Every fitness tracker uses the same base-level sensor technology to do its job (Fitbit, Jawbone, and Nike all get their sensors from the same company, for example). The main difference between any two fitness trackers, besides how they look and feel on your wrist, lies in the proprietary algorithms each tracker's software uses to interpret information from the sensors.
Sensors produce raw data; accelerometers, for instance, detect changes in movement over time. Algorithms process that data into usable information. This means that even though fitness trackers are marketed specifically to different niche user groups, such as swimmers, runners, and dieters, they all do pretty much the same thing: track your movement.
The Best Fitness Tracker: Summed Up
| | | | |
| --- | --- | --- | --- |
| | Garmin Vivofit 3 | FitBit Charge 2 | Garmin Vivosmart HR+ |
| The best | For less than $100 | For heart rate monitoring | For heart rate monitoring + GPS |
| Approximate price | $70 | $150 | $180 |
| Heart rate monitor | ✘ | ✔ | ✔ |
| GPS | ✘ | ✘ | ✔ |
| Battery life | 1 year | 5 days | 5 days |
| App store rating | 4.3/5 | 3.8/5 | 4.3/5 |
More Fitness Reviews
We've been researching, testing, and sweating our way through all avenues of fitness. Whether you're looking for an in-home treadmill, or a yoga mat — we have you covered.