Showing results for
Did you mean:
Sorry, something went wrong. Please refresh your browser and try again.
Last updated on
August 24, 2017
The Best Flashlight
Trustworthy performance that won't leave you in the dark
The 30-Second Review
After consulting flashlight experts and testing the 16 most popular lights inside and out, we learned that most tactical and everyday carry flashlights are pretty similar. Nearly all the lights we tested are bright enough to be seen from a football field's length away, durable enough to survive a nasty fall, and reliable enough to last for hours. Our top picks are the easiest to use and most comfortable to hold.
Best Overall
All the light output and beam distance you'd ever need, in a small tube about as thick as a roll of quarters.

Runner-Up
ThruNite Archer 2A V3
Its dimmer modes are more practical for indoor or close-range use. Runs on readily available AAs.
Best Everyday Carry
A thumb-sized flashlight that doesn't sacrifice brightness or beam distance. Plus a magnetic bottom for hands-free illumination.

Runner-Up
Zebralight SC600 Mk II L2
Bigger than the Olight but still quite small, this light's smooth, beveled edges were the easiest to grip.
The Best Flashlight
The best flashlight for general use is the Nitecore P12. For about $50, it packs more than enough power for any situation. Its highest setting is brighter than car headlights. For hikers and backpackers, it's also a great way to supplement a headlamp: Even with batteries, it weighs just 4.3 ounces (about the same as a lemon), and testers felt comfortable holding it for a long time, like on their walk or home or a strenuous hike. It also has a half-press activation feature, so you can gently push the tail switch button for a quick, temporary burst of light.
We also like the $30 ThruNite Archer 2A V3 for its slender design and a dimmer light range. The ThruNite Archer starts at the lowest brightness of all the lights we tested at a soft 0.2 lumens and maxes out at half the brightness and beam distance of the Nitecore. While it's tempting to purchase the brightest flashlight available, we found that lower lumen modes are just as valuable if you don't want to wake the whole camp as your getting up to use the bathroom in the middle of the night, need to illuminate something small and close range, or want to maintain your natural night vision.
Everyday carry (EDC) flashlights are smaller lights that are easy to keep in a pocket or purse. They're basically a more powerful, versatile replacement for your flashlight app on your phone. Our top pick, the Olight S1 Baton is as small as you can get and just as powerful as the ThruNite, though, at $45, it's more expensive and its small size makes it easier to misplace. Still, testers liked that they could clip it to a keychain, carry it around in their pocket, or use its magnetic bottom to go hands-free.
If the Olight is perhaps a bit too tiny for you, we also like the Zebralight SC600. Testers thought it was the easiest to hold — the button is slightly recessed right where you'd naturally place your thumb. Its highest mode is noticeably brighter than the Olight, but switching between modes was less intuitive and felt inconsistent. It's also our most expensive pick at $89.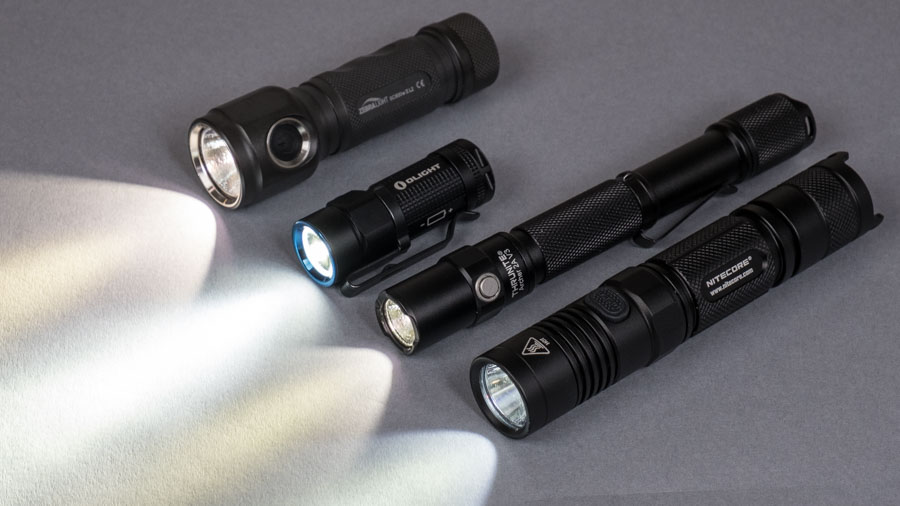 How We Found The Best Flashlight
We chose the 16 most popular flashlights from Amazon, hardware stores like Home Depot and Lowes, and specialty flashlight sites and forums. We wanted to compare lights of different styles and sizes, so we sampled a mix of the two most common varieties — tactical and everyday carry (EDC). EDC lights are typically small and portable, while tactical flashlights boast bigger lumen and beam distance stats ideal for hunting or combat situations.
That said, these flashlight brands have a lot of models. Nitecore, for example makes 17 different series with up to 13 models each. We wanted to compare the most universally loved and recognizable lights, so we picked top-rated and best-selling models.
Fenix PD35 Flashlight
J5 Tactical V1 Pro Flashlight
Maglite 3D LED
Manker E12
Mini Maglite Pro
Nitecore P12 Flashlight
Olight S1 Baton
Pelican 7600 Tactical Flashlight
Streamlight ProTac HL 3 Flashlight
Streamlight Stinger LED Flashlight
Supernova Guardian 1300XL
Surefire G2X Tactical Flashlight
ThruNite Archer 2A V3
UltraFire 7w 300lm Mini Cree Led Flashlight
Zebralight SC600 Mk II L2 18650 XM-L2
We quickly learned that all flashlights are pretty bright.
We could compare stats on lumens all day long, but we wanted to know what those numbers really looked like in the dark. Mostly, we noticed bright was bright. The difference between 900 lumens and 1,100 was barely detetable. The dimmer settings, however, were more distinct. The 0.2 lumen "firefly" mode of the ThruNite was undetectable in the daylight, unlike the Streamlight's "low" mode of 35. Our top picks are versatile flashlights with modes bright enough to illuminate your campground, and dim enough to read by.
Brighter isn't necessarily better.
Nick Selby, a Dallas-area police detective, told us some flashlights are designed to be so bright that they stun or disorient: Useful when trying to apprehend a suspect, but dangerous in everyday situations. It only takes around 60–100 lumens of direct beam to cause temporary blindness, so even in self-defense scenarios you don't need a 1,000+ lumen flashlight.
So we cycled through every mode.
Then we checked how easy it was to cycle between those modes, a process that sometimes required a complicated combination of side buttons and half-clicks to select and then lock the desired mode (we're looking at you, Streamlight Stinger).
Our testers preferred lights with separate on/off and mode buttons, or lights that could remember the last mode we used. Flashlights like the J5 tactical forced us to cycle through every setting each time we turned it back on. This was especially annoying when it came to the strobe function. This design loops the strobe modes into the same rotation as the brightness. So if you're on the high setting and want to cycle down to low, you'll have to face the blaring intensity of strobe every time. Each of our top picks have separate commands for the strobe. With the ThruNite, for example, you push and hold the mode button to get to strobe.
And found that some were too hot handle.
Most of the flashlights we tested had a heat warning icon on the bezel (the riveted raised edges on the head of a flashlight). We wanted to know if any of our lights could get too hot to hold comfortably, so we left them on their brightest setting. The Fenix PD35 stood out for its quick scorch — after just three minutes on the brightest setting, the entire flashlight was so hot we thought it might burn our hands.
By comparison, The Nitecore P12 felt warm to the touch after about four minutes on the brightest setting, but was still cooler than the Fenix. It also cooled down much quicker when we turned it off. Regardless, every flashlight will gradually become hotter, so stick to the dimmer settings when you're just hanging out at the campsite.
Beam distance and battery life were less illuminating.
We compared beam distance and battery life in the early stages of our search, but neither were deal breakers. Testers noticed some flashlights had a further range, but they all agreed that even the shortest beam was still quite far. Our top picks' beam distance ranged from 108–232 meters. To put that in perspective, a football field is about 91 meters — plenty for most people.
Battery life, on the other hand, has more to do with the flashlight's size and battery type. The Maglite 3D LED, for example, boasts a whopping 80-hour runtime. The downside? It's huge. It takes three D batteries and felt like a baseball bat. Our top picks are much smaller, but they can still run for nearly a month straight on the lowest setting and approximately two hours on their highest.
Our Top Picks
Best Overall Flashlight
Whether you're going camping, need an emergency light for your glove compartment, or want a simple tool for your hunting trip, the Nitecore P12 offers a range of brightness settings and easy-to-use features.
You get four power modes in total: two high-power options that offer 1000 and 240 lumens, and low-power modes of 70 and 1 lumen that work best in tight spaces, whether that's under the kitchen sink or in a tent.
The Nitecore's four modes, starting with its 1-lumen "lower" mode on the left, from 2 feet away.
We liked the Nitecore's separate, dedicated side button to cycle through modes — you won't have to learn and remember a complicated pattern of clicks every time you want to switch. It was also one of the most comfortable flashlights we tested, with a big button on the tail switch and a textured grip that's comfortable, not abrasive. The J5 Tactical flashlight, by comparison, had so many sharp ridges and pointy grips that we ditched it on hand-feel alone.
It won't leave you in the dark. A blinking indicator light under the side button will let you know when you're about 30 minutes from running out of light at maximum output, though you'll still have hours of low power left.
After hours swapping between various lumen intensities, strobe lights, and S.O.S. patterns — we loved that the Nitecore didn't blast us with the strobe as we toggled through modes. The strobe function requires you to push and hold the mode button, so it's easy to avoid if you're just trying to dim your light, but still one click away in an emergency.
The Fenix PD35 we tested was nearly identical to the Nitecore, but had a much cooler white light and a smaller range of brightness modes. The Fenix also got hot way too quick — it was the hottest of all flashlights we tested. It does have two extra modes, but when we searched for the strobe variations like S.O.S. or "beacon light", it was hard to tell which mode we were on or how we even got there.
The Nitecore P12retails for about $50, that's about the average for a powerful light that's built to last. The only drawback: It takes CR123 or 18650 lithium ion batteries. While these are easily available online or at hardware stores, they might not be available at, say, your local Walgreens. But it's easy enough to stock up on CR123s when you first purchase the light, especially since these batteries have a 10–15 year shelf life.
Runner-Up
If you tend use your flashlight at a close range or indoors, the ThruNite Archer 2A V3 is a more practical choice. Its range is dimmer than the Nitecore, and its 0.2 lumen "firefly mode" is nearly undetectable.
The ThruNite Archer's four modes, starting with its 0.2-lumen "firefly" mode on the left, from 2 feet away.
While its 500 lumen max is half the Nitecore's, that led to a much cooler light. Even when we left it on for over five minutes straight, only the top felt warm — we could easily keep it on high if we had to wait out a power outage.
The ThruNite's skinnier shape calls for a softer grip. While the Nitecore is reminiscent of a lightsaber hilt, the ThruNite is more wand-like — it's not thick enough to really clench it without your fingernails digging into your palm. It's long enough that you wouldn't drop it, but that length was also a little harder to flip from an on switch grip to a mode switch grip.
At $30, the ThruNite is $20 cheaper than the Nitecore. It also operates on AA batteries, making battery replacement more convenient — you can find them pretty much anywhere.
Best Everyday Carry Flashlight
Olight S1 Baton A thumb-sized powerhouse with every hands-free feature you can think of.
The Olight S1 Baton is our favorite for everyday use. It's no bigger than a tube of lip balm, but it can pack a punch — its five modes range from .5 to 500 lumens.
It's the most versatile flashlight we tested, too. You can attach it to your car's hood with the magnet, clip to your hat for a makeshift headlamp, or prop it up on your dresser when the power goes out.
The Olight's four modes, starting with its 0.5-lumen "moonlight" mode on the left, from 2 feet away.
It also comes with a timer feature. When the light is on you can double tap it to initiate a three minute timer, at the end of which the light will turn off. You'll see one flash to confirm it's on, and can double tap again to extend the timer to nine minutes. One tester thought this would be extra handy when camping: "You could clip it to the tent and get settled into your sleeping bag, without having to reach back out to turn the light off."
There's only one button, and its small size made it harder to press than our other picks. So while it won't turn on accidentally, it is a little more difficult to change modes using that same button.
The Olight S1 Baton retails for $45 on Amazon and takes one CR123 battery.
Runner-Up
If you prefer something that's small enough to fit in the palm of your hand but big enough that you won't misplace it, check out the Zebralight.
Our testers loved its shape. The flashlight rests firmly between your palm and thumb, and its beveled edges and recessed power button makes it easy to grip. One tester liked how natural it felt to hold at her side while the light points downward — ideal for a late-night walk home.
At $89, it's the priciest option on our list, but we appreciate that it runs on rechargeable 18650 lithium ion batteries.
The Zebralight's three standard modes, starting with its 3.5-lumen "low" mode on the left, from 2 feet away.
The mode toggling is a bit more complicated. Aside from the three modes (low, medium, and high) there are also "sub-level" modes. But then on each of those levels you double press to get a higher higher, lower medium, and super low setting. If that sounds confusing, that's because it is. Their tap frequency takes some getting used to and sometimes these double taps just initiated the strobe. That said, we'd be happy with the three basic modes alone.
Did You Know?
You can use a flashlight as self-defense.
Tactical flashlights can refer to lights designed for weapon mounting and hunting, but they also have features meant for combat. A flashlight, even the smaller ones, can be a convenient and effective tool in self-defense situations.
Michael of BTFlashlights explained: "Would you want to be holding your cell phone that can only light 20ft in front of you, and would probably drop if somebody actually confronted you — or a small light that fits in your fist that will help you hit more effectively? It would be bright enough to temporarily blind somebody and see all the way across the parking lot."
All batteries have a shelf life.
If you're putting a tactical flashlight in an emergency kit, make sure to include spare batteries in the kit, and to periodically check that they haven't expired. If you want to take your preparedness to the next level (or if your flashlight requires particularly expensive batteries), Nick Selby recommends investing in a storage case that offers a watertight, chemically neutral environment. Contamination can cause leaks, rust, or corrosion of the batteries, shortening their life. And batteries that touch each other or short-out in your bag can start a fire.
LED is the new norm.
Not too long ago, flashlights were powered by a halogen light bulb — LED was a high-tech, luxury option. Nowadays, LED is the standard for any good flashlight. Basically, for the same price you get double the lumens and 50 times more battery life. They're also less fragile (more shock resistant) and can be different colors.
The worlds brightest LED "flashlight", is a 90,000 lumen homemade light that can illuminate mountains.
The Best Flashlight: Summed Up