Showing results for
Did you mean:
Sorry, something went wrong. Please refresh your browser and try again.
Last updated on
June 23, 2017
The Best Flea Treatment for Cats
Wipe out an infestation fast
The 30-Second Review
The best flea treatment for cats kills fleas quickly and is easy to administer. To find our top picks, we consulted with pet and insect experts, researched active ingredients, and examined the finalists ourselves. All of our top medications kill fleas fast, but if you want to prevent a flea population from growing, choose a spot-on.
Best Monthly Flea and Tick Treatment
Frontline Plus for Cats kills all stages fleas and ticks for up to a month and was the easiest to apply.

Sentry Fiproguard Plus for Cats uses the same active ingredients, but its applicator is messier — not ideal when handling insecticides. Still, we liked that it's half the price of Frontline.
Fast-Acting Flea Relief
These three tiny tablets all begin to kill fleas in 30 minutes, but remember — they won't protect your cat from a re-infestation or any other pests. You'll need to use it daily until the fleas are under control.

The Best Flea Treatment for Cats
Our favorite spot-on, Frontline Plus for Cats ($32 for three treatments), uses an insecticide and insect growth regulator to kill and repel any kind of pest your cat could encounter. That means all stages of fleas, ticks, and chewing lice. Better yet, Frontline's long snap-off applicator is the easiest to apply. Like all spot-on treatments, the medicine is applied to a small area at the base of your cat's neck, so they can't lick it off. You'll administer the medicine once a month, but it starts killing fleas in as little as 12 hours.
Sentry Fiproguard Plus ($12 for three treatments) contains the exact same insecticide/insect growth regulator combination as Frontline Plus, but its thicker applicator tip requires scissors, and while this isn't a major deal breaker, some owners might not want to juggle the medicine, a nervous cat, and a sharp object all at once. If you don't mind the extra step, we liked that it was less than half the price.
If your cat needs relief from fleas as quickly as possible, use an oral tablet. Sentry Capguard ($13 for six tablets) uses the same ingredients as Capstar and PetArmor FastCaps, but it's usually cheaper. The medication starts working in 30 minutes and kills 90 percent of fleas within six hours. The downside of oral flea medication is that it only kills adult fleas. It won't prevent a future infestation or treat other insects. If you have an outdoor cat, you'll need to give your cat a tablet every day or switch to a spot-on after 24 hours for a cheaper long-term prevention.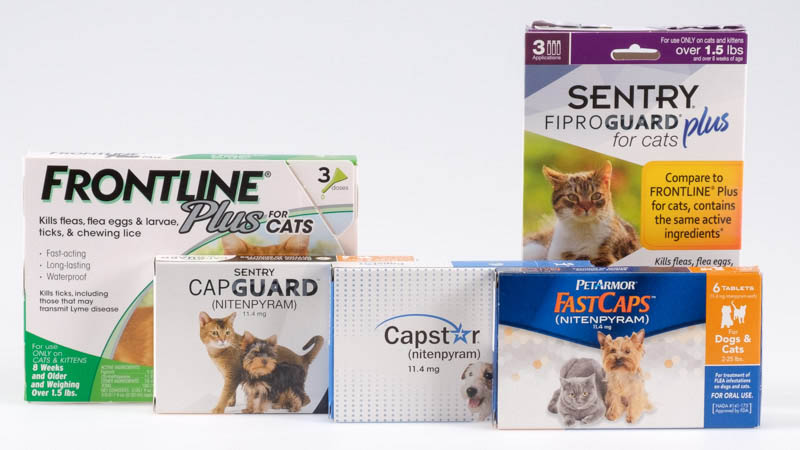 How We Found the Best Cat Flea Treatment
We compiled a list of every over-the-counter cat flea medication we could find on 1800PetMeds, Petco, PetSmart, Amazon, and manufacturer websites. We ended up with 75 collars, shampoos, spot-ons, sprays, and tablets.
With so many options to choose from, we focused our attention to the options that would be easiest to apply: tablets, spot-ons, and collars. The other two, shampoos and sprays, aren't practical for most cat owners. If your cat avoids getting wet at all costs, he's definitely not going to tolerate a full-body chemical bath.
From there, we dug into the research and talked to veterinary and insect experts to determine which medications could wipe out a flea problem without any side effects.
First we learned not all flea medicines work the same way.
There are many different ingredients used in flea medicine, but they all fall into three major categories:
Insecticides kill existing fleas by attacking their nervous systems. Imidacloprid, nitenpyram, dinotefuran, and fipronil are the most common. All of the flea treatments on our list use an insecticide.
Insect growth regulators (IGRs) target the hormones of fleas and prevent them from developing and laying eggs, stopping future infestations. The most common IGRs include (s)-methoprene and pyriproxyfen. These ingredients are found in some topical, collar, and shampoo products from Frontline, PetArmor, and Sentry, among others.
Insecticide synergists help insecticides work faster. Common insecticide synergists are piperonyl butoxide and n-octyl bicycloheptene dicarboximide. These ingredients are found in some shampoos and powders.
We also found a handful of garlic- or essential oil-based products marketed as "natural," but none of the vets we spoke to could verify that these products are effective as insecticides. Dr. Ralph Williams, veterinary and public health entomologist, told us he only recommends EPA-registered insecticides for flea control. "There's a lot of unproven products out there. The EPA serves as a sort of police source so these products do what they say they are doing."
So we narrowed our list down to treatments with EPA-backed insecticides. Even better, we loved when a product used IGRs or insecticide synergists to speed up the work of its insecticides.
PetArmor Naturals for Cat Topical, Only Natural Pet EasyDefense Squeeze-On Cat Flea Control, Only Natural Pet Barrier Bites Soft Chews, Flea Away All Natural Flea Repellent for Dogs and Cats
Then we ditched any ingredients with dangerous side effects.
Adams Flea & Tick Spot-On for Cats, Bio Spot Flea & Tick Spot-On for Cats, Frontline Tritak, Revolution, Sentry PurrScriptions Plus Cat & Kitten Squeeze-On Flea & Tick Control, Zodiac Spot-On Plus Flea & Tick Control for Cats & Kittens
Then we split our remaining contenders into two categories.
At this point, we realized the research was pointing us in two different directions — spot-on treatments had more robust results, but tablets were still an effective way of treating an existing flea problem. We didn't want to cut tablets altogether — some cat owners might be less worried about prevention, and some cats might flee the moment the spot-on medication touches their neck. So we ended up looking at the top picks in each category.
To kill and prevent as many bugs as possible, use a spot-on medication.
If you're looking for a medicine that will not just kill fleas, but will also prevent multiple types of pest, a spot-on medication is your best bet. Unlike oral flea tablets, spot-ons can use insecticides and insect growth regulators. This combination allows the medication to kill fleas and prevent them from developing or laying eggs. Spot-ons are also the only type of medication that kill both fleas, ticks, and other pests like mites and lice.
Entomologist Mike Potter says the best way to get rid of fleas is to find a product that combines an insecticide and an insect growth regulator in order to control adult fleas and suppress the development of their eggs, larvae, and pupae.
Dr. Williams agreed, explaining that IGRs mimics insect hormones to prevent them from laying eggs. For spot-ons, we wanted a flea medication that could control an infestation from the ground up, so we only kept spot-on medicines that used an insecticide and an insect growth regulator.
With so many options, we also wanted a spot-on that could protect cats from ticks. Ticks are less common in cats — but that doesn't mean you shouldn't take precautions.
According to the Banfield Pet Hospital State of Pet Health 2016 Report, "[Ticks] can unknowingly be on people, other animals or materials that enter the pet's environment. Therefore, it is important to continue using flea and tick preventives on indoor pets."
Ticks carry diseases such as Lyme disease and Rocky Mountain spotted fever, which are easier to prevent than they are to treat. They're also prevalent across the country, but are most common in the Northeast and Great Lakes regions. If you want to protect your cat from as many pests as possible, spot-ons are the best option for you.
Activyl, Advecta II, Bayer Advantage II, Bayer Advantage Multi, Cheristin for Cats, PetArmor Advanced 2 Flea Treatment for Cats, PetLock II Flea Treatment for Cats, Vectra
If you only want to treat a flea problem, use an oral tablet.
The three over-the-counter oral flea medications we found only treat fleas — they don't prevent new fleas from developing or treat other pests, but they begin killing fleas in half the time. If you want to give your cat a few extra hours of relief — or if your cat is hard to wrangle — oral tablets are a stress-free alternative. Tablets work by releasing medication into your cat's bloodstream so that fleas die immediately after they bite. You can give your cat this medication daily, but if you have a persistent flea problem at home, you might prefer the long-lasting effects of a spot-on instead.
That left us with 12 finalists.
After looking at the ingredients, we examined our remaining oral tablets and spot-ons, paying close attention to their appearance, smell, and ease of application. Our top picks are the easiest to find and apply.
We tested nine spot-on treatments:
Catego Cat Flea Prevention & Treatment
Frontline Plus
Frontline Gold
Flea5X Plus
Cat MD Maximum Defense Cat Flea & Tick Treatment
PetAction Plus Flea & Tick Treatment
PetArmor Plus
PetLock Plus Cat Flea Treatment
Sentry Fiproguard Plus
And three oral tablets:
Capstar Flea Treatment Tablets
PetArmor FastCaps
Sentry Capguard
Our Picks for the Best Flea Treatment for Cats
Best Monthly Flea and Tick Treatment
Frontline Plus Apply this liquid medication to your cat's neck once a month to kill all stages of fleas, ticks, and chewing lice.
Frontline Plus for Cats is our favorite spot-on treatment. One monthy applications kills more types of pest than any other spot-on. That includes all stages of fleas — eggs, larvae, pupae, and adults — as well as ticks and chewing lice. Frontline starts killing fleas within four hours after application and kills 100% of fleas within 12.
Application was easy too; Frontline uses a long, clear, snap-off applicator tip that's easy to open with your cat in tow. By comparison, Sentry Fiproguard Plus and PetArmor Plus require scissors, and some of the liquid leaked out onto our scissors each time we cut them open — we had to take extra caution to make sure it didn't leave a residue on our hands. After application, you should keep children and other pets away from your cat for at least 24 hours while the product dries.
Another Option for Long-Haired Cats We like Catego's long, space-age applicator tip, ideal for long-haired cats. It was the easiest to apply, but it cost twice as much as Frontline and can't be used on pregnant, nursing, elderly, or disabled cats.
Each application kills and prevents fleas and ticks for a month and prevents fleas for almost twice as long — up to six weeks. Because spot-on medications are waterproof and absorb into the skin after 48 hours, they're good options for cats that like the outdoors, and you don't have to reapply after your furry friend gets wet.
Unlike many flea medications, you can use it on cats as young as 8 weeks old as long as they're over 1.5 lbs, in addition to breeding, breastfeeding cats. Kittens are just as susceptible to fleas and ticks – but can't always handle the insecticides used in other topical medications. So it's a win all around. In terms of price, Frontline is one of the more expensive spot-ons we tested at $32 for 3 applications.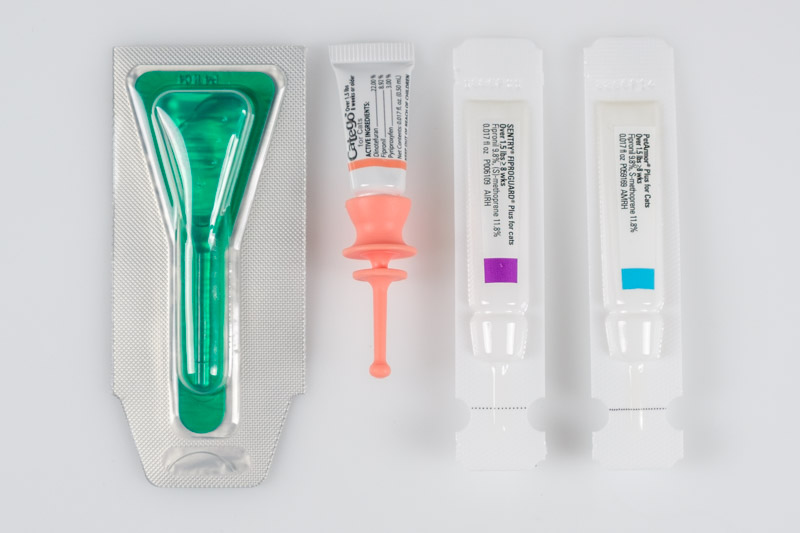 From left to right: Frontline Plus, Catego, Sentry Fiproguard Plus, PetArmor Plus

A Cheaper Spot-On Medication
Sentry Fiproguard Plus It uses the same active ingredients as Frontline Plus, but was a little harder to apply. The upside: It's half the price and smells faintly like lemons, not chemicals.
While the formulas are similar, we uncovered a few differences during our hands-on testing. Specifically, we found that we preferred Frontline's clear packaging and snap-off tip. Sentry had to be cut open, and the medicine leaked out onto our scissors each time. You'll have to take extra caution to make sure it doesn't leave a chemical residue on you or anything you touch.
We noticed a range of scents too. Most spot-ons (Frontline Plus included) have a distinct chemical scent. That's to be expected – these are chemicals after all – but Sentry's was slightly more mild, even faintly citrus. But really, the difference is tiny, and the scent from any medicine will likely fade after a day or so.
Fast-Acting Flea Relief
Sentry Capguard All three of our tablet picks use the same insecticide and come in a tiny tablet, but Sentry was the cheapest.
If you just need to treat your cat fast, Sentry Capguard, PetArmor FastCaps, and Capstar Flea Treatment Tablets, and are all decent options. Each brand includes six tiny tablets that use nitenpyram to start killing fleas within 30 minutes.
Since these tablets don't help prevent future generations of fleas, they're best used as an immediate, temporary solution. You'll give your cat a tablet up to once per day until the fleas are gone. But if you're dealing with a true infestation (you'll notice fleas on your furniture and carpeting), consider switching to a spot-on after the first day or talk to your vet about prescription options.
You can use these tablets with kittens as young as four weeks old and on cats weighing anywhere between 2 and 25 lbs. Each of the labels also say these products are safe for dogs and puppies, so they're a versatile option if you have multiple pets.
All three of these oral flea medications were identical in look, smell, and packaging. The only differences between them were brand name and price, and for that reason, we recommend Sentry Capguard at $15 for 6 tablets. PetArmor FastCaps came in a close second at $16 and Capstar was the most expensive at $27.
Did You Know?
Indoor cats are still at-risk for fleas.
The Banfield Pet Hospital State of Pet Health 2016 Report says that fleas are almost twice as prevalent in cats than they are in dogs, making flea education an important topic for cat owners. Even if your cat stays indoors, they should still be treated for fleas. The report states, "Indoor-only pets are also at risk for fleas and ticks since these parasites can unknowingly be on people, other animals, or materials that enter the pet's environment."
In the United States, Washington, Oregon, Florida, Louisiana, and Alabama are the top five states for flea problems. Fleas are most common in the South and on the West Coast because they thrive in hot, wet environments.
Insecticide-resistant fleas are a growing concern among pet owners, but vets are split.
We only looked at over-the-counter products for this review, but there are more options available through your vet. Dr. Ari Zabell at Banfield Pet Hospital shed some light on why some products require a prescription. "Some of the current OTC medications are simply medications that were previously available only by prescription but have since proven safe enough to be available over the counter. Prescription medications often use newer ingredients to which fleas haven't yet developed resistance."
While insecticide-resistance in fleas is a growing concern, some vets are skeptical. In an article from Veterinary Practice News, Dr. Michael Dryden, DVM, suggested that when a flea medicine doesn't seem to work, it's likely due to user error. "I have investigated homes that by owner description sound like there could be a resistance problem but found, when I looked closer, there was always a reason for the failure. None was ever resistance."
To leave no room for error, read the medicine's directions before you apply it, set reminders for when it's time to reapply, and regularly wash your cat's bedding and vacuum your floors. If you haven't noticed an improvement in your cat's fleas after a few weeks or if your cat experiences any side effects, contact your vet for guidance.
Always take precautions when dealing with new medications.
All pets are different and can react to medications in different ways. Some cats can be sensitive to the topical medications being placed on their skin, while others have a sensitive stomach and won't tolerate a tablet medication. If your cat has allergies or other ailments that could affect how they handle a new flea medicine, consult your vet first to determine the best medication for your cat.
The Best Flea Medicines for Cats: Summed-Up