Showing results for
Did you mean:
Sorry, something went wrong. Please refresh your browser and try again.
Last updated on
February 14, 2017
The Best Frying Pan
A cook-off between 10 nonstick skillets
How We Found the Best Nonstick Frying Pan
We started with a list of 68 nonstick frying pans from retailers as varied as Williams Sonoma, Kmart, and Amazon. We narrowed down to 10 to hands-on test ourselves by looking for some basic criteria.
First, our 10 finalists are compatible with all types of stovetops, including induction. They're also oven-safe. This not only makes them more versatile (skillet breads anyone?), but also saves a cleanup step by allowing you to put the frying pan directly into the oven. Author and "kitchen gadget geek" Liana Green of Liana's Kitchen likes oven-safe nonstick pans because you can, for example, brown a steak on the stove and put it directly into the oven without having to transfer it into a baking dish.
And finally, we only tested 10- and 11-inch pans. This is a good size for cooking two fried eggs or a three-egg omelet, but if you're interested in more (or less) most of the models we tested come in a range of sizes, typically from 9 inches up to 12.
The 10 Nonstick Frying Pans We Tested
All-Clad Stainless Nonstick Fry Pan
All-Clad d5 Stainless-Steel Nonstick Covered Fry Pan
Circulon Symmetry Hard-Anodized Nonstick French Skillet
Copper Chef 10-inch Round Nonstick Fry Pan
Cuisinart French Classic Tri-Ply Stainless Nonstick Frying Pan
Demeyere 5-Plus Nonstick Fry Pan
Frieling Black Cube Fry Pan
KitchenAid Tri-Ply Stainless Steel Nonstick Skillet
Swiss Diamond Nonstick Clad Nonstick Fry Pan
Williams Sonoma Signature Thermo-Clad Stainless Steel Nonstick Covered Fry Pan
Our priority was finding which pans were the nonstickiest.
Want to get a really quick sense of how good your nonstick pan is? Fry an egg on it. If you can successfully fry an egg without the white sticking all over the pan and with the yolk intact, you've got a keeper. We heated each of our test pans for two minutes, and then fried eggs on low heat without adding any oil or butter, specifically because we wanted to test the nonstick surface of the pan itself — without any additional lubricants.
Same goes with our cornbread. We mixed up some batter and spread it into each nonstick pan without any oil or butter. After 15 minutes in a 400-degree oven, we tested to see which could release a wedge leaving the fewest crumbs or crusts behind.
The aftermath of our fried egg test.
We also investigated heat distribution.
We did two tests to get a sense of heat distribution. The first was heating two cups of cold water over medium heat to see where those mini bubbles appeared first, and if there were any hot or cold spots as the water grew warmer. We also tested searing 1-inch round eye steaks over medium-high heat to see if any pans cooked hotter, or didn't release meat as well.
Ultimately, both tests were inconclusive, which is just to say no pan stuck out as having particularly bad heat distribution. All 10 pans handled the meat well — no sticking, and all achieved about the same rareness after six minutes — but some pans definitely seared the meat more than others. When we double-checked each pan's temperature with an infrared thermometer, we saw about a 135-degree temperature swing, but nothing that would cut a pan from the running.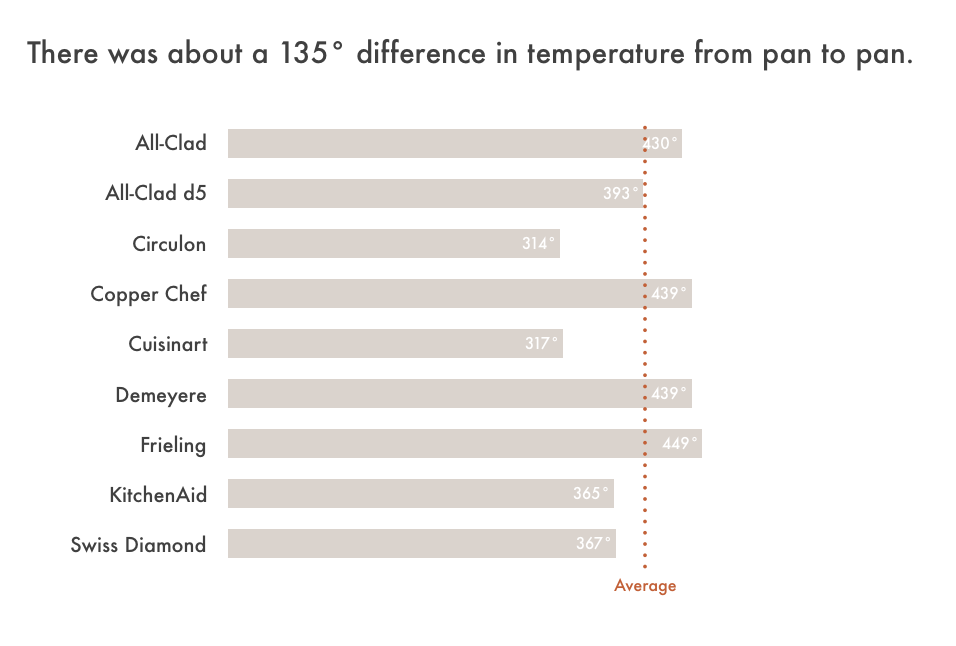 And wanted to get a sense of how these pans would hold up over the years.
Nonstick pans aren't heirloom kitchenware. According to writer and recipe developer Pamela Braun of My Man's Belly, "Three to five years is about right for the lifespan of a nonstick pan that gets used regularly." (She also noted, though, that "most people keep their pans much, much longer than that.")
The true test of a nonstick pan is how it performs in the long term, so we did our best to cram a few years of use into a couple of days by breaking all the nonstick frying pan rules. We banged each pan against a concrete edge to see how easy it was to dent or warp the surface, and scraped metal forks across their surfaces to see if any flaked started flaking off.
Then, we ran all 10 pans through an industrial-strength dishwasher, including the ones that were "hand wash only." The big reason to hand wash your nonstick frying pans — even the dishwasher-safe ones — is to protect the nonstick coating. A single time or two through the dishwasher is unlikely to ruin your pans (it didn't for any of the 10 we tested), but over time, harsh detergents and high heat can add unnecessary wear and tear.
We also took notes on usability.
For us, the best frying pan is the one that felt good to use, passed all our cooking tests, and sported a price point that wouldn't make us gag.
After a day in the test kitchen, we learned not all nonstick pans are created equally. Some are heavier than others; some have handles that dig into your hands or get hot while cooking; and some have surfaces that are more difficult to get clean. Turns out, some aren't even all that nonstick.
Our Picks for the Best Frying Pan
Our Top Pick
What makes the KitchenAid so much better than the competition? Consistency. While some pans performed well in some areas and poorly in others (the Frieling Black Cube Fry Pan, for example, seems to have an indestructible nonstick coating, but we couldn't get a clean egg flip) the KitchenAid ranked either at the top or near the top through every test. It's the Meryl Streep of pans.
We were impressed with the KitchenAid pan pretty much as soon as we took it out of the box. It has a particularly comfortable handle that makes it easy to balance the pan's 2.5-pound heft (about the median weight of all 10 pans we looked at) and once we started testing, it continued to deliver, competing with — if not outperforming — pans that were up to twice as expensive. Every time we took the KitchenAid pan off the burner or out of the oven, we found ourselves saying, "This is a really great pan." The majority of 4- and 5-star reviews on Amazon and the KitchenAid website agree.
How many plys? Of our top picks and honorable mentions, two pans are tri-ply: the KitchenAid Tri-Ply Stainless Steel Nonstick Skillet and the All-Clad Stainless Nonstick Fry Pan. The All-Clad d5 Stainless Nonstick Fry Pan, the Demeyere 5-Plus Nonstick Fry Pan, and the Swiss Diamond Prestige Clad Nonstick Fry Pan all have five layers — which helps explain why they are typically more expensive than the tri-ply options.
At around $100 (we've seen it for as low as $60), the KitchenAid hits a sweet spot between quality construction and "so expensive you'll think twice." It's oven-safe up to 500 degrees Fahrenheit, and boasts tri-ply construction (think toilet paper, and you're on the right track), which is a pretty common feature in the best frying pans. "Tri-ply pans are widely used in commercial and test kitchens," food writer Ruzielle Ganuelas explained. "You need that layer of copper sandwiched between the aluminum for even heat distribution, and it also heats up the pan a lot faster than regular pans." Of the 10 pans we tested, the KitchenAid stayed on the cooler side, which resulted in steak that had a slightly more even sear compared to, say, the hotter Copper Chef — even though both cooked the meat to about the same rareness in the same amount of time.
Our fried eggs left comparably little egg white residue post-flip, and cornbread lifted right out of the pan onto our spatula cleanly and evenly. Cleaning this pan was easy too: A simple swipe of a soapy sponge left it looking shiny and new. Compare that to the Williams Sonoma pan, which needed a lot of elbow grease to get food residue off, and the Swiss Diamond, which was so heavy it was hard to maneuver in the sink.
The KitchenAid's limited lifetime warranty doesn't cover normal wear and tear, just manufacturer and workmanship defects — wobbly rivets, for example, or a nonstick coating that rubs off. But when we actively tried to damage the pan, we had a really hard time getting any results. Smashing the pan against a concrete ledge didn't leave a dent, just a tiny chip on the pan's backside. Scraping a metal fork across the pan 10 times left faint marks, but the nonstick coating remained intact.
A few things to note: Although we were able to successfully fry eggs and release cornbread without any added lubricants, you'll probably want to add a little butter or oil if you want a truly slippery experience, like you get with our budget pick, the Copper Chef. Also, even though it's dishwasher safe, the KitchenAid's care instructions suggest hand washing in hot, soapy water may "extend the life" of the pan. It also recommends you bring liquids to a boil before adding salt to keep white dots or pits from appearing on your nonstick surface.
Biggest Surprise
We're going to be honest: We expected this pan to fail. Anything with the bright red "As Seen on TV" logo comes with instant skepticism (remember the Ped Egg?), but the more we tested the Copper Chef Nonstick Pan, the more impressed we were. It's just so… not sticky.
Case in point: The Copper Chef gave us the best fried egg in our tests and it was the easiest egg to fry. Although the KitchenAid did very well in this test, there was still a slight resistance — that is, a little bit of stick — when we slid in our slotted turner and tried to flip the egg without breaking its yolk. The Copper Chef had no resistance at all. It was as if the pan were made of ice and our egg was landing a perfect double axel.
It's definitely not a perfect piece of cookware. You'll want to use a hot pad or an oven mitt while stovetop cooking. The majority of the pans we tested, including the KitchenAid and the All-Clad pans, had handles that stayed cool while we fried eggs and seared steak. The Williams Sonoma handle got a little warm. The Copper Chef handle got notably hot.
You're also going to want to avoid banging it around your kitchen. It's the lightest of the pans we tested — only 1.5 pounds — and that comes through in its handling. Even though it made it through our fork-scratch test without a mark, we managed to put a huge dent in it during our damage testing. Its instruction manual also points out that irreparable warping can take place if you wash it in too-cool water while it's still hot.
So why, if the handle gets hot and the pan is susceptible to damage, are we counting the Copper Chef among our top picks? Two big reasons:
Its nonstick capabilities are seriously impressive. Those commercials aren't lying — eggs and even steak slide around on this pan like marbles on a tabletop, and that's without adding oil.
It's only around 20 bucks, depending on where you buy it. For that price, we say give it to a college grad, knowing full well it won't last the entire three to five years we'd expect from the KitchenAid.
There's one more thing that makes the Copper Chef stand out — it's one of the only pans we tested that's not coated with PTFE — aka Teflon. (We initially looked at the Anolon Nouvelle Copper Nonstick Covered French Skillet, but its high-maintenance user manual precluded it from our tests. Who owns copper polish?) The Copper Chef is aluminum (copper is just its color) with a Cerami-Tech ceramic nonstick coating. Ceramic coatings are known for not having the lifespan of PTFE — another reason for that $20 price tag — and we'll discuss why PTFE isn't the risk some consumers think it is a little later. But if you know you won't be convinced that Teflon is okay, then the Copper Chef is a good option.
Two Luxury Picks
If the Copper Chef is a pan for college students, the All-Clad series is designed (and priced) for a more serious kitchen. We tested two All-Clad nonstick pans to see if the five alternating layers of steel and aluminum in the d5 were better than its tri-ply sister pan, the All-Clad Stainless Nonstick Fry Pan. We ended up liking both a lot — just not enough to outshine the KitchenAid.
From a performance standpoint, both did well across the board, with the tri-ply slightly outperforming the d5 in egg flipability and damage resistance. The tri-ply even edged out the KitchenAid in our egg test.
The d5 stands out by coming with a lid — one of only two nonstick pans among our top 10 that did. (The other was the sticky, tough-to-clean Williams Sonoma.)
We ended up preferring the KitchenAid to both the All-Clad models for a couple of reasons. First, their handles. The All-Clads' handles have outer edges that dig into your skin a little when you grip them on the stove or while scrubbing in the sink. The KitchenAid pan handle, as we mentioned earlier, was so comfortable. Not a dealbreaker, but it's noticeable — sort of like the difference between the window and aisle seat in first class.
The comfortable, easy-grip handle of the KitchenAid (right) compared to the edged version on both All-Clad pans.
Perhaps the more important differentiator: pricing. The All-Clad tri-ply pan runs around $135 (we found it for $115); the All-Clad d5 pan about $130. With similar construction, weights within ounces of each other, and near-equal performance, we couldn't justify spending $50 more for an All-Clad. That said, if you're already a fan of this very popular brand and prefer a matching kitchen, both these pans proved to be top performers.
Did you know you can purchase universal frying pan lids online? Just make sure the diameter of the lid matches the diameter of your pan.
Other (Heavier) Frying Pans to Consider
Top: Swiss Diamond Bottom: Demeyere
What stood out the most: their heft. Each is just under 3.5 pounds, the heaviest of all 10 pans we tested. Some cooks prefer a heavier pan that gives them more control for, say, flipping hashbrowns or tossing veggies. That said, our testers all preferred the KitchenAid and All-Clad pans (each is about a pound lighter), especially when imagining working with more food than just a single egg.
Another standout comes in pricing: $170 for the Demeyere and $150 for the Swiss Diamond. Yowch. At least the Swiss Diamond pan includes conflict-free diamond crystals in its nonstick coating.
A big part of this price increase is purely due to construction — namely, rivets. Rivets are what connect the handle to the skillet of slightly cheaper pans. They are rarely nonstick, which means food can get stuck to them as you cook, and they take a few extra scrubs to get totally clean. This doesn't particularly affect the performance of the pan itself, but it is a sign of quality. All our top picks have rivets (although the KitchenAid's have a nonstick coating); the Swiss Diamond and the Demeyere do not.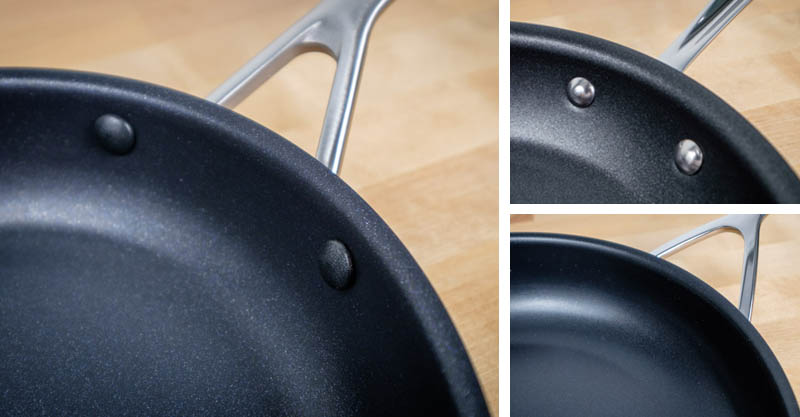 The KitchenAid's rivets (left) feature a nonstick coating, which the All-Clad (top right) lacks. The Demeyere's rivet-free interior (bottom right) could make for easier cleanup.
Did You Know?
No, you don't have to worry about PTFE or "Teflon."
As soon as anyone says "nonstick pan," someone always asks, "But what about Teflon?" When people say they're worried about Teflon, they're really worried about perfluorooctanoic acid, or PFOA, which can be used to make the non-stick coating. (Teflon is the brand name for one of many nonstick coatings that include the chemical compound polytetrafluoroethylene, or PTFE.) As the American Cancer Society explains: "PFOA has the potential to be a health concern because it can stay in the environment and in the human body for long periods of time."
Sounds scary, right? Here's what else the American Cancer Society says: "Other than the possible risk of flu-like symptoms from breathing in fumes from an overheated Teflon-coated pan, there are no known risks to humans from using Teflon-coated cookware. While PFOA is used in making Teflon, it is not present (or is present in extremely small amounts) in Teflon-coated products."
All 68 of the nonstick frying pans we initially researched for this review were PFOA-free, meaning you are very unlikely to have any health issues from using mass-market nonstick frying pans.
If you're still concerned about safety, know that even pans with PFOA are pretty safe. As Braun told us: "You only need to worry about PTFE or Teflon if you'll be heating your pan over 500 degrees Fahrenheit. Otherwise this coating is safe. However, over time this coating can begin to flake. If that happens, it's time to replace the pan."
All-Clad also sent a thorough response to our query about its PTFE coatings, which stated, "To cause any possible hazard to the consumer, it would be necessary to heat 36 nonstick frying pans simultaneously to 750 degrees Fahrenheit. Since in a domestic kitchen the maximum temperature possible to which a pan can normally be heated is approximately 575 degrees Fahrenheit, there is no risk should a pan be accidentally overheated."
Avoid nonstick frying pans with textured surfaces.
Some nonstick frying pans come with textured surfaces, such as the Frieling Black Cube Fry Pan and the Circulon Symmetry Hard-Anodized Nonstick French Skillet. It sounds a little like a no-brainer, but we found that the pans with textured surfaces were consistently less nonstick than pans with smooth surfaces — and the experts agree. "A raised pattern on a nonstick pan pretty much negates its nonstick ability," Braun confirms. "Food tends to grip to the texture, so a smooth-bottomed pan is ideal in this category."
Why would a nonstick frying pan have a textured surface? In the case of the Frieling Black Cube Fry Pan, it might be so that you can use metal utensils on the pan — a fact that Frieling advertises prominently. The Frieling pan was the only one to pass our fork scratch test with no marks whatsoever — so those surfaces are good for something!
Left: the Frieling Black Cube Fry Pan. Right: the Circulon Symmetry Hard-Anodized Nonstick French Skillet
And definitely don't use cooking spray.
Although multiple experts said that we could in theory cook without any oil or butter, we found this to be difficult in practice. Even on our top picks, a dribble of oil would probably have resulted in an easier fried-egg flip, and buttering the bottoms of the pans prior to baking would have helped our cornbread come out in a solid loaf.
That said, every expert warned us away from using cooking spray. "Never use cooking spray because it will result in a buildup that causes your food to cook unevenly," Green told us. Too much cooking spray residue can also make nonstick pans sticky, which kind of defeats the whole purpose — and both All-Clad pans came with documents stating that using cooking spray on the pans would void the warranty.
Our Top Pick
KitchenAid Tri-Ply Stainless Steel Nonstick Fry Pan The Meryl Streep of nonstick frying pans: a consistent top performer no matter what it's cooking. This KitchenAid is induction-friendly and oven-safe, with the most comfortable, easy-grip handle of all 10 pans we tested. Also available in 12-inch.