GMAT Prep Courses Reviews
Latest Update
November 12, 2015
The best GMAT Prep Courses
When scouring for the top GMAT prep courses you are looking for topnotch study materials, among many other things. It's not an easy task to find the best when there are many great options, but we found seven to be exemplary with Kaplan ranking as the number one choice.
Best Overall GMAT Prep
Kaplan GMAT Prep Kaplan's extensive online study materials and strong focus on individualized instruction have made them one of the top names in GMAT prep.
It's no wonder why most people turn to Kaplan when looking for a quality GMAT prep course. Their comprehensive study materials and the fact that their prime focus is to make the instruction personalized surely makes them stand out. One of their features that will draw you in is their low student-to-teacher ratio of 10 to 1. This individualized instruction is key when studying for the GMAT. Furthermore, you'll be even more prepared with their study materials having thousands of practice questions; 5,000 sample problems to be exact. Even more so, Kaplan offers three hours of private tutoring with full-length courses. One more perk is that you can take an experience test the day before the actual exam, helping ensure you're extra prepared.
The best GMAT tutoring services
TestMasters TestMasters' GMAT prep courses offer a number of interactive online practice materials and one-on-one instruction.

TestMasters is unmatched when it comes to the best GMAT tutoring services due to their varied selection of tutoring that they offer and their personalized study plans. Whether you choose to be tutored over the phone, online or in person, you'll be sure to receive exceptional individualized help. Additionally, TestMasters tutoring also comes with self-study courses, which is favorable to have on your side.
Choosing the right GMAT prep course for you
Every GMAT prep course provider we reviewed offers a variety of options designed to suit the learning styles and budgets of just about every student. However, certain programs stand out more than others in key areas, and these companies are highlighted in the lists below.
The 3 Best Online GMAT Courses
November 11, 2015
Whether an in-person GMAT prep course isn't available in your area or you simply want to study in the comfort of your own home, an online course is an excellent option.
The 4 Best GMAT Practice Test Providers
November 11, 2015
Every major GMAT prep course provider offers full-length practice tests, but the number and quality of the practice exams varies significantly from company to company.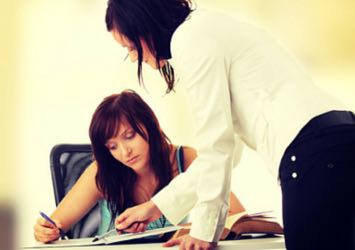 The 3 Best GMAT Tutoring Services
November 11, 2015
The first thing to consider when selecting a GMAT tutoring service is what kind of instruction you're looking for.
How we chose the best GMAT prep course
We gathered a list of 22 GMAT prep course companies and chose 7 of the best to review based on 34 of the most important features.
What GMAT prep course features matter and why
GMAT Course Delivery
GMAT Course Delivery explains the different types of instruction offered by the GMAT prep course provider. Almost all the major companies have prerecorded video lessons available for students who prefer to study on their own or for use as a supplement to live classes.
The best GMAT prep course companies also have live online or in-person classes for students who want more guidance from a trained instructor. The type of course an individual is interested in taking is the first major consideration when preparing for the GMAT exam, which makes this a relatively important category. However, all the top companies do well in this area, so it may not play a big role in the decision-making process.
Most important GMAT course delivery features
Live Online – You can take GMAT test preparation courses through live streaming video online.
On-Site – You can take GMAT test preparation courses at on-site locations.
Streaming Video – GMAT test preparation courses are available through prerecorded online videos.
GMAT Practice
GMAT Practice lists the different ways the test prep company helps their students get acquainted with how the GMAT works. In many cases, it's possible to take a free online practice test prior to signing up for a prep course. Some companies also offer a free proctored practice test at an on-site location to better simulate the feel of the actual testing environment. Practice tests come with feedback to help students recognize their strengths and weaknesses and to gain a better understanding of where to focus their studies moving forward.
GMAT practice questions are also available through practice question banks found in students' online accounts. This is another important category to consider when choosing a GMAT prep course because it gives students some important hands-on practice with the test material.
Most important GMAT practice features
Free Online Practice Test – The company provides access to a free online practice test.
Free Proctored Practice Test – The company provides access to a free proctored test at an on-site location.
Full-Length Practice Tests – The company provides full-length practice tests.
Practice Question Bank – The company provides access to a test bank of practice questions.
Practice Test Reports – The company provides feedback after completing practice tests to identify areas of improvement.
GMAT Custom Instruction
GMAT Custom Instruction describes the resources available to students interested in a more personalized approach to GMAT prep. Private tutoring sessions, both in-person and online, are available through the best GMAT prep course providers and offer a custom study plan catered to each individual's strengths and weaknesses. Some companies also offer special workshops or seminars that focus strictly on one subject area, such as math.
This is another option worth considering for students struggling with one particular section on the GMAT. Individuals looking for one-on-one instruction will want to pay close attention to this category, but it may not be as important for those who are hoping to take a more traditional GMAT prep class.
Most important GMAT custom instruction features
Custom Study Strategy – The company provides a custom study strategy or study schedule.
Online Tutoring – You can receive GMAT tutoring online via webcam.
On-Site Tutoring – You can receive GMAT tutoring at an on-site location.
Subject Refresher – The company offers instruction that focuses on a specific portion of the GMAT.
Learning Materials
Learning Materials refers to the resources provided by the GMAT prep course companies to assist students in learning the material on the exam as well as how the exam works. The most important material provided are the course books, which go over the subjects covered on the exam and provide practice problems. Some companies go beyond this by including helpful exam tips in a GMAT blog or by providing a forum for students to communicate with their instructors and their peers.
For times when a simple question about the exam arises, try turning to the FAQ section of the GMAT prep course website. These online resources are valuable when it comes to understanding the GMAT and what students can do to maximize their scores, so this category is worth paying attention to.
Most important learning materials
Blog – The company publishes a blog that discusses content relevant to the GMAT.
Books – The company provides books/workbooks to help you prepare for the GMAT.
FAQs – The company provides a list of answers to GMAT-related frequently asked questions.
Flash Cards – The company provides flash cards featuring GMAT material.
Forum – The company provides an interactive forum where users can post questions and answers.
Interactive Games – The company provides online interactive games to help you learn the material.
Student Support
Student Support discusses the various ways the GMAT prep course provider helps their students achieve their goals. Instructors and tutors are available via email or telephone to answer any questions. For those taking an online GMAT prep course, live chat is another option for communicating with classmates and instructors. In addition, many prep course providers offer guarantees stating their students will improve their GMAT score by a certain amount after taking the course.
Students who don't see the guaranteed level of improvement are eligible for a full refund or the opportunity to retake classes at no additional cost. This category is another one to keep an eye on because it demonstrates the level of support students can expect to receive from their instructors as well as the GMAT prep course provider.
Most important student support features
Email – You can reach your instructor or tutor via email for assistance.
Free-Study Guarantee – The company allows you to retake classes for free if you do not receive a higher GMAT test score.
Live Chat – You can reach your instructor or tutor via live chat for assistance.
Money-Back Guarantee – The company offers a money-back guarantee if you do not receive a higher GMAT test score.
Phone – You can contact your instructor or tutor by phone.
Social Media – You can contact the company with questions through social media.
Admissions Prep
Admissions Prep encompasses the additional services the GMAT prep course company provides to assist students in gaining admission to their desired schools. This includes seminars where individuals learn more about the admissions process and how to strengthen their candidacy. For an additional fee, it's also possible to get help on application essays and conduct mock interviews with trained instructors. These services aren't going to appeal to everyone who's taking a GMAT course, but they're undeniably useful, so it's something to consider when selecting a prep course company.
Most important admissions prep features
Admissions Seminars – The company holds events or seminars to discuss the admissions process and strengthen your candidacy.
Application Assistance – The company provides guidance and input to help improve your application.
Mock Interviews – The company provides mock interviews to help prepare you for admissions interviews.
All GMAT Prep Course Reviews