The Best Hair Loss Treatment
Hold on to what you've got
Latest Update
August 14, 2017
Bad news: There's no cure for baldness. Better news: There are a few ways to keep your thinning hair from getting any thinner. According to the hair loss specialists we spoke with and the clinical studies we read, 5 percent minoxidil foam is the best hair loss treatment to start with — it's safe for both men and women; it really works; and you don't need a prescription to use it.
The 5 Best Hair Loss Treatments
If you were to check your spam inbox right now, you'd probably find — among the fishy links and generous offers from Nigerian princes — at least a dozen offers for the best hair loss treatments money can buy. There's a reason these offers tend to get clicks: A lot of people are losing their hair.
According to the American Hair Loss Association, two-thirds of American men will experience some degree of appreciable hair loss by the age of 35. By the age of 50, the number of men with "significantly" thinning hair shoots up to a staggering 85 percent. Women hardly have it any better. Though pop culture tends to associate hair loss with men (Julius Caesar's hairline-hiding laurels, George Costanza's shiny dome), women actually account for up to 40 percent of the total hair loss sufferers in the United States.
Men's Rogaine Unscented Foam and its sister, Women's Rogaine Foam, are our top picks: they're safe, non-prescription, and easily available. They are identical formulas in different bottles — ladies, apparently, need something with a flower on it. (Costco's Kirkland Signature Regrowth Treatment Minoxidil Foam for Men is the cheapest generic.) The most important part of their ingredients list is minoxidil, a topical drug that has been clinically proven to slow hair loss and even regrow some hair.
Prescription finasteride (sold under the name Propecia) and at-home laser treatments, such as the FDA-approved HairMax Ultima 12 LaserComb or the Capillus82 Laser Cap, have also been shown to be effective. The key to halting your hairline is ultimately finding a hair loss regimen that works for you. A doctor is your best bet for that kind of guidance — but we can definitely tell you which treatments your scalp (and your wallet) should steer clear of.
How We Found the Best Hair Loss Treatments
"The most common cause of hair loss in both men and women is androgenetic alopecia, which is genetic pattern hair loss," explains Dr. Michael B. Wolfeld, a board-certified plastic surgeon and an assistant clinical professor of plastic surgery at the Icahn School of Medicine at Mount Sinai Hospital in New York. The root cause of this type of hair loss is dihydrotestosterone (DHT), a byproduct of testosterone that shrinks certain hair follicles until they eventually stop producing hair.
Body Builders Treatments such as Toppik use statically charged keratin fibers that bind to existing hair shafts, which may make hair look thicker, but does nothing to prevent hair loss. You might want to consider using one of these products in addition to an actual hair loss treatment, but don't count on it alone.
Other medical conditions — most commonly telogen effluvium and seborrheic dermatitis — can also cause hair loss, but most people can trace their follicular woes back to androgenetic alopecia, so we focused our search there. We started with more than 200 products, including all-natural solutions and high-tech gadgets, while skipping treatments that focus only on volumizing or thickening hair. We also limited our scope to the scalp, and left out specialty products designed only for eyebrows or beards.
We dug into clinical studies and talked to experts in the field, who helped identify specific ingredients that have proven effective in combating hair loss and aren't just snake oil. The ugly truth: The vast majority of hair loss treatments boast exaggerated claims, and a startling number have absolutely no scientific backing whatsoever.
Our first step: eliminating those snake oils.
To us, that meant any product with zero proven ingredients, case studies, or FDA clearance — which shrunk our list by a whopping 180 contenders. That's right, there are only three treatments that have actually been cleared by the FDA and supported with clinical studies: finasteride (commonly marketed as Propecia), minoxidil, and laser treatments. And, since finasteride is prescription-only, it left us with two.
With those pinned down, it wasn't hard to determine which don't actually work. Pretty much all the "active" ingredients listed in ineffective treatments — from biotin and zinc to emu oil and saw palmetto — have never been proven, and are instead marketed based on logical-seeming correlations. It would make sense that biotin, a B vitamin readily found in hair, skin, and nails, could help hair grow more quickly. And caffeine is a stimulant that works in coffee, so rubbing some on your scalp might wake some of those sleepy follicles… right?
Not so fast. Dr. Alex Khadavi, a board-certified dermatologist and associate professor of dermatology at the University of Southern California, says that it's a good idea to approach all of these products with a skeptical eye. "There's people selling pills and creams and lotions and whatever else, and sometimes you can't even trust what ingredients they have in there," he warned us when we spoke to him over the phone. Key takeaway: The hair loss industry is crazy dishonest.
We favored minoxidil over laser treatments.
Double your efforts. Even if you're taking finasteride or applying minoxidil daily, you can still use a laser treatment. In fact, all our experts say combining treatments is the way to go.
Laser treatments are the latest frontier in staving off hair loss, and they'll be the first choice for fans of sci-fi. (There is a certain appeal to running the HairMax Ultima 12 LaserComb through your hair like you're the Terminator, or donning the Capillus82 Laser Cap and yelling, "Play ball!" in Klingon.) And these treatments do work — the American Journal of Clinical Dermatology in 2014 reported a "statistically significant difference" in hair density with no "serious adverse events" or side effects.
The bad news: Laser treatments tend to be expensive, progress is slow, and they don't always produce stellar results. "I think their effectiveness is not as significant as finasteride or minoxidil," says Dr. Wolfeld, "however, it's something that can be used quite easily by patients at home. If they use it two or three times a week, I tell them it can help to thicken their hair." Results can take up to 18 months to show up, so Dr. Wolfeld stresses that patience is a virtue.
And then ditched 2 percent minoxidil treatments for 5 percent.
Not surprisingly, treatments with 5 percent minoxidil work better than treatments with 2 percent minoxidil. A randomized clinical trial published in the American Journal of Clinical Dermatology in 2002 found that, in men with androgenetic alopecia, "5 percent topical minoxidil was clearly superior to 2 percent topical minoxidil and placebo in increasing hair growth." The difference was actually pretty astounding — after 48 weeks, the men who used 5 percent minoxidil experienced 45 percent more hair growth than the men who used the 2 percent treatment.
A separate study, published in Skin Therapy Letter in 2014, found that women also benefit from using the more potent 5 percent minoxidil treatment. "Patient-reported improvement in hair volume and coverage appears to be greater with 5 percent minoxidil foam," reads the report. Plus, because the 5 percent treatment is stronger, women only have to apply it once a day to get the same results as they would with the 2 percent treatment applied twice daily.
We cut anything including propylene glycol.
While there are no overtly harmful ingredients in over-the-counter minoxidil, liquid solutions contain propylene glycol, which may cause itching, redness, and irritation. "I would say a third of patients get irritated from the minoxidil, and that's because of the propylene glycol," Dr. Khadavi explains.
Fortunately, most minoxidil foams don't use propylene glycol and thus stand a much lower chance of irritating your scalp than their liquid counterparts — all our top picks are foams.
Our Picks for the Best Hair Loss Treatments
Best Overall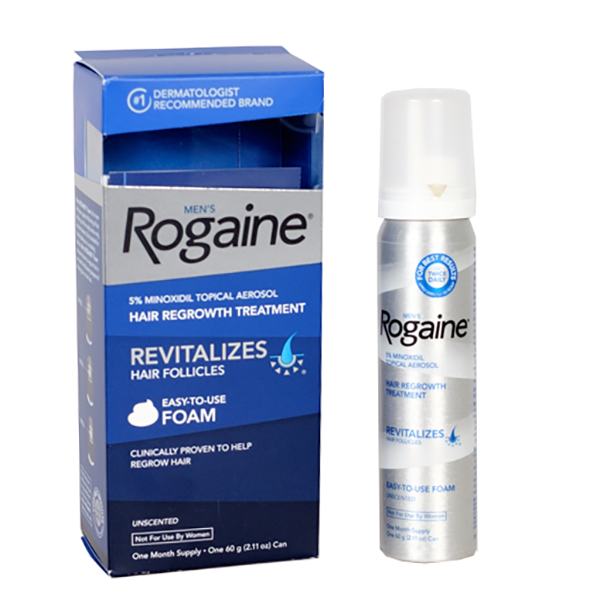 In our research and our conversations with experts, one name kept popping up repeatedly: Rogaine. As the first topical brand FDA-approved to help regrow hair (all the way back in 1988), Rogaine benefits from more than 20 years of clinical trials and consumer feedback. Rogaine was the first brand to offer a 5 percent minoxidil foam solution when it debuted Men's Rogaine Unscented Foam in 2006, and virtually every treatment developed since (for both men and women) has been an imitation or derivation of that formula.
And that's why Men's Rogaine Unscented Foam is our top pick — it's the exact same product as the women's formula, and much cheaper.
When we spoke with Sarah, a Rogaine nurse, she explained that the different packaging (and therefore different prices) has to do with the FDA-approval process. "We discovered in clinical trials that the hair loss patterns between men and women are different," she said by way of explanation. "Men typically have that bald spot on the crown of their head, where women generally have a general thinning throughout, but concentrated more on the top of the head. So for FDA approval, we had to come up with two different, gender-specific products, so the directions were more explanatory."
The only real difference between the men's and women's directions (beyond different diagrams of hair loss patterns): Men are instructed to use Rogaine twice daily; women only once.
Why? Unwanted hair growth (sideburns, for example) is a reported side effect of minoxidil. The belief is that a higher concentration of minoxidil would result in more unwanted hair, which is why women are instructed to use it less often. However, the study in Skin Therapy Letter reports that unwanted hair was more common in 2 percent minoxidil solutions than 5 percent, and women are instructed to use Rogaine's 2 percent solution twice daily — so what gives?
(This is all to say you should really work with your doctor to figure out what treatment plan will work best for you.)
Same Product, Different Bottle
Women's Rogaine Foam Women are instructed to use Rogaine less often then men — and get to pay $10 more.
If you're a lady and can remember the one difference in directions (or just scope out the instructions online) we recommend saving the cash. Similarly, you could go generic with Equate Hair Regrowth Treatment for Men or Costco's Kirkland Signature Hair Regrowth Treatment Minoxidil Foam for Men. These alternatives offer the same percentage of active minoxidil and near-identical inactive ingredients for as little as half the price — a great option for both genders unless you want in on Rogaine's Real Results Program and iPhone app, which are designed to help men stay motivated via daily reminders to use the product, plus advice, support, and a tracker for encouragement (think: Fitbit for your hairline).
Sound overboard? Maybe. But consider this: Treating hair loss is a lifelong commitment. Minoxidil (as well as finasteride) stop working if you don't use them continually. Daily reminders and an online community might come in handy, especially if you're the type of person who forgets to, say, take out the trash every week. Losing your hair can be a stressful and anxious experience, and no other brand seems to understand this more than Rogaine, which does everything short of holding your hand while you apply the actual product.
Rogaine's iOS app lets you schedule your routine and set reminders. However, its selection of tips and related articles are targeted specifically at men and its overall design is fairly dated.
Rogaine's foam squirts out just like hair mousse and is applied with "cool, dry hands." Applying means working the foam down to the scalp where you want to see thicker growth — for it to work, "it has to get into your scalp," Dr. Wolfeld explains. "If it sits on your hair, it's not really as effective." Once massaged, it dissolves into a watery liquid that leaves a tingly sensation, "but no burning!" one of our balding testers was happy to discover.
Once applied, Rogaine's foam formula quickly transforms into a liquid.
Other Hair Loss Treatments to Consider
Men's Rogaine Extra Strength Solution is the liquid version of our top pick. It didn't make our final cut because it includes propylene glycol, which causes irritation in roughly one-third of its users. With that said, Dr. Wolfeld finds that it can be even more effective in practical daily use. In his experience, "the solution can penetrate and get into your scalp a little bit better" than the foam — especially if you're not taking the time and effort to apply the foam correctly. This seems crazy to us since the foam so quickly dissolved into a liquid in our tests, but if you're worried, try a one-month supply of the liquid and make the switch to foam if you notice any irritation.
The HairMax Ultima 12 LaserComb ($395) makes for a great addition to any hair loss regimen — provided you can afford it. Dr. Wolfeld notes that it's a popular option in his practice. "Some people like the action of combing something through their hair," he says. "They find that to be a little bit easier to do as part of their routine in the morning." Dr. Khadavi also recommends using a laser treatment of some kind in conjunction with other treatments. "Lasers do help in stimulating the hair into the growth phase. We don't know the exact mechanism of how it works, but it definitely helps."
The general medical consensus around laser treatments — caps and combs alike — is that low-level laser light therapy stimulates the cells within the hair follicle. These devices may also increase cell metabolism to promote thicker and more durable hair shafts, something that neither minoxidil or finasteride can do. To use the HairMax Ultima, all you have to do is glide the device over your scalp slowly. Treatments should take about eight minutes, and you should do it three days per week for the best results.
The Capillus82 Laser Cap ($799) is another good option that Dr. Wolfeld specifically recommends to his patients. It's more expensive than most laser combs, but it uses the same technology and the cost might be worth it if you prefer a more hands-off type of laser treatment. Instead of meticulously working a comb across your scalp, all you have to do is wear the cap for 30 minutes a day. This can be huge, Dr. Wolfeld notes, because many patients get frustrated with the effort it takes to use the comb and stop using it long before it can actually make a difference. The Capillus82 Laser Cap stands out from other caps thanks to its low profile, which is designed to be worn under a sports cap — but you better love it. This guy has a zero-return policy.
Did You Know?
Prescription finasteride is usually the first line of defense against hair loss — for men.
"In men, the most effective treatment for thinning hair is finasteride," says Dr. Wolfeld, who routinely prescribes the pill to his patients. "Finasteride is a great medication that goes to the root cause of hair loss," agrees Dr. Khadavi. "You always have to address the root cause of the hair loss or they're going to continue to lose more hair."
Indeed, finasteride (also known as Propecia) works by lowering the body's levels of the hormone DHT, which binds to receptors in hair follicles at the top of the scalp, causing them to gradually shrink and lose the ability to grow thick hair. (The follicles on the sides of the scalp are more genetically resistant to DHT, which is why male pattern baldness often results in a "crown" of hair.)
But! Its downsides are serious. "With women, finasteride is not an option," says Dr. Wolfeld. "It's not FDA-approved for women to take, so we don't prescribe it." In fact, due to the drug's effect on hormone levels, pregnant women are advised to not even touch broken or crushed tablets.
Men may also experience some sexual and emotional side effects while taking it: In a study published in the June 2011 issue of The Journal of Sexual Medicine, Dr. Michael Irwig of George Washington University found as many as 92 percent of test subjects reporting problems in the bedroom. The study also reported that "the mean duration of finasteride use was 28 months and the mean duration of persistent sexual side effects was 40 months," meaning that side effects lingered long after subjects stopped taking the pill.
How worried should men be about the sexual side effects of finasteride? "What I tell men is that it's not something they should stress about," says Dr. Wolfeld, "but it is something they should be aware of." In his experience, he notes only a roughly 5 percent incidence of sexual dysfunction reported by patients who take the medication.
The 3 Best Hair Loss Treatments
| | | | |
| --- | --- | --- | --- |
| | Finasteride (Propecia) | Minoxidil (2% or 5%) | Laser Treatments |
| Approved for Men/Women? | Men Only | Both | Both |
| Application Types | Pill (1 mg dose) | Foam, serum, spray, or shampoo or conditioner | Laser cap or comb |
| Prescription Required? | Yes | No | No |
| Possible Side Effects | Low libido, erectile dysfunction, decreased sexual arousal | Burning sensation, unwanted hair growth, dizziness, and more. | Minimal; itching and tingling of scalp |
Hair loss "treatment" does not mean hair loss "cure."
One exists, and the other doesn't. While dermatologists and medical researchers have devised numerous pills, serums, and foams to combat hair loss, none of these can reverse the natural course of genetics. Those feisty little packets of DNA hold sway over pretty much every physical trait imaginable, from whether you'll ever be able to reverse-360 dunk a basketball to — yes — whether you'll lose your hair.
The most effective hair loss treatments won't conquer your genes, but they will slow down the process and may even help regrow some hair when used on a consistent basis. Experts doubt whether there will ever be a total cure for baldness (Dr. Wolfeld cites hair cloning as the next frontier to help "thicken and maintain hair") and even if one is discovered, it probably won't work on everyone. This touches on two pieces of advice that nearly all of our experts share with patients suffering from hair loss: Keep expectations realistic, and understand that what works for someone else may not work for you.
The earlier you begin treating hair loss, the more effective the treatment will be.
Androgenetic alopecia is a condition that gradually worsens over time, so the general rule is that the earlier you seek treatment, the better. "If you're losing your hair and you have genetic hair loss, using medication such as Propecia or minoxidil is most effective when started early," says Dr. Robert M. Bernstein, Dr. Wolfeld's colleague at Bernstein Medical – Center for Hair Restoration. Because not everyone loses hair on the same timeline, you can't rely on statistics to tell you when you should start treatment. Some men start to notice thinning in their early 20s, while others maintain a thick head of hair well into their 50s. If you suspect that you're starting to lose your hair and want it to stop, act quickly.
Several of the most commonly cited "causes" of hair loss have no scientific backing.
Wearing a hat can make you go bald. Nope. As Dr. Bernstein notes, hair follicles get their oxygen from the bloodstream as opposed to the air, so go ahead and rock your favorite team's cap every day. On second thought, you might want to consider washing it at some point…
Bald guys have more testosterone. No, but they do have a higher percentage of hair follicles genetically susceptible to DHT. It sounds a lot less sexy when you put it that way. BBC Future did a whole investigation into this myth, proving once and for all that Bruce Willis is no more virile than Fabio.
Hair loss is passed down from your mother's side. Actually, both parents may contribute genes that may make you more susceptible to hair loss, as this great video from AsapScience illustrates.
Using too much hairspray or gel can cause hair loss. No, but it may make people think you're a time-traveler from the '80s. This was just one of several myths debunked in an entertaining 2011 report by US News.
Only men lose hair on their scalp. As our research makes abundantly clear, plenty of women suffer from hair loss, too. The American Academy of Dermatology estimates that as many as 30 million women in the U.S. suffer from hereditary hair loss.
The Bottom Line
Because there's no cure for baldness (yet), there's no hair loss treatment that's going to leave you totally satisfied. With that said, there are three FDA-approved treatments — minoxidil, finasteride, and lasers — that can stave off hair loss for the foreseeable future. Use them together for best results.
Take Action
Best Overall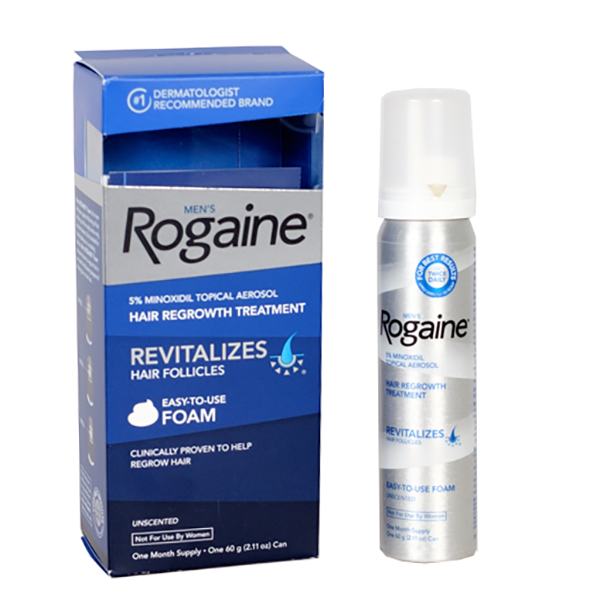 Consider the long-term financial commitment — and plan accordingly. Because treatments such as minoxidil require a continuous, lifelong commitment, the costs can really add up. Buy in bulk when possible, and take advantage of auto-renewal deals that shave off $20 here and $20 there. Over time, that adds up. Even so, if you use Rogaine for, say, 15 years, you're looking at a total cost of $2,500 — and that's if you don't choose to use finasteride and laser treatments.
Talk to your doctor about hair transplants. Though transplants are often prohibitively expensive and often considered as a last resort, they can be a powerful tool in the battle against hair loss if minoxidil, finasteride, laser treatments, or some combination of the three aren't producing the results you desire.
Take steps to boost your confidence. Losing your hair can ding your self-esteem; that's just the truth of it. If you're interested in embracing your baldness, try listening in to radio shows such as The Bald Truth or joining a support group; the American Hair Loss Association keeps a list of them on its website.
Gupta A.K., & Foley K. A. (2014). 5% Minoxidil: Treatment for Female Pattern Hair Loss. Skin Therapy Letter, 19(6).

Irwig, M. S. and Kolukula, S. (2011), Persistent Sexual Side Effects of Finasteride for Male Pattern Hair Loss. Journal of Sexual Medicine, 8: 1747–1753.

Jimenez, J. J., Wikramanayake, T. C., Bergfeld, W., Hordinsky, M., Hickman, J. G., Hamblin, M. R., & Schachner, L. A. (2014). Efficacy and Safety of a Low-level Laser Device in the Treatment of Male and Female Pattern Hair Loss: A Multicenter, Randomized, Sham Device-controlled, Double-blind Study. American Journal of Clinical Dermatology, 15(2), 115–127.

Olsen E.A., Dunlap F.E., Funicella T., Koperski J.A., Swinehart J.M., Tschen E.H., & Trancik R.J. (2002). A Randomized Clinical Trial of 5% Topical Minoxidil Versus 2% Topical Minoxidil and Placebo in the Treatment of Androgenetic Alopecia in Men. Journal of the American Academy of Dermatology, 47(3), 377-85.