The Best Stationary Bikes
The best stationary bike provides an ergonomic workout that bridges the gap between cardio and strength training. We talked with a physical therapist and a fitness trainer to find which construction qualities are most important, then combed the market for exercise bikes that had it all: total adjustability, a heavy flywheel, and smart metrics. Seven bikes and about 100 miles of pedaling later, we found two picks that offer the smoothest, most customizable rides
The 2 Best Stationary Bikes
The Best Stationary Bikes: Summed Up
| | | |
| --- | --- | --- |
| | Bladez Echelon | Diamondback 510lc |
| | Best Ride | Best Programming |
| Weight | 88 lb | 104 lb |
| Flywheel Weight | 32 lb | 40 lb |
| Displays | Resistance levels, calories, and heart rate | Resistance levels, calories, heart rate, and watts |
Bladez Echelon
Pros
Smooth ride
Adjustability
Overall design
Cons
Sensitive resistance knob
Return to top
Why we chose it
Smooth ride
The Bladez Echelon scored highest overall in our tests, beating out bikes that cost nearly three times as much. Despite its relatively small price tag (you can find it for about $400 on Amazon), the ride quality — fluidly rotating pedals and whisper-quiet function — reveals its solid construction. No matter how high or low you set the intensity, every push encounters smooth and substantial resistance that doesn't weigh down your effort, but adds to it. The flywheel churns with a barely noticeable hum and, when you push down on the brake, it comes to a swift stop. We got off after our first ride and had to double-check the price — we'd found an unexpected diamond.
Adjustability
The Echelon's adjustability allows pretty much anyone to achieve a 45-degree body angle. It puts more priority on horizontal distance than vertical distance. Its handlebar and seat don't ratchet up and down as much as some, but they do slide toward and away from each other by the largest margin – you can set that distance anywhere from 18 to 24 inches. This is an important adjustment people need for perfect posture: you need to tailor where your hips are in relation to your knees and match the torso length to your own, not just set the seat the right distance from the pedals.
When it comes to leg extension, though, it's plenty versatile, with a seat-to-pedal range of 28.4 to 36 inches. (The right distance is slightly less than your inseam.) With the Echelon's intelligent range of measurements, our testers were able to sit well forward, hands resting on the slightly downward-sloped handles. Another plus: greased-up components and labeled levers make the task of adjusting in all four places a lot easier.
Overall design
We jumped on for our first ride anticipating that the tiny, coaster-sized display would leave us wanting more, but it was actually refreshing to be given something so simple and easy to control. It tracks the basics (time speed, distance, and RPMs) and allows you to toggle through them, let them cycle, or focus on just the one you care about.
In addition, the Echelon's slim frame, with an arcing compass rose design on the flywheel, echoes the bike's dynamic motion and points to its portability. While its flywheel weighs in at 40 pounds (the heavy end of our contenders), its total weight is lighter than most — 88 pounds versus the average 100. Tilting it up on its front wheels for transport is a breeze. However, that portability doesn't mean it's flimsy. The Echelon is impressively sturdy and can still handle riders up to 275 pounds.
Points to consider
Sensitive resistance knob
If we could amend one thing about the Bladez Echelon, it would be calibrating the sensitivity of the resistance knob. We appreciated not having to turn it much in order to make significant changes, but sometimes it felt too easy to overshoot in either direction. Still, it was a time-saver over both the detailed console of the Diamondback and the slow-to-respond knob of the Schwinn.
Diamondback 510lc
Diamondback
Diamondback 510lc
Pros
Great display
Great design
Return to top
Why we chose it
Great display
If you're looking for detailed feedback on your workout in addition to an exceptionally smooth ride, the Diamondback 501Ic delivers. About the size of a credit card machine, the display on the Diamondback 501Ic is dense with information and options, providing access to fitness programs (all tried-and-true standards like interval training and hill climb), resistance levels, calories, and watts.
Informative feedback like heart rate and watts gives more of the directed workout that you might be used to from the commercial-quality, high-tech equipment at your gym. And because cycling is intended to be a concentrated, high-intensity workout, we appreciated that the Diamondback's display gave us options without giving us distractions. It's straightforward enough that you can make changes without losing your rhythm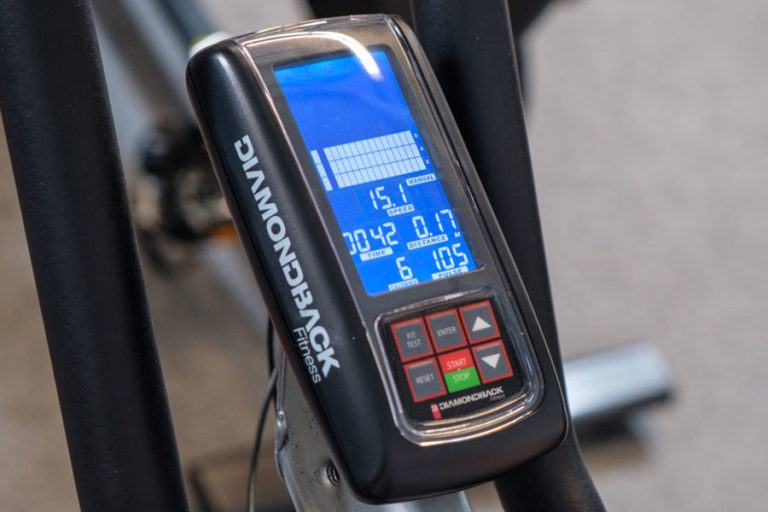 Great design
The 501Ic has one point of commonality with commercial cycles: it's hefty. Though the flywheel weighs less than the Echelon's (32 pounds versus 40), the 104-pound bike weighs a good 20 pounds more than the Echelon. But we appreciated the extra solidity while cycling. It generates a wonderfully heavy and consistent tension that one tester described as "cycling underwater." And all that intensity is tempered by easy-to-propel pedals that encourage a springy forward motion.
During seated riding, the 501Ic was even quieter than the Echelon. On the Echelon, we could hear the soft sweep of the wool pad braking the wheel, but on the 501Ic, even high speeds and high resistance sounded like nothing more than gentle wind.
Points to consider
Not very adjustable
When it comes to rider compatibility, this Diamondback is larger and stronger than the Echelon, accommodating 300 pounds to the Echelon's 275, and has a seat-to-pedal range that's slightly wider: 28.5-37.5 inches versus 28.5-36. But we dinged the 501Ic for not having fore and aft adjustability on the handlebars, or the distance between the seat and handlebars.
There is technically an option to change the handlebar positioning so long as you're willing to haul out a toolbox, but most people will rely just on sliding the seat forward and back. This shrinks the 501Ic's torso range to between 15 and 19 inches: the smallest range of all seven bikes we tested. If you have a particularly long torso, you might be too penned in to achieve perfect form.
How we chose the best stationary bikes
Adjustability
Ergonomic positioning means your body is properly aligned, distributing weight load and working muscles symmetrically. On a stationary bike, a 45-degree tilt evenly distributes weight between the rear and hands, allowing you to work your glutes and hamstrings. According to Dr. Owens "It's better exercise, and better for you biomechanically, to exercise at an angle than upright."
Our top picks needed to be adjustable enough to put any sized body in the ideal 45-degree angle. While most users won't need extremely low and high settings, everyone will need to make small tweaks, likely at all four possible points of adjustment. We wanted bikes that allow adjustment up and down, as well as fore and aft, on both the seat and handlebars. No bike makes this effortless, but we gave our highest scores to the bikes that hit our adjustment criteria — then gave preference to those that tried our patience the least.
A weighted flywheel
A quality aerobic/anaerobic workout is indoor cycling's claim to fame. When your effort affects the intensity of the resistance, you are working both harder and smarter than you would be on a machine with mechanically controlled resistance: A weighted flywheel becomes harder to turn the more energetically you pedal, and those user-controlled bursts of power are what make cycling good for you. In contrast, electric or eddy current braking (ECB) systems rely on the pull of magnets to create intensity and thereby reduce muscle demand.
A heavy flywheel reduces the turbulence of pedaling and ensure your workouts continue to challenge you as your fitness level improves. Top of the line bikes have flywheels weighing between 40 and 50 pounds, while cheaper bikes taper off before they hit 20. A 30 pound flywheel is a good benchmark, so we made it our minimum requirement.
One-year warranty
Durable and reliable exercise equipment comes with a warranty: It means the company stands behind its manufacturing. Exercise bike warranties typically aren't long (typically less than three years), but customer reviews informed us that the machines tend to exhibit any existing flaws within the first year. We wanted protection against the most typical first-year concerns: faulty drive systems (the chain or belt that rotates the flywheel), malfunctioning displays, and ripped upholstery.
Smooth ride
We only brought in exercise bikes boasting impressively heavy flywheels — the top arbiter of ride feel — so we were surprised in the different ride experiences, which ranged from gravelly to gliding. The best spun in silence, not jostling even as we amped up intensity, riding out of the saddle: the Bladez Echelon and the the Diamondback 501Ic were the top performers.
We also paid attention to the difference between chain and belt drives. Stationary bikes employ either a metal link chain or a rubber belt to connect the movement of the pedals to the rotation of the flywheel, and while there are lots of competing opinions about which is more durable, our testers' unanimous opinion is that a belt drive makes for the steadiest ride. It ended up being the lone mechanical difference between our buttery Bladez Echelon ride and the less-pleasant Bladez Fusion.
Easy resistance controls
To toggle resistance, some bikes have you twist a knob, while others like the Diamondbacks leverage digital consoles. We ended up liking the console approach of the Diamondbacks more than we thought we would. It's slightly finicky, insofar as you have to select "Manual" and arrow up one level at a time, but once you get the hang of it, it's no more time-consuming than reaching down and twisting a resistance knob. And, compared to knob controls, the leveling is much more precise.
Useful display
The simple display of an indoor exercise bike might be a surprise after the flashy consoles of other gym equipment like treadmills, but reducing features might improve your exercise. "Bells and whistles can detract from your workout," Dr. Owens asserts. "You're not engaging." Rather than zoning out to to the news, he recommends keeping an eye on your stats.
Stats that reflect your effort level, such as RPM (wheel rotations per minute) and watts (rotations plus force), are vital for getting a good workout. And they're all but mandatory if you're going to follow any virtual training session — all the instructions are based on your intensity level. Our testing pulled two different indoor cycling bikes into the lead. One satisfied all our basic needs in a design that kept us comfortable and engaged. The other upped the ante with complete metrics that helped keep our motivation and performance high.
Guide to Stationary Bikes
How to find the right stationary bike for you
Consider technique
While our top picks will suit most riders, technique plays a large role in getting a good workout. Put yourself in the best possible position to get a symmetrical, injury-free workout by ensuring that:
While pedaling, your knees should maintain a 30 degree bend at full extension
When your pedals are parallel with the floor, your front knee should be directly above the ball of your foot
Handlebars should be no more than two to four inches higher than the front of the saddle
Your weight rests on your sit bones
Your trunk is strong and straight, leaning forward at a 45 degree angle
Consider your goals
The point of getting a great bike is that it offers the workout you need — if you're looking for the best workout possible, an informative display like the one on the Diamondback will help you track of your progress. But if you are just looking for a general yet effective workout, the Bladez offers more than enough. In any case, it's best to try out a bike to see if it's comfortable and allows you to maintain proper technique.
Stationary Bikes FAQ
Our Other Fitness Reviews
Looking for more ways to stay in shape? Check out our other fitness equipment reviews to explore a variety of ways to start or add to your home gym.