The Best Water Bottles
The best water bottle should be functional, convenient, and safe from harmful chemicals. To locate bottles that answer to all of the above, we dove into debates on what makes a water bottle great, from material type to nozzle design. We landed on five well-designed bottles that fulfill a variety of needs, while addressing our No. 1 concern: keeping your water in its purest, healthiest form.
Analysis paralysis? Subscribe to our newsletter.
The Best Water Bottles: Summed Up
How We Chose the Best Water Bottles
Popular models
Because there are hundreds of different water bottles on the market, we sought out models that consistently topped "best of" lists, scoured customer reviews on Amazon, REI, and Dick's Sporting Goods, and researched the benefits and drawbacks of various water bottle materials and lid styles. We wanted to include the big names in water bottles but found ourselves increasingly drawn to newcomer brands as well. We were keen to stack the newest ergonomic masterpieces against cult classics.
The set of water bottles we ordered were the most promising and innovative of the bunch — representing a variety of sizes, materials, and lid types. After all, the best water bottle means different things to different people; some want heavy-duty stainless steel for rugged hikes, while others prefer stylish glass bottles that feel more at home on a conference table.
Build quality
The No. 1 sign of a badly designed water bottle is leaks. To find leak-proof bottles, we filled all of the water bottles with pineapple juice (potent flavor plus potent color) and left them on their sides overnight. Pointing slightly downhill on an inclined surface helped imitate some of the odd positions your bottle winds up in when jostled around in a backpack. Bottles that left pineapple stains on our paper towels were automatically out of the running.
Sturdiness also came into play here, as a poorly constructed bottle may become useless after a single fall. While it's never wise to drop glass, we subjected our stainless steel and plastic picks to a drop from chest-height in a cement stairwell to see which were sturdy enough to face the wear and tear of daily use. The giant Healthy Human bottle fared the worst here — the ding at its base threatened to keep it from standing upright.
Handling ease
To see how easily we could open and drink from a water bottle even if our hands were full, we tried carrying a heavy backpack in our arms while drinking from each one. We found that too-small handles left fingers crunched, while sleek handle-less models made it nearly impossible to get a good grip on the cap.
Flavor
If you use your water bottle for substances other than water, it's important that it doesn't retain that flavor after a good washing. After leaving our pineapple juice in each bottle for 15 hours, we rinsed each bottle thoroughly and refilled them with water. During our taste tests, we noted which bottles retained those acid pineapple notes — and, no surprises, plastic bottles were the worst offenders.
Temperature hold
For our insulated models, we put advertising claims (24 hours of ice! 12 hours of hot coffee!) to the test. We filled them with ice water and later with piping hot water, testing their temperature after a few hours and then overnight. While all bottles were relatively subpar at keeping things warm, a few bottles managed to keep water "glacier-cold" even after sitting on a desk overnight.
The 5 Best Water Bottles
Zoku
Zoku 25oz Stainless Steel Bottle
Pros
Excellent build
Convenient mouth size
Portable
Cons
Not dishwasher-safe
Not great for hot drinks
Why we chose it
Excellent build
One of the draws of stainless steel bottles is that they're sturdy enough to survive the conditions of rugged outdoor activities, and the Zoku was the best of the bunch in this regard. The old-guard stainless steel models, including those from Klean Kanteen and Hydro Flask, sustained some impactful dents in our drop test. Only the Zoku came away without a scratch, which manufacturers attribute to the bottle's double-walled siding. Those insulating double walls also mean that you can get a cold slurp of water hours into a hot day-hike. After eight hours, the ice water we left in the Zoku was still cold enough to hurt sensitive teeth.
Convenient mouth size
While stainless steel bottles are infamous for their wide-mouth brims, which make drinking on the go near impossible, we found that the Zoku's tapered, medium-wide opening (about 1.5 inches in diameter) let us take hearty chugs free of dribbles. And it's still broad enough to allow for no-fuss cleaning: You can easily see inside to make sure you're not leaving any residue. A simple screw-on mouthpiece makes washing a snap, even when you're camping and far from a sink.
Portable
The Zoku's brushed metal exterior is smooth without being slippery, and the grippable rubber cap is easy to open and close up tight. Perhaps most importantly, it hits the sweet spot of carrying a lot of water and not feeling bulky. In contrast, we found a lot of the large-capacity stainless steel bottles hard to carry, especially when they were full.
The typical, hard plastic handle of competitors requires you to loop three (or crunch four) fingers into the narrow slot — okay for carrying from house to car, but aggravating for longer stretches. Zoku features a soft, flexible accessory cord loop, cleverly threaded through the lid. Most testers could easily fit all four fingers into the loop, which allows your hand to hang in a comfortably loose fist while still keeping a good grasp.
Points to consider
Not dishwasher-safe
One drawback of stainless steel: It isn't dishwasher-safe. The heat and detergent may corrode the metal and tarnish its polish. While the Zoku's medium-wide opening allows for easier cleaning with a bottle brush, you'll still sacrifice some convenience of dishwasher-safe glass picks.
Not great for hot drinks
Zoku's advertising claims that the bottle can manage both cold and hot temperatures, but, like every other stainless steel model, we weren't as impressed with its heat-holding abilities. We aren't partial to drinking coffee out of a water bottle, anyway, and especially not while hiking; if you are, consider going with the MiiR, which fared a little better in this regard.
MiiR
MiiR – 23oz Vacuum Insulated Bottle
Pros
Insulates hot or cold drinks
Commuter-friendly design
Convenient lid
Why we chose it
Insulates hot or cold drinks
For rushed mornings, a water bottle that can preserve both hot or cold drinks is a lifesaver. MiiR can do it all. We enjoyed both ice-cold water and piping hot tea a full eight hours after we first filled it up. And thanks to its thick insulation and hard candy coating, you don't have to worry about moisture buildup: MiiR bottles don't produce any condensation.
Commuter-friendly design
With its powder-coated "Hardshell," MiiR also offers a well-tractioned hold, important for quick grabs while clambering in and out of the car — a noticeable benefit after struggling with the slippery brushed metal exteriors of competitors. Its lean profile allows it to slide easily into a cup holder, backpack, purse, or briefcase, making it great for commuters. The super-tight closure of the lid also lets you know that nothing is going to escape — you won't have to worry about spilling hot coffee on the bus.
Convenient lid
The MiiR's unique angular handle — a distinctly Scandinavian aesthetic — helps generate quick torque and makes it easy to locate the bottle in a backpack or purse. Once open, the spout is just about mouth-width, meaning no side dribbles while taking a sip of coffee on a bumpy bus ride.
Points to consider
Not dishwasher-safe
Like the Zoku, the MiiR is not dishwasher-safe. If you don't need the insulation of a stainless steel bottle and would prefer the convenience of a dishwasher, you may be better off with our Swig Savvy pick.
Polar Bottle
Polar Bottle – Color Series
Pros
Safe plastic material
Convenient design for athletic activities
Decent insulation
Why we chose it
Safe plastic material
What people love about plastic bottles and what makes plastic bottles unhealthy tend to overlap. Snap-open, bite-valve straws are a breeding ground for bacteria, and hard plastic has likely been manufactured from components that prompt abnormal estrogenic activity. Bad news first, right? The good news is that the Polar Bottle Color Series hits a lot of the same convenience marks as popular models from Camelbak and Contigo, plus it's safe to use (100% polypropylene) and easy to keep clean (with a streamlined, squeeze-top nozzle).
Convenient design for athletic activities
The Polar Bottle Color Series' ergonomic silhouette offers an easy-grip waist plus textured sides, making it a fast grab even for sweaty hands. The wide-mouth opening is perfect for ice cubes or heaping scoops of powder, and the nozzle is easy to drink from: Either suck on the nozzle for quick sips or squeeze the bottle's flexible sides for a more substantial flow. Amazingly, no liquid comes out if you don't encourage it in one of those two ways. You can even tip it upside down and shake it while open without a drop. We love a water bottle that's hard to spill, especially when we're going to throw it into a gym bag or backpack.
Decent insulation
While the Polar Bottle can't compare with insulated stainless steel models, the ice water we left in it was still refreshingly chilly after a full eight hours — ensuring that you'll have cold water on the way to the gym, during your workout, and all the way home.
Points to consider
Unintuitive nozzle
Word to the wise: If you're trying desperately to pluck the squirt nozzle open and it won't budge, chances are it's already open. It only shifts a couple of millimeters between open and close — which caused some confusion from our testers and made it harder to tell if the bottle was open.
Swig Savvy
Swig Savvy – 20oz Glass Water Bottle
Pros
Durable
Sleek
Convenient strap
Why we chose it
Durable
If you're looking for a water bottle more at home on a conference table than a ski lift, you want one that marries design and function. Enter glass. Manufacturers have taken precautions to make glass bottles less likely to shatter, enclosing them in protective rubber sheaths, but Swig Savvy's 20 oz. model has gone a step further. It's the only glass bottle we looked at made with borosilicate glass, a material that is resistant to shattering under rapid temperature changes.
Sleek
We appreciated that Swig Savvy's silicone covering doesn't cover so much of the surface that it undermines one of glass' greatest features — that you can see into it. Testers loved being able to keep an eye on their water consumption and know just where they still needed to clean if they filled it with energy powder.
Convenient strap
While Swig Savvy's look is more stylish than sporty, it still features a handy strap. The silky fabric loop is about the same length as the one on the Zoku, and like that one, you can easily slip your whole hand through it. Just be aware that the strap is attached only to the cap — the makings of a clattering fall if the cap isn't screwed on tight.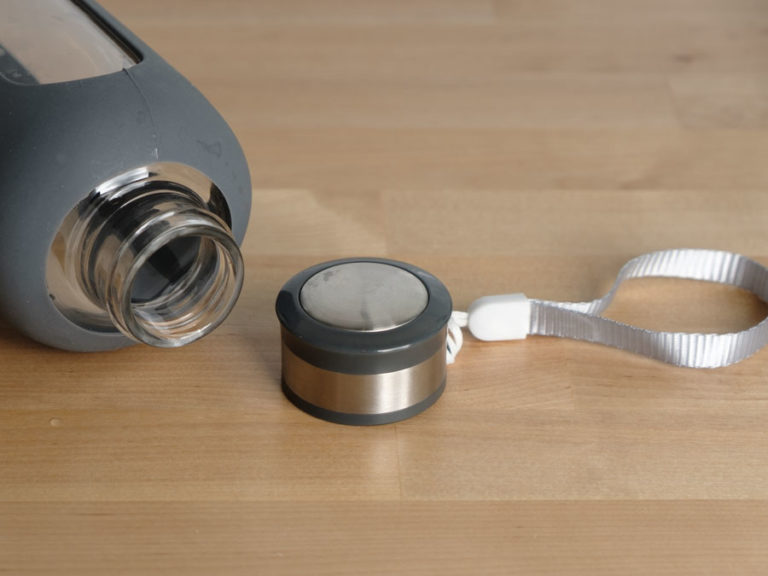 Points to consider
Annoying cap
Our one real qualm with Swig Savvy's design is that it seems to take forever to unscrew the cap. The bottle itself has a standard two threads, but the inside of the cap has four. Those few extra seconds between you and your water is a minor inconvenience, but it was annoying nonetheless.
Platypus
Platypus – Duolock Softbottle
Pros
Portable
Keeps water clean
Why we chose it
Portable
For backpacking adventures or music festival jaunts, you want to carry as little as possible, but you also want to be able to stay hydrated. The Platypus SoftBottle solves this handily: It folds up tight enough to fit in a pants pocket but unfurls to almost an entire liter capacity when full. What's more, the bottle stands up by itself like any other bottle when filled with water, and it comes equipped with an angled carabiner clip for attaching to a backpack.
Keeps water clean
Unlike the accordion-like Hydrapak Stash (another collapsible model we tested), the Platypus remains a little ballooned up if you don't squash it flat. By not harboring the creases that make cleaning and drying difficult, the Platypus SoftBottle keeps your water sanitary.
If clean water is itself an issue where you roam, Platypus also offers advanced filtration systems. Capable of filtering out 99.9999% of bacteria and 99.9% of protozoa (including top threats like E. coli and salmonella), these easy-to-use gravity systems allow you to collect water from a creek, a river, or even a puddle and taste just pure H20. Other, cheaper filtration water bottles are really only good for improving tap water.
Points to consider
Inconvenient latch
The cap of the Platypus closes down snugly, but you can also snap a thin metal latch on top for extra assurance. The latch is bonus for packing, though testers found that it uncomfortably prodded their chins while drinking.
How to Find the Right Water Bottle for You
Consider your use case
At their cores, all water bottles are meant to hold water. That said, their design impacts where and how you can use them. A glass bottle, for instance, is an unwise choice for activities that may involve drops onto rock or cement. A plastic bottle, while lightweight enough to take on a bike ride, may not feel at home in an office. Consider the functionality of your bottle before selecting a material.
Inspect the plastic
Plastic bottles are lightweight, great for running, biking, or going to the gym. However, not all plastics are created equal. The recycling code stamped on the bottom of a "recyclable" bottle of water or any other plastic product tells you a lot about its chemical makeup.
Plastic #1 or PET is used for disposable objects. Not recommended for repeat use due to the difficulty of sanitizing its porous surface.
Plastic #3, #6, and #7 all leach harmful substances into water, especially when warm.
Plastic #2, #4, and #5 are safe for repeat contact with drinking water or other consumables. Unfortunately, they're not very durable and take a beating in dishwashers. You should pay attention to wear and tear on plastic: Every imperfection is a potential hot spot for chemical leaching.
If you forget your reusable bottle and have to reach for the bottled variety, check out the number on the bottom. And then check out our Best Bottled Water review.
Seek out true stainless steel
Not all bottles that look like stainless steel are actually steel. Case in point: aluminum. Because aluminum doesn't play well with acidic substances, it can't be in direct contact with water. Manufacturers, including the popular Swiss brand Sigg, circumvent this problem by lining aluminum bottles with plastic, and linings are often not bisphenol-free (though they may very well be BPA-free). Any damage to the outside of the bottle can result in lining tears, further encouraging chemical seepage.
Water Bottles FAQ