The Best Dry Shampoo
The best dry shampoo gets straight to your roots and absorbs oil cleanly without leaving behind chalky residue. We interviewed two scientists, one product developer, a chemist, and three hair stylists to find out which ingredients made a dry shampoo safe and effective. After testing the 36 most-loved dry shampoos on multiple hair colors and types, we found the ones that'll tempt you to skip a wash but won't dry out your hair long-term.
Analysis paralysis? Subscribe to our newsletter.
The 2 Best Dry Shampoos
The Best Dry Shampoo: Summed Up
Living Proof Perfect Hair Day Dry Shampoo
Living Proof
Living Proof Perfect Hair Day Dry Shampoo
Pros
Gentle ingredients
Body and volume for less hassle
Reliable
Cons
More expensive than competitors
Return to top
Why we chose it
Gentle ingredients
There are a lot of great aerosol dry shampoos out there. A whopping nine out of the 13 aerosol contenders we tested got perfect marks for hair feel from our testers, giving them locks that felt cleaner and looked freshly washed, no suds necessary. When the race is that close, we get to be picky. Enter: Living Proof's Perfect Hair Day Dry Shampoo. Not only is it one of two aerosol products we tested that includes water, which helps offset the drying effects of the denatured alcohol in its formula, it also includes an extra conditioning ingredient (cetrimonium chloride).
Body and volume for less hassle
What really put Living Proof over the top was its easy application. Living Proof goes on like a translucent spray paint: in an even, clean, and uniformly wide strip. And it doesn't lose steam gradually when you stop putting pressure on its nozzle: It's 100 percent spray or 0 percent spray with this one, with no risk of applying too little in one area and not enough in another.
Living Proof is also one of the only aerosol products we tested that doesn't require a brush for even application, so curls that frizz at even the mention of the word "hairbrush" won't be subjected to disturbance. Simply massaging and shaking at roots with fingers does the job (unlike rubbing in Ouai's aerosol mousse, which was akin to working fingernails across a chalkboard). Even before giving their hair a light tousle, testers with dark and light hair alike said there wasn't any residue visible whatsoever.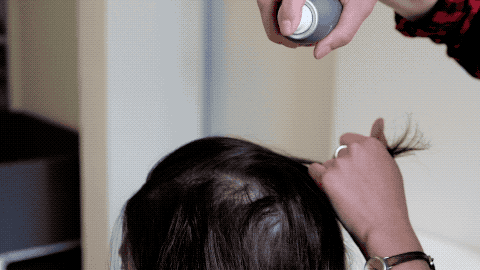 Reliable
We're not the only ones who love Living Proof. On Ulta alone, it's got an average of 4.6 out of five stars from 1,009 reviewers; on Amazon, it earns an average of 4.0 out of five stars from 410 reviews. With such a gleaming reputation, it's no surprise that it crossed our finish line first.
Points to consider
More expensive than competitors
Living Proof costs $20 for four ounces, whereas other popular products like Batiste cost $6 for almost seven ounces. Living Proof's price is pretty standard for salon-grade dry shampoos, but that doesn't diminish the fact that you can pick up much more affordable products at your local drugstore. However, quality and preference are also important to think about — how much more per ounce are you willing to pay for an increase in quality? Batiste might not have the best track record with safe ingredients, so even though four ounces of Living Proof might not last you as long, you're paying for quality dry shampoo.
Cake Beauty Dry Shampoo Powder
Cake
Cake Beauty Dry Shampoo Powder
Pros
Blendable
Easy application
Transparent company practices
Cons
Small amount of product per package
Return to top
Why we chose it
Blendable
If finding the best aerosol was the final episode of American Idol, finding the best powder was the first round of auditions. In a field of dusty residue and repackaged baby powder, the Rush Brush stands out for its blendability for every hair type.
Powders are especially prone to leaving behind chunky, dandruff-like residue (ahem, Verb) that compelled testers to immediately jump in the shower — the exact opposite of what a dry shampoo should do. Cake excelled for offering natural-looking volume, a cleaner-feeling scalp, and hair that looked freshly washed. The light tan tint of the "medium" we tested blended seamlessly into the scalps of testers with black hair and blonde hair alike (that said, it also comes in "light" and "dark").
Easy application
The Cake's brush is attached to a store of powder, which makes getting an even spread as simple as using a glue stick. In fact, it was the only powder that competed with aerosols' sky-high ease-of-application scores during testing. Overall, testers rated brush-based products as more convenient than any other powder packaging. By simply merging the powder and brush into a single compact tool, The Rush Brush cut way back on the mess factor. And at just bigger than a tube of mascara, the Rush Brush's size makes it a natural fit for purses and carry-on travel.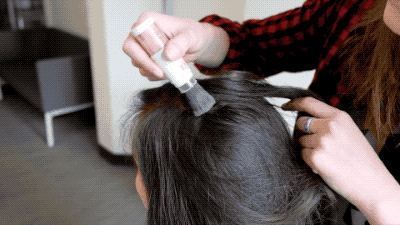 Transparent company practices
Cake boasts that its core principles revolve around being an honest company that produces harmless products. The company doesn't partake in animal testing, and it doesn't buy from any companies that do, either. With 100 percent vegan products, Cake says no to sulfates, parabens, phthalates, and talc, making the Rush Brush pretty guilt-free in our opinion.
Points to consider
Small amount of product per package
The Rush Brush might be our most convenient way to apply powder, but its small size could also be a detriment. It comes with a little over a quarter of an ounce of product per package, which means it might runs out quickly for frequent dry shampooers. That said, even in its compact package, the powder will last you longer than some aerosols in the long run, since you won't lose as much product in the air every time you apply.
How We Chose the Best Dry Shampoo
Positive user reviews
In our sweep of beauty stores (Ulta and Sephora) and popular online retailers (Amazon, Target, and Walmart), we found nearly 200 dry shampoos on the market. Since many have a similar lineup of ingredients, we couldn't split the difference on contents alone. The best way to find the most reliable dry shampoos on the market was to listen to those who use them.
We directed our research to websites like Allure, Elle, New York Magazine, Women's Health Magazine, and Birchbox to find the dry shampoos that beauty experts and readers gush about most often. Our one caveat: We only considered products actually labeled as "dry shampoo," leaving out "volume powders" or "texturizing sprays." These may do some of the same things, but they're formulated and marketed for a different purpose.
Gentle ingredients
The base of every single dry shampoo is the same: an absorbent powder to soak up the oil on your scalp. Some companies use kaolin clay, others use starchy powders like cornstarch, talc, or cocoa powder (yes, this one smelled like chocolate). But in an aerosol can, the absorbent powder base is combined with a solvent (usually a simple alcohol) and a propellant (usually propane or butane) to get it from the can to your scalp. That's where the harsh ingredients come in — simple alcohols, which help suspend a powder base and carry it out of a can, have been found to have drying effects on the skin. Some examples are "alcohol denat," "isopropyl alcohol," and "ethanol."
We didn't penalize any of the dry shampoos on our original list for including simple alcohols (which would have been pretty much every aerosol), but we wanted our final list to include options that don't carry the risk of over-drying. Since powders tend to get overlooked on "best of" lists, we had to come up with a new approach for finding gentle alternatives and go-to products for powder fans. Eliminating every product on our original list with a simple alcohol gave us 21 powders and, surprisingly, two aerosols — both the light and dark Carol's Daughter Monoi Conditioning Dry Shampoos. Oribe Gold Lust Dry Shampoo nearly made it, but it's unclear what makes up the "Fragrance-Retention Technology" that's listed as an ingredient. We were cautious and didn't include it as an alcohol-free alternative.
We did look for ingredients to combat this drying effect, and we were surprised to find out that every aerosol product we tested included a conditioning agent in its formula. Because of those additions, we're comfortable knowing that our top pick and runners-up all have at least one ingredient to counteract simple alcohols' drying action. But if you already have dry or damaged hair and want to go with a product that doesn't have a simple alcohol to begin with, check out our top powders.
Effectiveness
After making our ingredients cuts, we sent each of the remaining 36 dry shampoos home with two testers. We asked them to use the products as directed, then got their feedback on the ease of applying and distributing each product and the feel and look of their hair after using it (and if that changed throughout the day). We graded effectiveness based on six criteria:
Soft hair
Touchable hair
Cleaner hair than before
More volume than before
Cleaner scalp than before
No residue left behind at all
Many dry shampoos came back with glowing reviews, like one tester's take on Evo Water Killer: "I sprayed this on oily, stringy bangs in the morning and by the time I got to work they looked like I had just been to the salon."
But the other shoe dropped on products that left users with lifeless locks, stubborn residue, or itchy scalps. We eliminated all products that had any negative impacts, including those that were hard to apply or distribute. We gave the edge to products that work for all hair types (we're thinking about you, natural hair and luscious curls), so our three top picks are guaranteed to leave your hair revamped, voluminous, and world-ready.
Guide to Dry Shampoo
How to find the right dry shampoo for you
Look for big-name brands
Our experts convinced us that the bigger the brand, the safer the product. This is because larger companies usually have more time and resources to put products through rigorous testing before they hit the shelves, and there's more at stake if they create a shoddy product or put consumer health at risk. Granted, we can't speak for every large company out there — just read this New York Times piece.
Decide what's important to you
Dry shampoos come in two major forms: powders and aerosol spray cans. They also come in vegan formulas, a variety of scents, colors and packaging. Equally as important, dry shampoos can cater to your specific hair needs, such as dry, fine, thick, curly, natural or frizzy. They each have their pros and cons. Aerosols are more popular because of their convenience, but powders generally contain gentler ingredients for hair that's prone to drying out. The characteristics of each break down like this:
| Aerosol | Powder |
| --- | --- |
| Easy to apply accurately and evenly | Takes more work to apply accurately and evenly |
| Little to no mess on hands, counter, or shirt after application | More product ends up on hands, counter, or shirt after application |
| Tend to be stronger scents | Tend to be more subtle scents |
| Product runs out more quickly | Little product lost in the air, lasts much longer than aerosol |
| Harsher ingredients | Gentler ingredients |
Take advantage of samples
Our experts concluded that you can only know what works best for your hair by trying it yourself. If you're having trouble deciding, we suggest buying the mini sizes to test them out. We recommend trying out any of the following dry shampoos to see which one works for your specific hair type, fragrance favorites and ranking preferences. Our favorites (beyond just our top 2 picks):
| | | | | | |
| --- | --- | --- | --- | --- | --- |
| | Approx. Price | Allure Best of Beauty Winner? | Salon brand? | Type | Fun Fact |
| Drybar Detox Dry Shampoo | $23 | Yes | Yes | Aerosol | Uses rice powders for oil absorption; also available as Dry Conditioner |
| Klorane Gentle Dry Shampoo | $20 | Yes | Yes | Aerosol | Vegan; Favorite of Karl Lagerfeld |
| Amika Perk Up Dry Shampoo | $22 | No | Yes | Aerosol | Vegan; cools scalp |
| Living Proof Perfect Hair Day Dry Shampoo | $22 | Yes | Yes | Aerosol | Uses a patented healthy hair molecule (OFPMA); cruelty-free |
| Evo Water Killer Dry Shampoo** | $29 | No | Yes | Aerosol | Use as a dry shampoo OR styling product – it's 2 for 1 |
| Dove Dry Shampoo | $6 | No | No | Aerosol | So affordable – find Dove products in almost any drugstore nationwide. |
| Batiste Dry Shampoo | $8 | No | No | Aerosol | Available in a wide variety of scents; worldwide popularity; Business Insider named it "Best Cult Classic" |
| Cake the Rush Brush Dry Shampoo** | $15 | No | No | Powder | Vegan; Comes in shades to match your hair color |
*Prices may vary based on retailer
**Our favorite eco-friendly picks
Make sure you like the scent
In online reviews, the smell of dry shampoos is one of the most talked-about topics. If the one you buy has a scent, you need to love it enough to walk around with it on your head all day. But we can't tell you what "the best" smell out there is — some people love rose, others like that citrusy Lemon Pledge vibe. Here's how we rank the scents of some of our favorite dry shampoos from testing: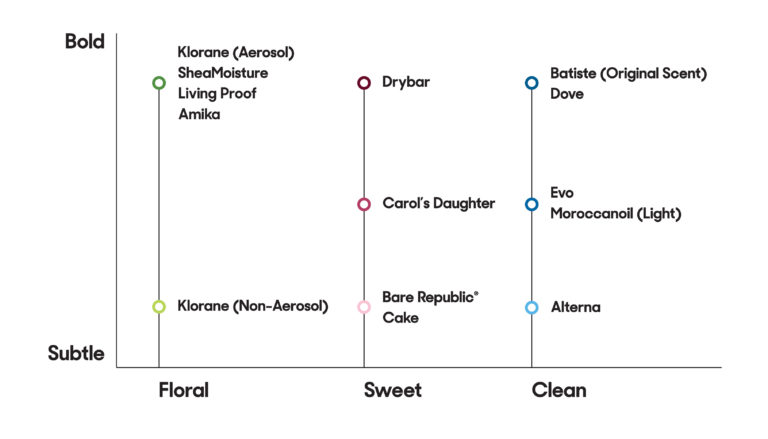 Dry Shampoo FAQ