The 30-Second Review
A good electric razor should provide a fast shave. But the very best go a step further, offering a close trim plus convenient features like a digital display and adjustable head settings. To find our picks, we consulted with dermatologists and then gathered the top razors from respected brands to try them out for ourselves.
Analysis paralysis? Subscribe to our newsletter.
Best for Daily Shaving
Braun Series 9 9290cc
The Braun 9290cc is designed to tackle the low stubble of frequent shaves. It offers a close trim thanks to an adjustable pivoting head that can be locked at multiple angles. It's easy to clean and maintain and boasts a useful digital display.
Best for Weekly Shaving
Philips Norelco Shaver 9300
If you regularly tackle thick stubble, the Philips avoids tugging. It won't shave as closely as the Braun, but it's easier to achieve an even trim.
Best Budget Shave
Remington F5 5800B
This razor isn't as easy to clean, and offers fewer customization options, but it's under $100 and testers reported a shave comparable to the Braun.
The Best Electric Razor
Electric razor manufacturers love to claim that their brands offer the latest in shaving technology. The only issue is that "the latest in shaving technology" doesn't always make for a better shave. The best electric razor still boils down to a few core features: it should feel good on your face, be comfortable in your hands — and any add-ons should improve your experience rather than complicating it.
If you shave regularly (every day, or every couple of days), our pick is the
Braun Series 9 9290cc
. Its maneuverable cutting head provides a close shave, and its ergonomic handle, easy-to-change head design, and inclusion of practical features like a cleaning indicator result in a surprisingly intuitive product. An electric razor is an investment (the Braun retails for about $325), but it's one that can last 7 to 10 years — and we could picture ourselves happily shaving with the 9290cc for that long.
If you're more likely to shave once every five or six days, we recommend the Philips Norelco 9300 ($250). This model's cutting head features three flexible discs that trim as they rotate and can bend inward and outward to provide even results across awkward angles like cheekbones and jawlines. This design means Philips won't give as close a shave as the Braun 9290cc, but it's a great option for achieving an even shave across thick stubble. And we appreciated extras like its cleaning and blocked shaving head indicators.
For frequent shavers on a budget, the Remington F5-5800B performed beyond our expectations for its low price ($55). While it's not as comfortable as the Braun or Philips, it delivers a smooth, quick shave that no other sub-$100 razor could top. Its features are minimal, but it includes essentials like a battery meter and a trimmer for beard touch-ups.
How We Found the Best Electric Razor
Shopping for an electric razor can be maddening. There are scores of models on the market and the differences between them are minor: The only difference between the Braun 7865cc and 7898cc? The color of the razor. The only difference between the 7898cc and 7899cc? The color of the zipper on the travel case.
We began by selecting 12 highly regarded models that spanned a wide range of features. Some came with fancy options like cleaning indicators and comprehensive digital displays, while others took a more bare-bones approach. We made sure to include a variety of brands: Best-of lists and consumer reviews from sites like Engadget and Amazon led us to widely celebrated options like Braun and Philips Norelco. But we included top recommendations from less popular brands, too. We wanted to see if industry leaders like Braun really offer anything you can't get elsewhere.
There are some popular models that appear frequently on best-of lists, like the Braun 790cc and Philips Norelco 8100, that we decided to skip because they are no longer being produced or are difficult to find. We focused our list on models widely available and actively in production.
First, we learned all we could about both types of electric razors.
Unlike manual razors, all electric razors have some type of covering over their blades, protecting skin from unwanted nicks. Dr. Jennifer Krejci, board-certified dermatologist and hair restoration expert of the Limmer Hair Transplant Center in Texas explains, "An electric razor tends to cause less trauma to the skin because there's no sharp blade skimming directly over your hair follicles (which can cause microscopic abrasions or cuts on the skin)."
Foil razors have straight heads with thin, perforated metal foils that cover their blades. The holes in the foils catch hair and guide it up to the blades, which work like tiny pairs of scissors.
Rotary razors have three spinning blades covered by perforated metal discs. These blades work like little weed eaters, rotating in a circular pattern to chop hair.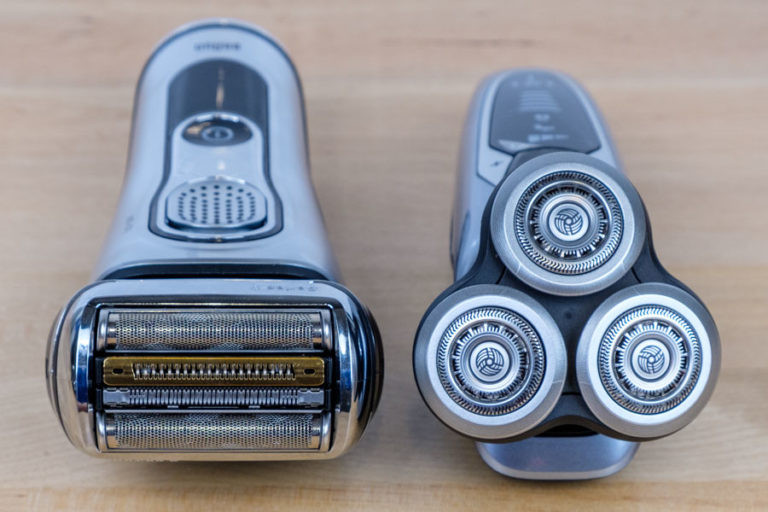 Foil razors (left) offer a closer trim, while rotary razors (right) provide a more even trim.
So which one is better? It depends. A foil razor is a good option if you're committed to shaving daily; it offers a closer shave. People with sensitive skin are also better off with a foil razor: Dr. Steven Greene, board-certified dermatologist of the Advanced Dermatology and Laser Institute of Seattle, told us that "because a rotary razor's blades spin in a circular pattern, it can grab the hair, almost plucking it, which is more irritating than clipping it straight across."
Rotary razors also don't trim as closely, but they do offer flexible heads that can pivot and bend inward to follow the contours of the face. If you've got angular cheekbones that would make Tom Hiddleston weep, a rotary ensures you don't miss those tiny patches of hair growing at awkward angles. Rotaries are also better at trimming longer hair, which is why Remington recommends them if you only shave intermittently — maybe you skip weekends, but need a razor that can tackle thick Monday stubble.
We included both types in our testing process since both are widely popular. Remember that there's no hard-and-fast rule about which one is better and that personal preference plays a role too.
Then we tested the comfort and performance of our 12 models.
Electric razors of both kinds require an adjustment period: It can take up to two or three weeks for your face to adapt to the new stimulus. During this time, you're likely to experience more tugging and pulling when you shave.
blockquote>We didn't ask our testers to wait out the full three weeks — instead, we asked them to identify which razors they'd be willing to keep using that long.
We gathered a group with diverse skin and hair types and sent each of them home with two razors, asking them to shave and evaluate the following factors:
Comfort of shave: How did the razor feel on skin? How much did it pull at hair? Most models were a little uncomfortable, so we gave bonus points to razors (like the Philips Norelco 9300) whose users said they'd happily repeat their experience.
Convenience of shave: Our testers also rated how easy the razors were to maneuver, and if they delivered on the promise of a quick, effortless shave. Many didn't: "A ton of long hairs were left and I had to cover the same ground many times," reported our Philips Norelco 7500 rotary tester. If the razor had wet/dry capabilities, we tested both modes — sometime to mixed results. Testers reported that models like the Panasonic Arc3 and the Panasonic Arc5, which performed decently dry, were harder to maneuver against wet hair.
Design and ergonomics: We asked testers to assess how the razors felt in their hands and then conducted a second round of tests in-office. We wanted to find models that boasted comfortable button placement, easily accessible trimmers, and a pleasantly contoured handle.
Overall, Braun lived up to its reputation, receiving more favorable feedback than foil models from Panasonic and Wahl. Philips Norelco's rotary razors beat out Remington's by a mile, but our testers generally found rotary razors less comfortable and intuitive than foil razor designs.
Our Picks for the Best Electric Razor
Best for Daily Shaving
Braun
Braun Series 9 9290cc
A high-performing foil razor that offers a close, comfortable shave.
If you shave every day (or every other day) the
Braun Series 9 9290cc
foil razor is our favorite. Its stand-out feature is its flexible head, which can pivot or lock into five different angles for a smooth, comfortable shave.
Head size and flexibility were deal-breakers for many of our finalists: Take both of the Panasonic Arc5 models we tested. They can technically pivot further than the Braun, but their heads were so large that testers had trouble seeing what they were doing. "I felt like I couldn't tell where I was shaving — and I was just trying to clean up my neck," one noted about the Arc5 ES-LV95-S. "It was hard to maneuver around my Adam's apple and my skin still feels red," another complained about the Arc5 ES-LV9N-S. The Braun, by contrast, was "overall smooth sailing."
We found the Braun's head (left) much more maneuverable than the gigantic Panasonic Arc5 (right).
Foil razors are fragile compared to their rotary counterparts, so we were also impressed with how sturdy the foils were on the Braun Series 9 razor. Our tester almost broke the Wahl's foils, and Panasonic's started to bend with a small amount of pressure.
Braun's digital display takes a no-nonsense approach: A water droplet lights up when the razor needs to be cleaned, a 5-bar battery meter is always visible, and a low-charge light flashes red when the razor needs charging. (By contrast, the Panasonic Arc5 series includes extraneous info like "time spent shaving.")
If you want to touch up your beard, the Braun's trimmer slides up from the back and can be used without the shaving head blocking your view in the mirror — a design flaw we ran into on several other models.
The slide-out trimmer on the Braun Series 9 (right) allowed us to maintain clear line-of-sight with our mirror. The trimmer on the Braun Series 7 (left) was perpetually hidden by the shaving head.
Unlike the Panasonic Arc 5 and Remington F5-5800B, which require you to replace the head and the blades as separate items, the Braun Series 9 combines both into a single part. Even better, removing and attaching that part took us less than 5 seconds.
The Braun's head is extremely easy to remove, which makes both cleaning it and replacing it easy.
Cleaning the razor is similarly a breeze: Because the razor is wet/dry, you can run it under the faucet or showerhead for a fast rinse, and if a deeper clean is needed, you can either dock it in its cleaning station or pop off the entire head and soak it in a cleaning solution. We didn't find the cleaning station a must-have, but it's a convenient add-on. If you want only the razor, you can pick up the Braun Series 9 9293s ($225), which is its solo sister model.
The Braun's charging/cleaning dock convenient, but it's not a necessity.
That being said, the Braun is still not for everyone. Our tester reported that the razor will pull and tug if you're trimming down a full-length beard, noting the Braun "might be better for those who want to shave every day." If you regularly tackle thick, coarse stubble, we'd suggest our rotary pick, below. But overall, the Braun 9290cc gives an excellent, no-frills shaving experience that is comfortable, convenient, and avoids extraneous gimmicks. We'd be happy owning it.
Best for Weekly Shaving
Philips
Philips Norelco Shaver 9300
A flexible rotary razor that won't cut as close but offers an even trim.
If you shave once every five or six days and need something to cut through thicker stubble, the Philips Norelco 9300 is our choice. Philips has held the throne for best rotary razor since the company invented the design, and if the Philips 9300 is any indication, it won't lose that seat anytime soon.
In terms of comfort and shave time, the 9300 earned high marks. The razor has a floating head that pivots, with three discs on the head that can flex in multiple directions. Most rotary razor discs only flex inward, which means that, in theory, the Philips 9300 should better follow the contours of your face. And it succeeds: Compared to our other rotary razors, the Philips 9300 was best at tackling difficult areas like the chin and neck. Even on the first day of its break-in period, our tester reported that he would happily keep using it. Color us impressed.
But to be fair, there isn't much competition. While Remington has improved its rotary line, our Remington XR1470 tester reported that the razor's dry shave was harsh and left behind reddened skin. We also tested a slightly cheaper version of the Philips, the 7500 ($180), and while it performed decently, its head flexed in fewer directions and it lacks the 9300's helpful display screen.
The Philips (left) is comfortable to hold and control. The Remington Verso (right) experiments with a short, squat handle that doesn't feel as natural.
It's clear that Philips has spent time ironing out the 9300's design. Like the Braun, additional features like the power lock are easily controlled via the power button, and our thumbs barely had to move in order to access both power and shaving speed. It also comes with a hard case for easy traveling.
The razor isn't free of shortcomings. The attachment point for the shaving head and beard trimmer doesn't always work seamlessly. And given the fact you have to remove the head every time you want to attach the trimmer, this process has the potential to get annoying — especially when we compared it with the ease of replacing the Braun 9290cc's head.
The attachment point for the Philips 9300's head is more finicky than the Braun's.
But the rest of the razor's features are excellent. The display includes a 5-bar battery meter, cleaning indicator, a replacement head notification, and — our favorite — a blocked shaving indicator that notifies users when shave quality has dropped due to caught hair. Like most premium razors, the Philips 9300 can also be used in the shower. When you want to clean it, you can stick it in its cleaning station or just rinse with water. And if you want this model sans cleaning station, opt for the Philips Norelco Shaver 9800 ($160), which has a slightly different display, but otherwise offers the same performance.
Best Budget Razor
Remington
Remington F5 5800B
This foil razor doesn't have a lot of extras but offers a close shave.
For those trying to stay under $100, we recommend the Remington F5 Power Series with Intercept Shaving Technology F5-5800B. It's a mouthful, we know. We'll keep our explanation short: It gives a great shave.
This foil razor doesn't have the bells and whistles of most of the razors we tested — no docking station, no pivot lock — but it performed well at a fraction of the cost. "The Remington was more comfortable than I expected. With my normal razor, there are almost always hairs that snag and get pulled out rather than shaved down. That didn't happen once with the Remington, which was a huge relief," our tester reported.
The Remington offers a decent shave, but we weren't wild about the awkward placement of its pop-out precision trimmer.
That said, there are a couple of design flaws you should be aware of: First, there's no way to use the pop-out precision trimmer without having your view in the mirror blocked by the razor's head. Second, removing the head itself isn't easy. It requires quite a bit of pressure and sometimes the blades come off along with the foil, which gets annoying when you're trying to deep clean the razor or replace parts. But since the razor has wet and dry capabilities, rinsing it is easy, and any annoyance is a small price to pay for such a solid budget option.
Above, the foil head pops off to reveal the Remington's blades — but the pressure needed to remove the head means that the blades often come off too.
The Panasonic ES8103S was the only other serious contender in the under-$100 category. It has more features than the Remington — like a pivot lock plus automatic voltage conversion for travelers — but we found the Remington's performance and comfort superior. Our Panasonic tester told us the razor left him with "raw skin" and that he ended up reshaving with his manual razor. The Panasonic was also unusually noisy, producing a loud, high-pitched buzz that was tough to handle early in the morning.
Others to Consider
If you have your heart set on a Braun, but don't want to pay the full $325 for the Series 9, the Braun Series 7 7865cc is also worth a look. Its quality and comfort are comparable to our Series 9 top pick, but it's $100 cheaper.
Testers thought the Braun 7865cc's cock-eyed docking station looked dorky rather than cool.
The reason it didn't take top spot can be found in the its general design: It doesn't feel as good to use. The razor itself offers a smooth shave, but we missed the ergonomic handle and upgrades found in the Series 9. The display for the Series 7, for instance, is inconveniently located on the bottom of the handle, and it show three separate indicator bars that we couldn't interpret without turning to the user manual. (Turns out, they indicate battery status, cleanliness, and foil status.)
The Braun 79865cc (left) has three separate indicator bars, versus top pick Braun 9290cc (right), which only displays battery life unless a part needs cleaning or replacing.
The pivot lock is also limited to one angle, giving you less flexibility, and we found the precision trimmer difficult to use: Like the Remington, it sticks out from the front of the razor, which means it's blocked from view by the shaving head. Our testers could only see it when they used it on the sides of their faces. If that's not enough, the razor rests at an odd, lopsided angle when docked — we kept thinking we'd seated it incorrectly, but turns out it's just designed that way.
We recognize some of these differences sound like nitpicking, but when we asked ourselves which razor we'd want to own for the next 10 years, our honest answer was the Series 9. It's not that the Braun 7865cc won't give a comfortable and convenient shave. We just can't imagine choosing it over the 9290cc.
Did You Know?
If you're susceptible to razor bumps, skip the close shave.
RRazor burn is itchy and uncomfortable, but razor bumps are the next step up, leaving visible, raised swelling after you shave. Board-certified dermatologist Dr. Janet Prystowsky explains, "Razor bumps are ingrown hairs. When a shaved hair is not long enough to extend past its follicle, it can become trapped. This causes a red, inflamed bump to appear as the hair starts to grow through skin."
According to Dr. Krejci, "this condition is most common in patients with afro-centric or curly, coarse hair because as the shaved hair emerges, it can curl back into the skin." If you're prone to razor bumps, she recommends not aiming for a close shave. "Maintaining stubble is actually best," she told us. Our experts suggest using clippers to leave stubble — or considering permanent laser hair removal if you're committed to a clean-shaven look.
Post-shave care can also help reduce skin irritation.
All of our experts agree that electric razors are better than manual razors for people with sensitive skin. But if you're committed to treating your face kindly, Dr. Greene suggests adding a face lotion with alpha hydroxy acids or beta hydroxy acids to your daily routine. These ingredients help prevent pores from clogging, which ensures that your skin stays smooth and that hairs don't become ingrown or grow out in the wrong direction. The two products Dr. Greene recommends to his own patients are Serious Serum and Skin Medica's AHA/BHA cream, which can both be applied post-shave. "We've had good results from their ingredients," he told us.
You should deep clean your razor about once a week.
Our experts stressed the importance of keeping your razor "free of debris and bacteria," in Dr. Krejci's words. A cleaning station makes this process convenient, but you can clean your razor manually, too.
The old-school method is to disassemble your razor head, per the user manual, and then use a small brush (like a new toothbrush) plus a little soap and water to scrub all the surfaces. You can also make your own cleaning solution by combining rubbing alcohol (60-70 percent) plus about three or four drops of lemon essential oil. If you have a clean-and-charge station, users online report that you can refill empty cartridges with this same homemade solution. Just make sure to fill the cartridges to the same levels as when they were when new.
The Best Electric Razor, Summed Up