The Best Eye Makeup Removers
The best eye makeup remover should easily remove all of your makeup and be free of ingredients that might irritate the sensitive skin around your eyes. We talked to makeup artists, a dermatologist, and a cosmetic chemist to get the skinny on ingredients. Then we took our final contenders and pitted them against the toughest waterproof products we could find to determine the most effective and the most convenient of the bunch.
Analysis paralysis? Subscribe to our newsletter.
The 5 Best Eye Makeup Removers
The Best Eye Makeup Removers: Summed Up
Sephora Collection Waterproof Eye Makeup Remover
Sephora
Sephora Collection Waterproof Eye Makeup Remover
Pros
Excels with heavy-duty application
Minimal debris
Standout ingredients
Cons
Not ideal for sensitive skin
Why we chose it
Excels with heavy-duty application
Sephora was one of the top performers against heavy-duty application, setting sprays and all. In one swipe, Sephora removed primer and concealer. With swipe two, up came most of the eyeliner and waterproof mascara. Less than five swipes removed all of the makeup. Mary Kay, by comparison, fared the same against primer and concealer but had a harder time with the mascara — and the eyeliner smeared.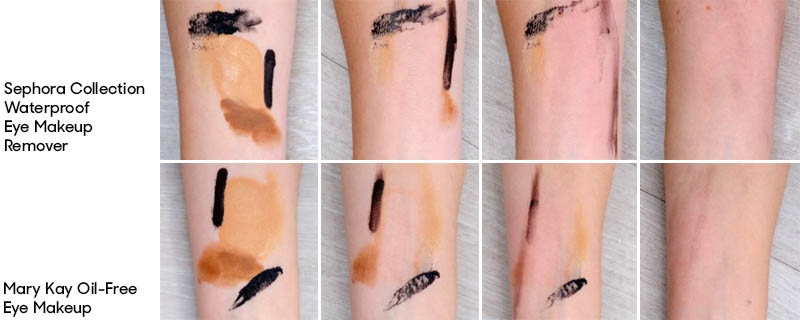 Minimal debris
Compared to other products like the Bobbi Brown, which left behind flakes and pills of makeup, Sephora didn't leave much of a mess. Although testers reported a slight oil residue, this dissipated quickly and didn't feel heavy on their eyes.
Standout ingredients
Sephora has a few extra standout ingredients — cornflower extract, (a skin conditioner and anti-inflammatory), castor oil (a skin conditioner), and provitamin B5 (also known as panthenol). Scott recommends this ingredient because "the process of removing eye makeup can be hard on lashes. Panthenol strengthens lashes and helps prevent them from falling out."
Points to consider
Not ideal for sensitive skin
In addition to the oil residue Sephora left behind, two of our five testers mentioned a slight sting in the corners of their eyes that lingered a bit. Both of these testers have sensitive skin — if you're in the same boat, you may be better off with our pick from Mary Kay.
Mary Kay Oil-Free Eye Makeup Remover
Mary Kay
Mary Kay Oil-Free Eye Makeup Remover
Pros
Oil-free
Decent performance
User experience
Cons
Oily residue
Struggles with waterproof makeup
Why we chose it
Oil-free
Mary Kay Oil-Free Eye Makeup Remover was a strong runner-up to Sephora in our tests, and it does its work without the use of oil. According to makeup artist Kimberley Bosso, an oil-free remover is a safer bet if you're prone to skin issues: "Anyone sensitive to oil or who has oily skin that's prone to breakouts should avoid oil-based," she explains. This was reflected in our testers' experience; those that had noted Sephora's sting felt no irritation with Mary Kay.
Decent performance
While Mary Kay struggled a little more against waterproof products compared to Sephora, it outperformed oil-heavy contenders like Avon Moisture Effective Eye Makeup Remover Lotion, which didn't work well on mascara at all.
User experience
Though the packaging is similar to Sephora's, we liked that the tiny opening of Mary Kay offered more portion control. And when the bottle tipped over, it didn't come spilling out.
Points to consider
Oily residue
Even though Mary Kay is marketed as being oil-free, testers did comment on a slightly oily residue similar to Sephora's. Waiting 30 seconds left our testers' skin feeling soft, with very little shininess or tackiness, but it didn't have the quick-dry effect of other products like bareMinerals.
Struggles with waterproof makeup
Mary Kay lacked the power of Sephora, struggling somewhat against our waterproof products. Bosso linked this to Mary Kay's oil-free ingredient list, explaining that "oil-free, in my experience, doesn't remove as well."
Tarte Fresh Eyes Wipes
Tarte
Tarte Fresh Eyes Wipes
Pros
Convenience
Fruity aroma
Cons
Not as powerful as liquid remover
Why we chose it
Convenience
For the most convenient option, wipes are pretty much it — no need for cotton pads and messy liquid removers. Tarte wipes were hands-down our favorite in this category, proving to be about twice as effective as the other wipes we tried. Tarte's wipes were also big enough to tackle both eyes easily, although Bosso offered some lifehack advice: "You can cut the wipes in small sections, so it's not wasteful if you have a tiny makeup mistake to correct. They are great for travel and pro makeup kits, too."
Fruity aroma
The smell was admittedly fruity. With ingredients like maracuja (passion fruit), plus papaya extract and pineapple extract, it's not hard to understand why. While our testers generally preferred odorless removers, they took exception to Tarte, describing it as luxurious and fresh.
Points to consider
Not as powerful as liquid remover
One tester reported that Tarte didn't work at all on the waterproof eyeliner, and while we were able to get all of our everyday makeup off, we had to do a lot more rubbing. The skincare experts we spoke to repeatedly stressed that rubbing should be avoided when possible, so we feel that Tarte would be best as a backup option rather than part of a daily routine.
bareMinerals Instant Waterproof Eye Makeup Remover
bareMinerals
bareMinerals Instant Waterproof Eye Makeup Remover
Pros
No oily feeling
No fuss
Cons
Requires some scrubbing
Why we chose it
No oily feeling
Although bareMinerals Instant Waterproof Eye Makeup Remover is oil-based, testers praised the product's feel on their skin, calling it "pleasantly non-oily." In fact, it outperformed even oil-free Mary Kay in this area: Testers noted that bareMinerals "felt good," while Mary Kay just "wasn't too bad."
No fuss
After swiping up our makeup, bareMinerals kept it up. "My makeup didn't flake or pill at all," one tester told us.
Points to consider
Requires some scrubbing
The biggest downside to bareMinerals? It required us to press and wipe more heavily, with one tester noting that removing all traces of her makeup "took some scrubbing." For this reason, bareMinerals may be better suited to lighter, everyday makeup applications.
Bobbi Brown Instant Long-Wear Makeup Remover
Bobbi Brown
Bobbi Brown Instant Long-Wear Makeup Remover
Pros
Easily removed makeup
Gentle
Why we chose it
Easily removed makeup
Bobbi Brown Instant Long-Wear Makeup Remover cut easily through waterproof mascara and eyeliner, getting everything off in about seven or eight gentle swipes (versus Sephora and Charlotte Tilbury's nine or ten). Testers were delighted to note that even thick makeup "wiped right off."
Gentle
Because Bobbi Brown removes makeup quickly, you won't have to scrub to get stubborn eyeliner off. If you regularly wear heavy makeup, this gentler application is essential for protecting the delicate skin around your eyes.
Points to consider
Minor mess
Although Bobbi Brown removes eye makeup quickly, the loosened makeup tends to flake. We had to give two or three extra swipes with our cotton pads to catch all of the stray bits of dried mascara escaping toward our cheekbones; you'll definitely need to wash your face after application.
How We Chose the Best Eye Makeup Removers
Availability
We started with a list of 121 eye makeup removers — a roundup of popular and widely available products from beauty retailers like Ulta, Sephora, and Total Beauty, plus lifestyle websites like Harper's Bazaar and Cosmopolitan.
From there, we wanted to find the products that removed makeup effectively without damaging the delicate skin around your eyes, so we dug into research about ingredients and nixed anything questionable.
No synthetic fragrance
The Food and Drug Administration (FDA) requires cosmetic companies to list their ingredients, but there's a catch: Fragrance doesn't need to be specified, meaning companies can list the generic term "fragrance" without disclosing the combinations of chemicals that it's comprised of. (This is apparently to protect a manufacturer's scent secrets.) Because we don't actually know what's in these fragrances, we couldn't check them for common allergens — or for harsh ingredients that we might not want on our eyes. For this reason, we cut any product that included generic "fragrance."
No simple alcohols
Simple alcohols like isopropyl and ethanol are included in many eye makeup removers for that "quick-dry feeling." However, they can cause long-term damage, as Rita Lee, a licensed esthetician and founder of Just About Skin, points out: "This kind of alcohol, a low molecular weight alcohol, dissolves surface oil but dries out skin because it evaporates very quickly. When skin is dried out by alcohol, its protective barrier is weakened, which opens up the skin to all sorts of issues, including the likelihood of more irritation."
Andrea Scott, a skincare expert with 16 years of experience and co-founder of skoah, agrees, adding that even your lashes can be affected. "Alcohol can dry the delicate eye area and dry out the lashes and cause them to become brittle," she explains. To protect the sensitive skin around the eyes, we eliminated any product containing simple alcohols.
No questionable preservatives
Although the FDA does not currently prohibit or restrict phenoxyethanol, both Japan and the European Union have classified this preservative as harmful for products around the mouth in concentrations over 1%. While this concern is mostly for cosmetics used near your lips, we were wary about putting it on our faces. We couldn't verify the concentrations in our list of contenders, but we nixed any products that contained this preservative higher up on their ingredients lists — a sign of a higher concentration more likely to exceed the EU's 1% recommendation.
The European Union has also banned certain types of parabens (others are highly restricted) after a study suggested that they might be linked to cancer. The FDA and the Cosmetic Ingredient Review (CIR) Expert Panel say there isn't enough evidence, but the industry seems to be moving away from parabens. We opted to err on the side of caution and cut any contenders containing the EU's list of potentially harmful parabens.
Efficacy
We rounded up a band of testers and purchased the hardest-to-remove eye makeup we could find on beauty websites. We wanted to find the products that removed makeup thoroughly and in the fewest wipes, but that still felt good on our skin.
In our tests, we evaluated these metrics:
Number of wipes
Amount of remover needed
Lasting feeling
Fragrance
Packaging
Overall, testers preferred liquid to cream or lotion options, as well as removers with little scent. They also noted when removers were easy to apply. The best eye makeup removers hit the mark in every category, ensuring safe and convenient removal.
How to Find the Right Eye Makeup Remover for You
Evaluate your skin type
"Over time, you will get to know your skin and what works well with it," says Jennifer Moyer of the Albolene brand. "Many women with dry skin prefer oil-based eye makeup removers — especially during the cold winter months — because makeup removers without moisturizing properties tend to dry out the skin more than usual. On the other hand, if women tend to have very oily skin, they may opt for something that is oil-free. Regardless of your eye makeup remover choice, the most important aspect to consider is how your skin reacts to different ingredients."
Look for 'good' alcohols
While experts recommend avoiding simple alcohols, not all alcohols are bad. Paula Begoun explains that there's a difference between good alcohols and bad alcohols. Fatty acids, the good guys, can actually help moisturize. And according to Lee, a third type (aromatic alcohols) can be used as a preservative or as a component of fragrances or essential oils.
Invest in a face wash
Removing your makeup is not the same as washing your face. Both steps should be part of your regimen. "Make sure you always cleanse your skin after removing makeup. Any makeup residue that's left behind could lead to irritation or even infection," says Dr. Joel Schlessinger, dermatologist, cosmetic surgeon, and president of LovelySkin.com. "Washing your face immediately after removing makeup helps minimize the risk of sensitivity." (Looking for a good face wash? We've got you covered there, too.)
Eye Makeup Remover FAQ