The Best Eyeliners
No matter the style, the best eyeliner should be easy to apply and richly pigmented, all while holding up through humid summer days, sudden rainstorms, and emotionally devastating moments of the latest Pixar movie. To find the best, we dug into online "best-of" lists and beauty editors' recommendations, then brought the finalists into our office to put to the test.
Analysis paralysis? Subscribe to our newsletter.
The 3 Best Eyeliners
Runners-up
The Best Eyeliners: Summed Up
Urban Decay 24/7 Glide-On Pencil
Urban Decay's 24/7 Glide-On Eye Pencil
Urban Decay's 24/7 Glide-On Eye Pencil
Pros
Smoothest application
Smudge-proof and waterproof
Safe for sensitive skin
Cons
Needs frequent sharpening
Why we chose it
Smoothest application
It had the smoothest application of the four pencil eyeliners we tested: Our tester praised how effortlessly it glided onto her lid and waterline. The Marc Jacobs Highliner also offers dark, creamy-smooth application, but it trips up on the waterline. While the Urban Decay pencil easily covers the waterline in one swipe, the Marc Jacobs pencil requires two applications for full, even coverage. The more opaque Urban Decay pencil not only saves a bit of time in the morning, but also requires less product per use if you're planning on lining your waterline.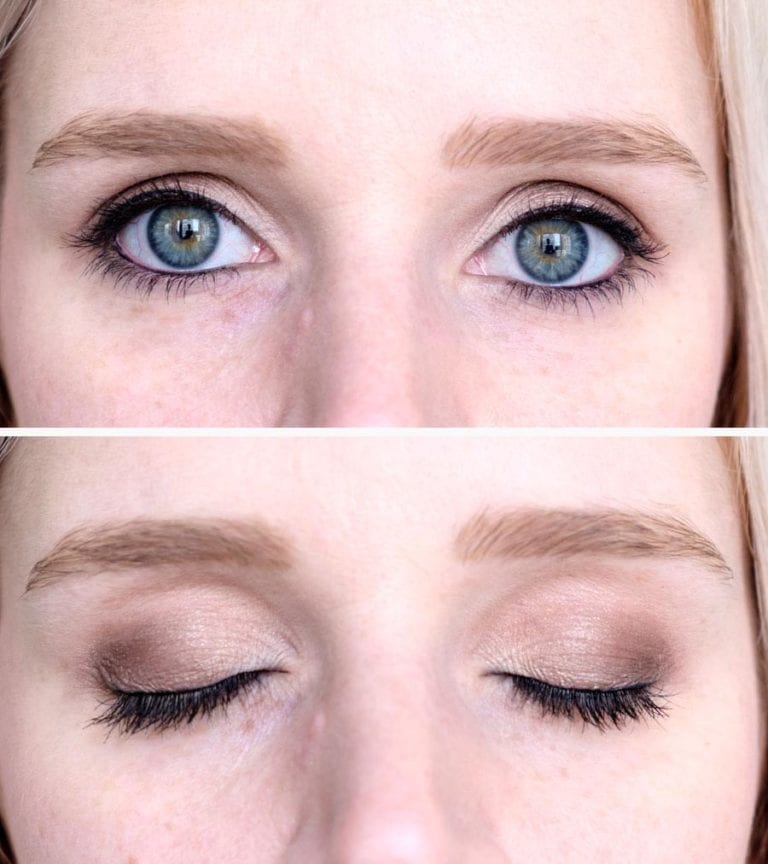 Smudge-proof and waterproof
It's easy to throw on the Urban Decay eyeliner and forget about it, too — the creamy formula is smudgeable for about 30 seconds after application, after which it sets into a solidly smudge-proof and waterproof finish. That means whether you're going for a smokey eye or sharply defined cat-eye, once you're done with your morning routine, you won't have to worry about it for the rest of the day.
Safe for sensitive skin
Like all of Urban Decay's products, the eyeliner is vegan and cruelty-free. Though exact ingredients vary according to the shade, those with sensitive skin or concerns about controversial ingredients can rest easy — every liner is free of parabens, sulfates, and phthalates.
Points to consider
Needs frequent sharpening
The only complaint we had about this pencil was that like the Make Up For Ever Aqua XL Eye Pencil Waterproof Eyeliner, it requires frequent sharpening if you use eyeliner daily.
If sharpening your eyeliner every day seems like an unneeded nuisance to you, consider the Marc Jacobs Highliner — it's a little more finicky on waterlines, but if you'd prefer not to sharpen, it's our favorite mechanical option.
Lancôme Grandiôse Bendable Liquid Eyeliner
Lancome Grandiose Bendable Liquid Eyeliner
Lancome Grandiose Bendable Liquid Eyeliner
Pros
Innovative design
Waterproof
Cons
Product tends to dry out
Why we chose it
Innovative design
The Grandiôse was one of the only eyeliners to pass our swatch tests with nearly zero smudging, and received exclusively positive comments from our tester, who declared that it was hands-down her favorite of all the liners she tested. Even our experienced testers had issues with some of the liquid liners. But the innovative design of the Grandiôse sets it apart: The slightly beveled, 35-degree-bendable handle was easy to grip and made winged cat-eyes a breeze. The brush was also the shortest we saw among liquid liners — the resulting precision and control are especially helpful for eyeliner users who may not be used to finicky brushes.
Waterproof
Though it's not advertised as such, we found the Lancôme Grandiôse to be pretty waterproof — it held up nearly unchanged after both ample water bottle misting and tear-filled episodes of "This Is Us." That also means that removal may not be as easy as it is for most liquid liners: To make things easier for yourself at the end of the day, we'd recommend using waterproof makeup remover.
Points to consider
Product tends to dry out
Generally, this eyeliner gets excellent reviews online at sites like Amazon and Sephora. But we noticed a trend among those who gave it less-than-excellent reviews: For many, the problem wasn't the product itself, but its tendency to dry out in the container. This could be a defect in the packaging, but it underscores the need to make sure you cap it tightly after you're done using it.
Bobbi Brown Long-Wear Gel Eyeliner
Bobbi Brown Long-Wear Gel Eyeliner
Bobbi Brown Long-Wear Gel Eyeliner
Pros
Smudge-resistant
Creamy formula
Controlled application
Why we chose it
Smudge-resistant
Our three gel contenders (from Bobbi Brown, Chanel, and MAC) all did well in swatch testing, but the Bobbi Brown Long-Wear Gel Eyeliner won out just a bit by being more smudge-resistant than the MAC, and easier to remove than the Chanel.
Creamy formula
The creamy formula is rich and inky. It was much easier to work with than the MAC Fluidline, which was creamy to a fault, resulting in a more product-drenched brush and smudgier eyes throughout the day. The Chanel was a little more smudge-resistant, but much harder to remove — after literally scrubbing her face clean, our frustrated tester didn't care how great it had looked during the day.
Controlled application
The Bobbi Brown gel's texture — smooth, but not melty — allowed for controlled application and very precise lines. If you're looking for a versatile product that can produce both sharp cat-eyes and smoky looks with ease, the Bobbi Brown Long-Wear Gel will probably serve you well.
Points to consider
Can smudge if rubbed
If left alone, it won't budge, but avoid touching your eyes if you can help it, as gel eyeliners are more prone to smudging than other types of liners. If you're the type of person who's prone to unconsciously rubbing your eyes, we recommend a more smudge-proof pencil eyeliner.
Runners-up
L'Oréal Paris Infallible Paints Eyeliner
This felt-tip pen eyeliner isn't quite as dark as our inky-black top picks — you can't tell from a distance, but up close, the color reads as a softly bluish-black rather than a purely opaque black. But it does offer a neatly controlled application, excellent wear, and easy removal for less than $10. If you're a true liquid liner beginner and don't mind sacrificing a little pigment for the lower price, we think L'Oreal Paris Infallible Paints is a good option. It comes in six shades and is available at Ulta, Walgreens, Target, Walmart, and CVS.
NYX Matte Liquid Liner
If you're looking for a budget dupe for the Lancôme Grandiôse, this is our best bet: The NYX Matte Liquid Liner blew us away with its pitch-black matte pigment, which is nearly indistinguishable from the luxury liners for less than a quarter of the price. Here's the catch: With its long wand and soft brush, this liner requires a truly steady hand to craft precise lines. If you have the time and patience to work with the brush, this liner is a great deal for the price. It comes only in black, and can be found at Target, Walgreens, Ulta, and CVS.
Make Up For Ever Aqua XL Eye Pencil
The Make Up For Ever Aqua XL Eye Pencil Waterproof liner is an all-around great product. But Urban Decay's 24/7 pencil won out for offering many more shades and applying a bit more smoothly. If the Urban Decay pencil is out of stock, this would be a good backup. It comes in 20 shades and is also available at Sephora.
How We Chose the Best Eyeliners
Most highly-praised eyeliners
There are thousands of eyeliners on the market, but we wanted to concentrate on the very best. We combed through Sephora, Ulta, Marie Claire, Cosmopolitan, Allure, Refinery29, Elle, MakeUpAlley, PopSugar, Into the Gloss, and Harper's Bazaar until we had a list of 20 universally loved gel liquid, pencil, and gel eyeliners. To maintain a level playing field, we focused exclusively on the color that every eyeliner offered — black.
Fully opaque and smudge-proof
Everyone has their preference for what makes the perfect eyeliner, but any decent liner should be strongly pigmented and transfer-resistant. While we do love a good smokey eye, we wanted to make sure that our top picks kept the control in our hands. Every smudge or sharp line should be deliberate. The last thing anyone needs after bumping into an ex, boss, or in-laws is to realize that your flawless morning eyeliner has transformed into raccoon eyes.
Completely waterproof
To simulate a surprise rainstorm or weepy jag, we sprayed the swatches with water mist from a distance, then gently rubbed them again. A few, like the NYX Collection Noir Liquid Black Liner, literally disappeared before our eyes, while others like the Marc Jacobs Highliner stayed as sharp and defined as if nothing had happened at all.
Comprehensive testing
We sourced the most eyeliner-savvy members of our editorial team to take home a few eyeliners each for a week of testing. Our goal: find which eyeliners offer the smoothest, most controlled application, budge-proof wear, and painless removal.
Since most of us were already loyal to one or two particular formulas, it was a tough crowd to impress — which meant that negative feedback was unforgiving and praise was exceptional. In the end, we found a dream team of assorted pencil, liquid, and gel eyeliners that stood up through long workdays and misty weekends.
Guide to Eyeliners
How to find the right eyeliners for you
Make sure it's easy to apply
If you're standing at a makeup counter, try the eyeliner on the inside skin of your forearm. You're looking for a couple things here. You want full, rich color — nothing washed out or faded. You don't want to see the product bleed or feather into the creases of your skin. And it should go on smoothly. Wait a minute and see if it flakes, cracks, or appears patchy. It should dry quickly (30 seconds, on average, for our choices), and once dry, shouldn't smudge when you rub over it with a finger.
Select the right format for your experience level
Getting the perfect cat-eye take a bit more skill than, say, slicking on some lip gloss, but the type of eyeliner you use can help you achieve a professional result no matter what your experience level. Pencil is the easiest of the three eyeliner formats to use and gives you good control over the quality of line, especially if you keep it well-sharpened. Liquid eyeliner tends to be, well, liquid and thus goes on easily, but it takes a little practice and a very steady hand to take full advantage of the sharp line that's possible with the brush. Gel, too, requires practice to learn how much product to load onto your eyeliner brush and how firmly to press in order to achieve a constant, steady line. Too little and you'll have gaps in the line, too much and you may end up with an unsightly glop of gel on your lashes.
One size does not fit all
Both eye color and the shape of your eyes should impact your choice of eyeliner. We chose to focus on black eyeliner here, since it's the one shade that's always available, but more subtle effects can be achieved by employing other colors—like using a warm plum color to contrast with green eyes. The shape of your eye can influence the thickness and quality of the line you apply, such as using a long, thin line to lengthen a round eye. If you're not sure how to make the best of your eye shape, you might find it valuable to schedule a one-time consult with a makeup artist, who can explain what type of eyeliner will work for your eyes — and how to make the best use of it.
Eyeliners FAQ
More Eye Care Reviews
We've had our eyes on eye makeup for years, interviewing experts and assessing hundreds of products. To check out our choices for a range of product to highlight and care for your eyes, see these reviews.