The Best Mascara
Mascara is a transcendent product that can both elevate your look for a night out and single-handedly hold it up on a "no-makeup" day. The best mascara adds volume and length to individual lashes, creating a plump but natural look. We looked at the 17 highest-rated and most popular mascaras we could find and found six that excel at creating flawless eyelashes.
Analysis paralysis? Subscribe to our newsletter.
How We Chose the Best Mascara
To collect our 17 mascaras, we sought suggestions from the pros: beauty editors of fashion magazines Allure, Elle, and Vogue, plus recommendations from the websites Beautypedia, Makeupalley, and Total Beauty. We also looked for Instagram inspiration, making a list of all the mascara recommendations we could find from the top ten beauty influencers as profiled by Forbes, prioritizing anything that was mentioned more than once.
Fragrance-free
We didn't include any mascara containing fragrance, a common irritant that can cause itching and redness on sensitive skin. No one needs that around their eyes so it's a baffling addition (who's going to be smelling your eyelashes?) This excluded a couple of otherwise promising formulas from YSL and Dior.
Nothing waterproof
We also skipped waterproof mascara. For a special event where photos will be taken and tears will be shed, by all means indulge in a waterproof look. Top brands like Benefit Cosmetics also make highly rated waterproof formulas. But in order to be effective waterproof formula has remarkable sticking power and you can easily damage your lashes as you attempt to remove it. Not ideal for daily wear.
Balanced brushes with engineered bristles
We wanted brushes that applied just the right amount of mascara. A number of online beauty guides suggest that depositing a small amount of mascara with every swipe is ideal. But mascaras that slowly build your look are also, well, slow. Wands with very conservative amounts of mascara, like Blinc and Maybelline Great Lash, sometimes took us five whole minutes to finish applying. We smudged dainty mascaras more often than clumpy ones because they took forever to apply.
We wanted bristles that would volumize, lengthen, or both. We weren't initially sure if we'd be able to tell the difference between "lengthening" and "volumizing" formulas. While the best mascara does lengthen and volumize, allowing you to sculpt the look you want, some products do produce bolder eyes, while others offer delicately feathered lashes. So we searched for picks in all of these categories.
Full-day coverage
When you get back to your bathroom mirror at the end of the day, you want to see that your mascara is still looking fresh and in place. (We were surprised to discover that the amount you spend on a mascara isn't a good indicator of how well it will last.) But you also still want to be able to remove your mascara with ease. Unfortunately, the longer-lived the mascara, the more of a pain it usually is to get off. Most of our favorite mascaras require a good-quality eye makeup remover to take off without tugging at eyelids or plucking out lashes.
The 6 Best Mascaras
Benefit Cosmetics
Benefit Cosmetics Roller Lash Curling Mascara
Pros
Sleek look
Effective brush design
Buildable
Sleek look
If we had to choose just one mascara, it would be Benefit Roller Lash. Though not as renowned as Benefit's They're Real! formula, we found that Roller Lash offers greater customizability and a final look that's less spikey. It delivers genuinely lush lashes and a happy medium between lengthening and volumizing, with the super defined, super dramatic lashes that other mascaras make you work for. You end up with a sleek, glamorous look that is easy to layer up without clumping.
Effective brush design
There's not much formula on the wand when you tug it out, but the brush design is so effective that you don't need a lot of product. Lots of tiny, short bristles cover the entire wand and succeeded in pulling our lashes out and up, coating and curling in a way that actually lived up to the "roller lash" claim. Other brushes, like Maybelline's Falsies Push Up Angel, mimicked the Benefit Roller Lash wand, but ultimately fell short. Maybelline, for example, uses only a single row of bristles rather than wrapping them all the way around the wand.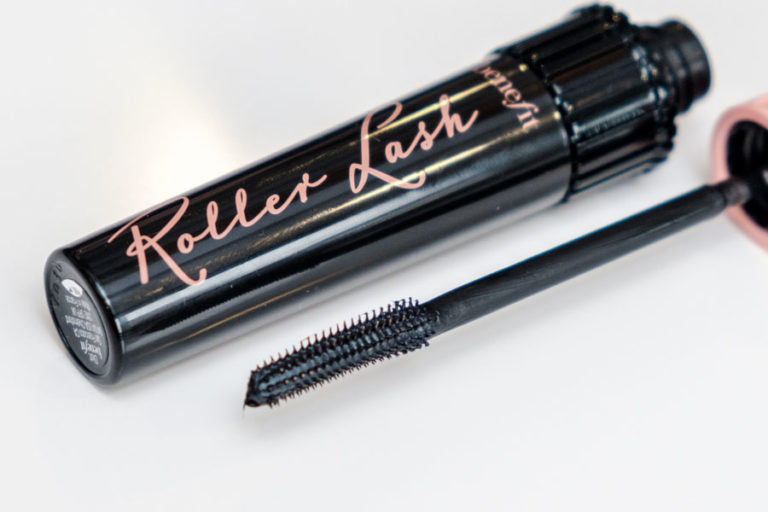 Buildable
Even better, you can control the number of coats to customize the look you want, something They're Real! doesn't succeed at (this sister formula takes a "go dramatic or go home!" approach). Roller Lash starts off slow for a "no-makeup" look, but it's possible to build (and keep building!) the intensity without creating globs.
Hard to remove
Benefit Roller Lash still looked fresh at the end of the day, without flaking, smudging, or leaving any dark shadows beneath our eyes. But because it's so long-lived, it's also fairly hard to get off. Allow a high quality eye makeup remover to sit and work at the lashes for a few seconds before gently wiping off.
Charlotte Tilbury
Charlotte Tilbury Full Fat Lashes
Pros
Soft, natural lashes
Easy to layer
All about length
Cons
Not much volume
Expensive
Soft, natural lashes
Charlotte Tilbury Full Fat Lashes had us expecting boldly blackened eyes, but we were charmed to find that the mascara delivers a soft, natural fringe of lashes with striking length. We actually think the name is misleading: This mascara creates lovely, romantic length that's a little softer and more natural looking than the volume offered by our other top picks.
Easy to layer
We also found the formula easy to layer. Even after we continued on with a second, third, and fourth coat, the mascara resisted clumping, instead providing precise definition to each lash. Many of our drugstore picks didn't fare as well, with products like L'Oreal Lash Paradise beginning to clump if we exceeded two or three swipes.
All about length
This mascara pulls out lovely, long lashes, creating a soft beauty that's more likely to leave bystanders thinking you were blessed with great lashes rather than new extensions. It is hands down the best mascara for length. No other formula even came close.
Not much volume
With an emphasis on length, this product does not do much to thicken or plump up lashes. If you want a heavier look, there are a lot of great volumizing mascaras out there — we'd nudge you toward one of the Benefit mascaras — but the Charlotte Tilbury is not one of them.
Expensive
At nearly $30, this product was the most expensive of our finalists. We didn't feel the cost was out-of-line for the quality of the purchase, but if you're on a budget, it might not be what you're looking for.
Benefit Cosmetics
Benefit Cosmetics They're Real! Lengthening and Volumizing Mascara
Pros
Dramatic results
Ingenious applicator
Dramatic results
Benefit They're Real! is a dramatic mascara that does it all — darkens, thickens, and lengthens lashes in all directions — with a level of oomph we didn't see with any other mascara. Testers who love the glamorous look of falsies loved how this bold formula applied, with one declaring, "Bellissimo. I feel awesome with these sexy, powerful lashes."
Ingenious applicator
The star of the show is the ingenious applicator. Most of the wand's length is taken up with the brush — over an inch of uniform cactus spikes that continue over the domed tip. With an articulated angle reminiscent of a dental tool, you can reach into the corners of the eyes to darken and lengthen even the tiniest lashes. It also enables you to reach across and perfectly paint your non-dominant side. The design lets you hit specific areas and build volume, all in one go. Where Roller Lash's brush is dainty, this one is audacious.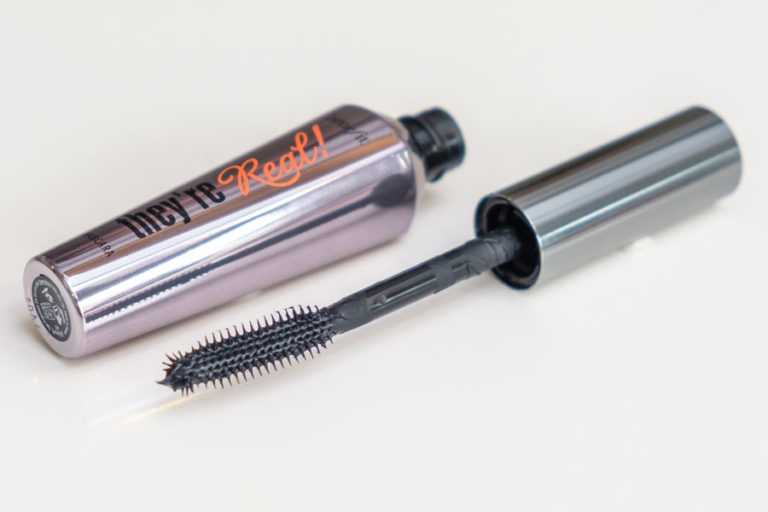 Occasional smudging
As with many volumizing mascaras, it's fairly easy to clump or smudge while applying. The brush's bristles are strong enough that we found it easy to comb any clumps back out, but given the ample amount of product that comes out of the tube, and the fact that the brush design encourages you to turn and twist it, the odds are high that you'll smudge a time or two. But testers found the formula easy enough to remove with a Q-tip.
Maybelline
Maybelline Volum' Express: The Colossal Big Shot
Pros
Megawatt eyes
Smooth application
Good lengthening
Megawatt eyes
This mascara isn't for the faint of heart. Maybelline The Colossal Big Shot Volum' Express is one of many in Maybelline's volume line-up that delivers big lashes out of a big container, but the Big Shot perfects megawatt eyes. Lots of product comes out on its big brush — enough that some of our testers were apprehensive about applying it. But the formula distributed evenly across our lashes with very little effort.
Smooth application
The formula is easy to layer without creating or correcting clumps. This was a nice change of pace after testing similarly-priced products like L'Oreal Voluminous Lash and Urban Decay Persuasion — formulas that we liked, but which tended to glob and clump after more than a couple of coats.
Good lengthening
Volume isn't Big Shot's only trick. It also offers a surprising amount of length. True, this one doesn't match Charlotte Tilbury's airy subtlety, but if you don't mind a side of volume with your length, Maybelline costs a third of the price.
Handle hard to grip
We found the conical handles of both Big Shot and Lash Sensational a little hard to grip. They're a little shorter than our other choices, and the shiny cap tapers to a point that makes it easy for your fingers to slip while you're trying to hold it steady to get those tricky corner lashes.
L'Oreal
L'Oreal Voluminous Carbon Black Mascara
Pros
Luscious length
Light coverage
Brush choice
Luscious length
L'Oreal Voluminous Carbon Black is a classic drugstore mascara, but unlike the infamous Maybelline Great Lash, it doesn't require surgical precision to get good results. Instead, its fluffy brush and thick formula quickly deliver luscious length.
Light coverage
We also saw a lot of similarity between the wand design of Voluminous Carbon Black and our top lengthening pick for department stores, Charlotte Tilbury Full Fat Lashes. But whereas the thin, silky texture of Full Fat Lashes creates wispy length, Voluminous' thicker mix creates a light amount of volume, too. We preferred Charlotte Tilbury's take, since we didn't have to spend any time triaging clumps, but if you prefer only a light coating of mascara, L'Oreal's version delivers.
Brush choice
We tried — and loved — L'Oreal Voluminous Carbon Black with the classic straight brush. It's also available with a curved brush, designed to help reach those baby lashes at both corners of the eye and encourage the entire lash line to curve up.
Dries up quickly
When we scanned user comments online, we noticed a higher-than-average number of complaints about the tendency of the product to dry out or become clumpy in the container after several uses. Our testers didn't find this to be true, but for long-term users, you'll want to be sure you are closing the container tightly after each use to avoid this problem—and replacing the product every three to six months.
Maybelline
Maybelline Lash Sensational
Pros
Good volume control
Precise brush
Waterproof option
Cons
Small handle
Some flaking
Good volume control
If volume is higher on your wishlist than length, Maybelline Lash Sensational is another great drugstore option that's easy to layer without clumping. You can easily apply thin layers to your lashes, root to tip, building slowly for a fully-fanned-out look. Since volume is pretty addictive, we loved that we could apply layer after layer of Lash Sensational without gluing lashes together.
Precise brush
Lash Sensational has a rubber wand reminiscent of Benefit Cosmetics' innovative design, with lots of tiny teeth distributed all the way around a curving base. Like our Benefit picks, Maybelline Lash Sensational managed to locate and tug at every little lash, and because the overall dimensions of the brush are smaller than most, it's easy to maneuver.
Waterproof option
If you like this product, you'll be pleased to know Maybelline's got your covered the next time you attend a wedding, with a waterproof version of the same formula. We don't recommend using waterproof mascara every day, because it's harder to remove, but if you know you'll be tearing up, going swimming, or otherwise getting water near your eyes, you might want to keep one of them handy.
Small handle
As with our other Maybelline pick, the short, conical handle on this mascara was a bit harder to hold on to than some of our choices. The matte finish on the handle, however, makes it less of a problem than with the Maybelline Collosal Big Shot, and some of our testers weren't bothered by it.
Some flaking
The main drawback to this formula is that it's a little more prone to flaking at the end of the day. The flaking wasn't very noticeable, so we still think it's worth the money, but you won't get the level of adhesion that you find on our high-end picks.
How to Choose the Right Mascara for You
Assess your lash needs
Most mascara focuses on either lengthening your lashes or adding fullness and volume. If you have thin lashes that need plumping, look for brushes with far-apart bristles to deposit more mascara. Want more length? The more closely spaced the bristles, the more defined the result, with a focus on lengthening.
Looking for a little of both? In this case, moderation is key. Bristle spacing will fall in the middle of the spectrum, offering a look that stops short of being spiky but leaves lashes looking a little plumper than a formula just focused on length. Benefits impressed us with its perfect balancing act.
Decide on brush style
Mascara brushes come in a variety of sizes and shapes. You'll discover what works best for you via trial-and-error, but here are a few tips: If you're looking for heavy coverage, go with a brush that has a wide core and is packed with bristles, such as Charlotte Tilbury's Full Fat Lashes. A thin or ball brush, meanwhile, can give you the edge if you want to sculpt individual lashes without clumping. A curved brush makes it easier to reach every lash at the same time, even those tiny ones in the corners of your eyes. A brush that tapers to a small point gives you flexibility: thick bristles at one end to apply a good amount of product, and the thinner end available to help you work out any clumps.
Consider color
Although mascara does come in bright blues and greens for the boldest among us, most people choose a black or brown product for everyday use. In general, if you have pale skin and light blonde or red hair, you'll do better with a soft brown color. If your hair is darker—even if your skin tone is light—a black option will look more natural.
Note the ingredients
Note the ingredients, but don't stress over them. Mascara formulas have changed very little over the past 50 years. They've still got three basic parts:
Pigments dye the formula black or brown (or more adventurous tones). Typical ingredients include titanium dioxide and iron oxide, chemical compounds that work together to create deep hues.
Waxes, often paraffin, carnauba, or beeswax, thicken the formula, enabling it to cling to lashes.
Oils serve to resist water and enable the mascara to stay put after application. Common oils include linseed, castor, lanolin, eucalyptus, and oil of turpentine.
As Into the Gloss details, most cosmetic companies don't want to pay for the research necessary to develop totally new formulas while meeting FDA safety guidelines. It's easier and more cost effective to innovate by tweaking the stem and wiper. Different products — within and even between brands — share most of the same ingredients. Out of the first ten ingredients used by Charlotte Tilbury and Too Faced, for example, nine were the same. But each came with wildly different brush designs, and performed quite differently during testing.
Mascara FAQ
Should I be worried about preservatives in my mascara?
Consumer concerns over the safety of preservatives do have a scientific foundation, but the concerns themselves are often over-hyped.
Parabens are the standout example. The inflammatory discussion surrounding parabens has led to some manufacturers omitting them from their ingredient lists, but these fears are largely based on a 2004 study that found trace amounts of parabens in tumors and called only for additional research. In 2018, the American Cancer Society's stance is: "So far, studies have not shown any direct link between parabens and any health problems, including breast cancer." The FDA's current stance is similar, stating that while they continue to study the topic, "At this time, we do not have information showing that parabens as they are used in cosmetics have an effect on human health."
The truth is, if we didn't have preservatives like parabens in our beauty products, they would be breeding grounds for truly harmful bacteria and fungi, which can lead to all sorts of eye problems. In support of good hygiene, the FDA suggests replacing your mascara every three months to guard against bacteria proliferation.
How many coats of mascara is best?
There's no one magic number. In part, it depends on how heavy you'd like your coverage to be. If you want a full, dark, exotic look, you might end up applying three, four or more coats. Light coverage that works for everyday use may be just a single coat. You'll also want to take into account how thick or how runny your mascara formula is. Remember that it's better to apply two thin coats than one thick coat—that way you'll avoid clumping and have more flexibility about the level of coverage you're going for.
How do I avoid the raccoon eye look?
All six of our top picks did well in avoiding under-eye smudges over a long day's wear. To avoid smudging when you apply mascara to the lower lashes, hold a spoon under your eye, behind the lashes, while you're applying it. Once the product has dried, it shouldn't be a problem. If it is, consider switching to a longer-lasting product. Another option: use a lash-building primer as a first coat, to help subsequent coats adhere better to your lashes.
The Best Mascara: Summed Up