The Best Shampoos
The best shampoo leaves your hair soft, clean, and manageable. It should also make the in-shower experience pleasant, with subtle fragrance and sufficient lather. We tested 12 popular shampoos with the right ingredients and found five that were universally loved for specific scenarios.
Analysis paralysis? Subscribe to our newsletter.
The 5 Best Shampoos
The Best Shampoos: Summed Up
OUAI Repair Shampoo
Pros
Moisturizing ingredients
Smoothness
Rich lather
Cons
Marketing hype for similar products
Fragrance
Not ideal for oily hair
Why we chose it
Moisturizing ingredients
OUAI Repair Shampoo is full of moisturizing ingredients, making it an excellent choice for people with normal to dry hair. Expert-preferred basics like glycerin and panthenol have starring roles in its ingredient deck, and extras like sunflower seed extract and hydrolyzed linseed extract lend a hydrating assist.
Smoothness
One tester's gushing comment sums up the general feelings surrounding OUAI's hydrating effect: "Loved the results of this one! It helped define and control my curls, and it made my hair so shiny and smooth — I loved running my fingers through it." All testers experienced this smoothness regardless of hair type.
Rich lather
OUAI also offers a luxe experience in the shower, where testers were equally as pleased with its high-end, minimalist packaging and thick texture. The creamy, beige shampoo is substantial enough to quickly rub into a rich lather, making it easy to work the right amount into your roots and to know when you've rinsed all the product out.
Points to consider
Marketing hype for similar products
OUAI has a similar product on the market, OUAI Curl Shampoo, which we also tested. Though it's marketed toward people with curly hair, it yielded near-indistinguishable results for our testers. It also costs about the same, smells similar, and boasts identical ingredients through the first nine listed. Because the products are so similar, we opted to recommend the one that doesn't try to corner a specific hair type, though it could be worth a try if you have curly hair.
Fragrance
Another consideration is OUAI's fragrance. Testers were enamored with the fresh, floral scent; one tester even remarked that the perfect amount stuck around into the next day. No tester said it was overpowering by any means, but if you're ultra-sensitive to smells, you might prefer fragrance-free Free & Clear Shampoo for Sensitive Skin. If floral scents just aren't your thing, Pureology Hydrate Shampoo also gave testers great results — though they reported it to be a bit less moisturizing — and smells more like herbal essential oils.
Not ideal for oily hair
While OUAI smoothed out all hair types, naturally oily hair tended to return to its oily state more quickly. This may not be an issue if you wash your hair every day, but it's why we specifically recommend it for normal to dry hair.
Living Proof Full Shampoo
Living Proof
Living Proof Full Shampoo
Pros
No residue buildup
Long-lasting results
Traditional scent and bottle
Cons
Less foam
Not enough moisturizers for dry hair
Why we chose it
No residue buildup
Living Proof advertises its Full Shampoo as "ideal for fine, flat hair" and claims that it provides lift and banishes residue long-term. One tester practically echoed the hype, saying it left her hair "soft and feather-light," and that it "rinsed totally clean and didn't leave any buildup after multiple uses." If you have oily hair that craves those results, look no further.
Once successfully rinsed, hair reaches a literally squeaky clean state that testers with oily hair found refreshing and reassuring — no product was going to stay behind and leave buildup. Yet, it wasn't so squeaky clean that it got testers' fingers tangled, unlike other shampoos "for all hair types."
Long-lasting results
What truly makes Living Proof a boon for testers with oily hair is the longevity of those lifting, grease-free results. While dry-hair-friendly OUAI left their locks feeling heavy a day later, Living Proof kept it manageable and clean long past the next day — a huge time saver, especially if you're someone who styles their hair regularly.
Traditional scent and bottle
Though it yields unique results, the reported overall experience using Living Proof was relatively standard — which testers liked. Its ergonomic bottle and light, "tropical citrus" scent fared much better with testers than totally novel or bold products.
Points to consider
Less foam
Though Living Proof delivers a "traditional" shampoo experience in almost every way, its creamy, gel-like product does produce less foam than a typical shampoo. It's not a deal breaker, but those who are used to a lot of lather may find it unnatural to apply.
Not enough moisturizers for dry hair
The reason this shampoo works so well for oily hair is that, while it contains moisturizing ingredients, it's not chock-full of them. That's likely why one tester, who self-identifies as someone with dry hair, felt that Living Proof gave her hair a "rougher" feel than she desired. Even if you have naturally oily hair, we recommend buying a good conditioner to use alongside Living Proof.
Aveeno Pure Renewal Shampoo
Aveeno
Aveeno Pure Renewal Shampoo
Pros
No harsh surfactants
Leaves hair shiny
Cons
Requires conditioner
Fragrance
Why we chose it
No harsh surfactants
Finding a great drugstore shampoo was tough. The reason companies use harsh surfactants like SLS in their products is because they're cheap — the cheaper the shampoo, the more likely they'll include those harsh ingredients. In our original list, 15 shampoos were widely available at drugstores, and just two made it past the harsh-surfactant cut: Aveeno Pure Renewal Shampoo and Free & Clear. Aveeno's other shampoo on our list didn't even make it past the cut, and it's billed as the brand's "Nourish + Moisturize" shampoo.
Leaves hair shiny
While none of our testers felt like Aveeno Pure Renewal was "hair-transforming" like our other picks — one tester called it simply "unexceptional" — it lathered up well and left all hair types shiny and manageable. That clean feeling lasted a while, too, allowing users to go for more than a day without washing their hair.
Points to consider
Requires conditioner
One tester made it clear that Aveeno "had to be followed up with a generous dose of conditioner" in order to feel nourishing. It's a budget-friendly option worth considering; just be sure you have a good conditioner to rely on.
Fragrance
Rather than a light citrus or rich floral smell like our other top picks, Aveeno has a strong, classic shampoo scent (read: soapy and flowery). It's not necessarily unpleasant, but it does not have the subtle olfactory appeal of OUAI or Living Proof.
Cantu Shea Butter for Natural Hair Sulfate-Free Cleansing Cream Shampoo
Cantu
Cantu Shea Butter for Natural Hair Sulfate-Free Cleansing Cream Shampoo
Pros
Expert-recommended
Scent
Cons
Not for every type of natural hair
Why we chose it
Expert-recommended
Maria Antoinette, licensed cosmetologist, beauty expert, and all-around natural hair advocate, advised going for formulas that don't include sulfates, silicones, or parabens for natural hair. "Sulfates strip your hair of all oils, and we know naturals need to retain a certain level of oil to retain length. Silicones coat the hair strand and make it impossible for moisture to get into the hair, which in the long run causes breakage and extremely dry hair." Cantu Shea Butter shampoo has the right ingredient deck and is one of her go-tos, along with its companion conditioner.
Scent
Cantu contains ingredients that strengthen hair, but it also makes for a pleasant in-shower experience. Packaged in a traditional squeeze bottle, the creamy gel smells like a just-made piña colada.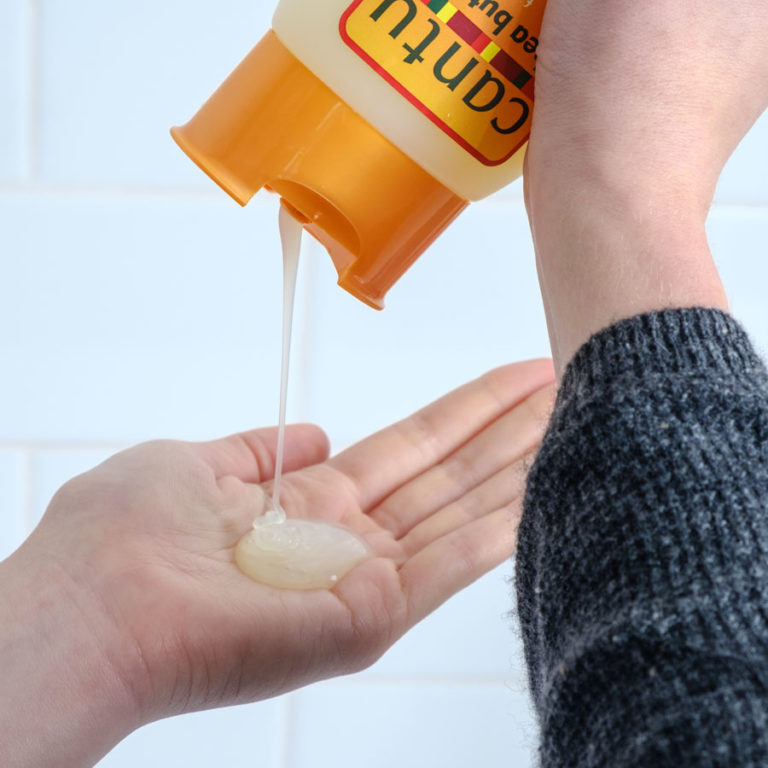 Points to consider
Not for every type of natural hair
As with any kind of shampoo, you may have to try a few different brands before finding your perfect fit. If you don't like how your hair feels after using Cantu, Antoinette also mentioned these two standbys:
Free & Clear Shampoo
Free & Clear
Free & Clear Shampoo
Pros
Widely recommended
Price
Why we chose it
Widely recommended
If you're sensitive to fragrances or suffer from eczema or dryness, our experts suggested Free & Clear Shampoo. It's fragrance-free and is widely recommended by dermatologists for anyone who reacts to dye, fragrance, parabens, or harsh surfactants.
Price
Free & Clear is one of our cheapest picks, ringing in around $10 for a 12-ounce bottle and available in multi-packs.
Points to consider
No fragrance
While our testers agreed that Free & Clear did the trick in terms of cleaning, they weren't particularly excited about it — its no-nonsense, sterile scent makes you realize why most shampoo companies add fragrance.
How We Chose the Best Shampoos
Popularity
We knew we wouldn't be able to test the hundreds of shampoos available, so we started with the basics: Which shampoos have people talking? To create our starting list, we pulled best-sellers from retailers like Sephora, Ulta, Target, and Amazon, plus Best-Of lists from beauty authorities like Refinery29 and ELLE. We stuck to traditional shampoos and left out one-off products like dual-action shampoo/conditioners, gender-specific shampoos, color-centric shampoos, dandruff shampoos, and cleansing oils. The one exception we made was for Hairstory New Wash, a trending product that claims to replace both shampoo and conditioner and has taken over the internet — it's such a phenomenon that we had to include it on our list for curiosity's and comparison's sake.
From there, we sorted our products into one of two categories: "for all hair types" and "for oily hair." There are endless ways people describe hair — thick, fine, curly, color-treated — but most everyone falls into one of these two categories. According to Jeffrey Lewis, a formulations chemist who develops personal care products, the differences among "specialty" shampoos are usually more hype than substance. "Some of these companies claim that a shampoo is good for fine hair," Jeffrey told us, "when in reality they have just changed the fragrance or color in their formulation."
This left us with 45 varieties, all promising to make your hair its best, brightest, and shiniest self.
Gentle surfactants
Your scalp, like the rest of your skin, produces sebum (aka oil) to keep skin naturally moisturized. Sebum production goes into overdrive for all sorts of reasons — stress, hormonal imbalances, diet, product overuse — and that's what generally causes hair to get greasy or "dirty."
Enter: surfactants, the compounds that do the cleaning. One end of a surfactant molecule attaches to oil and the other attaches to a water molecule. Under a shower's steady stream, the water molecule pulls the surfactant and oil away from your hair, washing it down the drain. Surfactants come in varying degrees of intensity, some of which are liable to strip the natural, good oils from your scalp. According to dermatologist Dr. Jackie Dosal, harsh surfactants aren't going to destroy your hair. But if you have a sensitive or dry scalp to begin with, the chance for irritation increases.
"For hair that has color or chemical treatments, or is severely dry or damaged, sulfates may cause problems," adds celebrity hairstylist and owner/founder of Arrojo NYC Nick Arrojo. Your head and your hair need some oil to stay healthy, and all of our experts agreed that there are plenty of less-intense surfactants that will do just as good a job cleaning without stripping every last drop of oil from your scalp.
To minimize the risk of irritation or over-stripping oils, we cut shampoos with any of the harsh surfactants our experts pointed to, leaning toward gentler formulas.
| Harsh Surfactants (Cut) | Gentle Surfactants (Passed) |
| --- | --- |
| Sodium Laureth, Myreth, and Lauryl Sulfate | Sodium Lauroyl Sarcosinate |
| Ammonium Lauryl and Laureth Sulfate | Sodium Lauryl Sulfoacetate |
| Sodium C14-16 Olefin Sulfonate | Cocoamidopropyl Betaine |
| TEA Lauryl Sulfate | Methyl Cocoyl |
| TEA-dodecylbenzenesulfonate | Sodium Cocoyl Isethionate |
| Sodium Alkylbenzene Sulfonate | Sodium Lauryl Glucose |
| Ammonium or Sodium Xylenesulfonate | Sodium Cocoyl Glycinate |
| | Decyl Glucoside |
Expert-endorsed ingredients
Friendly surfactants aren't enough to make a great shampoo on their own. Beyond just cleaning your hair, a great shampoo includes ingredients that go the extra mile to nourish it and your scalp. To narrow down our pool for testing, we turned to our panel of experts and asked which of those ingredients they'd recommend we look for in the best shampoo.
Melissa Padua, an R&D cosmetic chemist, suggests:
Panthenol: For repairing, thickening, and strengthening damaged hair. It reduces split ends and increases the tensile strength of the hair.
Hydrolyzed silk and/or wheat proteins: To strengthen hair against breakage and repair it from the inside out.
Glycerin: A humectant to help moisturize hair.
Green tea extract: It has a high polyphenol content, giving it antioxidant and healing properties.
Aloe vera extract: For its natural moisturizing ability and because it can be soothing to sensitive skin and scalps.
Arrojo, who has formulated his own line of products, added a few additional go-to's:
Coconut oil: A great natural emollient that smooths and softens hair.
Shea butter: Another great healing emollient.
Agave leaf extract: To add moisture.
Sesame seed oil: Promotes a healthy scalp.
Vitamin E: To protect hair from damage. Vitamin E is found in lots of natural oils, including macadamia seed oil.
Of the 19 remaining shampoos, we looked for those with at least two recommended ingredients. We brought those 12 contenders into the office; it was time to try these formulas for ourselves.
Easy to use
We had a range of testers use each shampoo — both women and men, with hair that was thick and oily, fine and dry, and everywhere in between. Generally, testers loved a traditional shampoo experience, from squeeze bottles that made for accurate distribution to suds that were easy to distribute and wash out. They appreciated scents that were pleasant but not overwhelming, though that was never a deciding factor.
One thing became clear: What really matters is a shampoo's results. And there's a true difference in experience between shampoos for oily versus dry hair. The shampoos that rose above the rest gave results that were perfect for testers' hair types: Oily-haired testers wanted lift and lasting freshness, and normal- and dry-haired users wanted moisturization above all else.
Remember, what leaves hair glossy on one person could leave locks limp on the next. Our top picks were universally approved by everyone who used them but worked best for the specific hair types we mention. If you're on the hunt for a new shampoo, these picks are the perfect place to start.
How to Find the Right Shampoo for You
Determine hair type
"The only time a shampoo will be really wrong for you is if you have extremely dry, damaged hair and you use something drying" says stylist Marco Santini, owner of Ion Studio in New York City. For everyone else, "it's not that your hair will look terrible if you use the wrong shampoo," he explains. "It just might not look its absolute best." For example, if you have very fine hair and use a product meant for people with very dry hair, you might notice the formula weighing it down.
Regardless of hair type, Santini recommends trying out each new shampoo for two to three weeks. That prolonged period, he says, is the only way you'll be able to tell the subtle differences in how your hair looks. Unless it's truly "wrong" for your hair, nearly every shampoo will seem great in the first week because it's changing things up. But by two weeks in, you'll actually be able to decide if you think your hair looks better or worse than before.
Note seasonal changes
Your hair changes with the seasons. Or at least, it might seem to. The same head of hair will often feel dry and crackly in winter months, then sweat-slicked and greasy in the summer. It has more to do with your scalp and skin then your hair itself. Super-dry air in the winter evaporates moisture from your skin faster, so the natural oils don't have as much time to work their way into your hair. On humid summer days, you'll sweat more, use more product, wear your hair up off your neck and trap sebum at the roots — the list goes on. Trying different shampoos for different needs is the best way to keep your hair looking fresh.
Consider ditching shampoo altogether
There are also options if daily (or even weekly!) shampooing isn't your style. More and more people have been experimenting with shampoo alternatives that are supposed to be gentler on hair. Some go months, or even years, without washing their hair. Some try cleansing with baking soda or apple cider vinegar. Many use dry shampoo to extend the timeline between washing. Proponents call it the "no 'poo" method, keeping natural oils in hair and shampoo bottles out of landfills.
Perhaps the most popular non-shampoo shampoo of the moment is the hair cream Hairstory New Wash. The idea behind hair creams is replacing surfactants with fatty acids to lift away excess sebum; they also replace conditioner. "I only wash my hair maybe once a week," says Santini. "But if you like to wash every day or every other day, I recommend you use shampoo once or twice a week and then cleansing cream on the days in between. It's much gentler but still gives you that clean feeling."
One Reviews.com staff member has been using New Wash for years and swears by it — she's even a loyal member of the subscription service that regularly sends big bags of the stuff to refill your bottle. If you're looking for something new and trendy to turn your shower routine on its head (or if you're sick of washing your hair every other day), Hairstory could be your new go-to.
Shampoos FAQ
Our Other Hair Care Reviews
Want a great head of hair? Who doesn't? We've got you covered, no matter what you're looking for. Check out these reviews to find the best hair care products on the market: