Reviews.com is reader-supported. If you click on or buy something via a link on this page, we may earn a commission.
Showing results for
Did you mean:
Sorry, something went wrong. Please refresh your browser and try again.
Last updated on
March 29, 2019
The Best Home Security Systems
Reputation, technology, and dependability
| | | | | |
| --- | --- | --- | --- | --- |
| Best for Home Automation | Best DIY System | Best Basic System | Most Popular Provider | Best No-Contract Options |
| | | | | |
| | | | | |
| | | | | |
| | | | | |
| | | | | |
How We Found the Best Home Security Systems

10 systems considered

4 levels of protection evaluated

5 top picks
The Best Home Security
We evaluated the biggest home security systems and compared the process of ordering, installing, and using them in our own homes. Each security company offers the same basic security features, but our top picks rose above the rest with their cutting-edge technology, user-friendly equipment, and helpful customer service.
The 5 Best Home Security Systems in 2019
How We Chose the Best Home Security Systems
Standard level of protection
We started with the ten most popular home security systems with professional monitoring: ADT, Vivint, Frontpoint, GetSafe, SimpliSafe, Link Interactive, Protect America, LiveWatch, Nest Secure, and Brinks. All offer four fundamental levels of protection:
Intrusion: door, window, and glass-break sensors
Environmental: carbon monoxide, fire, and flood sensors
Surveillance: indoor, outdoor, and doorbell cameras
Safety: life alert and panic buttons
Cutting-edge technology
During our tests, we strongly considered home automation options, which allow you to remotely control features of your home, such as lights and door locks. Vivint really impressed us with its seamless automation integration. We loved being able to see who was at the front door directly from the app. But we wanted to figure out what these differences meant on a day-to-day basis: Which features were necessary for improved peace of mind? Which would be easiest to integrate into our daily routines?
User-friendly equipment
Most of our testers had positive things to say about living with their home security systems. They reported that their systems improved their overall peace of mind. If you're prone to fretting late at night or while away on vacation, home security systems deliver on their promise of reassurance. That's not to say there weren't annoyances — which can become major sore points if you're interacting with your system every time you leave the house. LiveWatch's piercing, impossible-to-mute beeps drew complaints from one tester, as did Link Interactive's inaccurate digital display. Others, like Vivint and ADT, were easier to incorporate unobtrusively into our daily routines.
Customer service
The majority of home security companies recommend or require you to call when ordering your service. We recommend this too, as you can often get a lower price by discussing your quote with a salesperson. Sometimes home security systems require an installation fee, equipment fees, or an activation fee. It's quite common that special deals can waive or lower those. In fact, sales reps from eight of the nine security companies we considered offered us a discount over the phone — we didn't even have to ask.
Often, those sales reps can provide valuable information about customizing your system. Most of our testers were pleasantly surprised. The phone calls felt informative but casual — more of a conversation than a sales pitch. Our Vivint tester even went so far as to describe the sales rep he spoke to as "a friend looking out for my needs."
Vivint
Best-in-class technology
Starting at $40/mo.
Pros
Advanced home automation features
Full-featured mobile app
Customer service
Cons
Upfront equipment costs for no-contract option
Short trial, long contract
Why we chose it
Advanced home automation features
Vivint has been around since 1999 and is known for its cutting-edge technology. We like the company's automation features in particular. All of the systems we considered offer some basic features, but Vivint's were the easiest to use. With the SkyControl panel, Glance display, or mobile app, you can change the temperature on your thermostat, turn your lights on or off, and even have two-way conversations through your security cameras.
Vivint also recently partnered with Google to offer Google Assistant voice control to customers with smart tech. Every new smart home system includes two Google Home Minis. This means that customers can adjust the smart thermostat, lock doors, and arm the system via voice commands. Using a Google Home Mini as the smart hub in your home also ensures that even non-Vivint smart devices are manageable on a single platform.
And for those committed to building the ultimate smart home or upping eco-friendliness — there's Vivint Solar. If you're building a full smart home, solar panels can help offset that energy usage in an eco-friendly way. Vivint will handle outfitting and installing your roof, and you can monitor the panels with the Vivint app.
Full-featured mobile app
Vivint's mobile app allows you to arm and disarm your system, view and record camera footage, and everything in between. Our tester praised Vivint's mobile alerts, noting that they come in handy for anyone prone to absent-mindedness: "The notifications for the door sensors are nice in case I open my basement sliding door and leave it open. It continues to check in and provide a notification that the 'sliding door is still open.'"
When pairing your security system with smart features, the app enables a whole host of home control. You can alter home temperatures when the smart thermostat is too many stairs away or if you're on vacation and want to monitor energy consumption. With smart locks, you can automate your doors to lock on a schedule and sync your alarm with your door's entry pad (so when you enter the unlock pin, your alarm system will disarm, too).
Customer service
Vivint outranked every other home security system in J.D. Power's customer satisfaction evaluation; it was the only company to earn five out of five Power Circles. According to the report, "Vivint Smart Home performs well in high-importance attributes: effectiveness of securing my home; ease of using the system; timeliness of resolving problem, question or request; and clarity of information provided for customer service."
The rating rang true when we became Vivint customers ourselves. Our tester felt like the installation technician was a guest in his home — he even came prepared with protective shoe covers and asked to borrow the vacuum to clean up the drill debris. The Vivint tech was also upfront after he noticed that our tester had ordered more equipment than he needed. As our tester explained, "I originally asked for an outdoor surveillance camera, but after reviewing the house, the tech felt the doorbell camera was sufficient. Turns out, he was right." That ended up lowering our tester's expected price.
Points to consider
Upfront equipment costs for no-contract option
Vivint offers a month-to-month contract, but you'll need to purchase all of your equipment upfront to open up that option. Like most home security companies, Vivint's equipment can be costly, and paying at least $600 at the time of purchase might not fit into your budget. If you can swing it, however, month-to-month service is more flexible than a long-term contract — and helps you avoid potential termination fees.

Short trial, long contract
If you don't buy the equipment outright, Vivint requires either a four- or five-year contract — a long time to commit, especially given that you only have three days from the date of install to cancel. Afterwards, you'll have to pay out the remainder of your contract. If you may be moving in the near future, it'll cost you $99 to take the system with you. You could alternatively renew your contract, but then you'd be locked in for even longer.
Vivint will waive any cancellation fees for extenuating circumstances like death, military circumstances, bankruptcy, or a move to assisted living. Still, it's best to be intentional if you decide on Vivint. If you're not sure about hosting a security system, or are frequently on the move, consider Frontpoint, which offers three- and one-year contracts, or GetSafe, which doesn't require a contract at all.
Frontpoint Home Security System Review
Frontpoint
Streamlined service from start to finish
Starting at $35/mo.
Pros
Customer service
Easy DIY installation
Upfront pricing and online ordering
Cons
Faulty equipment
Only one package comes with live streaming
Why we chose it
Customer service
Frontpoint's commitment to customer satisfaction was clear at every stage, starting with our initial phone call. We were impressed with the sales rep's attention to detail. She asked our tester to describe the layout of each room in her home, listened to her safety concerns, and answered questions about all kinds of package options. When our tester told her she needed more time to shop around, the rep was understanding and didn't press the issue.
We're not the only fans of Frontpoint's service, either. The company currently boasts an "A+" rating from the Better Business Bureau, with four out of five stars based on 199 customer reviews.
Easy DIY installation
Frontpoint's DIY installation process was surprisingly user-friendly. Because it's a wireless security system, there's no drilling required to run a phone line, making the process less invasive. A personalized mobile website walks you through how to get the control panel connected and online, how and where to place your door sensors, and what to do if you get stuck.
If you stop halfway through installation and come back to it later, the site remembers where you left off. If you're stalled at a particular stage for longer than you should be, a help window pops up on your device with a phone number to call. When you're ready to activate the system, you call the customer service line, and a rep confirms that your system is online and fully functional. The entire process takes about 30 minutes.
Upfront pricing and online ordering
The home security business is notorious for masking prices and pushing sales calls. Typically, you'll have to call a sales agent for a quote, even if you're just comparing systems and aren't ready to purchase.
The Frontpoint website, in contrast, clearly lists its monitoring and equipment pricing, as well as add-on options and contract lengths. If those prices work for your budget, you can simply purchase your system online. While this method lacks the advantage of a knowledgeable expert to help build your system, those adverse to sales calls can conveniently click their way to a security system.
Points to consider
Faulty equipment
A few minutes into the DIY installation, our tester got stuck getting her control panel up and online — it just wouldn't connect. A help window popped up with a number to call, and a Frontpoint rep helped her troubleshoot the connection. After about 10 minutes, he could tell there was an issue with the circuit board. Certainly not ideal — but the rep apologized and shipped her replacement control panel overnight.
Because you won't have an on-site professional to install the system, any faulty equipment could turn into a frustrating delay. We're confident that Frontpoint will resolve any issues swiftly, but anyone who is particularly prone to technical difficulty may want to choose an alarm company with professional installation (like ADT or Vivint).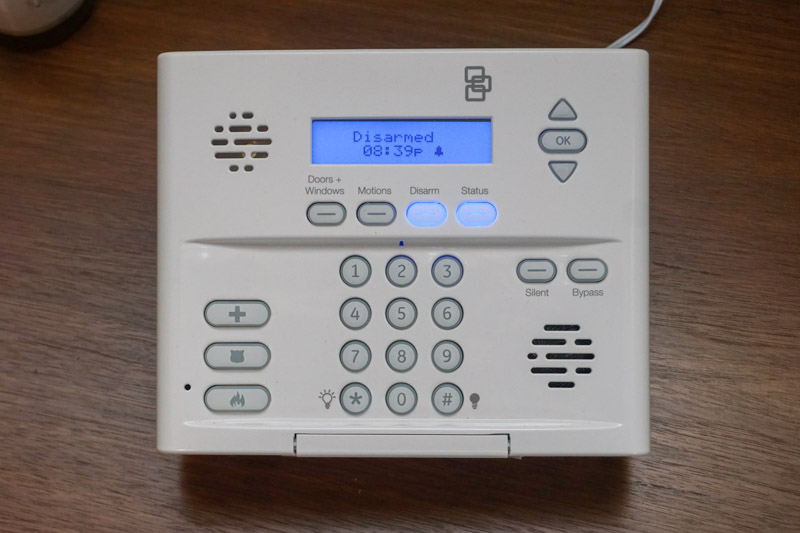 Only one package comes with live video streaming
Frontpoint offers three monitoring plans: Protection, Interactive, and Ultimate. Our tester opted for the Interactive plan but ended up dissatisfied with its lack of live video surveillance. When she received an alarm notification while on vacation, she had no way of gauging whether her home had been broken into or if her cat had managed to trip the sensor. It turned out to be a false alarm — one she paid the local authorities $150 for.
To unlock video surveillance and advanced smart tech features, you'll need its $50-per-month Ultimate plan. That's a high price for home automation when compared to competitors like Vivint, which lets you add those features at every tier (starting at $40 per month). If you opt for a package that doesn't include live video surveillance, consider purchasing a standalone security camera. The best home security cameras on the market range in price, but average around $200.
SimpliSafe Home Security System Review
SimpliSafe
Budget-friendly and easy to install
Starting at $15/month
Pros
Budget-friendly plan options
Easy install
Recently updated equipment
Cons
Limited security camera options
Upfront cost for equipment
Why we chose it
Budget-friendly plan options
SimpliSafe features the lowest professional monitoring prices on our list. For $15 per month, SimpliSafe systems come with 24/7 live alarm and environmental monitoring. That's half the price of other companies' monitoring fees.
What's more, Simplisafe recently released sleeker, more advanced equipment — and gives you the option to purchase its original monitoring system at a discount or a refurbished system for 25% to 30% less than the newer model. If you're interested in DIY monitoring, SimpliSafe lets you do so for free; all you need to do is purchase the equipment.
Easy install
SimpliSafe's wireless security system makes for a painless DIY installation. The keypad and sensors, for instance, are mounted with sticky pads, eliminating the need for drilling. Its step-by-step guide walks you through the entire process, making it relatively simple to follow along and get your system running in no time. And, if you get stuck during your installation, a customer service rep is only a phone call away.
Recently updated equipment
SimpliSafe updated its equipment in 2018 to enhance its already reliable features and to offer a streamlined design on par with security companies like GetSafe and Frontpoint. The new system has twice the range of the original and is "five times faster" in communicating with other equipment. SimpliSafe also reinforced the system's back-up cellular connection so that it's even more secure. Though we haven't tested the new SimpliSafe equipment just yet, the advancements are promising and innovate on a system that was solid to begin with.
SimpliSafe's new equipment also pairs with select smart home devices like the Nest Thermostat and August Locks. Additionally, it syncs with both Google Assistant and Amazon Alexa, which means you can now control your SimpliSafe system via voice commands. Just as with the redesigned equipment, this home automation update puts it in league with competitors — particularly those with DIY installation. While it's still not as robust as offerings from company's like Vivint, this is a huge step forward.
Points to consider
Limited security camera options
While most providers give you the option to add both indoor and outdoor cameras to your security package, SimpliSafe's selection is limited to one indoor surveillance camera. The camera includes features like free streamable HD video and audio, 30-day storage, and night vision, but it doesn't take snapshots of activity and can't pan or move — basic features found on most surveillance cameras.
Upfront cost for equipment
Regardless of if you choose a month-to-month professional monitoring plan or opt to self-monitor your home, SimpliSafe requires you to purchase its equipment upfront. Though it's less expensive than our other picks, packages start at a couple hundred dollars and go up from there. On the plus side, purchasing your equipment upfront does give you the flexibility to move or cancel your system at any time.
ADT Home Security System Review
ADT
The face of home security
Starting at $29/mo.
Pros
Trusted by millions
Range of equipment options
Customizable home automation packages
Cons
Customer service
Unexpected fees
Why we chose it
Trusted by millions
Founded in 1874, ADT has been around for decades longer than any other security company. It has over six million subscribers and is synonymous with home security — even its logo is a clear warning to would-be burglars.
When it comes to deterring potential break-ins, brand recognition has significant value. In fact, a study from The University of North Carolina at Charlotte Department of Criminal Justice & Criminology found that a security sign was more of a deterrent to burglars than outdoor lighting and a neighborhood watch. An ADT sign in your front yard is a good bet if you want to know you're protected (and want other people to know it, too).
Range of equipment options
We were impressed by ADT's range of equipment options. For your system's hub, you can choose a tablet-like touchscreen control panel or a classic keypad command center. ADT also offers sophisticated video tech, from cameras that begin recording as soon as a door is opened to live feeds that can be viewed remotely from your phone at any time.
If your alarm goes off, these features can help you can assess the situation remotely before deciding whether or not to cancel the alarm. When we checked back in with our testers, most of them stressed the importance of this feature.
Customizable home automation packages
Many of ADT's higher-end home automation offerings are customizable (although this will affect your final price). There's a vacation mode that arms the system, keeps a steady temperature, and turns lights on and off to suggest that someone's home. You can also set up situational operations. For example, if the sensor detects a fire, you can automate doors to unlock and the air conditioner to shut off, slowing the circulation of smoke.
If you want even more automation features, you can opt into the company's ADT Pulse system. ADT Pulse lets you control smart door locks, light bulbs, and even garage doors from anywhere. Both Google Assistant and Amazon Alexa offer integration with ADT Pulse and let you manage it in a single app and use voice commands to control your system.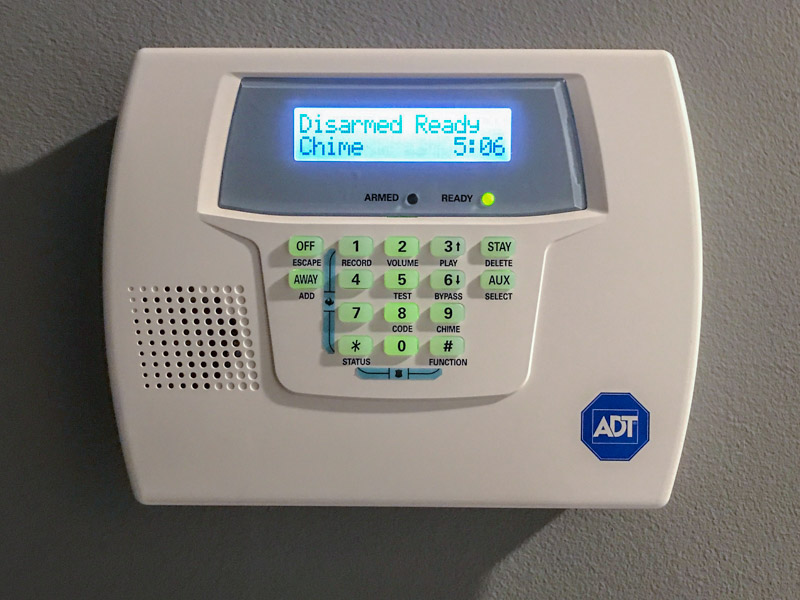 Points to consider
Customer service
ADT doesn't have the strongest customer service reputation among the companies we considered, racking up more than 3,000 complaints on its Better Business Bureau page. While we chalked most of this up to the fact that ADT has several million more customers than its competitors, our tester began his call with low expectations. He was pleasantly surprised, saying, "My needs drove the conversation. And once I finally had the quote, he explained the purpose behind each device I was receiving and what the installation might entail. He took extra time to help me weigh whether I needed home automation or not — and I'm almost positive it wasn't scripted."
That said, it's hard to ignore the sheer number of user complaints and ADT's low score of one out of five stars. While our tester had a positive experience, the service you experience may be hit or miss.
Unexpected fees
Our experience with professional installation was mixed. Our tester said the technician provided solid customer service: "He dropped a few unnecessary window sensors from my bill after deciding that the motion detector was sufficient for the entire front half of my home." However, there were some issues with connecting the command hub to our tester's network.
The technician explained that ADT's broadband systems have trouble connecting to Suddenlink routers, which our tester had, so he tried a different kind of command hub. After he left, our tester noticed he was charged $190 more than his original quote. The new equipment was significantly more expensive because it worked on cellular signals instead of Wi-Fi. We wish we had known about that extra charge upfront.
GetSafe Home Security System Review
GetSafe
Protection without the long-term commitment
Starting at $35/mo.
Pros
No contract
Customer support
AT&T cellular backup
Cons
Difficulty syncing with smart home products
Upfront cost for starter kit
Why we chose it
No contract
GetSafe's no-contract option offers all of the security with none of the commitment at the same monitoring price as its contract plans. Going with its month-to-month option instead of its one- or three-year contracts doesn't mean skimping on service, either. You still get helpful features like push and email notifications, system updates, and a homeowners insurance discount. (Note: If you choose a no-contract plan, you'll have to buy your equipment outright. GetSafe's one- and three-year plans come with a starter kit and a hardware credit for additional equipment.)
Customer support
GetSafe offers excellent customer support both during and after the purchasing process. Customer reviews note that customer service reps are helpful when explaining products and packages, as well as quick to troubleshoot equipment issues. Along with great service, SimpliSafe also includes regular software updates and enhancements, so you can rest easy knowing your equipment is up to date.
AT&T cellular backup
Most security systems have a backup method to contact the dispatch center in case your main connection is comprised. All GetSafe systems include an AT&T cellular 3G SIM card. If your control panel loses its Wi-Fi connection or if its wires are cut, your system will still be able to call for help.
Points to consider
Difficulty syncing with smart home products
Though GetSafe security systems integrate with home automation products like smart light bulbs, thermostats, and garage door openers, some customer reviews indicate that it can be difficult pairing GetSafe with these products. Syncing tech is always a challenge. Fortunately, GetSafe includes a library of video tutorials to walk you through pairing your products.
Upfront cost for starter kit
One of the drawbacks of opting for GetSafe's month-to-month contract is that you have to pay for equipment upfront. GetSafe's one- and three-year contracts include the starter kit for free, and its three-year contract also includes a bonus hardware credit of $250. The starter kit costs $249 and, even though it's less expensive than other providers' equipment packages, it could be too pricey if you're on a tight budget.
Others to Consider
Protect America
One of the most cost-effective security companies in the industry, Protect America makes fitting home security into your monthly budget straightforward. Equipment is included with any monitoring plan, meaning you don't have to pay an upfront cost — usually a few hundred dollars — to start protecting your home. Plus, because it's a DIY installation, you won't have to worry about any additional fees to get your system up and running.
That said, if you choose to cancel after its 15-day trial period you will have to pay 100% of your three-year contract. But if you like Protect America's service, this won't affect you. While we haven't had an opportunity to test Protect America's equipment for ourselves yet, we're impressed with its DIY installation, variety of affordable plans, and free equipment.
Brinks Home Security
Brinks is a trusted name in the home security industry and is ranked number one in customer satisfaction by J.D. Power. Though we haven't tested Brinks' equipment ourselves, its sleek touchscreen control panels, wireless sensors, and streamlined app seem promising. Brinks also offers home automation, which allows you to use your system as a hub for other smart devices, like automated locks and voice assistants.
Upfront costs for equipment can run high and its website isn't clear about additional fees if you choose to have a professional install your security system. But with both professional and DIY installation available, and a sky-high customer satisfaction rating, Brinks is certainly worth considering.
Nest Secure
Already major player in the home automation space, Nest's more recent foray into home security should come as no surprise. Released at the end of 2017, Nest Secure is a sleek DIY security system that syncs with both Nest smart devices and third-party brands like Philips Hue. One of Nest Secure's biggest benefits is that — unlike more traditional home security companies like ADT — you have the option to select a month-to-month contract for professional monitoring, although you'll get a $10 discount if you sign up for a standard three-year contract. Nest partners with Brinks Home Security to offer 24/7 monitoring to its customers, but you can always self-monitor your system if you don't want to go with a professional.
One of Nest Secure's biggest drawbacks is the equipment cost, which starts at $399 for the basic package. That said, its system is sleeker than others available and has the added benefit of pairing with other Nest products you might already own. While we haven't tested the Nest Secure yet, we believe it's worth looking into if sophisticated home automation features are a priority.
Guide to Getting the Best Home Security
How to find the best home security for you
Research plans before you call
We recommend you get a good idea of what features and packages you want before calling to purchase, but be open to the advice from the sales rep. Our Frontpoint tester called on two separate occasions. The first time, she had a good idea of what she wanted system-wise but said she was still shopping around for a provider. The second time, she pretended to be an easy sell who just wanted a system but hadn't done any research.
Her initial call was much more informative and detailed. The sales rep walked her through each room in her house, asking her to describe where the windows and doors were in each room, recommending the right pieces of equipment for each space — likely because they knew she had done her research and was hungry for details.
Explore DIY vs. professional installation
A few of our favorite providers allow you to DIY your alarm system installation, while others send a professional to do the task. Professional installation allows for a home security expert to evaluate your home's security needs and educate you on how to best utilize your system. The drawback is that professional installation often involves an additional fee. When you opt to DIY, the process is typically quicker and you can avoid any appointment-scheduling acrobatics.
Understand your home automation needs
Home automation may not be something you've considered, but many home security providers offer it with higher-tier packages. Not everyone needs complete control over their lights, locks, and robovac, but home automation comes in handy if you travel frequently or desire complete convenience. Before choosing a home security package, think about your smart home needs and if this technology may be something you'll want in the future.
Look at home automation protocols
If you decide that home automation is an important part of your home security, it's a good idea to research home automation protocols to learn which one will work best for you. A protocol is the language smart devices use to communicate with each other, and it serves as the foundation on which a home automation system is built. Not all protocols are the same, with some supporting more devices or using less power. Before committing to any home automation devices, look into which protocol works best for your home and if it supports the devices you wish to incorporate into your home automation system.
Consider home security cameras
The best home security cameras offer features like night vision and a large field of view. The right location for your cameras depends on the exact layout of your home. We spoke with four industry professionals — a former FBI agent with experience testing home security systems, a criminal defense attorney, an ADT spokesman, and the president of a home security company — about video camera placement, and they offered a few general tips:
First priority: Entryways
Our experts all agreed that having cameras record the space in front of your house or leading to your door is a smart option. Joe Liu, president of Home8alarm, advised having a camera that can cover the entire approach to your home and told us that "you want two cameras to cover a long driveway."
Back doors are another common target. After all, the less attention an intruder draws, the better. Having a camera film any back entrances (or side doors and windows if you lack a back door) will help to verify whether someone has broken in. As for placement, somewhere up high where wires can't be clipped — or by the doorbell, where burglars won't want to do anything suspicious — is our experts' advice.
Second priority: Master bedroom
Glenn Kurtzrock, a criminal defense attorney and former homicide prosecutor, told us that based on his experience, most burglars "go for the master bedroom and won't waste time in rooms like a kid's room." He explained that "burglars don't like to spend a lot of time in a house regardless of whether there's a security system" so will prioritize the rooms most likely to have cash, jewelry, or small electronics. Having a video camera that films the entrance to your master bedroom can help provide video evidence for the police should a crime occur.
Third priority: Other high-traffic areas
After that, the best areas for placement are any high-traffic rooms, such as a living area or main hallway, that a burglar is likely to pass through multiple times on their way in or out. This helps you track where the intruder has been and increases your likelihood of capturing images that can be used as evidence for the authorities.
Home Security Systems FAQ
How can I find the best home security of 2019?
Each year, it seems that home security providers are upping the ante with new, cutting-edge equipment and home automation features. We've done our best in this review to zero in on the features that remain important no matter the year while offering some helpful things to look out for on the current market.
More than anything, we recommend that you research as many different providers (and plans) as possible. Think of it like buying a car and how you would shop around for that before making a decision. You should also consider the top picks we've covered in this review:
During your research, you may find other providers not featured in our list that work for you. That's fine, too! We encourage you to get out there and do your homework since finding the best home security system for you will largely reflect on your own living situation, as well as other factors like your willingness to DIY the project versus having an installer set it all up for you, and whether your focus is more heavily on home automation vs. home monitoring and security.
Home automation allows you manage features of your home — such as lights and door locks — with a mobile app or via voice commands. This means you can perform tasks like closing your garage door, adjusting your thermostat, or turning on lights even if you're not at home. Most home security providers offer home automation and include a variety of smart home devices. If you already have a smart home and use an Amazon or Google smart hub, you can integrate your security system and manage it on the same app as your other devices. That said, it's important to make sure your security system pairs with your smart hub before purchasing so as to avoid any issues when syncing the two.
What are the benefits of home automation?
Making your home smarter can help you save money. For example, a home with smart light bulbs can reduce your utility costs by using less energy over time. The same goes for smart thermostats, which can learn from how you use them, determine the optimal temperature for your home, and adjust accordingly.
Home automation can also help you know what's happening in your home while you're away. On vacation and and a package is left on your doorstep? See it on a security camera and phone a neighbor to pick it up for you. Leave the heat on when you left town? With a smart thermostat you can remotely lower the temperature from your phone and avoid heating an empty house. By that same token, you can also tell the home to start heating things up so that, after a cold winter drive, you can return to a warm home.
What's the difference between wired and wireless security systems?
If you have a wired home security system, your control panel is hardwired into your home and connected to a landline. If a burglar cuts the telephone line, your system may not be able to connect to the monitoring station. A wireless security system is generally considered safer, since they can't be physically cut by potential burglars. Wireless connections aren't always foolproof, but many systems have algorithms built in to alert you and the monitoring center of any wireless signal interference.
Will a home security system protect against fires?
Yes, there are some home security systems that help protect the home against things like carbon monoxide leaks and fires. Take GetSafe as an example. The company's smoke detector comes as an optional add-on to the Starter Kit and provides real-time alerts whenever smoke or fire is detected. If you aren't home, GetSafe's monitoring center will contact the firefighters on your behalf. Frontpoint's Protection Plan also comes with a similar Environmental and Fire Protection feature.
How long does it take for a security system to notify police?
There are two elements at play in an alarm response: the monitoring center's response time and your local police department's. The monitoring center associated with your home security system should be notified within seconds of an alarm (and contact you soon after to verify the cause).

Before they contact the authorities, the monitoring company has to make contact with you. If you don't answer, they call a backup contact first and will contact the authorities if that person doesn't answer. If you do answer, it'll be up to you to determine if you want the police sent to your home. Police response time may vary depending on how busy the police department is.
How do I prevent false alarms?
Estimates for home security false alarm rates range from 98% to 99.8%. Liu suggests adding video cameras to your system if you're serious about preventing false alarms: "With [cameras], you can verify every alarm and reduce false alarm rates to zero. You also get more priority with first responders if you have video evidence."
What is DIY home security monitoring?
DIY monitoring or self-monitoring means that when a sensor is tripped, it's your responsibility to gauge the alert's importance and contact the authorities. This could be potentially dangerous if you sleep through an alert that turns out to be a serious threat, but it's generally less expensive than professional monitoring. Some home security companies like SimpliSafe offer both professional and DIY monitoring plans. If you're interested in DIY home security, check out our favorite DIY home security systems.
What is professional home security monitoring?
With professional monitoring, a monitoring service keeps an eye on the status of your alarm system and will contact you within minutes of an alarm to confirm if it's a true emergency. If so, they'll dispatch the police or other services for you. If you don't pick up, most companies will call whomever you've designated as your emergency contact. If there's still no response, they'll typically dispatch the police.
Can I add a separate security camera to my system?
Some of the best home security cameras are ones you can buy in addition to your larger system. Brands like Nest and Arlo offer high resolution cameras equipped with night vision and two-way communication. Most are affordable and easy to integrate with your system. Nest cameras, for example, are compatible with ADT and Vivint. Before purchasing a separate camera, make sure it pairs with your home security system.
Can I build a smart home with a home security system?
Yes. As home automation becomes a bigger part of many people's lives, home security providers are updating their equipment to fulfill the demand. The Nest Secure and Vivint's Smart Hub, for example, not only function as the brains of your security system, but also as hubs for home automation. Most home security companies also offer smart devices — like locks, garage doors, and doorbell cameras — that pair with their systems and can be managed through their apps. And if your security system doesn't operate as a smart hub, you may sync with third-party smart hubs that let you manage both security- and non-security-related devices on a single platform.
How much does it cost to turn your house into a smart house?
The cost of increasing your home's IQ varies depending on how you do it. For example, home security systems like Vivint and ADT include services and features that fall within the realm of home automation — surveillance cameras, two-way voice, compatibility and integration with smart thermostats, smart door locks you can remotely unlock, etc. In situations like these, you're paying for the service and not the equipment, so you're looking at anywhere from $29-$50 a month.
You can also buy individual equipment piecemeal if you'd rather monitor your own home security system, or test out the concept before committing to full automation. In that case, the cost of buying each piece — cameras, thermostat, hub, door locks — will start to add up, with a few hundred dollars here and there, but you won't have to keep up monthly monitoring costs.
Can a wireless home security system be hacked?
Yes, it's possible for hackers to compromise a wireless home security system if steps aren't taken to protect your network. The good news, however, is that the safeguards necessary to prevent this aren't too different from safe computer use.
When it comes to securing your network, opt for passwords with a combination of symbols, letters and numbers. And remember that companies that provide you with wireless home security will never ask you for your password over email. Additional ways to prevent your system from being hacked include:
Not using public WiFi (which could compromise the mobile device you use with your system)
Changing your password regularly
Checking for system updates
Antivirus software
The Best Home Security Systems: Summed Up
| | Vivint | Frontpoint | SimpliSafe | ADT | GetSafe |
| --- | --- | --- | --- | --- | --- |
| | | | | | |
| Best Home Security for | Home automation | DIY | Basics | Popularity | No-contract option |
| Pricing | Starting at $40/mo. | Starting at $35/mo. | Starting at $15/mo. | Starting at $29/mo. | Starting at $35/mo. |
| Professional installation | | | ✓ | ✓ | |
| No-contract option | ✓ | | ✓ | | ✓ |
| Home automation | ✓ | ✓ | ✓ | | ✓ |
| Available warranty | ✓ | ✓ | ✓ | ✓ | ✓ |
| Customer support options | Phone, resource center, live chat | Phone, resource center, video tutorials | Phone, manuals, help center | Phone, help center, manuals | Phone, video tutorials, guides |
| | View Plans | View Plans | View Plans | View Plans | View Plans |
Local Home Security Reviews
We reviewed home security providers in various cities and states around the country to see how they stack up against our nationwide picks.
Our Other Home Security Reviews
We've reviewed the entire home security market, we've looked at the popular security companies in local markets, and we've evaluated some of the more specific home security needs. Check out our other reviews if you're interested in digging deeper into home security:
You might also like