Advertiser Disclosure:
We recommend products and services based on unbiased research from our editorial team. We make money via affiliate links, which means if you click a link on our site, we may earn a commission. Any commissions we receive do not affect our recommendations; if you want to know more about how that works, read more.
The Best Air Purifier
When it comes to air purifiers, CADR is king. CADR, a rating assigned by the Association of Home Appliance Manufacturers, tells you what size room an air purifier can purify. We tested out nine that clean close to 360 square feet and looked at ease of replacing filters and features like air quality sensors and Auto settings. We then spoke with air quality specialists and physicians about the importance of True HEPA filters and secondary filters before landing on our two top picks.
Analysis paralysis? Subscribe to our newsletter.
The 2 Best Air Purifiers
The Best Air Purifiers: Summed Up
Winix 5500-2 Air Cleaner with PlasmaWave Technology
Winix
Winix 5500-2 Air Cleaner with PlasmaWave Technology
Pros
Intuitive controls and sensors
Hassle-free filter replacement
More cost-effective than similar models
Cons
Not as powerful as some competitors
Return to top
Why we chose it
Intuitive controls and sensors
Above all else, Winix stands out for its lineup of features. Its completely digital panel lets you control the purifier's speed or enable PlasmaWave Technology (which, when activated, claims to "instantly neutralize airborne viruses, bacteria, chemical vapors, odors, and gases"). The simplicity of this digital panel extends to its sensors: The Winix's glowing LED lights shift from blue to red the more polluted the air.
It's not just looks, though; the Winix is also packed with features that make life simpler if you don't want to constantly monitor your machine. Specifically, a built-in air quality sensor automatically runs the fan at its lowest when the air quality is good — a nice touch for your peace of mind and for saving power. Other models like the Blueair air purifier came with some controls and sensors, but they weren't nearly as robust as those on the Winix. Simple digital design and a full breadth of automatic features won us over.
Hassle-free filter replacement
Popping the hood of the Winix was easy. The cover uses magnets to snap in and out of place, and each filter locks inside the next — there's no question where each piece should be when replacing the filters. By comparison, the Coway is much flimsier, and it takes a couple of tries to put the front and pre-filter back on after you remove them.
More cost-effective than similar models
Air purifiers can get expensive, often topping the $600 mark. That's why the Winix, at less than $200, is so impressive: It's powerful enough to cover 360 square feet and comes with features like air quality sensors and Auto settings that are found on more high-end air purifiers. If you're looking for a powerful air purifier that comes with all the bells and whistles (but not with a high price tag), the Winix is worth considering.
Points to consider
Not as powerful as some competitors
Admittedly, there are more powerful air purifiers on the market. The Winix U450, for example, has higher CADR ratings, covering an additional 100 square feet. However, this 100 square feet comes at a cost: The U450 model is double the price of the 5500-2. The Winix 5500-2 may not cut it if you have an unusually large room, but its features and affordability still push it to the top of the lineup. If you're concerned about that additional 100 feet of coverage, you may be better off purchasing two 5500-2 units for features and cost-savings alone.
Coway AP-1512HH Mighty Air Purifier
Coway
Coway AP-1512HH Mighty Air Purifier
Pros
Cheap replacement filters
High CADR ratings
Compact design
Cons
Difficult to change filters
Return to top
Why we chose it
Cheap replacement filters
A major bonus of the Coway is its cheap replacement filters. A single replacement filter for the Coway costs about $15 less than a filter for the Winix, meaning the Coway averages out to be cheaper than the Winix in a few years' time. This is a huge win if you're concerned with savings and want to get the most out of your air purifier.
High CADR ratings
The Coway ranks three points higher than the Winix in terms of CADR ratings for dust (although it is slightly worse at capturing pollen, coming six points below the Winix). It also notably excels in number of air exchanges per hour. At the max setting, the Coway averages five air exchanges for a 360-square-foot room with a nine-foot ceiling — the average ceiling height of a home. The Winix only averages four and a half air exchanges. While both numbers exceed the minimum recommendation by our experts, the Coway may be a better choice if you're looking to make the most of a large room.
Compact design
Unlike bigger air purifiers, which can stand out like a sore thumb in your home, the Coway is sleek and compact. It's a bit wider than the Winix, but overall shorter. Because of this, it's easy to place the Coway under a window without it feeling obtrusive. Plus, the black design with gray accents feels sleek and well-aligned with most modern decor. If you value aesthetics, you'll likely want to choose the Coway over the Winix.
Points to consider
Difficult to change filters
Despite its otherwise-sleek design, the Coway is notably flimsier than the Winix. In our testing, it took a few attempts to replace the front and pre-filter after removing them. This is largely due to the fact that the Coway doesn't have magnets to snap in and out of place; additionally, the filters don't lock into each other as they do with the Winix. It's not a deal breaker, but if you're taking it apart every two weeks to rinse out the pre-filter (which is recommended for both units), the Coway is more of a hassle.
How We Chose the Best Air Purifier
High CADR ratings
The Association of Home Appliance Manufacturers (AHAM) performs independent tests on air purifiers to see how quickly they can remove particles from the air — the clean air delivery rate, or CADR. The higher the CADR numbers, the better. Consumer Reports judges a CADR score to be "excellent" if it's 350 and above and "poor" if it's 100 or below. A higher number means the units have more powerful fans and bigger HEPA filters to "clean more air per hour."
To make it easier for you to find the right amount of coverage for your space, the AHAM uses CADR ratings to calculate the maximum square footage a unit can purify. This square footage is tied to air exchanges per hour (ACH), or how often the unit will cycle through all the air in the room. Most portable, at-home units have an ACH between four and six, the amount recommended by allergists. "The more the better," says Dr. Marie Petrizzo, a New York physician, "but at minimum four."
In order to cover the majority of rooms, we focused on units that offered the highest CADR ratings and ACH rates we could find (which averaged around 200 to 300 and four to six, respectively). These units are powerful enough to clean close to 360 square feet, which is ideal for most homeowners. That said, we left off one model, the Airgle AG500, which had an exorbitant price tag coupled with mediocre specs.
True HEPA filters
For air purifiers, a True High Efficiency Particulate Air (True HEPA) filter is the gold standard. True HEPA filters are recommended by organizations like the EPA, the American Lung Association, and the American Academy of Pediatric Allergy and Immunology.
These filters force air through a sticky membrane and can capture up to 99.97 percent of particles as small as 0.3 microns. Dr. Petrizzo says that she "always recommends HEPA air purifiers because they are best at trapping small particles such as pollens, dander from pets, mold spores, et cetera."
For testing purposes, we required a True HEPA filter. Three brands fell out of the running here. SheerAIRE and Idylis both offered models that advertised HEPA filtration but proved to have only HEPA-type filters upon inspection. Blueair, meanwhile, uses a proprietary filter that promises to be better than a True HEPA, but we couldn't find any research to support these claims. Given the lawsuits over misleading air purifier claims in the past, we opted for models with transparent, proven-effective technology.
Pre-filters and secondary filters
To make sure that the True HEPA filter would last as long as possible, we also looked for two additional components in each of our finalists:
A pre-filter is a sort of bodyguard for your primary filter. These screens work as the first line of defense, capturing large airborne particles like dust and pet hair that would gunk up the main HEPA filter, which is what actually "purifies" the air. "Basically, pre-filters increase the lifespan of the HEPA filter," Ray Wu, CEO of Wynd and air quality expert, told us. Pre-filters last for about three months. Then they'll need to either be replaced or, with lots of models, washed or vacuumed.
Secondary filters add to a unit's efficacy and can boost the lifespan of the HEPA filter — the HEPA doesn't need to work so hard if it has some help. We preferred charcoal as a secondary filter, which absorbs gases and odors too small for a HEPA filter to catch.
Ease of use
With this base criteria in place, we brought in all nine remaining contenders for testing. During testing, we looked for a few specific metrics: ease of use (air filter replacement, convenient design), features offered (user-friendly control panels, auto settings), and general cost effectiveness over time (power saving modes, cheap replacement filters). Our two top picks excelled, meeting or exceeding our expectations in each area. The other seven systems we considered sometimes had slightly better technical specs, but these tiny increases in coverage equalled hundreds of additional dollars upfront, often for machines that were bulky or counterintuitive to use.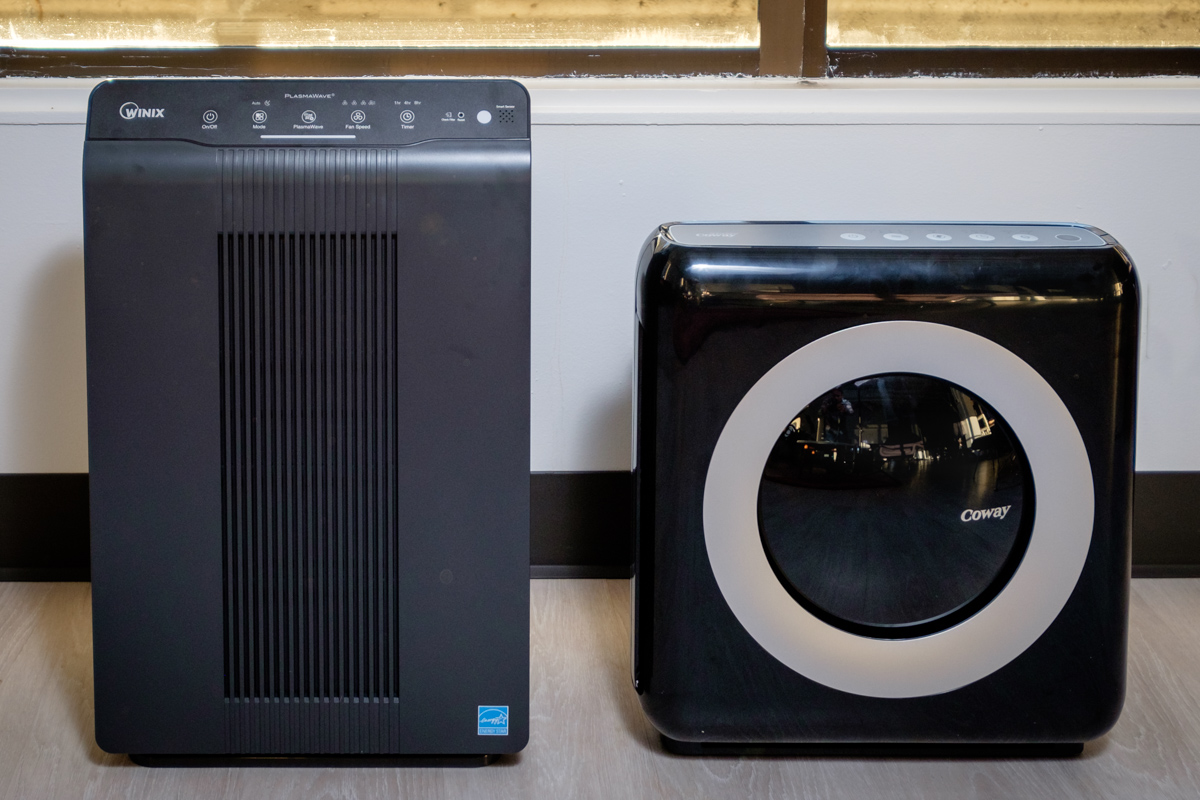 Guide to Air Purifiers
How to find the right air purifier for you
Factor in replacement filters and energy use
Air purifiers aren't a one-and-done purchase — replacement filters and energy use will affect your bottom line, especially considering that air purifiers are typically left on at all times. To predict your electric bill, you need to know how many kilowatt-hours your purifier uses per day, multiplied by the average electricity rate where you live.
Consider size and placement
When looking for an air purifier, make sure it fits your space. Air purifiers should never be flush against walls or furniture, as most units work best when they can take in air from all sides. If you have a small room, ensure that your air purifier is compact enough to meet basic requirements.
Think about additional features
Air purifiers come with more features than you might think. The Winix, for example, is equipped with features like timers, sensors, and a power-saving fan that automatically slows down when air quality is good. When researching air purifiers, think beyond simply purifying the air in your home and consider additional features you might need. If you're seeking ways to keep your energy bill low, for example, you may choose to seek out a purifier with an Auto setting.
Air Purifier FAQs