Advertiser Disclosure:
We recommend products and services based on unbiased research from our editorial team. We make money via affiliate links, which means if you click a link on our site, we may earn a commission. Any commissions we receive do not affect our recommendations; if you want to know more about how that works, read more.
The Best Air Fryer
The best air fryer should consistently produce the familiar crunch of deep-fried foods, while still being easier to maintain and use than a traditional deep fryer. We tested seven air fryers, cooking more than 20 pounds of fries, chicken strips, and veggies. Most of the models disappointed, but our top two came close to giving us deep-fried results.
Hey, we want to hear from you!
We want to make sure we write reviews you care about.
The 2 Best Air Fryers
The Best Air Fryer: Summed Up
T-fal Actifry
Pros
Pulsating heat technology
Self-stirring mechanism
Safety features
Ultra-simple design
Cons
No automatic shut-off
Return to top
Analysis paralysis? Subscribe to our newsletter.
Why we chose it
Pulsating heat technology
The T-fal came out on top for having some of the best and most consistent cooking across all of our tests, at half the price of its closest competition. Instead of the usual rapid air-circulation tech that keeps hot air constantly moving around the food, the T-fal uses pulsating heat technology to pump hot air periodically throughout the food, maintaining the temperature without drying things out. We initially thought the pulsating-heat tech was marketing nonsense, but we couldn't argue with the results.
During our french fry cook-off, the Actifry excelled with homemade fries, getting closest to the crispy outside coating we were craving from deep frying. Other air fryers we tested could eventually produce a crispy outer layer, but not before the inside had begun to dry up.
Self-stirring mechanism
In addition to the T-Fal's heating technology, its unique self-stirrer made a huge difference. Unlike the other models that required us to take the basket out and shake every few minutes, we were able to leave the T-fal alone for the allotted cook time and carry on with our day. It was a win-win for convenience: We were spared an arm workout, and we didn't have to babysit our air fryer. And at the end of it all, the T-fal still cooked the most evenly of all our products.
Safety features
The T-fal was the only model we tested that stayed room-temperature across the entire surface, which helps keep children's curious hands safe. It also requires two steps to open: Instead of simply pulling the handle to access the cooking bowl, we had to push and lift the handle and then press another side button to release the top. It wasn't a complex maneuver, but it gave us a little more peace of mind when thinking about young ones trying to get to their fries early.
Ultra-simple design
We were initially hesitant about the T-fal only having a single temperature setting: 338 degrees. We worried things might come out undercooked, but it turned out not to be a problem. Its unique pulsating heat technology and constant rotating of the food kept the results consistent. In fact, the preset temperature made using the T-fal slightly simpler to use. There was no fiddling with different temperatures — all we had to worry about was how long to cook our food.
Points to consider
No automatic shut-off
The one downside: T-fal doesn't provide an automatic shut-off component for when the timer goes off, which means you have to remember to actually shut it off when you're done — other air fryers did that automatically.
Philips Avance HD9641
Philips
Philips Avance HD9641
Pros
Excellent cooking
Raised arm construction
Easy to clean
Doesn't get too hot on the outside
Return to top
Why we chose it
Excellent cooking
The Avance didn't outperform our top pick with homemade fries, but it was still significantly better than our other air fryers, which either overcooked the fries or didn't brown them enough to have much of any texture or taste. The Avance aced our chicken strip testing, with one saying they would even order them in a restaurant. We also appreciated the fact that we didn't have to stir the strips at all during cooking: They came out perfectly crispy on the outside, yet tender on the inside.
Raised arm construction
The Philips Avance employs the same rapid air-circulation technology that most other air fryers do, but the swirling, starfish-like arms that cover the bottom of the bowl set it apart from the competition. These thick, raised wedges force the air to first spread out and then rise back up to the top, helping move the air more evenly around the bowl rather than simply blowing hot air into it. This technology may seem gimmicky at first glance, but we found it actually cooked the food more evenly than other air fryers. All our fries came out nice and crispy, unlike what we got from the Avalon Bay or GoWise USA: a layer of burned fries on top of undercooked ones.
Easy to clean
Another handy element we found in the starfish design is that oil and food fragments gather in neat little piles at the bottom of the basket, allowing us to simply wipe it all down in a flash for quick cleaning.
And with its removable grill bottom and a detachable basket, we were able to hand clean the entire contraption with very little effort and time.
Doesn't get too hot on the outside
Like the T-fal, this Philips' surface area also stayed the coolest out of our finalists. We were able to easily pick it up and bring it over to the sink after cooking, feeling only the slightest warmth from the sides of the machine.
Points to consider
Expensive
Unfortunately, the Philips Avance is a full $100 more expensive than the T-Fal. It does have some valuable qualities we didn't find in the T-fal, like adjustable temperature settings ranging from 150-400 degrees, plus presets for commonly air-fried foods. If you like to tinker with your cooking settings, it might be worth the upgrade.
How We Chose the Best Air Fryer
Safety certification
We started by compiling a list of popular brand names and models, drawing from retailer websites and online best-of sources. First and foremost, we were looking for products that were ETL certified. This certification shows that the product has been tested and approved in accordance with national safety standards determined by the US Department of Labor's Occupational Safety and Health Administration and is safe for home use. We also looked for fryers that could cook enough food for an average family — roughly 2 pounds.
Top-performing brands
We soon found that the majority of air fryer brands on the market carry essentially the same internal cooking technology — circulating hot air around the food — only really differing in their external designs and features. Philips and T-fal were the exceptions, and we discovered that both companies hold patents on air-frying technology. From there, we narrowed down our search by researching the technology, reading cooking blogs, and sifting through customer reviews to find top-performing brands and top air fryer models. That left us with a list of seven products. Philips dominated the list, but we brought in a few other recommended brands to see if anything could stand up to Philips' models.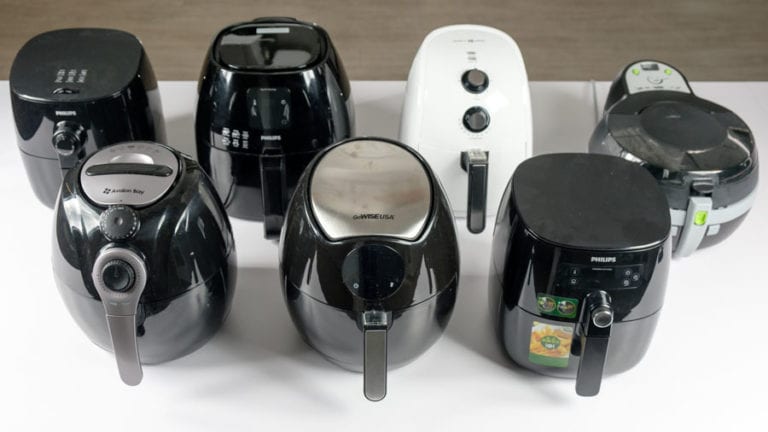 Cooking ability
We wanted to see if our finalists could cook our favorite fried foods: french fries (fresh and frozen), chicken strips, and healthier options like zucchini and broccoli. In addition to being commonly fried fare, these foods allowed us to see how the air fryers handled different textures, densities, and tastes. Since french fries are supposed to be the easiest food for an air fryer to handle, we tested fresh and frozen fries across all models, seeing which ones got closest to that deep-fried crunch. Three of our air fryers couldn't even give us decent french fries, so we knocked them out of testing. We took the four top performers through additional testing to see which could cook the crispiest chicken strips (two of our models) and the juiciest grilled veggies (none of the models).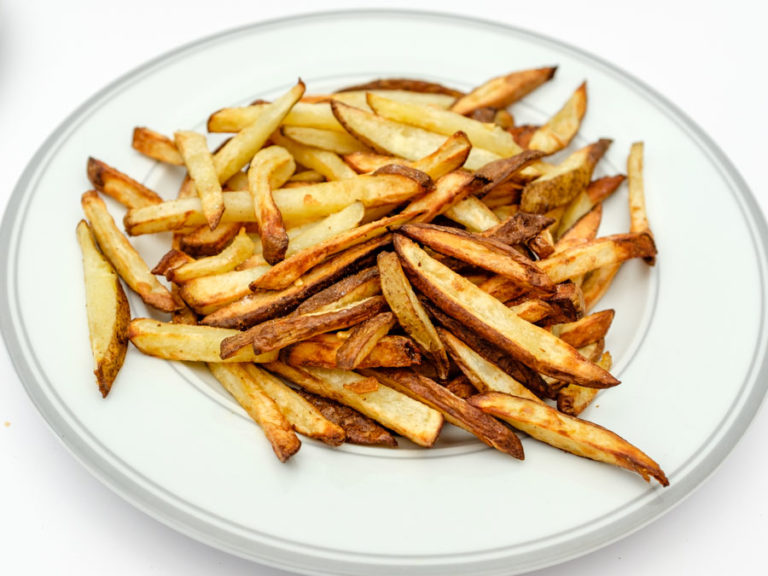 Convenience
Finally, we compared the basket weight of the products, how easy the controls were to operate, and whether the machine was actually hassle-free to clean up. Fortunately for our co-workers, the air-frying process was measurably less messy than deep frying. We didn't have an oily pool to clean up afterward; the components were smaller than deep fryer parts; and the total cook time was pretty short, so you don't have to waste all that time waiting. The controls are all pretty intuitive and simple to use: You can choose from the presets or go rogue and set your own temperature and time.
How to Get the Most Out of Your Air Fryer
Use oil
Some air fryers claim to be oil-free, meaning you don't need to use any oil while cooking as opposed to the commonly suggested 1 tablespoon. While you don't technically have to use oil in these products for functionality purposes, we recommend using some oil if you're going for the traditional fried food texture. Some sources we read suggested using a spray-on oil instead of just drizzling it directly on the food. This can help spread the oil over a larger area more evenly, crisping up the food more effectively.
Shake the basket
One of the stranger aspects of air fryers is that they recommend shaking the basket a few times during cooking to make sure the results are even. With the added weight of the foods you're cooking, this can turn into something of an arm workout. Our top pick, the T-fal, was the exception here, with a self-stirring mechanism that we greatly appreciated for saving us that step.
Certain types of foods were more work than others. French fries, especially the homemade ones, required more periodic stirring than the chicken strips or veggies (which we found needed essentially no stirring at all), probably because of the density of the raw potato.
Clean after each use
Although all the air fryers we tested are technically dishwasher safe, our research suggested washing any non-stick surface by hand with warm, soapy water. A dishwasher's high water heat combined with the abrasive chemicals found in detergent can wear down the non-stick coating over time. You should also avoid using a harsh material like steel wool, which will have the same effect — ultimately ruining the surface of your cookware.
Air Fryer FAQ
Are Teflon air fryers safe?
In the beginning of our research, we were concerned with fluoropolymer non-stick material (aka Teflon), which has the potential to be hazardous if it melts and gets into the air where it can be inhaled. But with a little digging, we found that these non-stick materials actually have a seriously high melting point of 620 degrees Fahrenheit — a temperature far higher than any of our air fryers can reach. And as the American Cancer Society explains: "Other than the possible risk of flu-like symptoms from breathing in fumes from an overheated Teflon-coated pan, there are no known risks to humans from using Teflon-coated cookware."
Are air fryers as good as deep fryers?
Air frying is much more similar to baking in an oven than deep frying. And although most air fryers say you can cook without any oil at all, we found the best results with a tablespoon of vegetable oil. Even then, our top picks produced food that tasted closer to baked fries and chicken than deep-fried food. Instead of the comforting crunch of a fry, we were met with a tough, sometimes chewy exterior. We found the air-fried insides were thicker and more substantial than the almost puffy, creamy texture one gets from a traditional fryer. The chicken strips most closely imitated the deep-fried, crispy texture we were looking for. For a more detailed breakdown, check out our article comparing deep fryers vs. air fryers.
Air air fryers worth it?
Air fryers are healthier, if not necessarily better tasting, than deep frying. Our testers noted the lack of grease across all the finished foods — especially in the chicken strips. It was easily the biggest benefit we found with these products. We knew that air fryers only need a single tablespoon of oil to cook with, but we underestimated how favorable the results would be. Aside from that, though, none of the food really blew us out of the water. As our research had warned us, a lot of the air-fried foods were comparable to oven-cooked foods. The zucchini and broccoli were the major exceptions — they came out so dehydrated, they were nearly inedible.
More Kitchen Appliance Reviews
Air fryers aren't the only kitchen appliances we've gotten our hands on. We've also blended, toasted, and pressure cooked our way to the best products on the market. Check out some of our favorites below: