Husqvarna Automower 315X Review
If toiling a mower across your yard on a blistering summer day sounds like your personal version of you know what — robot lawn mowers have arrived to partly alleviate this kind of pain. You might have even seen one displayed under the name Husqvarna at your local Lowe's, in a banner advertisement at the ballpark, or maybe you even recognize it from your very own Facebook feed. This is no coincidence — Husqvarna is one of the biggest names in the robot lawn mower game, so we brought one of its Automowers in-house to see whether it really takes hands-off grass cutting to another level.
Analysis paralysis? Subscribe to our newsletter.
Why we tested the Automower 315X
We started by analyzing the entire robot lawn mower space — which, by the way, is relatively slim here in the U.S. In doing so, we took a few lessons from our own book on the completely different (yet eerily similar) world of robot vacuums and applied some of its criteria to robot lawn mowers. To optimize convenience in today's day and age, you should be afforded the option to control the device from your phone, schedule runs in advance, and customize settings remotely.
After sussing the competition, we found several products unavailable or altogether discontinued. For example, WORX is in the process of overhauling its Landroid model to (likely) include more of the tech-friendly features like mobile app control that it currently lacks. We then deliberated on the strongest contender(s) and were left with what we thought would be best for most people — a robot mower fit for small-to-midsize lawns, equipped with mobile app control and GPS navigation, despite its seriously daunting price tag (sorry, we couldn't help that part). Alas, the Automower 315X.
Automower 315X vs. Other Robot Lawn Mowers
| | | | |
| --- | --- | --- | --- |
| | Husqvarna Automower 315X | Robomow RC306 | WORX WG794 Landroid |
| Price | $1,999 on Amazon | $1,299 | $891.01, used – on Amazon |
| Recommended lawn size | 0.4 acres | 0.12 acres | 0.25 acres |
| Cutting time (as advertised) | 70 minutes | 60-70 minutes | 45-60 minutes |
| Bluetooth connectivity/mobile app | ✓ | ✓ | |
| Works with: | Amazon Alexa, Google Home, IFTTT | Amazon Alexa | N/A |
| GPS-navigation | ✓ | | |
| Anti-theft | ✓ | ✓ | ✓ |
Getting to know the Automower 315X
Europe commands the robot lawn mower space, while the U.S. is catching up but doesn't seem to be quite as sold. Perhaps this is due to a cultural obsession with manual lawn mowing and pristine-looking grass. Or maybe it's because Americans tend to prefer rural landscapes compared to a European keenness toward urbanization and the smaller patches of green that come with it.
You would assume more space to mean more work, therefore making an autonomous grass-cutting machine more desirable in a place like the U.S. Maybe there's some credibility to that connection — but the numbers say otherwise. The majority of robot lawn mower consumers actually go for smaller bots to fit smaller lawns: Those with bigger lawns might be a tad more hesitant. This is probably for a good reason, though, considering these robots take away one of the key ingredients to a manicured lawn: total control. If you didn't already know, robot lawn mowers cause you to willingly forfeit those perfectly shaded and spaced lines you might see on a golf course, all for the convenience brought by an autonomous machine's haphazard lines.
Our First Impressions
Expensive
Navigates spaces well
Sufficient grass-cutting ability
Leaves your lawn looking haphazardly mowed
Boundary and guide wire connectivity issues
Expensive professional installation
Taking careful stock of our audience(s), we selected Husqvarna's mid-size Automower 315X, which can operate on lawns up to 0.4 acres. The bot comes equipped with mobile app control through Automower Connect, GPS-assisted navigation (which creates a map of your yard and helps the robot remember certain pathways), Amazon Alexa, Google Assistant, and IFTTT integration. This top-of-the-line technology looks appealing on paper when compared to some competitors, but the Automower 315X isn't an invincible unicorn. In fact, the app is a little glitchy and the mower lost connection to the boundary wires on several occasions (for reasons still partially unknown). It's also more expensive than most common push mowers at nearly $2,000, and if you like having perfectly symmetrical visuals reflected on your front lawn — you'll probably want to stick with your existing system.
How we tested the Automower 315X
We spent around 10 or so hours researching and poring the internet to decide which robot lawn mower(s) to choose, which eventually led to us homing in on the Automower 315X. We consulted a turfgrass scientist, a Lowe's worker, several Husqvarna representatives and local dealers on what makes this bot (and our grass) really tick.
For testing, we used the mower outside our office in Fort Mill, S.C., and created a makeshift lawn in front of the entrance. After a good deal of trial and error (more error than trial), we reconfigured the entire testing space to address inexplicable issues with the mower boundary wire that kept it from working properly. Ultimately, we gave up on our initial testing area, in favor of a real-life backyard at the home of one of our Reviews.com editors. There, we set a schedule for the bot to run from 7 a.m. to 9 p.m. and didn't encounter any more bumps in the road.
We adjusted testing criteria and observation based on the terrain at hand — the space outside our office looks nothing like the back yard. This showed us how well the robot adjusted to changes big and small, cut different textures of grass (lush manicured fescue at the office and a more weedy, patchy lawn at the actual back yard), navigated hills, how well it mapped the space, whether it got lost, and how it dealt with different types of weather, among other factors.
Mostly advanced navigation
One of the most impressive features of the Automower lineup is its GPS navigation, which sources Google Maps to paint a relatively accurate picture of your lawn and home. Granted, this feature looks cool on the app, but it's actually more intended for the robot's tracking accuracy. It covers what it can under one charge, depending on the size of your lawn (which, in our testing, typically lasts a bit under an hour), and goes back to fill in any lingering gaps. This is why it's important to let these bots run all day — and you can, in fact, run it for 24 hours, seven days a week. Because, typically, it's not going to perfectly cut all your grass in one round.
As you can see, the lines aren't exactly accurate — in some cases, they even extended far beyond where we had laid the boundary wires. In general, though, this robot figures its way around pretty quickly. The guide wire, or the wire that connects to the charging station and at the other two ends of the perimeter wire, isn't technically required, but it does allow the robot to trek across your lawn and more quickly find its way back to the charging station without manual assistance. Depending on the size of your lawn, it might take the bot a while to figure out where the guide wire is. (In one of our testing spaces, it took an entire day.)
Unlike some competitors, the Automower 315X doesn't come with a remote control, so in events where it seems like it's lost or you want it to steer it into another direction manually, you're out of luck. We're confident in this Automower's GPS-navigation agility, because when we moved it to our residential testing location, it ran for a little under an hour before we decided to force it back to the station — and it successfully completed the mission on the first try.
Arduous (self) installation process
You'll likely be buying the Automower from a third-party retailer, as the products aren't sold directly on Husqvarna's website. The website does, however, point you to a "dealer locator" that lets you plug your address or ZIP code into a search bar to find local Husqvarna shops or representatives.
We opted to self-install, which means when you buy an Automower, you'll also have to purchase the Husqvarna Install Kit separately. These typically cost between $100-$200, depending on the size of your lawn and how much wire you need to cover it, and include boundary wires, staples, "splicers" and "connectors" to connect the wires to the charging station and each other. It sounds complicated, but it's actually self-explanatory. Just know you'll probably need to grab a mallet or hammer, some old clothes, and set aside an hour or two (or three) to complete the job.
Before self-installing, remember to:
• Make sure your outlet is sufficient and weatherproof, per the manual's instructions (IPX4).
• Make sure the outlet works. (We learned this one the hard way.)
• Purchase (or find) any extension cords for harder-to-reach power supplies.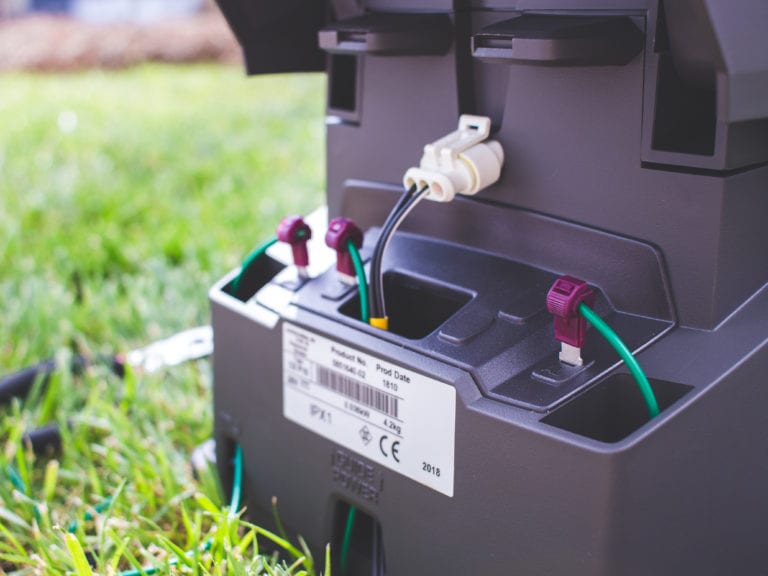 You can have a Husqvarna representative come install the wires for you, and this will typically involve a more in-depth process and machinery to actually drive the wires beneath the surface of your lawn. When we called dealers in the Charlotte-area to ask for quotes on professional installations, we received several "it depends" answers, and that pricing could reach an additional $1,500 or more. Professional installation pricing will vary based on the size of your lawn and time it takes to complete setup — so if you're interested in saving a good chunk of money, self-installation is definitely doable.
It's also worth noting that on our research trip to Lowe's, we were told that if you buy a Husqvarna Automower there, setup by a qualified installer is included in the price. So it could definitely be worth inquiring at a Lowe's store near you, as free installation with the purchase of the mower could be convenient for those uninterested in doing their own setup.
Decent level of customization
Automower Connect enables a certain amount of user control when it comes to lawn mowing, even though the product is intended to be autonomous and hands-off. You can create a timer to automate cutting cycles to a schedule that best fits your life. (For example, if you have kids who like to play outside during the day, the app allows you to mow the lawn while everyone's away during the day or at night while everyone's sleeping.)
Because the mower doesn't stop directly in front of the boundary wire and typically drives over it to a certain degree, wire placement is important to avoid potential cutting. The app lets you adjust how far the mower drives over the boundary wire before turning around to avoid any potential wire cutting, or mowing of space beyond the boundary wire. We didn't test this feature specifically, but we like the ingenuity and customization to help prevent something that could require extra legwork and (wire) mending down the road.
Here are a few snippets of what you can customize under "settings" in the Automower Connect app. We suggest perusing through the settings, especially those under installation, to better tailor the mower's movement pattern to your lawn. For example, you can adjust the degree to which the mower exits the base station (perhaps if you don't want it to waste time around the base station before a mow).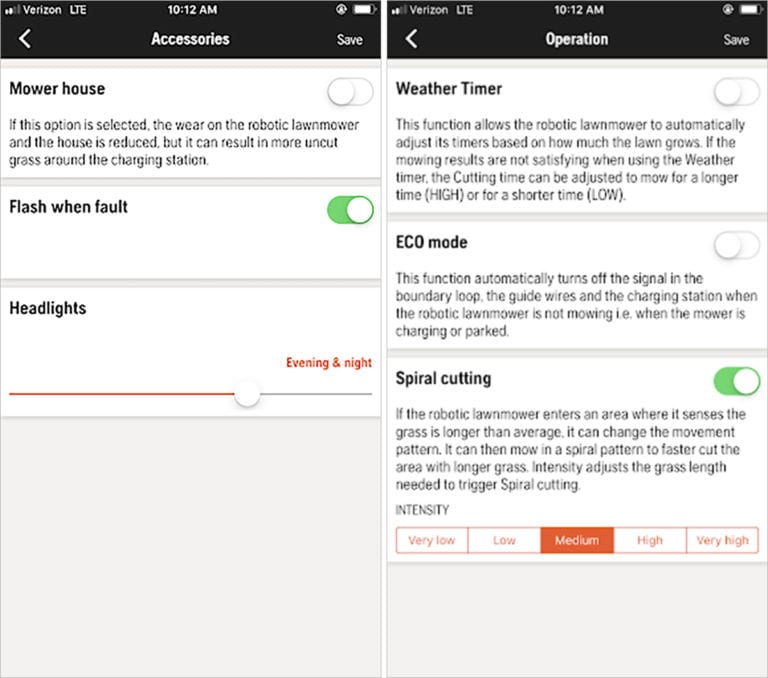 The App Store and Google Play ratings don't lie
To be clear, the app isn't perfect. We had to re-pair the mower to the app on several occasions, and sometimes, it didn't register when the mower entered its docking space or left for another run. You might also notice that commanding the mower to run from the app for a one-off session can be a bit of a hassle, as you'll often encounter a designated, immovable start time for the mower (this depends on how much battery it has and your preset schedule).
The app also doesn't provide reports or data on mowing history, but this is where IFTTT (If This Then That) integration comes in handy. After downloading the IFTTT app and pairing it to your Automower account, you can actually tell the Automower to send data to Google Sheets to record mowing history.
Connectivity issues
We tried installing a few different ways. In one instance, we stapled the wire into the ground as we went. (By stapling, we mean using plastic stakes to drive the wire into the ground.) In another, we loosely laid out all the wire for a rough idea of what we thought would give us sufficient slack to tie all the loose ends when connecting the wires to the base at the end — and then stapled wire into the ground. We can't definitively say which route is best, but we can say leaving extra wire at the base and eyelet (where the guide wire connects to the perimeter) is a safe bet. Any tugging or extra tension pulling at these ends could lead to a disconnection and the dreaded "no loop wire" error message on the app. When this happens, the mower will completely stop and beg for manual assistance. It could mean several things:
After receiving countless instances of these error messages, traversing the entire perimeter of the lawn several times to check for any wire breakages, replacing extension cords, and switching outlets, we're still unable to give you an accurate diagnosis of the problem as it appeared in our initial testing space. We even called Husqvarna and were more confused after hanging up than we were when dialing, because based on customer services' responses, we had done everything the right way.
Our advice: Make sure your connections are secure before taking any further steps to drive boundary wires into the soil.



We could speculate and say there might have been metal objects or cables lying beneath the ground where we had initially set up, and we used ECO mode a few times — but in all, we can definitively say that the second location didn't give us any grief. Therefore, we feel we can go as far to say that the issue probably wasn't the mower's problem. But without conclusively figuring out what did cause the issues we experienced, we hesitate to say this will definitely work for all people in all yards.
Lawn prep still required
Think about how robot vacuums require a little extra room cleanup and preparation to optimize effectiveness (and not waste time spinning circles with a phone charger hung in its suction base); robot lawn mowers operate similarly. Remember those horror stories about robot vacuums trailing dog poo around the house? This can (and in our case, did) happen with a robot lawn mower, too.
Here's the thing about robot lawn mowers — they're not exactly built like their set-and-forget robot vacuum sisters are. You have to take neighbors' lawns, your house, kids' toys, and any shrubbery or trees into consideration when setting up, because, frankly, these things don't have the most developed sensors to rely on the bump-and-run method alone. Even if they did, the chances of it distinguishing between your lawn and your neighbor's driveway are pretty slim (or technology just isn't there yet). Typically, if they run into a larger object, they will sense the area, back up, and continue running around it. The blades also stop rotating when the Automower is lifted or tilted. But because these sharp blades are involved, if you have small children, pets, or are worried about harming local wildlife, you're going to have to set aside time to prepare your lawn prior to each cutting round to maintain safety.
Grass-cutting ability
Of course, you're probably wondering whether it actually cuts the grass efficiently and effectively. It's intended to keep your grass uniformly short, and this will mask its haphazard mowing pattern. But, in reality, this isn't going to always be the case and depends on how quickly your grass grows (which, of course, also deals with the weather and climate in your area). The Automower is built to run in the rain and withstand the heat — we were told by Husqvarna that the only concern in leaving all parts outside at all times was the battery. In extreme heat or blizzards, it's best to bring the whole system inside.
Overall, we were impressed with the way the robot cut the grass — it uses three rotating blades that expand and contract within the robot when mowing or running idly, respectively. In adjusting the blade settings at the top of the mower, you can choose to lower the blades on the dial at the top of the Automower, depending your desired grass height preference.
Its grass cutting technique might actually be good for your lawn
One of the main perks you might see advertised when it comes to robot lawn mowers is that its clipping-dispersal technique is actually good for your lawn's overall health. The idea is that these mowers serve as maintenance cutters and run all the time, not for heavy duty, one-off weekly or monthly jobs. That said, it's probably a good idea to cut your grass before using the Automower. And the manual advises that gradually lowering the blades over several weeks will ease the mower into cutting at your desired grass height (and help prevent any initial boundary wire cuts). We waited a couple days to do this and eventually lowered the blades a few setting levels and were pleased with the results. This is when we could actually tell our grass was being cut — and the clippings were significantly longer than before but not total eyesores.
"Ideally short clippings, from more frequent mowing, should filter down into the turf and not be visible. There is no set formula about how often to mow since it depends on so many factors including the weather."


Joseph Heckman Professor of soil sciences at Rutgers University
So, is it true that the release of shorter grass clippings dispersed throughout your lawn is an effective, natural fertilizer? The short answer: Yes. Joseph Heckman, a turfgrass expert at Rutgers University, told us via email that never varying the mowing pattern could actually cause an excess accumulation of clippings in certain areas that could "shade out new growth." (Read: a dead-looking lawn).
An attractive lawn for you might not be an attractive lawn to your neighbor — and that's OK. As long as the grass is healthy, what more could you ask for, right? If it's any consolation, Heckman also says that a "perfect" lawn might not mean what you think it means: "In my opinion, a lawn does not need to be free of all weeds to be attractive. And inclusion of white clover in the mix adds nice diversity to the lawn ecology."
The Bottom Line
Now — for the $2,000 question: Is the Automower 315X worth it? Yes and no. The answer hinges on how you prefer to manage your lawn, whether you have the money to spend, and your time. It's a decent product — but it's not quite there and requires a bit of maintenance. So if your expectation is it will be a game changer in the convenience department from the first day forward, you might be disappointed.