Reviews.com is reader-supported. If you click on or buy something via a link on this page, we may earn a commission.
Showing results for
Did you mean:
Sorry, something went wrong. Please refresh your browser and try again.
Last updated on
October 18, 2018
The Best Homeowners Insurance
Your biggest investment deserves the best protection
The best homeowners insurance providers have the perfect mix of financial strength, coverage options, and customer service. You'll want to compare quotes between several providers and choose one that offers discounts and coverage for your particular circumstances. Our quote tool can help you compare rates and find the best fit for you.
It pays to shop around.
Enter your ZIP code to compare rates.
Allstate
A+ A.M. Best Financial Strength Rating
Amica
A+ A.M. Best Financial Strength Rating
Most Personalized Online Quote
State Farm
A++ A.M. Best Financial Strength Rating
Nationwide
A+ A.M. Best Financial Strength Rating
Best Replacement Coverage
Metlife
A+ A.M. Best Financial Strength Rating
Travelers
A++ A.M. Best Financial Strength Rating
Unique Bundled Deductible
Safeco
A A.M. Best Financial Strength Rating
Progressive
A+ A.M. Best Financial Strength Rating
How We Found the Best Homeowners Insurance

99 Companies Vetted

8 Key Ratings Evaluated
8 Top Picks Selected
The Best Homeowners Insurance
Owning a home is an accomplishment and an asset, one that deserves safeguarding. The best homeowners insurance providers offer financial strength, coverage options, and great customer service. It also comes at a great price for your unique circumstances. Use our quote tool to compare rates from several providers and find which offers you the best coverage for the best price.
How We Chose the Best Homeowners Insurance
Nationwide availability
We started with a list of 99 insurers from the Insurance Information Institute, as well as state insurance department websites. To guarantee our picks for best insurance company would be applicable to all, we looked for providers with coverage in at least 35 states, and no special requirements for membership. While local or special eligibility insurors can potentially write you a great homeowners policy at a competitive rate, large national carriers tend to have more discounts and bundling opportunities. They're also better equipped to handle claims in the wake of a disaster. Their rolling claims centers, outfitted with generators, satellite connections, and agent workstations, can make all the difference in areas where power has been knocked out.
Financial strength ratings
The ability to pay claims is the backbone of any insurance, so the best way to compare insurance companies is to look to their financial solvency and outlook. To discover the top-rated insurance companies, we gathered financial strength ratings (FSR) from all three major rating agencies, but paid particular attention to ratings from A.M. Best, the only agency that focuses solely on insurance. We required at least an A rating from A.M. Best, as well as either a "strong" (A) rating from Standard & Poor's or a "high quality" (Aa) from Moody's.
Open Peril policies plus endorsements
For freestanding, single-family dwellings, the chief difference in policy types is between named perils, which covers only the specific risks named in the policy, and open perils, which does the opposite. Open peril policies may not be right for everyone, but they are the most popular homeowners policy in the U.S., so we required providers offer them. In the same vein of guaranteeing robust policies, we also wanted to see a range of endorsements (optional provisions that extend coverage in various ways). The more endorsements offered, the greater the possibility of filling in any gaps that your home and location demand. Earthquake coverage, for example, is a common endorsement for Los Angeles homes.
Customer service
Good customer service ratings means painless communication between the homeowner and the homeowners insurance provider in every phase. You're more likely to receive accurate quotes and sufficient coverage and be properly compensated for claims. We looked to J.D. Power's annual U.S. Household Insurance Study, which includes scores based on how well "customers rate the claims experience with their current homeowners insurance provider," and required 3+ Power Circles. Consumer Reports also published data from nearly 10,000 survey respondents who filed claims from January 2010 to June of 2016, in which they rated carriers on criteria including agent courtesy and prompt problem-free claims experiences. We looked for a grade of 80+.
Discounts
Your best possible price equals a competitive initial quote, plus lots of opportunities to save. Often, the most significant discounts, like those for owning a fire extinguisher or being claim-free, are offered by every provider. However, there are a few exceptional discounts that make certain providers a better fit for certain homeowners. A few examples: Allstate's "new purchase" discount gives a small break to owners who are moving into their home for the first time. And Travelers' Green Home Discount knocks 5% off the premium price for homes certified "green" by the Leadership Energy and Environmental Design (LEED) organization. We tallied and compared the discounts offered by each provider to help us make personalized recommendations for different homeowners.
The 8 Best Homeowners Insurance Providers
Allstate Homeowners Insurance — Best for New Homebuyers
Availability can vary, and our quote tool may not include all providers in your area.
Pros
Abundant online tools
Extensive endorsements
Greatest number of discounts
Cons
Average customer service
Why we chose it
Abundant online tools
When it comes to educating prospective buyers about the intricacies of homeowners insurance, Allstate stands out. Allstate's website contains a library of best-in-class resources — everything from articles and videos to quizzes and infographics. Particularly impressive is the Common and Costly Claims tool that lets shoppers type in their zip code to see the most common claims in their region, complete with average dollar amounts for those claims. There's also a startlingly realistic GoodHome home report that plays a Google Street View video of your home (or potential home) as it enumerates potential risks and gives local hazard data, plus prevention tips. Tools like this make it simple to understand which areas of coverage you may want to increase or supplement because of geographic or neighborhood risk.
Extensive endorsements
Allstate has the second largest number of additional endorsement options of all our contenders. Those additional endorsements are fairly low-risk: insurance for expensive sports equipment, musical instruments, or landscaping. Notably absent is additional coverage options for earthquakes and theft of other property (vehicles, trailer, watercraft), but the endorsements they do offer can be valuable if you have expensive hobbies or are putting a lot of money into renovating your home's curb appeal.
Greatest number of discounts
Allstate also offers the most discounts of all the companies on our list — 11 total. These include standard discounts like hosting smoke alarms, fire extinguishers, or deadbolt locks, as well as unique offers, like one for signing up before your current policy expires. First-time customer with Allstate? You'll get another price slash for your first two years with the company.
Points to consider
Average customer service
Of our favorite insurers, Allstate earned the lowest customer service scores: three out of five from J.D. Power; 80/100 from Consumer Reports. While these scores pale in comparison to providers customer-service powerhouses like Amica, it's important to contextualize the superior customer service of the field. Homeowners insurance is miles ahead of other service industries like internet service providers, so even a middle-of-the-road ranker like Allstate doesn't leave much to be desired. When we tested its customer service ourselves, Allstate answered all of our questions politely and allowed us to end the call without signing over our social security number.
Amica Homeowners Insurance — Best Customer Service
Best For
Customer Service
Amica
Availability can vary, and our quote tool may not include all providers in your area.
Pros
Outstanding customer service
Considerable discounts
Dividends offer money back
Cons
Lacks online resources
Why we chose it
Outstanding customer service
Amica consistently ranks among the top homeowners carriers by J.D. Power and Consumer Reports, due to its sky-high customer satisfaction with the all-important claims process (settlement, estimation, and repair). This is arguably the most essential element of good customer service in the industry. Amica was the only one of our top providers that received a 5/5 in every category from J.D. Power. Amica also received a Consumer Reports reader score of 94 — two points better than USAA, the gold standard in insurance. None of our other four finalists came anywhere close. With excellent scores across the board, you can expect timely and helpful interactions with Amica representatives.
Considerable discounts
Amica offers nearly as many discounts as Allstate, with exclusive discounts for being a long-time customer and for opting into e-bill paperless pay. Essentially, by doing less (mailing bills and switching providers), you'll save money with Amica. However, Amica comes up a little short on discounts for new and renovated homes — you'll want to turn to Allstate for price breaks on those.
Dividends offer money back
As a mutual company, Amica is owned by policyholders rather than investors or stockholders. This means that as a policyholder, you could receive a dividend at the end of the term worth somewhere between 5-20% of your annual premium (depending on the financial success of Amica during that term and the company's income after claims and expenses). However, dividend payouts are not guaranteed. And if you select a policy that provides them, you will have slightly higher premiums.
Points to consider
Lacks online resources
When it comes to online resources and navigation, Amica's tech feels pretty dated. Its bare-bones site only details the basics of its policies and discounts. You won't find anything like Allstate's abundant and interactive resources, or guidance on how to build your policy. Thankfully, though, Amica scores highly in customer service, so a quick phone call can get you the information you need.
State Farm Homeowners Insurance — Most Personalized Online Quotes
Best For
Personalized Online Quotes
State Farm
Availability can vary, and our quote tool may not include all providers in your area.
Pros
Detailed online quote process
Extensive online resources
Why we chose it
Detailed online quote process
As with most good insurance companies, you can get a quote from State Farm online. But State Farm's process involves extra-detailed questions about the construction of your home, down to the percentage of carpet-covered floors and the number of corners in your home's framing. We recommend arming yourself with floor plans, your insurance history, a home inventory, and specific details of your home's construction so there won't be any surprises when it's time to sign a policy contract. The upside is that all of these details provide you with an accurate quote, and an exceptionally well-fitted policy.
Extensive online resources
Though not as comprehensive as Allstate's offerings, State Farm's tools, discounts, and resources are all top-notch. The Simple Insights blog provides tips for everything from fire prevention and home security strategies to house shopping and landlord advice. Many topics even feature video tutorials. State Farm writes more homeowners insurance policies than any other carrier in the nation, which speaks to its exceptional customer retention. Keeping policyholders informed plays a major role.
Points to consider
Minimal discounts
State Farm offers standard discounts for installing certain protective devices in your home, such as smoke detectors and fire alarms. It also offers a unique discount if your roof was built using impact-resistant roofing products. However, you won't get any price breaks based on the age of your home, even if it's newly built. Similarly, State Farm doesn't provide discounts for new homeowners or for homeowners who have recently completed renovations, both of which are offered by Allstate, Safeco, and Amica. If your house is new or recently received a face-lift, it might pay to shop around elsewhere.
Nationwide Homeowners Insurance — Most Endorsements
Availability can vary, and our quote tool may not include all providers in your area.
Pros
Greatest number of endorsements
Reimburses original value
Why we chose it
Greatest number of endorsements
Of our top picks, Nationwide offers the most options for additional coverage. These extra endorsements include standard additions like earthquake, flood, and umbrella liability, as well as more uncommon coverages like ordinance insurance that helps rebuild older homes to current building codes when damaged. In cases where your roof has been damaged, there's a Better Roof Replacement option where you'll be reimbursed for investing in material and construction that rebuild a stronger roof. To take advantage of this, however, the damage has to be severe enough to warrant an entire replacement.
Reimburses original value
We also like Nationwide's Brand New Belongings coverage, which will apply to nearly every homeowner. Essentially, it's a rebranding of the standard extended replacement coverage. Rather than reimbursing you for the depreciated value your item had when it was lost/stolen, you get the funds to purchase that item brand new. However, with Nationwide's program, you get funds up front (at their actual, lower value), and they'll reimburse the difference it takes to buy the new item. It's designed to immediately give you partial funds for replacing or repairing items, and then full reimbursement once receipts are received post-purchase.
Points to consider
Expensive policies
Nationwide has a reputation for expensive policies. On the Better Business Bureau website, customer reviews reveal that quotes from Nationwide tend to be more expensive than the competition. We always recommend shopping around for quotes, but if price is your main consideration, Nationwide may not be your best bet. For homeowners more interested in full and specific coverage endorsements than price, it's worth screening a policy.
MetLife Homeowners Insurance — Best Replacement Coverage
Best For
Replacement Coverage
MetLife
Availability can vary, and our quote tool may not include all providers in your area.
Pros
Unique replacement coverage
Strong customer service
Cons
Poor website interface
Why we chose it
Unique replacement coverage
One of MetLife's standard coverage points is exceedingly rare: guaranteed replacement cost coverage for both structure and contents. This means that if your home and everything inside it are completely destroyed, your MetLife policy guarantees the full cost of replacing them. Other providers typically only offer extended replacement cost coverage, which means the insurance company will pay 25-50% more than the value of the home. For example, if your home is valued at $250,000 but costs $500,000 to replace, other providers might only pay up to $375,000. With guaranteed replacement coverage, MetLife will pay the full $500,000. In a worst-case scenario, that extra coverage can make a real difference.
Strong customer service
When it comes to servicing customers, MetLife ranks impressively. Its Consumer Reports Reader Score is a solid 89, second only to Amica. Specifically, MetLife customers enjoyed its timely payouts and claims-filing experience. You can expect straightforward and prompt handling of your claims with MetLife.
Points to consider
Poor website interface
If you prefer to shop online, MetLife isn't for you. Its website pales in comparison to our other providers' sites, with nothing more than a landing page and a mini FAQ that answers just seven standard questions. And if you'd like to compare quotes online, you'll have to live in one of the 10 states that offer digital policies.
Travelers Homeowners Insurance — Best for Green Homes
Availability can vary, and our quote tool may not include all providers in your area.
Pros
Green home discount
Impressive financial strength
Cons
Underwhelming claims handling
Why we chose it
Green home discount
If you're dedicated to a green lifestyle,and have made home improvements that reflect your dedication, you may be up for some serious price cuts with a Travelers homeowners policy. You can save 5% if your home is certified "green" by the Leadership Energy and Environmental Design (LEED) organization. LEED-certified homes have sustainable construction and utility systems, plus are proximal to community resources (transit access, trails), all contributing to an environmentally-conscious lifestyle.
Impressive financial strength
Travelers earns high scores for financial strength. From A.M. Best, which specializes in homeowners insurance, Travelers receives the highest possible score — an A++. You can rest assured that your policies will be backed with Travelers' superior financial outlook.
Points to consider
Underwhelming claims handling
Travelers scored pretty average with customers when it came to the claims process, earning a 3/5 from J.D. Power and an 82/100 from Consumer Reports. Negative experiences cluster around interactions with representatives, a lack of investigation, and a poor ability to determine liability. If you foresee some tricky or frequent claims with things like unforeseen damage or piping issues, we'd suggest another insurer.
Safeco Homeowners Insurance — Unique Bundled Deductible
Best For
Unique Bundled Deductibles
Safeco
Availability can vary, and our quote tool may not include all providers in your area.
Pros
Exclusive bundled deductible
Equipment breakdown coverage
Why we chose it
Exclusive bundled deductible
Safeco stands out for two unique coverage options. If you insure your home and car through Safeco, you're eligible for the "single loss deductible," which allows you to pay only one deductible in the event of multiple losses. For example, if both your home and car are damaged in the same accident, you're only required to pay the home deductible. Safeco is our only pick that offers bundled deductibles, and it could make a big difference in how much you have to pay in the event of a disaster, natural or otherwise.
Equipment breakdown coverage
The second unique coverage point: equipment breakdown coverage. If an appliance breaks beyond repair, Safeco will pay to have it replaced with an Energy Star-rated appliance of a similar quality, saving you from having to replace appliances out of pocket or purchase a separate home warranty.
Points to consider
Few discounts
Safeco offers the fewest discounts (just four in total) in comparison to our other picks. You'll find few standard discounts, like multi-policy and new home, along with a more unique price break that applies if you opt to pay your yearly bill in full (rather than monthly). If you have the cash to pay a year's worth of premiums and advance, and already hold other insurance policies with Safeco, then the year-in-full discount coupled with bundling discounts could be significant. If neither of those variables are true for you, you will likely find better discount options with another company.
Progressive Homeowners Insurance — Best for Boat Owners
Availability can vary, and our quote tool may not include all providers in your area.
Pros
Impressive customer service
Extended endorsements
Why we chose it
Impressive customer service
Customers claim that Progressive offers reasonable prices and attentive representatives. Our own experiences with Progressive were bolstered by its well-designed online quote tool. Like many insurance companies, Progressive relies on third-party underwriters, and most that do so automatically pair you with a single underwriter in order to produce a quote. Progressive furnishes quotes from several of its underwriting partners and allows you to choose the one that best suits you. This gives you the power to prioritize coverage and price, and chalks up to another customer experience win for Progressive.
Extended endorsements
Progressive offers a unique Inflation Guard endorsement that will dynamically adjust coverage amounts to keep up with inflation, so the money you'll need for repairs will be sufficient even as the market's construction costs rise. Its coverage extends to cover things like pools, sheds, and fences at no additional cost. Progressive also offers a watercraft endorsement that allows you to extend your personal liability and medical coverage to small sailboats and motor boats.
Points to consider
Various underwriters
Progressive's service varies heavily by state. As the company explains, "Insurance through the Progressive Home Advantage program is underwritten by select companies that are not affiliates of Progressive and are solely responsible for claims, including Homesite Group Incorporated, IDS Property Casualty Co., and ASI Lloyds, and their affiliates." Basically, Progressive isn't selling its own homeowners insurance, but has partnered with another company (the one that will pay your claim), in order to offer that insurance to its customers. If you're already a Progressive customer, no need to stray. If you're considering opening a policy with Progressive, though, be aware your options for discounts and coverage will vary by state.
How to Choose Your Homeowners Insurance
Calculate your home's reconstruction cost
In the event of a disaster, it's vital that you obtain the right amount of coverage — that's what's going to pay for your repairs and/or a full rebuild. Your coverage limits for personal belongings and other structures are related to the amount of coverage on your dwelling, so you'll have better protection for all your property if you lift your dwelling limit. "If you have a mortgage, your lender may only require you to purchase a policy with enough coverage to protect their interest — particularly if you have a low balance," says Christina Moore, a compliance and risk management VP at SWBC. "But in the event of a substantial or total loss, the cost of rebuilding your property could be much more, leaving you with potentially large out-of-pocket expenses."
Catalog your belongings
"I recommend that people create video evidence of all their belongings, as well as the inside and outside of their home," says Jeffrey D. Diamond, adjunct professor of insurance law at Georgia State University College of Law. Many providers have online lists you can help to keep track. "The more ways in which you can establish and prove the features of your home, as well as the quality and quantity of your personal property before a loss occurs," Diamond adds, "the better your homeowners insurance coverage will serve you at the time of need, if and when the need arises."
Consider your location
We built a map displaying the historical frequency of floods and severe storms based on data from the Federal Emergency Management Agency (FEMA) and the National Emergency Management Association (NEMA). If you live in one of the darker blue areas, look for the specific endorsements that apply to your region and which providers offer them. Texas, for example, has the highest count of natural disasters. If you live in a region often affected by floods and storms, you'll want to look for a company that offers additional flood coverage or purchase it separately through the National Flood Insurance Program.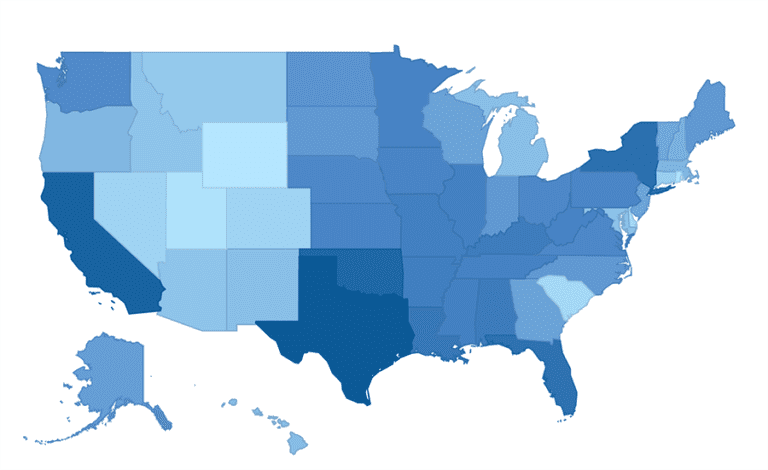 Gather quotes
"Calling around to obtain quotes will take some time, but it is worth it to compare coverage and rates," says Moore. Unlike auto insurance quotes, homeowners insurance quotes are more accurate when you call. The online tools are attractive because they make it appear easy to compare quotes from multiple carriers at once, but they often oversimplify in their information collection. For instance, you might be eligible for a discount from a certain carrier that wasn't detailed online, or you might want a specific endorsement it didn't ask about. Call, go through each carrier's specific questions, and then you'll receive quotes that are worth comparing.
Homeowners Insurance FAQ
How much is homeowners insurance?
Coverage varies greatly among regions, homes, and asset portfolios. If you and your neighbor called all the same providers asking for quotes, there's a good chance the lowest option for you would come from a different provider than the lowest option for them. There's no universally cheaper carrier. For some context, premiums can range in price anywhere from $500 to $2,000.
This is a non-comprehensive list of factors that may affect the price of your policy:
Credit score, location, condition of plumbing and electrical, vulnerability to wind damage/earthquakes/floods, claim history, replacement cost, dog breed, wood-burning stove, home-based business, remodeling, home liability limits, insurance score, marital status, age and construction of home, trampoline or swimming pool or hot tub, roof condition, proximity to fire station, square footage, number of inhabitants, area claim history, security systems and safety features, etc.
What is covered by homeowners insurance?
Simply put, there are six main categories that homeowners insurance covers: your dwelling, other structures, personal property, loss of use, liability, and medical payments. Within each category are particular coverages and exclusions. For example, water damage is covered under "dwelling" as a result of burst pipes or water heater but not as a result of heavy rainfall or flooding (though coverage for the latter can be added separately). And while water damage from the burst pipe is covered, your policy won't cover the cost of replacing those pipes.
Standard coverages of homeowners insurance
Dwelling (also called Coverage A). This includes the main building and its plumbing, heating, and air conditioning systems against damage from outside forces.
Other structures (or Coverage B). This pays for damage to fences, sheds, garages, guest cottages, and any other structure not connected to your house.
Personal property (or Coverage C). This reimburses you for lost, stolen, or ruined possessions such as furniture, electronics, and clothing, even when they aren't on your property. You can choose to insure them for their actual cash value (the original value, less depreciation) or their replacement value (what it costs to buy a replacement in similar condition).
Loss of use (or Coverage D). This pays for your living expenses during the time you're unable to live in your damaged home.
Liability (or Coverage E). This covers your financial loss if you or anyone in your family is sued for damages or injuries to someone else. The event doesn't have to happen on your property. Increased limits for liability coverage — important if you own valuable assets that could be targeted in a lawsuit — can be added on as "umbrella coverage."
Medical payments to others (or Coverage F). This is intended to pay for relatively minor medical bills resulting from an injury, like if a friend cuts their finger while helping you make dinner.
As a general rule, any damage from natural or national disasters like earthquakes or war will not be covered. Added to that list is fungi, contamination, wear and tear, and pests
Will my premiums go up after making a claim?
In short, yes. Think carefully before filing a claim on your homeowners insurance, as it will directly affect the amount you'll pay going forward. If you have two claims within three years, or three claims within five years, that increase can be as high as 20% as you're shifted into a "high risk" category. It could be another five years before those claims drop off your record and the premium prices decrease.
What's the difference between homeowners insurance and a home warranty?
Homeowners insurance is there to protect you in the event of a disaster, not to cover normal wear and tear. A home warranty, on the other hand, covers the mechanical breakdown of appliances and systems in the home, like the refrigerator, the washing machine, and the electricity and plumbing that make them run. If that sounds like something you want, check out our review of the best home warranty.
Which companies have home and auto insurance bundles?
Many home and auto insurance companies offer discounts if you purchase more than one policy. For example, Allstate advertises bundling deals up to 30%; State Farm up to 17%; and Safeco and Travelers up to 15%. But in reality, multi-policy discounts vary from person to person. Instead of taking your provider's bundling discount at face value, be sure to compare quotes from multiple home and auto insurance companies. You may save more by insuring your home and car with separate, cheaper providers than by bundling them with one.
The Best Homeowners Insurance: Summed Up
| | | | | | |
| --- | --- | --- | --- | --- | --- |
| | A.M. Best | Standard & Poor's | Moody's | J.D. Power Overall Satisfaction | Consumer Reports Reader Score |
| Allstate | A+ | AA- | A3 | 3/5 | 80/100 |
| Amica | A+ | N/A | N/A | 5/5 | 94/100 |
| State Farm | A++ | AA | Aa1 | 4/5 | 82/100 |
| Nationwide | A+ | A+ | A1 | 3/5 | 86/100 |
| Metlife | A+ | A- | A3 | 3/5 | 89/100 |
| Travelers | A++ | AA | Aa2 | 3/5 | 82/100 |
| Safeco | A | A | A2 | 3/5 | N/A |
| Progressive | A+ | AA | A2 | N/A | N/A |
The Best Homeowners Insurance by State
Every state has different insurance providers, as well as unique circumstances that affect policies and coverage. We've reviewed the five largest, highest-rated providers in every state using a methodology similar to the one employed in this review on nationwide companies.