Showing results for
Did you mean:
Sorry, something went wrong. Please refresh your browser and try again.
Last updated on
January 11, 2019
The Best Infant Car Seats
Safety meets convenience
We recommend products and services based on unbiased research from our editorial team. We may receive compensation if you click on a link. Read More.
Easiest to Use

Best on a Budget

UPPAbaby
Chicco

MESA

KeyFit 22
How We Found the Best Infant Car Seats
2 experts interviewed

11 car seats tested
2 top picks
The Best Infant Car Seats
Every car seat is safe as long as it's used correctly, so we looked for the seats that are easiest to use both in and out of the car. To find the best, we grilled child safety experts, dove into federal ease-of-use ratings, surveyed over 100 parents, then took a closer look at the top 11. In the end, two seats rose above the competition.
How We Chose the Best Infant Car Seats
Simple installation
Every car seat on the market has been rigorously tested and certified by its manufacturer to ensure that it meets federal safety standards. In the words of Dr. Benjamin Hoffman, Chairperson for the American Academy of Pediatrics' Council on Injury, Violence, and Poison Prevention, "Car seat manufacturers aren't in the business of putting kids at risk." But that level of safety is only maintained if a seat is installed correctly — and it's easy to make mistakes during installation. So we turned to the National Highway Traffic Safety Administration (NHTSA), which performs comprehensive ease-of-use tests on the most popular car seats, using a five-star rating system in four categories, including "vehicle installation features" (it also assigns each seat an overall ease-of-use rating).
The best seats give parents the best tools to keep their child safe, so we only considered those that received above-average scores for overall ease-of-use and in the areas parents most commonly make mistakes (installation and securing the child). When looking at multiple seats within one brand, we preferred ones that earned higher ratings from Consumer Reports and NHTSA. From there, we were left with 11 best-in-class seats. To find our top picks, we knew we needed to bring in the perspective of the people who use the seats on a daily basis: parents and caretakers.
The 11 infant car seats we tested
Baby Trend Inertia
Britax B-Safe 35 Elite
Chicco KeyFit
Cybex Aton Q
Doona Infant Car Seat Stroller
Graco SnugRide Click Connect 40
Maxi-Cosi Mico Max 30
Nuna Pipa
phil&teds Alpha
Recaro Performance Coupe
UPPAbaby Mesa
Easy-to-buckle harness
Securing your infant in a car seat means buckling a harness and a chest clip and getting the straps tight enough to keep a baby safe — sounds simple enough, until you add the squirming baby. The best seats simplify the process with clips, buckles, and straps that are intuitive to use and leave the parent or caretaker confident that their baby is secure. To find out which of our top picks did this the best, we went through several cycles of loosening and tightening all of the seats' harness straps, then unbuckling and buckling each harness and chest clip.
While doing so, testers found that the best hardware came together securely with a comforting click and unbuckled with just the right amount of effort: not so little that it might come unbuckled accidentally, but not so much that they had to fight with the hardware.
Seamless transition from car seat to carrier
Keeping in mind that one of the first rules of pediatrics is "never wake a sleeping baby," we looked for car seats that could detach from the carrier and get into optimum carrying position in one motion. To do so, we loaded 8- and 15-pound weights into each carrier, then attached and reattached the seats from their bases.
Our testers noticed that infant car seats with release handles on their carriers (rather than on their bases) allowed them to detach the carrier and get it into optimum carrying position in one motion. Seats with release handles on their bases required more finesse and strategy.
Lightweight
The ease of carrying a detached carrier comes down to four factors: its weight, handle, dimensions, and balance. But if a carrier is too heavy, that's likely going to eclipse everything else. We looked for car seats with carriers lighter than 11 pounds when detached — the weight at which our parent volunteers balked during testing.
Painless cleaning
Because babies are known for their messes, we sought out seats that would make regular cleaning quick and painless. Top performers in this category include removable, machine-washable car seat covers that don't sacrifice comfort for the child in question.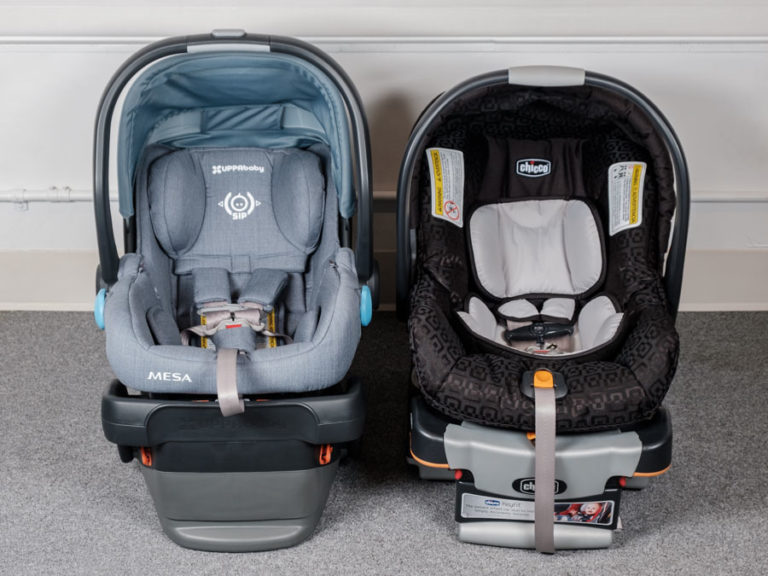 The 2 Best Infant Car Seats
UPPAbaby
Beneath its high-tech, comfy padding, a no-rethread harness helps you make sure the seat fits your car and your baby perfectly.
Pros
Convenient
Versatile, chemical-free material
Lightweight
Cons
Unique chest clip
Expensive
Return to top 
Why we chose it
Convenient
The UPPAbaby Mesa earned straight-A's from the National Highway Traffic Safety Administration and has all the right parts that make it easy to use: recline positions that are easily adjusted with the press of one button, a no-rethread harness to find the safest fit for your baby with the pull of a strap, and built-in lock-offs that enable the most secure install possible with minimal hassle. Removing it is easy, too. Because the release button is on the carrier, we could grip it with one hand and pull the handle with the other, removing the carrier from the base in one fluid motion.
Versatile, chemical-free material
The seat's fabric is equally impressive. The Henry model we tested is the only seat on the market that's free of chemical flame-retardants, thanks to its naturally flame-resistant Merino wool. That material is smooth-textured, machine-washable, and the only fabric that truly repelled water. While nothing will save you from a leaky diaper, we appreciated the chance to catch a juice spill (or worse) before it sets into the fabric.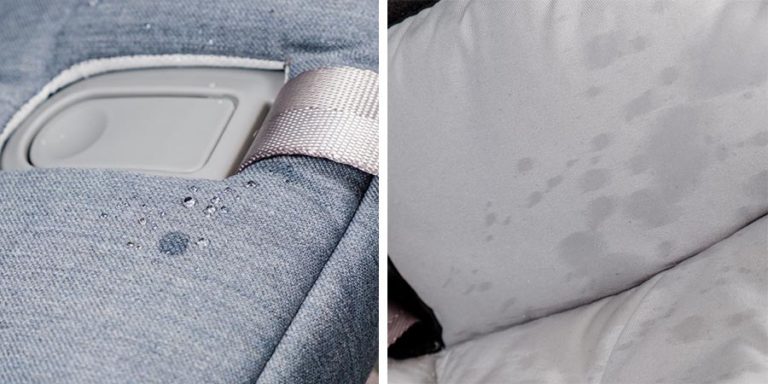 Lightweight
We were surprised at how lightweight the Henry MESA was: only 9.9 pounds. While a few seats were a pound or two lighter, they lacked basic installation and adjustment features.
Points to consider
Unique chest clip
The MESA's chest clip threw us at first. Its thin, oblong button requires you to push more deeply than others with your thumb to get the clip to unbuckle. One tester thought that might get annoying, considering how often a parent has to unbuckle their baby's chest clip. Still, they agreed that it was easy enough to open — it just takes some getting used to. Once our testers got the hang of it, they were able to maneuver it one-handed.
Expensive
All of those nice-to-haves come at a price. The Henry MESA retails at $350, and UPPAbaby's two compatible strollers — the Cruz ($500) and Vista ($900) — are just as much of an investment. If the MESA feels like too much of a splurge, check out the Chicco KeyFit, which ticks many of the same convenience boxes.
Chicco
This ultra-lightweight carrier checks all the boxes at affordable price.
Pros
Easy to use
Lightweight
Great value
Cons
Manual-rethread harness
Not as luxurious
Return to top 
Why we chose it
Easy to use
The Chicco KeyFit 22 has nearly all of the usability features of the UPPAbaby MESA, and its everyday features felt just as intuitive. Installation is simple, thanks to built-in seat belt lock-offs. Its chest clip is straightforward and sturdy, like a bike helmet clip, and the silicone grip at the top of its handle is just grippy enough to keep your carrying hand secure, not trapped. Like on the UPPAbaby, the KeyFit's lever for detaching the seat from its base is on the seat itself, simplifying the experience of detaching and attaching the carrier, so you can quickly take your baby in and out of the car without any fuss.
Lightweight
The KeyFit's carrier weighs in at 9.6 pounds, slightly less than the MESA. It's light enough that most parents won't have any trouble releasing it from the base and lifting it out in one motion.
Great value
Despite being comparable in quality, the KeyFit retails for about half of what you'll pay for a Henry MESA. Another Chicco bonus: stroller compatibility. If buying your car seat as part of a travel system is your strategy, check out the 12 strollers with which the KeyFit is compatible, starting at $100.
Points to consider
Manual-rethread harness
The KeyFit doesn't have the Henry MESA's no-rethread harness, meaning parents will need to unthread and rethread the harness straps through the back of the seat as their newborn grows. It's only a minor inconvenience — but it requires a little more work to maintain a safe fit.
Not as luxurious
Testers noticed that the fabric on the KeyFit isn't as plush as the Henry MESA; if the MESA is a living room recliner, the KeyFit feels more like a sleeping bag. The canopy is also a little on the short side — Amazon reviewers often describe this as the KeyFit's single, minor flaw.
How to Find the Right Infant Car Seat for You
Consider vehicle compatibility
Our two picks share the same foundational features, but a lot of what determines the right seat for you will come down to compatibility with your vehicle and with your child. Before you buy, you'll need to check your specific vehicle's owner's manual to know if the one you want will fit. Pay attention to the way your seat belts are attached and the size of your vehicle seats from front to back. You'll also need to take into account your child's height, weight, and developmental abilities (children with neuromuscular challenges often need to stay rear-facing longer) before you shop to know if our picks will keep your child safe. And be sure to bring your installed seat to a licensed Child Passenger Safety Technician for an inspection to ensure that it's secure.
Choose a price range
The car seats we tested range in price from $170 to $500. That's quite a spread, and definitely not in every family's budget. The good news is that we liked the Chicco KeyFit — one of the cheaper options — almost as much as the nearly-twice-as-expensive UPPAbaby MESA. Another thing to keep in mind is the additional cost of a compatible stroller. The MESA's two compatible strollers are $500 and $900, while the KeyFit has 12 options starting at $100.
Consider your carrying habits
Do you live in a three-story walk-up? You'll probably want to prioritize the weight of your carrier more than, say, someone who lives in a house with an attached garage. Likewise, if you're in the habit of carting your child with you everywhere you go, a no-drama car seat is a must.
Infant Car Seats FAQ
How do I know if my car seat is installed correctly?
Studies have found that up to 95% of parents misuse their car seat. The only way to know you've installed your car seat safely is by bringing it to a licensed Child Passenger Safety Technician for a free inspection. But certain car seats (like our two top picks) make it easier to avoid the two most common mistakes: harness/chest-clip adjustment errors and incorrect installation.
When should I move to a forward-facing car seat?
The American Academy of Pediatrics recommends keeping your child rear-facing until they're at least two years old, or "preferably, until they reach the highest weight or height allowed by their car seat manufacturer." According to Dr. Hoffman, keeping your child in what they are in now is always preferred, since you'll be losing layers of protection with every step (rear-facing to forward-facing, forward-facing to booster seat, and so on). Research shows that two-year-old children are more than five times less likely to be seriously injured in a crash if they're rear-facing than forward-facing.
What is "side-impact protection" and "anti-rebound bars" on car seats?
Safety extras like side impact protection and anti-rebound bars aren't federally regulated. That means the safety tests manufacturers are putting their seats through aren't standardized, and the results can't be compared across brands. Though Dr. Hoffman said that regulations for side-impact protection are in the works, we can't consider features like that a bonus when comparing seats until there's a federal safety standard they're required to meet.
Can I buy a car seat second-hand?
All the experts we spoke with said buying used is a no-go, since you can't possibly know what a used seat's been through. Every parent's first priority is safety, and buying used jeopardizes that foundational factor.
How often should I clean my car seat?
Jennifer Beall Saxton, Founder and CEO of Tot Squad, told us that parents should be cleaning their car seats at least every three months to get rid of all the dirt, sweat, drool and — well, you know, baby stuff. Some covers are easier to remove than others, and Saxton recommends that parents select a black-colored seat, as they do a better job of hiding the mess.
The Best Infant Car Seats: Summed Up
| | | |
| --- | --- | --- |
| | UPPAbaby Mesa | Chicco KeyFit 22 |
| The best | For ease of use | On a budget |
| Price | $349.99 | $179.99 |
| Weight limit | 4–35 pounds | 4–22 pounds |
| Height limit | Up to 32 inches | Up to 30 inches |
| Weight of detached carrier | 9.9 pounds | 9.6 pounds |
| Stroller compatibility | 2 strollers | 12 strollers |
| Seat dimensions | 28" x 17" x 25" | 27.5" x 17" x 24" |
Our Other Baby Product Reviews
Have your hands full caring for your family's newest addition? Let us help with recommendations on other infant essentials:
You might also like