Reviews.com is reader-supported. If you click on or buy something via a link on this page, we may earn a commission.
Showing results for
Did you mean:
Sorry, something went wrong. Please refresh your browser and try again.
Last updated on
January 15, 2018
The Best Infant Car Seat
Safety meets convenience
The 30-Second Review
Every car seat is safe as long as it's used correctly, so we looked for the seats that are easiest to use both in and out of the car. To find the best, we grilled child safety experts, dove into federal ease-of-use ratings, surveyed over 100 parents, then took a closer look at the top 11. In the end, two seats rose above the competition.
Our Top Pick
The Henry MESA offers all the installation and adjustment features we could have asked for, in a seat that's still light enough to carry around.
Runner-Up
The KeyFit hits the mark for features that make daily use easy. While you'll need to re-thread its harness as your child grows, its other adjustment features are just as intuitive as the Henry MESA.
The Best Infant Car Seat
The best car seat is easy to install and adjust correctly, so parents and caretakers have the best chance at using it safely every time. Two features in particular separate the best from the rest: built-in seat belt lock-offs and no-rethread harnesses. Built-in seat belt lock-offs are levers or clips in a seat's base. They clamp the car's seat belt to the car seat, so you won't have to finagle with separate locking clips or your car's seat belt locking system. A no re-thread harness makes it easier to adjust to seat as your child grows. Instead of removing a seat cover, pulling the harness straps through the slots in the back of the seat, then rethreading the harness back through at the right height, you can adjust the height externally, usually just by pushing a button.
Our top pick, the UPPAbaby Mesa ($350) is the whole package. It earned straight-A's from the National Highway Traffic Safety Administration (the government agency that tests ease-of-use) thanks to its built-in lock-offs and no-rethread harness. We're happy to report that the carrier is equally convenient to use: The parents in our office appreciated how quickly they could unclip the straps and detach the carrier from the base — they didn't have to waste time fumbling with hidden latches and finicky buckles.
Always get your seat inspected. All car seats on the market meet federal safety standards — but they're only safe when used correctly. To make sure your car seat is properly installed, bring your car seat to a licensed Child Passenger Safety Technician for a free inspection.
That alone would have been enough to give the UPPAbaby MESA the edge, but the seat's fabric is impressive, too. The Henry model we tested is the only seat on the market without chemical flame retardants, thanks to its Merino wool fabric — a natural, machine-washable material that still meets the federal safety requirement.
The Chicco KeyFit 22 has nearly all the usability features of the UPPAbaby MESA, but is missing some of the perks that give the MESA its primo edge: While it does have built-in seat belt lock-offs, you'll need to manually rethread the harness to adjust it as your baby grows. It's only a minor inconvenience — but it requires a little more work to maintain a safe fit.
Even so, testers were comfortable with the clips and buckles they would use daily, and at $180, this one outperformed much pricier car seats. Bonus: If you're looking to buy your car seat as part of a full travel system, Chicco offers a whopping 12 compatible strollers. UPPAbaby offers just two: the Vista and Cruz.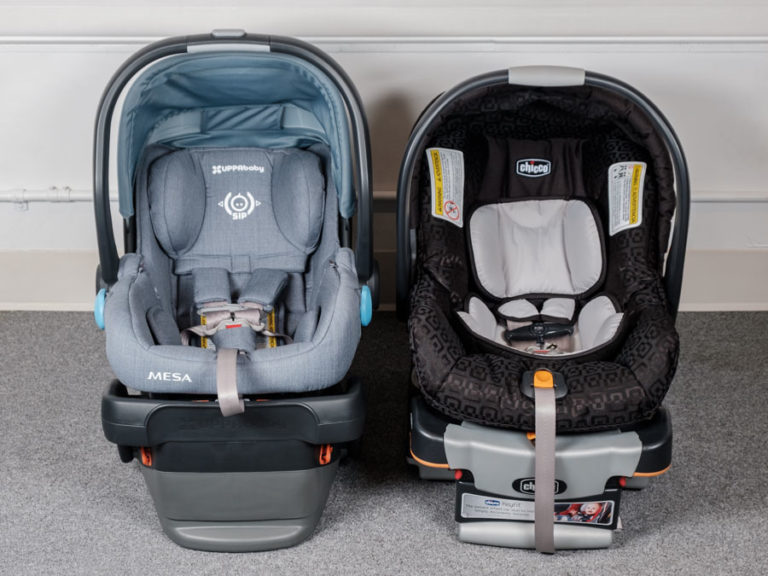 How We Found the Best Infant Car Seat
While the best infant car seat is — of course — the safest, it should also make parents' lives more convenient and the first months of an infant's life more restful. To find out which infant car seats truly make life with a newborn safer and simpler, we asked child passenger safety technicians and pediatricians to weigh in.
Every infant car seat is safe, as long as it's used correctly.
Priority number one for any parent buying an infant car seat is their newborn's safety. And in the words of Dr. Benjamin Hoffman, Chairperson for the American Academy of Pediatrics' Council on Injury, Violence, and Poison Prevention, "Car seat manufacturers aren't in the business of putting kids at risk." In fact, every car seat on the market has been rigorously tested and certified by its manufacturer to ensure it meets federal safety standards when it's installed correctly.
But here's the catch: That level of safety is only maintained if a seat is installed correctly. And it's easy to make mistakes during installation. Studies have found that up to 95 percent of parents misuse their car seat, putting their children at risk. The only way to know you've installed your car seat safely is by bringing it to a licensed Child Passenger Safety Technician for an inspection. But there are car seats that make it easier to avoid the two most common mistakes: harness/chest-clip adjustment errors and incorrect installation.
Some seats boast added safety features — but they're not standardized yet.
Safety extras like side impact protection and anti-rebound bars aren't federally regulated. That means the safety tests manufacturers are putting their seats through aren't standardized and the results can't be compared across brands. Though Dr. Hoffman said regulations for side-impact protection are in the works, we can't consider features like that a bonus when comparing seats until there's a federal safety standard they're required to meet.
So, we looked for the seats that are easiest to use.
The National Highway Traffic Safety Administration (NHTSA) keeps an ear to the ground for the most popular car seats and performs comprehensive ease-of-use tests on each one, using a five-star rating system in four categories: labeling, instructions, securing the child, and vehicle installation features. Then it takes those categorical scores and assigns each seat an overall ease-of-use rating from one ("poor") to five ("excellent").
The best car seats give parents the best tools to keep their child safe, so we only considered seats that received above-average scores for overall ease-of-use and in the areas parents most commonly make mistakes (installation and securing the child). That gave us 18 above-average seats. Some brands had several car seats on the list — kudos to you, Baby Trend, Britax, Cybex, Chicco, and Graco. When looking at multiple seats within one brand, we gave preference to the ones that earned higher ratings from Consumer Reports and NHTSA.
We did cut one brand, Combi, altogether when we saw this on the Combi Shuttle's product page: "WARNING: This product contains 'TDCPP', a chemical known to the State of California to cause cancer." (Yikes.) TDCPP, a type of flame retardant, is a known carcinogen. Save for the UPPAbaby MESA, every car seat on the market contains some kind of chemical flame retardant — but TDCPP doesn't stay in the foam or fabric of a seat — it's released over time and can be inhaled or absorbed through the skin. With so many other options to choose from, we decided to play it safe.
Perhaps the most intriguing discovery was with the Chicco KeyFit versus the KeyFit 30. The only spec difference between those two seats is the weight limit (the KeyFit's is 22 pounds, while the KeyFit 30's is — you guessed it — 30). According to the CDC's infant growth charts, boys at the 50th percentile for height and weight reach the height limit of both seats (30 inches) within a month of reaching 22 pounds. And the girls in the 50th percentile reach 22 pounds and 30 inches almost simultaneously. Best case scenario: Depending on how quickly your child grows, you maybe get an extra month or two of use out of it before you have to switch to a convertible car seat. We went with the cheaper option.
From there, we were left with 11 best-in-class seats, ranging from $170 to $500. To find our top pick, we knew we needed to bring in the perspective of the people who use the seats on a daily basis: parents and caretakers.
Baby Trend Inertia
Britax B-Safe 35 Elite
Chicco KeyFit
Cybex Aton Q
Doona Infant Car Seat Stroller
Graco SnugRide Click Connect 40
Maxi-Cosi Mico Max 30
Nuna Pipa
phil&teds Alpha
Recaro Performance Coupe
UPPAbaby Mesa
Then we put our finalists to the test.
To find out what car seat characteristics make a difference in daily convenience, we surveyed over a hundred people who've recently purchased a car seat, asking them about what mattered most. Nearly all our respondents prioritized ease of securing a child and ease of detaching the infant carrier from its base. Beyond that, parents cared most about the comfort of using a seat's carrier and the comfort of their child.
With those priorities in mind, we took a deep dive into each seat's specs and features to find out which would be the easiest to use every day.
Its buckles and clips should make it easy to secure your child.
Securing your infant in a car seat means buckling a harness and a chest clip, and getting the straps tight enough to keep a baby safe — sounds simple enough, until you add the squirming baby. Some seats simplify the process with clips, buckles, and straps that are intuitive to use and leave the parent or caretaker confident that their baby is secure. To find out which of our top picks did this best, we went through several cycles of loosening and tightening all the seats' harness straps, then unbuckling and buckling each harness and chest clip.
Don't forget the pinch test. To know if your harness is tight enough, pinch the webbing of the harness by the child's collarbone. If you can pinch any material at all, you need to go tighter.
Most seats' harness adjustment features were smooth and simple, making small issues like the Maxi-Cosi Mico Max 30's concealed harness release lever feel like big hassles. Poking around for a lever underneath its cushioning felt like an unnecessary amount of work for something we'd use every day. Testers raised another red flag while adjusting phil&teds Alpha's harness, which made a disconcerting velcro-stripping noise if loosened too far. Tightening it back up was even worse — no matter how gently we pulled on the straps, they would suddenly retract.
While buckling and unbuckling harnesses and chest clips, testers found that the best hardware came together securely with a snappy *click* and unbuckled with just the right amount of effort: Not so little that it might come unbuckled accidentally, but not so much that they had to fight with the hardware.
Most crotch buckle secure in an identical fashion, with two metal male pieces that can click smoothly and securely into a square buckle. The Baby Trend Inertia was the only seat we tested that didn't have that standard hardware; we were confounded by the Inertia's plastic, overlapping puzzle-piece male prongs that have to be perfectly aligned before they're inserted. Cue images of crying babies while parents fumble with the pieces. It didn't make sense to our testers, given how quick and easy all the other harnesses were to operate.
Harness clips were more distinct. Some had a button to press and slide to unclip, or a pronged pinching mechanism, like the chin strap clip on a bike helmet. Regardless of clip design, many of the seats fell in the sweet spot. Testers thought it felt secure, but would also be comfortable using the hardware daily.
Again, the phil&teds fell short. It lacked the comforting *click*; we had to pull on the straps to make sure it actually latched. The Britax B-Safe Elite clip, on the other hand, felt glued together. And while the Graco didn't take super strength to unbuckle, it took dexterity and just the right angle to gain leverage; testers felt like it would get annoying to deal with day-in and day-out.
It should transition from car seat to carrier and back again, seamlessly.
Dr. Hoffman told us one of the the first rules of pediatrics is "Never wake a sleeping baby." That's the most common reason parents buy a rear-facing-only infant car seat, rather than a convertible car seat, for their newborns: The detachable carrier allows for a smooth transition from car to carry (or stroller). To get a feel for what makes some carriers easier to use than others, we loaded 8- and 15-pound weights into each carrier, then attached and reattached the seats from their bases. The top performers were so smooth, we wouldn't have to worry about jostling baby awake when moving them in or out of the car.
Our testers noticed that infant car seats with release handles on their carriers, rather than on their bases, allowed them to detach the carrier and get it into optimum carrying position in one motion, while seats with release handles on their bases required more finesse and strategy.
Simple releases like the ones on our top pick UPPAbaby and Chicco seats streamlined the experience and made testers feel like the carrier was in it to help them, not make things more difficult. By comparison, attaching and detaching the Nuna Pipa was awkward and clunky. Pulling the Pipa's release handle caused halting vibrations that reminded testers of a grinding gear or bicycle chain. Our smallest testers were forced to lean in and "hug" the whole carrier in order to unload it; that's not exactly ideal for, say, getting your carrier out while parked in a tight space.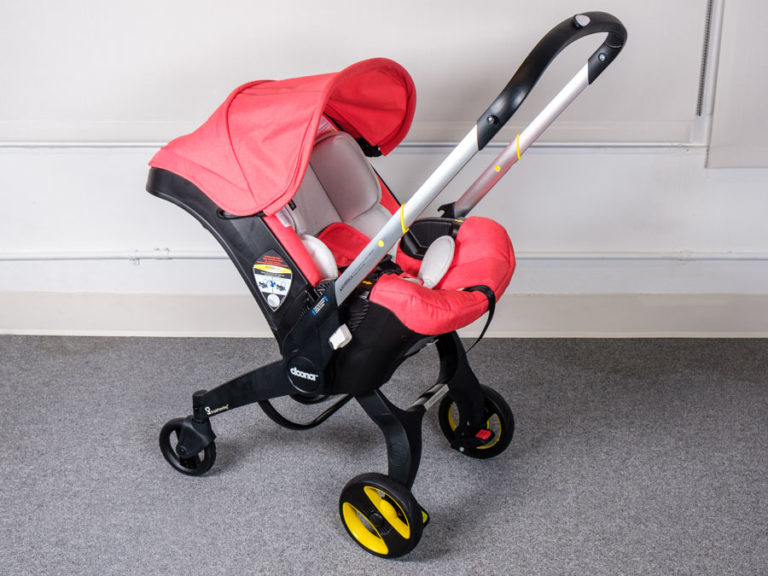 Then we got to the Doona Infant Car Seat Stroller. You read that right, it's a magic car seat that turns into a carrier and a stroller. The Doona is a neat idea, in concept, given it's supposed to function as a self-contained travel system. Even with the instructions we struggled to show the parent testers how to make the magic happen. When we finally did, we expected fireworks and got crickets. Parents were mostly at a loss as to how this seat would make their lives more convenient. Testers disliked how low the stroller was to the ground and no one like lifting the heavy (16.5 pounds) carrier, even when it was empty. They agreed that a separate stroller with lightweight carrier were more versatile. We heard their message loud and clear.
The carrier needed to be light enough to actually carry.
The comfort of carrying a detached carrier comes down to four factors: Its weight, handle, dimensions, and balance. With baby-sized weights in tow, we asked parents to detach and carry the carriers and give us their thoughts. In truth, all testers found any carrier to be pretty annoying to carry, found nearly every handle "just fine," and most already came in jaded about the concept of carrying a carrier at all. But weight became the one dividing factor.
The detached carriers' weights ranged from 8.3 (phil&teds Alpha) to 16.5 (the Doona) pounds. Carrier weight can be a priority for car-seat shopping parents, depending on where they see themselves using it most. Someone who lives in a three-story walk-up is going to notice those extra pounds a lot more than someone who lives in a house with an attached garage, for example.
While our testers didn't notice weight differences among seats within a pound of each other, they easily picked out the three heaviest seats: the Britax B-Safe Elite, Cybex Aton Q, and Doona, all of which are over 11 pounds when detached. The Doona's extra weight makes sense, since it has wheels and stroller hardware attached to its carrier. The Britax and Cybex are likely heavier due to their no-rethread harness hardware — a feature that helps you adjust the seat as your child grows. Normally, you'd need to remove the seat cover, pull the harness straps through the slots in the back of the seat, then rethread the harness back through at the correct setting. A no-rethread harness means you can adjust the height externally, usually just by pushing a button.
The seat's materials should be practical, too.
We poked and prodded every seat to see which might be the most comfortable for newborns. But the seat shouldn't sacrifice practicality in the name of newborn comfort. Babies are, after all, known for the messes they create. Jennifer Beall Saxton, Founder and CEO of Tot Squad, told us parents should be cleaning their car seats at least every three months to get rid of all the dirt, sweat, drool and — well, you know, baby stuff. Some covers are easier to remove than others, and Saxton recommends parents select a black-colored seat, as they do a better job of hiding the mess.
Many of the car seats' covers are machine washable for practicality's sake, but parent testers weren't psyched about the ones that aren't (the Cybex Aton Q, Baby Trend Inertia, phil&teds Alpha, Britax B-Safe Elite, and Recaro Performance Coupe). And when it came to baby's comfort, all the testers felt confident that any of our finalists would be comfortable for their child.
Truth be told, we were pretty impressed with most of the seats we brought in when all testing was said and done. But two emerged as truly superior for their combination of flawless features and balance of form and function.
Our Picks for the Best Infant Car Seat
Our Top Pick
UPPAbaby MesaBeneath its high-tech, comfy padding, a no-rethread harness helps you make sure the seat fits your car and your baby perfectly.
We were skeptical that the novel fabric was just a marketing ploy, but UPPAbaby proved us wrong. The UPPAbaby MESA seat in its Henry fabric variation is currently the only seat that's free of chemical flame-retardants thanks to its naturally flame-resistant Merino wool.
But what multiplied our awe was that the same material is smooth-textured, machine-washable, and it's the only fabric that truly repelled water when we splashed it on the seat. While nothing will save you from a leaky diaper, we appreciated the chance to catch a juice spill (or worse) before it sets into the fabric.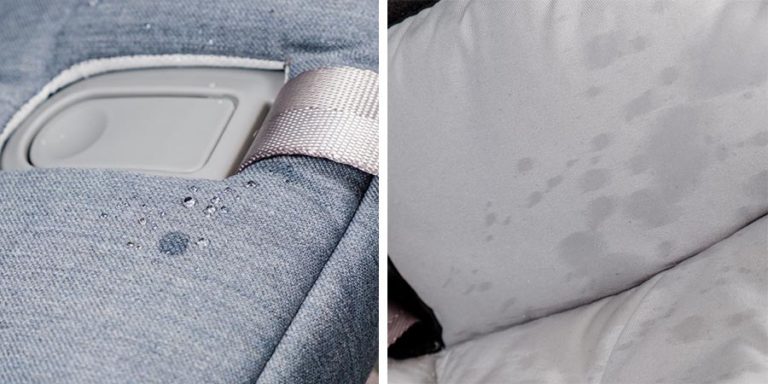 At its core, the Henry MESA has all the right parts that make it easy to use: recline positions that are easily adjusted with the press of one button, a no-rethread harness to find the safest fit for your baby with the pull of a strap, and built-in lock-offs that enable the most secure install possible with minimal hassle. Removing it is easy, too. Because the release button is on the carrier, we could grip it with one hand and pull the handle with the other, removing the carrier from the base in one fluid motion.
Since the Henry MESA has a no-rethread harness, we were surprised that it was one of the lightest at 9.9 pounds. While a few seats were a pound or two lighter, they lacked basic installation and adjustment features. The phil&teds, for example, is limited to just two recline positions, and the Maxi-Cosi requires separate seat belt lock-offs.
The MESA's unique chest clip threw us at first. Its thin, oblong button requires you to push more deeply than others with your thumb to get the clip to unbuckle. One tester thought that might get annoying, considering how often a parent has to unbuckle their baby's chest clip. Still, they agreed it was easy enough to open — it just takes some getting used to. Once our testers got the hang of it, they were able to maneuver it one-handed.
All those nice-to-haves come at a price, however. The Henry MESA retails at $350. And UPPAbaby's two compatible strollers — the Cruz ($500) and Vista ($900) are just as much as an investment. If the MESA feels like too much of a splurge, check out our runner-up.
Runner-Up
Chicco KeyFit 22This ultra-lightweight carrier checks all the boxes at affordable price.
While our parents liked the UPPAbaby's extra perks, they all felt like they'd be satisfied with the Chicco KeyFit — it's not too heavy, and its everyday features felt just as intuitive.
Its chest clip is straightforward and sturdy, like a bike helmet clip, and the silicone grip at the top of its handle is just grippy enough to keep your carrying hand secure, not trapped. Like on our top pick, the KeyFit's lever for detaching the seat from its base is on the seat itself, simplifying the experience of detaching and attaching the carrier, so you can quickly take your baby in and out of the car without any fuss.
The KeyFit has the basics of easy installation covered with built-in seat belt lock-offs like our top-pick UPPAbaby. However, it doesn't have the Henry MESA's no-rethread harness, meaning parents will need to unthread and rethread the harness straps through the back of the seat in order to maintain a proper fit for their newborn as they grow.
Testers noticed that the fabric on the KeyFit isn't as plush as the Henry MESA — if the MESA is a living room recliner, the KeyFit feels more like a sleeping bag. The canopy is also a little on the short side — Amazon reviewers often describe this as the KeyFit's single, minor flaw.
Still, the KeyFit had by far the most comfortable cushioning of the seats we tested in its price range, and the canopy was far from a deal breaker for testers. We found that the overall softness of the material seemed comfortable. And, of course, the fact that it's machine washable is a nice bonus.
Remember, too, that Chicco offers the KeyFit 30 that may give your child an extra month or two in the seat. We recommend the KeyFit for its value, but you can find the 30 for about $200 on the same Amazon page.
And here's another Chicco bonus: stroller compatibility. If buying your car seat as part of a travel system is your strategy, check out the variety of the 12 strollers the KeyFit is compatible with, starting at $100.
The Best Car Seats at a Glance
Our Top Pick:
UPPAbaby Henry MESA

Runner-Up:
Chicco KeyFit

Weight limit
4–35 pounds
4–22 pounds
Height limit
Up to 32 inches
Up to 30 inches
Weight of detached carrier
9.9 pounds
9.6 pounds
Stroller compatibility
2 strollers
12 strollers
Seat dimensions
28" x 17" x 25"
27.5" x 17" x 24"
Vehicle compatibility
See pages 14–18 of the manual
See pages 16–20 of the manual
A quick note about compatibility:
Our two picks share the same foundation features, but a lot of what determines the right seat for you will come down to compatibility with your vehicle and with your child. Before you buy, you'll need to check your specific vehicle's owner's manual to know if the one you want is a fit.

Pay attention to the way your seat belts are attached and the size of your vehicle seats from front to back. You'll also need to take into account your child's height, weight, and developmental abilities (children with neuromuscular challenges often need to stay rear-facing longer) before you shop to know if our picks will keep your child safe. And be sure to bring your installed seat to a CPST for an inspection to ensure it's secure.
Did You Know?
You shouldn't buy a second-hand seat.
All the experts we spoke with said buying used is a no-go, since you can't possibly know what a used seat's been through. Every parent's first priority is safety, and buying used jeopardizes that foundational factor. Here's an extra statistic to drive the point home: Vehicle crashes are the leading cause of death for kids over the age of one.
Rear-facing is safest.
The American Academy of Pediatrics recommends keeping your child rear-facing until they're at least two years old, or "preferably, until they reach the highest weight or height allowed by their car seat manufacturer." According to Dr. Hoffman, keeping your child in what they are in now is always preferred, since you'll be losing layers of protection with every step (rear-facing to forward-facing, forward-facing to booster seat, and so on). Research shows that two-year-old children are more than five times less likely to be seriously injured in a crash if they're rear-facing than forward-facing.
Think of it this way: Because young children's heads are bigger in relation to their bodies than adults', their necks and muscles are weaker, and their tendons and ligaments are looser, sitting forward-facing in a crash can cause serious spinal injuries. But in a rear-facing seat, a child's body goes into the car seat, and the shell of the car seat distributes the forces of a crash throughout their back and protects their head and neck.
One complaint we saw a lot in Amazon reviews of rear-facing car seats was about their child's leg room as they grew longer and started butting up against the seat. But the American Academy of Pediatrics says that children bend their legs easily and comfortably, and that "Injuries to the legs are very rare for children facing the rear." The moral of the story is the same across the board: Keep your child rear-facing as long as possible.
Convertible seats are safe from birth, too.
While many parents choose infant car seats from birth because of the convenience, another option for parents is to buy a convertible car seat that can be safely used both rear- and forward-facing. Loading and unloading a newborn from a convertible seat does require some jostling that might cause them to wake up, but some parents consider the one-time investment worth that hassle.
And even if you do opt for an infant car seat from birth, Dr. Hoffman said that children tend to outgrow their infant seats between 9 and 12 months old, then graduate to a rear-facing convertible seat. To find out more about convertible seats and which ones are the best, check out our review of the best convertible car seat.
The Best Infant Car Seat: Summed Up