Reviews.com is reader-supported. If you click on or buy something via a link on this page, we may earn a commission.
Showing results for
Did you mean:
Sorry, something went wrong. Please refresh your browser and try again.
Last updated on
July 26, 2017
The Best Iron Supplement
Say goodbye to chunky, chalky, metallic pills
The 30-Second Review
The best iron supplement should contain a form of iron that's easy to absorb and doesn't cause side-effects like nausea or stomach pain. After consulting with doctors and nutritionists, we learned that there's no "one size fits all" solution for iron intake — your individual needs depend heavily on factors like gender, diet, and lifestyle. So we set out to find high-quality iron supplements that met the most common dosage needs as defined by the NIH.
Best for Men
Pure Encapsulations had a neutral flavor, was easy to swallow, and included some vitamin C to help absorption.

Best for Women
Bariatric Advantage Chewable Iron 18 mg
This supplement offers just enough iron, with a gentle, fruity taste.
Best for Vegetarian Women
Packed with B12 vitamins, this pill was free of any unpleasant bitter or metallic taste.

Best for Pregnant Women
Zahler's Iron Complex
Plenty of iron, with some extra B12 and folic acid to foster prenatal health.
The Best Iron Supplement
Iron is one of the most important nutrients for your body, helping your blood deliver oxygen to your organs. While many people are able to meet their daily required iron levels through food alone, some — especially vegetarians, pregnant, or pre-menopausal women — may benefit from a daily supplement. Doctors also prescribe iron supplements for people with a wide variety of health concerns, including kidney disease, cancer, and anemia. Our top picks are based on the National Institute of Health's (NIH) recommended daily values for men and women, but only your doctor can tell you exactly how much iron you need.
Who Doesn't Need Iron Supplements? Most men and post-menopausal women meet their daily iron needs through food. Pre-menopausal women with iron-rich diets, or who take iron-fortified multivitamins, may not need iron supplements either. In all cases, talk to your doctor before beginning iron supplements.
While most men don't need iron supplements, we found Pure Encapsulations Iron-C to be a great option for those with vegetarian diets or minor iron deficiencies, offering an easy-to-swallow low dose of iron without any strong flavoring.
Bariatric Advantage Chewable Iron 18 mg is our top pick for women. Dissolving quickly with a light fruity taste, the small purple tablet stood out among finalists as a pleasant and convenient way for women to get their recommended daily value of iron.
For vegetarian women, we like the straightforward simplicity of DaVinci Laboratories Iron Bis-Glycinate. Easy to swallow, tasteless, and powderless, this supplement is also packed with 400 mcg of vitamin B12, another nutrient critical in vegetarian diets.
While most of the other finalists for pregnant women tasted overly bitter, herbal, or plasticky, Zahler's Iron Complex provided a simple, painless way to get the nutrients necessary for healthy fetal development. In addition to iron, each capsule is also packed with 80 mcg of vitamin B12 and 400 mcg of folic acid — important nutrients for prenatal health.
How We Found the Best Iron Supplement
We started off with 136 supplement products, casting a wide net through bestseller lists on Amazon, Walgreens, Vitacost, iHerb, Swanson Health Products, LuckyVitamin, and manufacturers' sites.
First, we cut products with potentially harmful ingredients.
Right away, we nixed any products with ferrous sulfate or ferric iron salts. Studies have shown that these sources of iron are more likely to cause stomach pain, nausea, or constipation than others. With all the less irritating alternatives available on the market, we figured it wasn't worth taking the risk. So, we made a point of avoiding the troublemakers and looked for supplements with ferrous gluconate, ferrous fumarate, carbonyl iron, polypeptide chelates, and iron bisglycinate. Similarly, we cut products with proprietary blends, which don't list their exact ingredients in the name of industry secrecy. Definitely not ideal if you're trying to ensure you're getting your proper dose of elemental iron from a legitimate iron source.
21st Century Slow Release Iron Tablets, Amazing Formulas Iron, Dr. Christopher's Herbal Iron Formula, Feosol Iron Supplement Original Formula, Ferro-Tone Liquid Iron Plus Herbs, Floradix Floravital Iron & Herbs, Floradix Liquid Herbal Iron Extract, Gaia Herbs Plantforce Liquid Iron Supplement, Garden of Life mykind Organics Plant Iron & Organic Herbs, Garden of Live Vitamin Code RAW Iron, Healthy Origins Iron Ease, Innate Response Formulas Iron Response, KAL Iron Complex Plus, Mason Naturals Ferrous Sulfate, Mason Naturals Slow Release Iron, Nature Made Iron, Nature's Bounty Iron, Nature's Truth Iron, Nature's Truth Slow Release Iron, New Chapter Iron Food Complex, Progressive Labs Hemadyn Pro, Pure Encapsulations Liquid Iron, Rugby Ferrous Sulfate, Slow Fe High Potency Iron, Solaray Iron, Sun Pharma Ferrous Sulfate, Sundown Naturals Iron, Trace Minerals Research Ionic Iron
Then we got rid of inefficient formulas.
Heme Vs. Non-Heme Iron These are the two forms of dietary iron. Meat contains both heme and non-heme, while plants contain only non-heme. Most manufacturers use non-heme iron because it's easier for your body to regulate.
Antacids such as calcium act as absorption inhibitors when taken with iron, meaning your body probably isn't getting as much iron from the supplement. We cut supplements containing calcium carbonate, magnesium hydroxide, aluminum hydroxide, sodium bicarbonate, and magnesium silicate.
We also disqualified a handful of contenders by getting rid of any supplements with heme iron — a form of iron that your body absorbs very readily. The downside to heme iron is that your body doesn't regulate it as well as non-heme iron, which means it may absorb more than it needs.
Enzymatic Therapy Energizing Iron, Enzymatic Therapy Energizing Iron with Eleuthero, Feosol Complete, Integrative Therapeutics Energizing Iron, Integrative Therapeutics Energizing Iron with Eleuthero, Natural Factors Iron Chelate, Pharmics Ferretts Iron, Proferrin ES Heme Iron, Proferrin Forte, Proferrin Sport, Terry Naturally Clinical Iron
We looked for products with vitamin C.
Nutritionist Shereen Lehman told us that "taking vitamin C at the same time as the iron increases the absorption" — so we cut any products without it to maximize iron absorption as much as possible.
Enzymatic Therapy Ultimate Iron, Floradix Iron and Vitamin Tablets, Integrative Therapeutics Iron Complex, Nature's Way Ultimate Iron, Pure Encapsulations OptiFerin-C, Shaklee Iron Plus C Complex, Source Naturals Advanced Ferrochel, Source Naturals Vegan True Iron Support, Vitanica Iron Extra, Bluebonnet Albion Chelated Iron, Bluebonnet Albion Extra Strength Chelated Iron, Cardiovascular Research Ltd. Ferritin, Carlson Chelated Iron, Carlson Chew-Iron, Country Life Easy Iron, Cypress Poly-Iron, Designs for Health Ferrochel Iron Chelate, Deva Nutrition Vegan Chelated Iron, Doctor's Best High Absorption Iron with Ferrochel, Douglas Laboratories Amino-Iron, Douglas Laboratories Timed Release Iron, Feosol Natural Release Carbonyl Iron, Fergon Iron Supplement, Ferrex 150, Integrative Therapeutics Non-Heme Liquid Iron, Jarrow Formulas IronSorb, Jarrow Formulas IronSorb Plus Lactoferrin, KAL Iron Glycinate, Kirkman Labs Iron Bio-Max Series 25 mg, Kirkman Labs Iron Bio-Max Series 5 mg, Kirkman Labs Iron Bio-Max Series Liquid Iron, Kirkman Labs Organic Iron, Life Extension Iron Protein Plus, Mason Naturals Ferrous Gluconate, Maxi Health FE 25, Maxi Health Liquid Iron Concentrate, Maxi Health Maxi Ferrochel 25, Metagenics Hemagenics, Natural Factors Easy Iron, Nature's Blend Ferrous Gluconate, Nature's Plus Iron Tablets, Nature's Truth Easy Iron, Nature's Way Iron, NovaFerrum 125 Liquid Iron Supplement, NovaFerrum 50 Iron Supplement, NOW Foods Iron, NOW Foods Iron Double Strength, NOW Foods Liquid Iron, Pharmics Ferretts Chewable Iron, Pharmics Ferretts IPS Liquid Iron, Rainbow Light Certified Plant-Source Iron, Simple Truth Chelated Iron, Solaray Iron Asporotate, Solgar Chelated Iron, Solgar Gentle Iron, Source Naturals Iron, Superior Source Just Women Iron, Thompson Ideal Iron, Thorne Research Iron Bisglycinate, Wellesse Liquid Mineral Supplement Iron
Then we looked for individual needs and divided them up by dosage.
What happens if you don't get the right amount of iron? According to Lehman, insufficient iron may lead to iron deficiency anemia, which causes constant fatigue and weakness. But too much may result in nausea, stomach pain, vomiting, or constipation.
Since your iron needs vary depending on your gender, age, and diet, we made selections for testing based on the general needs of different demographics. To find the best iron supplements for a variety of needs, we focused on the National Institutes of Health's (NIH) recommended daily values for men and women. We also gave vegetarian women and pregnant women their own separate categories because their nutritional needs are significantly different (whereas vegetarian men had similar needs to non-vegetarian men). For vegetarians and vegans, we cut out any formulas containing animal products and made sure to include vitamin B12, a nutrient critical to healthy nerve and red blood cell maintenance that vegetarians usually are deficient in. For pregnant women, we made sure to include supplements with folic acid and vitamin B12 for healthy fetal development. For everyone, we toggled our dosage filters according to the appropriate daily intake.
We talked to Dr. Joseph Feuerstein, associate professor of clinical medicine at Columbia University and director of integrative medicine at Stamford Hospital in Stamford, Connecticut, to help us understand which doses are right for which people. He told us that "the recommended daily amounts needed in the diet to prevent anemia are about 10 mg per day for men and 18-20 mg per day for pre-menopausal women. After menopause the daily requirements are similar to those for men." According to the National Institutes of Health (NIH), vegetarians need 1.8x the amount of iron in the RDA for their age group and gender.
Advanced Orthomolecular Research Ortho-Iron, Advanced Orthomolecular Research Ortho-Iron Vegan, Bariatric Advantage Chewable Iron 29 mg, Bariatric Advantage Chewable Iron 60 mg, Bariatric Advantage Iron, Douglas Laboratories Ferronyl, Ferro-Sequels High Potency Iron Supplements, Futurebiotics Certified Organic Iron + C, Nature's Bounty Gentle Iron, Nature's Plus Chewable Iron with Vitamin C, Vital Nutrients Iron Plus C, Vitron-C High Potency Iron Supplement
Recommended Daily Values (RDV) for Iron
| | Non-Vegetarians | Vegetarians | Pregnant |
| --- | --- | --- | --- |
| Women | 18 mg | 32.4 mg | 27 mg |
| Men | 8 mg | 14.4 mg | |
Finally, we got face-to-face with the supplements.
We tested the remaining 20 contenders in person, narrowing down our top picks based on finer details:
Appearance: How big was each capsule or tablet? Did any of them look too big to swallow?
Taste: We nixed any supplement that overwhelmed us with unpleasant herbal or metallic flavors, or any extremely chalky textures that left a gritty feeling in our mouths. We also paid attention to how easily each one dissolved, and whether they would need to be taken with food.
Packaging: What was the shelf life for each supplement? We also made notes on how easily the bottles were opened — overly accessible packaging could put children and animals at risk of fatal overdoses. While we didn't eliminate any picks over this, it's something to keep in mind for parents.
After cutting supplements that were too big, chalky, or metallic, we settled on the top four picks for usability, taste, and quality at their dosage level.
BariMelts Iron + Vitamin C, Beautyfit BeautyIron, Celebrate Iron + C, Celebrate Iron + C Soft Chew, Country Life Iron Aid, EZ Melts Iron, GNC Women's Iron Complete, MegaFood Blood Builder Tablets, Nature's Life Iron Complex, NOW Foods Complex Iron Vegetarian Tablets, Pure Micronutrients Iron Plus Premium Iron Supplement, Rainbow Light Complete Iron Mini-Tabs, Thorne Research Ferrasorb, VegLife Iron Vegan Chewables, VegLife Iron Vegan Tablet, Yum-V's Complete Iron with Vitamin C Jellies
Our Picks for Best Iron Supplement
Best for Men
While most men are able to get their recommended daily values of iron through their diet, we looked at low-dose options for men who may need help getting their daily iron. Pure Encapsulations offers a straightforward 15 mg dose of digestible iron glycinate and iron aspartate, combined with 175 mg of vitamin C — all in a vegetarian-friendly cellulose capsule.
The bitter or sugary flavors of Country Life Iron Aid and Yum-V's Complete Iron with Vitamin C Jellies left us feeling divided, with some testers unable to tolerate the lingering metallic aftertaste. But the tiny, neutrally-flavored capsules of Pure Encapsulations Iron-C ruffled no feathers during testing. The powderless capsules are easily swallowable, and their complete tastelessness means you don't have to bury the capsule in your food just to get it down. It was also more convenient than BeautyFit BeautyIron, which requires three large gummies for the same amount of iron as Pure Encapsulations.
Pure Encapsulations Iron-C (left) stood out among our group of men's supplements thanks to its neutral flavor and small serving size.
Best for Women
Based on recommendations from the NIH and our own experts, we looked at iron supplements with 18 mg to 20 mg of iron to find our top pick for women. Our favorite, Bariatric Advantage Chewable Iron, stood out from the other finalists by, impressively, making 18 mg of iron pleasant. Though one of the most expensive options, we found it a convenient, painless way to quickly get your daily value of iron. It also contains 30 mg of Vitamin C in each serving to aid absorption. The lightly-scented purple tablet was one of the smallest and thinnest that we tested, and Bariatric didn't engulf our faces in cough-inducing scented powder upon opening the bottle (like EZ Melts Iron and BariMelts Iron + Vitamin C).
Among the women's supplements we tested, Bariatric Advantage Chewable Iron (left) won out thanks to its pleasant and enjoyable servings.
While some tablets such as Celebrate Iron + C required lots of chewing, leaving residue in our teeth, the Bariatric Advantage Chewable dissolved quickly, leaving behind a slight fruity buzz. Though the label stated that the supplements were infused with natural and artificial strawberry flavor, we thought they tasted of generic artificial fruit — while we found this pleasant, compared to the overall taste of the other supplements, people with a strong aversion to artificial fruit flavoring may prefer a neutral-flavored supplement. Though this supplement performed well, it's not suitable for vegetarians and people who don't consume animal products: One of the ingredients is carmine, a pigment made from the shells of small red insects.
Best for Vegetarian Women
In our search for the best iron supplement for vegetarian women, we kept an eye out for formulas that contained 30 mg to 35 mg of iron as well as generous amounts of vitamin B12 (a nutrient often lacking in vegetarian diets) — without any ingredients derived from animal byproducts. We were impressed by DaVinci Laboratories Iron Bis-Glycinate, which offers a no-frills, easily digestible 30 mg of iron. This supplement also has a generous serving of vitamin B12: At 400 mcg, it's eight times the dose of vitamin B12 in GNC Women's Iron Complete, and 100 mcg more than in Thorne Research Ferrasorb.
Though Thorne was a close runner-up, its light dusting of metallic powder caught in the backs of our throats, while DaVinci's smooth and simple pill went down without any particular taste. Taking a DaVinci capsule also required less effort than the Celebrate Iron + C Soft Chew (which, though tasty, stuck to our teeth and resembled candy so much in its accessible packaging we worried about the risk of children mistaking it for treats). DaVinci Laboratories Iron Bis-Glycinate comes in bottles of 60 capsules each, and also contains 100 mg of absorption-enhancing vitamin C in each capsule.
DaVinci Laboratories Iron Bis-Glycinate (fourth from left) came out as our Best for Vegetarian Women pick with its generous amounts of iron and vitamin B12.
Best for Pregnant Women
We knew it wouldn't be easy to find an iron supplement that provided 25 mg to 27 mg of iron along with the folic acid and vitamin B12 needed for healthy pregnancies in an easily digestible package. But during testing, we were impressed by Zahler's Iron Complex. While many of the supplements at the recommended iron dosages for pregnant women tasted extremely bitter or herbal (NOW Foods Complex Iron Vegetarian Tablets and MegaFood Blood Builder left a particularly unpleasant aftertaste), Zahler's stood out for its minimal flavoring as well as its powerful nutrients. Each powderless, odorless serving of Zahler's contains 25 mg of easily-digestible ferrous bisglycinate chelate iron as well as 80 mcg of vitamin B12 and 400 mcg of folic acid. Those are critical nutrients for fetal development, and Zahler's contains twice as much as the Nature's Life and MegaFood supplements. One bottle contains 100 easy-to-swallow capsules, and is certified as kosher pareve — meaning it contains no meat, dairy, or derivative products.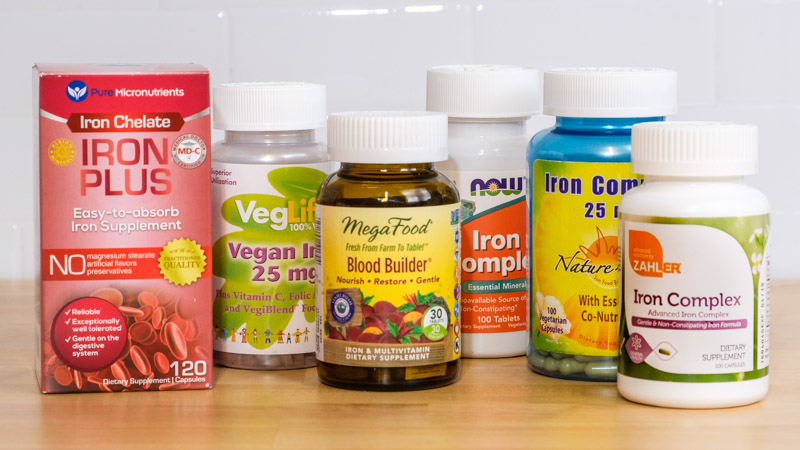 Zahler's Iron Complex (right) earned our pick for pregnant women with its servings of iron, folic acid, and vitamin B12 in powderless, odorless capsules.
If you're pregnant and follow a vegetarian diet, your iron needs may vary widely depending on your diet, and may also require much higher dosages than the supplements in our top picks. We strongly recommend talking to your doctor about what supplement plan is right for you.
Did You Know?
You should always talk to your doctor.
A lot of different factors can affect your daily iron needs, besides the ones we've covered here. Some people, especially men and postmenopausal women, might get enough iron through their normal diet, but people with anemia or other forms of iron deficiency may have much higher needs. But you should never self-prescribe doses: Lehman and Dr. Feuerstein both agree that everyone should speak with a health professional before starting an iron supplement. As Dr. Feuerstein explained: "The symptoms of anemia (fatigue, hair loss, pallor, palpitations, and shortness of breath) look and feel a lot like symptoms of other problems and should be checked out by a medical professional."
Should children take iron supplements? Children should never take adult supplements, which can cause fatal overdoses. Kids need varying amounts of iron as they grow, but they should be getting this from food or kids' multivitamins.
How much iron is too much?
The exact amount varies according to your gender, age, and other factors, but Dr. Feuerstein advises avoiding supplements with higher than 45 mg of iron per day. These high-dosage supplements "can cause side-effects, usually gastro[intestinal]-related." All of our top picks contain less than 45 mg of iron.
What's the deal with bioavailability?
A lot of supplement manufacturers market their products based on how "bioavailable" the iron is. This just means how easily your body can absorb the iron. Taking your supplements with vitamin C (whether in food or supplement form) will help improve bioavailability. Phytates and polyphenols, found in foods such as grains, beans, and cereals, can inhibit the absorption of iron. In most diets, these effects don't have any serious consequences because they're balanced out by the consumption of iron through sufficiently mixed sources.
If you're taking any additional supplements, be careful about how much total iron you're consuming. Lehman states that for most people, "taking a multivitamin/mineral that has iron in it should be more than enough." Many women's multivitamins contain 18 mg of iron (100% of the recommended daily value), and if you're interested our top multivitamin picks, you can find our review here. As for taking an iron supplement in conjunction with other medicines, be careful. Dr. Feuerstein recommends asking your pharmacist to be safe.
Supplement or Food?
The Office of Health Promotion and Disease Prevention advises that iron be consumed from natural dietary sources as much as possible. This is because dietary iron is easier for your body to process, and you're much less likely to overdose on dietary iron than on supplements. The exception, says Lehman, would be if you had "a disorder called hemochromatosis, which means your body stores too much iron." Hemochromatosis is a genetic disorder that usually expresses itself in middle age, with symptoms similar to many other illnesses and diseases. Talk to your doctor as soon as possible if you suspect it may run in your family.
| Food | Milligrams per Serving | Percent DV (based on 18 mg/day) |
| --- | --- | --- |
| Oysters, 3 oz | 8 | 44% |
| Dark chocolate (45%-69%), 3 oz | 7 | 39% |
| Beef liver, pan fried, 3 oz | 5 | 28% |
| Lentils, boiled and drained, ½ cup | 3 | 17% |
| Spinach, boiled and drained, ½ cup | 3 | 17% |
| Firm tofu, ½ cup | 3 | 17% |
The Best Iron Supplement Summed Up