The best MCAT prep courses
Considered one of the most difficult standardized exams, the Medical College Admission Test® (MCAT®), is a multiple-choice examination used to test competency for medical school. With a testing period of 7.5 hours, the MCAT requires extensive preparation. Oftentimes, this preparation is sought out through in-person or online courses designed to provide students with the proper materials and tools needed to study.
The 3 Best MCAT Prep Courses
The Best MCAT Prep Courses: Summed up
Pros
Quality practice exams
Interactive Lessons
Live Office Hours
Cons
Online videos can be hard to follow
Why we chose it
Quality practice exams
Next Step offers access to an impressive collection of company-made practice exams. According to student reviews, Next Step's practice exams are close simulations of the real thing. The testing platform even mimics the official MCAT interface down to the keyboard shortcuts and color scheme. Of course, you'll also be preparing with four official practice tests from the Association of American Medical Colleges (AAMC) provided in the course, but we appreciate that Next Step ensures all available practice exams are as realistic as possible.
Interactive lessons
In addition to its practice exams, the company impressed us with its informative books and interactive video lessons. The interactive video lessons are particularly engaging, with built-in quizzes that include multiple choice questions, word banks, and even diagram completion.
The video formats keep lessons diverse and interesting while preparing you for the types of questions you can expect from the MCAT.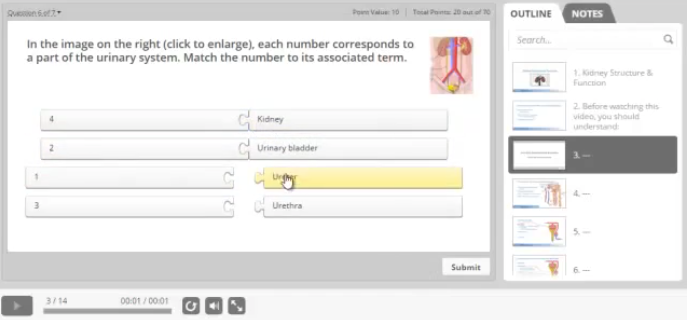 Live office hours
Unlike most self-paced courses, Next Step also offers live office hours five times a week. During these sessions, an instructor guides you through a comprehensive review of specific topics. The small focused lessons allow students to receive real-time feedback through live practice questions and Q&A opportunities.
While these sessions are best viewed as a supplemental resource — they won't replace traditional live-online lessons — having access to an instructor can help students who have difficulty understanding certain topics and questions. You also don't have to attend the full session, you can drop in just to ask a question, or watch the recorded version later. In other words, Next Step incorporates some of the benefits of a live-online course without sacrificing the flexibility of self-paced learning — an innovative touch.
Points to consider
Online videos can be hard to follow
We found some of the on-demand video lessons a little difficult to follow. But live office hours mitigate these issues by giving you access to an instructor for personalized feedback. In addition, useful practice materials offer the tools and confidence you'll need for test day. If you are looking for the most well-rounded self-paced course on the market, Next Step is an excellent choice.
Pros
Live Online Instruction
In-Person Prep Courses
Cons
Practice exam differences
Why we chose it
Live online classes
At a glance, the live online instruction from Kaplan is fairly standard for the industry. Instructors lead digital lessons and students can receive real-time feedback through a chat feature. Explanations are clear and precise, and the material is easy to follow. But a deeper look reveals two key characteristics that make all the difference. These include the ability to contact your instructor outside of class, and instructors with top-notch credentials. Kaplan's live online instructors all scored within the 90th percentile (a top tier score) on their own MCAT exam. Plus, if you get stuck on a topic or question, you won't have to wait for the next class period to receive assistance — an important feature for students who are on a once-a-week or twice-a-week class schedule.
In-person prep courses
Kaplan holds the instructors for its in-person prep courses to the exact same standards. So you can expect expert instructors in the classroom and beyond if you need to contact them outside of class.
An instructor-led course should also offer the adaptive study tools you'll need while studying on your own — which is where Kaplan sets itself apart from its competitors. Both its live online and in-person prep courses offer useful tools, like the impressive adaptive QBank, a customizable quiz generator that measures your strengths and weaknesses. Adaptive quizzes are ideal for shorter study sessions where you can focus on the areas where you most need to improve.
However, when it comes to in-person courses, you will have to worry about availability. Since an in-person course relies on physical classrooms, available locations are often limited. Kaplan was the only provider of in-person prep courses that could offer quality instruction in at least three quarters of the nation.
Points to consider
Practice exam differences
Some students complained that its company-made practice exams did not accurately replicate the MCAT experience. This is a major drawback since practice exams are widely regarded as the most effective MCAT study tool. But with its wide availability, solid instructors, and other helpful resources – including official AAMC exams – Kaplan is still a strong bet.
The Princeton Review MCAT
Pros
Exclusive resources
Master instructors
Live and online options
Cons
Time and location constraints
Why we chose it
Exclusive resources
The Princeton Review Summer Immersion program's 6-week course has all of the training and resources you need. With 370 hours of instruction, the most of any of Princeton's MCAT prep programs, you'll have access to 11 books and 15 practice tests.
It also provides exclusive drills and stand-alone digital content, like its Medi-Flix instructional videos which allow you to brush up on content outside of the classroom. For students who enjoy having a study structure, and the added accountability or a classroom setting, the program also comes with an entire MCAT study plan created by experts.
Master instructors
One of the most appealing aspects of the summer immersion course is its unique departure from the traditional single-instructor class: You'll learn from a team of specialists — biologists, physicists, and chemists. You can study for organic chemistry questions with an organic chemistry expert and ask your professors questions in real time. They can also help identify any weaknesses and recommend additional resources to work on before the exam.
Live and online options
You can take this intensive course one of two ways — live online or in-person. For those who benefit from the classroom setting, they will have one-on-one interaction with professors. It's also a great option for those who want to study with others and benefit from being on location as they prepare for the exam.
If you can't travel to a specific location but still need an intensive course, the summer program is also offered online. You'll still interact with instructors and have access to all of the materials offered in the in-person course.
Points to consider
Time and location constraints
While a bootcamp-type course may be great for the amount of resources and expert instruction, it is a full-time commitment for six weeks. If you opt for the live course you'll have to decide if you have time to give up most of the summer to focus on the MCAT and travel to the location where the course is offered.
The good news is there are plenty of other online prep courses available from The Princeton Review, and the summer and winter immersion course are also offered online.
How We Chose the Best MCAT Prep Courses
When it comes to finding the right MCAT prep course, there are three factors you should look for: adaptive resources, engaging instructors, and widespread availability. We started by researching eight MCAT prep course providers and the services and resources they offered. We then separated their courses into four types of study categories: self-paced, live online, in-person, and six-week intensive. Each test prep method has different advantages (and disadvantages), and we created a few specific criteria for each method to find the best prep courses. Each test prep method has different advantages (and disadvantages), and we created a few specific criteria for each method to find the best prep courses.
Self-Paced Prep Courses
A self-paced course provides a wide range of materials and a general study schedule to follow. This means you can study when you want — a key feature for students who need flexibility in their study schedule.
The tradeoff is that there are no pre-scheduled classes or instructors to offer guidance, so you'll be responsible for identifying any areas of weakness. Fortunately, many self-paced courses have customizable and adaptive study tools that are designed to help pinpoint and target your weaknesses. We believe these features are key to a strong self-paced course so we made sure to prioritize the providers that offer them.
Live Online Prep Courses
Live online courses are ideal for those who want the guidance and feedback of an instructor but don't have time for, or access to, a physical class. The pre-scheduled sessions mean you won't have total control over your study schedule; you will have to "show up" to classes, but you can do so from the comfort of your home.
A good live online course will have engaging instructors to keep you focused and motivated during lessons, but the best will have instructors who offer thorough feedback both in and out of class, in case you ever need additional assistance while studying on your own.
We gave final preference to the course that managed to strike the best balance between engaging instructors and adaptive study tools.
In-Person Prep Courses
These courses offer the most traditional learning experience. If you enjoy discussing subject material and test-taking strategies with an instructor and fellow students, an in-person course is the way to go.
Like its live online counterparts, we looked for adaptive study tools, instructors with teaching experience, and high MCAT scores. Since the majority of your study time will be at home, we also gave preference to courses that allow you to contact your instructor outside of class.
However, while many prep course providers have an in-person option, availability is often limited. We prioritized courses with broad availability, offering courses in at least 40 states– or a little over three quarters of the nation.
Six-Week Intensive
A six-week intensive is a great option if you have the time and money to devote to MCAT prep. If you thrive in a classroom environment and know you need dedicated support, a summer or winter intensive might be the best choice for you.
These programs are offered by some of the top test prep companies at universities across the country. They work by immersing students in customized lessons that focus on all things MCAT.
The downside to six-week intensives are that they're extremely expensive and time-consuming. If you'd rather spend your time interning or working, one of the other categories of MCAT prep will be better for you. But, if you really want that extra boost come test time, a six-week intensive is a highly focused option that will give you the tools you need.
Three full-length practice exams
No matter what method you choose, when it comes to exam prep there is one study tool that reigns supreme: practice exams. Official practice exams from the AAMC, the administrators of the MCAT, are widely regarded as the best study materials available. It's no surprise that many prep course companies, including Kaplan, purchase AAMC's available practice materials to include in their prep courses.
Since the most commonly recommended preparation period is three months, the best MCAT prep course will have at least three full-length AAMC practice exams (one per month). This ensures students will have a variety of tests to practice with rather than retaking one they may have inadvertently memorized.
To see which company offered the best official and unofficial practice exams, we consulted the results of a community survey from members of the Reddit MCAT group and Student Doctor Network (SDN) — a nonprofit networking organization for pre-health and health professional students. We gave preference to prep courses that had positive student reviews for replicating the real MCAT experience.
Guide to MCAT prep courses
How to find the right MCAT prep course for you
Consider your learning style
Not all courses are the same. Whether you want the flexibility to create your own study schedule or need to go to a physical classroom, there's an MCAT course to fit your study needs. Plus, thinking through professor availability and study resources are important factors, as well.
Research practice exam availability
The more practice exams the better. Any test-prep provider worth its salt will offer official practice exams from the AAMC, the administrators of the MCAT. But many offer additional exams they curated to mimic the real exam. If you like doing as many practice exams as possible, pick a course that offers a wide array of exams.
MCAT Prep Course FAQ
Our Other Test Prep Reviews
Not prepping for the MCAT? We have reviews on other test prep materials that'll help you hit the books with confidence: