Showing results for
Did you mean:
Sorry, something went wrong. Please refresh your browser and try again.
Last updated on
September 12, 2017
The Best Leaf Blower
We put eight popular leaf blowers to the test
| | |
| --- | --- |
| | |
| | |
| The $70 Toro is as precise as it powerful. A small dial transforms this machine between an efficient leaf gatherer and an extreme leaf blaster. It requires an extension cord, but will never run out of battery before the job's done. | The $200 EGO is the lightest blower we tested, and its rechargeable battery means even the farthest leaves are fair game. It's not as powerful as the Toro, but it still sweeps yards and patios with ease. |
| | |
| | |
The Best Leaf Blower
Any electric leaf blower will clear leaves off grass or pavement; the true question is whether you value power or portability. Corded blowers have faster windspeed, giving them a slight but noticeable edge in power. A battery-powered leaf blower gives you the freedom to go anywhere without being tied to an extension cord, but they're also more expensive.
Don't forget an extension cordDifferent leaf blowers pull different amounts of electricity, so it's important to choose a cord that's rated for outdoor use and can handle the correct amperage. Our top pick uses a 12-amp extension cord.
The corded electric Toro 51619 has excellent wind speed — its most powerful gust is stronger than any battery-powered option — and cleared our lawn of leaves and sticks quickly. Even better, its settings are controlled through a dial on the handle, so you can fine-tune the amount of wind power to fit the type of task. Its higher settings blast leaves off a deck in seconds, while its lower settings are gentle enough herd leaves into a pile. The Toro also comes with an optional mulching attachment that vacuums, chops up, and stores yard waste in a linen bag to spread into your garden later.
The battery-powered EGO LB4801 is twice the price of the Toro, but you won't have to worry about whether you should have bought the 50- or 100-foot extension cord. Plus, it's still powerful enough to clear a dense pile of leaves out from sidewalk gutter and light enough to carry around your yard. Compared to other battery blowers, the EGO had the best run-time. It lasted 22 minutes on its highest setting while the competition maxed out at 15.
What about gas-powered leaf blowers?
For almost all homeowners, electric leaf blowers, whether corded or battery-powered, have the power to corral our leaves, grass trimmings, and hedge clippings. In addition, electric blowers are quiet enough to be used without bothering the neighbors, require no maintenance aside from charging the battery and hanging up the cord, and don't force you to breathe in exhaust filled with partially burned oil and gas.

Kurt Morrell, vice president for landscape operations at the New York Botanical Garden, explained that electric isn't quite there for commercial purposes, but it is getting close. Gas' remaining niche is in providing a leaf blower that is powerful and portable, cleaning acres of lawn in a short period of time.
If you're looking for a heavy-duty leaf blower to maintain your personal arboretum, the Husqvarna 125B ($144) comes highly recommended by Consumer Reports.
How We Found the Best Leaf Blower
We began by looking at the most popular electric leaf blowers. We started with top-rated bestsellers from home improvement stores like Lowe's and Home Depot, and added any that earned praise from best-of lists and professional reviews like Consumer Reports. That gave us a list of nearly 100 top-rated leaf blowers. Each of these is more than capable of removing leaves, but the best leaf blower should work for jobs of all sizes, from a quick patio sweep to an entire yard cleanup.
Power comes down to two metrics: MPH and CFM
Miles per hour (MPH) measures what most of us think of as power: blowing heavy things, like wet leaves. The higher the MPH, the stronger the wind.
Cubic feet per minute (CFM) measures quantity of wind, or how many things we can blow around at the same time. As CFM increases, the amount of wind pushed through the leaf blower increases. A leaf blower with a high CFM can cover a large area in a shorter period of time than one with a low CFM.
Our leaf blowers ranged from 60 mph to 250 mph (with an average of 141 MPH) and 100 CFM to 600 CFM (with an average of 360 CFM), but the ones with the highest CFM usually had below-average wind speeds, and the ones with the highest MPH had so-so wind power. This trade-off is due to each leaf blower being limited in how power it actually has. The more oomph it dedicates to getting a high CFM, the less it has available to increase MPH, and vice-versa.
Lawn care experts agree that the best leaf blowers have a good balance of MPH and CFM, but they couldn't tell us exactly what that balance looked like. So we went into testing to find out which mattered most, CFM or MPH.
We brought in the extremes: the leaf blower on our list with the highest CFM, and the one with the highest MPH. Then, we selected six additional machines that had a high proportion of both variables. This gave us eight leaf blowers in total, with a total range of 92 to 250 MPH, and 300 to 600 CFM.
The Eight Leaf Blowers We Tested
| Leaf Blower | MPH | CFM |
| --- | --- | --- |
| Black+Decker BV6600 | 165 | 400 |
| EGO LB4801 | 92 | 480 |
| Greenworks PRO GBL80300 | 125 | 500 |
| Husqvarna 436 LiB | 105 | 388 |
| Ryobi RY40403 | 155 | 300 |
| Toro 51619 | 250 | 350 |
| Worx WG509 Trivac | 120 | 350 |
| Worx WG520 | 110 | 600 |
We took our leaf blowers into the field.
To compare each blower's performance, we marked a square patch of lawn with twine and tent stakes to mimic a tarp, gathered our leaves, and took aim. We wanted to simulate the two basic functions of a leaf blower, so our test was two-fold. Our top picks needed to be versatile: Strong enough to push dense, heavy piles but precise enough to gather them into one place.
First, we corralled the leaves into the square patch. We tried to keep the settings as high as possible to get done quickly, but found that our blowers were at their most precise on low-medium speeds. Once all our leaves were in the square, we turned up the power setting and looked to see how many sweeps of the nozzle it took to blow them back out again.
We were impressed. Despite their differences in MPH and CFM, all of our leaf blowers got the job done in the same amount of time (give or take a few seconds).
This taught us that leaf blowers with a lower CFM still did a great job, so long as they compensated with a high MPH, and vice versa.
This was especially true for both of our top picks. The EGO was the slowest of the ones we tested (92 MPH), but it had a relatively high CFM (480), sending leaves scurrying away. And even though the Toro has a mediocre CFM (350), it reached the fastest wind speed (250 MPH).
While most of the differences in power were slight, we found that the Worx 520 (110 MPH and 600 CFM) truly blasted through the leaves, but were difficult to use. We fought to put leaves into the square without immediately blowing them out again. It was definitely powerful, but its lack of versatility kept it from claiming the top spot.
Testers agreed: The more settings, the better.
Our leaf blowers fell into two categories: ones where you could change the power setting in steps (usually one, two, and three) and those with a continuous dial to fine-tune the exact level of power your want, like adjusting the heat on a stove burner.
If you agree with the manufacturer on what makes the "low speed" truly low, or the "high speed" truly high, the former are perfect, preset machines. Both the Greenworks Pro and the Worx 520 work this way, but we weren't thrilled with these presets. We couldn't fine-tune their settings, which ultimately made them less versatile.
The Worx 520's three settings — let's call them fast, really fast, and tornado speed — were great when we wanted high power, but made us overshoot our target area, and destroyed carefully gathered leaf piles.
And they needed to be easy to adjust.
The adjustment controls' style didn't affect us as much as where on the machine we found them. We liked the Husqvarna, for example, which sets its speed by how tightly you squeeze the handle.
To adjust the maximum speed, we clicked the cruise control button partway through pressing down the switch. It was easy to change settings by changing the cruise control level or by keeping it under manual control with our hand — like a gas pedal on a car.
By comparison, we struggled with the Worx 509 Trivac. We could easily toggle between modes, but the button was hard to reach. Instead of being placed at the front of the handle like the EGO, or in the middle of the handle like the Toro, it's toward the back of the machine. We could change settings, but it required an awkward criss-crossing of arms to do so. Both our right- and left-handed testers had to stop and lift the machine every time they wanted to adjust the power.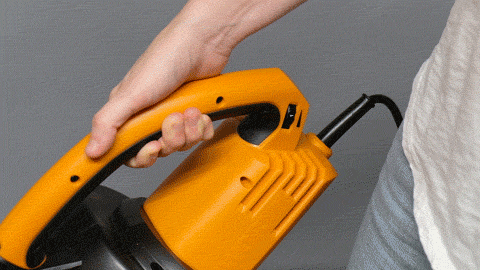 Balance and handfeel mattered most.
A handheld leaf blower needs to comfortable, especially if you're chasing leaves for longer than a few minutes. Comfort doesn't mean lightweight, however. Most of our blowers weighed the same, right around 8 pounds, though testers quickly picked out the Worx 520 as the lightest leaf blower (6.5 lbs).
Balance, or how the weight is distributed in the machine, turned out to be much more important. Out of the box, the Worx 509 Trivac felt like it weighed at least 5 pounds heavier than the Toro, but we were surprised to find it was only a few ounces more. Because more of its weight is toward the nozzle, our hands felt like they were being dragged to the ground.
Hard to HoldMost of our blowers had anti-vibration technology, but two, the Worx 509 Trivac and the Ryobi, shook hard enough that our hands started to numb just from holding them.
A good leaf blower will automatically point the nozzle to the ground as you hold it. We aren't usually aiming at ceiling cobwebs, and having the nozzle stay perfectly level means we have to work to push it down toward the leaves. The Greenworks Pro, for example, is just as lightweight as the Ego, but harder to carry due to a nozzle that aims straight ahead rather than down. After a few minutes, we needed to switch hands to avoid wrist strain.
Surprisingly, noise wasn't an issue.
Leaf blowers have a reputation for being loud, but we were surprised to find that our electric blowers were generally quieter than you'd expect; most weren't any louder than a hair dryer. The Husqvarna was our loudest test pick, reaching up to 96 decibels on full power. That's about as loud as the average lawnmower — uncomfortable, but not painful. We particularly liked the low tone of the EGO, which was still loud at 64 decibels, but quiet enough to talk over. Still, you'll want a pair of earplugs for any jobs longer than a few minutes.
Our Picks for the Best Leaf Blower
Toro
It effortlessly pushes, guides, and mulches leaves. You'll need an extension cord, but the blower is easy to carry.
Electric corded leaf blowers are usually powerful, and the Toro Ultra Blower Vac is no exception. It performed well in both power and maneuverability; it quickly shepherded leaves into our target square and cleared them back out in seconds.
While its 350 CFM wasn't as high as the EGO's 480, or the Worx 520's 600, it had no trouble clearing leaves off the lawn. It packs a wind speed of 250 MPH — faster than any blower we found.
We liked the Toro's continuous dial for adjusting power settings. It's easy to reach, so we could adjust the amount of power for each phase of our test. Its lowest setting was not only powerful, but also precise. We could move leaves into our target area without blowing away the ones already in it.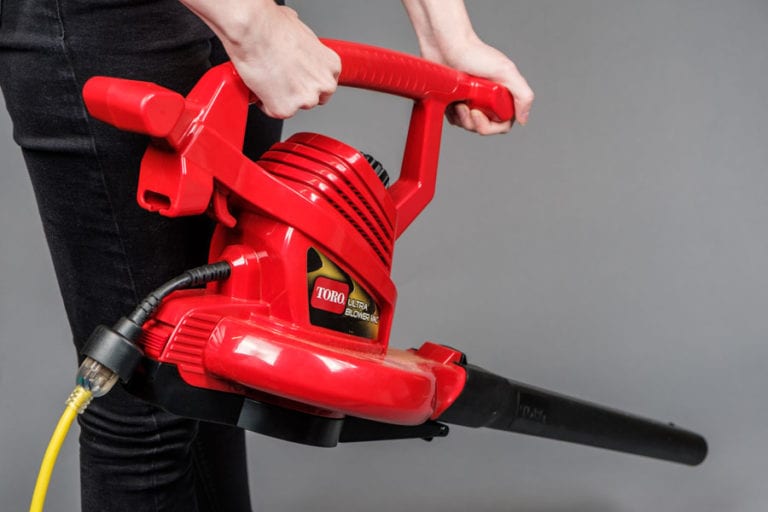 The Toro also comes with two additional nozzles to create even rows and piles, plus a concentrator to focus the wind at stubborn leaves like a power washer. Even without the extra nozzles, we were still impressed with its narrow blade of air. As a result, we had precise, crisp lines of lawn after we ran a pass through the leaf pile.
We liked that the Toro doubles as a vacuum and mulcher, too. After pushing our leaves into a neat pile, we pulled off the nozzle and attached the vacuum tube. It sucks up leaves, twigs, and even pine cones. Then, the spinning blade chops it up and spits out fine, garden-ready mulch.
EGO
This battery-powered blower is ideal for a quick clean-up, but it has the power to tackle larger jobs, too.
The EGO LB4801 swept the competition in run-time, lasting 22 minutes at maximum wind power — a full 50 percent longer than the competition. Holding the EGO to low power is still plenty fast enough to clear a thinner leaf layer off the lawn, and extends the battery life up to an hour.
The Greenworks was a close competitor, but we preferred the EGO's lightweight and well-balanced body. The Greenworks is just as portable, but its weight is concentrate towards the back of the machine; we had to awkwardly tilt our wrists to position it toward the ground. By comparison, The EGO was easy to hold over the entire testing session — no hand switching required.
We also liked the EGO's continuous dial, which sits at the front of the handle. When we needed to get the last leaves into our target square, a simple adjustment scaled down the power. And when we wanted to get an extra burst, we could activate the turbo button with a press of our thumb to free leaves that had been wedged into a corner.
If you want extra run-time or plan on using continuous high power, consider a spare or an upgraded battery. We used EGO's basic EGO Power 2.5Ah battery Buying a spare means leaving one on the charger ready to go, but you can also upgrade to EGO's 4.0Ah, or 5.0Ah battery battery for a longer run-time without an extra trip to the garage.
Runners-Up
Worx
Powerful, but not as versatile as our other picks. Like the Toro, it requires an extension cord.
If you just need to push leaves and grass clippings off the sidewalk or patio, the Worx WG520 is another powerful option. It clocks in at 110 MPH, and blasts out at 600 CFM — enabling it to blow larger piles of leaves around than even most gas leaf blowers.
With great power comes more noise, and less maneuverability. We had one of the hardest times corralling the leaves into a tight space with this Worx model. As soon as we brought it in close, our leaf pile burst, and we were left with a scattered blanket of leaves all over again.
We weren't huge fans of the Worx's adjustable dial, either. Even though there are technically three settings, it's easy to slip past one and onto the next. And there isn't much of a distinction between speed 1 and speed 3 — one is fast, and the other is extremely fast. That's likely due to its design. It's the closest to a straight cylinder. The air passes immediately through the engine back out the nozzle.
Ultimately, the Worx WG520 will shave a few minutes off of easy chores, but it just isn't as versatile as the Toro.
Greenworks PRO
It's good for small projects, but you'll want to invest in an extra battery for big ones.
The Greenworks Pro GBL80300 came last in our run-time test, managing just 15 minutes to the EGO's 22 minutes, but it was by far our most powerful battery blower.
It makes short work of fall- and spring-time lawn care, with a fast wind speed (125 MPH) and a powerful wind volume (500 CFM). We had a Goldilocks moment in the leaf roundup; its medium setting sent leaves flying, and its low setting was a bit too slow to beat the competition. Still, its high speed was impressive, blowing away our leaf pile in moments.
The Greenworks has a slightly squishy grip that's comfortable to hold. However, it naturally aims straight ahead when your hand is in a resting position, rather than at the leaves on the ground. We prefer the EGO for a larger yard because of its longer run-time, but if you only need a to blow leaves off your deck or driveway, you'll save a minute or two with the Greenworks.
Did You Know?
Mulching is good for your lawn.
Letting leaves decompose where they fall allows most of the nutrients trees and shrubs take out of the earth to break down into the topsoil. But if you don't want to let a layer of dead leaves rot on the lawn, you can mulch the leaves back into your lawn and garden.
Our top pick, the Toro 51619, comes with a vacuum and mulching attachment, but you can also use a lawnmower. Just raise the height of the lawnmower base, and run over the leaves until you reach the desired level of chop. Then, take your mulch and work it into your garden beds. You can also sprinkle it over your lawn or wherever your yard might appreciate some extra plant food.
Batteries aren't just for leaf blowers.
Usually the most expensive part of a battery-powered leaf blower is the battery itself. The good news is that electric lawn equipment is becoming more popular, and the technology is continuing to improve. Companies offering battery-powered yard equipment typically have multiple tools that can use the same battery. You can find battery-powered hedge trimmers, string trimmers, chainsaws, and lawnmowers.
Both the EGO and the Greenworks Pro leaf blowers use batteries interchangeable with their other products, and if you already have a battery, you can buy the leaf blower shell without one. So if you've invested in an EGO lawn mower, you'll already have a strong battery by the time you add the leaf blower to your garage.
Our Leaf Blower Review: Summed Up