Showing results for
Did you mean:
Sorry, something went wrong. Please refresh your browser and try again.
Last updated on
August 22, 2019
The Best Mattress
Stop counting sheep, start counting nights of perfect sleep
We recommend products and services based on unbiased research from our editorial team. We may receive compensation if you click on a link. Read More.
Best for a Luxury Feel

Best Cooling Mattress

Best Budget Mattress

Loom & Leaf
Novosbed
GhostBed
How We Found the Best Mattress

65 Mattresses Evaluated
10 Brands Tested

3 Top Picks
The Best Mattress
The whole ethos of the bed-in-the-box industry is that a universally great mattress exists. And that you can get it into your bedroom with less effort and for less money than traditionally thought. After interviewing sleep experts, researching materials, and testing 10 of the top mattresses, we agree.
Our top picks — Loom & Leaf, Novosbed, and GhostBed — rose to the top of the stack thanks to their supportive, high-end construction and snuggly sensation. If we're being honest, though, we'd be excited to crawl into any of these beds after a long day. The right choice comes down to what kind of sleeper you are, how soft you like your bed, and how much you're ready to invest in a great night's sleep. If you already know where you fall on that scale, feel free to jump straight to our detailed reviews of all 10 mattresses we tested. Otherwise, read on.
The Best Mattresses: Summed Up
| | | | |
| --- | --- | --- | --- |
| | Loom & Leaf | Novosbed | Ghostbed |
| The Best | For a Luxury Feel | Cooling Mattress | Budget Mattress |
| Price | Queens starting at $1,299 | Queens starting at $999 | Queens starting at $795 |
| Trial Period | 120 days | 120 days | 101 days |
| Mattress Type | Memory foam | Memory foam | Memory foam |
| Style | Pillow-top | Aerated top layer | N/A |
| Firmness | Medium | Softest | Firmest |
Saatva Loom & Leaf Mattress
Loom & Leaf
Loom & Leaf mattresses offer the immediate, effortless comfort of memory foam while maintaining the classic, luxurious feel of a pillow-top hotel bed.
Pros
Luxurious pillow-top
Excellent full-body support
Sturdy build
"White-glove" delivery
Cons
Pricier than competitors
Why we chose it
Luxurious pillow-top
Oftentimes people equate supreme sleeping comfort with an upscale hotel bed, and that means one thing: pillow-top. Loom & Leaf is unique amongst new-wave memory foam models for preserving this design standard. It doesn't skimp on the extra layer of quilted foam, either, sewing in generous tufts to create a truly plush surface. Testers found it a much more dimensional and supportive bed as a result.
Excellent full-body support
While other memory foam beds might accept your weight, sinking in wherever you apply the most pressure, Loom & Leaf seems to expand against you. It fills in the curves of the spine, the hollow of the knee, and even the back of the neck if you try it out sans pillow like we did. It's also free from that uncomfortable "hammock effect," where the mattress dips and pulls you in at the center. Our testers felt evenly supported everywhere.
Sturdy build
The Loom & Leaf also has the sturdiest edges of all the mattresses we tested: zero sag, even when putting your full body weight on the very edge. This tautness means that you can move around on the bed with greater ease and get out without disturbing a sleeping partner. It also means that if you like to curl up near the edge, you won't be in danger of sliding off.
"White-glove" delivery
Most testers agreed that Loom & Leaf is in the upper echelon of comfort and support. And if you're going for a full-scale luxury experience, get this: The company even offers "white-glove" delivery. Movers will bring your new mattress right into your bedroom and take the old one out for free. Our other top picks leave the heavy lifting up to you.
Points to consider
Pricier than competitors
Loom & Leaf was the uncontested favorite among our team, but that luxury comes at a price. Most of Loom & Leaf's beds run at least $100 more than their closest competitors. Before making the leap, make sure you take a good look at our other top picks; the GhostBed offers similar support for $300 less. When you are ready to buy, rest easy knowing that every Loom & Leaf bed comes with a 120-day trial period — and a full refund if you're not satisfied.
The Novosbed Medium
Novosbed
The Novosbed is our squishiest top pick, pairing sinkable aerated foam with responsive support layers for a surface that's both comfortable and cool.
Pros
Cooling top layer
Uniquely responsive support
Customizable feel
Cons
Too squishy for some
Unsupportive edges
Why we chose it
Cooling top layer
Novosbed's standout feature is its top layer: two inches of aerated foam, with holes punched through the surface to increase sink and airflow. This perforated top creates an active cooling sensation — particularly great if you're a sweaty sleeper. While Loom & Leaf also boasts a "cooling gel panel" to prevent overheating, our testers agreed that Novosbed's aerated foam does the best job regulating body temperature.
Uniquely responsive support
The perforated top layer on Novosbed also creates a singular sensation when you lie down. After climbing into bed, you sink quickly and deeply, as though the mattress is enveloping you. But then you hit its support layers. Thanks to this nesting-then-holding process, Novosbed is fully supportive while still being the softest and squishiest of our top picks. One tester — who utilizes a collection of pillows and wedges to find her perfect support — reported, "I don't think I even need a pillow."
Customizable feel
Not sure where you lie on the squishiness scale? Novosbed solves this with its Comfort+ package — a layer of either firming or softening foam that can be zipped right into your mattress' housing. If you're having trouble sleeping at any point during the 120-day Novosbed trial, the company will send you a Comfort+ layer free of charge. Our other top picks do offer generous return policies if you're unsatisfied, but we appreciate that Novosbed has a way to tweak the experience without the hassle of buying a whole new mattress.
Points to consider
Too squishy for some
If you don't like the feeling of being cradled by your mattress, then Novosbed isn't the choice for you. While many testers loved its cozy, sinking-yet-supported feel, others weren't as thrilled. Some even described the initial settling process as being "enveloped in quicksand" or "sucked into another dimension." Those who prefer to lie on top of their mattress rather than in it will prefer GhostBed — the firmest of our top picks — or Loom & Leaf, whose pillow-top strikes a very happy medium between springy and squishy.
Unsupportive edges
Novosbed's silky top also comes with one downfall: Its edges are exceptionally soft. If you like to curl up near the side of the bed, you will slowly slip off. Edge sleepers will fare better with the Loom & Leaf or GhostBed mattress — both of which are uniformly taut across their surfaces.
GhostBed Mattress
GhostBed
The GhostBed is simply a great mattress at a great price. It forgoes the frills of our other picks but shares their substantial, high-value construction and proven durability.
Pros
More affordable than competitors
Comfortable, even support
Exceptionally durable
Cons
Too firm for some
No-frills design
Why we chose it
More affordable than competitors
Don't let this turn you off: GhostBed's lower price tag is not in any way a mark of lower quality. In fact, our testers almost universally praised this mattress for its even support and slow sink. For $300 less than Loom & Leaf, the GhostBed provides a similarly taut and springy feel — although it lacks the luscious pillow-top that took our favorite bed to the top of the charts.
Comfortable, even support
Like the Loom & Leaf, GhostBed has a robust and even surface from edge to edge. It's the firmest option among our top picks; this helped us relax from head to toe, since we weren't just sinking in at our heaviest point. Testers also loved that they could move across and off of the bed with ease, and that they could sit on its sturdy edges without plopping to the floor. This strength is tempered with enough give that the mattress fills spine curves whether you're a back or side sleeper. One tester affirmed, "Just the right mix of soft and supportive. I would buy this."
Exceptionally durable
GhostBed outperformed our other top picks in Consumer Reports' durability testing, earning an "excellent" rating, while Loom & Leaf and Novosbed both took home "very good." The test pummels mattresses with weights to simulate eight years of sleep, ensuring that your big investment will hold up over time. We were impressed that GhostBed — our most affordable mattress — is also likely to be the most long-lasting.
Points to consider
Too firm for some
GhostBed fell near the "firmest" end on our squish-scale. It has a bit less yield than either the Loom & Leaf (with its forgiving pillow-top) or the Novosbed (with its sinkable top layer). Our testers still approved of it pretty unanimously, maintaining that GhostBed's firmness lent extra support and stability. Still, if you prefer a more deluxe feel, you may be better off with one of our other top picks.
No-frills design
As the most affordable mattress on our list, GhostBed lacks some of the luxury features that we loved from our other top picks. For instance, while GhostBed offers comparable support to the Loom & Leaf, it's missing the plush pillow-top that gave Loom & Leaf its upscale, hotel feel. Hot sleepers will miss Novosbed's layer of perforated foam, which allows for better airflow and dissipates heat throughout the night. In short: GhostBed is reliably comfortable and well worth its price tag. Just don't expect anything fancy.
How We Chose the Best Mattress
Painless shopping, easy delivery
We started by tracking down the most promising contenders — 65 popular mattresses from the 29 best-known online brands. Why did we look online and not in-store? Put simply, the value is greater. Prices, purchasing, and shipping are straightforward and simple. Customer service also tends to be more convenient and responsive, with handy channels like web chat.
Besides the simplicity of having your bed delivered right to your door, online brands offer generous trial and return policies. This allows you to test out a bed the only way you really can: by sleeping on it night after night. The trial period is a better good-sleep-guarantee than briefly lying down on a mattress in-store.
All-foam, multi-layer construction
According to our mattress gurus, there are two key components to a comfortable night's sleep. First: Your bed should be memory foam. "Memory foam has advantages," Nick Robinson of Sleep Like the Dead told us. "Above average comfort. Conforms to body. Absorbs motion so it's couple-friendly." When surveyed, owners of memory foam beds rank their satisfaction higher than owners of any other bed type. We made this our first criteria.
The second thing we looked for was multi-layer construction. This allows for multiple points of interaction, as the layers support, respond to, and pull away from one another — rather than a single layer, which creates a direct relationship between your body weight and the foam. The result? A perfect sinkage-to-support ratio.
As an additional precaution, we also made sure that our top picks were approved by Certipur, a national organization that tests home furnishing foams for safe, high-quality materials. You can learn more about Certipur standards in our FAQ section.
Medium-firm feel
As for softness, we narrowed in on medium-firm beds. Hear us out: Mattress feel is definitely personal, but we learned that most people actually have a pretty similar comfort window. The ticket is medium-firm support. JB Duke Hotel manager Gregg Hilker describes it as "the most neutral — not too hard, not too soft, but [with] a high-quality feel to it."
Medium-firm is also key for durability, longevity, and a cooler night's sleep (the less you sink into the mattress, the less your body heat forms a cocoon). Need proof? A 2007 sleep study had participants swap out their existing mattress for a generic medium-firm version, and all experienced better sleep and significant pain relief.
Tester-approved for full-body comfort
We combed through our initial list of 65 mattresses and found the ones that met all these expectations. From there, we selected the 10 most interesting, well-designed, and talked-about models to test out in our office.
After a week of practice naps — "no, really, we're working" — we can tell you that all of these mattresses live up to their hype. Each one was truly comfortable and yawn-inducing: beds we'd be excited to climb into every night. In the end, our top picks were the models that were consistently pegged as testers' favorites, garner excellent longevity ratings from Consumer Reports, and boast high-caliber construction that aligns with their asking price.
Testing also helped us develop a scale of firmness and identify where each mattress fell — so if you're not sure about your squish-tolerance, you can sleep vicariously through our testers. Check out ratings and sensory descriptions for all 10 in our buying guide.
The 10 mattresses we tested
Bear Mattress
Casper Sleep Mattress
GhostBed Mattress
Leesa Mattress
Nest Bedding Love & Sleep Mattress
The Novosbed Medium
The Purple Bed
Saatva Loom & Leaf Mattress
Tuft & Needle Mattress
Yogabed Luxury Memory Foam Mattress
Guide to Mattresses
How to find the right mattress for you
Ultimately, the best mattress for you comes down to your own preferences regarding feel. If you know roughly where you fall on the soft/firm spectrum, you may fall in love with one of the other mattresses we tested. Below are our testers' observations to help get you started.
Yogabed: What does it feel like?
Yogabed Luxury Memory Foam Mattress: Best for anyone who loves an ultra-soft, ultra-sinkable bed

The foam: Thick, airy, and incredibly soft
The feel: So plush, it's like you tucked yourself inside the foam
From our testers: A tendency to feel "stuck" inside your body impression; "When I sleep on a mattress this soft, I feel achy when I wake up"
Avoid if: You don't enjoy the sensation of being cocooned within your mattress
Nest Mattress: What does it feel like?
Nest Bedding Love & Sleep Mattress: Best for side-sleepers and lightweight individuals who won't impact a firmer bed

The foam: Heavier and jelly-like, with lots of sink
The feel: Like falling into warm, shifting sand
From our testers: "It feels okay when you're lying down flat, but when you apply any direct pressure — like propping yourself up on an elbow — you sink in weirdly deep"
Avoid if: You're a back sleeper, a larger individual, or generally don't like a super-squishy bed
Casper Mattress: What does it feel like?
Casper Sleep Mattress: Best for cozy sleepers who want a mellow level of support

The foam: Medium-soft and reactive, with a fair amount of sink
The feel: Soft and cozy with gentle push-back, but not incredibly supportive
From our testers: "It makes me yawn just lying on it" — although many preferred a firmer mattress with a little more support
Avoid if: You tend to prefer a firmer, denser mattress
Purple Bed: What does it feel like?
The Purple Bed: Best for relieving common pressure points in sore sleepers

The foam: Viscous, undulating gel foam
The feel: Like a new-age water bed; dips and billows with your every move
From our testers: From "jelly trampoline," to "tapioca," to "terrible garbage," this was our most polarizing bed
Avoid if: You sleep with a partner (movement carries easily) or if the feel of a water bed is off-putting to you
Novosbed: What does it feel like?
The Novosbed Medium: Best for anyone who runs hot and needs the extra airflow while sleeping

The foam: Soft and supple, with a perforated surface to keep you cool
The feel: "Nesting-then-holding"; sink followed by active support
From our testers: It's so reactive, "I don't think I even need a pillow"
Avoid if: You suffer from back pain and need a more reactive surface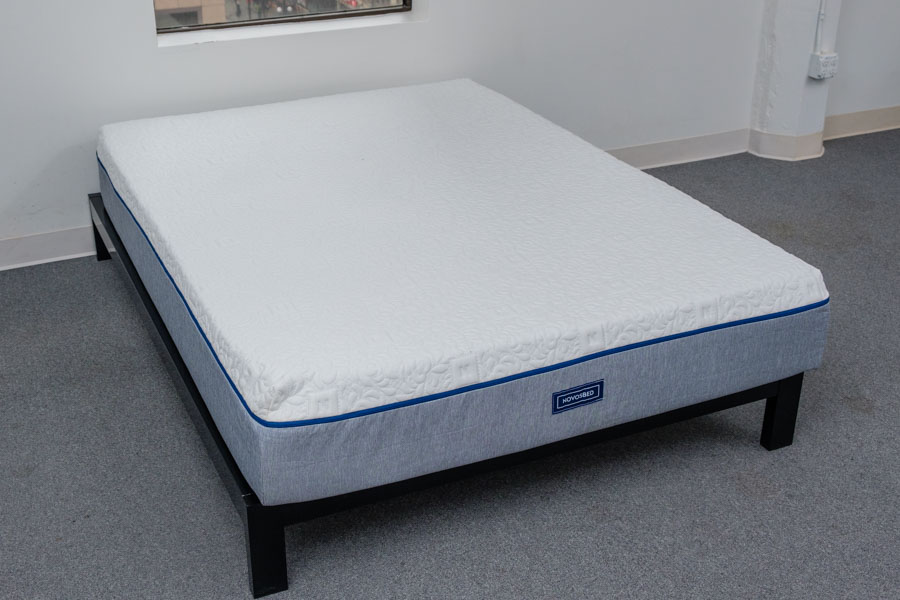 Loom & Leaf Mattress: What does it feel like?
Saatva Loom & Leaf Mattress: Best for most people; a true "medium-firm" mattress that will support most sleepers

The foam: Multilayer memory foam cushioned with a plush, quilted pillow-top
The feel: Incredibly dimensional and reactive; a great sink-to-support ratio
From our testers: "Everything else was an adequate experience. This is actively great"
Avoid if: You prefer a mattress on either the softer or the firmer end — this one falls right in the middle
Bear Mattress: What does it feel like?
Bear Mattress: Best for individuals with back pain who need a little more support

The foam: On the firmer side, less sinkable and reactive than others
The feel: Pushes back as you lie down, creating the right balance between cozy softness and bone-aligning lift
From our testers: "It has a lot of support, which I like; I feel held"
Avoid if: You like a bouncier, squishier mattress — this one's a little less playful
GhostBed Mattress: What does it feel like?
GhostBed Mattress: Best for anyone who doesn't mind sacrificing a few frills for a better price tag

The foam: Firm, but with enough give to fit your body's contours
The feel: An even tautness that supports the body from head to toe
From our testers: "Just the right mix of soft and supportive. I would buy this"
Avoid if: You're looking for a more specialized mattress (e.g. pillow-top or cooling features)
Leesa Mattress: What does it feel like?
Leesa Mattress: Best for anyone who needs a firm, supportive bed but craves a little extra squish

The foam: Dense resistance with a super slow sink
The feel: Firm at first, but with a gradual give that left some testers feeling unsupported
From our testers: Many agreed, it was "Firmer than I'd like"
Avoid if: You like a mattress with a little more springiness to it
Tuft & Needle Mattress: What does it feel like?
Tuft & Needle Mattress: Best for sleepers who need an unrelentingly supportive bed for better alignment

The foam: Two layers: a thick, sturdy foundation and a thin "pressure relief" layer
The feel: A firm, confident surface that has little to no give
From our testers: Most found it non-dimensional; "It's a slab of foam and you lie on top of it"
Avoid if: You prefer a mattress that forms to your contours for better pressure relief
Mattress FAQs
When is it time to get a new mattress?
If you're tossing and turning and waking up tired, your mattress is probably too old and no longer suits your body's mechanics (if it ever did). The Better Sleep Council recommends swapping your bed out every five to seven years. Longer than that, and you're likely lying on lifeless springs and deflated cushion.
Should I buy a mattress online?
Besides the convenience of shopping from home and having a bed delivered to your door — or even straight to your bedroom — online mattress brands offer unparallelled transparency and, generally, fairer pricing than retail stores. Referred to as "Big Mattress" by entrepreneurs, these retailers are known for misleading marketing (e.g. selling the same bed with a new name). They also have a reputation for hefty markups, often selling mattresses for 30 to 50 percent above wholesale prices.

Bed-in-a-box companies build their business models off of opposing tactics, with direct-to-consumer pricing and a simple product lineup. Since you're cutting out the middleman, purchasing a mattress from one of our picks can help you save money. And thanks to generous trial periods and free return policies, buying a mattress online is no riskier than buying one in-store.
What size mattress should I get?
If you're purchasing for your child, a Twin or Twin XL may be appropriate if the size of the room is a constraint. If you have the space for it, then a Full (a.k.a., Double) may be better to see them through growth spurts.

For most adults, a Queen bed is generous enough at five feet wide and 6.5 feet long. Kings add another 16 inches in width. The super luxurious California King loses, surprisingly, four inches of a King's width but tacks it back on in length.
Bed Measurements:
Twin: 39" x 75"
Twin Extra Long: 39" x 80"
Full: 54" x 75"
Full Extra Long: 54" x 80"
Queen: 60" x 80"
King: 76" x 80"
California King: 72" x 84"
What is Certipur-US certified foam?
We only considered mattresses approved by Certipur, a national third-party organization that tests the quality and safety of furniture foams. To receive the Certipur label, manufacturers have to submit their product to two initial rounds of testing and then annual random testings. Certipur foam is free of ozone depletors, toxic flame retardants, and plasticizers. As a result, it exhibits low VOC — volatile organic compounds. (These break down and release the fumes infamously known as "new mattress stink.")
How often should I flip my mattress?
You've probably encountered the wisdom that you should flip over your bed every six months so it wears evenly. But since memory foam is stacked in an intentional order, you'll want to keep the proper comfort layers on top. Instead of flipping it upside-down, rotate your memory foam bed from head-to-foot to distribute wear and tear.
Do I need a box spring for my mattress?
Most modern beds don't need a box spring, however many mattress warranties require it if you want your bed's warranty to remain valid. A box-spring is a supportive, foundational block that holds up your mattress so that your mattress stays on a dependably flat area. It is beneficial to use a box-spring to limit wear and tear on your mattress and to provide extra support, however, a box spring is unneeded when it comes to memory foam mattresses — anything that will hold them off the ground will do just fine.
How long should a good mattress last?
The average mattress performs best for 8 years, however, there are a variety of factors that affect the lifespan of your bed. Do your best to keep your mattress dry and clean. Try to bar anyone from jumping or standing on your mattress. Remember to rotate your mattress (don't flip it over!) once a month to minimize body impressions that will leave a lasting effect. Make sure to use a proper supportive bed-frame or box spring, and never bend your mattress.
Lifespans of different types of mattresses:
Latex foam: 12 years
Memory Foam: 10 years
Hybrid: 10 years
Innerspring: 8 years
Pillowtop: 7 years
When is the best time to buy a mattress?
Usually, manufacturers introduce new models in late spring or summer and will discount older mattress models once newer models roll in. Memorial Day and Labor Day (and other three-day weekend/holidays) have a history of offering big sales and discounts to consumers, as do holidays like Black Friday or Christmas. Outside of those times, though, mattress prices mostly stay the same throughout the year.
More Reviews for a Good Night's Sleep
Your mattress is the most critical part of a good night's sleep — but it's not the only thing that'll help your REM cycle. Check out some of our other home goods reviews below. From a smart thermostat that adjusts your climate at bedtime to a pillow with perfect neck-to-shoulder alignment, we found what you need to feel rested and refreshed night after night.
You might also like