Showing results for
Did you mean:
Sorry, something went wrong. Please refresh your browser and try again.
Last updated on
February 28, 2018
The Best MCAT Prep Course
Out of 8 MCAT Prep Course providers, we found 2 that are just what the doctor ordered.
| | |
| --- | --- |
| | |
| | |
| A wide range of resources and optional live online office hours with instructors make this prep course the most well-rounded and flexible option for busy students. Add to that an adjustable study calendar, and you'll be able to plan out an MCAT prep course tailored to your needs. | Expert instructors and customizable study tools make Kaplan a strong choice for live online and in-person prep course students. Choosing between the two comes down to personal preference: students who like physical classes will want to go with in-person while those who need more flexibility will want live-online. |
| | |
| | |
The Best MCAT Prep Course
The Medical College Admission Test (MCAT) is considered one of the most difficult standardized exams — with a testing period of 7.5 hours, it is a mental and physical marathon. Like any marathon, the MCAT requires training. But carving out time over many months to study for the MCAT can be tough when you are also balancing school, work, or other life responsibilities.
Enter the MCAT prep course. These courses not only include the materials students need to study but also provide (or help students create) a study schedule. For those who need help reviewing subject material and sticking to a study plan, an MCAT prep course provides a welcome degree of structure. The best will help you stay on task while offering clear explanations, adaptive study tools, and practice exams that replicate the real MCAT experience.
Next Step Test Prep ($1,600) is our top pick for a self-paced MCAT prep course. Like most other self-paced prep courses, students can expect thorough video lessons and official practice exams. What takes Next Step to the next level is the unique access to instructors through live-online office hours five times a week. Interacting with instructors gives you a chance to receive feedback and guidance on the topics giving you difficulty. This ensures that you have the ability to address any gaps in your understanding in the event you have trouble doing so on your own. Best of all, the instructor help is optional, meaning you don't have to sacrifice any flexibility in your study schedule unless you want that extra input. If you have a busy schedule and need a flexible study plan, Next Step Test Prep is a solid option with excellent resources.
Kaplan takes top spot for both live online ($2,500) and in-person ($2,500) prep courses. The instructors are knowledgeable and engaging, and you can contact them outside of class in case you need additional help while studying at home. When you do study on your own, you'll also have access to a large range of resources, such as a customizable quiz generator. More importantly, these adaptive tools will help you pinpoint your strengths and weaknesses for more effective study sessions. As instructor-led courses, you will have to show up or login for class at specific times (students on tighter schedules should consider Next Step instead). How do you choose between the two options? Consider whether you prefer a physical classroom environment or the flexibility to attend class from the comfort of your home.
How We Found the Best MCAT Prep Courses
We expected adaptive resources, engaging instructors, and widespread availability.
We started by compiling a list of the eight MCAT prep course providers and separated their courses into three categories: self-paced, live online, and in-person. Some companies offer all three methods, while others specialize in a single format. We evaluated each method individually, rather than, say, looking for a single provider that offers all three. After all, the provider of the best self-paced course, for instance, may not have very strong instructor-led programs. Each method has different advantages (and disadvantages), and we created a few specific criteria for each method to find the best prep course for each category.
Why you'll want to know your content before signing up
While MCAT prep courses will review subject material like physics or organic chemistry, most will assume you're already confident with the content. Dr. Edna Ma, who used an MCAT prep course, explained "Your knowledge base should be adequate when walking into an MCAT course. It's about exam taking strategy."
In other words, an MCAT prep course is designed to help you develop the skills you'll need to take the test effectively — not reteach you the ins-and-outs of subject material. If you need a more detailed refresher of subject material, we recommend brushing up before starting an MCAT prep course, or setting time aside to catch up outside of class.
Self-Paced Prep Courses
A self-paced course provides a wide range of materials and a general study schedule to follow, meaning you can study whenever and wherever you want — a key feature for students who need flexibility in their study schedule. The tradeoff is that there are no pre-scheduled classes or instructors to offer guidance, so you'll be responsible for identifying any areas of weakness.
In that sense, the best self-paced courses should have customizable and adaptive study tools to help you pinpoint and target your weaknesses. Tools that adapt to your needs allow you to maximize study time, rather than waste it reviewing material you already excel in. Eric Chiu, Executive Director, Pre-Health Programs at Kaplan, explained "there is no more efficient way to master the skills you need on the MCAT than with adaptive materials."
Different providers offer different adaptive tools. For example, Kaplan has an adaptive "QBank" — a customizable quiz generator that tracks your progress and identifies subject areas where you need improvement. Others, like the Gold Standard MCAT Prep course, offer an abundance of resources (including access to Kaplan and Princeton Review books), but don't include customizable tools that target your specific learning needs.
Our top pick, Next Step offers a customizable and adjustable schedule to help you craft the perfect study plan as your skills develop. We admit that an adjustable calendar doesn't sound all that important, but a standard prep course often has over 700 hours worth of practice materials. In order to study effectively, you will need to make careful decisions about the material you cover and when you study. Having an adjustable schedule ensures you spend your study time wisely, which research shows is one of the better ways to improve your score. While we like having a breadth of materials, we prefer courses with thoughtful features designed to help us target and strengthen our specific weaknesses. So we prioritized self-paced courses with customizable or adaptive study tools.
Self-Paced Courses We Considered
Dr. Flowers MCAT, Gold Standard MCAT Prep, Kaplan, Magoosh, Next Step Test Prep, The Princeton Review
Live Online Prep Courses
Live online courses are ideal for those who want the guidance and feedback of an instructor but don't have time for, or access to, a physical class. The pre-scheduled sessions mean you won't have total control over your study schedule — you will have to "show up" to classes. But you can do so from the comfort of your home or other study space, and this added structure may benefit students who need a little extra help or motivation while preparing for the MCAT.
A good live online course will have engaging instructors to keep you focused and motivated during lessons. The best will have instructors who offer thorough feedback both in and out of class, so you can feel confident that you've had the chance to address any gaps in your understanding. Courses with more instructor interaction ensure you can get the help you need rather than getting stuck and having to wait for the next class.
We gave courses like Kaplan bonus points for allowing you to contact your instructor outside of class. Competitors like The Princeton Review allow you to do the same… for a week — then you have to pay for the privilege.
At the same time, your instructor should be experienced and knowledgeable. To be fair, evaluating an instructor will always be a little subjective, but our research and testing show certain methods are more effective than others. For example, we liked that The Princeton Review offered four to six instructors who were all subject matter experts in specific topics. Rather than learn from a single instructor with a general mastery of subjects, like in Kaplan's course, we appreciated knowing our instructors were highly trained in the topics they taught.
In any case, we gave final preference to the course that managed to strike the best balance between engaging informative instructors and adaptive study tools. Instructor quality is arguably the most important part of a live online course, but the best should still offer exceptional resources for the times where you do have to study on your own.
Live Online Courses We Considered
Kaplan, The Princeton Review
In-Person Prep Courses
As the name suggests, these courses meet in physical classrooms and offer the most traditional learning experience. If you enjoy discussing subject material and test-taking strategies with an instructor and fellow students, an in-person course is the way to go. It's important to note though, that this format is also the most time consuming and may not be available in your area.
Check out your local optionsLocal or state-based prep courses can also offer quality resources and personalized attention from instructors. We can't recommend local options for everyone, so we didn't consider them, but it's worth seeing what courses are available in your area with a simple Google search and your zip code.
Like its live online counterparts, we looked for adaptive study tools and instructors with teaching experience and high MCAT scores. Since the majority of your study time will be at home, we also gave preference to courses that allow you to contact your instructor outside of class, in case you need additional assistance while studying on your own. However, the most important characteristic of an in-person course comes down to something a bit more simple — availability.
Although many prep course providers have an in-person option, availability is often limited. For example, Altius Test Prep is only available in 21 states — less than half the nation. We prioritized courses with broad availability, like Kaplan, which is available in 45 states. While smaller companies like Altius are worth a look if you have access, we can't recommend them to everyone. For that reason, we focused on providers offering courses in at least 40 states (or a little over three quarters of the nation)
In-Person Courses We Considered
Altius Test Prep, Examkrackers, Kaplan, The Princeton Review
Tutoring is a fourth (more expensive) option
Most prep course companies also advertise one-one-one tutoring programs. These tutoring programs receive favorable reviews, but since we can't vouch for the individual instructor or the material you'll cover (the lessons are personalized), we left the programs off our list. They are worth a look if one-on-one learning interests you, but with prices up to $4,000, they are also the most expensive option available.
Courses had to offer at least three official practice exams.
No matter what delivery method you choose, when it comes to exam prep there is one study tool that reigns supreme: practice exams. There is abundant evidence that taking practice exams is one of the best learning strategies for improving a student's testing performance. Known as the testing effect, practice exams help the brain recognize a particular question type or format. This allows students to more quickly process the subject material and identify the strategy for answering it.
Not all practice exams are made equal, though. Official practice exams from the Association of American Medical Colleges (AAMC), the administrators of the MCAT, are widely regarded as the best study materials available. It's no surprise, then, that many prep course companies, including Kaplan, purchase AAMC's available practice materials to include in their prep courses. Chiu explained "We strongly believe in realistic practice. AAMC's official practice materials will be the closest to the real thing, but we provide Kaplan students with a total of 15 full-length tests, revising our tests to be more and more realistic each year based on the greatest volume of psychometric data available to anyone outside the AAMC. When it comes to the MCAT, only realistic practice makes perfect."
Since the most commonly recommended preparation period is three months, the best MCAT prep course will have at least three full-length AAMC practice exams (one per month). This ensures students will have a variety of tests to practice with rather than retaking one they may have inadvertently memorized.
But the AAMC doesn't release many official exams, so we also compared unofficial practice exams.
Of course, it's always a good idea to have additional practice exams. While most companies produce their own, student responses to quality are mixed. The general consensus is that the closer the company exams are to the real deal, the better.
Practice makes perfect, but so do breaksStudying for too long without breaks can lead to high stress and fatigue (a.k.a study burnout). Research shows that taking breaks actually improves your learning abilities, so make sure your study schedule includes short breaks at regular intervals to keep you fresh and on your A-game.
To see which company offered the best practice exams, we consulted the results of a community survey from members of the Reddit MCAT group and Student Doctor Network (SDN) — a non-profit networking organization for pre-health and health professional students. The survey asked students to report their scores for the official MCAT and any practice exams they took. In addition, students were invited to leave comments about the quality of the practice exams they used from prep course providers. Rather than simply trust the marketing claims of test prep providers, we listened to the 848 students who reported on their experiences preparing for, and taking, the MCAT in 2017.
Some companies, like Next Step Prep, were widely celebrated for producing practice exams close to the real thing while others, like The Princeton Review and Examkrackers, had mixed responses due to reports of inaccurate scoring or low-quality passages. We gave preference to prep courses that had positive student reviews for replicating the real MCAT experience.
We dabbled in each course to find easy-to-follow explanations, quality resources, and feedback that leads to better scores.
The truth is, most prep courses don't really have many concrete advantages over others, and each of them will have different flaws for different folks, whether it's a particular instructor or a price tag. That said, we were still able to identify a few differences that affected our study experience. We tried out free trials and evaluated sample materials to compare the features likely to make the most difference to every learner: easy-to-follow explanations, engaging resources, and the reassuring guidance to build confidence while studying.
For example, some providers like Gold Standard MCAT prep, impressed us with video lessons where an instructor worked problems out on a whiteboard. This was a nice contrast to the far more common recordings of a digital PowerPoint slide — these are less engaging and, at times, difficult to follow. However, our love affair with Gold Standard MCAT was short lived after we noticed that many of the videos are somewhat dated — they have a distinctly "retro infomercial" vibe that made us feel like we weren't getting the newest information, and we lost confidence (and focus) in the lesson. Competitors like Kaplan offered better audio and video quality on the sample videos we watched, making it easier to see, listen to, and focus on the subject material.
The best resources, whether an on-demand video lesson, a set of quizzes, or a printed book, should be engaging. Adaptive resources are important, but MCAT prep courses also provide additional resources that don't necessarily have to be customizable. For example, books are widely considered one of the best study resources available. We gave preference to courses like Kaplan that offer video lessons with integrated and interactive quizzes because they're more likely to keep students interested and offer opportunities to evaluate your level of understanding.
No matter what delivery method you choose, there should be some degree of guidance to help you study effectively. Whether in the form of student forums or personalized study plans, the best MCAT prep course won't make you prepare completely on your own, even if you choose a self-paced option. Providers like Next Step offer access to a student forum and email support from instructors for additional guidance and confidence during a course.
Other providers, like The Princeton Review, don't offer any additional resources like a forum, instead opting for online guides about what to expect in medical school. While helpful, such resources don't help us actually get there — we prefer courses that focus on building our confidence for the MCAT and offer a sense of community and support.
After hours of comparison, we were left with two prep course providers (one managed to take top spot for both in-person and live online) that offered helpful features and explanations that improved the studying experience for each method.
Our Picks for the Best MCAT Prep Courses
Next Step Test Prep
Students can expect the best of flexible scheduling and instructor guidance in this self-paced package, with a wide range of materials and live online office hours.
Return to top 
It was a close call with industry giants like Kaplan and The Princeton Review, but Next Step Test Prep ultimately took the crown for self-paced MCAT prep course thanks to its well-designed practice materials and unique (and free) live online office hours.
Next Step offers access to an impressive collection of company-made practice exams. According to student reviews from the Reddit and SDN community survey, Next Step's practice exams are close simulations of the real thing. The testing platform even mimics the official MCAT interface down to the keyboard shortcuts and color scheme. Of course, you'll also be preparing with four official AAMC practice tests provided in the course, but we appreciate that Next Step ensures all available practice exams are as realistic as possible.
When it comes to resource quality, Next Step beats out other providers. In addition to its practice exams, the company impressed us with detailed explanations, nine informative books, and interactive video lessons. The interactive video lessons are particularly engaging, with built-in quizzes that include multiple choice questions, word banks, and even diagram completion.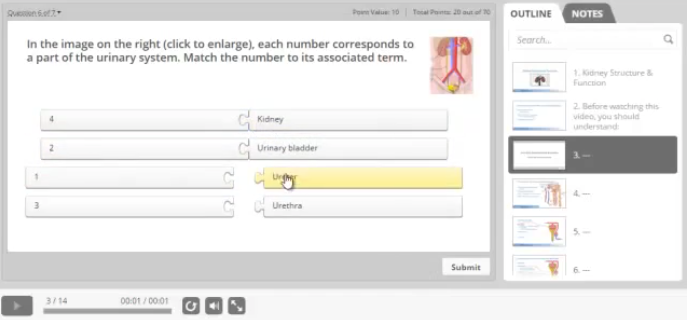 The interactive lessons not only help you pay attention, but also serve as knowledge checkpoints where you can examine your level of understanding. The changing question formats also keep lessons diverse and interesting while preparing you for the types of questions or thought processes you can expect from the MCAT. Other providers, like Gold Standard MCAT Prep, simply provide videos that play from start to finish. The closest competitor, Kaplan, offers interactive videos, but mostly includes short multiple choice questions without much question diversity or need for critical thinking.
What You Get: Next Step Self-Paced Course
Price: $1,600
6 months of access
10 company-made practice exams
Access to all released AAMC practice material
Access to the Next Step Question Bank (1,000 questions in 28 subject-specific quizzes)
Access to live online office hours (five times a week)
250 hours of interactive on-demand video instruction
9 MCAT Coursebooks
Customizable study planning tool
Unlike most self-paced courses, Next Step also offers live office hours five times a week. During these sessions, an instructor guides you through a comprehensive review of specific topics. The small focused lessons allow students to receive real-time feedback through live practice questions and Q&A opportunities. While these sessions are best viewed as a supplemental resource — they won't replace traditional live-online lessons — having access to an instructor can help students who have more difficulty understanding certain topics and questions. You also don't have to attend the full session, you can drop in just to ask a question, or watch the recorded version later. In other words, Next Step incorporates some of the benefits of a live-online course without sacrificing the flexibility of self-paced learning — an innovative touch.
As for the competition? The company's closest competitor, Kaplan, provides a similar feature. But you'll have to pay $500 extra (total $2,500). To be fair, Kaplan adds a few other resources such as three hours of tutoring. But for us, at $1,600 Next Step offers better value for the same (if not better) instruction.
With the abundance of study materials, we were worried that it would be difficult to balance them all. So we were glad to see that Next Step also includes a customizable schedule to help you craft a study plan that works for you. Simply drag and drop events such as a video lesson or review session, and you won't have to worry about wasting time or being overwhelmed by resources.
Of course, Next Step isn't perfect. Outside of the customizable study calendar, there are no other adaptive resources. Our tester also found some of the on-demand video lessons a little difficult to follow. But live office hours mitigate the issues by giving you access to an instructor for personalized feedback. In addition, useful practice materials offer the tools and confidence you'll need for test day. If you are looking for the most-well rounded self-paced course on the market, Next Step is an excellent choice.
Live office hours with expert instructors and useful practice materials, including company-made exams with high ratings from online MCAT communities, make it the most well-rounded self-paced course we evaluated. It offers the self-paced study tools and can help to build the confidence you'll need come test day.
Kaplan Test Prep
Expert instructors and adaptive resources make this a strong choice for live online and in-person students. You have the option of a traditional classroom, but for those who need more flexible scheduling, live online is your best bet.
Return to top 
As a leading provider of prep courses since 1938, it wasn't too surprising to see Kaplan take top spot in two categories — live online and in-person. After all, its many years in the industry have helped the company develop a large and impressive library of resources for prospective medical students. Not only that, its expert instructors will help you identify your weaknesses and earn a higher score.
At a glance, the live online instruction from Kaplan is fairly standard for the industry. Instructors lead digital lessons and students can receive real-time feedback through a chat feature. Explanations are clear and precise, and the material is easy to follow. But a deeper look reveals a two key characteristics that make all the difference, including the ability to contact your instructor outside of class. If you get stuck on a topic or question, you won't have to wait for the next class period to receive assistance — an important feature for students who are on a once-a-week or twice-a-week class schedule. The closest competitor, The Princeton Review, also offers this feature, but you only get one week free before having to pay extra. We prefer courses that are designed to help students avoid roadblocks throughout the entire course, so Kaplan takes the cake.
The other characteristic? Instructors who have top-notch credentials — after all, instructors have to be more than just available, they have to be effective. Kaplan's live online instructors all scored within the 90th percentile (a top tier score) on their own MCAT exam, which means they will know what to expect on the MCAT and how to take it effectively. But can they teach? Student reviews report good experiences with caring and helpful instructors who provide the feedback and clear explanations you'll need to improve. We had a similar experience while watching sample lessons — instructors seemed genuinely interested in the material and excited to help students.
What You Get: Kaplan Live Online Course
Price: $2,500
Course length depends on the class you sign up for
Live instruction
15 company-made practice exams
Access to all released AAMC practice material
Access to the Adaptive QBank
Access to the MCAT Channel (elective on-demand and live video sessions)
130 Science Review Videos
7 MCAT Subject Review Books
700 hours worth of total instruction and practice
Live Online Plus
Price: $3,000
Everything from the standard live online course
3 hours of one-on-one tutoring
20 hours of Biochemistry Review videos
18 hours of Behavioral Science Review videos
You can switch classesTaking an instructor-led course always comes with some risk of being paired with an instructor you dislike. Fortunately, Kaplan allows you to switch into a different course up to three times at no charge, as long as it's before you reach the halfway mark.
Kaplan holds the instructors for its in-person prep courses to the exact same standards. So you can expect expert instructors in the classroom -- and beyond, if you need to contact them outside of class. During the course, they will also cover the same material as their live online counterparts and offer feedback when you ask questions. In short, you won't have to worry about receiving qualified instruction. However, when it comes to in-person courses, you will have to worry about availability. Since an in-person course relies on physical classrooms, available locations are often limited. Kaplan was the only provider of in-person prep courses that could offer quality instruction in at least three quarters of the nation.
What You Get: Kaplan In-Person Course
Price: $2,500
Course length depends on the class you sign up for
Live instruction (in classrooms across 45 states)
15 company-made practice exams
Access to all released AAMC practice material
Access to the Adaptive QBank
Access to the MCAT Channel (Elective on-demand and live video sessions)
130 Science Review Videos
7 MCAT Subject Review Books
700 hours worth of total instruction and practice
In-person Plus
Price: $3,000
Everything from the standard in-person course
3 hours of one-on-one tutoring
20 hours of Biochemistry Review videos
18 hours of Behavioral Science Review videos
An instructor-led course should also offer the adaptive study tools you'll need while studying on your own — which is where Kaplan set itself apart from its competitors. Both its live online and in-person prep courses offer useful tools, like the impressive adaptive QBank, a customizable quiz generator that measures your strengths and weaknesses. Adaptive quizzes are ideal for shorter study sessions where you can focus on the areas where you most need to improve.
The resources for both courses are the same, and include interactive videos and AAMC practice exams. For example, Kaplan video lessons pause automatically so that you can answer built-in questions. This ensures you not only pay attention but also allows you to identify whether or not you understand the content the video covers. We missed the interactivity when watching videos from competitors like The Princeton Review that simply play from start to finish. The Kaplan courses also give students access to all released AAMC practice materials including official exams (3 scored and 1 unscored). Studying for the MCAT is a multi-month affair, and we appreciated the extra material compared to the single AAMC exam that competitors like Examkrackers provide.
Of course, Kaplan has its flaws. Some students complained that its company-made practice exams did not accurately replicate the MCAT experience. But with its wide availability, solid instructors, and other helpful resources, including official AAMC exams, the benefits of a Kaplan course outweighed the competition. In short, if you want an effective instructor-led course, whether live online or in-person, Kaplan is a strong bet.
How to Study for the MCAT
Feel confident about studying on your own? We have a list of resources that can help.
A prep course offers the benefit of having scheduled study plans and a wide range of resources to help you study. However, there are quite a few MCAT students who feel comfortable studying on their own, and doing so is often more cost effective. If you choose to build your own MCAT prep course, you'll still need quality resources to help you increase your score. We found a few that might help:
No prep course, self-made or otherwise, would be complete without official practice exams. Fortunately, the AAMC sells official practice exams and study materials, which will help you get the practice you need to do well. Official study materials will help you learn what to expect on the day of the real test, but to get the most out of the materials you'll need to review the practice exam questions thoroughly.
Khan Academy is one of the most popular sources of MCAT study materials. For those who need a more detailed refresher of subject material, studying with Khan Academy before a full prep course is a good option. There are also plenty of practice questions which makes the website a good option for those who choose to forego a full prep course. The best part? All of the material is free.
With all of the digital resources available, physical books may seem antiquated. But in reality, prep books are still some of the best resources around. Rather than sign up for a full prep course, many students elect to buy the books separately to study on their own. Some of the most tried and true prep books include Kaplan's 7 set series, The Princeton Review's collection, and the set from Examkrackers. Along with supplemental videos from Khan Academy and practice exams from the AAMC, they are highly recommended by students.
The MCAT changed in 2015
The AAMC updated the format and scoring of the MCAT in 2015 to reflect changes in medicine and science. How did the exam change? The exam now centers even less on content knowledge and focuses more on your ability to apply it.
The reasons for the update are due to the changing perspectives about medical professions. In a letter to prospective medical students, Darrell G. Kirch, president of the AAMC, explained that physicians not only need to possess domain knowledge, but need the ability to critically think about ethics, philosophy, and cultural studies. The goal was to ensure future medical students would be both knowledgeable scientists and caring and responsible practitioners.
This led to the introduction of the Critical Analysis and Reasoning Skills section (CARS) which introduced new subject fields, including psychology and sociology. The majority of MCAT prep courses, including our top picks, have updated in accordance with the change. But understanding the reasons why the MCAT changed will help you prepare for the type of work you can expect to do in medical school.
Our MCAT Prep Courses Review: Summed Up