Showing results for
Did you mean:
Sorry, something went wrong. Please refresh your browser and try again.
Last updated on
September 18, 2017
The Best Meal-Delivery Service
Home-cooked meals without the hassle
The 30-Second Review
The best meal-delivery service brings fresh ingredients and nutritious recipes to your doorstep, allowing you to enjoy home-cooked meals even if you're too busy to grocery shop. After trying out seven of the most popular meal-delivery services, we found that HelloFresh, Plated, and Blue Apron outshone the competition, with cuisine that was convenient to order, easy to cook — and delicious.
Best Overall
HelloFresh scored top marks for quality ingredients, a flexible delivery schedule, and varied menu options that ranged from Asian fusion to meatloaf. We also appreciated that HelloFresh's packaging was less wasteful than other finalists. And if that's not enough, it tied with Blue Apron for cheapest price.
Best for Novice Chefs
Easy recipes, plus the option to repeat meals, make Plated a great service for beginners looking to hone their cooking skills.
Best Recipes
If you like to cook but are bored with your usual standbys and looking for inspiration, Blue Apron is our pick. We found their recipes tasty and creative, with ingredient combinations we'd never have considered on our own.
The Best Meal-Delivery Service
In the past few years, meal-delivery services have shown that whipping up a fabulous dinner in your own kitchen is easier than you think. The premise is simple: Subscribe to a meal plan, and every week you'll receive a refrigerated box with ingredients and recipes for three meals each week. You get the fun of cooking new meals while skipping the groceries and some of the prep work. As this concept has gained popularity, more and more companies have created their own meal kits, providing a dazzling array of options, from vegan and organic to paleo food. We tested seven popular companies to find the best meal-delivery service — and three stood out as winners.
HelloFresh was our overall favorite, with a blend of convenience, nutrition, and quality that we didn't get anywhere else. It's suited to people with hectic schedules. Meal boxes can be delivered on any day of the week, and you can cancel with less than a week's notice — options that most other services didn't offer. The food was fresh and nutritious, and HelloFresh's packaging was a little more eco-friendly than other services. It earned those accolades at a reasonable price, too: roughly $10 per person per meal, tying with Blue Apron for cheapest service.
Plated was a very close runner-up. Like HelloFresh, it offers a customizable delivery schedule and keeps wasteful packaging to a minimum. Dishes did repeat more frequently than our other top picks — a downside for adventurous eaters, but convenient for newer cooks who want a chance to re-do meals as their skills improve. The company is a little less transparent about its nutrition information, but offers easy-to-follow instructions and simple recipes, at about $12 per person per meal.
We tried a lot of recipes when testing these services, but Blue Apron's were consistently our favorites. They were easy to follow and often included creative flourishes that other services didn't offer. Unfortunately, you have to cancel shipments a full week ahead of time, and we had trouble figuring out how to change our delivery day. But if you're stuck in a cooking rut and need a source of inspiration, Blue Apron is our pick. Even better: At just $10 per meal per person, Blue Apron tied HelloFresh for cheapest meal-delivery service.
How We Found the Best Meal-Delivery Service
We focused on companies that send both ingredients and recipes — not pre-made meals, not recipes without ingredients, and not groceries without recipes. We also left out services that provide only a single type of food (e.g., smoothies) or that serve only a small region of the country.
Of the 15 meal-delivery services that met our criteria, we focused on the seven most popular — those with the biggest user bases or the largest amount of buzz: Blue Apron, Green Chef, Home Chef, HelloFresh, PeachDish, Plated, and Purple Carrot. Then we ordered some meals. A lot of meals, actually: We rounded up a dozen different testers and tried out 24 recipes, most of which we ordered twice to account for differences in taste. In the end, we rolled up our sleeves and cooked nearly 50 meals to find the best meal delivery service — though we did ask for a little expert input, too.
What to expect when you subscribe
We recommend keeping an eye on your subscription when you sign up for a meal-delivery service. You'll need to log in and change your menu each week if you want any control over your meals — otherwise, the company will send you three random recipes. Heading out on a vacation, or planning on eating out all week? You'll need to let your service know. Most of the companies we tested will automatically send you a new set of meals each week unless you go to your profile and "skip" that week.
First we asked: Is the food healthy?
One of the benefits of traditional home cooking is that it's better for you than restaurant food. Why? You have more control over what goes into your meal. A restaurant's prime objective isn't to nourish you but to make their food delicious. "If the food doesn't taste good, no one will come back to the restaurant," explains dietitian Hanna Rifkin of Apples and Oranges Nutrition. "And the easiest way to make things taste good is to add a lot of sugar, a lot of fat, and a lot of salt."
Health Tip: If a meal-delivery recipe calls for sugar or honey, try only using half of what's called for. We used half the recommended sugar in a fig compote and half the recommended honey in a vinaigrette, and both turned out delicious.
To be sure our meal services weren't falling into the restaurant trap, we averaged the nutritional information for 30 meals from each company. We wanted to see low sugar, high fiber and protein, and a range of 500 to 750 calories for each. The good news? Most meals fell into this range, although Plated and Purple Carrot were the most calorie-dense, in the low 700s.
But according to Rifkin, the nutritional facts you find on food labels still aren't as important as the list of ingredients. Ideally, you should cook with recognizable whole foods, plus a heap of vegetables. "Eat with your eyes," says Rifkin. "Take a normal-sized plate, and fill half of it with vegetables, a quarter of it with a protein, and a quarter with some starchy thing like pasta or brown rice." So we also looked for companies whose meals were close to 50 percent vegetables. Most of the services we tested had no problem clearing this bar — for vegetarian meals. But their meat-based options often fell short. Home Chef was the worst offender, with carb- and starch-heavy meals even among its vegetarian offerings.
Vegetables made up a large percentage of Purple Carrot's recipes (left), but didn't make as strong a showing in Home Chef's offerings (right).
Convenience was key.
A major appeal of meal kits is that they ease the hassle of home cooking. You don't have to wander the aisles of the grocery store paralyzed by indecision. The meals just show up at your door. And the more convenient a company can make this delivery process, the better.
We measured delivery convenience in several ways: We looked for customizable delivery dates, punctual shipping, and refunds for missing or spoiled food. We also considered how much notice the service needed to skip our delivery any given week. While most required a full seven days, HelloFresh and PeachDish earned points for five-day cancellation policies.
It's best if you're home for your delivery
Meal kits are kept fresh with frozen gel packs, which eventually melt. If your box sits on your doorstep for hours, any raw meat, poultry, or fish may warm up and become unsafe to eat. In fact, one study argues that shipping issues are an overlooked risk of meal-delivery kits (the FDA is currently examining the issue). Regardless, it's best to get food in the fridge ASAP and try to schedule deliveries for days when someone will be home — or even order vegetarian meals, which are less perishable.
The best meal-delivery kits appeal to chefs at every skill level.
People with lots of cooking experience are going to have an easier time making most types of food. But meal-delivery services should enable even cooking newbies to tackle whatever arrives in that box.
With that in mind, we looked for dishes that cooked in an hour or less. We also prioritized meals that were easy to make with basic kitchen equipment. Green Chef and Home Chef lost points here: both called for grill pans, which our testers didn't have. (Blue Apron asked for a zester, but did provide alternate instructions in case you didn't have one.)
And we also tried to find the least-bad option for the environment.
Unfortunately, there's one obvious problem with any meal-delivery service: the huge amount of packaging waste. Every week, you have to find a way to dispose of the cardboard box, frozen gel packs, plastic baggies, and insulating material.
Like many of the services we tested, Green Chef's ingredients came individually wrapped. Excessive packaging is a common problem in the meal-delivery service industry.
So we gave preference to companies that tried to mitigate the damage by using mostly recyclable packaging, by not individually wrapping ingredients whenever possible, and by using smaller cardboard boxes and compostable or recyclable insulation. Plated and HelloFresh were the standouts here, meeting all of the above criteria.
And, hey, it's not all bad news. There's one big environmental upside to meal-delivery services: They reduce food waste. It's something we've all been guilty of from time to time. Maybe you buy an eggplant, but a recipe only uses half of it, and the other half sits in your fridge until it goes bad. With a meal-delivery service, you typically receive only as much as you need.
Last but not least: How does it taste?
Everyone's taste preferences are different, so while we asked whether each recipe tasted good, we also considered other factors. First, we looked at the ingredients themselves: Were they fresh and high-quality? Though we had to cut around black spots on a couple vegetables, the answer was generally yes (minus some truly unimpressive tart shells from PeachDish). We also considered whether we'd make a given recipe again, and whether there was anything interesting or sophisticated about the recipe — like an unusual spice blend or a juxtaposition of textures that the average home cook might struggle to pull off by themselves.
A cheesy risotto from Home Chef, for example, got full points on tastiness but none for being interesting. It was delicious for the same reason boxed macaroni is delicious: It's full of carbs and cheese. Meanwhile, a portobello amaranth from Green Chef was full of complex and unexpected flavors but scored near the bottom of our list in terms of tastiness. And Purple Carrot's shiitake-tofu stir-fry got full points across the board: It was scrumptious; we'd eagerly make it again; and the mushrooms and fermented black beans gave it an umami flavor we didn't think we could've achieved in our humble home kitchens.
Purple Carrot's shiitake-tofu stir-fry recipe was a favorite with our testers.
Cost didn't play a huge role in our calculations, because all these services offered similar prices — around $10 to $12 per person per meal, which adds up to $60–$72 per box. "For home-cooked food, that's expensive," notes Sarah Nelson, executive director of the community cooking school 18 Reasons. "For takeout, it's cheap." PeachDish was an expensive outlier, with most meals costing about $12.50 per person, but sometimes reaching $18 or $20.
Our Picks for the Best Meal-Delivery Service
Best Overall
HelloFresh The meal plan that has it all: Convenient scheduling and tasty meals, plus a low price point and easy-to-recycle packaging.
After weeks of cooking, testing, and gathering data, HelloFresh narrowly beat out Plated and Blue Apron to take the top spot.
From the very beginning of the process, HelloFresh stood out; unlike virtually every other service (except Plated), HelloFresh will deliver on any day of the week — though they do note options are limited in some regions. You can also skip a HelloFresh delivery on relatively short notice: five days in advance rather than the standard seven days required by other companies.
And when your delivery does arrive, it's eco-friendly — or at least as eco-friendly as these boxes can be. Excessive packaging is a problem inherent to the industry, but HelloFresh reduces it as much as possible. It groups ingredients for the three different meals into three paper bags, so fewer things have to be individually wrapped in plastic, and depending on what season it is, the insulation is made of recyclable and/or compostable elements.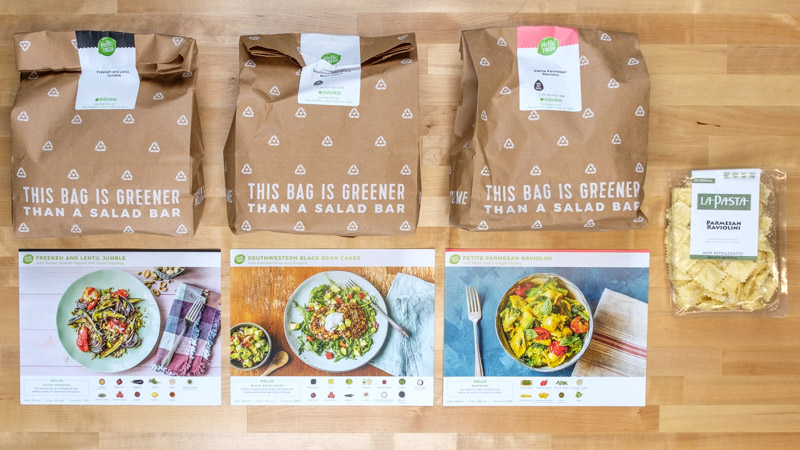 HelloFresh tries to mitigate packaging waste by bundling meal ingredients into paper bags rather than wrapping them individually.
So how's the food? The HelloFresh meals we received were tasty and interesting without being overly difficult. The parmesan raviolini combined a few simple flavors for very satisfying results, and the lentil-freekeh jumble was something we'd never heard of, let alone tried, but after cooking it, we realized we've been missing out.
We especially loved the variety of our meals: The three dinners that come every week are notably distinct from each other, and recipes don't repeat, so you get to enjoy new flavors all the time. One week you might dine on a traditional American meatloaf, shrimp farfalle, and an Asian-inspired honey-ginger chicken — all without any planning or grocery shopping. A common challenge when cooking on your own is getting stuck in a rut, and according to Emily Dellas, who runs First Class Cooking, "A lot of people just end up cooking the same thing over and over." HelloFresh gives you all the adventure with none of the mental effort.
The one drawback is that HelloFresh sometimes calls for equipment the average subscriber won't own. While it wasn't as serious an offender as Home Chef or Green Chef, one recipe did call for a masher, and using a fork instead was laborious. Another instructed users to zest a lemon… without explaining what to do if you don't own a zester. (For the record, as Blue Apron's instructions helpfully explain, you slice off strips of the peel without including the white pith, then mince the strips of peel.)
But overall, HelloFresh served up convenient, delicious, nutritious meals, and it did so at a cost of just $10 per person per meal. Combine that with the flexible delivery, the exciting variety of recipes, and the effort to minimize packaging, and we think HelloFresh hits all the right notes.
Best for Novice Cooks
Plated Easy recipes, plus the ability to repeat meals — useful if you're honing your kitchen skills and want to try again.
Plated very nearly won the top spot. Like HelloFresh, it maximizes convenience by delivering on any day of the week and minimizing wasteful packaging — in fact, it ships meals in the smallest cardboard box of any of the services we tested.
Our Plated delivery arrived in a much smaller package than offerings from competitors like HelloFresh and Blue Apron.
Build your skills. Cooking school director Sarah Nelson was surprised to hear from a woman in her 60s who'd been cooking for years, but learned new things from her Blue Apron subscription. "It's pretty impressive to me that with just the box of food and the recipe, without a video … even without a teacher, people are able to cook more."
But Plated offers a different dining experience than HelloFresh. While it does mix things up with some Asian and Latin fusion dishes — meals that blend different recipes from those regions — the service generally draws from fewer cuisines and styles, relying more heavily on traditional American fare like burgers. The reduced menu can boring for adventurous eaters, but good if you're new to the kitchen and not sure you're ready for a lentil-freekeh jumble.
Plated also repeats meals more often, making multiple "Encore Recipes" available every single week. (Blue Apron and HelloFresh, on the other hand, rarely, if ever, repeat a recipe.) Again, for novice chefs, this is likely to be a draw: If you mess up a dish, you can hone your skills by trying again, making the same salmon poke bowl or chicken bruschetta several times until you feel comfortable with the process. And this way, if you find a recipe you like, you get the chance to revisit it without having to recreate the meal on your own — not true of our other recommendations. And the recipes Plated sent us were generally a little easier to make than the ones we got from HelloFresh, with one tester noting she was "shocked at how quick and easy" her Plated meal was.
Clear and helpful recipe cards facilitate the learning process, offering a comprehensive list of all the equipment you'll need before you dive in, plus tips that break down the cooking process. For example, Plated's recipe for horiatiki (Greek salad) with chickpeas and flatbread didn't just instruct us to scoop the seeds out of the cucumber — it also explained why ("Cucumber seeds contain a lot of water, so we're removing them to keep moisture out of your salad").
The one thing we weren't wild about was Plated's lack of transparency about nutritional information. While its meals fell within our calorie range (averaging 705 calories per meal) and came with a decent balance of protein and veggies, the sugar and fiber content of our food was nowhere to be found. When we inquired about it, we were told, "Unfortunately, we cannot provide the nutritional information that you requested." That makes us suspect Plated doesn't think we'll like the numbers. (Although Plated isn't the only offender here — Home Chef had the same response.)
Still, if you're looking to get your feet wet in the kitchen, Plated is the way to go. At $12 per serving, it's a low-stakes way to figure out how to make a tasty burger — and what the heck a fig compote is.
Are sugar and fiber really that important?
These nutrients might sound too boring to have a strong opinion about, but according to Rifkin, "Everyone should be aware of how much sugar is in their food. It's not just the amount of sugar, but what form the sugar is in, as this affects how quickly it will move into your bloodstream." None of this info was readily available from Plated.

And fiber (along with fat and protein) behaves like brakes, slowing down sugar's absorption. Rifkin gave us this example: "If you eat the quantity of whole oranges that you'd need to make one cup of juice, the oranges will have a much better effect on your body. The fiber in them slows down the sugar, and even that fact that an orange is a solid — as opposed to a juice, which is liquid — will make a difference." In other words, fiber, too, is basic nutritional info that it's a good idea to keep track of.
Best Recipes
Blue Apron Creative and tasty ingredient combinations that are a great source of inspiration.
Blue Apron is the most recognizable meal-delivery service (thanks in no small part to its ubiquitous podcast advertising), so we had high expectations going into testing. And it met those expectations — especially in the quality of its recipes. In fact, of all the meals we tested across all seven services, only one was so good that a tester attempted to recreate it on her own: Blue Apron's Vietnamese-style vegetable sandwiches. (Her solo attempt wasn't bad, she said, but definitely inferior to Blue Apron's.) Other testers also reported keeping their Blue Apron recipe cards to reuse.
Why? We found the company's ingredient combinations more creative than other finalists. Its risotto recipe, for example, was more sophisticated than the risottos from both Home Chef and Plated: Blue Apron's recipe included a delicate interplay between tangy tomato paste, creamy mascarpone cheese, and a generous pinch of saffron, which one tester had never cooked with before.
And comparing Blue Apron's Vidalia onion tart to PeachDish's is almost insulting. PeachDish provided tart shells that disintegrated before they were even out of their packaging, dolloped with a meager egg mixture that didn't even fill up the shell. Blue Apron, on the other hand, sent a buttery, tender tart shell and instructed us to fill it with kale in addition to egg and onions, then paired it with remarkably tasty lemon-garlic roasted potatoes. (Turns out: lemon + garlic + parmesan cheese = flavor explosion!) "I think there are experienced cooks who like to use services like Blue Apron to give them ideas for recipes or techniques," confirmed Sarah Nelson, executive director of the community cooking school 18 Reasons.
That said, Blue Apron is less convenient than our other top picks — in several ways. While you can theoretically receive your box any day from Tuesday through Friday, the service defaults to Friday when you sign up — without mentioning that you have other options. (To switch, you'll need to revisit your account settings post-signup.) And if you want to skip a delivery, you also have to do it with a week of advance notice.
A couple of testers also noted that the instructions on their recipe cards sometimes felt out-of-order, making Blue Apron a better option for cooks who already possess basic cooking skills (like preparing rice) and don't need instructions at every step. Blue Apron is the only company that lets you send packaging materials back to them to be reused, but it doesn't make much of an effort to minimize that packaging, wrapping almost every ingredient individually in plastic.
Blue Apron's packaging is a little less eco-friendly than our other finalists.
But Blue Apron ties with HelloFresh as the cheapest meal-delivery service, at $10 per meal per person. Although the experience isn't quite as hassle-free as HelloFresh and Plated, Blue Apron provides creative recipes and excellent food at a low price, making it a great resource for home chefs in need of inspiration.
Best for Dietary Restrictions
Green Chef A good option for paleo, vegan, and gluten-free meals.
All of our top picks offer meat-based and vegetarian options, but if you have additional dietary restrictions, Green Chef is worth considering. It came in fourth overall, and while its food didn't score quite as highly as our top picks, it does cater to a wide variety of diets, including vegan, gluten-free and paleo. In fact, testers preferred Green Chef's veggie dishes to the vegan-only Purple Carrot, whose recipes sometimes felt unnecessarily complicated.
Cooking Tips
A few tricks to make your time in the kitchen more enjoyable.
If you're new to cooking, our experts offered a few super-simple tips to help you get started:
Learn how to handle knives. Both Nelson and Dellas named knife skills as the no. 1 thing their students don't know. As Nelson explains, "If you can safely and effectively use a knife, you can pretty much do anything in the kitchen, and that's really the first step I think a lot of people need to get to that next level." (And while we're on the subject, check out our review of the best chef knives.)
You don't need to constantly be stirring. "Cooking only really happens when things are in contact with the pan, so if you're moving them, they're not cooking," says Dellas. "So free yourself; free the process; enjoy it more; have a sip of wine."
Use the right oil for the job. Dellas says some recipes, including those in meal kits, tend to call for olive oil because they "don't want to complicate people by making them have two oils in their household." If you're frying or otherwise cooking with high heat, you're better off using sunflower or sesame oil instead of olive.
Add salt and pepper at each stage of the process to create layers of flavor. This is one our tester figured out thanks to Blue Apron. Rifkin also tipped us off that as long as you don't have a chronic disease, and you're eating a good amount of vegetables, you don't need to worry much about your salt intake when you cook.
Did You Know?
Food waste is a growing problem.
Unused food adds up to a staggering sum. According to the US Department of Agriculture, "Food waste is estimated at between 30-40 percent of the food supply." It's an even bigger problem because farming food, especially meat, has a huge impact on the environment: Agriculture uses about 80 percent of our water and creates 9 percent of our greenhouse-gas emissions (possibly one-third if you consider the food system more broadly). If we only grew as much food as we actually needed, we could conserve resources and significantly reduce our carbon footprint. Meal-delivery kits help do that by sending you just as much food as you need — no more arugula moldering in the produce drawer until you throw it out.
How to recycle everything in your meal kit.
Different meal-delivery companies use slightly different materials, so you'll want to double-check recycling information on their websites, but these tips will apply in most cases:
Cardboard and plastics: Clean cardboard and most plastics can be put in your curbside recycling, but you'll have to take plastic baggies to a supermarket or hardware store to recycle them. And if your cardboard is soiled with grease or pieces of food, don't throw it in the recycling — you should compost it instead.
Freezer packs: All the services we tested used frozen gel packs to keep food cool during transit. To dispose of them, clip off a corner, pour the gel into the trash, and then recycle the plastic wrapper with other plastic baggies/films. All of the companies we tested say the gel in their packs is nontoxic.
Insulation: The meal-delivery kits we tested used a variety of different materials as insulation to keep the boxes cool during transit. Most were recyclable and/or compostable, but you'll have to check your favorite service's website for details.
Send it back: Unlike other meal-delivery services, Blue Apron lets you send gel packs and foil liners back to reuse. Just print a shipping label out from its website, tape it to the Blue Apron box full of materials, and drop it off at the post office, free of charge.
The Best Meal-Delivery Service Summed Up